Some people can earn money online through proven programs. The creators of Passive Profit Pages claim that to succeed in the online market, you need to learn certain "secrets." Despite the widespread internet access and digital devices, only a few people are successful in making money online.
Passive Profit Pages is a software that promises to help you make $1000 daily in under an hour, particularly through affiliate marketing. It is marketed as user-friendly, suitable for those with minimal knowledge.
However, is this too good to be true? To find out, I've personally joined the program.
By the end of this review, I'll also introduce you to a better alternative that has enabled me to generate a full-time passive income.
Passive Profit Pages Review – Key Takeaways
Product Name

: Passive Profit Pages

Website: https://www.passiveprofitpages.net/
Special Offer: Get A Special Offer Here (Refresh the page if you cannot see the special offer)
Overall Rank

: 2/5

Pros: Low entry price; 60-day money-back guarantee; legit business opportunity
Cons: Fake testimonials; expensive upsells; unknown owner
Verdict:A get-rich-quick scheme that masquerades as a legitimate offering, claiming to provide genuine software and training for affiliate marketing.
In this Passive Profit Pages review, I'm going to cover the following topics.
What is Passive Profit Pages?
Passive Profit Pages claims to be a secret system promising substantial earnings, boasting the potential to generate up to $20,000 per month.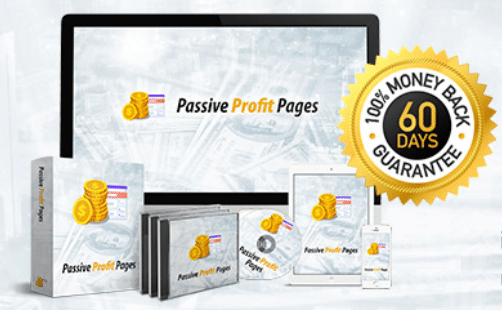 The owner, Bill, asserts that you'll gain access to confidential software that automatically creates affiliate pages for you. The key selling point is that the software runs everything on autopilot, requiring no effort on your part.
However, I'll be upfront—I've encountered many systems and scams with similar promises, and Passive Profit Pages is no exception. It follows a familiar narrative seen in scams like Massive Internet Profits and Instant Email Empire, using identical tactics.
In reality, Passive Profit Pages is an affiliate advertising system offering 5 pre-made affiliate pages. To make money, you need to connect your affiliate link to these pages and drive traffic to them.
Who's the Owner of Passive Profit Pages?
The creator of Passive Profit Pages is claimed to be Bill, a regular guy whose life took a turn during a financial crisis. Allegedly, with guidance from Tony, a customer at his cafe, Bill found a way to make money online.
According to Bill, within 35 minutes of using his created pages, he earned $300 on the first day and $1,000 the next day. Supposedly, in four months, his earnings reached close to $100,000, solving his financial problems.
Before his financial struggles, Bill led a normal life, owning a successful coffee shop with his family. However, the arrival of Starbucks in the neighborhood led to the cafe's bankruptcy.
But here's the twist—questions arise about Bill's existence. If he was introduced to Passive Profit Pages, why does he claim to be its owner? This raises doubts about the credibility of Bill's story and whether he's a real person.
Recommendation: Here's The Best Alternative
Are Students Getting Results with Passive Profit Pages?
Bill showcases video testimonials from supposed students to prove the success of Passive Profit Pages. However, it's important to highlight that these individuals have never actually used the system.
Wondering how I know this? Take a look at the image below.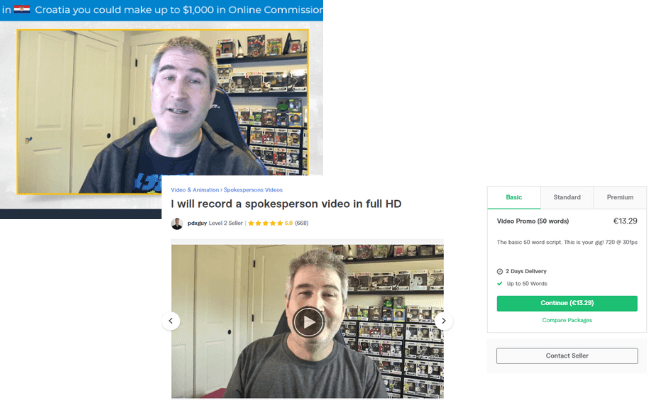 The testimonials are fake! The person in the video has recorded a phony review for the Passive Profit Pages scam. This isn't a one-time thing; similar fake testimonials have been used for other products in the past.
Why would Bill resort to fake testimonials to promote software that claims to make thousands for its users? Why not provide genuine proof? It doesn't add up.
In reality, these tactics and exaggerated sales videos aim to convince you of a secret automated money-making machine.
Is It Safe to Use Passive Profit Pages?
Driven by curiosity, I decided to explore Passive Profit Pages to gather details for my review. I clicked on the link to join the program, but my Web Advisor quickly showed a warning message:
"Passiveprofitpages.com appears suspicious" and advised me to return to safety.
Think about it: Would a legitimate website focused on online money-making raise such security concerns? Wouldn't they prioritize your safety?
From my perspective, this indicates that the website is unsafe and likely illegitimate.
How Does Passive Profit Pages Work?
Passive Profit Pages is a "Done For You" (DFY) affiliate marketing system, according to Bill. Affiliate marketing is a legitimate way to earn money online by promoting products and earning commissions. The process involves using web pages and affiliate links to connect potential customers with product vendors.
Here's a breakdown of how Passive Profit Pages operates:
Step #1 – Connect Your Unique ClickBank ID
Get your ClickBank affiliate link for each product and connect it to the provided pages. This ensures you get paid for any generated sales.
Step #2 – Choose A Passive Profit Pages Template
Select one of the five pre-made pages provided for promoting products. However, despite their appearance, there's an issue—keep reading.
Step #3 – Connect Your Page With a Subdomain
Choose a subdomain for your page. But here's a problem: hosting these pages isn't an option, meaning you have little control over your site. If Passive Profit Pages shuts down, your business goes with it.
Step #4 – Drive Traffic to Your Pages
Generating substantial internet traffic is crucial for success. Unfortunately, Passive Profit Pages falls short in this area, presenting a significant problem. Without understanding how to drive traffic, you may struggle to see results.
While the provided DFY affiliate pages are legitimate, the overall offer is problematic. It lacks transparency, and the potential for success depends heavily on driving traffic, a skill not adequately addressed in the basic package.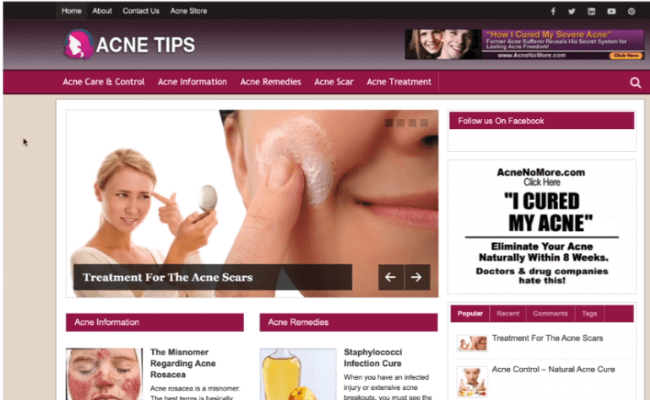 Recommendation: Here's The Best Alternative
What's Inside Passive Profit Pages?
The standout feature of Passive Profit Pages is its claim to serve as a launchpad for creating multiple affiliate marketing websites. You can promote various offers listed on each site to earn commissions. The package allows you to create up to 5 affiliate websites in different markets.
Below is what you'll find inside Passive Profit Pages:
Website Builder
Creating a new affiliate website using Passive Profit Pages is straightforward. Here's a quick overview:
Enter your ClickBank ID (a ClickBank account is necessary for earning commissions).
Choose from five pre-made websites in niches like Guitar, Home Biz, Acne, Debt Free, and Affiliate.
Select a site name (subdomain) and a main domain name. Note that the main domain name is fixed as "myketoslim.net" and can't be changed.
The resulting website is simple in appearance and functionality, with pre-written articles specific to your market. However, be aware that these articles may have some rough edges, including possible grammatical errors, as they are often sourced from various PLR (Private Label Rights) materials.
Training
Passive Profit Pages offers training resources, including videos and a PDF document aimed at assisting affiliate marketers. However, these resources are more like guides specific to the product and fall short of providing comprehensive affiliate marketing training.
The PDF offers tips on increasing traffic to your affiliate sites but is limited in scope and depth.
How Much Does Passive Profit Pages Cost?
Passive Profit Pages initially costs $9. However, be aware that additional upsells will follow…
DFY Profit Pages: $197
Profit Pages X: $196
Passive Profit Pages Online Community: $20/month
Upon entering the member's area, be prepared to invest more money in essentials like traffic, hosting, and an autoresponder.
If you opt for the more expensive upsell, John Crestani's Super Affiliate System, it comes with a hefty price tag of $997.
Refund Policy
Passive Profit Pages is backed by a ClickBetter 60-day money-back guarantee. If you find the product unsatisfactory, requesting a refund is straightforward.
Here's the good news: Refunds are processed instantly, and there's a no-questions-asked policy in place.
So, if you're not happy with the product, reaching out to the customer support team should lead to a hassle-free refund.
Recommendation: Here's The Best Alternative
Praise for Passive Profit Pages
1. Low Starting Price
One notable advantage of Passive Profit Pages is its affordable starting price. At just $9, it's budget-friendly, making it accessible to a wide audience. This contrasts with many other affiliate marketing programs that often come with higher costs.
2. Profitable Business Model
Affiliate marketing, as promoted by Bill, is recognized as a lucrative business model to generate passive income. Its potential to reach numerous customers makes the methods advocated in Passive Profit Pages worthwhile.
3. No Website Creation Required
Passive Profit Pages provides pre-made pages with content, eliminating the need for users to invest time and money in website development. This convenience can be particularly attractive for those looking for a streamlined approach to getting started in affiliate marketing.
4. 60-Day Money-Back Guarantee
The product's availability on ClickBank means that a 60-day money-back guarantee is in place. This provides reassurance to users, offering a safety net if they find the product doesn't meet their expectations.
Criticism of Passive Profit Pages
1. Fake Testimonials
Let's kick off with those testimonials – the real deal or just smoke and mirrors? Legit training programs thrive on genuine testimonials, while scams often resort to the fake variety. In this case, it seems like a questionable start.
2. Unknown Owner
Meet Bill, or so we're told. But here's the kicker – is Bill the real deal, or just a clever pen name? No face, no social media breadcrumbs, and no clues to validate the identity. It's like trying to find a needle in a haystack.
3. Unsafe Website
Legitimate programs usually come with a secure website. In the case of Passive Profit Pages, it's not so reassuring. If it's all above board, my browser wouldn't be sending off suspicious or malware vibes.
4. Underestimated Workload
Affiliate marketing is the real deal for making money online, no doubt. But can you really clock in just 30 minutes a day, as Passive Profit Pages boldly claims? Spoiler alert: probably not. Success in affiliate marketing takes time, and these grand claims might be more about hype than reality.
5. Fake Earning Claims
Ah, the classic move – promising a fortune in a day. It's a red flag when a program shouts about making thousands instantly. The goal? To lure you into parting with your $9 for their software.
6. Hidden Costs Reality Check
Bill assured no extra expenses were needed to make this work. Surprise! The real game seems to involve getting you in for $9 upfront and then convincing you to shell out for the essential components. The promise doesn't quite match the reality.
Recommendation: Here's The Best Alternative
Is Passive Profit Pages a Scam?
I've joined Passive Profit Pages, and let me break it down for you. At first glance, it seems all legit. They throw you a bone with some affiliate marketing training and five pre-made web pages, all for just $9. Sounds like a sweet deal, right?
But wait for it. That $9 doesn't cover the secret sauce of driving traffic to your pages. Oh no, for that, they've got upsells waiting in the wings, and those will cost you a cool $300. Sneaky move, right? What started as a simple $9 deal quickly turns into a bit of a wallet workout.
Sure, you get some content in return, making you think it's all smooth sailing. These pages do their job, promoting various digital products. But here's the kicker: those promises they made on the sales page? Well, they fall flat unless you fork out for the hidden upsells.
And Bill, the supposed brains behind it all? Turns out he's more fiction than fact. The product relies on fake testimonials, wild claims, and a few other tricks to pull you in.
So, despite its appearance, Passive Profit Pages seems more like a deceptive scheme that entices you with the promise of quick money.
Alternatives to Passive Profit Pages
Here are the other affiliate marketing courses we have reviewed:
1.

2.

3.

4.

5.

6.

7.

8.

9.

10.
How Do I Make Money From Home?
If you want to make a full-time passive income, I'd suggest you to start an affiliate marketing business online.
However, I'd recommend you to get started with the most reputable platform: Wealthy Affiliate instead.
Wealthy Affiliate is an all-in-one platform for building your affiliate marketing business from scratch. It offers you a free account (including a free website) with comprehensive training on SEO (free traffic methods), which enables you to get started with affiliate marketing right away without paying a penny.
But How Much Can You Earn with Wealthy Affiliate?
A 21-year old student from Wealthy Affiliate was able to earn $7,395 in just 1 week, which means he made more than $1k a day…all while using free traffic methods.
For more information, you can check out our full review of Wealthy Affiliate.