Are you looking for a ClickFunnels review? Is ClickFunnels a scam? Should You Trust Russell Brunson and use ClickFunnels to build your online business?
If you're reading this, you're probably checking if ClickFunnels is a good fit for you. Or you may ask, "is Russell Brunson a scam?""
ClickFunnels is a very popular marketing software that many online marketers of any niches are using it to promote products or services. It claims to help you enhance the conversion rates of your marketing campaigns and hence increase the return on ad spend.
I have been using ClickFunnels to create sales funnels for some time, so I can tell you everything about it in this ClickFunnels review.
To give you an unbiased review of ClickFunnles, I will tell you both what I like and don't like about ClickFunnels. ClickFunnels is not perfect, so it's important to be aware of its cons.
Since most people know what ClickFunnels is, I'm going to cover the pros and cons of ClickFunnels first. Then I will talk about how ClickFunnels work.
At the end of this ClickFunnels review, you will know whether the pros outweigh the cons and make an informed purchase decision.
ClickFunnels Review – Key Takeaways
Name: ClickFunnels
Website: https://clickfunnels.com
Price: Get Free Instant Access Here
Owners: Russell Brunson and Todd Dickerson.
Training: One Funnel Away Challenge
Overall Rank: 4.7/5
ClickFunnels Scam or Legit:

ClickFunnels is not a scam. It's a legit marketing software that can help you save a lot of time in creating beautiful and conversion-optimised sales funnels. ClickFunnels enables you to make upsells and downsells that can greatly increase your average order value and profit.

Who it's for: Newbie to Expert for building sales funnels
In this ClickFunnels review, I'm going to cover the following.
What Is ClickFunnels?
ClickFunnels is an all-in-one sales page and funnel builder that will help promote your business. It is an amazing marketing automation tool that automates everything from lead generation to customer conversion without the need of knowing coding or programming.
It was founded in 2014 by Russell Brunson and Todd Dickerson to help businesses promote products online using an effective sales process called "sales funnel", which is proven to increase conversion rates.
Russel Brunson is an internet marketing genius and the best-selling author of DotCom Secrets, Traffic Secrets and Expert Secrets, two books that every online marketer should read.
It's one of the first landing page builders that has drag and drop features. So anyone without technical skills can master ClickFunnels very easily. You can create numerous sales funnels quickly and easily without any requirement of technical expertise.
It is now the most popular funnel building software. It's now worth over $360 million and has more than 100,000 users worldwide. According to Forbes, Clickfunnels is "silently revolutionizing the online marketing industry".
The main purpose of ClickFunnels is to help online marketers build landing pages.
It's more than that as ClickFunnels have developed many more features over the years. With ClickFunnels, you can create membership sites, webinars, squeeze pages and many other types of pages for generating leads.
Many people have amazing success using ClickFunnels in marketing campaigns. ClickFunnels has the 2 Comma Club that has admitted over 700 entrepreneurs who created funnels that generate over 1 million in sales using ClickFunnels.
Because of the reason that it is making its users money, ClickFunnels is now one of the largest marketing software companies in the world.
Here's a YouTube video that can give you more ideas about ClickFunnels.
So should you join ClickFunnels? Read on and you should have most questions about ClickFunnels answered. Let's dive in.
Get Free Instant Access to ClickFunnels Here
ClickFunnels Features
It really saves you time and money. And make it easier to get more customers and make more profit at the end of the day.
Below are the core features of ClickFunnels that you should know before buying:
1. Create any marketing pages you like without coding skills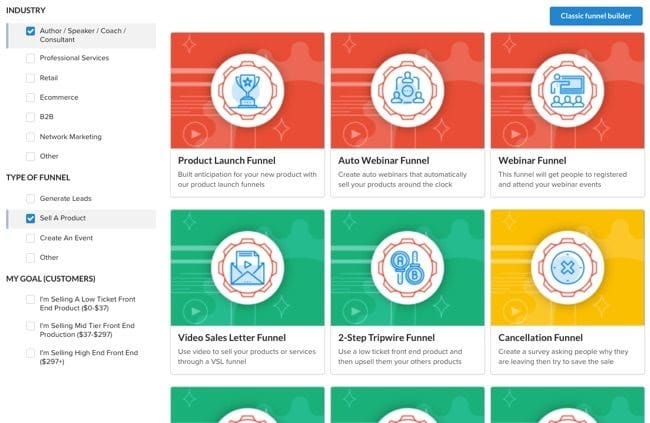 ClickFunnels' page builder is very versatile and you can use it to create any marketing pages, such as:
Landing pages
Sales pages
Squeeze pages
Membership sites
Affiliate program centres
Webinar pages/funnels
Checkout pages
Sales Funnel with upsells and downsells
Normal business websites or blogs
Basically, you can create any websites you can think of with ClickFunnels. There're tons of page templates that you can simply select and customise the way you like.
You can use one of the 22 different funnel templates that Russel Brunson proved to work in his own businesses.
The templates are organised by funnel types: Lead Capture Funnels, Sales Page Funnels, Event Funnels and some other special funnels like membership funnels. So even if you don't have any design skills, your funnel pages will look professional.
Having the pre-made templates available, you can further customise each template using the drag and drop editor. You just have to open the pages in the editor and drag different elements onto the pages.
Everything is organised neatly so you don't have to spend time looking for elements you want to add. No coding is required at all.
And the most wonderful feature is that if you use ClickFunnels Platinum, you'll be able to create your own affiliate program.
With the inbuilt affiliate centre (Backpack), you can easily recruit affiliates to drive traffic and promote your products or services. You can customise everything such as the commission structure, promotion materials, sub-IDs etc.
2. You Can Host Courses With ClickFunnels
ClickFunnels is more than a landing page builder. If you offer online courses, ClickFunnels features a Membership Area that allows you to design your courses.
It's very easy to set up the members' area with ClickFunnels where your students can access the courses.
You can see many online course creators use ClickFunnels to market and host their courses. All is done in one single tool, the ClickFunnels. That's the beauty of joining ClickFunnels, which removes a lot of hassles for you.
3. ClickFunnels Helps You Build an Email list
Many business owners have the challenge of building an email list.
With ClickFunnels, you can easily set up a marketing campaign that offers visitors a lead magnet in exchange for their emails. ClickFunnels enables email marketing.
That is also called the follow-up funnels. You can synchronise sales pages with follow-up emails without using email software like MailChimp and AWeber. You cannot find this function in other traditional page builders.
In fact, ClickFunnels not only helps you capture leads but also store them, follow up and nurture the leads. You can create follow-up funnels very easily inside ClickFunnels.
You can personalise your message to your potential customers based on who they are, what they've bought, where they came from etc. And gradually turn them into customers.
4. A/B Split Testing To Choose The Best Performing Sales Funnel

ClickFunnels has the powerful function to split test your marketing pages. You can simply duplicate a page and make some changes to the copy.
Then the split test will allow you to choose what percentage of traffic to direct to each page. So you can test the conversion rate of different pages very easily.
5. Create Upsells and Downsells To Increase Your Profit
Creating upsells and downsells is one of the most critical features of an effective sales funnel.
When a customer finishes checking out, ClickFunnels allows you to upsell your customer by making an additional offer that is relevant to the product they just bought.
If your customer declines the upsell offer, you can also have the second chance to direct them to a lower-priced offer, which is called downsell.
These upsell and downsell sales funnels are very powerful in increasing your average order value and your total profits.
6. Seamless Integrations With Other Applications

If you have used any marketing tools before, you should know the importance of having great integration capability with other marketing tools. That way you can have greater flexibility in designing your marketing campaigns.
ClickFunnels does a fantastic job in handling API integrations. It can integrate with different types of marketing tools such as autoresponders, payment processors etc.
Here's a list of application that can be integrated with ClickFunnels:
Active Campaign
Aweber
Constant Contact
Convertkit
Drip
GetResponse
GoToWebinar
GVO PureLeverage
HTML Form
HubSpot
InfusionSoft
Interspice
Mad Mimi
MailChimp
Maropost
Ontraport
SalesForce
Sendlane
ShipStation
Shopify
Twilio
Webinar Jam Studio
YouZign
WordPress
Apart from marketing tools, ClickFunnels can also integrate with many payment gateways so that you can collect online payment very easily.
Here is a list of payment gateways you can integrate with ClickFunnels:
Stripe
Keap
Warriorplus
JVZoo
ClickBank
Taxamo
Ontraport
Blue Snap
Easy Pay Direct
NMI
Recurly
Apple/Android Pay
PayPal
All these amazing features of ClickFunnels will help further scale up your business.
And in the process, you get everything you need to market your products or service online without hiring a developer. You can literally build an entire business on ClickFunnels.
Without ClickFunnels, you would have to build all these pages from scratch and spend a lot of time perfecting the copy and technical issues.
Get Free Instant Access to ClickFunnels Here
How to Use ClickFunnels?
It's probably best to learn how to use ClickFunnels before signing up, logging in, and staring blankly at the dashboard.
Setting up funnels is simple. Landing pages can be created easily. The process of adding an affiliate section is simple.
Nevertheless, you will need to learn how all of these things work together for your business to grow organically.
To get you started, let me just cover the basics:
Getting Started With ClickFunnels
The process of getting started is pretty straightforward. You sign up for a free 14-day trial at ClickFunnels.com.
While this next step can be annoying, I consider it to be a small price to pay. A username, email, and password are required to "create an account.".
Following that, you enter your credit card information (not charged) and you're good to go. For the next two weeks, you can try ClickFunnels for free.
After You Sign Up With ClickFunnels
When you log in to ClickFunnels, you'll discover the following handy features:
This is a quick tutorial for creating a funnel in the ClickFunnels game.
ClickFunnels' Dashboard is like the brain of the company. It's where you have control over everything.
Using the Live Contact Activity feature, you can see the activity of your contacts in real-time across all of your funnels.
The most commonly used funnels are listed here.
Additionally, you can see:
Menu

Account profile

Help menu

Backpack

Actionetics (Depending on your plan)
Setting Up Your First Sales Funnel With ClickFunnels
Before we get into setting up a sales funnel in ClickFunnels, I want to drive home the idea of how a sales funnel works.
The 4 Stages of a Sales Funnel
Awareness

: To generate targeted leads, you start by using ads, SEO, or content. This is when you inform the visitor you may have what they need.

Interest

: It appears that you have attracted the person's attention. You have a phone number or email address. From now on, you can provide more information (ebook, webinar, etc.).

Decision

: After gently nudges, now they've made their decision. Your sales materials/pages have convinced them to invest in your product or service.

Action

: You receive the payment once they make the purchase from you.
Setting up Your Sales Funnel
It's now time to funnel some unsuspecting visitors through their buying process and into your bank account.
You can easily set up a sales funnel.
There are two options: Classic or Cookbook.
For more skilled chefs, classic is the best choice. Choosing your own ingredients, making your own recipes, and going to the store are among the best ways to make it at home.
The cookbook is designed for chefs new to cooking. Let me quickly cover them both.
Classic Mode
If you want to start from nothing, choose what you want to accomplish (Collect emails, sell a product, host a webinar). Once you've chosen a type, click "Build Funnel.".
It's now up to you to pick a template for each page (Optin, Thank you, etc.) and create the funnel on your own. Using the editor that I showed you earlier, you can customize a page once you have chosen a template for it.
It's okay if this seems confusing. You'll be guided by a Launch Checklist (your list of ingredients).
The ClickFunnels Cookbook
If it's your first meal, there is nothing wrong with following a pre-made recipe created by a top chef. Does the analogy make sense at all?
The Cookbook makes creating sales funnels even simpler:
Open The Funnel Cookbook

Select Industry

Choose The Type Of Funnel

Choose Your Goal

Select The Template Suggestion

Choose Your Template Free or Paid

Download or Purchase Your Funnel Templates.
Add Integrations/Customizations
Your funnel is now ready for specifics. The things I usually add are:
Integration of email marketing

Integration of payment methods

Creating a custom domain

Affiliate offers (via Backpack)
That's all! It's really easy, as I told you. Obviously, you'll have to add content to every page as well as products and pricing. That's all pretty straightforward.
ClickFunnels is really simple to use. With the right funnel template, content, and product, you can create a sales funnel that fits your business – whether it's an online course, a physical product, a service, or a community.
If you would like to learn by watching video, here's a YouTube video that walks you through how to create a video sales letter funnel with ClickFunnels:
Get Free Instant Access to ClickFunnels Here
ClickFunnels Benefits
1. ClickFunnels Helps Enhance Conversion Rates
If you're using a normal website to promote your product instead of a landing page built with software like ClickFunnels, you're going to see lower conversion rates.
The reason is that when people browse on the internet, there're lots of distractions that prevent them from hitting the call to action button. They could be sent to other pages via many other hyperlinks on the internet.
If you use ClickFunnels to create a sales page, it basically removes all the distractions of your visitors.
Your visitors will only be presented with one landing page and one call to action. They either make a purchase or leave.
Using a landing page has been proven to optimise conversion rate when compared with a normal webpage. And I have tested it myself and see the difference too.
2. Funnel building is very easy
The main goal of ClickFunnels is to provide tools for any marketers regardless of technical experience. The learning curve of ClickFunnel is not steep because of the easy drag and drop builder.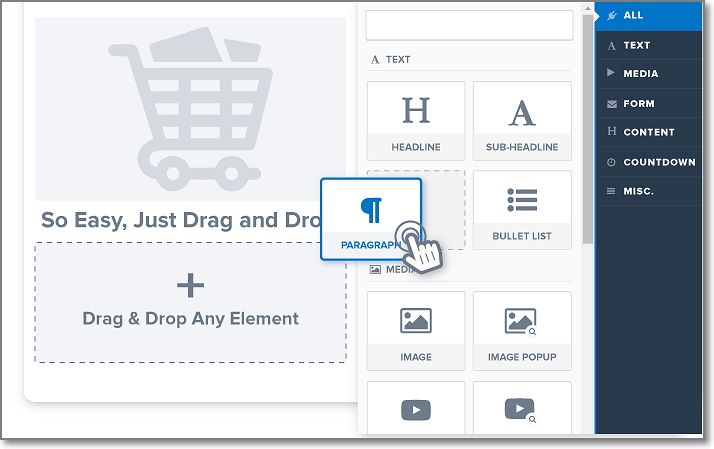 Anyone can have a good understanding of how to use it within a couple of hours.
In fact, using ClickFunnels has saved me a lot of time and energy that would otherwise require hiring a team of developers.
The Drag and Drop editing capability means you can customise everything without coding knowledge. It's very intuitive to use.
You don't have to spend time figuring out HTML or CSS or other technical stuff. I like how easy it is to duplicate pages and save templates for other uses.
You can navigate and manage all parts of your funnels very easily with the cohesive menu. Some settings like email integration or payment processors may be a bit technical, but still you don't need any knowledge like coding to figure it out.
Overall, the user interface is very intuitive.
And if you don't understand some functions, ClickFunnels actually has the onboarding 7-day training challenge. It's comprehensive training that teaches you step-by-step how to use ClickFunnels.
By the end of the training, you'll know everything about ClickFunnels.
3. Beautiful Template Blueprints For Creating a Sales Funnel Immediately
I like the inbuilt templates in ClickFunnels that are very straightforward and can be set up in minutes. And the design is beautiful and professional.
In fact, people will question your credibility if your website is ugly. Landing page design is important for conversion.
Also, each template inside ClickFunnels is created with users in mind. So you won't lose sales because of a clunky sales page. And pages created inside ClickFunnels are mobile responsive, which is critical as half of your visitors will usually come from mobile.
Also, there is a marketplace inside ClickFunnels where you can buy or sell templates for. Unless you want to save time, it's not necessary to buy any templates though as you can easily create one by yourself inside ClickFunnels.
4. A/B Testing is Easy
Marketing is like science. You have to keep testing different elements in order to find out the best one.
A/B testing built into the ClickFunnels system is very useful. Duplicating a page, making your changes, and choosing which amounts of traffic you want to see version A or B is all you need to do.
For example, a specific color of the button will convert better in different contexts. Different headlines also resonate with different people.
Therefore, I like the fact that ClickFunnels make it so easy to split tests into two different pages. This ClickFunnels' A/B testing feature allows me to compare variants of my ads, landing pages, media pages, opt-in pages and other elements.
All you have to do is duplicate a page and make certain changes and then test which one performs better.
5. Integrated Analytics to Track Sales Data
For any online business, it's important to keep track of data so that you can make a data-driven decision on what to change and improve.
For example, the most critical questions are:
Where do most of the visitors come from?

What product is the most hot-selling?

Which sales funnel performs the best?
It's hard to keep track of all these if you use a third-party tool to track.
But no worries, ClickFunnels has the sales analytics feature that can show you all the data you need. So you can focus your efforts on what works and change what does not work.
6. Powerful Page Elements or Widgets
Elements are essential for designing the pages or website you want. I can create a good visual design that matches my business brand.
ClickFunnels has a wide variety of powerful elements or widgets that other landing page builders do not have. There is no shortage of elements to make your webpages stand out.
Some advanced elements which really help with conversions include:
SMS Signup

Surveys

Pricing Tables

Progress Bars

Facebook Comments

FAQ Blocks

Countdown Timers

Custom HTML

Membership

Order and shipping form
For each element, you can further customise in the editor sidebar, such as changing the background colors, fonts, margins and orientation.
7. The Built-in Training Courses (FunnelFlix) are priceless
Russel Brunson, the founder of ClickFunnels is one of the best online marketers in the world. So we all have a lot to learn from him.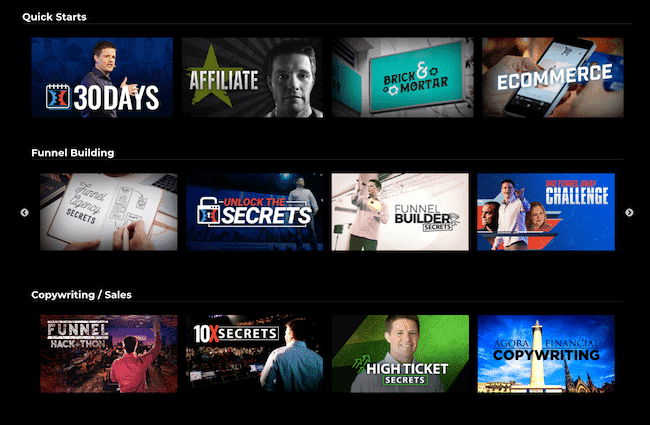 You don't have to pay extra for the valuable mentorship if you subscribe to ClickFunnels.
You'll be able to get access to the FunnelFlix, which has an entire collection of trainings including:
30 Days book videos

Affiliate Bootcamp

Funnel Builder Secrets

Product Secrets

Funnel University
So even if you don't use ClickFunnels, you should definitely register a 14-day trial account to watch all the amazing training there.
8. Share Funnels with Others
I like the feature of ClickFunnels that allows me to share funnels with others or use funnels shared by other people.
This means I can use a friend or mentor's exact funnel for my business without building it from scratch. That really saved me a lot of time.
Also, if you run a marketing agency that builds sales funnels for customers, this feature will be very helpful indeed.
9. ClicKFunnels Provides a Great selection of Integrations
The API integrations in ClickFunnels are quite good. Payment processors and email autoresponders aren't too difficult to use. They work well and offer useful tools.
10. ClickFunnels Has a WordPress Plugin
Additionally, you'll find a handy plugin for integrating your WordPress website with ClickFunnels pages. This plugin makes it much easier to work between ClickFunnels and WordPress without having to use a plugin. Over 20,000 active installations of the Clickfunnels WordPress plugin also earn it a solid 4.4-star rating in the WordPress plugin repository.
Get Free Instant Access to ClickFunnels Here
ClickFunnels Complaints and Cons
1. Pricing-related limits
It's fine for a solopreneur, but I dislike the restrictions they've put on ClickFunnels.
For the starter plan of ClickFunnels, there is a visitor limit of 20,000. For someone who drives a lot of traffic to the website through paid ads may think it's easy to exceed the limit.
For almost $100 a month, 20,000 visitors and 20 funnels are not enough. It will be great if ClickFunnels removes this limit for all plans.
Moreover, unless you upgrade to Platinum, you won't be able to build unlimited funnels with the basic plan.
To take advantage of follow-up funnels, a critical feature when it comes to conversion rate optimization, you must upgrade to Platinum.
But anyway for most people, if a sales funnel has more than 20,000 visitors a month, you should be able to make more than enough money to upgrade to the platinum plan, which has no such limit.
2. Lack of PayPal support for one-click up-sells
PayPal does not support one-click upsells, so if you want to use them to boost your revenue, you will need to find another method. In lieu of PayPal, Strip can be used for one-click up-sells.
3. Customer Support is not the best
Some customers have a bad experience with ClickFunnels because sometimes the customer support doesn't meet the standard expected.
This is quite frustrating because when you are trying to troubleshoot buggy problems, you expect immediate help from customer support. But it seems that ClickFunnels doesn't have enough staff given the increased number of users.
4. The Page Loading Speed is Slow Sometimes
According to some reviews, ClickFunnels has a loading issue, especially on mobile. It is a critical issue because more and more people use mobile instead of a computer.
If you run ads and drive traffic to ClickFunnels, it may affect the conversion rate.
5. The Page Editor Can Be Wonky
As I mentioned earlier, the page editor in ClickFunnels isn't the most flexible or powerful.
Occasionally, widgets don't snap into place as they should and are a bit wonky. Although this may not seem like a big deal, it's really frustrating when you think you've found the perfect spot for a sign-up form and then BAM, it pops up 2 inches to the left.
Though this doesn't happen all the time, it has happened to me a few times.
6. ClickFunnels is bit expensive for starting entrepreneurs
ClickFunnels has a lot of functions and features that transcend any other competitors in the market.
But it is a bit pricey for people who are just starting out.
It would take some time for a newbie to make enough money to cover the monthly cost of ClickFunnels.
7. Software Bugs Happen Sometimes
Every software has bugs. Sometimes, ClickFunnels will go down and have some errors. But this doesn't happen often.
Usually, there's nothing you can do when ClickFunnels goes down. You can just wait for a moment and it will usually be fixed very soon.
If you're running ads to your funnels, you will have to stop it for some times to avoid losing money.
8. No Free Plan
ClickFunnels doesn't offer a free plan. There is only a free 14-day trial. So you have to invest money if you want to use ClickFunnels for your business.
This is reasonable because if there is a free plan, ClickFunnels will lose a lot of money because hosting sales funnels consumes server resources.
Ok, now you understand the pros and cons of ClickFunnels. Let us talk about what ClickFunnels can do for you in detail.
Get Free Instant Access to ClickFunnels Here
How Can You Make Money with ClickFunnels?
1. Build an Email List For Your Product or Services
With ClickFunnels, you can create squeeze pages with a lead magnet to capture potential customers.
And money in the list. You can send your offers to your email list to monetise.
2. Sell Courses and Digital Products
Many marketers use ClickFunnels to sell digital products like eBook, video courses and training.
Some have successfully generated a million dollar for a single funnel.
3. Create Membership Sites

ClickFunnels enables you to build and manage membership sites much easier. It has dedicated membership site funnels. It's very easy to build and host your online courses.
If you have certain expertise, you can turn your expertise into a means of making passive income with the help of ClickFunnels.
So you can handle your sales and marketing as well as creation of online courses together on the same platform.
4. Build a Consultancy Business
Many consultants or freelancers use ClickFunnels to promote their services.
Using a sales funnel created on ClickFunnels is proven to be effective in attracting leads and nurturing leads into customers.
5. Host Automated Webinars For Attracting Prospects
ClickFunnels provides automated webinar pages. You can conduct a webinar once and use it as a lead magnet to attract new customers.
People love attending live webinars but you cannot host numerous webinars, so the automated webinar is the best way to save your time without compromising the quality.
6 Start an Ecommerce Dropshipping Business
ClickFunnels is not just for selling digital products.
You can use ClickFunnels to set up a dropshipping business and integrate it with Shopify.
With the ability to offer upsells and downsells, your average order value can be increased easily.
Get Free Instant Access to ClickFunnels Here
Who is ClickFunnels For?
Who can really benefit from ClickFunnels?
Any businesses that want to promote products online will benefit from the power and convenience of ClickFunnels.
It does not matter if you are selling online courses, consulting services or physical products. ClickFunnels is designed to convert strangers into customers via time-tested sales funnels.
Here's an in-exhaustive list of people or businesses that can benefit from ClickFunnels:
E-commerce
Information products
Coaching
Consulting
Network Marketing
Blogging/Affiliate marketers
Local small business
Agency
Freelancers
Speakers
You can create any funnel types that can cater to your business. You won't waste money on ClickFunnels as you can build an efficient sales or email funnel that makes you money.
Who is ClickFunnels Not For?
ClickFunnels is not for you if you don't have a business yet. ClickFunnels is an online marketing tool, so if you don't have an online business, there is nothing you can market.
So if you are just a newbie, you should find a business model to go after. After that, you can consider using ClickFunnels to create sales funnels for promoting your products or services.
Before that, ClickFunnels is useless. At the end of this ClickFunnels review, I'll tell you the easiest online business model you can start today to make money online.
ClickFunnels Pricing: How Much Does It Cost?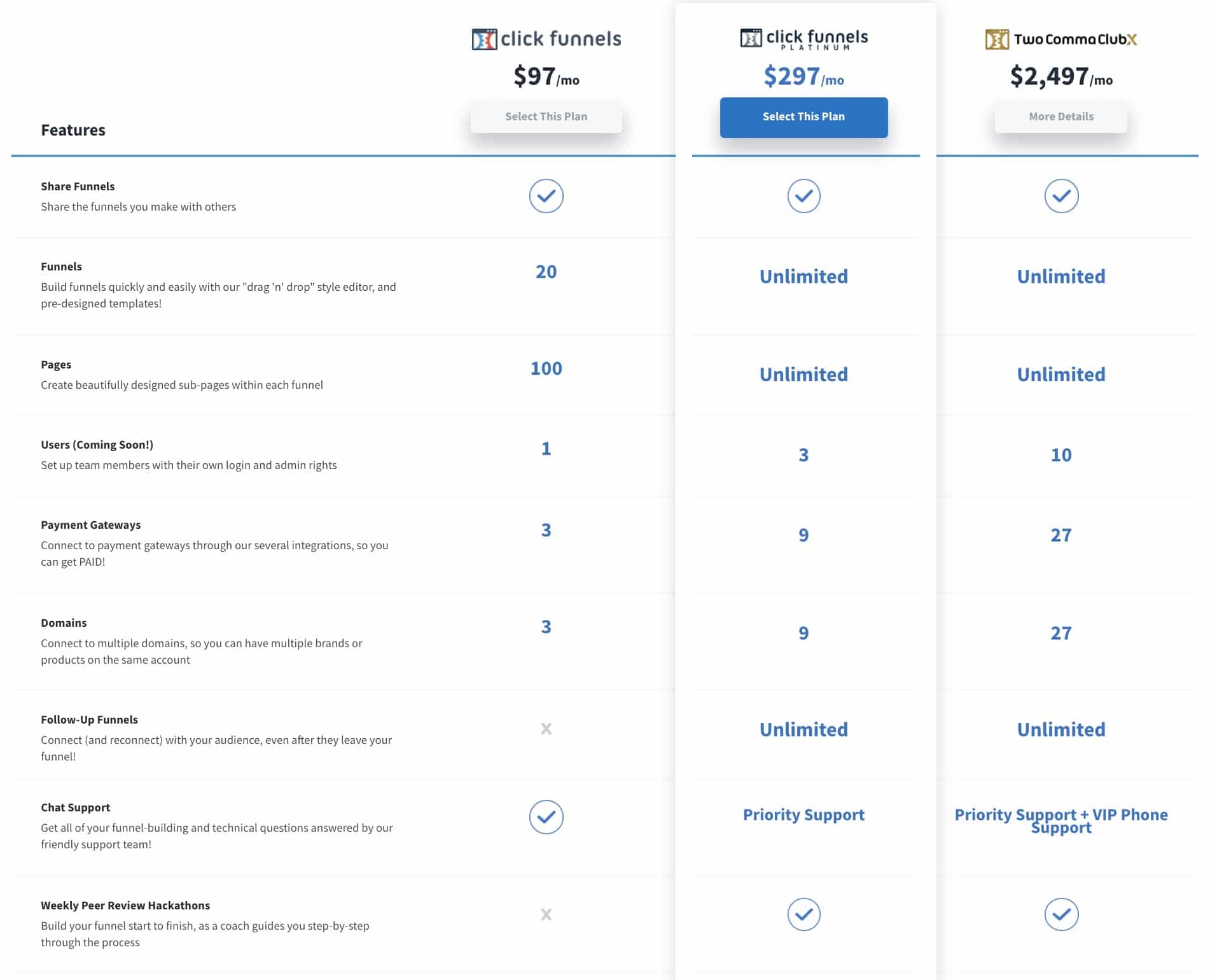 Undeniably, ClickFunnels is not cheap to most people. For the starter plan, the monthly cost of ClickFunnels is $97.
But the most critical question is whether ClickFunnels can save your cost and make you money. Or in other words, does ClickFunnels offer a positive return on investment?
First of all, ClickFunnels is an all-in-one marketing solution to online marketers as it incorporates everything you need to market your business, including landing pages, sales funnels, order forms, lead generation, follow-ups etc.
With ClickFunnels, you can basically set up everything on your own.
In fact, by the time you log in to ClickFunnels, there's already a pre-made template for you to get started right away.
But without ClickFunnels, you would have to hire a team of web developers, designers, salespeople etc. So ClickFunnels does save you a lot of money in this perspective.
And creating a sales funnel with ClickFunnels helps you attract and nurture potential customers for conversion. At the end of the day, your business should be able to make enough money to pay for the cost of ClickFunnels.
Therefore, I believe ClickFunnels is worth the price. By putting in time and efforts, you'll have a positive return on investment.
Get Free Instant Access to ClickFunnels Here
ClickFunnels Review: Is Clickfunnels a Pyramid Scheme?
Clickfunnels affiliate program is the major reason why people may mistake it for a pyramid scheme. In addition, so many people claim they have succeeded almost overnight, making one wonder if this is actually true.
It is not uncommon to find Clickfunnels members who have gone from nothing to six, seven figures in a single month. There are various success stories within the Clickfunnels community, from the launch of their own products and blown up carts to affiliate marketing and winning dream cars.
Do any of these things sound true to you? Can Clickfunnels really be a scam?
No. There is nothing scammy about ClickFunnels. It's not even a multilevel marketing business. I am not stating an opinion, I am stating a fact. We have compiled a list of several reasons why this is not a scam.
Like multi-level marketing, pyramid schemes consist of recruiting distributors for a particular product or service. By recruiting recruits and reaching certain levels, the pyramid scheme offers the opportunity to make money.
But Clickfunnels offers a ton of value for every single product it offers. I have completely changed my perspective on marketing and sales thanks to the One Funnel Away Challenge.
Russell recommends promoting the challenge if you're a beginner, but their main focus is on helping you create your own product/service, come up with an offer that stands out from the crowd, tell your story and then build your funnel to drive traffic to it and get sales.
Their primary goal is to achieve that. The course is not about how to promote Clickfunnels. The goal is to assist you in coming up with something valuable that will have a significant impact on many lives while making you a good amount of money.
They also advise you to promote other people's products (whether that is Clickfunnels or something else) if you believe this is too much work for you.
With sales funnels, it is possible to make a huge amount of money quickly. Yet the thing you sell must provide value for the market.
And also, I can say with a high degree of certainty that of all the people who have accomplished these crazy things, none of them will tell you that it was easy.
You can be sure they have all worked their asses off. Even though it didn't take them much time, it was still a lot of work and money invested into something for which there is no guarantee of a return.
You will not find any unreal or unrealistic promises on the Clickfunnels sales pages. It's hard work but they promise success!
Hopefully, you have realized that Clickfunnels is not a scam after reading this post.
Get Free Instant Access to ClickFunnels Here
Is Russell Brunson or ClickFunnels A Scam?
No, Russell Brunson is absolutely NOT a scam. He is a legit and very successful online entrepreneur. I have bought his online course, ClickFunnels and eBooks. All provide a lot of value.
Actually, I have learnt so much from Russell Brunson. He has inspired me a lot when it comes to online marketing. You cannot go wrong learning from Russell Brunson if you want to make money online.
With a depth of experience in online marketing, I've been captivated by Brunson's drawl for some time now. It is his willingness to help others who makes him so appealing in a crowd filled with cheerleaders who trumpet their own products.
In any industry, those who work diligently to add value will achieve success. This is exactly what Brunson has strived to achieve throughout his career: to make the lives of entrepreneurs easier by freeing them from the restrictions of a full-time job.
Nevertheless, there are a lot of scammers in the sea of online marketers, so I can understand how one can think it's not legitimate. You can tell whether a software is a scam based on the time it has been in operation.
Generally, scammy marketers don't last too long, since people find out pretty soon. This is one good proof that ClickFunnels is reliable – it's been around for a few years.
ClickFunnels Review: Final Verdict
Here comes the conclusion of this ClickFunnels review. ClickFunnels is specifically designed for online marketers. This ground-breaking software has helped many online entrepreneurs of different niches or industries to build a multi-million empire online.
If you wonder if I recommend ClickFunnels, my answer is YES!
ClickFunnels is a pioneering sales funnels builder. And it's no doubt that it's a fantastic tool. Packed with many features and functions, it can help increase conversion rate and make more money.
I've tried other marketing tools on the market, but no one comes close to ClickFunnels in terms of functions and flexibility.
Although it's a bit expensive to some people, ClickFunnels is worth the investment if you are serious about making money online.
The power of automated sales funnels is the game-changer. Ditch the outdated sales techniques and convert visitors into customers using ClickFunnels.
I highly recommend giving ClickFunnels a try. You can get access to the 14-day FREE trial here.
The 14-day FREE trial of ClickFunnels should give you enough time to explore the whole platform and even finish the training inside.
Use ClickFunnels to grow your business today.
Get Free Instant Access to ClickFunnels Here
Where to Get the Best Deals of ClickFunnels?
ClickFunnels does not have a free plan.
But you can click the button below to get a FREE 14-day trial and test it out yourself.
You can get access to the premium training inside ClicFunnels for free. So even if you decide not to use ClickFunnels later, you still benefit from the premium training there.
Do you have any questions about ClickFunnels?
Feel free to leave a comment below and I'll be more than happy to answer your questions about ClickFunnels.
Get Free Instant Access to ClickFunnels Here
ClickFunnels Review FAQs
1. Is ClickFunnels able to replace my website? How does ClickFunnels work?
Yes! It is possible to build a main website directly in ClickFunnels. ClickFunnels is intended to help you escape from the traditional website trap. ClickFunnels makes it incredibly easy to create marketing funnels and a complete marketing system with proven, visually editable templates.
2. What are the benefits of using ClickFunnels?
ClickFunnels is a tool that can help you generate more sales online if you have an online business. ClickFunnels was built to simplify business online by making it as easy as dragging and dropping the required components. This software allows you to use the most powerful tools on the web to increase your sales online.
3. If I exceed my page visitors, what happens?
The ClickFunnels basic plan limits you to 20,000 unique visitors. Your funnel pages will display an affiliate badge when you exceed this limit of visitors. After midnight UTC on the 1st of the month, the counter will be reset.
4. Can you tell me how to create a sales funnel?
Creating high converting sales funnels online no longer requires knowledge of computer programming. All you need is a sales funnel builder, ClickFunnels. Once you have an account, you can put together sales funnels using their easy-to-use interface.
5. What products or services can I sell using ClickFunnels?
You can sell nearly anything with ClickFunnels. Online marketers can sell digital products, physical products, and services.
6. Does ClickFunnels work for my niche?
Sales funnel builder ClickFunnels works for entrepreneurs and business owners in any niche
7. How can I make money with ClickFunnels?
ClickFunnels is a marketing software for businesses. You can use it to create sales funnels for your own products and services. You'll "make money with ClickFunnels" by using it to market and sell your products and services more effectively.
8. Is ClickFunnels compatible with any payment gateway or SMTP?
Using the Basic plan, you can have 3 payment gateways and 3 SMTPs. The Platinum plan allows you to add up to 9 payment gateways and 9 SMTPs.
9. When a person opts in to my funnel, how can I send them an automated email?
If you have ClickFunnels Platinum, this is possible either through 3rd Party Integrations or through Follow-Up Funnels directly.
10. Is it possible to use an existing domain for my funnel?
With ClickFunnels, your custom domain can be pointed to ClickFunnels for use in your funnels.
11. Is it possible to buy a domain from ClickFunnels?
With ClickFunnels, you can buy/register a domain and use it in your funnels.
12. Do I also get email hosting if I buy a ClickFunnels domain?
ClickFunnels doesn't offer email hosting services; however, you can connect your ClickFunnels domain to two integrated email hosts: Zoho and Google Workspace.
13. After the free trial period of 14 days, will I be charged automatically?
A credit card on file will be charged if the trial period ends without the account being cancelled or scheduled to be cancelled. Accounts are automatically charged 14 days after their activation.
14. How does "Pay As You Grow" work?
While it might sound like a specific payment plan, the "pay as you grow" phrase is not intended to be interpreted that way. You won't be locked into any plan. This means that you can upgrade or downgrade at any time, whether your business is growing and you need more capacity, or you need to reduce costs and choose a lower capacity plan.
15. What are Sales Funnels?
The focus of ClickFunnels is on streamlining sales funnels. The goal of a funnel is to use automated systems to attract web traffic and guide it through a series of steps towards becoming a paying customer. A funnel is well suited for generating sales continuously with very little effort once it has been optimized and set up, leaving you free to focus on other areas of your business.
Lead magnets – the content that draws potential learners – are the foundation of sales funnels. You may attract your audience to your blog, a Facebook or Google advertisement, or your social media page. A magnet's purpose is to solve a pain point for your target audience.
To attract new students to a course on playing the piano, for example, an educator could use a YouTube video introducing the basics of playing scales. By identifying the target audience (novice piano players), the magnet addresses a specific pain point (how to play scales).
As soon as a magnet has drawn potential learners, the next stage of the funnel involves keeping their interest. In order to get more valuable information, learners are usually encouraged to sign up for a newsletter.
More people will sign up for your newsletter if it includes a lead magnet, such as an ebook or a guide. As subscribers subscribe to your course, seminar, book, or another offering, an automated drip campaign is sent out that establishes your credibility as an expert.
In this YouTube video, Russell Brunson will explain to you about the sales funnel.
17. Why Should You Create Sales Funnels To Optimise Sales?
Mass emailing, spamming social feeds, advertising to irrelevant people does not work anymore.
Instead of directly asking people to buy from you in the first place, you should add them to a sales funnel for building a relationship. You can provide more information about your offer, send some personalised and relevant content to prospects and eventually make a final offer for sale.
Here's a simple infographic that shows you exactly what a sales funnel looks like:
Basically a funnel is designed to appeal to your customers' psychology. It works step-by-step to bring a prospect closer and closer to the checkout page.
In the past, it took weeks and a lot of work to create these sophisticated sales funnels.
Prior to the creation of ClickFunnels, the founder, Russel Brunson had to rely on 8 programmers and 2 designers to set up a basic sales funnel. Not many online marketers have such resources, especially when they are just starting out.
But with ClickFunnels, it helps manage every step of the sales process for you. You can create sales funnels very easily with drag and drop editor on ClickFunnels.
And building a sales funnel with ClickFunnels allows you to attract targeted leads and turn them into customers, and most importantly, increase your average order value with upsells and downsells in the sales process.
After you set up the whole funnel with ClickFunnel, the sales funnel basically works for you automatically and grows your business 24/7.
The cool thing is you can create this automatic sales machine by yourself without paying for a team of developers, designers and sales team.
Get Free Instant Access to ClickFunnels Here
ClickFunnels Alternative: Make Passive Income Online
If you don't have any experience with the online business, you might not see the value of ClickFunnels. You need to decide on a business model first before you can use ClickFunnels.
As an experienced Internet entrepreneur, I'd say affiliate marketing is the best and the easiest way to make money online.

Why? Because it's been proven to work for many people and you can do it as a side hustle.

In affiliate marketing, you can run your business almost at zero cost without any trouble from sourcing products or managing inventory.

More importantly, it allows you to enjoy a steady stream of passive income while going on vacation or working a full-time job.

Warren Buffet once said, "If you don't find a way to make money while you sleep, you will work until you die."

The easiest way to make money while you sleep is getting started with affiliate marketing.

And since the world is full of uncertainty, I'd always choose a business model that has the lowest risk.
But How Much Can You Earn in Affiliate Marketing?
A 21-year old student from my #1 recommended training platform of affiliate marketing was able to earn $7,395 in just 1 week, which means he made more than $1k a day…all while using free traffic methods.
Wealthy Affiliate has existed for more than 15 years and there are many success stories over the years.
To give you more examples, here are some of the other inspiring success stories of Wealthy Affiliate members.
Where to Join Wealthy Affiliate?
Wealthy Affiliate has a very simple pricing scheme. It has free and premium membership.
If you are interested in Wealthy Affiliate, you can sign up for the starter membership here (no credit card required). You can select to be a free member with no time limit.
And as a starter member, you can get instant access to the community, live chat, over 500 training modules, 2 classrooms, networking, build 1 free website, access to the keyword tool.
You can enjoy all these values without paying a penny.
So I strongly recommend you to register a free account and see it yourself.