Are you looking for a ShineOn review? Is ShineOn a scam? Can ShineOn really help you build a profitable print-on-demand eCommerce business?
Is it difficult for you to start your own business because of a lack of human resources, capital, and experience?
If you identify with any of the above, ShineOn jewellery claims to help you.
The ShineOn model for PODs claims to be the most hassle-free, beginner-friendly, and low-risk eCommerce business model.
However, you may wonder if that sounds too good to be true.
To help you make an informed decision about ShineOn, I have done thorough research about it in the past few weeks. So I can tell you everything you need to know.
As a disclaimer, I'm not affiliated with ShineOn, which means I'm not paid to write this review. So you can be sure that my words are unbiased.
ShineOn Review – Key Takeaways
In this ShineOn review, I'm going to cover the following topics.
What is ShineOn?
ShineOn was founded by Eric Toz on January 1, 2016. As a relatively new platform compared to most of its competitors like Printful, it has established itself as a place for people who want to do print on demand (POD) jewellery.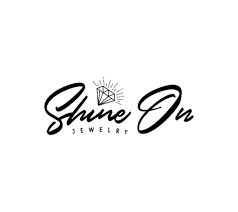 Custom printed jewellery is the main focus of the platform. As of now, only Shopify sellers can use it
Sellers can use it to design products, fulfil and ship orders, keep track of their sales data, and host their products on their servers. Creating products and advertising on Facebook is all they need.
ShineOn's jewellery is not expensive, but I wonder if women would like to wear cheap jewellery. ShineOn claims that these items sell because of the sentimental value of the engravings or printed cards, but I doubt it.
ShineOn jewellery can be designed in two different ways.
First, your design can be placed on the jewellery itself. You can design a graphic, a photo, or even a short phrase.
You can also design a card to go with the jewellery. This is most often used for products where engraving or printing is not possible, such as 3D pendants.
The ShineOn Jewelry App allows you to use your own unique designs to sell the items they sell on your own Shopify store and allow visitors to purchase them from your store.
ShineOn fulfils the order and sends it to your customer without you having to do anything. After you receive an order and the customer pays for it, you pay ShineOn.
ShineOn Fulfilment is currently only compatible with Shopify. Integration with other e-commerce platforms is not possible at this time.
In addition to creating video mockups for your designs, ShineOn Jewelry also provides you with advertising services such as low prices for making video ads. But you cannot expect the quality to be very good.
Recommendation: Here's The Best Alternative
Who Is the Founder of ShineOn Print-On-Demand?
Eric Toczko is the man behind ShineOn Jewelry Fulfillment. He's an eCommerce veteran who built the world's first print-on-demand jewelry company.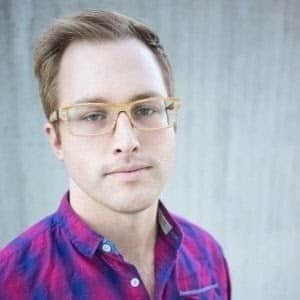 From his LinkedIn profile, it appears that he worked at CustomMade, Inc (a custom jewelry company) prior to founding ShineOn Jewelry, which suggests that he already has experience in the field.
Eric has experienced the ups and downs of building the leading platform for handmade, personalized goods on demand. One of the defining moments for his company, ShineOn, was raising $1.3 million in seed capital from VCs.
ShineOn is now a well-known platform that allows online sellers to sell made-to-order, personalized jewelry without inventory.
What Is POD Jewelry?
Manufacturing processes that produce "print on demand" (POD) produce goods only when they are ordered.
This is a more economical and efficient manufacturing method because it does not require large initial orders or inventory. POD Jewelry, or print-on-demand jewelry, is made this way.
This means that you do not actually order the jewelry until someone places an order for it.
Recommendation: Here's The Best Alternative
How Does ShineOn Work?
ShineOn lets sellers and designers create POD jewelry products.
You can create designs yourself or hire a professional
To create marketing mockups, a user uploads a design to the ShineOn platform and selects a piece of jewelry to apply the graphic to. ShineOn does not start making a product until someone buys it.
The product creator receives the difference between the price of the item sold and the amount ShineOn spent to make and ship the item.
As for the products, ShineOn claims it conducts tests on jewelry to determine which have the best chance of selling. The team claims to research and test new products to make sure they are up to date with the latest trends.
ShineOn Sales And Marketing Features
ShineOn offers sellers an array of marketing tools that may help them sell more products.
ShineOn University
In this free course, you can learn how to sell using the ShineOn platform or Shopify. This course will explain to you how the whole business model works.
You can learn the basics for free, but some paid courses offer you more strategies to increase sales.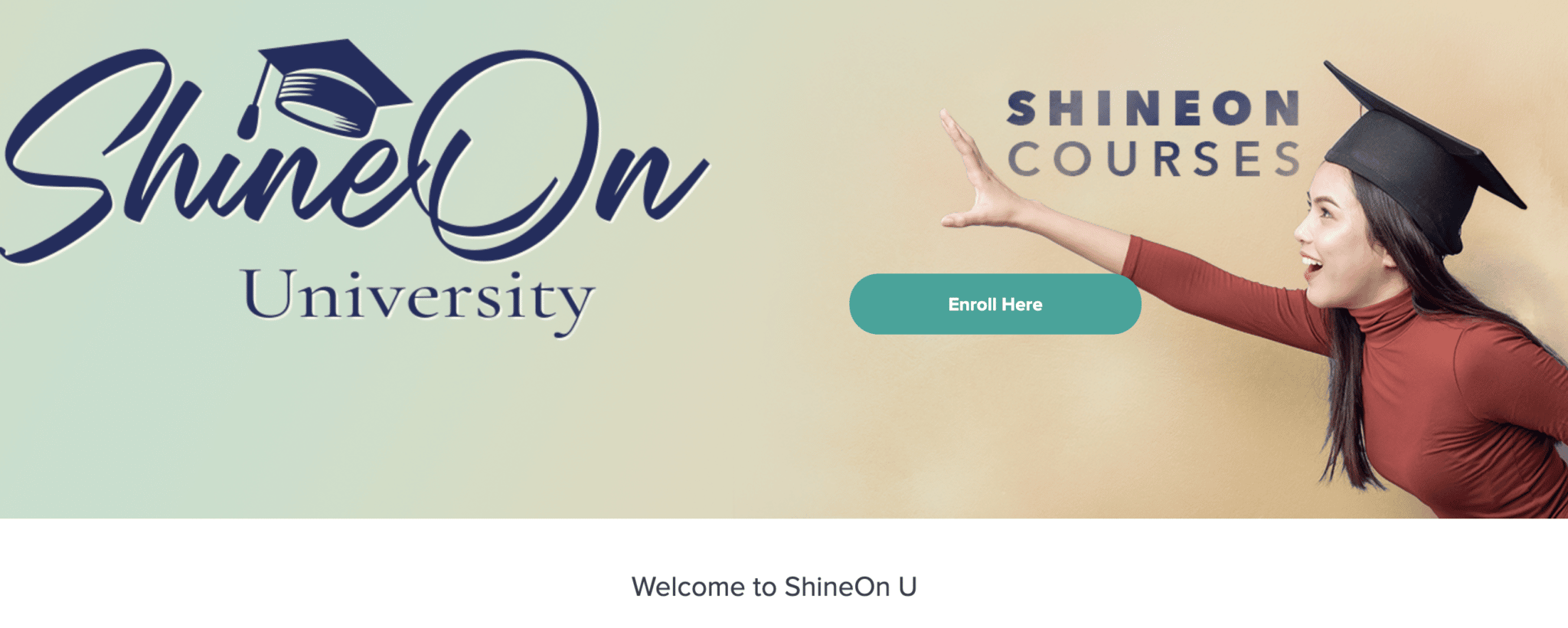 ShineOn Knowledgebase
New sellers can use it as a guide. Text tutorials are usually available, but video tutorials are also available.
The following topics can be found in the knowledgebase:
Getting started on the Shopify platform and the platform itself

Order management in Shopify

Information about shipping and fulfillment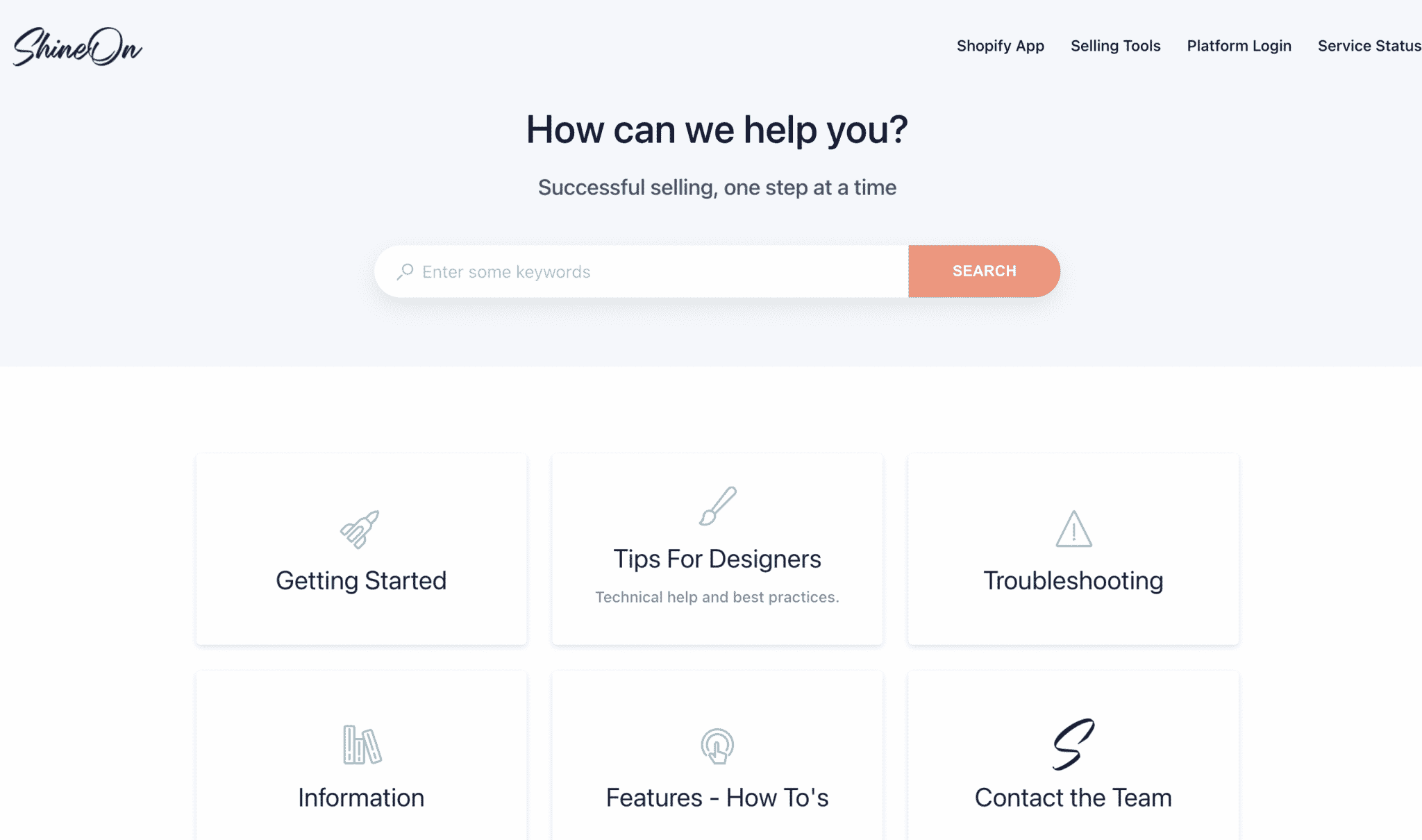 ShineOn Retargeting
ShineOn offers this service for free. It allows you to serve Facebook ads to people who have added products to their cart or initiated the checkout process
ShineOn also sends them an email. ShineOn claims that this way you can increase your sales, since people tend to buy again if they have a history.
ShineOn Sales Page
ShineOn allows you to create and edit product sales pages. After you get the link, you can add it to your Facebook page. It will then direct traffic to your page. You can click "Show in shop" to get the link.
ShineOn Creatives
The Mockup Library contains a wide selection of mockups, video creatives and designs that you can use to create greeting cards and customize jewelry.
You can use it for free if you haven't created a design yet.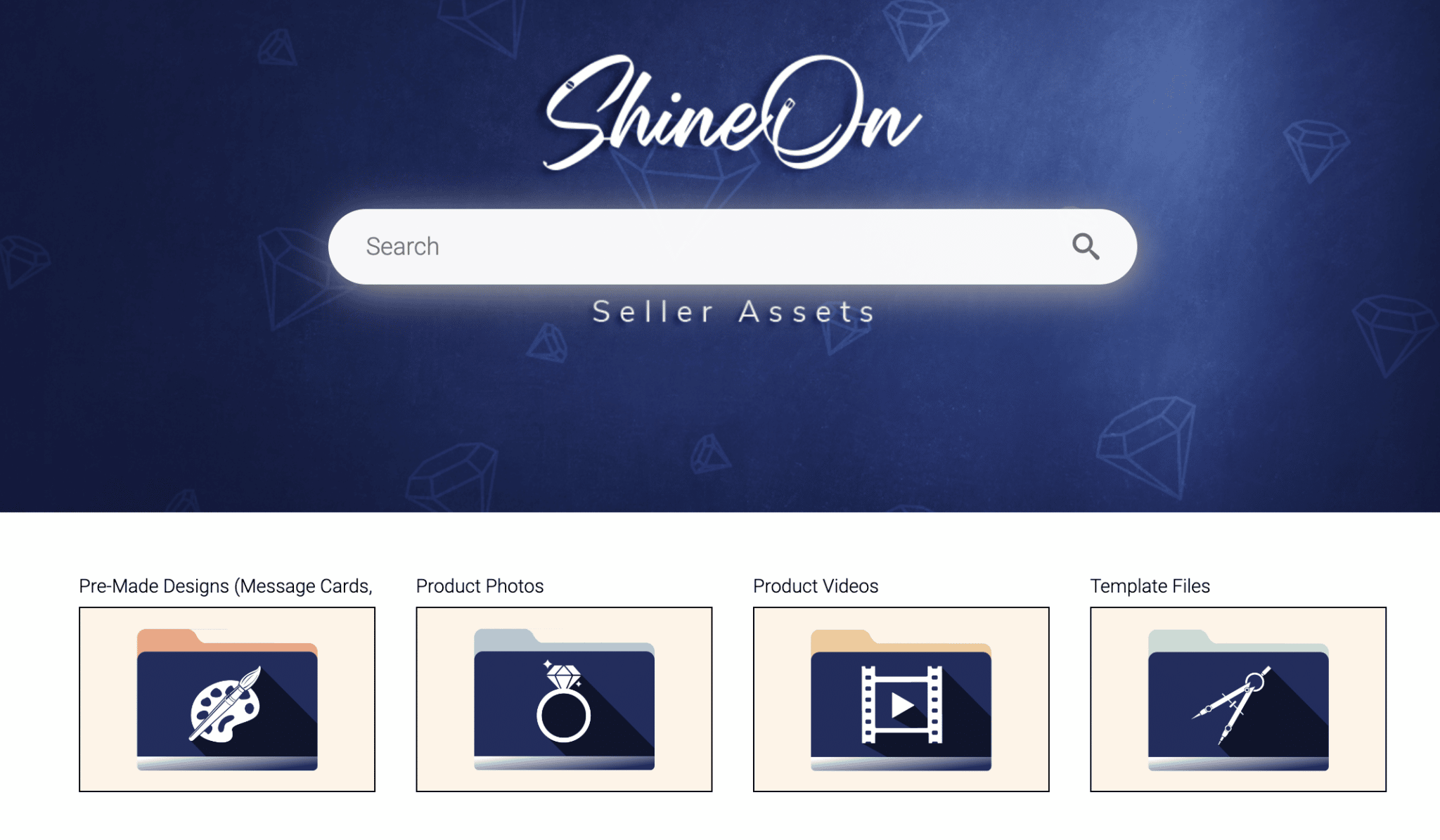 ShineOn Mockups
ShineOn offers a wide range of free mockups for its sellers. Just drag and drop them to redesign the layout. Not only can you use them for your advertising, but you can also upload your own product images.
ShineOn Customer Service
Most POD sites will only assist you with manufacturing and shipping, but ShineOn goes so far as to provide you with customer support for your customers. If your customers wish to contact them, they can fill out a contact form or send an email to [email protected].
I wonder if this is really practical in reality because you won't want your customer to know that you are dropshipping products from ShineOn.
Engraving Upsells
When you sell the jewelry, you can charge $15 or more to the customer for this additional charge of $6. The average order value will go up. Pricing can be modified in any way you choose.
Discount Tools
You can add coupons to your product pages to boost sales. Just click on the Discounts tab on the left side of the platform to get to the discount tools.
There you will see all the coupons, grouped by the amount of savings your customer can get with each coupon. Some codes provide a specific percentage discount, while others offer a fixed dollar value as a discount.
Discount tools can be used to market, but you can adjust the prices of your products to get the same profit margin.
Sellers Facebook Group
ShineOn has a private Facebook group for the sellers to ask questions and help each other.
Recommendation: Here's The Best Alternative
The Shineon Etsy Integration
Initially, you could only get ShineOn by downloading the ShineOn Shopify app. The explosive popularity of Etsy has prompted ShineOn to connect with Etsy, making it easier for you to manage both your Etsy store and your ShineOn account.
This way you can connect your Etsy store with ShineOn so that orders can be fulfilled without any additional input from you and vice versa.
What Products Can You Sell With ShineOn?
ShineOn offers two types of products.
The first is graphic products. The collection includes keychains, bracelets, necklaces, and keychains with dog tag, heart, and cross pendants. Instead of graphics, jewelry buyers can upload their own photos as designs.
There are two ways to design them. The first is to use a transparent background. The second is to use a non-transparent background. It means that if you use transparent backgrounds for your graphic design, the background color will be the color of the product you choose. In that case, the pendant will use whatever color you have chosen as the background for your design.
Jewellery with 3D charms and cards that contain messages are another type of graphic products.
To use the platform, you need to upload a pre-made design. In addition, ShineOn offers its members some free designs that have supposedly been tested, which I doubt.
Using a template, you can specify the safe areas and bleed zones on your card design. This way you can avoid designing outside the printable area. Make sure the graphics are appropriate for the product by avoiding designing outside the printable area.
Further customization is possible by engraving the jewellery itself. You can have letters or a photo engraved on the plaques.
Necklaces with heart or dog tag pendants can be engraved with photos.
Pendants in the form of hearts, crosses and sometimes animals are usually found on 3D necklaces. Designed card boxes with sentimental sayings are used for these products, but they are not designed for engraving. It is claimed that these types of ShineOn products attract customers' attention not because of the jewellery or design, but rather because of the sayings
You can also sell pure engraving jewellery under ShineOn. At the moment, there are only two items available. One is the necklace with horizontal bar and the other is the keychain with engraved rectangle.
Recommendation: Here's The Best Alternative
How To Get Started With Shineone Without Your Own Store?
In the beginning, ShineOn was only available as a Shopify app because that was the platform they used to sell their goods. Then, in 2019, the ShineOn platform was introduced.
It allows sellers to make products, post them on ShineOn.com, and then use Facebook ads, for example, to draw attention to their products.
This is a good option to get started without the time and effort required to set up your own store, and to jump on a trend as soon as it becomes popular.
The guide to getting started can be found at https://shineon.com/pages/welcometoshineon.
Cons and Complaints of ShineOn
1. Low-profit margins
The cost of on-demand printing is higher than buying wholesale. Your profit margins will be significantly lower.
Also, since print-on-demand companies handle all shipping, packaging, and sales, they collect a higher percentage of the profit.
You also have to pay royalties to the artists.
Adding up all the costs results in a very low-profit margin. Many eCommerce stores using Print-on-Demand services like ShineOn struggle to make a decent profit because of this.
2. Poor Product Quality
ShineOn Print on Demand is not advanced enough to ensure quality in the creation of your artwork, your designs and your products. This can have a negative impact on your business.
Even though ShineOn claims to invest millions of dollars in printing equipment, there are still limitations to printing
Do not be fooled by the beautiful mockup photos you see on ShineOn. The actual product is very different from the mockup photos you see on ShineOn. It looks very cheap in terms of quality and it is unlikely that women would like to wear it to social events.
3. Slower Order fulfilment
Due to the fact that all products are printed on-demand, it takes longer to fulfil orders than if you had the product in stock.
Printing the designs and packaging takes time. Your customers may complain about the delay in shipping their orders.
4. Sales won't happen automatically
You shouldn't think that buyers will find you just because you make a beautiful design. Driving traffic to your online store is more important than a beautiful design.
Those who successfully use print-on-demand services spend a lot of time and money promoting their products and engaging with social media.
Without traffic, you cannot make money even if you automate the fulfilment process with ShineOn.
5. Customer Service May Be Delayed
Whenever there is a problem with an order, customers will contact you
However, you may need to contact your print-on-demand service provider, such as ShineOn, to find a solution. This can slow down your customer service process and cause unnecessary frustration for you and your customers.
One thing to note is that ShineOn only offers support via email. This means that you will not be able to get live support, and therefore you might have to wait for days for a response to solve a simple problem.
6. High Financial Risk
If you do not advertise your eCommerce store, you will not sell anything. But Facebook advertising costs skyrocket and eat up your profits. Before you see a profit, you may have to wait weeks, maybe even months, to break even.
In other words, there's a huge FINANCIAL RISK in the print-on-demand business.
7. Facebook ads are Pricey and Difficult
As you can see from most print-on-demand stores' results, the cost of Facebook ads will account for at least 30% of your total sales.
However, Facebook ads rarely remain effective for too long. Once your ad has exhausted the audience, it ceases to work. The total revenue will be much lower, even resulting in a loss.
According to Forbes, Facebook saw an increase in Ad costs of 90% year on year.
Further, Facebook's algorithm is constantly changing, so learning how to use Facebook ads is quite challenging. To learn and test Facebook Ads takes a lot of time and money.
Ad accounts that run Facebook ads without any experience will be banned for violating Facebook's strict policies.
8. Customer Support is very time-consuming
Communicating with ShineOn and dealing with customer service takes a lot of time when dropshipping with ShineOn.
You have to wait for ShineOn to help you if your customer has a problem with the product
ShineOn does not offer returns or refunds in most cases, so you have to bear the loss yourself. As a result, many POD stores have poor customer reviews and no returning customers.
If you have a lot of credit card chargebacks, your gateway could be closed in the worst case.
9. Hard to Create Popular Designs
In order for your POD store to remain profitable, you have to develop a design that can go viral so that the advertising costs can be covered.
In POD stores, products reach their peak in 1-2 months or even weeks. Competitors will steal your design and create an ad that is better than yours. In addition, they will increase their Facebook advertising budgets to outbid you.
Therefore, you need to keep coming up with new designs to generate cash flow.
There are people who post their earnings online, but they do not tell you what the net earnings are.
Some of them may be making money, but it's not sustainable.
The POD business model with ShineOn is not as passive as you might think. A successful business with POD requires you to keep coming up with new designs and testing new ads to generate a steady income.
10. ShineOn Makes Money But Not You
Think about it: If POD 's business is very profitable, why would not ShineOn run it itself?
The reason is that people who sell shovels during a gold rush make much more money than those who actually mine for gold. ShineOn got rich by selling printing services to you.
ShineOn makes the process of opening a shop and selling designs seem simple. However, the process is more complicated than it seems.
POD stores rarely make a profit.
ShineOn knows that the jewellery they produce is hard to sell. That's why they offer a print-on-demand service instead of selling the jewellery themselves.
11. High Refund Rate
The return rate at POD is very high. Your ShineOn jewellery is poorly made despite your unique designs.
Because of the inferior materials, your customers are highly likely to request a return and refund
Therefore, the rate of chargeback is very high. This may result in your bank account being closed.
If a refund is requested, you will be responsible for the cost of the product and shipping.
If you follow my recommended business model #1, which I will explain in the next section, you will not have to worry about this problem.
12. POD Business is Highly competitive
With a low barrier to entry, anyone can start a POD business. Therefore, many people will copy your top-selling products and become your competitors
To survive, you need to test new designs that are unique and still appeal to your audience. Creativity alone does not guarantee sales.
You probably will not make five figures a month with a business model from POD. You would need to spend a lot of money on advertising, such as Facebook ads. Without advertising, you will not sell anything.
And if you are selling jewellery, you are competing not only with other ShineOn POD businesses, but also with major jewellery brands like Cartier. That's why it's almost impossible to win the competition.
If you are looking for passive income, I would not recommend you to start with POD.
13. Winning designs die very quickly
If a POD product is hot, you still won't be able to sell it for a long time. The popularity will fade within a few weeks.
Don't expect to find one winning design and then make money while you sleep. You need to keep creating new designs to maintain your sales. You need to stay on top of the trends at all times.
14. Lack of control
Consumers and business owners can neither control the people at ShineOn.
You cannot speed up delivery if orders don't arrive on time.
In addition, you cannot control how orders are packed and fulfilled – you have to rely on ShineOn.
If they do not have enough stock, some products might become unavailable. Even if your product is hot-selling, you must stop promoting it.
15. Long Shipping times
In the POD business, there is often a problem with shipping times.
ShineOn does not have its own logistics network, but outsources it to a third party. ShineOn has very limited control over the shipping time.
It may take a very long time for a customer to receive a product ordered from another country.
Customers may have to wait about a month for international shipping.
Customers may not be satisfied with your shipping times and may request a refund before their order arrives.
16. Difficult returns and refunds
If you enter the wrong size, color, or design, you can't return or exchange the item. ShineOn does not store returned items in their warehouse since they only print when someone orders. Exchanges are also not possible since each order is unique.
You must inform your buyers about this policy. But that may reduce your sales.
17. Poor Customer Reviews
I found that ShineOn has quite a lot of poor customer reviews.
There are a lot of negative Yelp and BBB reviews about the quality, delivery, and customer support. Additionally, reviews are not allowed on their Facebook page.
Here are some extracts that you make reference with: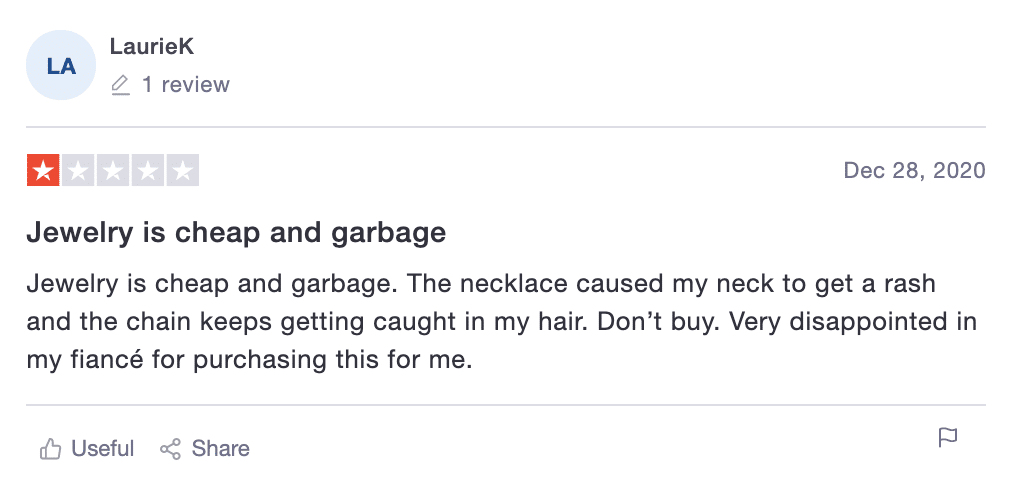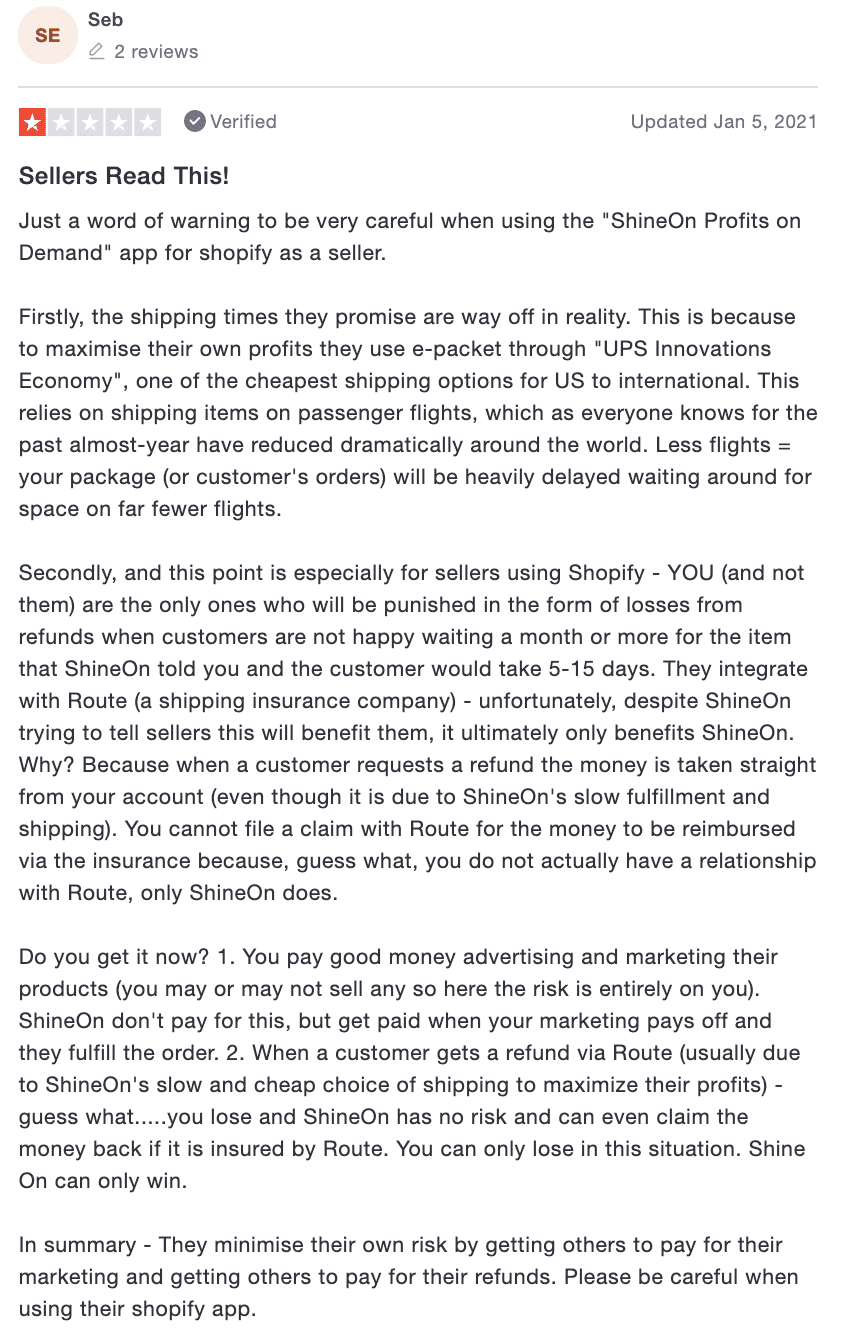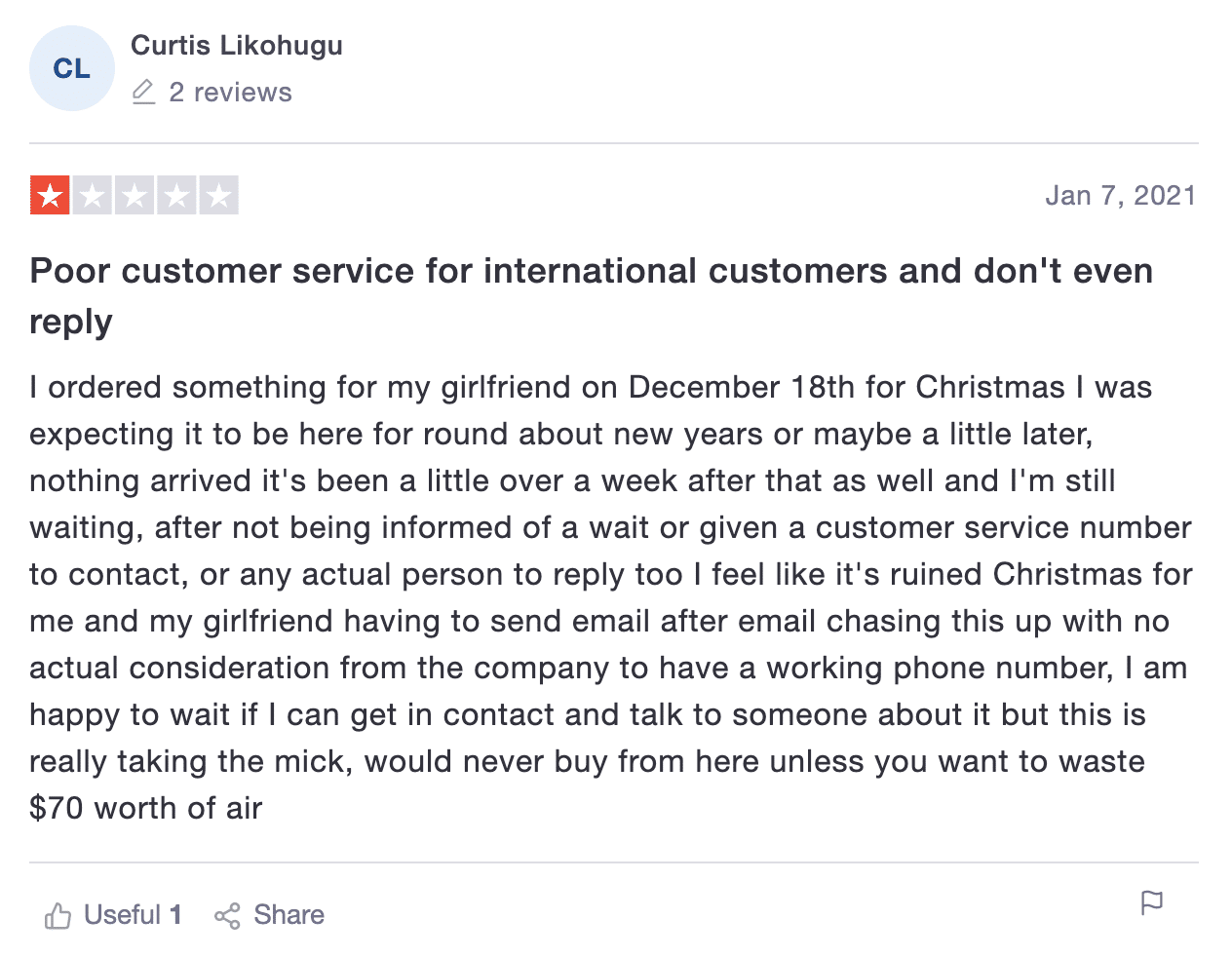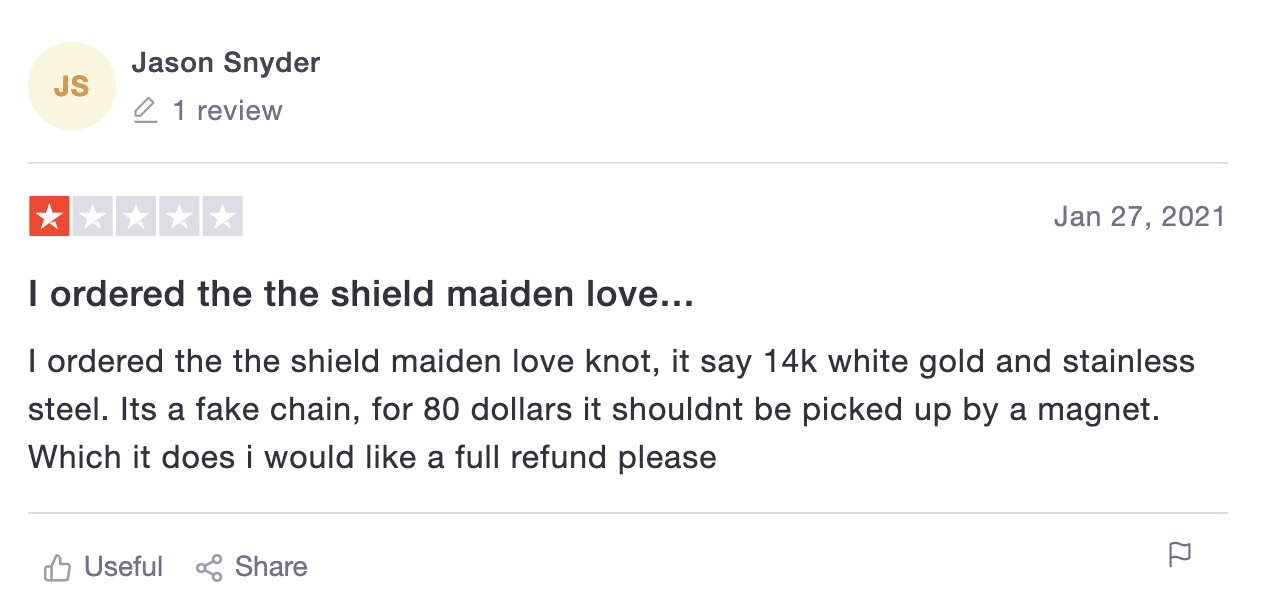 18. Can Only Use ShineOne With Shopify
ShineOn Apps are available for Shopify, but not for other platforms (e.g. Amazon, BigCommerce, etc.).
The app is not available in the Shopify store, so you can only download it from their website.
This means that you cannot see other ShineOn Sellers' reviews of the company.
It's not clear if ShineOn was unlisted by Shopify due to the violation of Shopify policy. This might raise a red flag.
Recommendation: Here's The Best Alternative
ShineOn Jewelry Pricing
ShineOn Jewellery is not very expensive. But it also means the quality and the materials used are not good.
Costs of ShineOn jewellery depend on the design, the color, and whether it is engraved.
Currently, the cheapest baseline product cost is $9.90. Most often, the steel or silver variants are the cheapest.
The following products also have a baseline cost of $9.90.
Circle Pendant with Snake Chain (Silver)

Graphic Heart Keychain (Silver)

Dog Tag with Swivel Keychain (Steel)
For an additional fee, customers can purchase 18K gold upsells and engraving upsells.
For example, the circle pendant with snake chain in gold color with engraving costs up to $21.65, an $11.75 price increase.
If your customer chooses the upsell, their order value is higher. You will need to add $6.75 to the cost of your product to cover the engraving, but you can try charging the customer up to $15.
Recommendation: Here's The Best Alternative
Is ShineOn Platform Easy To Use?
ShineOn's platform is easy to use. Even beginners can easily create products and set up accounts, but remember that this doesn't mean that you can make money with it.
You can create an account with ShineOn. By entering the email address you used when you signed up and your password, you can log into your account if you already have one.
When you first sign up for the ShineOn platform, you will be asked to enter information that applies to all your products. Facebook Pixel ID, Google Analytics ID, and URL handle are some of the information you will need to enter.
To receive payouts, you must provide your PayPal, Payoneer, or Pingpong account information. This is how you will earn commissions from selling under ShineOn.
Additionally, you will need to indicate your name, email address, the password you wish to use, location, and a second email address to receive notifications.
You can immediately create a product to promote if you already have an account created and a design ready to upload. This is a simple process that takes less than 20 minutes.
You can create a product by clicking the "Create Product" button on the right-hand side of the site. When you click on it, you'll see a list of all the products you can sell.
When you select a product, you will be directed to a page where you can upload your design. Make sure you give your product a title
With ShineOn, you get pre-made product descriptions that you can edit to better appeal to your target audience. Create the product variants you want and set the price at which you want to sell them.
On Facebook, the ID pixel is already pre-populated with the ID you used when you set up your account. You can change it if you wish.
The product page URL handle can also be edited, as well as the Google Analytics information, targeted niche, and targeted keyword. Click "Publish" when you are done.
A sales page will be assigned to the product you created. You can use the URL for Facebook ads so you can drive traffic to it.
When orders are placed for ShineOn products in their Shopify store, sellers are automatically charged wholesale for their items.
Below is a video that shows you how to integrate ShineOn with Shopify:
https://www.youtube.com/watch?v=0kdlBkckvxE
ShineOn Fulfillment Shipping Rates & Speed
ShineOn Jewelry has low shipping fees compared to some of the big POD companies
Express shipping is not currently available. The following rates apply regardless of the item:
Items are shipped from the U.S
That said, I have noticed that there are a lot of complaints on Yelp and BBB about delivery times. This could be a red flag for you because shipping speed is very important in the eCommerce business. Long delivery times can lead to many customer chargebacks.
Can You Really Make Money With ShineOn Platform?
The ShineOn platform offers you the possibility of financial gain. You do not need to have an e-commerce website when you use the ShineOn platform to design and sell your own jewelry products.
Members of a "pod" work together to sell ShineOn items and share the money earned. The bottom line is that ShineOn may be lucrative whether you sell independently or through a pod.
However, as mentioned, it sounds too good to be true. It's hard to sell ShineOn jewels due to their poor quality.
Positive and Negative Feedback From Customers of ShineOn
Positive Feedback
With the ShineOn Jewelry app, you can sell items in your own Shopify store.

It's an eCommerce startup in a box.
Negative Feedback
Print-on-demand services will take a larger share of revenue because they handle all shipping, packaging, and sales.

There is no customer support phone number.

In 2022, this is not the ideal business model.

Poor printing quality
Slow shipping
Hard to promote
Is ShineOn a Scam or Legit?
ShineOn is not a scam. Their business is totally legit and legal.
However, I don't recommend ShineOn because it's hard to make money with them.
ShineOn products are limited, and the perceived value is low. A cheaply made ShineOn necklace is not worth a hundred dollars. Consequently, your pricing options are limited. Therefore, you will have a very low profit margin or even a negative profit margin.
The people who succeed with this business model are usually celebrities with large followings on social media. Therefore, they don't have to run paid advertisements, and their fans are willing to pay a premium for a low-quality product.
POD business model with ShineOn is not recommended if you want to make money online.
Recommendation: Here's The Best Alternative
ShineOn Review: Final Verdict
ShineOn is a relatively new player in the print-on-demand market. I doubt that anyone can make serious money selling ShineOn jewellery
And since ShineOn doesn't offer live support, you can expect a lot of communication issues.
To be successful with the ShineOn platform, sellers need to focus on creating successful designs and invest thousands of dollars in Facebook ads.
All in all, I don't recommend starting a print-on-demand business with ShineOn because it's difficult to make money with this business model.
Best ShineOn Alternative: Make Passive Income Online
Although POD business model using ShineOn seems to automate the order fulfilment process for you, it's not a passive income model. You still have to handle customer service, create designs, and do active promotion of your store. Therefore, it's not suitable for doing as a side hustle.
So you might wonder if there is a better business model that doesn't need Facebook ads and can do it as a side-hustle.
Yes, I would suggest you get started with affiliate marketing. It is far easier and less time consuming as you don't even need to handle customer service.
In affiliate marketing, you can run your business almost with zero cost. Most importantly, you don't need to invest in creating and developing any products.
But How Much Can You Earn in Affiliate Marketing?
A 21-year old student from my #1 recommended training platform of affiliate marketing was able to earn $7,395 in just 1 week, which means he made more than $1k a day…all while using free traffic methods and affiliate marketing.
Wealthy Affiliate has existed for more than 10 years and there are many success stories over the years.
To give you more examples, here are some of the other inspiring success stories of Wealthy Affiliate members.
Where to Join Wealthy Affiliate?
Wealthy Affiliate has a very simple pricing scheme. It has free and premium membership.
If you want to feel about Wealthy Affiliate, you can sign up for the starter membership here (no credit card required). You can select to be a free member with no time limit.
And as a starter member, you can get instant access to the community, live chat, over 500 training modules, 2 classrooms, networking, commenting, 1 free website, access to the keyword tool.
You can enjoy all these values without paying a penny.
So I strongly recommend you to register a free account and see it yourself.

Recommendation: Here's The Best Alternative
ShineOn Review FAQs
1. Where Is Shineon Located?
Each ShineOn jewellery product is claimed to be designed, personalized, and shipped from the US, specifically from Florida and New Jersey.
ShineOn headquarters are located at 119 High St, Fl 1, Hackettstown, New Jersey, 07840, United States.
2. How Do I Make Money With ShineOn?
ShineOn products can be marketed in two ways.
Free marketing is the first.
It may take some time to build a strong following by engaging and posting regularly on social media.
To showcase your products, upload mockups to the ShineOn platform. To drive sales, you need to know when and how to post.
With paid marketing, you can generate instant traffic to your sales page. While this can be a great way to grow your business, you also need to spend money to do so
Social media marketing requires knowledge so you can make sure you are doing it right. If you do not, a lot of money can be wasted on Facebook and Instagram ads.
However, since the profit margin on selling ShineOn products is very low, I doubt anyone can make a decent net profit doing this.