If you want to make money with affiliate marketing, you might have heard of Authority Hacker and their courses Authority Hacker Pro (AHP) and The Authority Site Systems (ASS).
However, since there are many online business scams, you might wonder if they're trustworthy. As someone who has joined the ASS course, I'm in a good position to share with you everything I know.
Though I think Authority Hacker is a credible company, I'm not affiliated with them. In other words, you can rest assured that I'm telling you the truth.
At the end of this article, I'll also share other alternatives with you, in case you don't feel comfortable with the Authority Hacker courses.
Authority Hacker Review – Key Takeaways
Course Name: Authority Site Systems/Authority Hacker Pro
Course Instructors: Mark Webster & Gael Breton
Price: $997 – $1997
Pros: Comprehensive training; regularly updated; useful templated;
Cons: Too expensive; lack of real user reviews; questionable link-building strategies
Overall Rating: 3/5
Verdict: An affiliate marketing course whose emphasis on link building might get you into trouble.
The Best Alternative: An All-in-One Platform to Make Passive Income Online
In this review of Authority Hacker, I'm going to cover the following:
Authority Hacker was founded in 2013 by Gael Breton and Mark Webster. They claim to help people build highly profitable authority sites.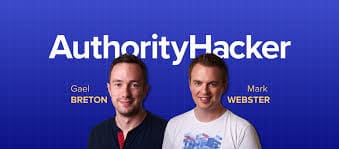 They define authority sites as a content-driven website that is a reputable and trusted source of information. It is a great website that adds real value with excellent editorial standards.
Google likes authority sites, so content published by sites with high domain value usually rank better.
So what approach do Gael Breton and Mark Webster take to building an authority site? They focus on link building, that is, getting other sites to link to your sites.
The problem, however, is whether it is practical to do so? Why should other sites link to you when your site is so new? This sounds too good to be true. I'll discuss this critical question in this Authority Hacker review.
Gael Breton and Mark Webster co-teach the courses: Authority Site System and Authority Hacker Pro. They make bold claims that you can make a 4 figure monthly income or more after taking the course. This also sounds too good to be true. You need to be careful when someone makes such a bold claim on the internet.
At the time of writing, they offer two courses: Authority Site System and Authority Hacker Pro.
The first is for beginners and the second is for advanced marketers. Authority Hacker Pro is twice as expensive as Authority Site System. I will tell you later if they are worth the price or not.
Learn more: Best Affiliate Marketing Courses
Recommendation: Here's The Best Alternative
Who is Gael Breton?
Over the course of more than a decade, Gael Breton has earned a solid reputation as an expert in the field of Internet marketing. In that time, he has helped a wide range of clients achieve online success, from small stores to Fortune 500 companies.
He has also established himself as a respected public speaker, having lectured on Internet marketing at Harvard, Wharton, and Oxford, among other institutions. When it comes to growing a company's Internet presence, Gael's expertise is invaluable.
Who is Mark Webster?
Since launching his first successful website in 2008, entrepreneur Mark Webster has been fixated on creating streamlined procedures and systems. Mark discovers every method to increase the productivity of his website.
He started his first business at the age of 13 and has started several more since. This has given him the ability to get the results he wants. And he's always happy to use his extensive experience to show others how to do it right
They've been working together since 2010, and as a duo, they're something of the yin and yang of digital advertising.
Gael has a limitless imagination, and Mark has the practical ability to put it into action. That's why they work so well together as a unit. They've accomplished incredible things as a team.
Authority Hacker doesn't directly help you earn money. It only offers affiliate marketing courses, including Authority Site System and Authority Hacker Pro, which teach you how to make money with affiliate marketing.
TASS is an intensive course designed to impart the skills and knowledge necessary for successful affiliate marketing.
Through detailed instruction and hands-on practice, you will learn to build an authority site that targets high-demand keywords, drive targeted traffic to your site, and convert that traffic into lucrative affiliate sales.
Learn more:
1. Mastering Diverse Skill Sets
Building an authority site is far from quick or easy, and it requires you to develop a range of skill sets. For new site builders, this can be a significant challenge since some of the required skills might be completely new to them.
To ensure the success of your authority site, you must become proficient in crucial areas such as niche research, link building, content writing, and small-scale systems management.
While it may take considerable time and effort to build these skills, doing so is vital for the long-term success of your authority site.
2. Budgeting and Time Management
Building an authority site can be expensive, and it's easy to spend money on the wrong things. Moreover, most site builders have to work with a strict budget, which can make it challenging to decide where to allocate funds.
Buying site content and other resources is becoming more expensive, and larger budgets might still feel insufficient.
On top of that, building an authority site also requires a lot of time and effort, which can be difficult to balance with other responsibilities in your life.
3. Managing Complexity
Authority sites are complex machines, made up of multiple traffic and revenue streams. Each incremental business model adds more complexity to the ecosystem, requiring its own set of skills, technology stacks, and management. As you automate different aspects of your site, you'll need to develop new systems to keep everything running smoothly.
Authority Hacker's courses teach you how to make money with affiliate marketing by building an authority site.
If you don't know what is affiliate marketing, it's basically recommending products or services to your website visitors. If your website visitors buy the product or service via your affiliate link, you will earn a commission.
The Authority Site System (TASS)
The Authority Site System is intended for beginners to learn the basics of affiliate marketing. They claim that it is "a complete step-by-step training course for building highly profitable authority sites from scratch"
They always promise that their system is proven to work. But there is no evidence to verify this. And if you sign up for the course and still fail, you can not blame the course, only yourself.
Authority Hacker Pro (AHP)
Authority Hacker Pro is an advanced course that includes 17 units. It is aimed at people who have experience with creating authority sites and with affiliate marketing.
When you purchase Authority Hacker Pro, the Authority Site System is also included.
Authority Hacker Pro covers various topics like advanced SEO, link building, email marketing, and sales funnels.
No doubt, this $1997 course is rich in content. There are more than 400 hours of videos and templates to browse through.
While the Authority Site System is always open for enrollment, the Authority Hacker Pro is closed from time to time. They probably want to create an artificial shortage to increase conversion.
Recommendation: Here's The Best Alternative
In the online world, a website is considered an authority if it is consistently regarded as reliable and authoritative in its field. It is a larger website, but one that offers real added value due to its high journalistic quality. Therefore, visitors can trust the site's advice and recommendations.
Large, long-standing, and highly regarded websites are called "authority sites" An added bonus is that they are user-friendly and visually appealing. In addition, authority sites offer constantly updated, high-quality content.
There are a number of benefits to using an authoritative source. First, the data they provide is solid and trustworthy. Second, they are respected by other websites, which can increase traffic to your site.
Last but not least, they can be a fantastic source of income through advertising and affiliate marketing. Creating an authority site is an excellent choice if you want your website to be taken seriously and trusted.
According to the founders of Authority Hacker, TASS is "a complete step-by-step training course for building highly profitable authority sites from the ground up."
Does that sound too good to be true?
Let's find out in the following sections:
Who is The Authority Site System For?
The Authority Site System is for anyone who has failed to make at least $1,000 a month with authority sites.
Who is The Authority Site System Not For?
If you are looking for the "quick buck", if you have limited time and if you expect detailed instructions, you should avoid The Authority Site System.
After completing the course, I think the following people are not good candidates for The Authority Site System:
People who want to "get rich quick". According to AuthorityHacker, students must put in at least a few months of work before they can expect to earn $1,000 or more from an authority site.

People who need every step explained in detail. You need to use Google and the private community of TASS to find answers to the questions regarding your site or niche.

People who don't have money. In addition to the cost of the course itself, building an authority site involves some other expenses such as web design, plugins, and content creation. It's best to start with

freelance

or

remote work

if you want to make money online on a small budget.
How Does The Authority Site System Work?
The Authority Site System is designed to teach students how to build authority websites. As the name suggests, an authority site is a website that focuses on a single topic in order to become an authority in its field and achieve high search engine rankings for a small number of keywords.
With TASS, you'll learn how to create a website that generates
Organic traffic:

TASS teaches you how to rank high on Google for the specific keywords in your niche.

Affiliate commissions: TASS teaches you how to join different affiliate networks such as

Amazon Associates

to promote their products and services.
These websites, known as Stage 1 sites, are designed to be simple and focused on generating "job replacement income," or a monthly income of $2,000 to $10,000.
While Stage 1 sites have the potential to earn more than $100,000 per month, it is generally recommended to diversify traffic and income sources once a stable income has been achieved.
Later-stage sites may incorporate additional types of traffic, such as social media and paid advertising, and additional sources of income, such as display ads and the sale of products.
How is The Authority Site System Structured?
The Authority Site System is a training program that provides a comprehensive overview of how to build an authority site, a type of website that is recognized as an expert in its field.
The program is divided into 15 core modules, each containing multiple lessons.
There are also bonus modules on advanced topics like affiliate marketing and email marketing. In total, the program includes over 160 lessons to help you get started building your own authority site.
Recommendation: Here's The Best Alternative
Authority Hacker Pro is a comprehensive training program designed to teach you how to build and grow a successful authority website.
According to Authority Hacker, an authority website is a content-driven site that is respected and trusted as a source of valuable information. These types of websites typically have strong editorial standards and deliver real value to their readers, which helps to establish trust and credibility.
Through the AH Pro training, you will learn various techniques for increasing traffic and conversions, scaling your business, and monetizing your site.
The program includes 16 advanced digital marketing blueprints that provide step-by-step guidance on building and growing an authority website in various niches.
That said, can AH Pro really help you make money?
Let's find out in the following sections:
Who is Authority Hacker Pro For?
The Authority Hacker Pro course is designed for affiliates who have already built a Stage 1 authority site and are looking to take their business to the next level.
If you are just starting out with building an authority website, it is recommended that you first complete The Authority Site System course before moving on to Authority Hacker Pro.
However, if you are considering purchasing Authority Hacker Pro and you have not yet completed The Authority Site System, it may be a good idea to do so.
The Authority Site System is included in the Authority Hacker Pro course, so you can save money by purchasing both at the same time.
This will give you the foundational knowledge and advanced techniques you need to scale your authority site and grow your business.
What Can You Get in Authority Hacker Pro?
Here's what you get when you purchase Authority Hacker Pro:
Editorial System Blueprint
The Editorial System Blueprint is a module within the Authority Hacker Pro course that is taught by Gael Breton. It teaches you how to set up an efficient system for producing high-quality content with editorial standards on your website, using a team of competent individuals.
The blueprint includes 11 modules that guide you through the process of building this system, which is based on a recommended project management software (a free version is available).
By following the steps in this blueprint, you will learn how to create a content creation system that runs smoothly and efficiently, with minimal effort on your part. The project management software recommended in this course will make it easier to communicate with your team and publish content and is something that Mark and Gael use frequently with their own team.
Although it may take some time to set up the editorial system, the end result will be worth it as your team will be able to handle the content creation process for you using task automation.
Building Your Content Team Blueprint
The Content Team Blueprint is a module within the Authority Hacker Pro course that is taught by Mark Webster. It is designed to help you build a content team that can produce high-quality content on a regular basis, enabling you to scale your online business and make money consistently.
The blueprint includes 14 lessons that provide a step-by-step guide on how to hire content writers, editors, and uploaders, including tips on where to find qualified candidates, how to screen applicants, and the best practices for interviewing, onboarding, and managing your team.
The Keyword Research Blueprint
The Advanced Keyword Research Blueprint is a module within the Authority Hacker Pro course that is taught by Gael Breton. It is an advanced course that covers a wide range of topics related to keyword research and niche analysis.
The blueprint includes 4 modules and a total of 19 video lessons that provide in-depth guidance on how to document your site's existing and target keywords using a template database (Google Sheet provided), how to analyze your competitors, and how to use seven advanced keyword research methods to identify valuable opportunities for your business.
The Guest Posting Blueprint
The Guest Posting Blueprint is a module that's all about guest posting, a classic but effective link-building technique. It's taught by Mark and has 5 modules that teach you how to get guest posts for your site through outreach.
Guest posting is a great way to improve your rankings and build successful websites. In this blueprint, you'll learn about email prospecting, using outreach software to send emails, fulfilling editorial requests, and tracking your progress.
Guest posts can be especially helpful for ranking inner pages and increasing the domain authority of your websites. If you're looking to up your guest posting game, this blueprint is for you.
Editorial Links With HARO Blueprint
If you're looking to get some sweet links from high authority websites like the NY Times, Huffington Post, and Reuters, you might want to check out the HARO (Help A Reporter Out) blueprint in Authority Hacker Pro. As Mark will tell you, "the devil is in the details" when it comes to using HARO for link building, and this blueprint gives you an A-Z guide on how to do it step by step.
You might have heard that HARO is a great opportunity for link building, but it can be tough to figure out exactly how to get those links without some guidance. That's where this blueprint comes in. It teaches you how to reach out to reporters and acquire high DR links through the HARO platform.
Plus, if you have a team, you can even outsource the process to them using the techniques you learn in this blueprint. If you're looking to build your link profile through HARO, this blueprint is definitely worth checking out.
The Shotgun Skyscraper Blueprint
The Shotgun Skyscraper Blueprint is a training course that was originally released by Authority Hacker in 2019, and it's now been included in Authority Hacker Pro. This blueprint is all about the Shotgun Skyscraper approach to link building, which is a white hat technique developed by Mark Webster and Gael Breton.
The Shotgun Skyscraper approach has been proven to work time and again, and it's a great way to quickly boost the domain rank of a new site. In fact, it's been known to take a site from a low domain rank to a respectable one in less than 6 months.
Site Speed Blueprint (NEW)
This topic is a new module within Authority Hacker Pro that covers a topic that might be a little "nerdy" but is also very important: optimizing the speed of WordPress websites.
After going through the course myself, I can say that I really appreciated how Gael provided three different options for speeding up WordPress websites: a free option, a decent option, and an expensive option. This way, you can choose the solution that best fits your budget and needs.
It's a great way to get up to speed (pun intended) on all the latest techniques and strategies for optimizing the performance of your site.
Growth Tips and Tricks (NEW)
This blueprint is where Mark and Gael continue to add more lessons and updates on how to improve your internet marketing business.
It covers a wide range of topics, including affiliate marketing, keyword research, on-page SEO, content marketing, email marketing, link building, WordPress, social media platforms, display ads (which was just added), miscellaneous tips, and more.
Overall, this blueprint is a great resource for staying up to date on the latest best practices in internet marketing. Whether you're looking for new ideas or just want to brush up on your skills, this blueprint has something to offer.
And with Mark and Gael regularly adding new lessons and updates, you can be sure that you're always learning the most current and relevant information.
The Other Blueprints
Here are the remaining online courses & training modules in Authority Hacker Pro:
Evergreen Funnel Blueprint

Creating Info Products Blueprint

Selling Your Site Blueprint (a big money-maker)

Lead Magnet Creation Blueprint

Giveaways Blueprint

Content Promotion Blueprint

Affiliate Marketing Blueprint

Email Marketing Blueprint (great for affiliate email marketing campaigns)
These were some of the first blueprints created for this course by Gael Breton and Mark Webster.
"Sell Your Site Blueprint" is taught by Empire Flippers. It was fun watching the blueprint for the course creation, as it's yet another way affiliates can make money (not to mention it increases your flipping value).
The Lead Magnet explains how to capture email subscribers from your target audience, offers email templates, explains email marketing 101, and gives follow-up tips.
How Much Does Authority Hacker Pro Cost?
Authority Hacker Pro only goes on sale twice a year, and it'll set you back $2,997.
If you can't fork over all that cash at once, there's a monthly payment plan option available for $297/month for 12 months.
But you'll end up paying $3,564 in total.
Recommendation: Here's The Best Alternative
1. Lack of real user reviews
I tried to search for the real user reviews of Authority Hacker on Trustpilot, which is the most credible review site:
However, it's weird to find only two reviews on Trustpilot. This is unusual for a course that claims to have helped thousands of people succeed in affiliate marketing. If it's true, there should be many good ratings there.
Also, one of the reviews only mentioned that Authority Hacker provided him with information to make money online. I couldn't even tell if it was fake or not.
Most of the good reviews were written by their affiliates. They get a commission of up to $990 if you buy Authority Hacker through their links. Therefore, their testimonials are often biased and not trustworthy.

These reviews are simply sales pages and tell you nothing about the hidden costs and the difficulties of actually making money.
By common sense, should you trust someone who has a conflict of interest that receives huge compensation by "reviewing" the course? Probably not. They are not reviewing, but selling!
Therefore, I recommend reading the reviews of those written by the non-affiliates of Authority Hacker.
2. It requires too much time and effort to build an authority site
An authority site is a website that has a lot of content. So you can imagine how much effort and time you need to create blog posts. You might not be able to earn a penny from your so-called authority site after working for a year.
Also, if you have a full-time job, it's hard for you to build an authority site as a side hustle. You need at least tens of hours every week to see a bit of result.
It's a "get rich SLOW scheme". It's really slow that it's almost impossible for you to make enough money to quit your job in the coming years.
Instead of creating an authority site, it's better to get started with some keywords with low competition and generate cash flow to grow your business.
There is no point in competing directly with big brands, which you can never win as an individual with low resources. Large companies have a team of content creators. Everyone only has 24 hours in a day. No matter how hard you work, it's unlikely you'll win against the big competitors.
3. Tricky limited-time discount offer
There has been a lot of buzz about the time-sensitive offer on The Authority Site System's sales page. On the sales page of TASS, you will find a timer at the very bottom:
The offer seems to only have a 5-day, 9 hours, 58 minutes time limit after which it will be gone forever.
In reality, when the countdown expires, you can still claim the discount.
Having said that, the scarcity timer being used by The Authority Site System is quite advanced.
The timer works by tracking both the user's IP address and browser cookies, effectively preventing the user from seeing the discounted offer again if it expires.
While some users have reported being able to bypass the timer by using different devices, VPNs, or deleting their cookies, it may be necessary to clear cache and cookies and try again at a later date if the discount is not taken advantage of before the timer expires.
If more time is needed to decide on a purchase, clearing the browser's history and cookies may allow for the discounted offer to be accessed again at a later time.
4. Lack of a helpful community
You can join the Facebook group for TASS or AHP, depending on which course you enroll in.
However, most of the time, the group is not helpful and your questions will be ignored and remain unresolved. You may feel helpless especially if you are just a beginner.
It is difficult to get a direct response from Gael and Mark other than the occasional posts/comments in the Facebook group and their course lessons.
If you want to get support from Gael or Mark, you have to upgrade to Platinum, which costs $5,997. The Platinum membership is an upsell of Authority Hacker Pro.
Don't forget that it costs $2,997 to join AHP!
In other words, you have to pay almost $9,000 just to seek advice from Gael or Mark.
5. AH courses are too expensive
The AH courses are very expensive and not everyone can afford them. The beginner course "Authority Site System" costs $997 while the "Authority Hacker Pro" costs $2,997.
If you want to start an affiliate site, you also have other costs like web hosting, keyword research tools, and other software or plugins to add the necessary functionality to your website.
So in total, you may have to invest $3K to $5K to build your affiliate marketing business at the beginning.
After all, Authority Hacker's course is merely a course. It's not an all-in-one platform that gives you everything you need to build an affiliate site from scratch.
I don't recommend investing so much money into a course when you have not made a penny. It's risky to invest thousands of dollars, while you are not sure it works or not.
Therefore, you may want to look at other affiliate marketing courses to compare.
6. You don't get technical support
If you are a beginner in online marketing, you probably need technical support from time to time. However, Authority Hacker only offers courses, but not technical support.
That means if you have technical problems with your website, you have no one to seek support. This is bad news for the newbies of online marketing.
Yes, you will feel helpless when you thought you can get all kinds of support after paying so much for the course.
7. Authority Hacker recommends using expensive tools
Authority Hacker recommends using expensive tools for building an affiliate site, which is actually not necessary.
For example, they recommend using a keyword research tool like Ahrefs which costs at least $99/month. As a beginner, you don't actually need to use these kinds of advanced tools. It will add a lot of burden to your business cost.
However, I reckon the reason why they recommend these tools is that they are the affiliate themselves. So if you buy the tools via their links, they can make more money out of you.
My #1 recommended platform is different, you will get a free keyword research tool after you join. They create and develop the tool themselves, which are pretty advanced and easy to use. All are included in one single subscription fee. No upsells at all.
Also, My #1 recommended platform's web hosting quality is comparable to some big names like WPEngine. The website speed is highly optimized when hosting on their servers.
8. Too much emphasis on link building which is dangerous and time-consuming
It's true that backlinks can boost your Google ranking, but proactive link-building is dangerous.
Although Authority Hacker teaches the white hat technique to build links, it might still breach Google's rules in the future. Google changes its algorithm or rules from time to time, so techniques that seem legit today might become a violation.
And some techniques taught by Authority Hacker are actually not white hat, which means your website might be penalized by Google. If you are not penalized yet, it's just because of luck.
Here's an article from Google that talk about link schemes:
Once Google penalizes your website, all your website content will be ranked lower, which will destroy all your traffic. All your time and efforts invested in the website will be wasted. It's really a disaster.
Moreover, as Google's algorithm becomes smarter because of artificial intelligence, the importance of backlinks is reducing. Google understands that backlinks are easy to manipulate.
Google is trying to focus on the relevancy and quality of content when deciding which one to rank higher.
So I personally think that Authority Hacker's backlink approach is against the trend. It might not work at all a few years later.
While relevant and quality backlinks can help you rank higher on Google, they are not necessary to create a successful authority site.
As you create more quality content and rank for more keywords, other websites will see you and give you backlinks naturally. As time goes by, your domain authority will increase gradually.
There is no need to actively beg for backlinks from other websites. Google doesn't encourage this practice because actively begging for backlinks is trying to game the algorithm of Google. Google is getting smarter to spot this and penalize websites.
In fact, it's not an effective way to send cold emails to beg for backlinks.
Think about it, if your website is new and you are not an influencer in the niche, who would give you the backlink?
Even if you try to reach out to thousands of websites, very likely you will get all the rejections. And it's useless if you just get one or two backlinks after devoting months of effort.
And you have to invest money in the tool for sending cold emails, which would cost you another 30-40 dollars every month. Your emails are likely to go into the spam box because they are cold emails.
Cold emails are usually regarded as junk mail by email providers like Gmail.
At the end of the day, most bloggers are unlikely to give you backlinks when you are begging them without any money.
Most of the time, they would offer to charge you hundreds of dollars for a backlink, which is not worthwhile at all.
9. No Free Trial
There is no free trial for Authority Hacker's courses. You have to pay at least a thousand dollars upfront to get started. The risk is much higher in case you don't like the course or don't feel good about it.
Although they offer a money-back guarantee, there are some procedures or criteria to get your money back.
However, my #1 recommended platform has a free membership plan, where you can get access to first-level training and even build a free website.
If you like it and feel good to go further, you can then upgrade to the premium plan at a 50% discount for the first month. So you don't need to worry about making a bad investment.
1. It teaches you how to build a long-term business
It's a long-term business. Gael and Mark don't waste their time or energy on students who're not serious. They focus exclusively on those who're dedicated to learning.
You have to devote years to building an authority site.
2. 180+ video lessons
New video lessons from Authority Hacker are added to the Authority Site System course each year. The overview videos are short to moderately long, but they get right to the point.
The primary training videos are longer than the shorter ones, but still easy to digest. You'll need plenty of time if you want to watch all the relevant videos in this course.
3. Training of different levels
Both The Authority Site System and Authority Hacker Pro are available through Authority Hacker.
The experts at Authority Hacker have done a good job organizing these two courses to benefit both their business and their customers.
The Authority Site System is Authority Hacker's main course and is aimed at beginners (and advanced users) who want to make $1,000 to $5,000 per month with a website.
Authority Hacker Pro is the next level. In other words, it aims to increase students' monthly website earnings.
The Authority Hacker Pro Platinum certification is the highest achievable "level" of Authority Hacker training. Those interested in growing their authority websites into the $10,000-$100,000 per month range might benefit.
4. AH courses are regularly updated
Fortunately, Gael and Mark have kept their courses up to date despite the rapid changes in the world of online business.
From analyzing the best affiliate programs to dealing with Google's E-A-T standards, these men are tireless in their search for current, relevant content.
After you pay for the course, you have access to all future updates at no additional cost.
5. A step-by-step training course and useful templates
If you want to build an authoritative website, Authority Hacker can show you how to do it step-by-step, with premium in-depth training on a specific topic and useful course materials like article templates.
TASS's content templates are helpful whether you want to hire writers to do the work for you or do it yourself to save money.
In addition to organic traffic, Authority Hacker Pro offers copy/paste templates for a variety of other areas.
Recommendation: Here's The Best Alternative
The Authority Site System is Authority Hacker's course for building an authority site.
The regular price for this course is $997, but if you don't have all the cash upfront, you can opt for a payment plan instead. Just be warned, going this route will end up costing you more in the long run.
The default payment plan is 6 monthly payments of $249, which totals $1,494. Just something to think about!
Authority Hacker offers a 30-day money-back guarantee. In addition to The Authority Site System, this applies to all their courses.
Are students getting results?
While Authority Hacker claims that over 6000 of their students see results from the training, there is no verified evidence to show this.
You may see some reviews posting screenshots as proof of the success stories. But there is no way to verify if those are true results or not.
Besides, some students who joined Authority Hacker's courses are not beginners, and they already have a well-established website before joining.
They simply join Authority Hacker to promote their courses and earn affiliate commissions. Sounds like an MLM? But that's exactly how AH works.
For these experienced bloggers, their results can't be attributed to the training of Authority Hacker. That means even if some do get results, it's unlikely that you can do the same if you are a complete newbie.
Moreover, while Authority Hacker teaches people how to make money with affiliate sites, most of their revenue comes from selling courses instead of affiliate marketing. That makes the whole thing not convincing at all.
Authority Hacker owns the health niche website healthambition.com, where they claim to make a lot of money from it. They want to show people that they do make money with affiliate marketing, but not teaching affiliate marketing.
However, when I check the traffic of the website, I was so disappointed. Here's the screenshot of the traffic the website gets:
You can see that the website has less than 10k visitors. This means that this website can hardly generate an income comparable to freelance work from promoting health products.
So, you can be sure that Authority Hacker makes most of the money from their courses, not affiliate marketing.
Authority Hacker isn't a scam, and their courses do provide value. You can certainly learn the ins and outs of affiliate marketing by purchasing their courses.
However, I'm not a fan of their approach, as building an authority site using their method is much easier said than done. Creating an authority site typically takes years of consistently publishing high-quality content, and it's often a team effort rather than the work of an individual blogger.
If you're working solo, it's unlikely that you'll be able to build an authority site within months or even a year. Hence, it could take a long time before you earn back the money you invested in their pricey courses, making the payback period quite lengthy.
Moreover, Authority Hacker seems to generate most of their income from selling courses, not from affiliate marketing. This makes their teachings less persuasive.
If you're looking for a better way to get started with affiliate marketing, you might consider other alternatives.
Is there a better alternative?
So what's the best alternative to Authority Hacker? My #1 recommended platform is called Wealthy Affiliate.
Wealthy Affiliate is an all-in-one platform for building your affiliate marketing business from scratch.
When you join Wealthy Affiliate, you can get access to the first-class web hosting service, keyword research tools, community support, comprehensive training, writing tools, and other software to help you build an online business step-by-step.
You can register a free account with Wealthy Affiliate, which enables you to get started with affiliate marketing right away without paying a penny.
If you like the platform, you can then upgrade to the premium membership to get access to everything on the platform. There are no upsells afterward.
But How Much Can You Earn with Wealthy Affiliate?
A 21-year-old student from Wealthy Affiliate was able to earn $7,395 in just 1 week, which means he made more than $1k a day…all while applying what is taught inside Wealthy Affiliate.
Compared with Authority Hacker, Wealthy Affiliate has a much longer history, which has been established for 15 years and there are many success stories in the past decade.
Actually, Wealthy Affiliate has more than a million members so far, so you can see how popular this platform is.
To give you more examples, here are some of the other inspiring success stories of Wealthy Affiliate members.
If you don't trust my words, you can go to Trustpilot to see what the members have to say:
At the time of writing, Wealthy Affiliate is rated 4.9 out of 5, which is excellent. It's incredible to get such a high rating with more than 400 reviews.
If there are only two or three good reviews, you may say they are fake reviews. But you cannot fake it when there are more than 400 reviews there. Remember, Trustpilot has a very intelligent system to detect fake reviews.
Where to Join Wealthy Affiliate?
Wealthy Affiliate has a very simple pricing scheme. It has a free and premium membership. The premium membership only costs $49/month or $395/year.
If you want to feel about Wealthy Affiliate, you can sign up for the free starter membership here (no credit card required). You can select to be a free member with no time limit.
And as a starter member, you can get instant access to the community, live chat, over 500 training modules, 2 classrooms, networking, commenting, 1 free website, and access to the keyword tool.
You can enjoy all these values without paying a penny.
So I strongly recommend you register a free account and see it yourself.
Recommendation: Here's The Best Alternative
Here are the other affiliate marketing courses we have reviewed: