Are you looking for an Authority Hacker review? Is Authority Hacker a scam? If you want to know whether you should join Authority Hacker's courses, this review is for you. You will get all the answers here.
Many people are looking to run an online business nowadays, especially after the outbreak of COVID19.
There are many gurus online claiming to teach you the best method to make money online, but many are fake gurus. It means they don't have a profitable online business themselves, but teach you how to build one.
As a disclaimer, I'm not affiliated with Authority Hacker, which means I'm not paid to write this review. So you can be sure that my words are unbiased.
So you might wonder if Authority Hacker is just another scam. I've spent many days researching Authority Hacker, so I can tell you more about it.
At the end of this article, I'll also tell you the best alternative to Authority Hacker.
Authority Hacker Review – Key Takeaways
Course Name: Authority Site Systems/Authority Hacker Pro
Course Instructors: Mark Webster & Gael Breton
Price: $997 – $1997
Pros: The course content is quite comprehensive.
Cons: building an authority site takes years; the course is too expensive; it doesn't include tools; no 24/7 support
Overall Rating: 3/5
Who is Authority Hacker For: Authority Hacker is not for newbies. You may only benefit if you already have a website and want to get some backlinks to boost the domain authority.
The Best Alternative: An All-in-One Platform to Make Passive Income Online
In this review of Authority Hacker, I'm going to cover the following:
What is Authority Hacker?
Authority Hacker was founded by Gael Breton and Mark Webster in 2013. They claim to help people build highly profitable authority sites.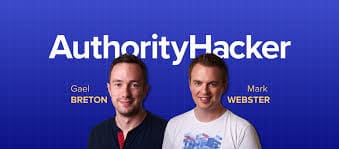 They define authority sites as a content-driven website that is a respected and trusted source of information. It's a large website that delivers real value with excellent editorial standards.
Google likes authority sites so content published by websites with high domain score can generally rank higher.
So what's the approach taught by Gael Breton and Mark Webster to build an authority site? They focus on link building, which means getting other websites to link to your websites.
However, the problem is whether it's practical to do so? Why would other websites link to you when your website is so new? It sounds too good to be true. I will discuss this critical issue in this Authority Hacker review.
Gael Breton and Mark Webster teach together in the courses: Authority Site System and Authority Hacker Pro. They make bold claims that you can make a 4-figure monthly income or more after taking the course. Again, this sounds too good to be true. You have to be careful when someone makes such a bold claim on the internet.
At the time of writing, they are offering two courses: The Authority Site System and Authority Hacker Pro.
The first one is for the beginner and the second one is for the advanced marketers. Authority Hacker Pro is double the cost of Authority Site System. I will tell you if they are worth the price or not later.
Recommendation: Here's The Best Alternative
Authority Hacker Courses
Authority Hacker's courses teach you how to make money with affiliate marketing by building an authority site.
If you don't know what is affiliate marketing, it's basically recommending products or services to your website visitors. If your website visitors buy the product or service via your affiliate link, you will earn a commission.
The Authority Site System Review
The Authority Site System is meant for beginners to learn the fundamentals of affiliate marketing. They claim that it is "a complete step-by-step training course for building highly profitable authority sites from the ground up."
They always promise that their system is proven to work. But there is no evidence to verify this. And if you enrol in the course and still fail, there is no way for you to blame the course but yourself.
Authority Hacker Pro Review
Authority Hacker Pro is a more advanced course, which has 17 units. It is for people who have experience in creating authority sites and doing affiliate marketing.
If you buy Authority Hacker Pro, the Authority Site System is also included.
Authority Hacker Pro covers various topics like advanced SEO, scalable link building, email marketing and sales funnels.
No doubt, this $1997 course is rich in content. There are more than 400 hours of videos and templates to swipe.
While The Authority Site System is always open for enrolment, the Authority Hacker Pro is closed from time to time. Probably, they want to create some artificial scarcity to boost conversion.
12 Reasons Why I Don't Recommend Authority Hacker
1.The Good Reviews are Written by Authority Hacker's Affiliates
You probably have found some other reviews of Authority Hacker and all of them are saying good words.
But all of them are actually paid to write, meaning they will receive a commission of up to $990 if you purchase Authority Hacker via their links. Therefore, their words are often biased and not trustworthy.

Those reviews are simply sales pages and do not tell you the hidden costs and the difficulties to really make money.
When you search Authority Hacker review, you might see a website called ebiz Facts ranking the first place on Google:

Be careful! They are the super affiliate of Authority Hacker, meaning they make thousands of affiliate commissions by promoting Authority Hacker courses. You can see that eBiz Facts gives one star to all other affiliate marketing programs and give Authority Hacker an almost full score. That's just a sales tactic!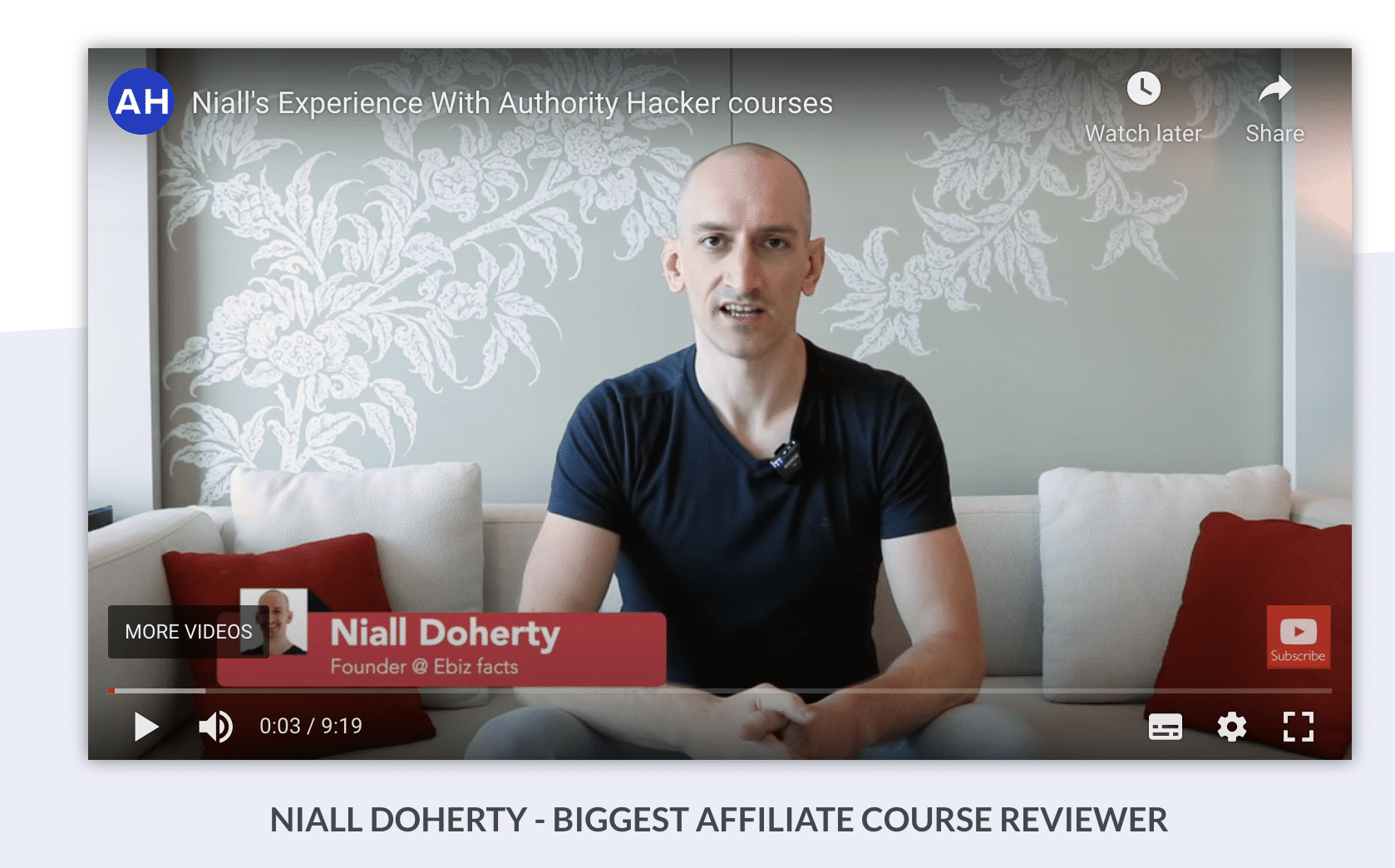 By common sense, should you trust someone who has a conflict of interest that receives huge compensation by "reviewing" the course? Probably not. They are not reviewing, but selling!
Therefore, I recommend reading the reviews of those written by the non-affiliates of Authority Hacker.
I tried to search for the real user reviews of Authority Hacker on Trustpilot, which is the most credible review site:
However, it's weird to find no reviews at all on Trustpilot. This is unusual for a course that claims to have helps thousands of people succeed in affiliate marketing. If it's true, there should be many good ratings there.
2. Authority Site Requires Too Much Time and Efforts To Build
An authority site is a website that has a lot of content. So you can imagine how much effort time you need to create blog posts. You might not be able to earn a penny from your so-called authority site after working for a year.
Also, if you have a full-time job, it's hard for you to build an authority site as a side-hustle. You need at least tens of hours every week to see a bit of result.
It's a "get rich SLOW scheme". It's really slow that it's almost impossible for you to make enough money to quit your job in the coming years.
Let's be honest, speed is the key to business, things change so quickly in this era. If your speed is too slow, you will not be able to win your competitor.
Building an authority site is like competing with the big brands, which you can never win as an individual with little resources. Big companies have a team of content creators. Everyone only has 24 hours a day, so no matter how hard you work, it's unlikely to win the big competitors.
3. The Course Misses The Important Details For Beginners
If you are a beginner in online marketing, you will find the course pretty hard to follow. The course content is very overwhelming. They teach you a lot of strategies but you have no clue which one is the best and which one you should follow.
Also, a lot of the small details are not covered by the course, which is however important for newbies. After paying so much for the course, you still need to Google many things to solve the problems yourself.
4. Lack a Helpful Community
If you join Authority Hacker's course, there is only a private Facebook group. Most of the time, the group is not helpful and your questions will be ignored and remain unresolved. You may feel helpless especially if you are just a beginner.
I have a better recommendation for you in the later section, where you can get community support from millions of members. There is always someone there to answer your question around the clock.
5. The Course is Too Expensive
The course is very expensive that not everyone can afford. The beginner course "Authority Site System" costs $997 while the "Authority Hacker Pro" costs $1997.
If you want to start an affiliate site, you also have other costs like web hosting, keyword research tools and other software or plugins to add the necessary functionality to your website.
So in total, you may have to invest $3K to $5K to build your affiliate marketing business at the beginning.
After all, Authority Hacker's course is merely a course. It's not an all-in-one platform that gives you everything you need to build an affiliate site from scratch.
I don't recommend investing so much money into a course when you have not made a penny. It's risky to invest thousands of dollars, while you are not sure it works or not.
In contrast, a better alternative that I will talk about later is much cheaper. You will get comprehensive training, domain registration, web hosting, writing tools etc with a low subscription fee (the first month is just $19!)
It's much cheaper and easier to get started when compared with Authority Hacker.
Actually, the price you pay for Authority Hacker is enough for you to build up to 10 affiliate sites on my #1 recommended platform for 2 years or more! It's a much better deal.
6. Lack of Successful Stories of Students
While Authority Hacker claims that over 6000 of their students see results from the training, there is no verified evidence to show this.
You may see some reviews posting screenshots from their Facebook group as proof of the success stories. But there is no way to verify if those are true results or not.
Also, some students who joined Authority Hacker's course are not beginners, and they already have a well-established website before joining. So their results might not be attributed to the training of Authority Hacker. That means even some do get results, it's unlikely that you can do the same if you are a complete newbie.
Moreover, while Authority Hacker teaches people how to make money with affiliate sites, most of their revenue comes from their courses instead of affiliate marketing. That makes the whole thing not convincing at all.
Authority Hacker owns the health niche website healthambition.com, where they claim to make a lot of money from it. They want to show people that they do make money with affiliate marketing, but not teaching affiliate marketing.
However, when I check the traffic of the website, I was so disappointed. Here's the screenshot of the traffic the website gets:
You can see a huge drop in the website traffic to below 5K visitors. That means this website can hardly make any money from promoting health products.
So, you can be sure that Authority Hacker makes most of the money from their courses, not affiliate marketing.
7. The Training is Not Practical For Beginners
Authority Hacker's course focuses on building authority sites, which means you need to get backlinks from other authority sites.
Think about it, if your website is new and you are not an influencer in the niche, who would give you the backlink?
Even if you try to reach out to thousands of websites, very likely you will get all the rejections. And it's useless if you just get one or two backlinks after devoting months of effort.
And you have to invest money in the tool for sending cold emails, which would cost you another 30-40 dollars every month. Your emails are likely to go into the spam box because they are cold emails.
Cold emails are usually regarded as junk mails by email providers like Gmail. People didn't subscribe to your email list at all!
Therefore, my #1 recommended platform doesn't encourage begging for backlinks to build an authority site.
Instead, it will teach you how to target low competition keywords to drive more traffic and hence get sales as soon as possible. And as your site gets more traffic, other bloggers will be very happy to give you backlinks automatically.
8. You Don't Get Technical Support
If you are a beginner in online marketing, you probably need technical support from time to time. However, Authority Hacker only offers courses, but not technical support.
That means if you have technical problems with your website, you have no one to seek support. This is bad news for the newbies of online marketing.
Yes, you will feel helpless when you thought you can get all kinds of support after paying so much for the course.
My #1 recommended platform is different. You will get 24/7 technical support with your website.
They have a technical team standing by any time to help you when you encounter technical problems. It's really like having hired a technical team. Also, there is a community of a million members there to help you out when you have questions.
9. Authority Hacker Recommends Using Expensive Tools
Authority Hacker recommends using expensive tools for building an affiliate site, which is actually not necessary.
For example, they recommend using a keyword research tool like Ahrefs which costs at least $99/month. As a beginner, you don't actually need to use this kind of advanced tools. It will add a lot of burden to your business cost.
However, I reckon the reason why they recommend these tools is because they are the affiliate themselves. So if you buy the tools via their links, they can make more money out of you.
My #1 recommended platform is different, you will get a free keyword research tool after you join. They create and develop the tool themselves, which are pretty advanced and easy to use. All are included in one single subscription fee. No upsells at all.
Also, My #1 recommended platform's web hosting quality is comparable to some big names like WPEngine. The website speed is highly optimised when hosting on their servers.
10. Link Building is Dangerous and Time-Consuming
It's true that backlinks can boost your Google ranking, but proactive link building is dangerous.
Although Authority Hacker teaches the white hat technique to build links, it might still breach Google's rules in the future. Google changes its algorithm or rules from time to time, so techniques that seem legit today might become a violation.
And some techniques taught by Authority Hacker are actually not a white hat, which means your website might be penalised by Google. If you are not penalised yet, it's just because of luck.
Here's an article of Google which talk about link schemes:
Once Google penalises your website, all your website content will be ranked lower, which will destroy all your traffic. All your time and efforts invested in the website will be wasted. It's really a disaster.
Moreover, as Google's algorithm becomes smarter because of artificial intelligence, the importance of backlinks is reducing. Google understands that backlinks are easy to manipulate.
Google is trying to focus on the relevancy and quality of content when deciding which one to rank higher.
So I personally think that Authority Hacker's backlink approach is against the trend. It might not work at all a few years later.
That's why my #1 recommended platform does not encourage proactive link building. There is no reason to take the risk and do something that might go outdated few years later.
Actually, while relevant and quality backlinks can help you rank higher on Google, they are not necessary to create a successful authority site.
As you create more quality content and rank for more keywords, other websites will see you and give you backlinks naturally. As time goes by, your domain authority will increase gradually.
There is no need to actively beg for backlinks from other websites. Google doesn't encourage this practice because actively begging for backlinks is trying to game the algorithm of Google. Google is getting smarter to spot this out and penalise websites.
Actually, it's not an effective way to send cold emails to beg for backlinks. Other bloggers are unlikely to give you backlinks when you are begging them without any money. Most of the time, they would offer to charge you hundreds of dollars for a backlink, which is not worthwhile at all.
11. There is No Free Trial
There is no free trial for Authority Hacker's courses. You have to pay a thousand dollars upfront to get started. The risk is much higher in case you don't like the course or don't feel good about it. Although they offer a money-back guarantee, there are some procedures or criteria to get your money back.
However, my #1 recommended platform has a free membership plan, where you can get access to the first level training and even build a free website.
If you like it and feel good to go further, you can then upgrade to the premium plan at a 50% discount for the first month. So you don't need to worry about making a bad investment.
12. Authority Hacker Does Not Have Huge Organic Traffic
Authority Hacker teaches people to build an authority site and drive traffic through Search Engine Optimization.
However, upon checking their organic traffic, their own website only has around 73K visitors every month. This is minimal when compared with other SEO experts on the market.
For example, Neil Patel's website has 4.5 Million visitors every month.
Actually, you would see Authority Hacker relies heavily on running Facebook ads to drive traffic to their website. It's sarcastic when they are teaching you how to drive traffic by SEO.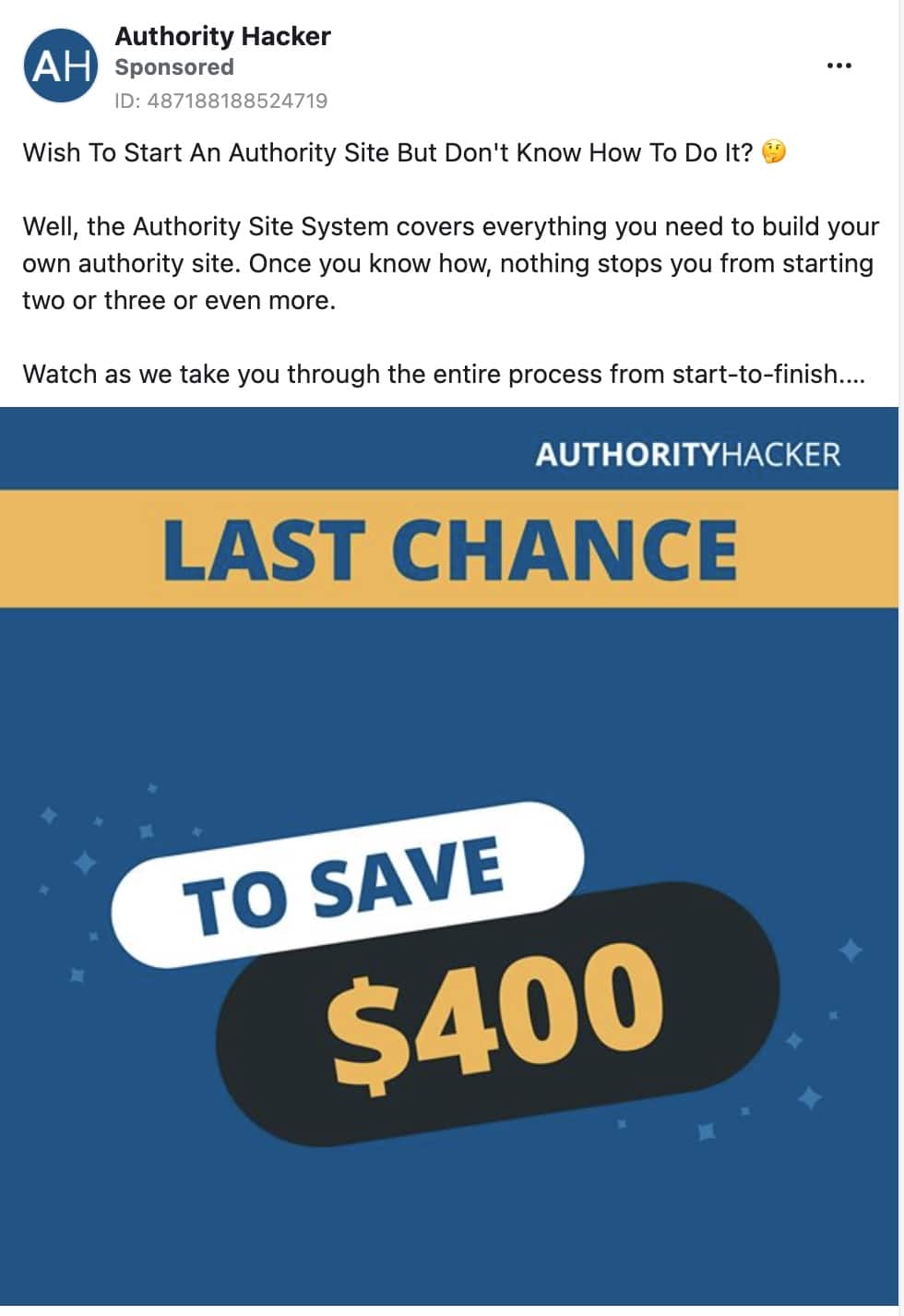 Think about it, Authority Hacker's website has been established for more than 7 years, but only got 73K organic visitors. If you learn from them, how many visitors can you expect for your website? Probably 1/10 or even less. Websites with such traffic volume is impossible to make a 4-figure income.
Recommendation: Here's The Best Alternative
Is Authority Hacker a Scam?
Authority Hacker is not a scam. Their course does offer some value. If you buy their courses, you can learn how to do affiliate marketing for sure.
However, I don't prefer their approach as building an authority site using their method is easier said than done. It takes years to create quality content in order to become an authority site. Most authority sites are built by a team instead of an individual.
If you are working alone, it's not possible for you to build an authority site within months or a year. That means in many years, you cannot even earn back the money you invested in their expensive courses. The payback period is super long indeed.
Also, Authority Hacker is making the most money from selling their courses, but not affiliate marketing. That makes the whole thing unconvincing. You should always learn from the practitioner, meaning someone who has the most success in what they teach.
Moreover, there is no reason to go for Authority Hacker when there are other better alternatives, which are much cheaper, but offer you much more value and can help you succeed faster.
I will tell more about my #1 recommended platform in the next section.
Is There a Better Alternative to Authority Hacker?
So what's the best alternative to Authority Hacker? My #1 recommended platform is called Wealthy Affiliate.
Wealthy Affiliate is an all-in-one platform for building your affiliate marketing business from scratch.
When you join Wealthy Affiliate, you can get access to the first-class web hosting service, keyword research tools, community support, comprehensive training, writing tools, and other software to help you build an online business step-by-step.
You can register a free account with Wealthy Affiliate, which enables you to get started with affiliate marketing right away without paying a penny.
If you like the platform, you can then upgrade to the premium membership to get access to everything on the platform. There are no upsells afterwards.
But How Much Can You Earn with Wealthy Affiliate?

A 21-year old student from Wealthy Affiliate was able to earn $7,395 in just 1 week, which means he made more than $1k a day…all while applying what is taught inside Wealthy Affiliate.
Compared with Authority Hacker, Wealthy Affiliate has a much longer history, which has been established for 15 years and there are many success stories in the past decade.
Actually, Wealthy Affiliate has more than a million members so far, so you can see how popular this platform is.
To give you more examples, here are some of the other inspiring success stories of Wealthy Affiliate members.
If you don't trust my words, you can go to Trustpilot to see what the members have to say:
At the time of writing, Wealthy Affiliate is rated 4.8 out of 5, which is excellent. It's incredible to get such a high rating with more than 400 reviews.
If there are only two or three good reviews, you may say they are fake reviews. But you cannot fake it when there are more than 400 reviews there. Remember, Trustpilot has a very intelligent system to detect fake reviews.
Where to Join Wealthy Affiliate?
Wealthy Affiliate has a very simple pricing scheme. It has free and premium membership. The premium membership only costs $49/month or $395/year.
If you want to feel about Wealthy Affiliate, you can sign up for the free starter membership here (no credit card required). You can select to be a free member with no time limit.
And as a starter member, you can get instant access to the community, live chat, over 500 training modules, 2 classrooms, networking, commenting, 1 free website, access to the keyword tool.
You can enjoy all these values without paying a penny.
So I strongly recommend you to register a free account and see it yourself.