Are you looking for an Income School's Project 24 review? If you want to make money online, you might have heard of Income School's Project 24. But you may wonder if he is a scam.
It's my passion to help people learn about online money-making opportunities. Over the years, I've reviewed a number of programs and software like Income School's Project 24.
In the past week, I have thoroughly researched the Income School's Project 24 course so I can tell you more about it.
As a disclaimer, I'm not affiliated with Income School. It means I'm not paid to write this review. So you can be sure that my words are unbiased.
At the end of this article, I'll also tell you the best alternative to Income School's Project 24.
Income School's Project 24 Review – Key Takeaways
Course Name: Project 24
Course Instructors: Ricky Kesler and Jim Harmer
Price:

$449 for the first year and $249 for all following years

Pros: The course content is quite comprehensive.
Cons:

building an authority site takes years; the course is too expensive; it doesn't include tools; no 24/7 support

Overall Rating: 3/5
Who is Income School's Project 24 For:

Project 24 is not for newbies. Jim and Ricky's students don't seem to have a lot to show after 24 months, according to the critics of the Income School. You may only benefit if you already have a website and want to learn more SEO techniques.

The Best Alternative: An All-in-One Platform to Make Passive Income Online
In this review of Income School's Project 24, I'm going to cover the following:
What is Income School's Project 24?
Income School was founded by two online entrepreneurs, Ricky Kesler and Jim Harmer, to offer comprehensive training to those seeking financial independence through making money online.
According to Income School, its courses cover everything from email marketing to content marketing, blogging, search engine optimization to affiliate marketing or e-commerce.
Project 24 is one of Income School's training programs. This course claims to help you generate passive income in the online world through blogging and creating authority or niche sites.
The course will walk you through building two major types of websites, which might enable you to create an online business in 24 months:
A niche site

An authority site
The program consists of 60 steps broken down into 123 lessons. You will learn the following in the lessons:
Start an online business

Choosing a niche for your online business

Building a WordPress website

Creating search engine optimized content that ranks on the first page of search engine results

Traffic generation tips and how to turn it into revenue

Choosing affiliate programs and offers based on your niche
Check out this video to find out what Income School's Project 24 is all about…

By the end of the program, Income School claims you'll go from being a complete greenhorn to a fully grown-up, full-time online entrepreneur earning a decent income from blogging and affiliate marketing.
Recommendation: Here's The Best Alternative
Who Created Income School's Project 24?
Income School's Project 24 was created by Ricky Kesler and Jim Harmer.
Originally from Idaho, Jim and Ricky started building niche websites in 2010 and launched Income School in 2015.
When Jim began listening to a podcast about making money online, he was broke. As he became more familiar with niche sites, he decided to create his own about photography.
With the website's popularity and the publication of his photography ebook, he became widely known.
His fame led to him being named one of the top 40 photographers in the world.
Previously, Ricky worked for HP for several years before partnering with Jim on Income School. He has four children.
But some have called out Jim and Ricky's knowledge of advanced SEO, saying that their followers are mostly beginners who don't make any money online.
How does Income School Project 24 Work?
With Project 24, you'll learn how to build websites and use affiliate links to make money.
There are twelve main courses, which are mostly done as video tutorials and screencasts. Let's take a look at each course and what it has to offer.
Module 1 – 60 Steps to a Successful Website
As the first module in Project 24, it is probably the most critical of all.
This section includes a 60-step action that describes the creation of a website, content creation, search engine optimization (SEO), and website promotion.
The topics covered in module one are as follows:
How to choose a good niche site

Setting up a WordPress site

What you need to know about SEO

Keyword research skills

How to write articles that drive traffic

Creating search engine-friendly and well-written posts

Using various social media platforms to promote your online business

Making resource pages that are valuable

The best way to record screencasts

YouTube video creation guide

How to make money from your website

Setting up Amazon Associates on your site
The major lack of this course is its lack of coverage of Google Analytics, which is an essential part of any SEO campaign in today's competitive online market.
Module 2 – Search Analysis
You will learn useful strategies and tricks for finding topics for your articles in this module. Using Search Analysis, you can generate a list of topics relevant to your website content.
Module two consists of the following major topics:
Brand planning

Ideation

Selecting keywords

Creating an effective hit list
Module 3 – Choosing Profitable Niches
Niche selection can be a daunting task. After doing thorough research and evaluating the merits and demerits of your niche, you may find it has a limited chance of delivering a decent return on investment.
With this 50-minute video tutorial, you'll learn how to choose a niche based on your own unique goals and preferences. Additionally, you will receive an Excel spreadsheet with at least 350 niche ideas. From most promising to least promising, these niche sites are listed.
The purpose of this list is to inspire you on how to choose the right niche for your online business so that you can get started on a solid foundation.
Module 4 – No-Nonsense SEO
The process of optimizing a site or page's online visibility in search engine results is called search engine optimization (SEO). Organic results are those that have not been paid for. They have been earned naturally.
No-Nonsense SEO is a comprehensive module that is easy to follow and understand. The course isn't a basic one, though. There is a lot of information in it.
In it, you'll find out how to build a business via search engine optimization. The 50-minute video tutorial offers tips for improving your search engine ranking and driving traffic to your website.
According to Income School, their SEO tactics will work regardless of any changes to Google's algorithms that determine how a website ranks.
Module 5 – Web Traffic Snowball
Your website can be promoted on various social media sites using lots of time, money, and effort. That doesn't guarantee the results you expect. It all comes down to the strategy you use.
This module teaches you what social media marketing is, how to capitalize on social media channels that have little chance of delivering the desired results, and how to grow your site's audience.
Module 6 – Email Marketing 101
In this module, you will learn about the benefits of building your email list for your online business. The following topics are covered in E-Marketing 101:
Why you might or might not want to build an email list

Starting with a free email list and scaling up from there

Utilizing email lists to engage and convert your audience into paying customers
Module 7 – Myth-busting
This module explains what is known as the keyword golden ratio (KGR) and its importance to online businesses.
The ideas can be easily understood, tested, and seen if they work for you.
Module 8 – How to Find and Train Writers
In order to have a successful online business, you need content. However, you may not always have the time to write well-researched and high-quality blog posts. Eventually, you'll have to hire someone to help.
In this module, you'll learn how to hire the right writers and teach them about different types of posts. Also included are some basic skills such as teaching your writers how to log in and post to WordPress.
The instructor will also introduce some of the resources he uses to recruit writers and to work with them effectively. You will learn how to draft a contract with your writers and use the tools, plugins, and job boards on WordPress.
The major challenge beginners face is finding reliable content writers while weeding out the bad apples. Sadly, Project 24 says nothing about it. That is its biggest flaw.
Module 9 – Professional Photography
Photography would be one of the skills you need to get into internet marketing. Project 24's ninth module teaches you how to take awesome photos for your website.
This 22-lesson module will teach you how to take photos that resonate with your target audience and convey your thoughts clearly. The following are some of the major topics covered in this module:
Close-up photography

Lighting landscapes

Shutter speed

Aperture

ISO
Module 10 – Website Reviews
Course instructors will review and provide feedback on sites created by students in Project 24 in module ten. Typically, these reviews last 12 to 16 minutes.
If you find some effective strategies from those reviews, you can implement them on your website. However, depending on your type of business, some strategies may not work for you.
Module 11 – How to Improve Your Writing Skills and Speed
You will learn how to improve and speed up your writing in this module. There will be more discussion of a few topics discussed in module one.
You'll learn to choose the right article topic and write an article for the selected topic during this nine-lesson module.
You will be introduced to a post structure designed to help you increase your writing speed.
Module 12 – Monetizing Your Website with Advertisements
Early monetization of a website is not always a good idea. If you fail to first focus on creating quality content for your website to build a solid foundation, you will end up paying more attention to the money aspect.
This module will teach you how to use ads tactfully to monetize your website pages without having to focus on selling products.
You will learn how to use ads effectively from the course instructors. They will show you how to optimize your ads so that they are as effective as possible. Your goal will be to generate the most revenue while maintaining a good user experience.
Module 13 – The Success Mindset
This module emphasizes the fact that success does not come easily. Success does not come to everyone. You have to work hard to achieve it.
A video recording of Jim's talk from the summit in Boise, Idaho, in October 2018 is included in this module. From the video, you can learn about how to grow and build an online business.
Module 14 – How to Use Pinterest to Drive Traffic to Your Blog
There is now a brand new Pinterest module to help you drive traffic to your blog from Pinterest.
In this module, you will not only learn how to use Pinterest to boost traffic to your blog, but you will also find 5 interviews with bloggers who detail how they utilize Pinterest to get more traffic.
Recommendation: Here's The Best Alternative
12 Reasons Why I Don't Recommend Income School's Project 24
1.The Good Reviews are Written by Project 24's Affiliates
You probably have found some other reviews of Income School's Project 24 and all of them are saying good words.
If you purchase Income School's Project 24 through their links, they actually receive a large commission. Therefore, their words are often biased and unreliable.
Those reviews are merely sales pages that don't tell you about hidden costs or how difficult it is to make money using strategies of Project 24.
When you search Income School's Project 24 review, you might see a website called eBiz Facts ranking the first place on Google:
Be careful! They are the super affiliate of Income School's Project 24, meaning they make thousands of affiliate commissions by promoting Income School's Project 24. You can see that eBiz Facts gives one star to a lot of affiliate marketing programs and gives Income School's Project 24 almost a full score.
Niall Doherty, the owner of eBiz Facts cares only about how much commission he can earn to support his laptop lifestyle and travel expenses.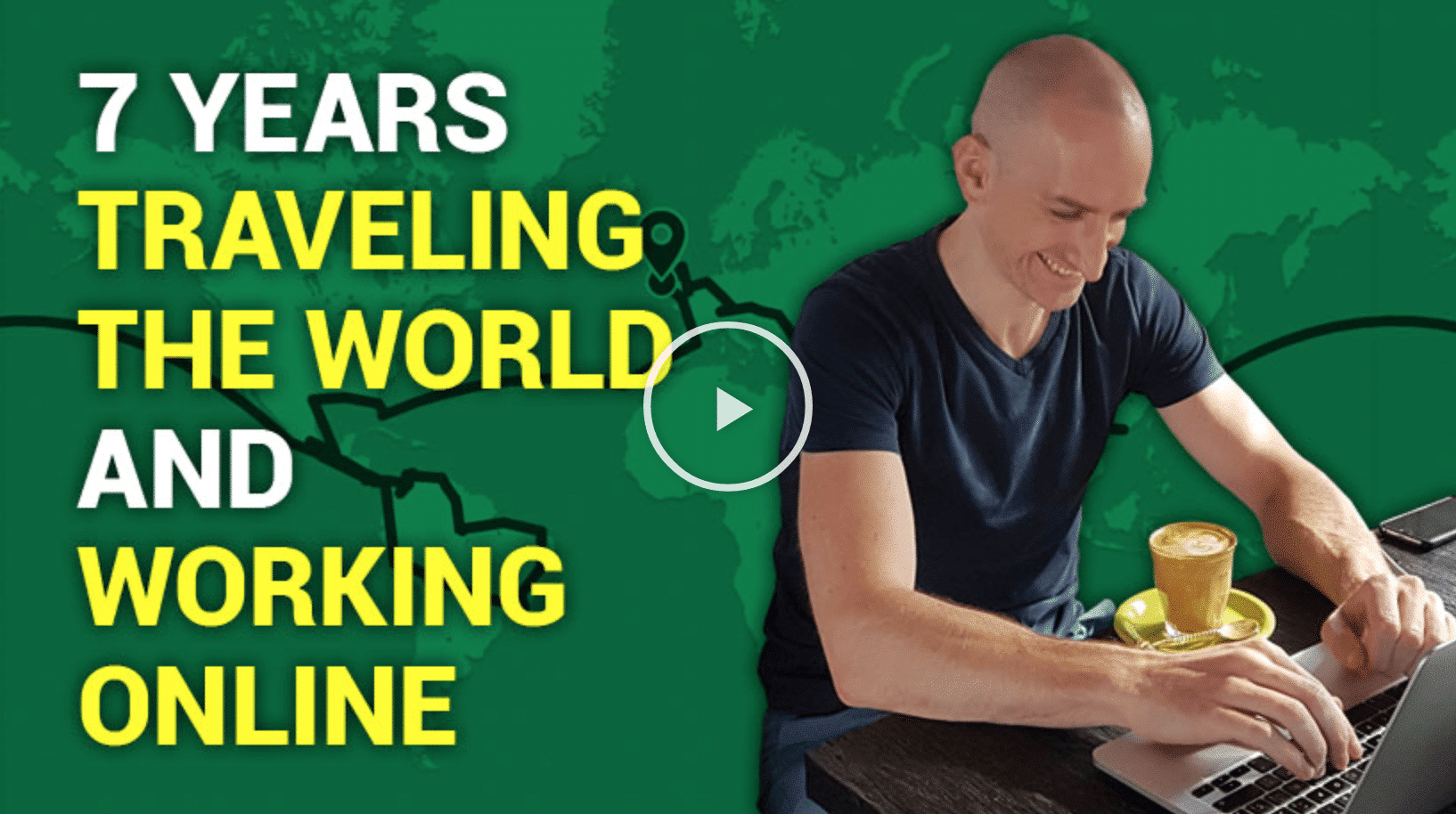 He is not going to reveal any facts. If a programme gives him a higher commission, he will give it a higher score. On the other hand, programs sold at a low price will receive a lower score from him.
Income School's Project 24 will cost you $449 in the first year and $249 for every additional year, so the blogger can earn a large sum of recurring commission (the commission rate is usually 50%) if you use the link provided by him to buy the course.
Should you trust someone who has a conflict of interest and receives huge compensation to "review" a course? No, probably not. It's not a review, it's a sale!
Therefore, I recommend reading the reviews of those written by the non-affiliates of Income School's Project 24.
I tried to search for the real user reviews of Income School's Project 24 on Trustpilot, which is the most credible review site:
Income School has only one review on TrustPilot, rated 3.7/5. As for Project 24, I couldn't find any.
This is unusual for a course that claims to have helped thousands of people succeed in affiliate marketing.
If it's true, there should be many good ratings there.
2. Building An Authority Site Takes A Lot Of Time and Effort
Income School's Project 24 claims to show you the secrets of building an authority site.
A website with a lot of content is an authority site. You can imagine how much time and effort it takes to write a blog post. You might not earn a penny after working for a year on your so-called authority website.
Moreover, it is difficult to build an authority site as a side hustle when you have a full-time job. You need at least ten hours per week to make any progress.
This is a "get rich SLOW" scheme. In the next few years, it will be impossible for you to earn enough money to quit your job.
Business today is driven by speed. Things change so quickly. You can't beat your competitors with slow speed.
According to Income School's Project 24, you can easily build an authority site using their blueprint, but it implies that you can compete directly with the big brands.

Big companies have teams of content creators. It is unlikely that any of us will win the big competitions no matter how hard we work.
3. The Course is Overcrowded With Steps
You will find the course difficult to follow if you are new to online marketing.
There is an overwhelming amount of content in the course. It teaches you 60 steps to just start making money from your website.
Many strategies including Youtube and Pinterest marketing, but you don't know which one is best and which one you ought to follow.
Every method you were taught has been emphasized by Income School.
But how can you write articles, take photos, make videos, and do all of the other things taught by Project 24 at the same time on your own?
There are only 24 hours in a day. A good course should teach you to focus on a few essential steps which can help you generate cash flow as quickly as possible. Otherwise, it will be difficult to move forward.
There's a reason why they try to teach you hundreds of things all at once: they don't know what works best.
My #1 recommended platform is different from Income School's Project 24. You will be instructed to write articles targeting low competition keywords so that your site will rank well on Google.
Diversification will only slow your progress, so it doesn't bother showing you how YouTube or Pinterest work.
4. Insufficient Community Support
Income School's Project 24 only has a Facebook group for its members. Your questions will usually be ignored and remain unanswered most of the time. If you are a beginner, you may feel helpless.
You will find a better recommendation in the subsequent sections, where you will have access to Millions of members of the community. The members of the platform are always available to answer your questions around the clock.
5. The Course is Too Expensive
It costs $449 to enrol in Income School's Project 24 for the first year. After the first year ends, you will have to pay $249 each additional year if you wish to remain a member.
There is no monthly subscription for Project 24. You must pay the $449 fee upfront if you want to enrol in the course.
This is why I find the course too costly and risky for someone who is new to affiliate marketing. How can you tell if the course is effective? What if it doesn't?
If you want to start an affiliate website, you must also pay for web hosting, keyword research tools, and other software or plugins needed to add functionality to your website.
So in total, you may have to invest $3K to $5K to build your affiliate marketing business at the beginning.
After all, Income School's Project 24 is merely a course. It's not an all-in-one platform that gives you everything you need to build an affiliate site from scratch.
It is not a good idea to invest in a course when you have yet to earn a penny. Paying $499 upfront when you aren't sure if it will work is risky.
In contrast, a better alternative that I will talk about later is much cheaper. You will get comprehensive training, domain registration, web hosting, writing tools etc with a low subscription fee (the first month is just $19!)
It's much cheaper and easier to get started when compared with Income School's Project 24.
Actually, the price you pay for Income School's Project 24 is enough for you to build up to 10 affiliate sites on my #1 recommended platform! It's a much better deal.
6. Lack of Successful Stories of Students
While Income School's Project 24 claims that a lot of their students see results from the training, there is no verified evidence to show this.
There are only quotes and verdicts from their alleged members that you can see. It doesn't even show screenshots of their revenue or traffic.
Is it really possible to verify the identities and results of the students below? We don't even know what their websites are, so how can we determine whether or not their results are true?
Moreover, some of the students who joined Income School's Project 24 already had an established website before joining. Therefore, their results might not be attributable to Income School's Project 24. It means you won't be able to get the same results if you are a complete newbie.
In fact, though Income School's Project 24 teaches people how to make money with affiliate sites, most of their revenue actually comes from their courses instead of affiliate marketing. That makes the whole thing not convincing at all.
7. SEO Methods that are Counter-Intuitive and Ineffective
Income School's Project 24's SEO techniques are more likely to hurt your affiliate business than to help it.
Jim Harmer and Ricky Kesler strongly oppose any techniques about backlinks and keyword SEO.
They say that keywords and backlinks are 'so 1995'. But Google's algorithm actually favours low-competition keywords and backlinks!
High-quality backlinks are valuable for SEO because they represent a "vote of confidence" from one site to another.
Since 2016, I've been building countless websites and I'm aware that backlinks are what will raise your website much faster to the top.
Furthermore, if you target low-competition keywords, your websites are more likely to rank higher on Google.
In fact, keywords and backlinks are the most important factors once a site is built.
Certainly, Google will punish backlink building that is done intentionally. For example, paying for links that pass PageRank is against the Webmaster Guidelines and could harm a site's ranking in search results. In another word, your website might be penalised by Google for buying backlinks.
However, it doesn't mean that you should stop creating content that generates backlinks for your website in a natural way.
For Ricky Kesler and Jim Harmer, successful blog ranking is largely dependent on two factors:
Length of the post

Quality of the research
It is true that pages with longer content ranked higher than short-form content. However, since everyone knows that, the big companies are using this technique by creating blog posts that can be up to 10,000 words!
If you work alone, how can you write so many words for every blog post? It is therefore wise to target keywords with low competition.
For the point about the quality of the research, J&R say that your content must be authoritative, showing your expertise and trustworthiness, helping people solve their problems.
This would be a perfect assignment for your teacher if you are still in school. But now we are talking about Google ranking!
Nowadays, there are a lot of authority sites. How can you compete with the big names, such as Healthline, when you sell niche health products?
Although it is helpful to write blogs that reply to people's questions, it is low competition keywords that will help get you ranked.
Thus, my #1 recommended platform provides you with free tools to find low competition keywords so that you can write blog posts around low competition keywords to drive more traffic and get sales as quickly as possible.
8. No Technical Support
If you are new to online marketing, you may need technical assistance. However, Income School's Project 24 only offers courses, not technical support.
Therefore, if you experience technical problems with your website, you have no one to contact. It is important for newbies in online marketing to be aware of this.
After paying so much for the course, you will feel helpless when you expect to receive all kinds of support.
My #1 recommended platform is different. You will get 24/7 technical support with your website.
When you encounter technical difficulties, a technical team is on hand to help you. It's almost like hiring an entire technical team. There is also a community of a million members available to answer your questions.
9. Income School's Project 24 Doesn't Provide You With Any Tools
Income School doesn't provide you with the tools for building an affiliate site.
For example, the keyword research tool is one of the most important tools in affiliate marketing. A keyword research tool like Ahrefs can cost at least $99/month.
The reason why they don't include any tools in the course is that developing the tools is expensive.
Moreover, without providing you with any free tools, they can recommend relevant tools to you and earn affiliate commissions when you purchase those tools using their links.
They have a page focused on recommending expensive tools to you. In this way, they can make more money from you.
My #1 recommended platform is different, you will get a free keyword research tool after you join. They create and develop the tool themselves, which are pretty advanced and easy to use. All are included in one single subscription fee. No upsells at all.
Also, My #1 recommended platform's web hosting quality is comparable to some big names like WPEngine. The website speed is highly optimised when hosting on their servers.
10. Income School's Project 24 Doesn't Have A Huge Volume of Organic Traffic
Income School's Project 24 teaches people to build an authority site and drive traffic through Search Engine Optimization.
However, their own website only has around 10k visitors every month. This is a joke when compared with other SEO experts on the market.
For example, Neil Patel's website has 4.5 million visitors every month.
So how does Income School's Project 24 reach a wide audience? I guess it's because they have spent a lot of money on running Facebook ads. If that's so, it'll be sarcastic because they are teaching you how to drive traffic by SEO.
Think about it, Income School's website has been established for a long time.
If you learn from them, how many visitors can you expect for your website? Probably 1/10 or even less. Websites with such traffic volume are impossible to make a full-time income.
11. Affiliate Marketing Doesn't Require Learning Photography
Income School's Project 24 spent 22 lessons on teaching you how to take photos that resonate with your audience.
That's a joke to me. You won't lose any Google ranking because of pictures. Why spend a lot of time taking pictures when you should concentrate on writing blog posts.
Even if you're starting an affiliate marketing business as a side business, you won't have many hours in a day to create content.
There are a number of websites that offer beautiful stock images, such as Unsplash and Pexels. Remember that you are doing business, not creating art. Don't waste your valuable time taking photos for every blog post.
The growth of your business will be slowed down if you follow the instructor's passion for photography.
If Ricky Kesler and Jim Harmer can earn a lot of money with photography, they won't sell affiliate marketing courses.
12. There is No Free Trial Or Refund
There is no free trial for Income School's Project 24. You have to pay $449 upfront to get started. The risk is much higher in case you don't like the course or don't feel good about it.
Even worse, they don't offer a money-back guarantee. You won't be able to get back your hard-earned money even if the course doesn't live up to their promise.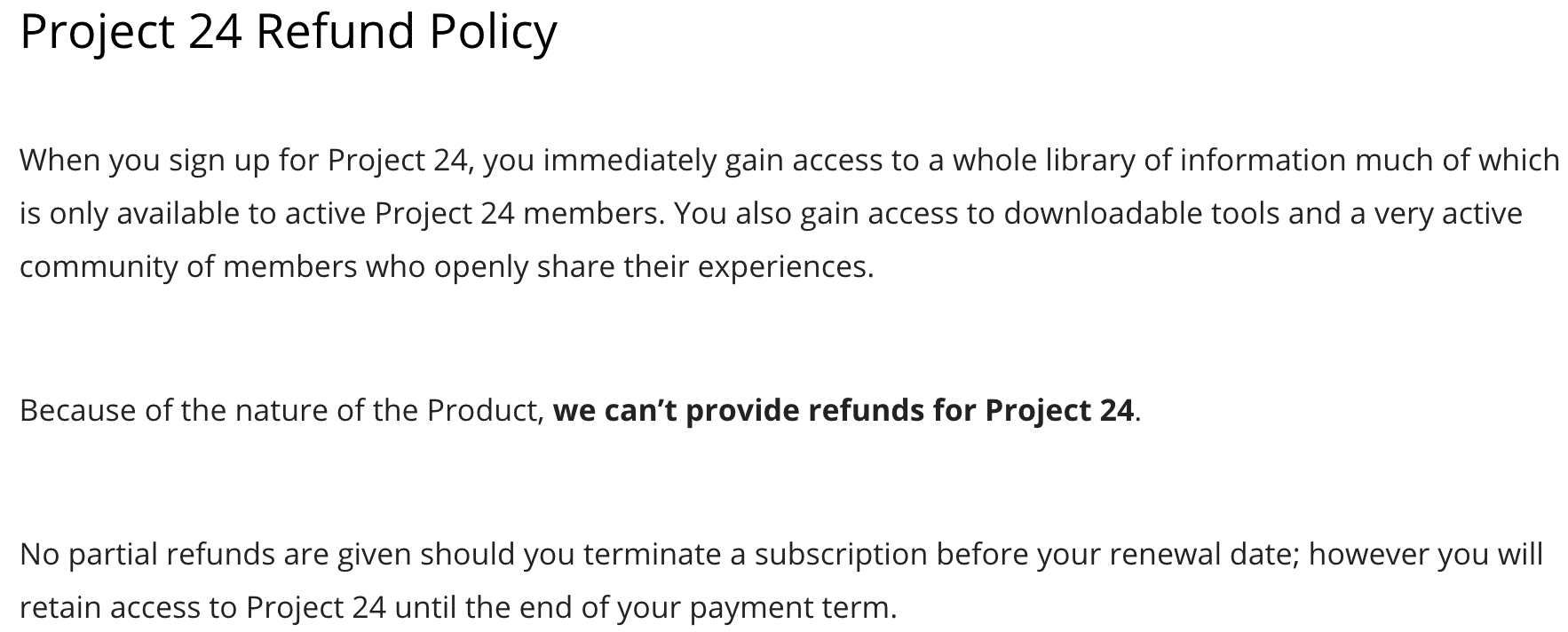 However, my #1 recommended platform has a free membership plan, where you can get access to the first level training and even build a free website.
If you like it and feel good to go further, you can then upgrade to the premium plan at a 50% discount for the first month. So you don't need to worry about making a bad investment.
Recommendation: Here's The Best Alternative
Is Income School's Project 24 a Scam?
Income School's Project 24 is not a scam. Their course does offer some value. If you buy their courses, you can learn how to do affiliate marketing for sure.
However, building an authority site is no easy task using their blueprint. In most cases, the process of creating quality content for an authority site takes years. That's why authority sites are usually built by a team rather than an individual.
Worse still, the Income School Project 24 discourages you from targeting low competition keywords and from creating content for attracting backlinks, which make creating an authority site even more challenging.
With Income School's Project 24, you are asked to focus on answering questions by doing research. It sounds like doing an assignment at school.
Their mistake appears to be forgetting that authority sites exist in every niche that can address people's problems. We don't stand a chance against big names.
In fact, as mentioned earlier, even Ricky Kesler and Jim Harmer themselves are not building an authority site to drive traffic for Income School's Project 24 course. If the teacher can't make it, how can the students?
When you work alone, it's not possible to create an authority site within a year or a month. That means in many years, you cannot even earn back the money you invested in their expensive courses. The payback period is super long indeed.
So, how can you make money in affiliate marketing? It's simple. Every day, new keywords appear on Google.
My #1 recommended platform is aware of this. As a result, the company has developed tools and free courses that will help you find low competition keywords and rank your web pages on Google as quickly as possible.
There is no reason to go for Income School's Project 24 when there is a better alternative, which is much cheaper, but offers you much more value and can help you succeed faster.
I will tell more about my #1 recommended platform in the final section.
Recommendation: Here's The Best Alternative
Income School's Project 24 Review: Final Verdict
Given the above reasons, I don't recommend Income School's Project 24. While it's not a scam, it is not worth the price.
You don't have to pay so much to learn how to build an affiliate marketing business from scratch. It's obvious that Income School's Project 24 is overcharging people.
In the next section, let me introduce you to the best alternative to Income School's Project 24, which allows you to get started for free.
Recommendation: Here's The Best Alternative
Income School's Project 24 Alternative
So what's the best alternative to Income School's Project 24? My #1 recommended platform is called Wealthy Affiliate.

Wealthy Affiliate is an all-in-one platform for building your affiliate marketing business from scratch.
When you join Wealthy Affiliate, you can get access to the first-class web hosting service, keyword research tools, community support, comprehensive training, writing tools, and other software to help you build an online business step-by-step.
You can register a free account with Wealthy Affiliate, which enables you to get started with affiliate marketing right away without paying a penny.
If you like the platform, you can then upgrade to the premium membership to get access to everything on the platform. There are no upsells afterwards.
But How Much Can You Earn with Wealthy Affiliate?

A 21-year old student from Wealthy Affiliate was able to earn $7,395 in just 1 week, which means he made more than $1k a day…all while applying what is taught inside Wealthy Affiliate.
Compared with Income School's Project 24, Wealthy Affiliate has a much longer history, which has been established for 15 years and there are many success stories in the past decade.
Actually, Wealthy Affiliate has more than a million members so far, so you can see how popular this platform is.
To give you more examples, here are some of the other inspiring success stories of Wealthy Affiliate members.
If you don't trust my words, you can go to Trustpilot to see what the members have to say:
At the time of writing, Wealthy Affiliate is rated 4.8 out of 5, which is excellent. It's incredible to get such a high rating with more than 400 reviews.
If there are only two or three good reviews, you may say they are fake reviews. But you cannot fake it when there are more than 400 reviews there. Remember, Trustpilot has a very intelligent system to detect fake reviews.
Where to Join Wealthy Affiliate?
Wealthy Affiliate has a very simple pricing scheme. It has a free and premium membership. The premium membership only costs $49/month or $395/year.
If you want to feel about Wealthy Affiliate, you can sign up for the free starter membership here (no credit card required). You can select to be a free member with no time limit.
And as a starter member, you can get instant access to the community, live chat, over 500 training modules, 2 classrooms, networking, commenting, 1 free website, access to the keyword tool.
You can enjoy all these values without paying a penny.
So I strongly recommend you to register a free account and see it yourself.