Are you looking for a Passive Income Geek review? If you want to make money online, you might have heard of Morten Storgaard. But you may wonder if he is a scam.
There are courses out there that give you fake information, claiming that you can make big money with their system or purchasing the tools they recommend, but they're not worth it.
To help you make a more informed decision, I have thoroughly researched the Passive Income Geek so I can tell you more about it.
As a disclaimer, I'm not affiliated with Passive Income Geek. It means I'm not paid to write this review. So you can rest assured that you will get an honest and unbiased review from me.
At the end of this article, I'll also tell you the best alternative to Passive Income Geek that has enabled me to make a full-time passive income online.
Passive Income Geek Review – Key Takeaways
Course Name: Passive Income Geek
Course Instructors: Morten Storgaard
Price: $299 for the first year and $99 for all following years
Pros: The course content is easy to understand.
Cons: The training course is relatively new, so it needs improvement; it doesn't include tools; no 24/7 support; lack of over-the-shoulder examples
Overall Rating: 3/5
Who is Passive Income Geek For: Morten Storgaard's students have little to show, according to the critics of Passive Income Geek. But you may benefit if you want to learn more SEO techniques.
The Best Alternative: An All-in-One Platform to Make Passive Income Online
In this Passive Income Geek review, I'm going to cover the following.
What is Passive Income Geek about?
Passive Income Geek started as a YouTube channel that taught people to build passive income websites. It now offers an affiliate marketing course online.
The course was launched in November 2020. In his YouTube channel, Morten said he has found success by building passive income websites.
As is the case with many gurus, Morten wants to share his success with others. That's why he invites people to subscribe to his channel, as well as sign up for his course.
The Passive Income Geek course was created after Morten built a large following on YouTube.
In this way, he can spend less money on Facebook ads to pitch his course, which is a smart marketing strategy.
The Passive Income Geek builds niche sites based on examples Morten shares on his YouTube channel.
The following are some of these sites:
AnimalHow.com

GoDownsize.com

SewingMachineTalk.com
Morten monetizes these websites both through affiliate marketing and display advertising. 21 months after launching Passive Income Geek, he sold AnimalHow.com for $30,000.
Passive Income Geek's general approach and format are comparable to Project 24 at Income School. Its focus, however, is more on display ads as opposed to affiliate marketing.
Recommendation: Here's The Best Alternative
Who is Morten Storgaard?
In 2007, Morten Storgaard started his online business.
Morten said he created the course as a way to share his learning over the years so you can also become successful as he did.
His career began as an affiliate marketer in Aarhus, Denmark, and in 2010 he switched to being a full-time SEO consultant.
He launched the Passive Income Geek YouTube channel in 2020.
As of this writing, his YouTube channel has 11.4k subscribers.
On his Youtube channel, he shares one of his milestones in which one of his affiliate websites earns a large sum of money.
Morten Storgaard seems to be the real deal based on the number of successful websites he ran. What he does, he knows. He shares that knowledge with his followers as well.
According to Morten, he got into online passive income so that he could spend more time with his family. His income is steady now, and he is able to spend more time with his wife and son.
Since then, he has shared his experience on Youtube. Below is a video in which he talks about how to become a full-time blogger.

His main influences are Ricky Kesler and Jim Harmer from Income School. Because of that, Passive Income Geek is mapped out exactly like Project 24 from Income School.
That means Passive Income Geek, like Income School's Project 24, has similar shortcomings.
I have also written a review of Income School's Project 24 in which I reveal the problems that Income School's affiliates have tried hard to downplay or hide.
How does Passive Income Geek Work?
The course Passive Income Geek is not very original. It borrows many ideas and concepts from Income School's Project 24.
Students are taught how to build niche sites using good topic research and content creation.
Morten's affiliate marketing strategy doesn't include a lot of SEO or backlinks, just like Income School's Project 24. He has instead opted to use the information provided by Google to create a website.
There are nine modules in Passive Income, and each one is divided into different topics.
Niche selection

Topic research

Finding a domain name

Setting up your website

Writing awesome content

SEO tips

Monetization

Social media

Outsourcing content
Module 1 – Choosing A Good Niche
As you will learn in the first module, a niche is just the topic that you will write about. But is as important to learn not to blog about certain niches.
You will learn how to brainstorm your niche, how to check earnings potential, and how to consider the competition.
Module 2 – Topic Research
Module 2 builds on module 1. You'll dive into topics and keywords that can help you make money. You'll also learn which to avoid.
Module 3 – Finding A Good Domain Name
In this short and less important module, you will learn how to choose and buy a domain name. The process is very straightforward.
Module 4 – Setting Up Your Website
In this module, you will learn how to create a website on WordPress and connect it with Google Analytics.
It is the simplest step of the process and even the most computer illiterate person can build a website with a little training.
Module 5 – Writing Awesome Content
This is where you learn how to create engaging content your readers will love.
Knowing what your readers are searching for, writing great headlines and writing content that can be monetized is the key.
I like the way advertising content and affiliate marketing content is separated here.
Module 6 – SEO Tips
SEO stands for search engine optimization and is the art of getting high rankings in Google.
You will learn how to do that in this module. This includes optimizing for Google, technical SEO, getting indexed quickly.
Module 7 – Monetization
In Module 7, you learn how to actually make money from your blog. The course teaches two main methods. That would be a premium advertising and affiliate marketing.
Each of these topics gets 10+ lessons.
Next, you learn how to monetize your website via info products, consulting, and email marketing.
Module 8 – Social Media
You will learn how to use social media such as YouTube, Facebook, and Pinterest for your business in this module.
It provides an overview of Facebook, Pinterest, and Youtube. But social media is largely ineffective for organic search and blogging.
According to Morten, you don't need social media to be successful, and he explains that it is unnecessary to create a profile.
So why did he create a module on social media? Just to make the course longer?
Module 9 – Outsourcing Work
Last but not least, you'll learn about outsourcing content which is important to scaling a blog. You'll learn how to hire writers, how to hire editors and more.
The course consists of tools, videos, and texts.
Passive Income Geek also offers a community where you can ask questions and get answers from other Geek members.
When you have completed the module, you will see a green checkmark.
Recommendation: Here's The Best Alternative
Passive Income Geek Pricing and Additional Costs
Passive Income Geek costs $299 per year. If you wish to renew your subscription, you must pay $99 a year.
The course doesn't offer a free trial, like some other courses out there.
It does, however, offer a 7-day money-back guarantee, so you can request a refund if you don't like the course.
As of right now, there are no discounts.
Passive Income Geek has no monthly subscription. Fees are exclusive to annual subscriptions.
Again, you will have to spend some money on additional tools, such as:
Website hosting ($100+ a year i.e. Bluehost)

The email autoresponder ($30+ a month i.e. Convertkit)
Recommendation: Here's The Best Alternative
Passive Income Geek reviews online
The Passive Income Geek course began as a YouTube channel but has now evolved into an all-out course that teaches anyone how to make lots of money from passive income strategies.
But you must want to know if it's effective, right? Here are some first-hand comments from its subscribers:
Positive Reviews of Passive Income Geek
While Passive Income Geek is still relatively new, it has earned some positive online reviews.
I have come across some notable ones:
"This is a good introduction to the world of passive income website building for those on a budget. Absolute beginners might need to ask a lot of questions, but you'll learn all the essentials."
"It's easy to use and doesn't take up too much time. The videos are only four and a half hours in total, and the texts and tools don't take up too much time either."
"You can make a passive income website using this course, even if you're pushed for time."
Negative Reviews of Passive Income Geek reviews
The following are some negative comments about Passive Income Geek:
"The site GoDownsize.com is often cited as an example of Passive Income Geek's tactics that are working. The other two sites, AnimalHow.com and SewingMachineTalk.com, are not nearly as successful."
"A few of the later modules feel incomplete and rushed, just as there is little information on the social media side of creating passive income sites."
"The display-ad-centric approach Passive Income Geek takes to earn money might annoy more advanced SEOs, who intend to focus on affiliate marketing."
Recommendation: Here's The Best Alternative
Passive Income Geek pros
1. The course is not expensive
Considering that the course costs less than $300 for a year, then $99 for next year looks pretty reasonable.
Passive Income Geek has the advantage of being very easy to follow. There is no confusion or hardship throughout the process of learning each module.
2. Systematic Approach
Each module builds on the previous one, so you don't have to jump between different modules in a different order.
The course is designed in such a way that you will be able to gain a better understanding of the business model after going over the individual pieces.
Passive Income Geek Cons and Complaints
1. The Course is Relatively New
The training course is relatively new, so there is a lot of room for improvement.
There are no examples of how Morten approaches certain processes, such as keyword research and content creation.
Hopefully, Morten will provide them soon, so this issue will be irrelevant in the future.
2. Only a few successful sites
Passive Income Geek refers to GoDownsize.com a lot as a successful example of their tactics. However, AnimalHow.com and SewingMachineTalk.com aren't nearly as successful.
Additionally, there are numerous mentions of other niche-targeted sites throughout the course, but Morten does not reveal these other examples or discuss whether they have worked.
3. Ads First Approach is Ineffective
Creating a strong info-content site can be more time-consuming than creating a highly targeted affiliate site that generates leads or sells affiliate commissions.
The course covers all three methods of monetization – i.e. advertising, affiliates, info products – but little is said about lead generation.
In fact, it's difficult to make a full-time income from display ads.
With a less lucrative niche, you can earn between $3.00 and $10.00 for every 1,000 website visitors. If you are in a lucrative niche, you can make anywhere between $25.00 and $40.00 per 1,000 visitors.
If you wish to maximize your ad placements, you will want to place them in areas that are highly visible on your website.
Your visitors might, however, get distracted from the content of your blog posts that encourage them to buy things via your affiliate links.
4. Lack of Successful Stories of Students
On the website of Passive Income Geek, I couldn't find any testimonials from their students who have successfully built a profitable website from scratch using Morten's approach.
On the website of Passive Income Geek, the course is endorsed by a handful of business owners who speak highly of it.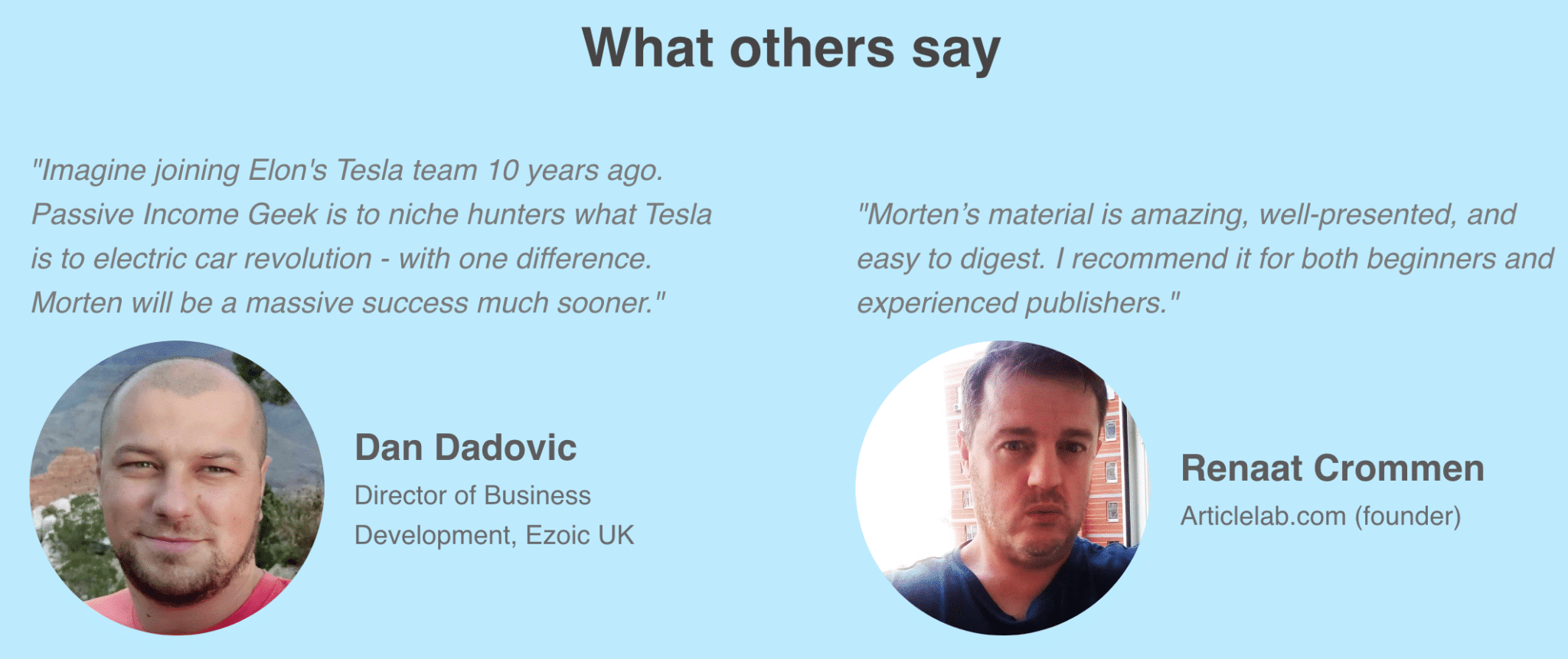 They said Morten's method is effective. However, how do you know if you were being paid to say so?
There are no screenshots of revenue or traffic that show the impact of Passive Income Geek's strategies.
In fact, though Passive Income Geek teaches people how to make money with affiliate sites, most of their revenue might actually come from their courses instead of affiliate marketing.
5. No Technical Support
If you are new to online marketing, you may need technical support. However, Passive Income Geek only offers courses with a site speed tool.
Therefore, if you experience technical problems with your website, you have no one to contact. It is important for newbies in online marketing to be aware of this.
After paying so much for the course, you will feel helpless when you expect to receive all kinds of support.
My #1 recommended platform is different. You will get 24/7 technical support with your website.
When you encounter technical difficulties, a technical team is on hand to help you. It's almost like hiring an entire technical team. There is also a community of a million members available to answer your questions.
6. Passive Income Geek Doesn't Have A Huge Volume of Organic Traffic
Passive Income Geek teaches people to build an authority site and drive traffic through Search Engine Optimization.
However, their own website only has a small number of visitors every month. This is a joke when compared with other SEO experts on the market.
For example, Neil Patel's website has 4.5 million visitors every month.
So how does Passive Income Geek reach a wide audience? I guess their leads actually come from YouTube and Facebook. If that's so, it'll be sarcastic because they are teaching you how to drive traffic by SEO.
7. There is No Free Trial Or Money-Back Guarantee
There is no free trial for the Passive Income Geek course. You have to pay $299 upfront to get started.
If you don't like the course or don't feel good about it, you only have 7 days to ask for a refund.
They said you just have to explain the matter for a refund. But how do you know if they will accept your request? It doesn't seem to be unconditional.
On the contrary, my #1 recommended platform has a free membership plan, where you can get access to the first level training and even build a free website.
If you like it and feel good to go further, you can then upgrade to the premium plan at a 50% discount for the first month. So you don't need to worry about making a bad investment.
Recommendation: Here's The Best Alternative
Is Passive Income Geek a Scam?
Passive Income Geek is not a scam. Their course does offer some value. If you buy their courses, you can learn how to do affiliate marketing for sure.
You can find a lot of bloggers recommending the course, mainly their affiliates that can earn significant commissions.
My concern, however, is the refund policy of 7 days. If the course is of high quality, why aren't they offering a money-back guarantee of at least 30 days?
Besides, there is no monthly subscription plan. Does this mean Morten Storgaard is not so confident in the quality of his course and is worried that people might drop out after the first month?

In contrast, my #1 recommendation also offers a risk-free trial and a monthly subscription. Anytime you feel unsatisfied, you can unsubscribe.
In fact, as mentioned earlier, Morten Storgaard is not building an authority site to drive traffic for the Passive Income Geek course.
If the teacher can't make it using his own strategies, how can the students?
There is no reason to go for Passive Income Geek when there is a better alternative, which is much cheaper, but offers you much more value and can help you succeed faster.
I will tell more about my #1 recommended platform in the next section.
Recommendation: Here's The Best Alternative
Is There a Better Alternative to Passive Income Geek?
So what's the best alternative to Passive Income Geek? My #1 recommended platform is called Wealthy Affiliate.

Wealthy Affiliate is an all-in-one platform for building your affiliate marketing business from scratch.
When you join Wealthy Affiliate, you can get access to the first-class web hosting service, keyword research tools, community support, comprehensive training, writing tools, and other software to help you build an online business step-by-step.
You can register a free account with Wealthy Affiliate, which enables you to get started with affiliate marketing right away without paying a penny.
If you like the platform, you can then upgrade to the premium membership to get access to everything on the platform. There are no upsells afterwards.
But How Much Can You Earn with Wealthy Affiliate?

A 21-year old student from Wealthy Affiliate was able to earn $7,395 in just 1 week, which means he made more than $1k a day…all while applying what is taught inside Wealthy Affiliate.
Compared with Passive Income Geek, Wealthy Affiliate has a much longer history, which has been established for 15 years and there are many success stories in the past decade.
Actually, Wealthy Affiliate has more than a million members so far, so you can see how popular this platform is.
To give you more examples, here are some of the other inspiring success stories of Wealthy Affiliate members.
If you don't trust my words, you can go to Trustpilot to see what the members have to say:
At the time of writing, Wealthy Affiliate is rated 4.8 out of 5, which is excellent. It's incredible to get such a high rating with more than 400 reviews.
If there are only two or three good reviews, you may say they are fake reviews. But you cannot fake it when there are more than 400 reviews there. Remember, Trustpilot has a very intelligent system to detect fake reviews.
Where to Join Wealthy Affiliate?
Wealthy Affiliate has a very simple pricing scheme. It has a free and premium membership. The premium membership only costs $49/month or $395/year.
If you want to feel about Wealthy Affiliate, you can sign up for the free starter membership here (no credit card required). You can select to be a free member with no time limit.
And as a starter member, you can get instant access to the community, live chat, over 500 training modules, 2 classrooms, networking, commenting, 1 free website, access to the keyword tool.
You can enjoy all these values without paying a penny.
So I strongly recommend you to register a free account and see it yourself.