Are you looking for a Passive Income Geek review? If you want to make money online, you might have heard of Morten Storgaard. But you may wonder if he is a scam.
As someone who is experienced with affiliate marketing, I'm in a good position to share with you everything I know about the program.
As a disclaimer, I'm not affiliated with Passive Income Geek. It means I'm not paid to write this review. So you can rest assured that you will get an honest and unbiased review from me.
At the end of this article, I'll also tell you the best alternative to Passive Income Geek that has enabled me to make a full-time passive income online.
Passive Income Geek Review – Key Takeaways
Course Name

: Passive Income Geek

Course Instructors

: Morten Storgaard

Price

: $399 for the first year and $199 for all following years

Pros

: Systematic course; easy to follow

Cons

: Course is relatively new; lack of testimonials; lack of support

Overall Rating

: 3/5

Verdict

: A solid course that teaches you how to build a website that generates passive income.
In this Passive Income Geek review, I'm going to cover the following.
What is Passive Income Geek?
Passive Income Geek started out as a YouTube channel where a guy named Morten taught people how to build passive income websites.
But now, he's also offering an online course on affiliate marketing. He launched the course in November 2020 and has been sharing his own success stories on the channel.
He wants to help others achieve the same success, which is why he's encouraging people to check out his course and subscribe to his channel.
He built a big following on YouTube and used that to promote the course without having to spend as much on Facebook ads.
He also monetizes the websites he shares as examples on the channel through both affiliate marketing and display ads.
And get this, he even sold one of the sites he built, AnimalHow.com, for $30,000 21 months after launching Passive Income Geek.
The course is similar to another course called Project 24 but focuses more on display ads instead of just affiliate marketing.
Learn more: Best Affiliate Marketing Courses
Recommendation: Here's The Best Alternative
Who is Morten Storgaard?
In 2007, Morten Storgaard launched his online business and hasn't looked back since. He started off as an affiliate marketer in Denmark and then switched to being a full-time SEO consultant.
Fast forward to 2020, he launches the Passive Income Geek YouTube channel which now has over 22k subscribers.
On his channel, he shares all his tips and tricks on how to become successful online, like one of his affiliate websites earning a ton of money. He's the real deal, and he's sharing all his knowledge with his followers.
Morten got into online passive income so he could spend more time with his family, and now he's able to do that because his income is steady.
He's also been sharing his experience on Youtube, like a video on how to become a full-time blogger.
He's influenced by Ricky Kesler and Jim Harmer from Income School, so his channel, Passive Income Geek, is similar to Income School's Project 24.
So, if you're a fan of Income School, you'll love Passive Income Geek.
How is Passive Income Geek different?
Passive Income Geek is pretty similar to the Income School approach – focusing on researching the right niche and creating content for it.
Instead of relying on backlinking or fancy SEO tools, Passive Income Geek is all about using the free resources Google has to offer to build your website.
The main things that set Passive Income Geek apart from other affiliate marketing courses are as follows:
Focus on finding underserved topics.

This helps guide you in picking a niche and creating content that people will actually want to read.

Focus on display ads as the main source of income.

Morten argues that they don't really impact the metrics or load speed of your site.
But, what really makes this course stand out is the fact that the examples used are from the instructor's own real-life projects.
So, you're getting some inside tips and tricks from someone who has actually done it.
Moreover, you can participate in some "build along" projects and get feedback from the community on your own website.
If you're interested in learning more, check out this interview with the instructor, Morten, where he talks more about his approach to building websites and the Passive Income Geek course.
Who is Passive Income Geek for?
If you're just starting out on your passive income journey, the course offered by Passive Income Geek is a solid choice.
But keep in mind, you'll want to have some basic knowledge of websites before diving in.
It doesn't go into super in-depth stuff like WordPress or creating fancy page layouts in Elementor.
But don't worry, you can find answers to those questions in the community forum.
Who is Passive Income Geek NOT for?
If you're skeptical about online courses or don't have a ton of time, this might not be for you. It's definitely not a "set it and forgets it" kind of deal.
After spending a good chunk of time researching and checking out the course, here's my take on who would benefit not from it:
If you're looking for something passive, this ain't it. You gotta put in the work and do the homework.

If you're short on time, it's not the best option. Even though the course content is easy to understand, putting it into practice takes a decent amount of time. Especially when it comes to the niche hunting module, you'll need to do some research and fill out a worksheet before moving on.

If you're not down with the underserved-topic method, you might not get a lot out of this course. SEO experts and affiliate marketers might not like the lack of tools like Ahrefs and SEMrush.
Recommendation: Here's The Best Alternative
What is a passive income website?
Morten's idea of a passive income website is a bit of a mystery. But from what we can gather from his videos and course materials, it sounds like it's a website that
focuses on a specific topic or theme

helps answer important questions

offers product recommendations
Plus, you can manage it all by outsourcing. The goal is to make money from ads, affiliate commissions, and digital products.
Social media may also play a role, but Morten doesn't recommend it for beginners.
All in all, it's similar to other affiliate marketing courses in that it's all about creating and sharing valuable content. It's not just about making a quick "best X for Y" website.
How does Passive Income Geek work?
It's pretty straightforward – you can either work through each module step by step or jump right into the sections that interest you the most.
The course is a mix of videos, text, and tools to help you out. Once you sign up, you'll be greeted with an intro video from the instructor, Morten, where he'll give you an idea of who he is and what to expect.
After that, you'll have access to the learning material and can start going through the modules or hang out in the community. A good first step is to introduce yourself to the community – you'll see that it's one of the most active threads.
You might recognize some names from YouTube or podcasts if you're into the niche website space.
As for the timeline, it's not super clear, but Morten is documenting the process of building a website from scratch using his method in the "Build With Us" challenge.
The course is similar to Income School's Project 24 in that you'll learn how to build niche sites using good topic research and content creation.
Morten's approach to affiliate marketing doesn't involve a lot of SEO or backlinks, similar to Project 24.
He uses the information provided by Google to create a website.
How is the training structured?
There are nine modules in Passive Income, and each one is divided into different topics.
Niche selection

Topic research

Finding a domain name

Setting up your website

Writing awesome content

SEO Tips

Monetization

Social media

Outsourcing content
Module 1 – Choosing A Good Niche
As you will learn in the first module, a niche is just the topic that you will write about. But is as important to learn not to blog about certain niches.
You will learn how to brainstorm your niche, how to check earnings potential, and how to consider the competition.
Module 2 – Topic Research
Module 2 builds on module 1. You'll dive into topics and keywords that can help you make money. You'll also learn which to avoid.
Module 3 – Finding A Good Domain Name
The purpose of this module is to teach you how to choose and purchase a domain name. This is a very straightforward process.
Module 4 – Setting Up Your Website
In this module, you will learn how to create a website on WordPress and connect it with Google Analytics.
Building a website is the easiest part of the process, and even computer-illiterate people can do it.
Module 5 – Writing Awesome Content
This is where you learn how to create engaging content your readers will love.
You need to know what your readers are searching for, write great headlines,, and write content that can be monetized.
This is a good way to separate advertising content from affiliate marketing content.
Module 6 – SEO Tips
SEO stands for search engine optimization and is the art of getting high rankings in Google.
This module will teach you how to do that. This includes optimizing for Google, technical SEO, and getting indexed quickly.
Module 7 – Monetization
In Module 7, you learn how to actually make money from your blog. The course teaches two main methods. That would be premium advertising and affiliate marketing.
Each of these topics gets 10+ lessons.
Next, you learn how to monetize your website via info products, consulting, and email marketing.
Module 8 – Social Media
In this module, you'll learn how to use social media for your business, such as YouTube, Facebook, and Pinterest.
In it, you'll find an overview of Facebook, Pinterest, and Youtube. However, social media is largely ineffective for organic search and blogging.
Morten explains that you do not need to create a profile for success on social media.
So why did he create a module on social media? Just to make the course longer?
Module 9 – Outsourcing Work
Lastly, you will learn about outsourcing content, which is crucial to scaling a blog. There will be a lot of information about how to hire writers, editors,, and more.
Recommendation: Here's The Best Alternative
How much does Passive Income Geek cost?
Passive Income Geek's course will set you back $399 for the first year. That includes an annual membership fee of $199, which will renew each year on the date you signed up. So, basically, you're looking at:
Year 1: $399

Year 2: $199
Year 3: $199
and so on, as long as you keep renewing.
Additional Expenses
But, keep in mind that there are some additional expenses to consider. You'll need to pony up for a domain and hosting to follow the course.
Now, the course does have a module on outsourcing, but you can totally do all the work yourself and save some cash.
Any Discount?
Oh, and one more thing – there isn't a discount available for Passive Income Geek at the moment.
But, who knows? As the course becomes more popular, they might offer a discount. We'll let you know if that happens (just subscribe to our newsletter to stay in the loop).
Subscription Payment
And, just so we're clear, Passive Income Geek isn't a one-time payment deal. You'll be billed $199 annually to keep access to the community and training materials after the first year.
But, if you decide to cancel your subscription, it's easy to do so.
Refund Policy
If you are not satisfied with Passive Income Geek, you can get your money back within 30 days.
After the first year, you are entitled to a pro-rated refund if your subscription renews without your consent.
Recommendation: Here's The Best Alternative
Praise for Passive Income Geek
Below are some pros of the course Passive Income Geek.
1. The course is not expensive
One of the best things about it is that it won't break the bank. At less than $300 for the first year and only $99 for the next, it's definitely worth checking out.

Plus, the course is super easy to follow. No need to stress over confusing instructions or a hard-to-navigate layout.
2. Their approach is systematic
Another great thing about Passive Income Geek is its systematic approach. Each module builds on the previous one, so you're not jumping around trying to piece everything together.

And by the time you finish all the modules, you'll have a solid understanding of the business model. Overall, it's a great way to learn about passive income in a structured, easy-to-understand way.
3. No upsells
This course has no upsells. Morten only sells one product, and you will never feel pressured to buy anything else from him.
Criticism of Passive Income Geek
1. The course is relatively new
Since the training course is relatively new, there is still room for improvement. Morten does not provide examples of how he approaches certain processes, such as keyword research and content creation. In the future, Morten should provide them, making this issue irrelevant.
2. Only a few successful sites
GoDownsize.com is often cited as a successful example of passive income strategies by Passive Income Geek. However, AnimalHow.com and SewingMachineTalk.com aren't nearly as successful.
Morten mentions numerous other niche-targeted sites throughout the course, but he does not reveal those other examples or discuss whether they have been successful.
3. Lack of success stories from students
I checked out the Passive Income Geek website, and I couldn't find any real-life examples of students who've used Morten's approach to build a profitable website from scratch.
I did see that a few business owners have endorsed the course, but I'm not sure if they're getting paid to say that or not.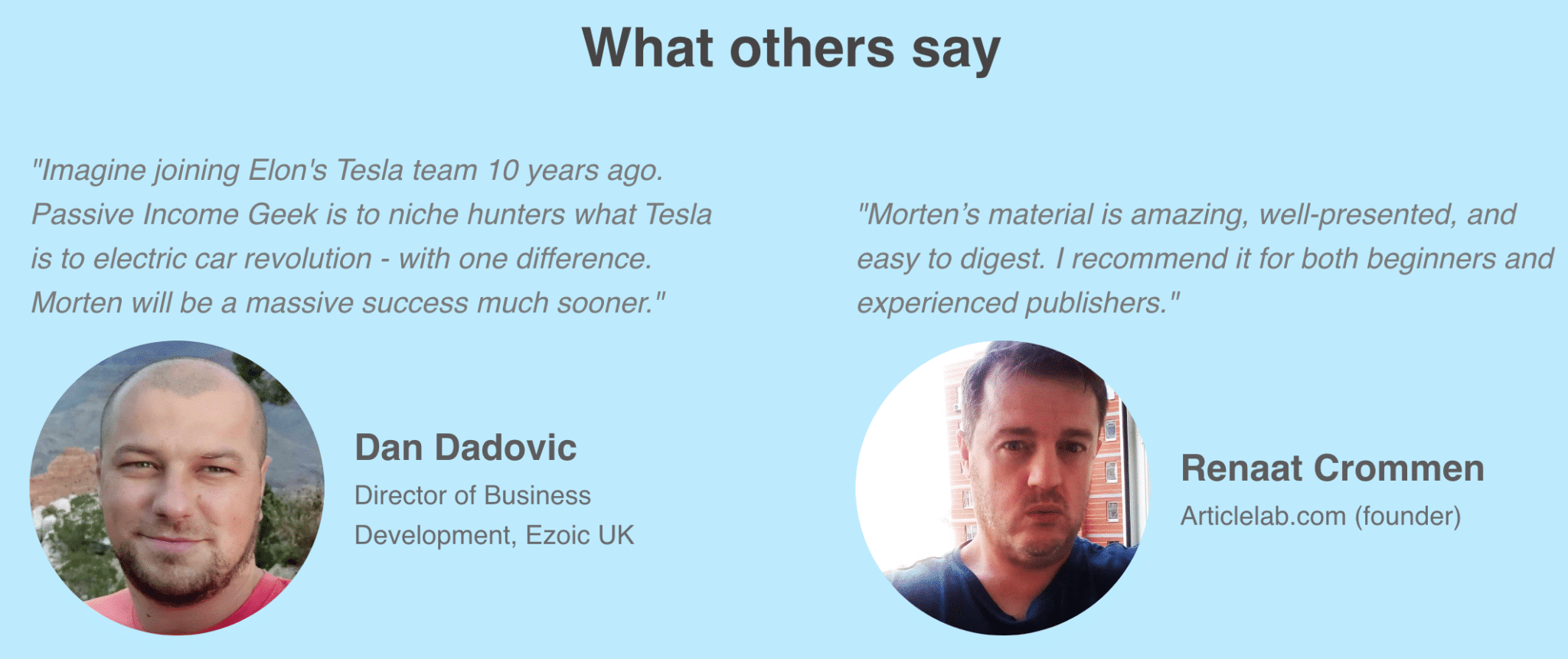 Also, there's no concrete proof of income or traffic increases to show that the strategies actually work.
On top of that, it seems like most of Passive Income Geek's own income might come from selling the course instead of affiliate marketing.
4. Ads First Approach is ineffective
Info-content sites can take more time to develop than affiliate sites that sell affiliate commissions or generate leads.
All three methods of monetization are covered, including advertising, affiliates, and info products, but little is said about lead generation. In fact, it's difficult to make a full-time income from display ads.
For every 1,000 website visitors, you can earn between $3.00 and $10.00 with a less lucrative niche. You can earn anywhere from $25.00 to $40.00 per 1,000 visitors if you are in a lucrative niche.
Your website's ads should be placed in highly visible areas if you wish to maximize their effectiveness.
Visitors may, however, get distracted from the affiliate links in your blog posts if you encourage them to click on them.
5. Very little information on advanced SEO tactics
The course has a bit more info on SEO but I think it could use even more. Like, I get that it follows the same strategy as Income School (no links), but I think it would be helpful to have more knowledge on how SEO and link building specifically work.
In my opinion, link building strategies can make a big difference in whether a niche website is successful or not. Now, don't get me wrong, I don't think you need to buy links to have a successful blog, but it can definitely help you get there faster and at a higher price point.
Also, I think the section on monetization could be better. It's pretty basic and doesn't offer any real tips or tricks that you wouldn't come up with on your own.
6. Lack of guidance on content creation
I noticed that Passive Income Geek could use a bit more guidance on content creation. I mean, Morten gives some great tips on coming up with killer headlines and understanding search intent, but it would be super helpful to see an actual example of him researching and writing a piece.
I think that would be especially helpful for beginners who might be feeling a little lost after putting together an article outline. But, Morten has started releasing videos on this topic with the "Build With Us" challenge which will help a lot.
7. There is a sense of rushing in later modules
I've noticed that some of the later modules feel a bit rushed or incomplete, especially when it comes to the social media side of things.
For example, the "setting up your website" module is pretty cool and Morten shows us how he set up GoDownsize.com's design using the Elementor page builder. But he doesn't really take the time to explain how the tool works, which I think would have been helpful.
Also, I think the course could use a bit more clarity when it comes to timelines. It would be nice to know what I'm supposed to have done by certain points, ya know? Just a little more structure would be helpful.
Recommendation: Here's The Best Alternative
Is Passive Income Geek a scam or legit?
Passive Income Geek isn't a scam, but there are definitely some things to keep in mind. The course does offer some value, and if you buy it, you'll definitely learn about affiliate marketing.
There are plenty of bloggers out there who recommend the course, but keep in mind a lot of them are affiliates who earn big commissions for each sale.
One thing that gives me pause is the refund policy – it's only 7 days. If the course is really high quality, why not offer a money-back guarantee for at least 30 days?
And another thing – there's no monthly subscription option. This makes me wonder if the creator, Morten Storgaard, isn't completely confident in the course and worried that people might drop out after a month.
And if he can't make it using his own strategies, how can his students?
In my opinion, there are better alternatives out there that are cheaper and offer more value, and can help you succeed faster. I'll tell you more about that in the next section.
Is there a better alternative?
So what's the best alternative to Passive Income Geek? My #1 recommended platform is called Wealthy Affiliate.

Wealthy Affiliate is an all-in-one platform for building your affiliate marketing business from scratch.
When you join Wealthy Affiliate, you can get access to the first-class web hosting service, keyword research tools, community support, comprehensive training, writing tools, and other software to help you build an online business step-by-step.
You can register a free account with Wealthy Affiliate, which enables you to get started with affiliate marketing right away without paying a penny.
If you like the platform, you can then upgrade to the premium membership to get access to everything on the platform. There are no upsells afterward.
But How Much Can You Earn with Wealthy Affiliate?
A 21-year-old student from Wealthy Affiliate was able to earn $7,395 in just 1 week, which means he made more than $1k a day…all while applying what is taught inside Wealthy Affiliate.
Compared with Passive Income Geek, Wealthy Affiliate has a much longer history, which has been established for 15 years and there are many success stories in the past decade.
Actually, Wealthy Affiliate has more than a million members so far, so you can see how popular this platform is.
To give you more examples, here are some of the other inspiring success stories of Wealthy Affiliate members.
If you don't trust my words, you can go to Trustpilot to see what the members have to say:
At the time of writing, Wealthy Affiliate is rated 4.9 out of 5, which is excellent. It's incredible to get such a high rating with more than 400 reviews.
If there are only two or three good reviews, you may say they are fake reviews. But you cannot fake it when there are more than 400 reviews there. Remember, Trustpilot has a very intelligent system to detect fake reviews.
Where to Join Wealthy Affiliate?
Wealthy Affiliate has a very simple pricing scheme. It has a free and premium membership. The premium membership only costs $49/month or $395/year.
If you want to feel about Wealthy Affiliate, you can sign up for the free starter membership here (no credit card required). You can select to be a free member with no time limit.
And as a starter member, you can get instant access to the community, live chat, over 500 training modules, 2 classrooms, networking, commenting, 1 free website, and access to the keyword tool.
You can enjoy all these values without paying a penny.
So I strongly recommend you register a free account and see it yourself.
Recommendation: Here's The Best Alternative
More Passive Income Geek Alternatives
Here are the other affiliate marketing courses we have reviewed: