Are you looking for a Commission Hero review? Is Robby Blanchard a scam? If you're tired of the Commission Hero reviews that are clearly written by the people who try to promote the course and get a commission, you've come to the right place.
I have a passion to help people explore the best money-making opportunities online. Over the years, I have reviewed hundreds of similar online programs like Commission Hero.
In the past week, I have done thorough research about Commission Hero, so I can tell you everything you need to know. You will be able to make an informed decision after reading this Commission Hero review.
Now, it's likely that you've already watched the ads from Robby Blanchard and think that it is an amazing idea to earn $1,000 a day.
As an entrepreneur, I can tell you that it's possible to achieve that figure. The thing is, can you make it by following Commission Hero's blueprint?
If it can't, is there any alternative?
At the end of this article, I'll also share with you an alternative training program that allows you to start an online business at zero cost. It also allows you to interact with more than 100,000 active members who can share with you their experiences and success stories.
Commission Hero Review – Key Takeaways
Course Name: Commission Hero
Instructor: Robby Blanchard
Website: https://joincommissionhero.com/
Special Offer: Join The Free Training Here
Price: $997
Pros: The course content is quite comprehensive; the affiliate marketing strategies are solid.
Cons: the course is a bit expensive; it doesn't include tools; no 24/7 support; paid ads strategy is a bit risky
Overall Rating: 4.6/5
Below is what I will cover in this review of Commission Hero and Robby Blanchard.
Who is Robby Blanchard?
Robby Blanchard is the CEO of Blanchard Media with clients such as Fit Body Bootcamp, Paleo Secret and Jason Capital International. His company provides services such as ad campaign management, private consulting and coaching.
The interesting thing is Robby didn't begin his career in online marketing. He actually opened his own gym after earning his MBA from Fitchburg State College.
When he tried to use Facebook ads to promote his gym, he learned about affiliate marketing and joined Clickbank to promote his fitness program.
At its peak, Robby claims that he received $10,000 per week from his fitness program via ClickBank. Seeing the success of his affiliates, he decided to try affiliate marketing himself.
In 2019, Robby became the top affiliate for ClickBank, one of the biggest affiliate marketing networks in the world.
Here's a video where Robby Blanchard introduces himself.
Join The Free Commission Hero Training Here
What is Commission Hero?
Commission Hero is a training programme that promises to teach you how Robby Blanchard makes money from affiliate marketing online.
But what is affiliate marketing? Well, affiliate marketing is a business that connects prospective customers with a product or service and generates a commission for you if they click your link to buy it.
So you may wonder if Commission Hero is the best training program to learn affiliate marketing. Can you really make a lot of money by enrolling in Commission Hero?
There are many online programs teaching people how to do affiliate marketing, but the quality varies. Most of them do not work at all. So it's important to do some research before investing your time and money.
Let's find out how Commission Hero works in the next section.
Commission Hero Review: How does it work?
Commission Hero teaches you how to generate traffic from Facebook ads to landing pages. These landing pages help you to collect emails that allow you to pitch affiliate products from ClickBank.
To give you a clear picture, below are the steps you will learn from Commission Hero:
Create Facebook ads that drive traffic to your landing page
Create landing pages to promote an affiliate program or collect emails
The customer clicks your affiliate link to buy the product and you get a commission
The process is simple, but there are a lot of hidden costs and the learning curve is steep. For example, it is difficult to manage Facebook ads and the ads costs can eat away your hard-earned money quickly.
That means unless you can afford to lose money, it is not a good idea to promote affiliate products by running Facebook ads.
Robby Blanchard gives an overview of how exactly Commission Hero works in this YouTube video:
10 Reasons Why Some People Don't Recommend Commission Hero
1.The Good Reviews are Written by Commission Hero's Affiliates
You probably have found some other reviews of Commission Hero and all of them are only saying good words about Commission Hero.
They are actually paid to write, meaning they will receive a commission if you purchase Commission Hero via their links. Therefore, their words are often biased and not trustworthy.
2. Commission Hero Only Focuses on ClickBank
ClickBank is a marketplace where there are so many products you can choose to promote. However, some ClickBank products are of poor quality and you might not be interested.
Commission Hero only teaches you how to promote ClickBank products. It doesn't cover other affiliate networks where you can find products to promote.
However, to be fair, you can actually apply the same strategies you learn from the course and promote any other products.
While Robby Blanchard tends to talk a lot about ClickBank, it's your own preference to choose products elsewhere to promote. And what Robby Blanchard teaches you will work for those products as well.
3. Lack a Helpful Community
If you join Commission Hero, there is only a private Facebook group. Although the group is quite active and members are quite helpful, some questions will be ignored and remain unresolved. You may feel helpless especially if you are just a beginner.
However, to be fair, as an entrepreneur, you should develop the habit of googling and find out the answer yourself. You cannot always rely on other people.
4. The Course is Quite Expensive
The course is quite expensive that not everyone can afford. Commission Hero costs $997.
If you want to start an affiliate site, you also have other costs like web hosting, keyword research tools and other software or plugins to add the necessary functionality to your website.
However, the Commission hero course is merely a course. It's not an all-in-one platform that gives you everything you need to build an affiliate site from scratch.
5. You Don't Get Technical Support
If you are a beginner in online marketing, you probably need technical support from time to time. However, Commission Hero only offers courses, but not technical support. That means if you have technical problems with your website, you have no one to seek support.
However, nowadays, to build an online business, you don't have to know coding. There is much user-friendly software that doesn't require coding. To build a website, using WordPress or ClickFunnels doesn't require you to do any coding.
6. There is No Free Trial
There is no free trial for Commission Hero's courses. You have to pay a thousand dollars to get started. The risk is much higher in case you don't like the course or don't feel good about it.
Although they offer a money-back guarantee, there are some procedures or criteria to get your money back. You can't get your money back until you can prove you have tried to use the program for 12 months.
Actually, I found that Robby Blanchard is quite leninet when it comes to approving refunds. After all, he won't want to get negative reviews for earning a few hundred dollars.
7. Banned Facebook accounts
Commission Hero students frequently have their Facebook ads accounts shut down for violating Facebook's advertising policies.
Although those ad policies don't explicitly prohibit affiliate marketing, Facebook doesn't approve ads that link directly to affiliate offers.
Because of this, Robby instructs students in Commission Hero to drive leads to a landing page before persuading them to click on an affiliate link.
However, Commission Hero students continue to have problems with Facebook, even though there's an entire lesson in Commission Hero about how to deal with Facebook account shut-downs.
Boddy explains how to deal with this issue in this video:
8. Commission Hero only teaches you Facebook ads
Commission Hero only teaches you how to use Facebook ads to drive traffic to ClickBank.
There's no training on free traffic. For example, Commission Hero doesn't teach you how to create a website and use SEO to get your websites ranked on Google so that you will get organic traffic to visit your product page.
Therefore, you would have to invest much more capital on running Facebook ads if you use Commission Hero's approach. But of course, if you can master the skill of running Facebook ads, your earning potential will be enormous.
9. A lot of Hidden costs
Robby doesn't tell you that Facebook ads can rack up to a lot of money. According to Forbes, Facebook saw an increase in Ad costs of 90% year-on-year.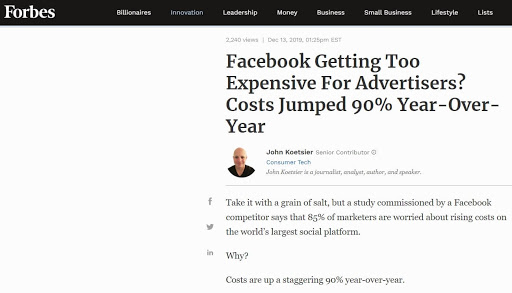 Worse still, the learning curve of Facebook ads is quite steep because Facebook changes its algorithm all the time. You have to invest a lot of time and money in learning and testing Facebook ads.
If you run Facebook ads without any experience, your ad account will be easily banned for violating their strict policies.
Besides, don't forget there are additional expenses from the recommended tools:
It costs $97 per month for ClickFunnels (landing page builder).
ClickMagick costs $27 a month (tracking tool)
An autoresponder such as GetResponse cost $15 a month (collects and sends emails)
These add up to another budget of $350+ per month. And that's not even included the $296 Inner Circle upsell.
Building a business requires capital. So make sure you get sufficient capital to start the journey.
10. Most Autoresponders Banned Affiliate Links
Robby teaches you to sell affiliate products via email campaigns. But he doesn't tell you that most autoresponders such as ActiveCampaign don't allow you to send an email with the sole purpose of pushing an affiliate link or offer.
To solve this problem, you would have to use the autoresponders that are affiliate marketing-friendly, but those autoresponders may have poorer deliverability.
I found that GetResponse is the best because its deliverability is quite good and it welcomes affiliate marketers.
Join The Free Commission Hero Training Here
8 Reasons Why Some People Recommend Commission Hero
1. The Training is Legit
This is a genuinely tested and legit program based on Robby Blanchard's experience with internet marketing. Robby Blanchard has tested the strategies used in the program himself and it has been proven to work.
Also, affiliate marketing itself is a legit business model that many people are making money with it. You promote other people's products and earn a commission.
3. Commission Hero is Beginner Friendly
Beginners can benefit most from Commission Hero, which is optimized for average people with no previous affiliate marketing experience but a desire to succeed. The digital guide makes it easy for inexperienced affiliates to get started.
4. Robby Blanchard is a Successful Affiliate Marketer on ClickBank
There is no doubt that Robby Blanchard is a top affiliate marketer on ClickBank. This is confirmed by ClickBank.
Robby Blanchard also proves this by showing his own ClickBank account.
You can see Robby Blanchard earns so much affiliate commission by promoting ClickBank products. So you can be sure that he does know the stuff.
Also, it seems that he has succeeded in promoting products of different niches. This is great because you can learn how to promote any products to make money.
5. There are Many Successful Students Testimonials
When deciding whether to enrol in a course, it's important to see if there are any success stories of students. I have found that many students of Robby Blanchard successfully make a lot of commission on ClickBank. It means the training really works.
Here are some screenshots of the success stories:
6. Robby Blanchard Seems To Be a Humble Person
Even though Robby Blanchard makes a lot of money and is a millionaire for sure, he doesn't show off his wealth in front of the camera like many gurus. Many gurus nowadays like showing off a millionaire lifestyle by driving a Lambo or even a private jet to see the dream.
Commission Hero is different. Robby Blanchard focuses on showing you how it works and provides value. I like how he market his course in a direct way, which is to help you make money and live a better life.
7. Commission Hero is sold through ClickBank
Robby Blanchard lists his course on ClickBank, which is good. The reason is that Clickbank is a reliable platform for conducting online transactions. You can be sure that the transaction is secure and safe, meaning your personal information and credit card information won't be stolen.
Also, it's easier to request a refund with ClickBank as the middleman.
8. Commission Hero Provides Great Sales Funnels Templates
If you don't know how to build a sales funnel to promote affiliate products, Robby Blanchard will give you some pre-made templates which you can just plug and play. It saves a lot of time and headache for newbies.
Commission Hero Pricing
Commission Hero is sold at $997. You can choose to pay in 2 instalments at $597 each time. You can then get access to all the training in Commission Hero. However, as mentioned earlier, you must beware of the hidden costs.
To actually use the training, you have to pay for the additional costs each month on:
ClickFunnels $97 per month (landing page builder)
ClickMagick $27 a month (tracking tool)
An autoresponder such as GetResponse cost $15 a month (collects and sends emails)
Facebook ads (at least $200 per month)
Apart from that, there is an "inner circle" which costs $297 per month to get access to:
"Done for you" funnels
Weekly webinar
Robby looks through your campaigns
Private Facebook group
All these expenses add up to a total cost of $7,429 in one year.
Anyway, if you still want to see it yourself to confirm Commission Hero is worth it or not, there is free training offered by Robby Blanchard. You can get access to the free Commission Hero training here.
Commission Hero Discount
You are looking for a discount for Commission Hero, sorry there is no discount code.
If you found some websites that claim to offer a discount code, the code is probably not valid.
However, sometimes Boddy Blanchard does offer a special offer of Commission Hero. If you want to know when you can subscribe for his free training and see if you receive a discount later in his emails.
Join The Free Commission Hero Training Here
Who Should Join Commission Hero?
Commission Hero is for those who are willing to take the risk to run ads for doing affiliate marketing.
So this course might be for you if you like using paid traffic and
After purchasing the course, you are willing to invest another $1000 or more

At least 10 hours per week can be dedicated to building your business

You enjoy building and optimizing sales funnels

It's not going to make you rich overnight
Who Should Not Join Commission Hero?
Commission Hero is not for you if you are looking to make money in few days.
Commission Hero will teach you how to build a long-term digital asset that can generate passive income for you in many years. It's not a short-term program for people to make quick money.
To make money with Commission Hero, you have to build an email list and constantly send emails to drive traffic. You won't need much capital to get started, but you need to have patience and devote time to your business.
So if you are not a patient person and have no vision to build a long-term asset, Commission Hero is not for you.
Is Robby Blanchard or Commission Hero a Scam?
Commission Hero is certainly not a scam. Robby Blanchard does know the stuff of affiliate marketing and you will learn all the stuff to start an affiliate marketing business.
However, as I mentioned, Commission Hero is not perfect and not everyone like it. I have mentioned the most common complaints and cons about Commission Hero above. So if you are very concerned about the cons, you might not want to join Commission Hero.
However, even though you might not like Commission Hero for whatever reasons, you cannot call it a scam. The reason is that the training and business model are legit.
Also, Robby Blanchard is a successful affiliate marketer himself. He is not someone who makes no money and creates a course to scam people. He has a good track record when it comes to affiliate marketing.
Anyway, if you think Commission Hero is not suitable for you, I have an alternative for you. I will tell you more about this alternative in the last section of this Commission Hero review.
Join The Free Commission Hero Training Here
Commission Hero Review FAQs
What is Affiliate Marketing?
This is an online business model in which affiliates earn commission by referring customers to other businesses that offer products and services. It's a risk-free business model as you don't have to make your own product.
What's Commission Hero?
Commission Hero is a course on affiliate marketing created by Robby Blanchard, the top Clickbank affiliate marketer by earnings. You can learn how to promote ClickBank products and make money online.
Is Commission Hero legit?
Yes, Commission Hero is certainly legit. I have explained this in my detailed review above. Commission Hero teaches you the legit way to make money online. It is suitable for newbies who want to start a legit online business.
What's ClickBank?
The marketplace is one of the world's largest affiliate marketing networks, offering more than 6 million products and reaching over 200 million customers worldwide. You can find any products you would like to promote and make a commission.
What is Commission Hero's potential for making money online?
It depends on you! The Commission Hero course promises to teach you how to earn $1000 every day through their program.
Thousands of students and members have provided positive testimonials, which prove the effectiveness of the teachings. Commission Hero might not be right for you, so be sure to do your homework before investing
Who should use Commission Hero?
All those who want to do online business and make a living from it should check out Commission Hero. Commission Hero offers a lot of resources that anyone can use to get started in an online business.
How will I get support after ordering Commission Hero?
Commission Hero provides a lot of resources for students. You can contact them directly via mail or through their private Facebook group. Once you join the course, you will be added to the group.
Can Commission Hero offer a refund?
It does offer a full refund. Commission Hero allows refund requests after one year, however. The aim is to weed out those who are not serious enough about completing the course and to ensure that you get the best results possible.
Does Commission Hero really work?
Commission Hero has been proven to work for many students. Robby's experience in making money online makes him a reliable mentor, and he is knowledgeable about the subject.
He has designed the course based on his learnings and principles, making it legitimate. However, there is no 'one-size-fits-all solution here, so not everyone will become successful after taking the course.
How much time should I devote to this business each day?
The course can be completed in just 2-3 hours a week. You can devote as much time as you want to this business. In my opinion, you should devote as much time as you can to this business to get a return on investment.
Join The Free Commission Hero Training Here
Commission Hero Best Alternative: Make Passive Income Online
I agree with Robby that affiliate marketing is a great business model for novices in online business. But using Robby's approach to do affiliate marketing requires spending a lot of money on running Facebook ads or using some expensive tools to drive traffic.
If you use Facebook ads to drive traffic, you have to spend a lot of time managing the ads campaigns every day. Then you might not be able to do it as a side hustle.
In affiliate marketing, you can actually run your business almost with zero cost and achieve a steady passive income without any trouble with paid ads. This is the approach that I like. Of course, you can disagree with me. It's a matter of preference.
If you want to learn affiliate marketing and make money with the lowest risk, I'd recommend you to get started with the best training platform Wealthy Affiliate.

It offers you a free account (including a free website) with comprehensive training on SEO (free traffic methods) which enables you to get started with affiliate marketing right away without paying a penny.
But How Much Can You Earn with Wealthy Affiliate?
A 21-year old student from Wealthy Affiliate was able to earn $7,395 in just 1 week, which means he made more than $1k a day…all while using free traffic methods.
Wealthy Affiliate has existed for more than 10 years and there are many success stories over the years.
To give you more examples, here are some of the other inspiring success stories of Wealthy Affiliate members.
Where to Join Wealthy Affiliate?
Wealthy Affiliate has a very simple pricing scheme. It has a free and premium membership.
If you want to feel about Wealthy Affiliate, you can sign up for the starter membership here (no credit card required). You can select to be a free member with no time limit.
And as a starter member, you can get instant access to the community, live chat, over 500 training modules, 2 classrooms, networking, commenting, 1 free website, access to the keyword tool.
You can enjoy all these values without paying a penny.
So I strongly recommend you to register a free account and see it yourself.