Are you looking for an honest Foundr Plus review? Should you join Foundr+ and learn how to make money online?
When you're living paycheck-to-paycheck, you can begin to feel like you're just doing it for the sake of it. Having the ability to make sales online 24 hours a day, 365 days a year from anywhere in the world seems to be a dream.
Thanks to the internet, it's possible to make money while sleeping. Starting an online business is a popular trend that you may want to catch up on. But what if you have no idea of how to get started?
If you want to start an online business, Foundr+ may be able to help you. There are more than 20 courses that teach you how to start and run an online business from scratch. Whether you want to start an eCommerce store, launch an online course, start a side hustle or even a digital agency, you can find a suitable course inside.
I have a passion to help people explore the best online programs to learn how to make money online. Over the past years, I have reviewed hundreds of similar programs like Foundr+.
In this review, I'm going to tell you how Foundr+ actually works and what I like about it. Of course, nothing is perfect, so I'll also talk about the things that can be improved.
At the end of this Foundr+ review, you should be able to make a decision on whether to join it.
Foundr+ Review – Key Takeaways
About Foundr+:

An impressive online course learning platform that allows you to learn a wide variety of online business skills and models.

Website:

https://foundr.com/

foundrplus

Price:

Get A Special Offer Here

Pros:

Learn from practitioners; access all Foundr's courses; learn at your own pace; new courses are added.

Cons:

Not everyone can afford Foundr+; no free trial; no lifetime access; not a get-rich-quick scheme.

Overall Rank:

4.9/5

Verdict:

The best online course platform I've seen. Highly recommended.
In this Foundr plus review, I'm going to cover the following topics:
What is Foundr+?
Foundr+ enables you to access all the business courses of Foundr with one membership fee. Members of Foundr+ can get cutting-edge entrepreneurial education, designed to help seasoned and aspiring entrepreneurs alike.
For nearly a decade, Foundr has helped thousands of entrepreneurs build profitable businesses. Their mission is to help people from all backgrounds and experience levels build successful businesses.
Foundr+ makes it easier to access the industry's leading, results-focused programs. You don't have to purchase a course one by one anymore. With Foundr+ membership, you can learn everything about online business.
There is more to Foundr+ than just online courses. Your business and personal growth will be enhanced by the content, community, and guidance you receive from this program.
Get A Special Offer and Instant Access Here
How Many Courses Does Foundr+ Have?
Foundr+ offers more than 20 courses. There are a variety of business models, topics, and skills covered in the courses. When Foundr releases new courses every month, members of Foundr+ can also get access without additional charges.
Let's take a look at the existing courses in Foundr+.
1. Ecommerce Courses
Start And Scale
Step-by-step instructions on how to launch your own online store are provided in Start & Scale Your Online Store. Gretta Van Riel shares the exact formula she has used to build 4 multimillion-dollar eCommerce stores.
To learn more, read the Start and Scale review here.
Ecommerce Masters
Five top-notch eCommerce founders do a deep dive into their very own "scaling superpower" to help your eCommerce store reach the million-dollar mark, all in this 9-hour course!
To learn more, read the Ecommerce Masters review here.
Infinite Income On Amazon
Here you can learn how you can start, scale and sell two multi-million dollar Amazon brands with help from someone who's already done it twice.
To learn more, read the Infinite Income On Amazon review here.
2. Essential Digital Marketing Skills
Instagram Domination
You will learn how to generate a predictable flow of highly engaged, motivated followers and customers for your business with our Proven Method that works. Using a few simple strategies and tactics, Foundr were able to generate over 1.9 million followers for @foundr on Instagram in a very short period of time!
To learn more, read the Instagram Domination review here.
List Building Bundle
The exclusive bundle allows you to get your hands on two courses for the price of one that will rapidly grow your business by utilizing proven strategies to grow your email list, scale your business, and start to take control of your future.
Advanced Email Marketing
Jimmy Kim, CEO of Sendlane, explains how email automation is increasing your deliverability, improving your engagement, and ultimately skyrocketing your sales, opens, and clicks.
Blow Up Your Brand
In Blow Up Your Brand, you'll learn step-by-step how to create content for your entire funnel without spending a penny on ads. Discover how Eric Bandholz, founder of Beardbrand, turned a $30 investment into a multimillion-dollar brand with content marketing.
7-Figure Copywriting
You'll learn how to write authentic copy that turns cold prospects into raving fans – for anything from sales pages to webinars, emails to ads.
To learn more, read the 7-Figure Copywriting review here.
3. Learn Different Business Models
Start Your Side Hustle
In just 30 days, you can turn your existing skills into a profitable side hustle. Daniel DiPiazza will discuss his 30-day side hustle system for finding an idea, launching it and getting paid within 30 days, even if you have no experience, no idea, or no clue where to begin.
To learn more, read the Start Your Side Hustle review here.
Rapid Course Formula
Nathan Chan, Foundr's CEO and publisher, helps you start a successful online course business. You'll learn how Foundr has become a multi-million dollar digital product from topic validation to marketing and production. Never again trade your time for money, monetize your skills.
To learn more, read the Rapid Course Formula review here.
Ignite Your Digital Agency
Having a digital agency built the right way from the beginning can instantly change you from being an underpaid, overworked "one person shop" to having no limits on your potential as a business owner! Your business can be sustainable on your terms with one funnel and 2-3 lighthouse clients.
4. Finance and Operation of Business
Finance For Founders
The objective of this step-by-step online course with Alexa von Tobel is to teach entrepreneurs how to set up a business and grow it to new heights, all while taking less risk and avoiding the mistakes so many entrepreneurs make.
With Alexa's frameworks and systems, you can get yourself on a clear path to scaling up your business right away – and achieve financial fitness for your business.
The Systems Driven Busines
In just 10 minutes a day, you can build a time-saving system with the "overworked entrepreneur's" blueprint.
5. Learn Digital Media Buying
How To Run Facebook Ads
One formula that has proven to work with 100 million dollars spent on Facebook ads, 150+ different types of businesses. Find out how you can run Facebook ads efficiently and effectively, no matter what your business type, budget, or background is.
To learn more, read the Facebook Ads course review here.
YouTube Ads
You will receive the proven 2022 YouTube ads strategy that is making millions of dollars, bringing brands viral, and helping marketers & media buyers diversify their ad spend from one platform to another. You are learning from a leading authority: Tommie Powers. This is the biggest opportunity online since the first Google & Facebook Ads. On YouTube alone, he has spent more than $30 million and on all other platforms, he has spent more than $100 million.
To learn more, read the YouTube Ads course review here.
6. Mindset and Well-being For Business
Productivity Machine
With one simple productivity framework, serial entrepreneur Ari Meisel reprogrammed his life, climbed out of $3MM in debt, started and grew an outsourcing business overnight, and maximized his family time.
Deal Flow
The latest course Daymond John is offering is an in-depth look at one of the most crucial aspects of entrepreneurship; the art of making deals and negotiating.
Mental Toughness
Throughout this course, you will learn how to overcome most obstacles in your way and reach most of your goals by developing the one thing all entrepreneurs need to succeed; grit (mental toughness). Spartan CEO & founder, Joe De Sena, teaches this Mental Toughness course.
Master Any Skill
Make yourself a learning machine. You will learn faster & smarter with Master Any Skill's scientifically-proven accelerated learning strategies.
7. Grow and Scale Your Business
Growth Hacking Playbook
Find out how Bronson Taylor has grown virtually every type of business to millions of dollars – whether it's SaaS, services, ebooks, or even shoelaces. Bronson, who wrote the book on growth hacking, reveals his battle-tested tactics in this online course.
Triple Your Business
Do you want to scale up your business? The battle-tested business growth framework from Steve McLeod will help you double, triple, or even tenfold your revenue. In this online course, Steve unpacks his secrets to growing your business from zero to $20M after growing his own from zero to $20M.
60 Day Startup
Mitch Harper, co-founder of BigCommerce, reveals how to build a startup in a matter of weeks! Over $200 million in revenue has been generated by Mitch's proven, step-by-step framework across 8x tech companies. You can get your first paying customers in 60 days flat with this course, which virtually guarantees the success of your business idea.
Get A Special Offer and Instant Access Here
What Do You Get With Foundr+?
Foundr+ is really like a business University that allows you to obtain world-class business education. You can courses, community and even magazines when you join. Let's take a closer look.
23+ Online Courses
With Foundr+, you can take courses in dozens of critical subject areas, and you will have access to every new course as soon as it is available every month. The catalogue is constantly growing and expanding. So you absorb as much business knowledge as possible.
30k+ Community
With Foundr+, you have access to world-class instructors and proven frameworks that will help you grow your business in an effective and strategic manner. You can connect with other students around the world in the community. Making friends with like-minded people is one of the best things in the entrepreneurial journey.
111+ Foundr Magazines
The full Foundr+ magazine back catalogue is available to you – a treasure trove of every interview and article we have ever published. You cannot get that information from free blog posts. You can get a lot of inspiration from the articles in the Magazines.
Special offer for the first 500 members
If you join Foundr+ early and be the first 500 founding members, you can get some special bonuses.
First, you will get an additional 3 months of Foundr+ for free. That means you will save $375 for your yearly membership.
Also, you can get a feature in the Foundr magazine to build your personal brand.
Last but not least, you will get $100 of Foundr merch to show that you are part of the Foundr+ community.
Get A Special Offer and Instant Access Here
Foundr+ Pros
1. Learn from practitioners, not gurus
Instructors at Foundr are entrepreneurs and practitioners of their craft, never gurus. Rather than just teaching, they have actually built the business they are teaching. This is the most unique and best thing for Foundr courses. You can be sure to learn from someone who has great success in what they teach.
Other business courses online are taught by gurus, who don't have actual business experience. And they can only teach you some theories that do not work in reality.
2. Suitable For Business Owners in Different Industries
No matter what industry you're in or what you sell, Foundr+ equips you with the diverse skills and disciplines necessary to build a successful business. Foundr+ gives you access to all the courses of Foundr and each course teaches you different skills or business models.
3. You Can Succeed Faster
By staying up-to-date with the latest business trends and opportunities, you'll be able to move faster and thrive despite uncertainty. You don't have to test by yourself with the Foundr courses. What you need is to learn and apply it directly in your business.
With Foundr+, you'll get the best ideas curated for you so you can spend more time taking action and less time collecting them.
5. Flexibility to Learn Different Areas of Business
It gives you the freedom and flexibility to jump between courses to create specific results, letting your business goals determine what you should learn and when.
6. Proven frameworks
The quality of Foudnr+ courses is very high. By following proven & repeatable frameworks, you will shorten your learning curve. Results-driven, evidence-based frameworks underpin each of the programs in Foundr+.
7. Join a like-minded community
Having a community is important when you are starting something new. It is harder to build a business on your own. Take advantage of the 30,000+ talented peers who are ready to support, motivate, and offer advice whenever you need it. You may also find your potential business partner in the community.
8. Learn anywhere and anytime
You can get access to Foundr+ online. That means you can level up your skills anytime, anywhere with a guided learning path. You can stay up-to-date with just one short lesson a day. Just learn at your own pace.
9. The Foundr+ course catalogue is expanding constantly
You will automatically get access to any new courses Foudnr releases every month. Foundr spends thousands of dollars to create a course, so having the privilege to get access to every new course they launch is priceless. You can save a lot of money in the long term without the need to buy a course one by one.
One thing to remind you is that TikTok ads will be available in August 2022. TikTok ads are very hot nowadays as their popularity has surpassed Facebook.
10. The Price is Reasonable (Just $4 a day)
Foundr+ is not cheap, but the price is reasonable when compared with other courses or investments you have made in your life.
Thousands of dollars are spent on degrees that aren't used, or on jobs that are underpaid. By investing just $4 a day, you can access the full course library, which includes frameworks you can use to build your business and master today's most in-demand skills.
10. Exclusive live calls with instructors
Starting September 2022, you'll have access to exclusive monthly live calls with world-renowned instructors answering your burning questions. Every month, new topics are added as Foundr onboard new instructors. You will have a chance to talk to some of the most successful entrepreneurs in the world.
Get A Special Offer and Instant Access Here
Foundr+ Cons and Complaints
1. Not everyone can afford Foundr+
Foundr+ is not cheap. I understand that not everyone can afford Foundr+, despite the value you receive. Ultimately, success is determined by your willingness to sacrifice.
Investing in Foundr+ should not be a problem if you are able to spend less on other things. In the long run, you can recoup the money in your business.
There may be a question in your mind why Foundr+ does not offer the course at an affordable price. That's because high-quality training programs are expensive to create.
A lot of time and effort has been put into creating the courses by Foundr and instructors. And most importantly, it works!
Online, there are dozens of other business courses, some of which are cheaper than Foundr. These courses are being sold by people who have never succeeded. They are happy to sell you secrets that will not generate revenue.
Consider earning a college degree. Why is it so expensive? College degrees can lead to jobs. The price of Foundr+ is reasonable if you think about it this way: it can help you build a successful online business.
Cheap courses are usually ineffective.
2. Building an online business requires some upfront investment
Foundr+ teaches you how to build an online business. But you will need some cash upfront. If you don't have any money at the moment, you may either borrow from your family or save some money every month.
However, when compared with a physical business, the initial capital you need for an online business is much less. So the entry barrier is generally lower for starting an online business.
3. You won't get rich overnight by joining Foundr+
Many gurus sell courses that promise you will become wealthy within a month or two. Contrary to what some may believe, Foundr+ is not a get-rich-quick scheme.
You won't become rich overnight by joining Foundr+. Every successful business is the result of a lot of hard work. You will succeed faster if you follow the proven frameworks in the courses of Foundr+.
4. No lifetime access to Foundr+
Foundr+ is a membership platform where you need to pay a yearly subscription fee. There is no lifetime access because you will get access to every new course created by Foundr. So offering lifetime access is not possible given the huge costs.
5. Foundr+ has no free trial
Foundr+ doesn't offer a free trial. Some people may be disappointed because many membership platforms offer at least 7-day free trial.
But the nature of Foundr+ is different. Inside Foundr+, there are many business secrets revealed in the courses. So offering a 7-day free trial would have disclosed the valuable screts for free to the world. As result, Foundr would not be able to cover their costs. Therefore, they don't offer a free trial for Foundr+.
Get A Special Offer and Instant Access Here
Who are the Instructors Inside Foundr+?
Each course of Foundr+ is taught by an expert in the field. There are many instructors in Foundr+. Normally, these people do not teach courses because they are their own businesses. So without Foundr+, it's not possible to learn from these guys.
Let me briefly introduce them to you.
Nathan Chan
He is the CEO of Foundr, Instagram & Product Development Expert.
Gretta Van Riel
She is the 5x Multi-million dollar ecommerce start-up founder, featured as a Forbes 30 under 30
Nick Shackelford
He is the Founder of Structured Social, Facebook Ads Expert.
Dee Deng
He is the Co-founder of Right Hook Media, one of Australia's fastest growing start-ups.
Melisa Vong
She is the 3x Multi-million dollar Amazon FBA ecommerce brands founder.
Vinay Patankar
He is the Founder of Process.st, operations & scalability expert.
Tommie Powers
He is the Founder of Tommie Traffic, Youtube Ads expert, over $30M in media buying spent on the platform.
Joe De Sena
He is the CEO of Spartan, author of the New York Times best-seller, Spartan-Up.
Alexa Von Tobel
She is the Founder of Inspired Capital, Serial Entrepreneur, Venture Capitalist & New York Times Best-selling author of "Financially Forward".
Arman Assadi
He is the Former "Googler" & Indiegogo $1M+ record breaker.
Ulrich Boser
He is the Founder & CEO of The Learning Academy, focused on developing the future through advances in the science of learning.
Daniel DiPiazza
He is the Bestselling author of "Rich20Something".
Daymond John
He is the Founder of the 6 billion dollar icon brand FUBU.
Eric Bandholz
He is the Founder of Bearbrand, a multi-million dollar ecommerce business.
Jimmy Kim
He is the CEO & Co-founder of Sendlane, the 10-billion email sending expert.
Steve McLeod
He is the Founder of Fire & Safety Australia, that does +$20M in yearly revenue, listed on Australia's 30 under 30, bestselling author of "Courage for Profit".
Bronson Taylor
He is the Founder & Host of Growth Hacker TV, Founder & CEO of Growth Geeks, Workify.co, Rhino Laces.
Ari Meisel
He is the Serial Entrepreneur, expert in productivity.
Oli Gardner
He is the Co-founder of Unbounce, the landing page expert.
Stuart Mckeown
He is the Founder of Gleam.io, the lead generation expert.
Mitchell Harper
He is the Co-founder of the $100M a year SaaS, BigCommerce.
Chase Dimond
He is the Founder of Boundless Labs, a top ecommerce email marketing agency.
Rob Ward
He is the Founder of Quad Lock, a company bootstrapped from 0 to $9M in 4 years.
Rich Li
He is the Co-founder of the luggage startup July & online furniture retailer, Brosa.
And many more as new courses are launched.
Get A Special Offer and Instant Access Here
FoundrPlus Testimonials
Foundr has many success stories over the years. Many Foundr+ students have built a successful online business after following the proven frameworks in the courses. Actually, you can find many positive reviews on Trustpilot.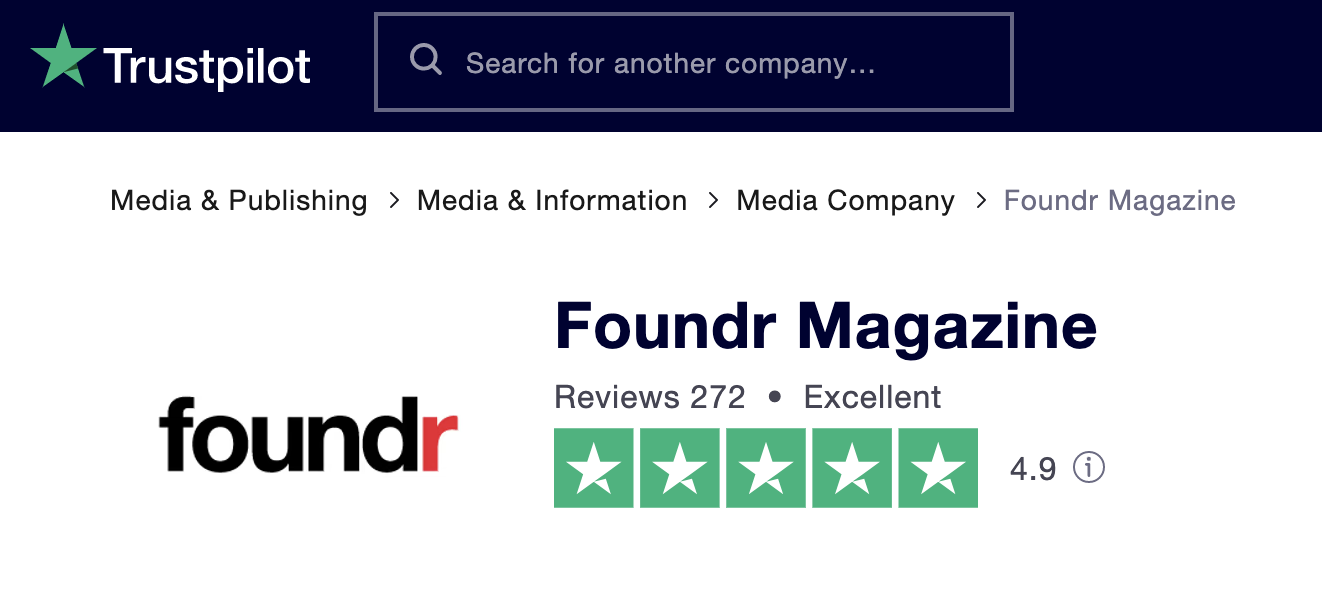 Let's take a look at what the students have to say about the courses of Foundr+.
"Long term subscriber to Foundr have engaged in a number of their courses and naturally a reader of their online content and magazine. My organisations have grown exponentially over the past 3 years and it is no coincidence during this period my team have eaten everything up that Foundr has to offer. Start and Scale course and Sabri's course are the two standouts for me. Can't recommend enough, Foundr is a must-have if you really want to hustle in biz."
Rory Boyle
"I'm so impressed with Foundr. Instagram Domination is an amazing program. I am in awe of the quality of the content, the fact that it is not just theoretical, its backed with real life proof, is practical and actionable. Thank you Nathan Chan!"
Bernadette Janson
"Hugely impressed by all of the brilliant content that Foundr continues to creates and share. The courses are some of the best on the web and the magazine itself is so brilliantly put together. Top quality content and teachings all round."
Sue Hay
Get A Special Offer and Instant Access Here
Is Foundr+ a Scam?
Foundr+ is definitely not a scam. It's a legit online course platform created by Foundr. It's also not a lie that you may achieve financial freedom by building an online business. You can create a legitimate digital asset from the very beginning if you follow the courses in Foundr+.
Moreover, Foundr adheres strictly to the "no guru" policy since 2013. Only leading practitioners are chosen to work with Foundr. Foundr instructors must meet a stringent set of qualifications before they can work with Foundr.
There are several criteria for this, one of which is that they must be an actual entrepreneur who has built a successful business (oftentimes multiple ones) in the exact field they will be teaching you. Foundr allows no fluff, no theory, and no BS.
Given Foundr's course quality, no wonder their rating on Trustpilot is so high. It's 4.9 out of 5 stars.
Foundr+ Pricing
For a limited time, Foundr+ is priced at $799 for six months. In the past, you have to spend at least $1,000 to get access to just one course from Foundr. But Foundr+ gives you access to all courses with just $799. So it's the best deal ever. Probably, they will increase the price very soon.
At the moment, Foundr+ doesn't offer a payment plan. The payment plan is only available for individual course purchases.
You can pay for Foundr+ by either credit card or PayPal.
Get A Special Offer and Instant Access Here
Who is the Creator of Foundr Plus?
Nathan Chan is the creator of Foundr. Foundr is a global education company that connects millions of people each month with some of the most successful living entrepreneurs of our generation. Entrepreneurs such as Richard Branson, Arianna Huffington, Mark Cuban, Tim Ferriss, and others are among them.
Foundr dissects the strategies and experiences of the founders' businesses and provides actionable battle-tested content so you, too, can start, build, and grow a successful business through magazines, podcasts, videos, blogs, and online courses.
Here's what Nathan Chan has to say:
"The entrepreneurial journey is rarely a straight line. Mine certainly hasn't been. Nearly a decade ago when I started Foundr, I was fresh to the space and still working full-time in IT.
At the time I had no money and no idea how to build a business, yet through trial and error, we built our audience and gradually the results followed.
We went from making a humble $5.50 on our first day of sales to now creating entrepreneurial content that's consumed by millions every single week.
Today Foundr+ is the realization of 9+ years of hard work curating world renowned practitioners and distilling their proven frameworks into step-by-step industry-leading programs.
If you're ready to build, it's the only membership you need."
Foundr+ Review: Final Verdict
After analysing all the information about Foundr+, I highly recommend it to anyone who wants to build a successful online business.
Now imagine what it would be like if you finally cracked the code of online business. You no longer have to worry about wasting time on the wrong business strategies and models. Also, by joining Foundr+, you can avoid being scammed by other gurus who don't have actual business experience.
If you are serious about your online business, take action today to join the Foundr+ community.
If you are not so sure, you can also join just one Foundr course you are interested in such as Start and Scale or Instagram Domination.
However, you will not be disappointed by Foundr+ because you will get access to all the knowledge you need to become a successful entrepreneur.
Get A Special Offer and Instant Access Here
Foundr+ FAQs
1. If I do not have a business yet, what should I do?
If you do not have a business yet or do not know what you want to sell or build, you are at the right place. Foundr+ allows you to explore different business models to see which one fits your goals and preferences before you invest time and energy into something you don't like.
Aside from ecommerce on Shopify and Amazon, you can explore side hustles, online courses, and tech startups as well. It is even possible to learn skills such as copywriting or media buying that could allow you to earn a freelance income while working a 9-5 job.
2. Is it necessary for me to quit my job?
It is not necessary for you to leave your job if you have one. It is highly recommended that you wait until you are earning enough from your new business to make the switch smoothly without compromising your family and lifestyle. As your confidence grows, you can scale up from a few hours per week. Taking the first step, even if it's a small one, is the most important thing.
3. Is this going to help an e-commerce business grow?
You won't be disappointed if you check out foundr+ if you already have an eCommerce business, big or small. You'll find in-depth programs from some of today's most successful eCommerce entrepreneurs and marketers.
Whether it's finding products to sell, working with influencers, selling on Amazon, scaling beyond seven figures, e-commerce-focused media buying, or even creating a business with a system-driven approach.
Foundr+ gives eCommerce entrepreneurs the edge they've been looking for.
4. I have tried other memberships, what makes yours different from the others?
Besides staying up to date with the latest business trends, insights, and opportunities, you'll learn from only world-class entrepreneurs and practitioners, not gurus.
You'll be able to learn from the best instructors in the world at a fraction of what it would cost to learn from just one of them.
If you're tired of outdated advice and courses packed with theory, join Foundr+ and you'll have the content, community, and guidance you need to grow your business and personal life.
5. There will also be a new course sent to me every month?
Whenever new courses are released each month, you'll have access to them for free as a member. TikTok ads will be available in August 2022
6. Would it be best to finish my other courses first?
Every entrepreneur has a pile of unread books or unfinished courses. Building a business isn't linear. It is common for people to jump from course to course in one day, from eCommerce to Facebook ads to growing an Instagram following. That's how you build a business.
Founded+ provides you with the freedom and flexibility to pick and choose what programs you want to complete and not feel compelled to complete them just to check them off. What you need to learn and when you need to learn it can instead be dictated by your business and your goals.
7. When I receive access to the course, how soon can I begin?
Upon purchase, you will receive an email with a link for you to join the private community as well as your login details giving you full access to the entire course catalogue as soon as you complete your purchase. Getting started is as easy as 1-2-3.
8. In the event that I need additional support beyond the course, what should I do?
You will have access to the foundr+ private community as part of this membership. Here you can ask questions, get support, and get advice from other members. If you have any additional questions or need technical support, you can always rely on our 24/7/365 support staff to assist you.
9. I purchased Foundr courses before my membership, do I lose access to them if I cancel?
You will still be able to access any Foundr courses that you purchased prior to your Foundr+ membership even if you choose to cancel. It will only be the courses that were included in your membership that you will lose access to, not the courses you haven't individually purchased.
10. What will the live calls look like?
Each month, a timely and relevant topic will be discussed on a live call starting in September 2022. Only Foundr+ members will be able to participate in these calls.
Get A Special Offer and Instant Access Here