Should you join Start and Scale Course? If you're considering to start an Ecommerce brand and have no clue about it, Start and Scale may be a good fit for you to get started.
In this review, I'm going to tell you how the course works and what I like about the course. Of course, nothing is perfect, so I'll also talk about the things that can be improved.
At the end of this Start and Scale review, you should be able to make a decision of whether to join Start and Scale and learn from Gretta Van Riel.
Below is what I'll cover in this Start and Scale review:
Course Name: Start and Scale Your Online Store
Website: https://foundr.com/start-and-scale
Special Offer: Get Instant Access Here
Instructor: Gretta van Riel
Overall Rank: 5/5
Who it's for: Newbie to Expert in Ecommerce
What is Start and Scale?
Foundr's Start and Scale Online Course is created by Gretta Van Riel. Gretta is a serial young entrepreneur in Australia, who has built many Ecommerce brands such as SkinnyMe Tea, the 5th, Dropbottle and many more. She is an expert in social media especially Instagram where she uses influencer marketing to build her Ecommerce brands.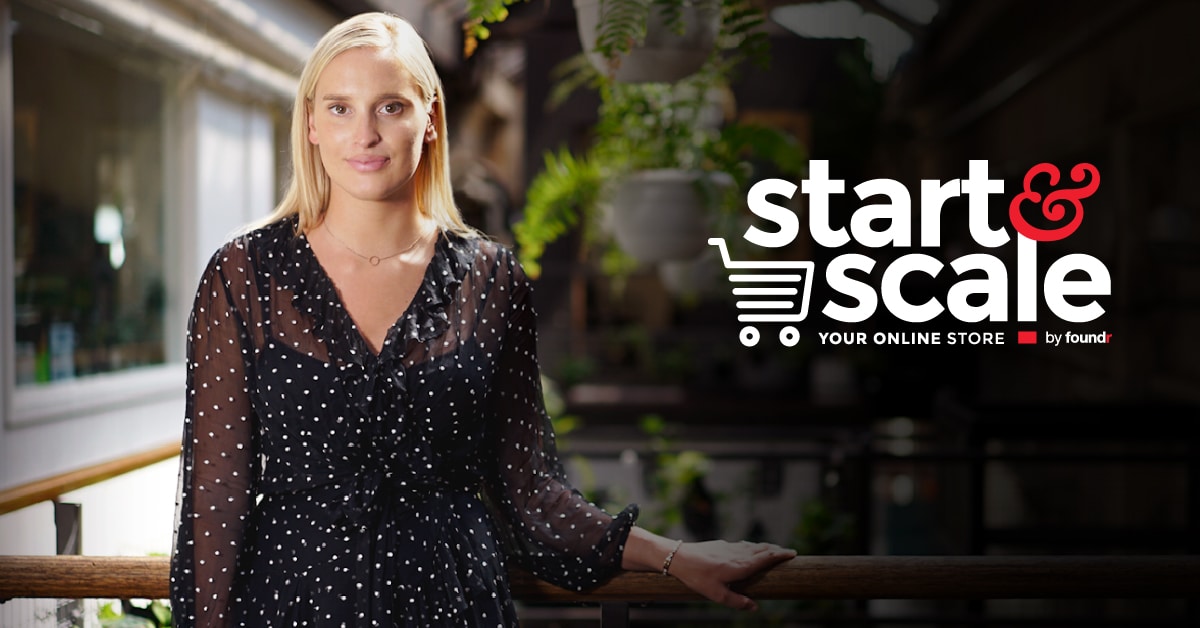 How Does Start and Scale Work?
Gretta shares all her secrets of success in Ecommerce in the Start and Scale. If you want to open an online store for selling physical products, this course will give you a complete blueprint of what exactly to do.
It will save you a lot of time and money because you will get step-by-step training videos, workbooks and templates.
In this section, I'll give you an overview of each module:
Get Special Offer and Instant Access Here
Module 1: Finding Your Idea
In this module, you're going to learn how to come up with a profitable product idea. Gretta also shares her unique framework to validate product ideas so that you can make sure your product has market demand.
Module 2: Branding & Getting Your Store
Gretta is a genius in brand building. In this module, you will learn how to build an Ecommerce brand that people will trust and recognise for years.
If you want your business to be sustainable, this module will help set the robust foundation for your online store.
Module 3: Developing & Planning Your Idea
Many people have a great product idea, but don't know how to make the product come to life. In this module, Gretta will share how to get the product designed and find a trustworthy manufacturer to make it.
By the end of this module, you'll have a clear idea of how to design and make your prototype.
Module 4: Making Your Product Profitable
To ensure your business is profitable, you have to know a bit of finance. In this module, Gretta will teach you the formula to keep track of your finances.
It's important that you follow what is taught in this module to make sure you have a positive profit margin.
Module 5: Building An Audience Before Your Launch
Gretta is a strong advocate of building an audience before product launch. Many people don't have an audience when a product is launched and take months to make the first sale. However, Gretta will teach you how to avoid launching to crickets.
You will learn how to build an audience for your brand on social media. That way, you will get sales on the very first day of product launch.
Module 6: Million Dollar Influencer Marketing Blueprint
Gretta is an expert in influencer marketing. She has made millions of dollars by using influencer marketing. She even created an influencer marketing software that connects brands with influencers called "Hey Influecner".
In this module, you'll learn exactly how to find and collaborate with influencers to promote your product and build your brand.
You'll be able to skyrocket your sales by using just this strategy.
Module 7: Launch & Operations
To run a successful online store, you need to streamline your logistics and operations. Unlike other courses that only teach you promoting your product, Start and Scale really holds your hands and walks you through everything of your business.
You will learn how to set up payments, logistics and customer support so that your operation will be very smooth.
Module 8: Scaling Your Store
In the previous modules, you learnt how to develop a profitable product, launch to the market and manage your store, but this course goes beyond that.
In this module, Gretta teaches you the most advanced sales and marketing techniques to further scale up your online store to a 7-figure Ecommerce brand.
That's why this course is called "Start and Scale".
BONUS 1: Ecommerce Mastery Series
After you finish the previous 8 modules, you should possess the skill sets to start and scale your online store. But in this module, you can also learn from the founders of other million dollar Ecommerce brands.
These interviews are so valuable that you'll get more tips from other successful entrepreneurs.
BONUS 2: COVID-19 Case Studies from Start & Scale Students
Start & Scale keeps updating its content to cater to the changing market. COVID-19 is a challenge to all online stores worldwide. So this bonus module actually shares how some successful students at Start and Scale deal with this challenge and make it into a profitable opportunity.
You can gain a lot of amazing insights into how other entrepreneurs survive under the threats like COVID-19.
BONUS 3: Access to the Exclusive Private Group
A course is not complete if there's no way to ask questions. So apart from the course itself, you will get access to the Exclusive Facebook Group, where you can interact with the instructor and  more than 8000 students in Start and Scale.
The group is very active and members help each other.
My Start and Scale Review – Good or Bad?
Start and Scale has more than 10,000 students now.
It's one of the most popular Ecommerce courses in the world. Gretta has been able to build many Ecommerce brands that generate 7-figure income, so who doesn't want to know her proven system and blueprint?
In this section, I'll talk about what I like about Start and Scale and the areas that have room for improvement.
What I Like About Start And Scale 
Gretta's Success is Real
The number one thing that I like about Start and Scale is that it is not a course created by fake gurus, but a person who is really successful in Ecommerce.
There're many scams online. Many gurus are selling online courses and teaching people something they don't do themselves.
But Gretta is different, she's well-known for creating many Ecommerce brands that generate 7-figures and was on the Forbes' 30 Under 30. She did not succeed once, but multiple times, which means she really has cracked the code of Ecommerce and has the proven system to share.
That really gives me peace of mind and confidence that I just have to follow her training to succeed. And in fact, there are many incredible success stories inside Start and Scale where students scale their business to 6-figure in several months.
The Most Helpful Community
Another thing I like about Start and Scale is that it has one of the most helpful communities: the Exclusive Facebook Group.
In building a business, it's hard to do it alone. Having a community where you can seek help anytime is important. You can ask questions to validate your ideas in the group as well.
The Training is Practical
The course structure is very organised. It really guides you step by step from scratch. I like that each lesson has action steps to take and begin to see results. You also have a workbook for each module so that you can write things down.
Unlike lectures in University, there's no impractical theories. Everything mentioned in the course is something you can implement right away.
The Course Content is Up-to-date
If you ever bought any online courses, you would have a bad experience of purchasing something outdated. But for Start and Scale, the content is updated regularly.
In the last few months, Foundr spent hundreds of thousands dollars to fully update the course content. So if you join now, you would have access to the Start and Scale 2.0. All the updates are available to the old members for free as well.
What I Don't Like About Start And Scale 
It is a Bit Pricey
To be honest, the course is a bit expensive. Although the value you receive exceeds the price, I know not everyone can afford the course. I think it really depends on what you can sacrifice for success.
If you are able to spend less on other stuff and invest in the course, that shouldn't be a problem. And there's a payment plan that you can take advantage of and don't have to make a one-time payment.
And at the end of the day, you can earn the money back in your business.
The Lessons on Facebook Ads is Not Comprehensive
The course focuses more on influencer marketing to build an Ecommerce brand because Gretta is an expert in it. So there is little coverage about running Facebook ads.
Facebook ads are powerful for driving traffic but it can be a risky strategy because it's getting more expensive. Many people have to invest a million dollar to run Facebook ads.
As for influencer marketing, it is more for sustainable development of your business by branding building.
It might not drive a lot of traffic as fast as Facebook ads, but in the long term, you can get a lot of organic traffic as you build a brand name in the market.
Pros & Cons of Start and Scale
Pros:
Lifetime access to the course, including future updates
The Facebook group is very active and helpful
Step-by-step course that everyone can understand and follow
No theories, but practical steps
The course keeps updating and adding content
Each module has workbooks to facilitate implementation
The course material is very up-to-date
Each module has quiz to test your understanding
Each lesson has actionable tasks
Course content is very comprehensive
Have templates for copy and paste
365 days money-back guarantee
Cons:
The course is a bit expensive although there's a payment plan
Not enough training for running paid ads
Need to join a waitlist normally (but I have a VIP access for you without getting on the waitlist)
Do You Want to Copy Gretta's Success?
Instead of starting from scratch without any clue, Start and Scale gives you the opportunity to duplicate Gretta's success by following her complete blueprint to build a 7-figure Ecommerce brand.
Your chance of success without a great mentor may be slim, but with a proven blueprint and guidance, you can be confident that success is only a matter of time. What you need to do is to follow the training and work towards the goal.
Therefore, for building an Ecommerce brand, I highly recommend Start and Scale. It is by far the best Ecommerce course that teaches you how to build a sustainable Ecommerce brand.
Where to Join Start and Scale?
Instead of joining the waitlist and waiting for months, you can get VIP access to the course here:
Or if you're not so sure, you can sign up for the free masterclass first and see if you like Gretta's teaching style.
Any questions? Here's the Start and Scale FAQ that might help you.
Or you can leave a comment below and I'll respond to you as soon as possible.