Are you looking for an honest Start and Scale course review? Should you join the Start and Scale Course? If you're considering starting an eCommerce brand and have no clue about it, Foundr's Start and Scale course may be a good fit for you to get started.
I have a passion to help people explore the best online programs to learn how to make money online. Over the past years, I have reviewed hundreds of similar programs like Start and Scale.
I've enrolled in Start and Scale myself and started an eCommerce store, so I can tell you everything you need to know before you enrol in Start and Scale.
If you have read other blog posts, please note that those people are not students of Start and Scale, so they cannot tell you the truth and what exactly you can learn from the course.
In this review, I'm going to tell you how the Start and Scale course actually works and what I like about the course. Of course, nothing is perfect, so I'll also talk about the things that can be improved.
At the end of this Start and Scale course review, you should be able to make a decision of whether to join Start and Scale and learn from Gretta Van Riel.
Start and Scale Your Online Store by Foundr – Key Takeaways
| | |
| --- | --- |
| About: | An impressive eCommerce course that teaches you how to build eCommerce stores and eventually earn passive income. |
| Website: | https://foundr.com/start-and-scale |
| Price: | Get A Special Offer Here |
| Pros: | Gretta's success is real. No theories, just practical steps. Include proven templates for copying and pasting. |
| Cons: | The course is quite expensive. Building a brand requires some cash upfront. |
| Instructor | Gretta van Riel |
| Overall Rank: | 4.9/5 |
| Verdict: | The best eCommerce training I've seen. Highly recommended. |
Below is what I'll cover in this Start and Scale review:
What is Start and Scale?
Foundr cooperates with Gretta Van Riel to create the Start and Scale course. The course has more than 100,000 students right now, which is the most popular eCommerce course in the world.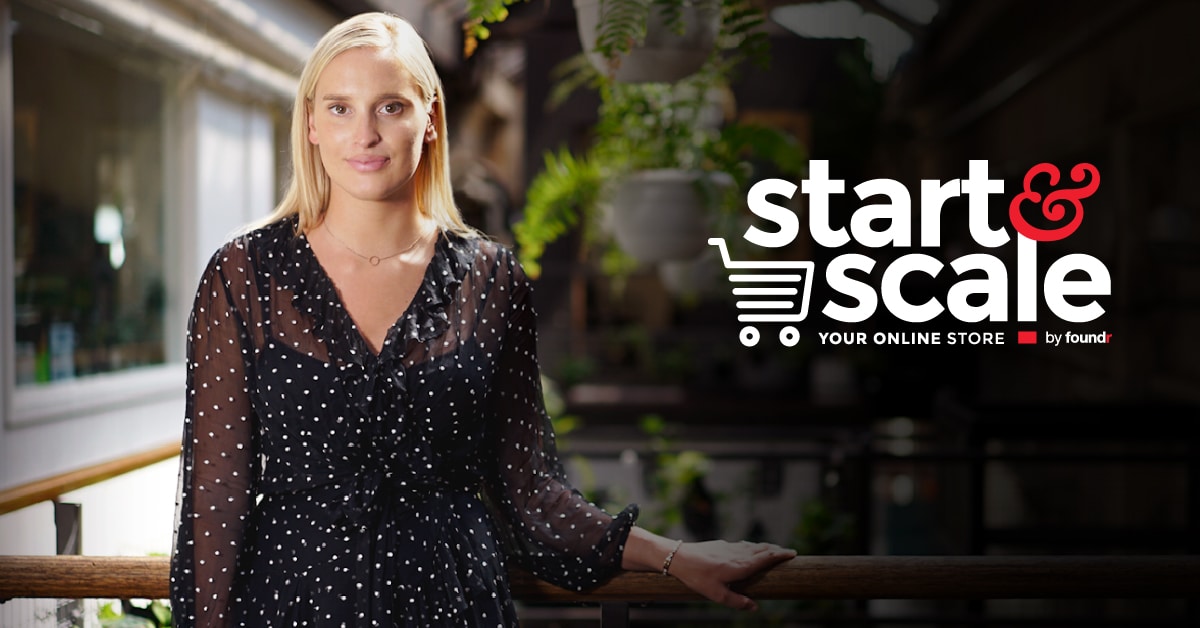 Unlike other eCommerce courses on the market, this course teaches you how to build a sustainable eCommerce brand from scratch. What it means is that your online store will last for years and would be able to generate a steady stream of passive income for you.
Other eCommerce courses tend to teach you how to build a dropshipping store and sell low-quality products, which only lasts for a few months because of bad products and customer reviews.
But Start and Scale course is different. You're going to learn how to create your own brand and market it. It's a more sustainable business model because you would be building a long-term asset. Also, with a trademarked brand, other people cannot copy you and take the business away from you.
Get A Special Offer and Instant Access Here
Who is Gretta Van Riel?
Gretta Van Riel is a serial young entrepreneur in Australia, who has built many eCommerce brands such as SkinnyMe Tea, the 5th, Dropbottle and many more.
Gretta Van Riel is also the winner of Shopify Build A Business Award, which is an award for a Shopify Store that has the highest-grossing sales in a six month period. So there is no doubt that Gretta Van Riel is a very successful eCommerce business owner.

One thing worth mentioning is that Gretta Van Riel was able to generate $600,000 USD for her first eCommerce business in just 6 months. Yes, she succeeded in a very short period of time, which is incredible.
Since then, Gretta Van Riel has replicated this unique framework for four more brands, turning each into a multimillion-dollar success story.
Gretta Van Riel is a pioneer of using Instagram for building eCommerce brands. She is an expert in influencer marketing. Today, her combined Instagram following, including vertical accounts ( @befitfoods, @detoxwater, @detoxtips, @nutrition_planet, @smoothiebowls) is over 16 million. So if you want to build your eCommerce brand using Instagram, Gretta Van Riel is the person you should learn from.
An Overview of Start and Scale Course
Gretta Van Riel shares all her secrets of success in eCommerce in the Start and Scale. If you want to open an online store for selling physical products, this course will give you a complete blueprint of what exactly to do.
It will save you a lot of time and money because you will get step-by-step training videos, workbooks and templates.
I have finished this course myself so I can tell you the course content. n this section, I'll give you an overview of each module so that you will have a better idea of what you can learn.
Get A Special Offer and Instant Access Here
Module 1: Finding Your Idea
In this module, you're going to learn how to come up with a profitable product idea. Gretta also shares her unique framework to validate product ideas so that you can make sure your product has market demand.
Module 2: Branding & Getting Your Store
Gretta is a genius in brand building. In this module, you will learn how to build an eCommerce brand that people will trust and recognise for years.
If you want your business to be sustainable, this module will help set the robust foundation for your online store.
Module 3: Developing & Planning Your Idea
Many people have a great product idea but don't know how to make the product come to life. In this module, Gretta will share how to get the product designed and find a trustworthy manufacturer to make it.
By the end of this module, you'll have a clear idea of how to design and make your prototype.
Module 4: Making Your Product Profitable
To ensure your business is profitable, you have to know a bit of finance. In this module, Gretta will teach you the formula to keep track of your finances.
It's important that you follow what is taught in this module to make sure you have a positive profit margin.
Module 5: Building An Audience Before Your Launch
Gretta is a strong advocate of building an audience before product launch. Many people don't have an audience when a product is launched and take months to make the first sale. However, Gretta will teach you how to avoid launching crickets.
You will learn how to build an audience for your brand on social media. That way, you will get sales on the very first day of product launch.
Module 6: Million Dollar Influencer Marketing Blueprint
Gretta is an expert in influencer marketing. She has made millions of dollars by using influencer marketing. She even created an influencer marketing software that connects brands with influencers called "Hey Influencer".
In this module, you'll learn exactly how to find and collaborate with influencers to promote your product and build your brand.
You'll be able to skyrocket your sales by using just this strategy.
Module 7: Launch & Operations
To run a successful online store, you need to streamline your logistics and operations. Unlike other courses that only teach you to promote your product, Start and Scale really holds your hands and walks you through everything of your business.
You will learn how to set up payments, logistics and customer support so that your operation will be very smooth.
Module 8: Scaling Your Store
In the previous modules, you learnt how to develop a profitable product, launch to the market and manage your store, but this course goes beyond that.
In this module, Gretta teaches you the most advanced sales and marketing techniques to further scale up your online store to a 7-figure eCommerce brand.
That's why this course is called "Start and Scale".
BONUS 1: Ecommerce Mastery Series
After you finish the previous 8 modules, you should possess the skill sets to start and scale your online store. But in this module, you can also learn from the founders of other million-dollar eCommerce brands.
These interviews are so valuable that you'll get more tips from other successful entrepreneurs.
BONUS 2: COVID-19 Case Studies from Start & Scale Students
Start & Scale keeps updating its content to cater to the changing market. COVID-19 is a challenge to all online stores worldwide. So this bonus module actually shares how some successful students at Start and Scale deal with this challenge and make it into a profitable opportunity.
You can gain a lot of amazing insights into how other entrepreneurs survive under the threats like COVID-19.
BONUS 3: Access to the Exclusive Private Group
A course is not complete if there's no way to ask questions. So apart from the course itself, you will get access to the Exclusive Facebook Group, where you can interact with the instructor and more than 8000 students in Start and Scale.
The group is very active and members help each other.
Get A Special Offer and Instant Access Here
Pros of Start and Scale Course
1. Gretta's Success is Real
The number one thing that I like about Start and Scale is that it is not a course created by fake gurus, but a person who is really successful in eCommerce.
There're many scams online. Many gurus are selling online courses and teaching people something they don't do themselves.
But Gretta is different, she's well-known for creating many Ecommerce brands that generate 7-figures and was on the Forbes' 30 Under 30. She did not succeed once, but multiple times, which means she really has cracked the code of Ecommerce and has the proven system to share.
That really gives me peace of mind and confidence that I just have to follow her training to succeed. And in fact, there are many incredible success stories inside Start and Scale where students scale their business to 6-figure in several months.
2. Lifetime access to the course
Students have lifetime access to the course as well as future updates. The course continues to update and add new content. Last year, Foundr spent thousands of dollars on updating the course material to prepare students to face the challenges brought on by the pandemic. In spite of Covid 19, students have found inspiration in the E-Commerce stores that continue to flourish.
If you join now, you would have access to the Start and Scale 2.0. All the updates are available to the old members for free as well.
3. Supportive Community
Foundr's Facebook group is very active and helpful. Students are mainly business owners, so you can approach them and seek advice from them. Gretta is also available to answer your questions.
In building a business, it's hard to do it alone. Having a community where you can seek help anytime is important. You can ask questions to validate your ideas in the group as well.
In order to be a successful entrepreneur, you must never underestimate the value of discussion!
4. No theories, just practical steps
Entrepreneurship is different from being a professor at a business school. Due to this, Foundr only focuses on actionable steps that are easy to understand. Each lesson includes some actionable tasks.
The course structure is very organised. It really guides you step by step from scratch. I like that each lesson has action steps to take and begin to see results.
This is how Start and Scale allow you to replicate Gretta's success. This course covers all important aspects of building a profitable and sustainable eCom store, such as finding reliable suppliers and building email lists.
Unlike lectures in University, there are no impractical theories. Everything mentioned in the course is something you can implement right away.
5. Workbooks that are great for facilitating the implementation
Workbooks included in Start and Scale help you become familiar with the different steps for building a sustainable eCom brand. Being an entrepreneur, I know how effective it will be to learn by doing.
The Foundr team understands that you won't make any significant progress if you just watch and listen to Gretta's speech without taking any action. You can even take a quiz after each module to test your understanding.
6. Templates for copying and pasting
Foundr understands how much work it can take to create a business, so they have provided their students with templates that can be copied and pasted. For example, in this Start and Scale course, you will be shown the templates that Gretta used to find influencers who helped her with her promotional activities.
7. 365 days money-back guarantee
Foundr is confident in the quality of Start and Scale. As a result, they offer a whole year money-back guarantee for Start and Scale since they know it works with many students.
It is known that some of the other gurus have dodgy refund policies, but Foundr is open and transparent about that and provides you with a satisfaction guarantee.
Get A Special Offer and Instant Access Here
Cons and Complaints of Start and Scale Course
1. Start and Scale course is quite pricey
Start and Scale course is not cheap. Although the value you receive exceeds the price, I know not everyone can afford the course. I think it really depends on what you can sacrifice for success.
If you are able to spend less on other stuff and invest in the course, that shouldn't be a problem. And there's a payment plan that you can take advantage of and don't have to make a one-time payment. And at the end of the day, you can earn the money back in your business.
You may wonder why Foundr and Gretta don't sell the course for a low price. Well, that's because it's costly to produce a high-quality training programme.
Foundr and Gretta have worked very hard to create the course. Most importantly, it really works! There are a lot of other eCom courses available online, and some of them are cheaper than Foundr. But the creators of those courses have never had any success in eCommerce. They have no problem selling you secrets that will not generate revenue.
Consider a college degree. What makes it so expensive? It's because it can lead to a job. Start and Scale can help you build a successful business, so the price is reasonable if you think about it this way.
In most cases, the ineffective courses are the ones that are cheap.
2. Insufficient Training on paid ads
Gretta's training is insufficient for running paid ads since she emphasizes branding, which will result in more organic traffic and referrals. Ads are, after all, quite expensive.
In fact, though Facebook ads are powerful for driving traffic, they can be a risky strategy. Many people have to invest a million dollars to run Facebook ads.
As for influencer marketing, it is more for the sustainable development of your business by branding building.
It might not drive a lot of traffic as fast as Facebook ads, but in the long term, you can get a lot of organic traffic as you build a brand name in the market.
It will be difficult for you to earn a high-profit margin if you have to spend a lot of money running Facebook ads.
On the other hand, if your brand becomes well-established, it may even be featured on news websites and blogs (you might have already seen this in Start and Scale success stories) without you having to pay a dime!
3. Building a brand requires some cash upfront
Gretta teaches how to build a brand in this course, but you will require some cash up front. However, inventory would account for the majority of costs. This problem is solved by Gretta by showing you how to create a waitlist in order to avoid the problem of overstocking.
4. Need to join a waitlist
If you are interested in the Start and Scale course, you might need to join a waitlist. However, I can give you VIP Access Here without putting you on a waitlist. When everyone is just betting everything on extremely risky bitcoins, you can start now if you're determined!
5. You won't get rich overnight by joining Start and Scale
It is common to find gurus selling courses that promise you will become rich in a month or so. On the contrary, Start and Scale is not a get-rich-quick scheme. Signing up for the course won't make you rich overnight. As Gretta has stated, she has worked really hard to build the brands that have made her a multi-millionaire today. If you take Gretta's advice, work hard, you'll succeed as well.
Is Start and Scale Course a Scam? Any Risk?
The Start and Scale program is not a scam. It is true that not every student of Start and Scale has been successful in eCommerce. That's normal, though. You won't see every graduate of a world-class business school becoming rich.

After all, building a successful brand requires hard work and ingenuity. Also, in most cases, people quit too soon.

Although it isn't a given that you will become the next success story, you have a very good chance of doing so.

Following the marketing framework of Gretta van Riel, many entrepreneurs have either relaunched their existing store or achieved amazing results from scratch.

You can check out the Start and Scale success stories here.

After that, you'll know that Gretta's marketing strategies can really help you launch a lucrative online business.
In fact, you will face a much higher risk if you start an online business without knowing any proven strategies or techniques for marketing.
Get A Special Offer and Instant Access Here
Negative Start and Scale Course Reviews: Be Careful!
I've spent hours reading what people have to say about the Start and Scale course. I have done this a lot before I joined and again each time I update this review (this is version 3 now).
There are lots of people who say that Start and Scale is the best eCommerce course that really delivers its promise.
On the other hand, it has been scrutinised by bloggers due to its popularity.
I've gathered the most common pros and cons of the Start and Scale course so you won't have to spend hours delving into it.
Positive Start and Scale reviews
Gretta's proven track record of success in eCommerce

No upsells

This course teaches you everything you need to know about building a brand

The community

Continually updated

Lifelong access to the course, including updates

For each module, a workbook is provided.

Templates can be used repeatedly.

This course contains a lot of content.

365 days money-back guarantee
Negative Start and Scale reviews
Pricey

The upfront cost of building a brand

Not enough information about Facebook ads

Information overload

Too much emphasis on brand building

Impossible to achieve quick success

Influencer marketing takes a longer time than paid advertising
I have found, however, that many of the bloggers who have denounced Start and Scale do not even know the course's content. You are just being asked to buy another course with which they affiliate.
Here are several negative reviews of Start and Scale ranked on the first page of Google and they really raise some interesting points.
OnlyGenuineReviews – Mike Scam Exposed!
This blogger Mike from OnlyGenuineReviews said the Start and Scale course is lacking in content, so he feels disappointed. However, in a business course, it's not about how many videos the course has; it's about how effective the strategies are.
Where is the sense in repeating useless strategies over and over again in a large number of videos? It sounds like this guy is so naive.
It's unlikely that he has watched Gretta's training video. If so, he won't complain about the lack of content.
From what I can tell, he just wants you to join another dropshipping course he's affiliated with, eCom Elites. But I have studied eCom Elites before, and it teaches only some basic skills in dropshipping.
Ippei Blog – Ippei Scam Exposed!
Ippei admits in the beginning that Gretta has achieved great success. However, he made a strange assumption about Gretta's profit margin.
He said that Gretta only made 10% in profits. How did he come up with that figure?
As an example, let's use Drop Bottle to find out Gretta's net profit margins.
Drop Bottle, a popular fruit-infused water bottle that helped Gretta win her Shopify award, is selling for $45 at the time of this writing.
Popular Amazon products usually have a profit margin of at least 10%. So I looked on Amazon for a similar infuser bottle to see how much it costs.
Below is the Tea Infuser Bottle with Double Wall Borosilicate Glass which should have a similar production cost as the Drop Bottle. What about the price? The price is only $12.99!
It is important to note that Drop Bottle charges a shipping fee as well!
Let's do the math. If the net profit margin of the Amazon bottle is 10%, then the total cost of an infuser bottle is around $11.
In other words, Gretta can make $34 of profit on every sale of Drop Bottle (sold at $45). That's a 75% net profit margin!
When halved, Gretta still boasts a 37.5% net profit margin.
However, despite the price, Gretta has still sold a lot of Drop Bottles. She won't win the Shopify award otherwise.
Ippei might argue that since Gretta doesn't sell on Amazon where traffic is high, she will need a higher marketing budget.
However, selling on Amazon doesn't necessarily mean lower marketing costs. Sponsored Products campaign would be used by most Amazon sellers to increase the visibility of their products.
In addition, they must pay Amazon a substantial commission for every sale.
So why did Ippei give negative feedback on Start and Scale?
Because he wants you to join his own Lead Generation course. The course is called Job Killing.
He didn't mention the name of the course because the course Job Killing has received a lot of complaints and negative reviews. He just wants you to make a call to their sales team so that they can close you on the phone.

Guess what? It has cost people between $4,860-$8,778 to join his Lead Generation Course!
Worse still, it's extremely hard to make money with his lead generation model.
The lead generation model uses the rank and rent method, but it'll take a few months for your website to rank on the first page and you'll need to close a deal with someone who prefers to rent your website over Google Adwords.

For most business owners, ranking their website on the first page of Google is as simple as running a Google ad. They won't bother with lead gen sites that might disappear.

According to his lead gen course, your lead gen site will rank on page one of search engines by using private blog networks and intentional backlinks. However, this violates Google's policies and your lead gen site might be removed.
In fact, Start and Scale was even misunderstood as a dropshipping course by him!
TheAffiliateDoctor – Dylan Scam Exposed!
Below is the review from another blogger Dylan – TheAffiliateDoctor. This guy also failed to do any research. He has mistaken Start and Scale for a dropshipping course.
Dropshipping is a retail fulfilment method where a store doesn't keep the products it sells in stock. Dropshippers don't build brands. They only sell generic products.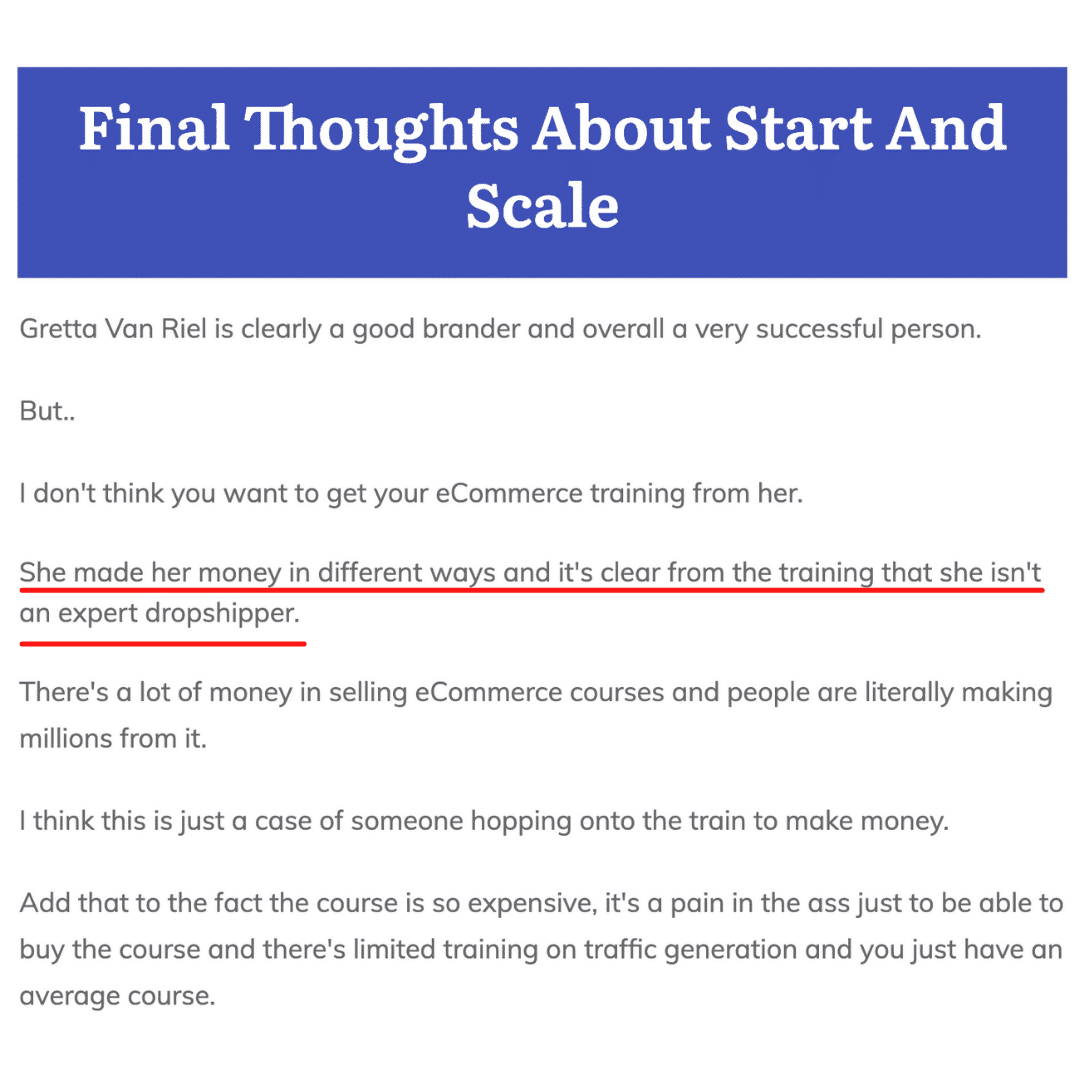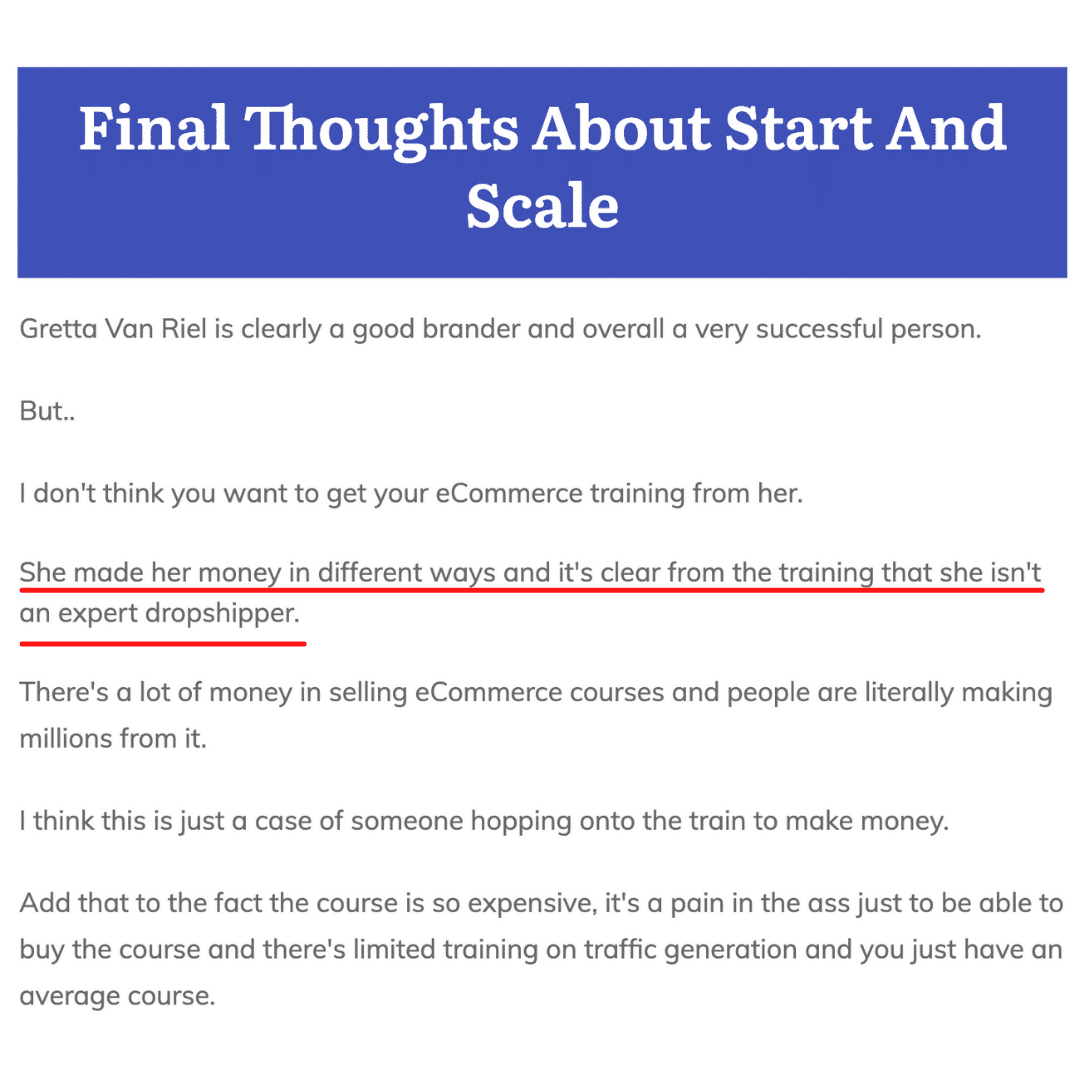 He said Gretta just made most of her money from selling courses. As mentioned earlier, Gretta Van Riel generated $600,000 USD for her first eCommerce business in six months. That's why Forbes featured her in its 30 under 30 list.
You can find Gretta in Forbes' article "30 Under 30 Asia 2018".
Overall, the negative reviews of Start and Scale contain a lot of misinformation. Poor Gretta!
Do the critics really believe that the 15000+ students of Start and Scale are just dummies?
Get A Special Offer and Instant Access Here
Is There A Better Alternative to Start and Scale?
Some critics of Start & Scale may suggest you begin with dropshipping rather than building an eCommerce brand. You may then be recommended some dropshipping courses which are out of date.
Dropshipping is an eCommerce method where the products are delivered to your customer without your storage or handling them. Rather than dealing with storage, shipping, and marketing, a third party delivers what you sell.
However, dropshipping is generally not something I would recommend.
Below are some of the reasons why I don't think dropshipping is a better alternative to Start & Scale.
Reliance on Third-Party Suppliers
If you start your own brand, you might rely to some degree on your suppliers, but dropshippers are especially reliant on their suppliers. Customer complaints result in a retailer paying the price when a third-party supplier does not deliver an order as promised.
Dropshipping also puts third parties in charge of areas such as product availability and quality control. As a retailer, you can't inspect the merchandise before shipping it to customers or offer customer-value-added services like pre-installing software on a phone or engraving a custom message on jewellery.
High Level of Competition
You're likely to face substantial competition because dropshipping is so easy for a retailer to use. Competitors can always sell the same products that you offer as long as you do not have an exclusive deal with a supplier.
The downside of dropshipping is that retailers cannot offer unique products and services, making it hard to stand out from the crowd.
This explains why Gretta stresses the importance of branding in the Start & Scale course and a lot of her students who have achieved success do not mind displaying their unique brands that cannot be easily replicated.
Dropshipping is the selling of generic products without brands. Customers can find them on eBay and Amazon, so they won't pay a high price. You will usually have to increase sales volume to achieve the same profit margin as a traditional retailer.
Having your own brand, on the other hand, will have a greater perceived value in the eyes of your customers.
Although Gretta's Drop Bottle is not much different from other fruit infuser water bottles on Amazon, customers are willing to pay a higher price for it. Why? Because they love the brand.
Difficult Customer Support
If something goes wrong with an order, it is more difficult for retailers without inventory control to provide customer support. The retailer may have to work with the third-party seller if a customer has questions about a product, claims it is defective, or never received it. You may face a lot of credit card chargebacks as a result.
It is not sustainable to do business this way. Dropshipping looks appealing, but those critics of Start & Scale never tell you that a dropshipping store is extremely short-lived.
In short, as an entrepreneur myself, I would always prioritize sustainability before anything else since it's the only way I'm able to generate a stable income to support my family. Moreover, only by building a brand will I be able to share my success with others. No one likes to be shady in business.
Final Verdict: Start and Scale Course Review
Instead of starting from scratch without any clue, the Start and Scale course give you the opportunity to duplicate Gretta's success by following her complete blueprint to build a 7-figure eCommerce brand.
Your chance of success without a great mentor may be slim, but with a proven blueprint and guidance, you can be confident that success is only a matter of time. What you need to do is to follow the training and work towards the goal.
Therefore, for building an eCommerce brand, I highly recommend Start and Scale. It is by far the best eCommerce course that teaches you how to build a sustainable eCommerce brand.
That said, you must realise that Start and Scale won't make you rich overnight. It is not a get-rich-quick scheme. While other gurus claimed you could copy and paste to become rich, Foundr asks you to put in hard work and be creative to build a successful brand.
According to Gretta, she has worked very hard to build the brands that have made her a multi-millionaire today. Work hard as Gretta suggests and you'll succeed as well.
Where to Join Start and Scale?
Instead of joining the waitlist and waiting for months, you can get VIP access to the course here:
Or if you're not so sure, you can sign up for the free masterclass first and see if you like Gretta's teaching style.
Any questions? Here's the Start and Scale FAQ that might help you.
Or you can leave a comment below and I'll respond to you as soon as possible.
Get A Special Offer and Instant Access Here
Start and Scale Course FAQ
1. Is it necessary for me to quit my job?
There is no need for you to quit your job at the moment. You should hold off until your store brings in enough cash to live.
So you don't take any financial risk. Most students in this course do this as a side hustle at first. Once they see consistent results, they quit their job to further scale their business.
2. In what ways is Start and Scale different from other eCommerce courses?
The course "Start and Scale" takes you step-by-step through the process of building an eCommerce brand. It's a sustainable model that will help you grow your business.
The Ecommerce expert Gretta will show you how to start an online business fast. Gretta has built multiple multi-million dollar eCommerce brands in the last 8 years.
There are many successful students in Start and Scale.
3. Do I need to be a technical person to run an online store?
No, you do not need any computer skills to open an online store. Gretta will introduce the best tools and software anyone can use in the course.
4. Does it matter if I have no product ideas now?
You do not have to be concerned to come up with a great product idea. The course gives you tips for finding your idea and will teach you how to do research. That's why the course is called "Start" and Scale. It helps you start from scratch.
5. Will Gretta cover Instagram and Influencer Marketing in the course?
Certainly. Gretta is the "Instagram Queen". Instagram and Influencer Marketing will be a highlight in this course.
She will share how to dominate Instagram and market products with Influencer Marketing. That has helped her build so many eCommerce brands.
6. Does this course only apply to Stores on Shopify? What if I have an existing store on other platforms?
A Shopify store is only one platform on which Gretta builds her business.
It's okay if you'd prefer to use another platform. If you already have a store, you'll gain a lot from this store. You'll learn how to scale it.
7. What support is provided in addition to the course?
You can join the private Facebook Group after registering for the class.
With the community, you have the opportunity to interact with thousands of students and ask any questions. The members of the group are very helpful. You can also validate your product ideas with the group.
8. Can I access the course for life, including future updates?
A lifetime subscription is available to the course. It is updated regularly, and there is no extra cost to receive updates.
The course was updated on a massive scale in the past few months. Foundr spent $50,000+ to renew the course but did not charge extra for it.
I hope the above answers have addressed your questions.
If you don't want to waste time and start building your online store now, here's the VIP access for you:
Get A Special Offer and Instant Access Here
Any questions? comment below and I'll respond to you as soon as possible.