I started exploring online business during my college years, but the idea of launching an eCommerce brand never crossed my mind. I thought it would be too much work, and I wondered how I could compete with big, established brands.
But it turns out, I was wrong. I realized this after joining Start and Scale and successfully launching my eCommerce brand, "Dear Bottle."
Just to give you some background, I had tried eCommerce through dropshipping right after college and made around $12K a month at its peak. However, dropshipping felt a bit shady to me. There was no real brand; it was more like pretending to have one, and that didn't feel quite legit.
Then, my girlfriend, who saw Foundr's promotion on Instagram, suggested I join Start and Scale to create a genuine eCommerce brand in late 2019. At that time, I had around $500k in my bank account, so money wasn't a problem. I decided to give it a try.
Gretta's advice about niching down and building a one-product store resonated with me. That's when I trusted my instincts and ventured into eCommerce.
In this review, I will share everything I've learned about Start and Scale and evaluate its worth.
By the end of this review, you should be equipped to make an informed decision about whether the Start and Scale course is suitable for you.
Start and Scale Review – Key Takeaways
| | |
| --- | --- |
| Product Name: | Start and Scale Your Online Store |
| Website: | https://foundr.com/start-and-scale |
| Price: | Get A Special Offer Here |
| Pros: | Gretta's success is real; no theories, just practical steps; proven templates for copying and pasting; regularly updated |
| Cons: | The course is expensive; building a brand requires some cash upfront; can't achieve success quickly |
| Instructor | Gretta van Riel |
| Overall Rank: | 4/5 |
| Verdict: | The best eCommerce training I've taken. Highly recommended. |
Below is what I'll cover in this Start and Scale review:
What is Start and Scale?
Foundr is working with Gretta Van Riel to create the Start and Scale course. The course currently has more than 23,000 paid members, making it the most popular eCommerce course in the world.
The training program I initially enrolled in was Start and Scale 2.0, which has now been updated to version 3.0. In my opinion, both versions are more or less the same. There could be some added value in the new version, though I'm not entirely certain. You might consider watching Gretta's promotional video for more detailed information.
Now, let's get back to Start and Scale. It stands out from other eCommerce courses I've looked into. Most courses in the market focus on building dropshipping stores, but they don't cover creating a brand on Instagram like Gretta does. The issue with dropshipping is that the products are often low quality, leading to customer complaints and short product lifespans. In my dropshipping experience, I had to keep opening new Shopify stores.
On the flip side, Start and Scale takes a more sustainable approach. I even sold my eCommerce brand using the strategies I learned in 2021. Having a legitimate brand makes you prouder of your business, trust me.
Get A Special Offer and Instant Access Here
What is Foundr?
Foundr is an awesome online publication that helps entrepreneurs and business owners become successful on the internet. It was created by Nathan Chan, who built the company from scratch without any outside investors. On the site, you can find all kinds of great strategies and insights from Nathan and other successful entrepreneurs.
In addition to featuring interviews with big names in the entrepreneurship world, Foundr has also published stories about entrepreneurs who have built businesses ranging from seven figures to even 100 figures.
They address everything, starting from the initial challenges of starting a business to the eventual successes. I've taken a few courses on Foundr, covering things like copywriting, Facebook ads, and Amazon FBA.
In simple terms, if you're an entrepreneur seeking guidance and inspiration, Foundr is a fantastic resource worth checking out, just like I did.
Foundr's YouTube channel has over 199k subscribers. If you want to learn more about this education company, you can watch the video below:
Who's Gretta Van Riel?
Gretta Van Riel is a serial young entrepreneur in Australia, who has built many eCommerce brands such as SkinnyMe Tea, the 5th, Dropbottle, and many more. According to our research, Gretta's net worth is estimated to be $5 million.
Gretta Van Riel is the winner of Shopify Build A Business Award, which is an award for a Shopify Store that has the highest-grossing sales in a six-month period. So there is no doubt that Gretta Van Riel is a very successful eCommerce business owner.

It is worth mentioning that Gretta Van Riel was able to generate $600,000 in just 6 months with her first eCommerce business. Yes, she did it in a very short period of time, which is incredible.
Since then, Gretta Van Riel has copied this unique framework for four other brands and turned each of them into multi-million dollar success stories.
Gretta Van Riel is a pioneer in using Instagram for building eCommerce brands. She is an expert in influencer marketing. Today, her combined Instagram following, including vertical accounts ( @befitfoods, @detoxwater, @detoxtips, @nutrition_planet, @smoothiebowls) is over 16 million.
She also co-created The 5TH watches, which only release their products on the fifth day of the month and sell them for just five days. On its first day, the company made $100,000 in revenue. And if that's not impressive enough, it's since gone on to do $1 million in sales in a single day. No wonder Forbes featured Gretta on its "30 Under 30" list for Asia in 2018.
So if you want to build your eCommerce brand using Instagram, Gretta Van Riel is the person you should learn from. In the video below, Gretta shares how she made $1 million in a day on Shopify:
Who is Start and Scale for?
Start and Scale is best suited for those aiming to establish an eCommerce brand. For a better shot at success, I recommend having at least $5k to $10k in initial funds. Note that this doesn't mean you have to spend all that money before earning a profit. The minimum order for many private-label products is only 100 units, and you can order more once you start making sales.
However, if branding isn't a top priority for you, it might be better to focus on learning how to make money through dropshipping. In that case, you can employ unscrupulous tactics to give the impression of having a brand without the need for significant upfront investment.
Get A Special Offer and Instant Access Here
What's Inside Start and Scale?
Gretta Van Riel reveals all her eCommerce success secrets in Start and Scale. If you want to start an online store selling physical products, this course will give you a complete plan of what exactly to do.
You will save a lot of time and money because you will get step-by-step training videos, workbooks, and templates.
I have completed this course myself so I can tell you the course content. In this section, I'll give you an overview of each module so you can get a better idea of what you can learn.
Module 1: Finding Your Idea
In this module, you'll learn how to develop a profitable product idea. Gretta will also introduce you to her unique product idea validation process that will help you ensure your product is in demand in the marketplace.
Module 2: Branding & Getting Your Store
Gretta is a genius at branding. In this module, you'll learn how to build an eCommerce brand that people will trust and recognise for years to come.
If you want your business to be sustainable, this module will help you build a solid foundation for your online shop.
Module 3: Developing & Planning Your Idea
Many people have a great product idea, but don't know how to bring the product to life. In this module, Gretta will show you how to design a product and find a trusted manufacturer to make it.
By the end of this module, you'll have a clear idea of how to design and manufacture your prototype.
Module 4: Making Your Product Profitable
To make sure your business is profitable, you need to understand a little about finance. In this module, Gretta will teach you the formula to keep track of your finances.
It is important that you follow what is taught in this module to ensure that you have a positive profit margin.
Module 5: Building An Audience Before Your Launch
Gretta is a strong proponent of building an audience before launching a product. Many people do not have an audience when they launch a product and take months to make the first sale. However, Gretta will show you how to avoid launch crickets.
You will learn how to build an audience for your brand on social media. This way you will start making sales on the first day of the launch.
Module 6: Million Dollar Influencer Marketing Blueprint
Gretta is an expert in influencer marketing. She has made millions of dollars by using influencer marketing. She even created an influencer marketing software that connects brands with influencers called "Hey Influencer".
In this module, you'll learn exactly how to find and work with influencers to promote your product and build your brand.
With this strategy, you can skyrocket your sales.
Module 7: Launch & Operations
To run a successful online business, you need to streamline your logistics and operations. Unlike other courses that only teach you how to market your product, Start and Scale really takes you by the hand and walks you through all aspects of your business.
You'll learn how to set up payments, logistics, and customer support to keep your business running smoothly.
Module 8: Scaling Your Store
In the previous modules, you learned how to develop a profitable product, launch it, and manage your business, but this course goes even further.
In this module, Gretta teaches you the most advanced sales and marketing techniques to grow your online store into a 7-figure eCommerce brand.
BONUS 1: Ecommerce Mastery Series
After completing the previous 8 modules, you should have the necessary skills to start and grow your online store. But in this module, you can also learn from the founders of other million-dollar eCommerce brands.
These interviews are so valuable that you will get more tips from other successful entrepreneurs.
BONUS 2: COVID-19 Case Studies from Start & Scale Students
Start & Scale is constantly updating its content to meet the changing market. COVID -19 is a challenge for all online stores worldwide.
In this bonus module, you will learn how some successful students at Start and Scale are dealing with this challenge and turning it into a profitable opportunity.
You can gain many amazing insights into how other entrepreneurs survive threats like COVID -19.
BONUS 3: New Tools For Ecommerce Users
In this bonus, you'll discover how to leverage two essential tools to enhance your eCommerce business.
Exploding Topics: This powerful research tool provides a quick overview of trending topics, products, and ideas over a specific timeframe. Gretta recommends focusing on the past year in your search history. It's a handy tool for generating product ideas or researching existing ones. While it's not 100% accurate, you can use it to complement your existing research.

Import Yeti: A favorite tool among experts like Kian Golzari and Melisa Vong, Import Yeti is excellent for researching manufacturers. Just enter a product or company, and it reveals who's actually manufacturing the product. It's a straightforward way to find out where your favorite products are being made.
Get A Special Offer and Instant Access Here
How Did Start and Scale Help Me Make $110K+?
Let me break down my experience with Start and Scale. I hopped on board in the latter part of 2019. After completing the course, I dove into what Gretta taught about generating product ideas. Given my lack of prior experience in creating an eCommerce brand, I opted for simplicity and focused on a single, popular product.
Gretta stressed the significance of visually appealing products on Instagram. So, after checking out stuff on Amazon and using tools like Google Trends to gauge demand, I followed Gretta's lead and built a brand around a fruit and tea infuser bottle.
The business model Gretta advocated resembled private labeling. Here's the drill: I scoured Alibaba.com and stumbled upon a beautiful double glass wall bottle with a wooden lid. It looked great.
To materialize my brand, I needed a sleek logo and packaging. A supplier on Alibaba agreed to customize this for me with an order of 100 pieces. Naturally, the more you order, the lower the average price. The sample she sent me impressed me with its quality.
So, I shelled out $50 to create a prototype – a fruit infuser bottle adorned with my company's logo and packaging. I named it "Dear Bottle." Following Gretta's playbook, I kickstarted my Instagram business page, "Dear Bottle."
Instead of impulsively ordering 100 pieces from Alibaba.com, I approached it cautiously. I started by reposting smoothie-related content to gain followers – a strategy straight from the Start and Scale playbook, emphasizing prudence when starting a business.
Subsequently, I began posting pictures of Dear Bottle to test the waters for free. To my surprise, people loved it! Some influencers even reached out, requesting a free sample for a shoutout. Start and Scale has put an emphasis on influencer marketing and I know how powerful it can be.
Seeing my waiting list exceed over two hundred people, I made the decision to order 100 pieces from the Alibaba supplier.
I noticed my Instagram followers were growing faster with the help of influencer shoutouts.
Then, Covid hit, and it was a nightmare. The world came to a standstill, and I felt frustrated. I decided to put a pause on my eCommerce project and shifted my focus to creating content for my three blogs. With my stocks plummeting by 30%, I became risk-averse. But as the stock market surged and China reopened, things started looking up. I decided to restart my eCommerce store.
Sales began in August, and most of my products were stored in Shenzhen, China. I used a service called China Division for order fulfillment, shipping products worldwide, mainly to the UK, Australia, and the US, automatically.
From August 2020 to March 2, 2023, my brand "Dear Bottle" generated $111,720.70 in sales. I priced each bottle at $29.99 (excluding shipping). The average product cost is $4 a piece.
Besides customers from Instagram, I also ran PPC campaigns using Google, targeting keywords of famous bottle brands – that's my secret, targeting competitors. I also received a significant number of sales through word-of-mouth.
The only aspect of Start and Scale that I deviated from was the choice of the platform. Instead of using Shopify, I opted for WooCommerce to run my eCommerce store because I am more familiar with WordPress.
After deducting all costs, including the "Start and Scale" course fee, my net profit margin is around 30%, totaling around $33.5k in profit over 8 months.
When I shared my success story on the Start and Scale private community, a student approached me, interested in buying my brand. After negotiations, we sealed the deal at $90k. Not bad for a brand just over a year old, right? In total, I made $110k+ from this business venture.
Other Success Stories of Start and Scale Students
Start and Scale really made a big difference for me and a bunch of other students. We went through the training, and guess what? We built successful online businesses making 5-6 figures a year. Sounds wild, but it's real. The stuff they teach in the course has been tried by a lot of people, and it keeps working every time.
Here are some success stories: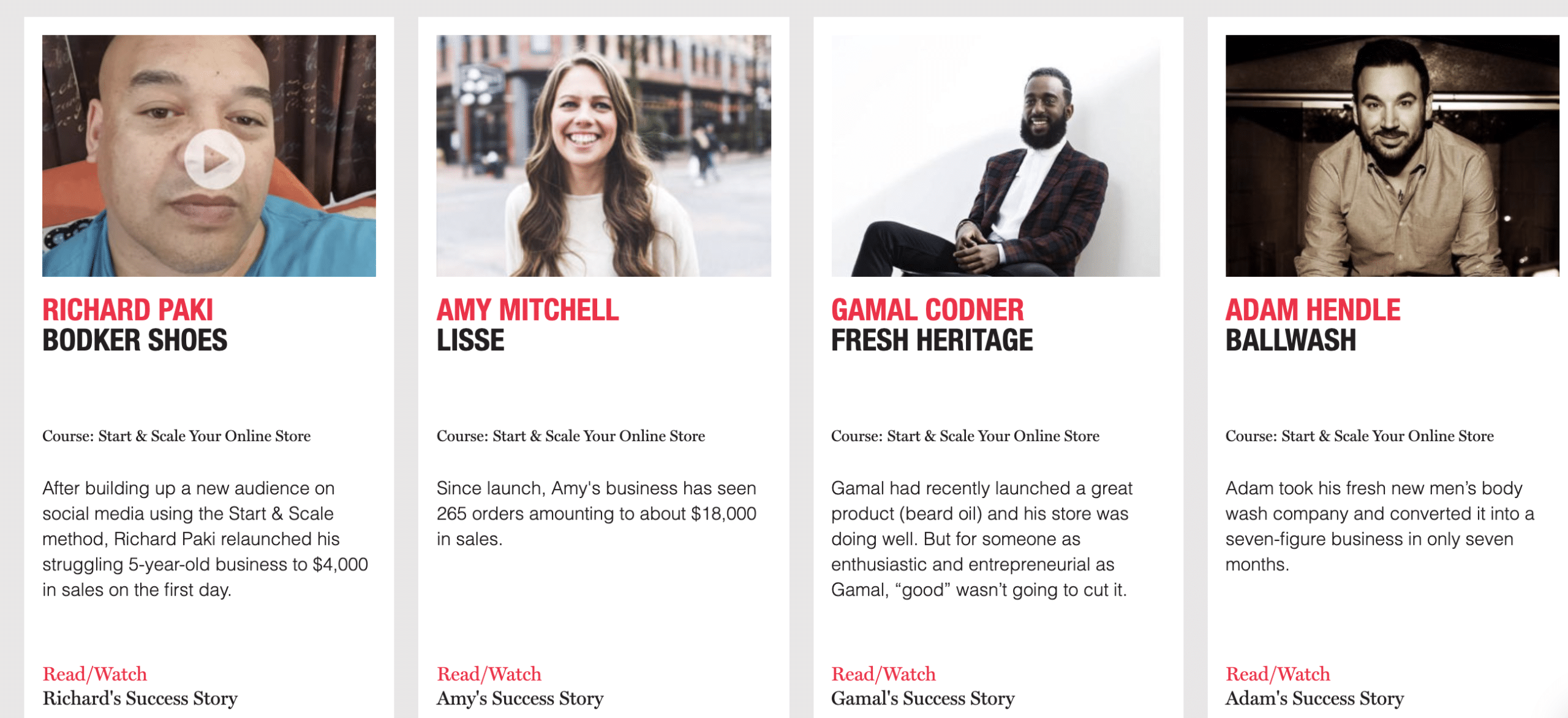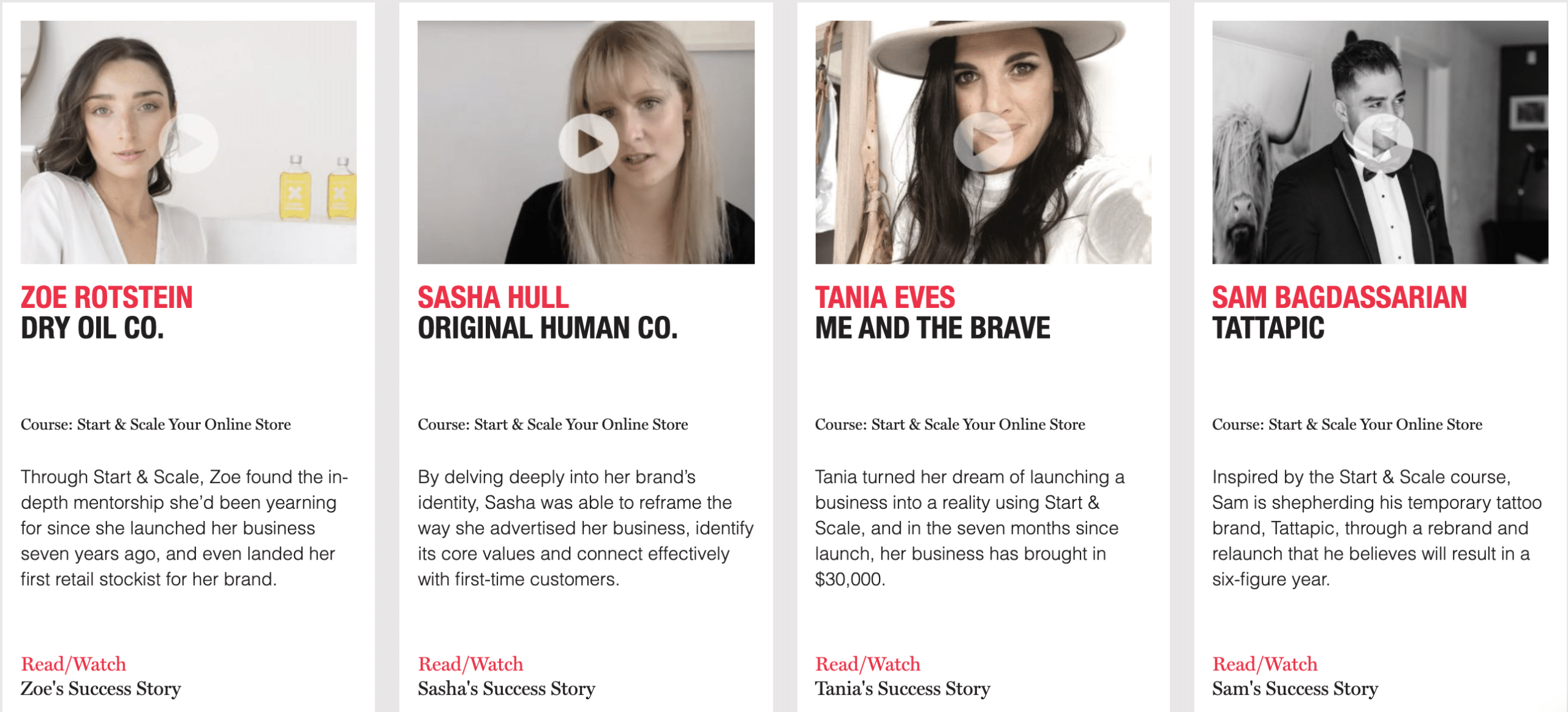 How Much Does Start and Scale Cost?
The price for the "Start and Scale" is now $997, which is $1000 off the regular price. If you don't want to make a lump sum of $997, you also have an option of a payment plan.
You can pay 3 installments of $397. Actually, the course had a huge update in the past few months after receiving students' feedback in the past 2 years.
Foundr spent 8 months and invested $50,000+ in the pre-and post-production to update the course. So, it is now Start & Scale 2.0.
But they didn't increase the course price to cover the cost. That is much appreciated by many. It also shows they care about the course quality to help students succeed.
Get A Special Offer and Instant Access Here
Refund Policy
If you decide the course isn't for you, Foundr has a 14-day refund policy. You can ask for a refund for any reason, and they won't ask questions.
Here's how they put it:
"Our customers are entitled to a full refund as long as the request is received in writing within the 14 calendar day time frame. This means that you change your mind about purchasing the course prior to the expiration of these 14 days. The refund period begins on the day you made the purchase."
Is Gretta Van Riel a Scam?
Gretta van Riel is not a scam artist. She's actually a pretty successful entrepreneur in the eCommerce world. Some bloggers might say that she's made most of her money from selling courses, but that's not the whole story. Sure, Start and Scale is popular, but that's just a small part of her wealth.
When Gretta was 22, she only had $24 in the bank. But she didn't let that stop her from starting her own business. She created SkinnyMe Tea and used Instagram to promote the brand. She even reached out to girls with a lot of followers and sent them samples of her tea.
Now, five years later, SkinnyMe Tea has sold over 11 million cups of tea worldwide and is credited with starting the whole "teatox" trend. But Gretta didn't just stop at tea.
But despite all her success, Gretta still gets negative reviews with a lot of misinformation.
For example, this blogger Ippei admits at the beginning that Gretta has great success. However, he made a strange assumption about Gretta's profit margin.
He said that Gretta makes only 10% profit. How did he come up with this figure?
As an example, let's use Drop Bottle to find out Gretta's net profit margins.
Drop Bottle, a popular fruit-infused water bottle that helped Gretta win her Shopify award, had been selling for $45 most of the time. (Note: The price was recently raised to $55. Previously, however, it was always $45. )
Popular Amazon products usually have a profit margin of at least 10%. So I searched on Amazon for a similar infuser bottle to see how much it cost.
Below is the Tea Infuser Bottle with Double Wall Borosilicate Glass, which should have similar production costs to the Drop Bottle. What about the price? The price is only $12.99!
It is important to note that Drop Bottle charges a shipping fee as well!
Let's do the math. If the net profit margin on the Amazon bottle is 10%, then the total cost of an infuser bottle is about $11
In other words, Gretta can make a $34 profit on each sale of the Drop Bottle (which sells at $45). That's a net profit margin of 75%!
If you halve the price, Gretta still comes up with a net profit margin of 37.5%.
But despite the price, Gretta still sold a lot of Drop Bottles. Otherwise, it wouldn't win the Shopify award.
Let's look at another review from the blogger Dylan – TheAffiliateDoctor.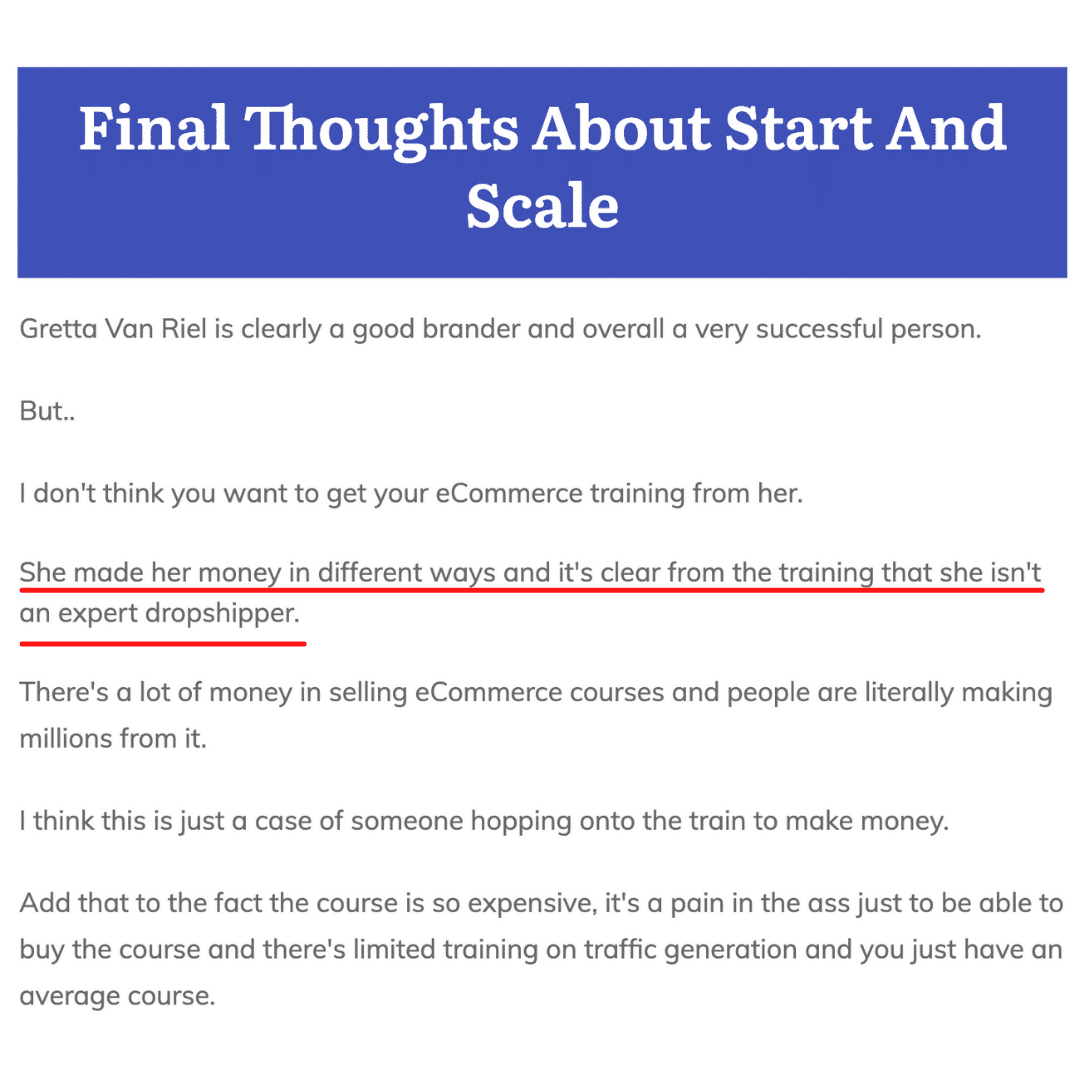 He said Gretta just made most of her money from selling the Start and Scale course. As mentioned earlier, Gretta Van Riel generated $600,000 USD for her first eCommerce business in six months. That's why Forbes featured her in its 30 under 30 list.
You can find Gretta in Forbes' article "30 Under 30 Asia 2018".
In fact, this guy failed to do any research. He has mistaken Start and Scale for a dropshipping course.
As mentioned earlier, dropshipping is a retail fulfillment method where a store doesn't keep the products it sells in stock. Dropshippers don't build brands. They only sell generic products.
Overall, the negative reviews of Start and Scale contain a lot of misinformation. Poor Gretta!
Do the critics really believe that the 23k+ students of Start and Scale are just dummies?
Of course, nothing is perfect.
Praise for Start and Scale
1. Gretta's Success is Real
What I like most about Start and Scale is that it is not a course created by fake gurus, but by a person who is really successful in eCommerce.
There're many scams online. Many gurus are selling online courses and teaching people something they don't do themselves.
But Gretta is different, she's well-known for creating many Ecommerce brands that generate 7 figures and was on Forbes' 30 Under 30. She did not succeed once, but multiple times, which means she really has cracked the code of Ecommerce and has the proven system to share.
That really gives me peace of mind and confidence that I just have to follow her training to succeed. And in fact, there are many incredible success stories inside Start and Scale where students scale their businesses to 6-figure in several months.
2. Lifetime access to the course
Students have lifetime access to the course as well as future updates. New content is constantly being added to the course. Last year, Foundr spent thousands of dollars updating the course material to prepare students for the challenges of the pandemic. Despite Covid 19, students have found inspiration in e-commerce businesses that continue to thrive.
If you join now, you'll have access to Start and Scale 2.0, and all updates are available for free to old members as well.
3. Supportive Community
Foundr's Facebook group is very active and helpful. There are over 21,000 students who are mostly business owners, so you can reach out to them and ask for advice. Gretta is also available to answer your questions
When building a business, it's hard to do it alone. It's important to have a community where you can always ask for help. You can also ask questions to validate your ideas in the group.
If you want to be a successful entrepreneur, never underestimate the value of discussion!
4. No theories, just practical steps
Entrepreneurship is different than being a professor at a business school. For this reason, Foundr focuses only on easy-to-understand, actionable steps. Each lesson includes some actionable tasks.
The course structure is very well organized. It really takes you to step by step from the ground up. I like that each lesson includes action steps that you can use to start getting results.
This is how Start and Scale allow you to replicate Gretta's success. This course covers all important aspects of building a profitable and sustainable eCom business, such as finding reliable suppliers and building email lists.
Unlike lectures at University, there are no impractical theories. Everything mentioned in the course is something you can implement right away.
5. Workbooks that are great for facilitating the implementation
The workbooks included in Start and Scale will help you become familiar with the various steps to building a sustainable eCom brand. Being an entrepreneur myself, I know how effective it is to learn by doing
The Foundr team knows that if you just listen to Gretta's talk without taking action, you will not make significant progress. You can even take a quiz after each module to test your understanding.
6. Templates for copying and pasting
Foundr knows how much work it is to start a business. That's why they have provided templates for their students to copy and paste.
For example, in this Start and Scale course, you will be shown the templates Gretta used to find influencers who helped her with her promotional efforts.
Criticism of Start and Scale
1. Pricey
The Start and Scale course isn't cheap. Although the value you get exceeds the price, I know not everyone can afford the course. I think it really depends on what you can sacrifice to succeed.
If you're able to spend less on other things and invest in the course, it shouldn't be a problem. And there's a payment plan that you can take advantage of without having to make a one-time payment. And at the end of the day, you can earn the money back into your business.
You may be wondering why Foundr and Gretta don't sell the course at a low price. Well, that's because it's expensive to produce a high-quality training program.
Foundr and Gretta have worked very hard to create this course. And most importantly, it really works! There are many other eCom courses available online, and some of them are cheaper than Foundr. But the creators of these courses have never had success in eCommerce. They have no problem selling you secrets that do not generate revenue
Consider a college degree. Why is it so expensive? Because it can lead to a job. Start and Scale can help you build a successful business, so the price is reasonable if you look at it that way.
In most cases, the ineffective courses are the ones that are cheap.
2. Insufficient Training on paid ads
Gretta's education is not enough to run paid ads, because she relies on branding, which will lead to more organic traffic and referrals. Ads, after all, are pretty expensive.
While Facebook ads are very effective in attracting visitors, they can also be a risky strategy. Many people have to invest a million dollars to run Facebook ads.
As for influencer marketing, it's more for the sustainable development of your business by building branding.
It may not bring as much traffic as quickly as Facebook ads, but in the long run, you can get a lot of organic traffic if you build a brand name in the market.
It will be difficult for you to achieve a high-profit margin if you have to spend a lot of money on running Facebook ads.
On the other hand, if your brand is well established, it can even appear on news websites and blogs (you may have seen this in Start and Scale's success stories) without you having to pay a dime!
3. Building a brand requires some cash upfront
Gretta will show you how to build a brand in this course, but you will need some money upfront.
However, most of the cost is for inventory. Gretta solves this problem by showing you how to create a waiting list to avoid the problem of overstocking.
4. You won't get rich overnight by joining Start and Scale
It is common for gurus to sell courses that promise you will get rich in a month or so. On the contrary, Start and Scale is not a get-rich-quick scheme. If you sign up for the course, you will not get rich overnight.
As Gretta explained, she worked really hard to build the brands that have made her a multi-millionaire today. If you follow Gretta's advice and work hard, you too will be successful.
Get A Special Offer and Instant Access Here
How Does Start and Scale Compare to Dropshipping Courses?
It seems like some people have been mischaracterizing Start and Scale as a dropshipping course, but it's actually all about developing your own product and building an eCommerce brand.
Dropshipping is a method where you sell products without actually storing or handling them – a third party handles all that stuff for you. But here's the thing: dropshipping is generally not a great idea.
You see, with dropshipping, you're usually just selling generic, unbranded products that people can find all over the place, like on eBay and Amazon. And because of that, customers aren't willing to pay much for them. To make a decent profit, you have to sell a ton of these generic products. On the other hand, if you have your own brand, customers will perceive your products as being more valuable, and you'll be able to charge a higher price.
Take Gretta's Drop Bottle, for example. It's not all that different from other fruit-infuser water bottles you can find on Amazon, but because it's got a great brand behind it, people are willing to pay $55 for it, while similar water bottles on Amazon are only around $20. So you can see that having your own brand can lead to a much higher profit margin.
But there are other downsides to dropshipping, too. Because you're not dealing with the products directly, you can't offer unique products or services, which makes it hard to stand out from the competition. And if a customer has questions about a product, or if there are any issues with it, you have to go through the third-party seller to deal with it, which can be a hassle. Plus, you might end up dealing with a lot of credit card chargebacks.
All in all, dropshipping might seem appealing at first, but it's not a sustainable way to do business. It's much better to focus on building a brand that you can be proud of, and that will be able to generate a stable income for you and your family. And that's exactly what the Start and Scale course is all about.
Is Start and Scale Legit?
Start and Scale is absolutely a legitimate course. It is true that not every student of Start and Scale has been successful in eCommerce. That's normal, though. You won't see every graduate of a world-class business school becoming rich.

After all, building a successful brand requires hard work and ingenuity. In most cases, people also give up too soon.
While it's not a given that you will become the next success story, you have a very good chance of becoming so.
Following Gretta van Riel's marketing concept, many entrepreneurs have either relaunched their existing businesses or achieved amazing results from scratch.

After that, you'll know that Gretta's marketing strategies can really help you launch a lucrative online business.
In fact, you will face a much higher risk if you start an online business without knowing any proven strategies or techniques for marketing.
Should You Join Start and Scale Course?
Instead of starting from scratch without any clue, the Start and Scale course gives you the opportunity to duplicate Gretta's success by following her complete blueprint to building a 7-figure eCommerce brand.
Your chance of success without a great mentor may be slim, but with a proven blueprint and guidance, you can be confident that success is only a matter of time. What you need to do is to follow the training and work towards the goal.
Therefore, for building an eCommerce brand, I highly recommend Start and Scale. It is by far the best eCommerce course that teaches you how to build a sustainable eCommerce brand.
That said, you must realize that Start and Scale won't make you rich overnight. It is not a get-rich-quick scheme. While other gurus claimed you could copy and paste to become rich, Foundr asks you to put in hard work and be creative to build a successful brand.
According to Gretta, she has worked very hard to build the brands that have made her a multi-millionaire today. Work hard as Gretta suggests and you'll succeed as well.
Or if you're not so sure, you can sign up for the free masterclass first and see if you like Gretta's teaching style.
Any questions? Leave a comment below and I'll respond to you as soon as possible.
Get A Special Offer and Instant Access Here
Best Alternative to Start and Scale Course
Are you feeling like your current training just isn't doing the job? Well, have you checked out the Ecommerce Masters course by Foundr? This one's for those who've already taken the Start and Scale course and are ready for a step up.
What makes this course so special? You'll be learning from a group of FIVE successful eCommerce entrepreneurs, including the legendary Gretta Van Riel. These experts will be sharing all their tried-and-true strategies that helped them take their businesses to the million-dollar level.
I recently took the Ecommerce Masters course and let me tell you, it's top-notch quality. You'll be getting insights that you just can't find anywhere else.
If you want to learn more about the Ecommerce Masters course, be sure to check out this detailed review.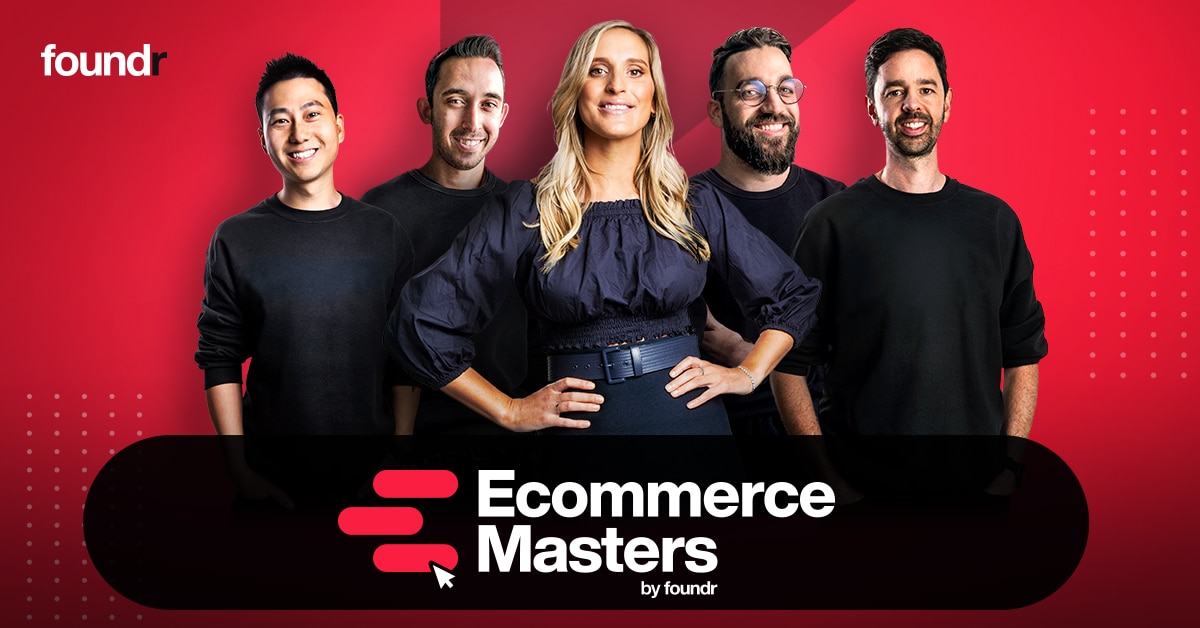 FAQs
1. Is it necessary for me to quit my job?
I was managing three blogs while starting my eCommerce business. So, I don't believe you need to quit your job right away. You can wait until your store is making enough money for you to live on.
Many students in this course start it as a side gig. Once they see steady results, some decide to quit their jobs and focus on growing their business even more.
2. What makes Start and Scale stand out from other eCom courses?
The course "Start and Scale" takes you step-by-step through the process of building an eCommerce brand. It's a sustainable model that will help you grow your business.
The eCommerce expert Gretta will show you how to start an online business fast. Gretta has built multiple multi-million dollar eCommerce brands.
There are many success stories in Start and Scale.
3. Do I need to be a technical person to run an online store?
No, you do not need any computer skills to open an online store. Gretta will introduce the best tools and software anyone can use in the course.
4. Does it matter if I have no product ideas now?
You do not have to be concerned to come up with a great product idea. The course gives you tips for finding your idea and will teach you how to do research. That's why the course is called "Start" and Scale. It helps you start from scratch.
5. Will Gretta cover Instagram and Influencer marketing in the course?
Certainly. Gretta is the "Instagram Queen". Instagram and Influencer Marketing will be a highlight of this course.
She will share how to dominate Instagram and market products with Influencer Marketing. That has helped her build so many eCommerce brands.
6. Does this course only apply to Stores on Shopify? What if I have an existing store on other platforms?
A Shopify store is only one platform on which Gretta builds her business.
It's okay if you'd prefer to use another platform. If you already have a store, you'll gain a lot from this store. You'll learn how to scale it.
7. Is there any additional support?
After you register for the class, you can join the private Facebook Group where you can interact with thousands of other students and ask any questions you may have.
The members of the group are very helpful and you can even get feedback on your product ideas.
8. Can I access the course for life, including future updates?
A lifetime subscription is available to the course. It is updated regularly, and there is no extra cost to receive updates.
The course was updated on a massive scale in the past few months. Foundr spent $50,000+ to renew the course but did not charge extra for it.