Are you struggling to grow your instagram account? If yes, you might be interested in Instagram Domination by Foundr, which is a course specialises in using Instagram to grow and scale your business to the next level.
I've enrolled in Instagram Domination and completed the course, so I believe I'm eligible to tell you more about it.
To help you decide if Instagram Domination is suitable for you, I have written this detailed review so that you can make a more informed investment.
In this Instagram Domination Review, I'm going to cover the following:
Course Name: Instagram Domination
Website: https://foundr.com/Instagram-Domination
Special Offer: Get Instant Access Here
Instructor: Nathan Chan
Overall Rank: 4.9/5
Who it's for: Newbie to Expert in Instagram
What is Instagram Domination by Foundr?
Instagram Domination is a complete course on Instagram. It aims to teach you how to get more Instagram followers and use Instagram as a business tool.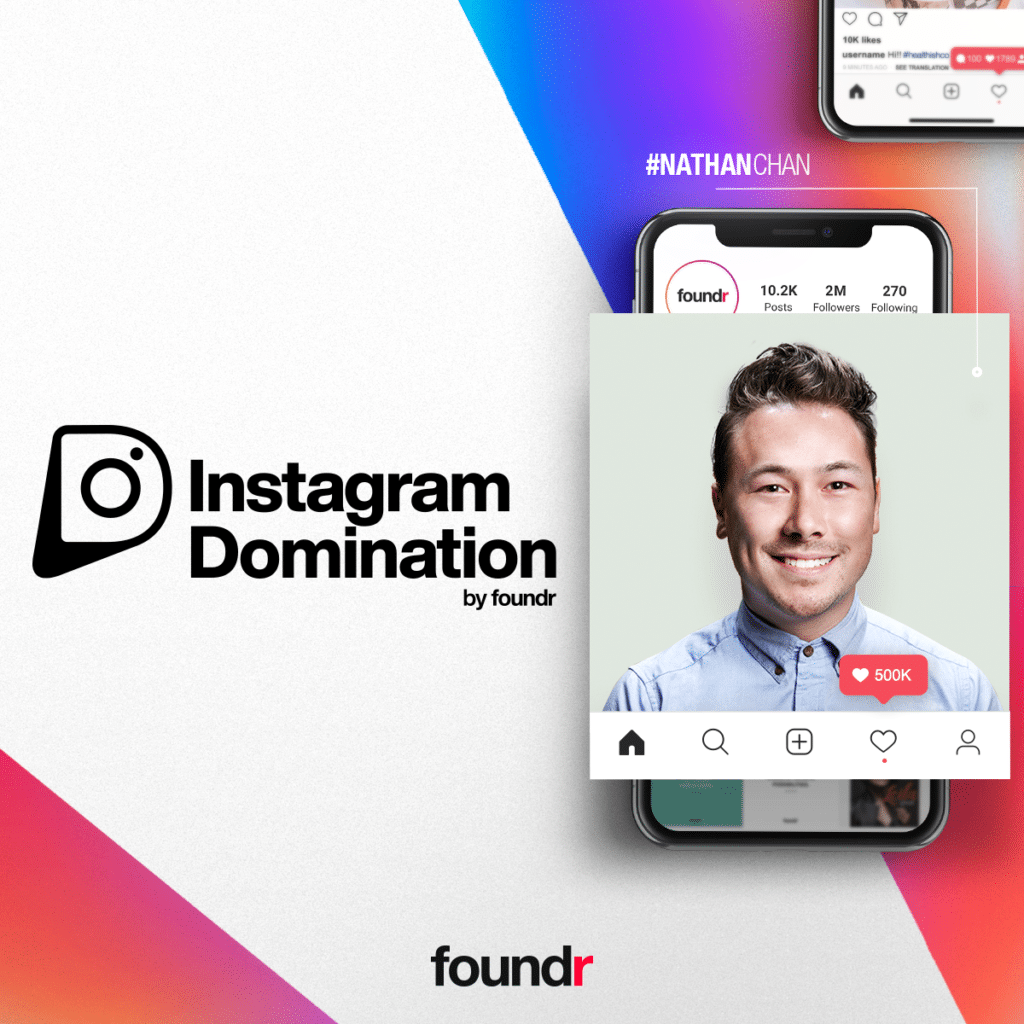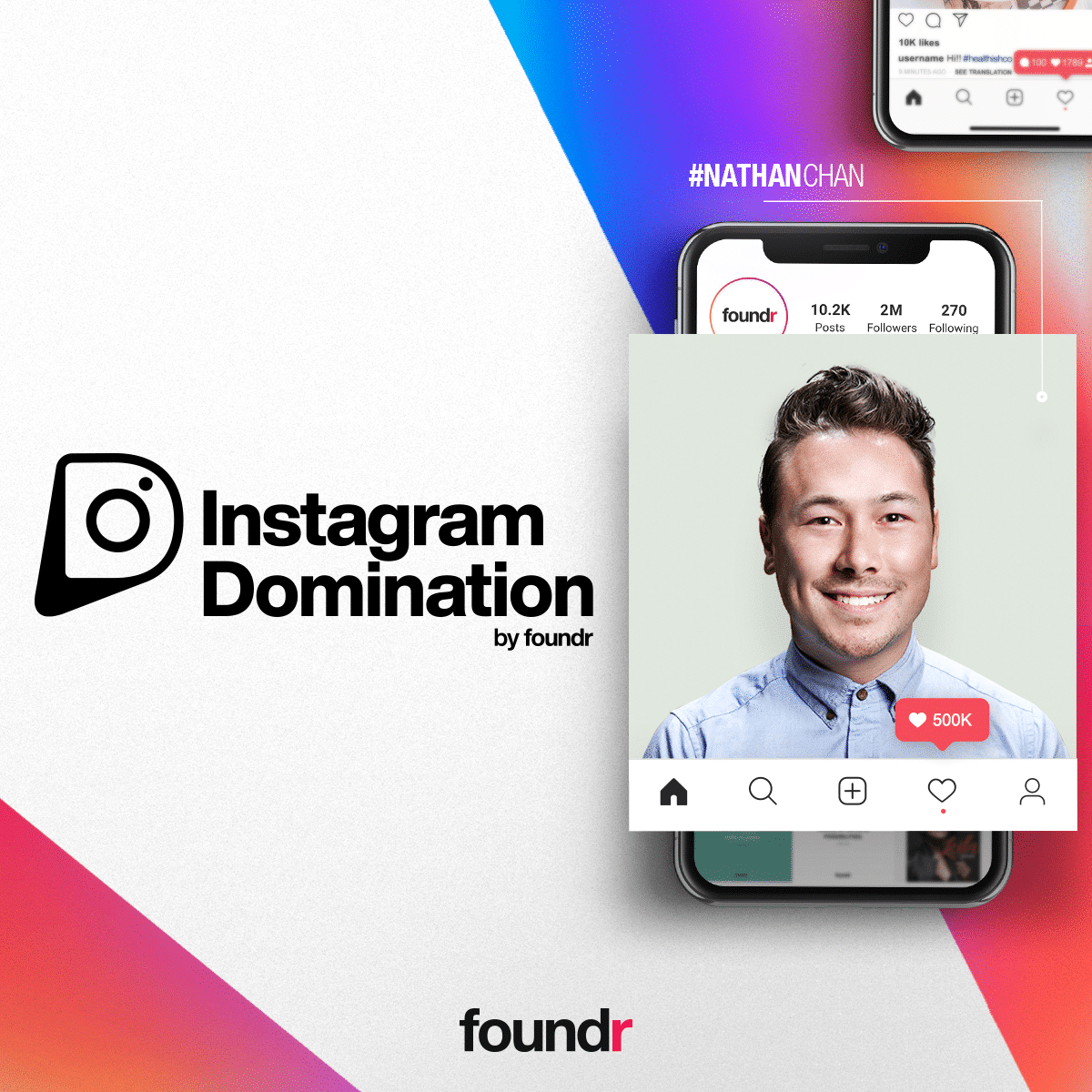 Like Facebook, Instagram is one of the most popular social media platforms. By learning how to grow your audience and convey your message to the community, you can drive traffic to your website and increase sales.
Instagram Domination is created by Foundr Magazine to help you achieve that. Unlike other courses, Instagram Domination is instructed by Foundr's CEO Nathan Chan. It teaches you the tried-and-true-system that Foundr actually uses to grow their own Instagram account.
So far, this course has helped over 5000 students to scale their Instagram followings and generate millions of sales through Instagram marketing.
Get Special Offer and Instant Access Here
Who's Instagram Domination for?
Instagram Domination is for anyone who is serious about growing their businesses. Every business needs traffic and an audience to thrive.
Whether you're an ecommerce store owner who sells beauty products, water bottles, CBD supplements, or other physical goods online…
Or you want to build up your personal brand in order to land sponsorships, book deals, paid influencer gigs, or coaching clients…
You will benefit from Instagram Domination. Instagram Domination is useful for any business you can think of.
You should know that Instagram is one of the most popular social media platforms in the world. There are more than 500 million monthly active users. You can imagine how powerful it is if you can promote your business or products to this huge number of people.
Instagram is a powerful platform that can grow whatever business you have, no matter what niche you're in or what goals you have. If you want to grow your mailing list, increase conversions and opt-ins, Instagram Domination is a great course for you.
This course has already helped thousands of students, and contributed to hundreds of case studies of massive growth since taking the course.
Who is Nathan Chan?
Nathan Chan is Foundr's CEO. He holds a Master of Business from Victoria University. He is a champion of "practice what you preach".  Nathan has interviewed some of the most successful entrepreneurs of our time such as Richard Branson, Arianna Huffington, Mark Cuban, and Tim Ferriss.
Nathan Chan has a passion and speciality for using Instagram to grow a business. In the Instagram Domination, he shares all his secrets to grow the Foundr's Instagram account so that you can duplicate his success.
Who is Foundr?
Foundr was created to help people to start an online business, get more sales and build up their side hustles for extra income. It is a global media and education company that reaches out to millions of people across the world in the last seven years.
They aim to give their audience strategic, relevant and actionable advice for all occasions. Till now, Foundr has created many premium online courses that teach tens of thousands of entrepreneurs to solve daunting problems in business. If you want to learn copywriting, finance, content marketing, Facebook ads and much more, Foundr has the course for you.
An Overview of Instagram Domination
Instagram Domination is by far the most comprehensive course of Instagram. Here are some highlights from the course:
Instagram foundations

– do the basic account set up that is critical for your success. 

Nathan's signature "Unicorn Strategy"

– A tactic that can magically enhance the engagement on a single post

How to develop your content strategy

– understand the hack of creating content that is guaranteed to resonate with your audience. 

How to find the right influencers

– learn how to engage influencers and get them to promote your product or service for more sales.

The "Influencer Marketing Product Outreach Machine"

– A secret strategy to cooperate with influencers and have them promote your products or services on autopilot. This is the exact blueprint of how Nathan gets 100-200 influencers posting on the company's behalf every month for Healthish.

How to keep your audience engaged

– Maintaining a loyal community of true fans (and even how to reignite a dying IG account)

How to create your own sales funnel using Instagram

– learn how to create a sales funnel with Instagram for ecommerce, digital products, services, and even brick-and-mortar businesses

An entire "Growth Hacks Toolbox"

– more effective and proven tactics to get followers, engagement, leads and sales through Instagram
Get Special Offer and Instant Access Here
Instagram Domination Success Stories
Foundr has provided a lot of success stories of students who benefited from the teachings of the course and took their businesses to the next level.
Some students successfully used Instagram to raise funds for their crowdfunding campaigns, triple their sales and turn their brands into household names.
Actually, Foundr is a great testimonial themselves. Instagram is one of their main channels for marketing and customer acquisition. At the time of writing, they have 2.7 million followers on Instagram, which is incredible indeed. That is why Foundr is qualified to share their experience and lessons learnt on using Instagram to scale a business.
Foundr demonstrates the power of using Instagram to increase customer conversion rate drastically. Over the years, they have generated hundreds of thousands of leads and sales via Instagram.
What I Like About Instagram Domination?
What I like about Instagram Domination is that it is more than just teaching you how to get more instagram followers. It is a course that's designed to teach you everything you'll ever need to know about using Instagram as a business tool. 
Whether it's driving traffic to your site, increasing your sales and revenue, or simply increasing your brand's exposure and influence, you can learn all from this course.
Moreover, the course creator always makes sure the information is up-to-date and relevant.
In the past year, Foundr has fully updated the whole course. 20+ new videos on everything from shoutouts, the best tools to use, hashtags, content creation, growth hacks, and analytics have been added.
Students who purchased the course before the update can get the new course content for free!
As Instagram introduces new features and changes their algorithm, some information will go outdated from time to time. However, you don't have to worry about this with Instagram Domination.
The course creator Nathan Chan, always works hard to update the course information and teach you how to take advantage of the new features and changes. Once you enrol in the course, you have lifetime access to all these. It's really like having a lifetime consultant for Instagram anytime and anywhere.
Pros and Cons of Instagram Domination
Pros of Instagram Domination
Learn to find and attract your target audience and build a mass following of fans fast

Learn to brand your page and content to attract followers 

Learn to turn your followers into email subscribers and buyers

Learn to work with influencers correctly and to avoid the rookie mistakes that most make

Learn to create content that represents your brand without spending a ton of money

Course content is updated from time to time

Lifetime access
Cons of Instagram Domination
A bit expensive, but there is a payment plan that can help finance the course.
Is Instagram Domination a Scam?
Instagram Domination is definitely NOT a scam. It's a legit course created by a legit company.
Unlike other courses that teach you some unproven theories, every strategy or tactic taught in Instagram Domination has been proven to work by Foundr themselves.
Also, some courses may teach you some black hat techniques that boast fast results, but this kind of black hat techniques are so dangerous.Your Instagram account will be banned at the end of the day and your efforts will be wasted.
Instagram Domination is different. You will learn how to play by the rules of Instagram and still be able to grow your account effectively. You will learn the most sustainable and effective strategies inside this course which aren't taught by other gurus.
Therefore, if you want to leverage the power of Instagram to grow your business, you cannot be wrong to join Instagram Domination and learn the best strategies available.
Of course, if you still hesitate, you can take the free masterclass here first.
Get Special Offer and Instant Access Here
Final Verdict: Instagram Domination Review
Instagram Domination is one of the best online courses I have enrolled so far. The course creator really strives to help students succeed by sharing everything he knew.
Although the course is a bit expensive, it will be the best investments you have ever made. By growing a big Instagram account, you will get free traffic to your website. That means you can save hundreds of thousands of dollars on running paid ads. So if you think in this way, this course will actually save you more money in the long term.
To conclude, if you are struggling with growing your Instagram account or If you want to learn the best Instagram strategies, you should sign up to the Instagram Domination Course and start growing your business today.