Are you looking for a review of Start Your Side Hustle by Foundr? If you have a full-time job and want to start a side hustle to increase your monthly income, this course may be able to help you.
Recently, I have enrolled in this course and many of my friends ask me if they can start a side hustle by learning from this course.
After the outbreak of COVID19, unemployment has skyrocketed. Everyone knows it is not secure enough to rely on one job, and hence it's always better to have a side hustle that can provide a decent amount of cash flow to pay for the bills.
I have a passion to help people explore the best money-making opportunities online, and over the years, I have reviewed hundreds of courses or tools. I can tell what is a scam and what is a good investment.
Since I have done thorough research about Foundr's Start Your Side Hustle course and even enrolled in it myself, I can tell you everything about this course.
Start Your Side Hustle by Foundr Key Takeaways
Course Name

: Start Your Side Hustle by Foundr

Special Offer: Get A Special Offer Here
Instructor

: Daniel DiPiazza

Overall Ranking

: 4.9/5

Who it's for

: Anyone who wants a side hustle to make more money every month
In this review of Start Your Side Hustle by Foundr, I'm going to cover the following points to help you make an informed decision.
What is Start Your Side Hustle by Foundr?
Not many people want to start a business, but a lot of people need a side hustle in addition to a full-time job.
Nowadays, companies dismiss staff from time to time to cut costs, so having a full-time job is no longer secure. If you have a family to provide for, you should diversify the risk and develop a side hustle.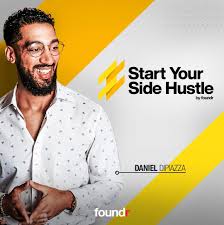 In this era, there are lots of money-making opportunities that can allow you to earn thousands of dollars every month. You don't have to quit your full-time job to do a side-hustle. You also don't have to take the risk to invest a lot of money into building something that doesn't earn you a penny.
Having a side hustle doesn't make you become rich quickly, but it makes a difference to your standard of living by giving you an extra income every month.
So how can you get started with a side hustle? How can you create a quick income in addition to your 9-5 job?
This course by Foundr aims to help you explore the side hustle opportunities and add one more income stream to your bank account.
There are many ideas for a side hustle, but you may wonder which one is the best to begin. Many people procrastinate because of this and never take the first step. Some people blindly waste time and money on an idea that doesn't work at all.
Foundr's Start Your Side Hustle is a course that gives you the complete framework to turn your passion into profits. Yes, you can make more money with your passion.
Get A Special Offer and Instant Access Here
Who is Daniel DiPiazza?
Daniel DiPiazza didn't come from a rich family. Back in 2011, he was just a waiter at a steakhouse.
But he managed to make millions in his twenties through different online side hustles. He also launched multiple successful businesses afterwards.
Daniel DiPiazza now enjoys financial freedom that he travels around the world and works on his own terms.
Due to his amazing success, he has been featured in Entrepreneur, Forbes, Fortune and Time Magazine. He also wrote a best-selling book called Rich20Something.
That's why Foundr chose to partner with Daniel DiPiazza to create this course for people to copy his success.
Get A Special Offer and Instant Access Here
Who is Foundr?
If you don't know what Found is, let me tell you more about it. Foundr started as a business magazine by Nathan Chan.
In a few years, Foundr has grown into a reputable global media and education company that has millions of followers on social media. They have interviewed many successful entrepreneurs and share insights with readers worldwide.
Some successful entrepreneurs even cooperate with Foundr to create valuable business education courses. Their courses are not like traditional school courses. All are taught by practitioners, not professors, which means you are learning from someone who is actually doing the business.
Personally, I hate the theories taught in traditional school. That's why I always recommend people to take Foundr's courses, which are full of actionable business advice that you can implement right away.
An Overview of Start Your Side Hustle by Foundr
You can make extra money every month with a side hustle. Start Your Side Hustle course by Foundr can help you achieve this goal.
Unlike other business models, you don't need capital to get started with a side hustle. Having a service-based side hustle only requires you to have a phone, a computer and an internet connection. The risk is nearly zero.
If you have an existing skill, this course will teach you how to turn this skill into another online income stream. As your side hustle business grows, it may be able to replace your full-time job and allow you to enjoy financial freedom like Daniel DiPiazza.
Here's what's covered in this course:
Module 1: Finding Your Winning Side Hustle Idea
This module is very inspiring. Daniel DiPiazza will teach you how to find the winning side hustle idea. Not every idea is profitable, and most people skip this step and fail.
If you follow Daniel DiPiazza's system to explore side hustle ideas, I'm sure you will come up with one that is most suitable for you and make you quick money.
Module 2: Validating Your Side Hustle Idea
This module has 7 well-explained video tutorials. Daniel DiPiazza will teach you how to validate your side-hustle idea.
That way, you will have a clear idea of how much you can expect to make from the side-hustle. It's important to consider if the side-hustle is worth your time.
Module 3: Client getting Strategies That Work
This is the module I like the most. Daniel DiPiazza reveals his secrets to get high-paying clients. A lot of the proven tactics taught here are not available elsewhere.
You will learn the proven system to attract potential clients and get paid for your service.
Module 4: Building Your Online Presence & Brand
Since it's an online side-hustle, it's important to build an online presence to get more clients. Daniel DiPiazza is very good at this.
He has been featured by many reputable magazines. You may wonder how he builds his brand. He will tell you everything about it in this module so that you can model it.
Module 5: The Art of The Pitch: Positioning, persuasion & Negotiation
This module is an eye-opener for me because Daniel DiPiazza will share the hack to get a client even when you have no testimonials or a good resume to show.
He will teach you how to position yourself so that potential clients will trust you and pay you.
Module 6: Delivering the Service: Managing Clients & Operations
This final module is about scaling your side-hustle business. You will learn how to set up your whole operation process so that you can manage more clients.
If you want to scale your side-hustle business to the next level so that it can replace your full-time job, you must pay attention to this module. Daniel DiPiazza is really good at scaling a business to 6-figure.
Bonuses
After enrolling in this course, you will be able to get access to the private Facebook group where you can ask questions and interact with other students.
Another valuable bonus is that Daniel DiPiazza will give you the copy-and-paste client generation scripts and templates. You can just customise them by filling in the banks and sending them to your prospects. These scripts have been tested and proven to work.
Get A Special Offer and Instant Access Here
Who is Start Your Side Hustle by Foundr For?
Anyone who wants to start a side hustle and make quick and extra money can enrol in his course.
Daniel DiPiazza has done the hard work for you by going through trial and error. Over the years, he has come up with a proven system that can take one from zero to landing the first paying client.
Anyone can follow Daniel DiPiazza's system. You don't have to be very smart to succeed with this system. And you don't have to waste time to figure out the most effective ways to succeed. Just follow Daniel DiPiazza's advice and achieve your goal quickly.
Learn more: legit ways to make money online
What I like About Start Your Side Hustle by Foundr
Starting a business can make you become a millionaire but most people fail. The risk is much higher when it comes to starting a business from scratch.
I like the idea of starting a side hustle in this course. Unlike a business, a side hustle can give you 100% profit margin. You don't need any capital to get started. You don't have to worry about the inventory costs, rental or advertising cost.
Also, I agree with Daniel DiPiazza saying that you don't need a fancy resume or testimonials to start a side hustle.
Daniel Dipiazza understands that people want to make quick money with a side hustle, so his teaching focuses a lot on speed.
By following the step-by-step process of this course, many students manage to get the first client and get paid within a month.
I'm a big fan of Foundr's courses because the course instructors are not gurus but practitioners. In this course, you're learning from Daniel DiPiazza who successfully went from a steakhouse waiter to starting multiple profitable side hustles.
Daniel DiPiazza provides you with many case studies and examples so that you will have a more concrete idea of what to do and what not to do.
I was so amazed by Daniel DiPiazza's BETA Group and AMMO Framework, which is a genius concept that can help you succeed faster than other people.
Get A Special Offer and Instant Access Here
Pros and Cons of Start Your Side Hustle by Foundr?
Pros
This course is very comprehensive and easy to follow

Daniel DiPiazza has an amazing track record of success in building profitable side-hustles

The video lessons are professionally made

Daniel DiPiazza has many verified success stories of students

I like the professionally-made workbook which is very helpful to guide you through the course
The copy-and-paste templates are very helpful for starting a side-hustle business quickly
Daniel DiPiazza gives a lot of concrete examples in this course, making it easier to digest
The video quality of this course is very professional
Cons
Some people think the course is a bit expensive. This is true but if you consider the value you receive, the price is fair. If you hire Daniel DiPiazza to be your personal coach, the cost will be 10 times or even more. So I personally think that the price of this course is not expensive.
Final Verdict: Start Your Side Hustle By Foundr Review
Having a side hustle is essential to secure your living standard. If you want to make extra money in your spare time, Start Your Side Hustle by Foundr can help you for sure.
Remember, you don't need to quit your full-time job to start a side hustle. You can adjust your workload flexibly.
If you have no experience of starting a side hustle and don't want to waste your time testing, you should learn the proven system in this course.
Remember, if you desire financial security and peace of mind, it's time to invest in yourself and start a profitable side hustle. It's going to be a life-changing decision.
If you are not sure about this, you can join the free masterclass and see how much you like Daniel DiPiazza's teaching.
After that, when you are ready to dive in to succeed, I highly recommend you getting the full course here.
You won't regret it because you will be able to start a side hustle that can make you thousands of dollars every month. Your friends or family will be amazed by what you achieve.
Get A Special Offer and Instant Access Here
What is the Best Alternative of the Start Your Side Hustle Course?
Building an online business requires different aspects of knowledge. You may also want to learn about other business models such as eCommerce.
Since Start Your Side Hustle course only focuses on starting a side hustle, it may not satisfy those who want to learn other business skills.
That's why Foundr has launched a membership platform called Foundr+. By joining Foundr+, you can get access to all the courses of Foundr with one membership fee, including Start Your Side Hustle. You can also access any new courses released by Foundr in the future.
The price of Foundr+ is a bit more expensive than Start Your Side Hustle, but the value far exceeds the price difference. Joining Foundr+ only costs $1499 a year. You won't have to purchase Foundr's courses one by one. Foundr may increase the membership fee later as their platform gets more and more well-developed. So if you are interested in joining Foundr+, make sure you lock in the special offer before it ends.
Get Instant Access to Foundr+ Here
Start Your Side Hustle by Foundr FAQs
Is it okay if I'm just starting out and don't know what kind of side hustle to create?
You've come to the right place! With Daniel by your side, you will see how to take a skills inventory and work out which idea aligns with your passion and profit goals. In addition, you will learn to validate your idea and get paid before you risk anything!
Does this require me to quit my job in order to work full-time?
No, you do not need to quit your job right now, in fact, we recommend you to hold off until you have enough income from your side hustle to make the switch smoothly without jeopardizing your family and lifestyle.
Start with 1 hour a week and grow your skills from there. Note: Daniel did this. You can, too. Don't take unnecessary risks.
How Much Money Do I Need To Get Going?
An advantage of starting a side business is you don't really need any money to get started. Imagining opening a cafe or manufacturing plant where you have to invest a lot of money upfront and there is no guarantee that you will make your money back.
The course will teach you exactly how to do that without crazy investments on your end. Plus it helps that you have 100% profit margins and no overhead to worry about.
What sets your course apart from others?
There are lots of "gurus" who get rich by selling courses…that's not what Foundr does. Foundr brought in Daniel because he has made millions doing the side hustle thing from scratch. He also helps others do the same!
How do I get additional support after the course?
The "secret sauce" that helps you stick to a course involves accountability, guidance, validation and encouragement.
As soon as you register, you'll gain access to the closed Facebook group, where you'll meet other online side hustlers who can help you along the way to building a profitable online side business. You might even find your first client! This collaboration could not be more valuable.
Get A Special Offer and Instant Access Here