Are you looking for a review of the Rapid Course Formula by Foundr? If yes, this review is for you!
Online education is booming. In the United States alone, there are more than 6 million Americans doing online learning. Given the high costs of higher education, online courses have helped millions of people improve their skills at affordable costs.
With such a high demand, you might be interested in creating your own online courses and offering them as digital products. However, how can you increase your chance of success?
Rapid Course Formula is now one of the most popular courses online that teaches you how to make money by selling courses.
I've enrolled in Rapid Course Formula myself and completed the course, so I believe I'm eligible to tell you more about it.
To help you decide if Rapid Course Formula is suitable for you, I have written this detailed review so that you can make a more informed investment.
Key Points: Rapid Course Formula Review
Course Name

: Rapid Course Formula

Special Offer: Get A Special Offer Here
Instructor

: Nathan Chan

Overall Rank

: 4.9/5

Who it's for

: Newbie to Expert in Selling Courses
In this Rapid Course Formula Review, I'm going to cover the following:
What is Rapid Course Formula by Foundr?
Online courses have become so popular nowadays that it's a golden opportunity to make money by selling courses. Many people earn a six or even seven figure income by sharing unique skills, knowledge and messages with the world.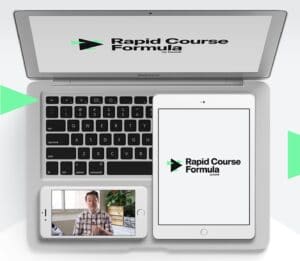 All kinds of people from influencers, bloggers, consultants and even existing business owners are tapping into this super profitable online education movement. A recent study predicts that the online education market will double to $438 billion in the coming years.
So as an entrepreneur, you may want to know how to develop an online course that can sell well.
The Rapid Course Formula will give you an in-depth roadmap for creating a valuable course. From topic validation, to marketing and production, you will learn the tricks that have helped Foundr become a multi-million dollar education company.
Get A Special Offer and Instant Access Here
Who's Rapid Course Formula For?
Rapid Course Formula is for anyone who wants to create an online course for sharing their expertise or skills with the world. It's also great for anyone who has created a course before but failed to scale into the six or seven figures.
Actually, to create an online course, you don't even need to have the knowledge because you can partner with some experts and have them teach their courses. This is what Foundr is doing where they cooperate with many world-class experts to create and sell courses.
So if you have special skills or knowledge and want to turn it into an income stream, Rapid Course Formula is for you. You can monetize your skills and never trade time for money again.
In this course, you will learn the step-by-step process used by Foundr to create, launch and sell hundreds of online courses. You won't want to waste time and money guessing on how to create, market and sell your course.
Who is Nathan Chan?
Nathan Chan is the founder and CEO of Foundr Magazine, which is one of the fastest growing online entrepreneurial brands. He has the Foundr team and overseen the successful creation and marketing of Foundr courses.
He has worked with many famous entrepreneurs like Mark Cubamn, Arianna Huffington, Tim Ferriss, Jack Dorsey, and more!
Given Nathan Chan's experience in creating and selling online courses, he is the best person to teach you how to do it.
Who is Foundr?
Foundr is a global media and education company that connects millions of people with some of the most successful living entrepreneurs. It has more than 2.3 million followers on Instagram.
Foundr has the strict "no guru" policy where they only work with proven practitioners, real entrepreneurs who built the exact business they are teaching you. What they like to teach is a proven process or framework instead of theory.
Since Foundr itself is an online education company that produces a lot of 7-figure online courses, they are certainly qualified to teach you how to create and sell courses.
In this course, Foundr fully reveals their secrets of success in selling courses. Nathan Chan will tell you every single actionable insight, tool and idea that Foundr themselves have learned and practised. It is a behind-the-scenes look at how Foundr created 7-figure courses from scratch.
Get A Special Offer and Instant Access Here
An Overview of Rapid Course Formula
Rapid Course Formula is really one of the best courses that Foundr has created. They have invested more than $50,000 and close to a thousand hours in building and producing this course.
The course contains 7 modules with bite-sized videos, each one comes with action items so that you can implement right away.
Here're the modules:
Module 1: Online Business Fundamentals—Finding Your Idea

Module 2: Validating Your Course Idea

Module 3: Building Your Audience

Module 4: Producing Your Course

Module 5: Tech Setup

Module 6: Launch & Marketing

Module 7: Bonuses
In Rapid Course Formula, you'll learn the complete step-by-step process of how to:
Identify your online course idea

Validate your course topic

Build your audience before you launch

Develop your course content & produce it at a budget

Develop a marketing launch strategy

Launch your course for monetisation
What I like About the Rapid Course Formula?
What I like about Rapid Course Formula is that it is different from other similar courses taught by gurus. Most gurus actually lack the expertise to give you a practical and clear framework that works for any topic or niche. Usually they only know how to sell courses of their own personal brands.
On the other hand, Foundr is different. It's really an expert in creating courses. They have a team of experts to create so many different online courses, which have attracted more than 500,000 students enrolments worldwide.
Therefore, inside Rapid Course Formula, you will get access to a repeatable system to develop an online course that simply works. Nathan Chan digs so deep into the A-to-Z process of producing a course, building your audience and launching the course for money.
Also, each lesson has action items that you can start working and see results. You will have a workbook which will guide you step-by-step in working towards your goal.
Get A Special Offer and Instant Access Here
Pros and Cons of Rapid Course Formula
Pros of Rapid Course Formula
The course content is very comprehensive that you will learn everything about creating a successful online course.

Video lessons are professionally made and clear.

The workbooks are professionally produced

Get access to the private community and ask questions anytime you want

Get the bonus course of Landing page Formula, which will teach you how to create the best sales funnel and landing page.
Get the bonus course of List Building Mastery that will teach you all the strategies to build an email list.

Get access to done for you templates and exact plug and play campaigns.

Get 3 months of free access to Teachable the leading online course creation platform

Foundr is so confident in the quality of the course that you will get a 365-day money back guarantee.

You will get a certificate upon finishing the course.
Cons of Rapid Course Formula
A bit expensive, but there is a payment plan that can help finance the course.
Is Rapid Course Formula a Scam?
Rapid Course Formula is not a scam. It's a legit course created by a legit and reputable company.
Actually, creating and selling online courses is very profitable indeed. It's also one of the lowest cost business models you can begin today. You don't need to spend money on an office or hiring people, and there is no inventory or logistics to handle as well. That means you have a very high profit margin but low risk.
Moreover, creating an online course is quick and easy. Many six-figure courses are produced in just a few weeks with just a laptop or smartphone. By making the content evergreen, you can create it once and sell it for years without updating the content.
Last but not least, since starting a new business is risky, many first time entrepreneurs choose to sell online courses and find their first time success. That's the best way to start a business without risk.
Therefore, what Rapid Course Formula promises you is not a scam. It's true that selling online courses is very profitable and hence you should definitely grab this chance to make money online.
Get A Special Offer and Instant Access Here
Final Verdict: Rapid Course Formula Review
The process of creating an online course has never been easier. You don't need to have a fancy production set to create a valuable course that will sell.
What you need is a proven framework to succeed. Rapid Course Formula really shows you the exact steps to create a 6 or 7 figure online course.
Sign up for Rapid Course Formula and start building your empire of digital courses.
If you still hesitate to join, you can also watch the free masterclass first.
What is the Best Alternative of the Rapid Course Formula?
Building an online business requires different aspects of knowledge. You may also want to learn about other business models such as eCommerce.
Since Rapid Course Formula only focuses on selling online courses, it may not satisfy those who want to learn other business skills.
That's why Foundr has launched a membership platform called Foundr+. By joining Foundr+, you can get access to all the courses of Foundr with one membership fee, including Rapid Course Formula​​. You can also access any new courses released by Foundr in the future.
The price of Foundr+ is a bit more expensive than Rapid Course Formula​​, but the value far exceeds the price difference. Joining Foundr+ only costs $1499 a year. You won't have to purchase Foundr's courses one by one. Foundr may increase the membership fee later as their platform gets more and more well-developed. So if you are interested in joining Foundr+, make sure you lock in the special offer before it ends.
Get Instant Access to Foundr+ Here
Rapid Course Formula FAQs
If I don't have an email list or an audience, what can I do?
Foundr began as just this. Module 3 is dedicated to teaching you a specific method for starting your own six and seven-figure business. The good news? Most of the time you only need a small audience to start a six-figure business.
If I am just starting out, and am not sure what type of course I'd like to create, what can I do?
Then you are in the right place! Nathan will explain to you how to not only find passions, skills, and unique knowledge that is worth turning into a course, but he will also demonstrate how to make money straight away even if you have not created a course.
Why Should I Enter The Online Course Business Rather Than The Others?
There are so many benefits to running your own online course business. An online course business is low-cost, beginner-friendly, has high-profit margins and price flexibility, is easy to host and manage, is easy to grow, and is one of the best part-time or first-time business opportunities.
Is It Possible For Me To Teach?
It's easy for people to get stuck in the mindset that they have to be the very best at something before teaching it. If that were the case, then millions of entrepreneurs would be out of business.
You don't need to be an "expert" to be a teacher. Just need to know enough in order to help someone get a result. People could care less about your resume if you can help them get the result.
What Sets Your Course Apart From Others?
There are tons of people on the internet teaching people how to make courses, but this isn't one of them. Foundr has created 100+ successful courses and created an 8-figure company from scratch.
If I Need Extra Help After The Course, Who Can I Turn To?
The "secret sauce" that helps you follow through on the course is accountability, encouragement, guidance, and validation.
If you join the program now, you'll have access to an exclusive closed Facebook group where you'll find your tribe who can help you build a profitable online course. This collaboration is priceless.
Get A Special Offer and Instant Access Here