It's common for negative news to spread faster than positive news, and as a result, some people who have never taken a course from Dan Lok have spread rumors that he is a fraud.
However, I have personally invested in his courses and found them to be valuable and helpful in my business. While Dan Lok does offer high-quality free content, it's important to note that his premium content is not always necessary.
One quirk about Dan Lok is that he has a course on just about every topic you can think of.
While I don't want to promote Dan Lok, I do want to clear up some myths about him and point out some flaws in his approach to building his online business.
In this article, we'll take a closer look at the reasons why Dan Lok is being labeled a scam artist.
Who Is Dan Lok?
Dan Lok is a successful businessman, speaker, and author. Dan is best known for his high ticket closing skills which he has demonstrated on his YouTube videos.
Dan was born in Hong Kong and immigrated to Canada when he was 14 years old.
He currently serves as CEO and mentor at "THE ASIAN DRAGON," where he wears many hats. Dan Lok is also a respected business consultant, educator, and entrepreneur.
He is a best-selling author and has made his own millions through hard work and dedication.
It is important to note that Dan Lok is not a con artist in any way.
To learn more, you can read our full review of Dan Lok.
Dan Lok's Net Worth
Dan's net worth is estimated to be $120 million. He is a successful entrepreneur who has founded over 15 businesses in various industries, including online marketing and SaaS companies.
Some of his well-known businesses include Dan Lok Companies, Copywriters.com, HighTicketClosers.com, the Emperor Group, and Quick Turn.
In addition to running a successful online business, Dan is also a best-selling novelist with over 15 published books to his name.
It's likely that Dan's wealth will continue to grow in the coming years.
Best Alternative To Dan Lok's Courses
People Are Calling Dan Lok A Con Artist
Though Dan Lok has received a rating of 4.6 out of 97 reviews on Trustpilot, there are still some customers calling him a scam artist.
This customer Ryan said you can get his advice by reading self-help books.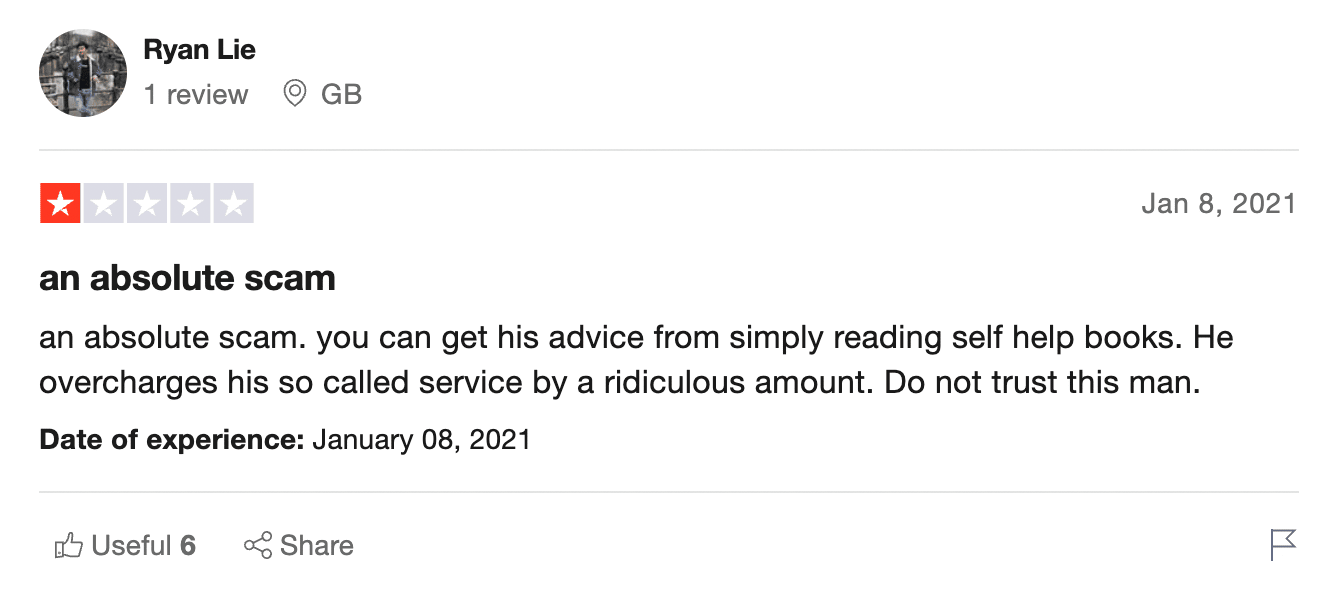 John said Dan is only selling you a dream that probably would never come true.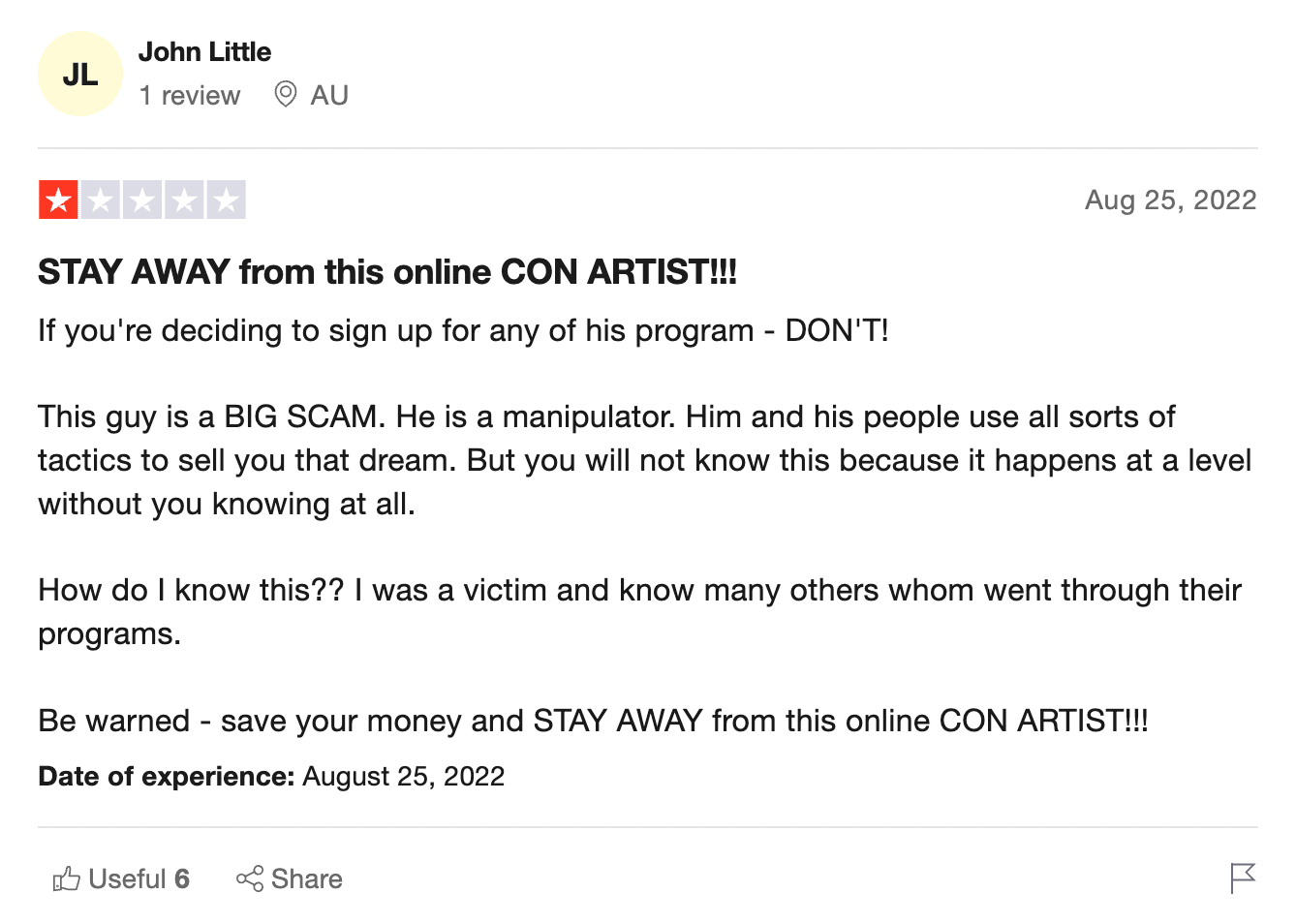 Linus simply asked everybody to stay away from Dan.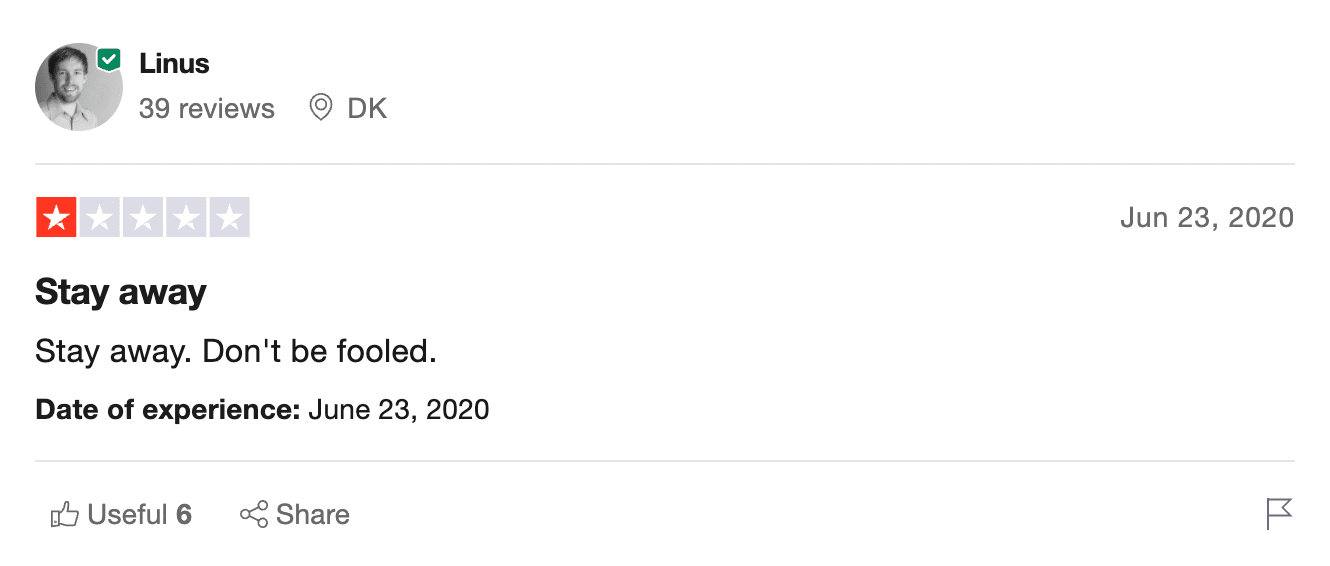 Apart from the reviews I found on Trustpilot, there are also some people calling Dan a con man on Quora. You might have already spotted the topic "Is Dan Lok a scam" on the forum when you google the question.
According to Joe Masters, Dan is only manipulating the newbies' minds by asking them to call him "sifu" which means "master" in Chinese. That way, they would be more willing to fork out thousands of dollars on his courses.
I could say that this kind of tactic that cult leaders use to manipulate their followers really works. Because a few years ago, when I was still practicing Karate, I used to call my instructor "Sifu." And he appeared like an authority to me, not only in martial arts but also in other areas of life, so I rarely question his views. In Chinese culture, disobeying your sifu is highly impolite.
Best Alternative To Dan Lok's Courses
7 Reasons Why Dan Lok Might Be A Scam
First of all, I'd like to clarify that I don't believe Dan Lok is a scam.
Dan is a legit guru who is experienced with online marketing. I have watched many of his YouTube videos and am impressed with his knowledge of copywriting and high ticket closing.
However, Dan has used aggressive marketing strategies, which has angered many of his students. For example, he has all the upsells associated with an opportunity to sell and work for Dan Lok, disguised as a $ 2500-per-month elite mastermind.
People have called Dan Lok a scam for the following reasons:
1. The Cult of "Sifu"
Dan is also known as sifu. The Chinese term for "lifelong teacher" is "Sifu." Using the title "Sifu" for him should be taken seriously, he said. He's basically manipulating his students' minds. One of the other tasks is to watch ten videos from Dan Lok's YouTube channel almost every day.
2. Expensive Upsells
Dan is notorious for his annoying upsells. For example, after you joined his HTC program, he would pitch you "The Inner Circle" in the seventh week. The Inner Circle, according to Dan, would provide you with more advanced training on sales and closing skills. How much does it cost? $2000 down payment with $200 per month.
Dan said you can work with other marketing experts after joining Inner Circle. However, many members said Dan just made them free laborers to work for his marketing projects.
It's interesting to see that even Dan, who teaches high ticket closing, has to use upselling techniques himself. While I'm not a fan of upselling, I know it's a common tactic used by many marketers.
3. Dan's Program Can't Make You A Penny
Most HTC students can't make a penny with Dan's program. The only way they can make a few dollars is by working as affiliates of Dan Lok's programs. In other words, if they manage to convince someone on the phone to sign up for one of Dan's courses, they will get a commission.
This, by the way, is the same strategy used by another famous con artist, John Crestani, who charges his students $999 for motivation.
4. Fake Penthouse
Using the information he presents about his wonderful penthouse, you may find the property at "Three Harbor Green Tower" at 277 Thurlow Street, Vancouver, Canada. You can see pictures and videos of the mansion on the Internet, and it looks much bigger and has walls at least twice as high as the home in his clips.
Also, it is a weekend rental penthouse for wealthy and famous people. He doesn't live in the mansion; he just uses it to fool people and shoot movies.
5. Overpromise On Earnings
Dan has promised that his students will become multimillionaires, but this may not be realistic. He has also marketed a new program, the High-Ticket Millionaire, to his students after only two months in the HTC program, despite many of them not having closed a single deal.
Dan has also made an unrealistic claim that he can turn 300 people into millionaires.
It is important to be careful about making earning claims as it can violate FTC regulations.
It is best to underpromise and overdeliver.
Additionally, students have already invested $4,500 in the program and it may be risky to try to sell them more before it is clear if they are making progress.
6. Fake Job Opportunities
So, here's the deal with High Ticket Millionaire: a bunch of people are paying a ton of money each month with the hope of getting a job with Dan Lok. But let's be real, not everyone can be successful. It's just statistics.
Getting a Ph.D. can definitely open up a lot of doors for employment and financial success. But let's be honest, not everyone who pays for college ends up working for the same company their whole career.
If Dan Lok had charged a few thousand dollars and marketed his program as just a way to learn some new skills, I doubt he would be getting so much flak.
But hey, I'm sure there are a few students who stick around and end up being really successful as closers for Dan Lok's courses.
But seriously, think about it: how many people probably just missed the cut and lost a ton of money on a few months' worth of $2500 fees?
7. Suspicious Tale of Rags To Riches
Dan Lok says he started out as a teenager in online marketing and tried and failed with 13 different businesses before finally finding success as a copywriter at 27. I don't know about you, but that whole story seems kind of sketchy to me.
I mean, we do know that he was born in Hong Kong and moved to Canada with his family when he was 14. And apparently, he started out doing some pretty menial work, like sweeping lawns for wealthy residents. But after he met his mentor Alan Jacques, he found a new passion in life.
But beyond that, it's all just talk. He's always going on and on about making money, writing books, and telling everyone to work hard. It's like he's on a mission to convert everyone to his way of thinking.
And even after watching tons of his videos, I still can't wrap my head around how this guy became so successful in the world of copywriting before he even hit 30. It's just not adding up for me.
Best Alternative To Dan Lok's Courses
Dan Lok's Sales Training is Actually Legit
I have taken both of his sales & copywriting courses, and I have learned a great deal from both.
Of course, Dan overpromised that these courses would make you rich. But they can upgrade your skills and knowledge in sales and copywriting.
Now, let's take a look at Dan's most popular courses:
1. High-Ticket Closer Course ($4,000)
One of my favorite techniques I learned from HTC is called the "hypothetical." This involves responding to objections, like "I need to talk to my wife," by saying something like, "Let's assume (hypothetically) that you spoke with your wife and she's okay with it. Are you ready to move forward now?"
This tactic helps to get past pretexts and address the real issue, which is often a pricing concern.
I found that the skills I learned from this course were even more useful than those I learned from Grant Cardone's sales training.
In my opinion, Jordan Belfort's "Straight Line Persuasion" is the best sales training available, but Dan Lok's course is a close second.
If you want to learn more, you can read my full review of High Ticket Closer course here.
2. High-Income Copywriter ($2,497)
Dan started out as a copywriter for various companies before starting his own agency. Dan has put in countless hours learning the techniques he teaches, so you can trust that his courses are legit.
Unlike some other "gurus" out there who sell copied courses and promote business strategies they've never actually tried themselves, Dan speaks from experience. He brings fresh ideas and insights to even well-covered topics, which shows that he really knows what he's talking about.
You can read the rest of my review on High Income Copywriter here.
Best Alternative To Dan Lok's Courses
So, Is Dan Lok A Scam?
Dan Lok is not a scam. He's a well-known business guru and successful entrepreneur who started from scratch and became a self-made millionaire by age 30, despite not knowing any English.
He's especially skilled at closing deals, as he demonstrates on his YouTube channel. Dan's also had a lot of success with his internet projects, like the Dan Lok Shop.
But just teaching kids how to sell doesn't actually prepare them for entrepreneurship. It just makes them better salespeople for their bosses.
If you're marketing your program as a business opportunity, it's important to offer more than just sales training.
If you don't give young people the tools they need to succeed financially on their own, you'll end up with a generation that has to rely on the person who sold them the dream and a guaranteed salary.
Is There A Better Alternative To Dan Lok's Courses?
If you're tired of feeling like a pushy salesperson while trying to close deals by repeatedly calling potential customers, you may want to consider starting your own business and becoming your own boss.
As an experienced Internet entrepreneur who has successfully created multiple 6 figure businesses, I'd say affiliate marketing is the best alternative to Dan's sales training courses.
Why? Because it doesn't need initial capital and can do it as a side hustle.
In affiliate marketing, you can run your business almost at zero cost without any trouble from sourcing products or managing inventory.
Also, since you don't need to spend hours after hours selling things over the phone, it can save you a lot of time. More importantly, it allows you to enjoy a steady stream of passive income while going on vacation or working a full-time job.
Warren Buffet once said, "If you don't find a way to make money while you sleep, you will work until you die."
The easiest way to make money while you sleep is by getting started with affiliate marketing.
And since the world is full of uncertainty, I'd always choose a business model that has the lowest risk.
But How Much Can You Earn in Affiliate Marketing?

A 21-year-old student from my #1 recommended training platform of affiliate marketing was able to earn $7,395 in just 1 week, which means he made more than $1k a day…all while using free traffic methods and affiliate marketing.
Wealthy Affiliate has existed for more than 10 years and there are many success stories over the years.
To give you more examples, here are some of the other inspiring success stories of Wealthy Affiliate members.
Where to Join Wealthy Affiliate?
Wealthy Affiliate has a very simple pricing scheme. It has a free and premium membership.
If you are interested in Wealthy Affiliate, you can sign up for the starter membership here (no credit card required). You can select to be a free member with no time limit.
And as a starter member, you can get instant access to the community, live chat, over 500 training modules, 2 classrooms, networking, building 1 free website, and access to the keyword tool.
You can enjoy all these values without paying a penny.
So I strongly recommend you register a free account and see it yourself.
If you'd like to make passive income and build a 6-figure affiliate marketing business, you can upgrade to the Premium Membership later.
After that, you can get access to everything without any limitations.