Are you looking for a review of Dan Lok's High Ticket Closer Program? Is Dan Lok legit or a scam?
Dan Lok is quite famous on Youtube. His videos featuring closing skills have a huge audience. If you are interested in selling, you might want to buy the High Ticket Closer (HTC) course by Dan Lok. But can it really help you, close clients, over the phone? Or will you be just making Dan Lok rich by buying his courses?
As someone who is passionate about sales and always looking to learn and improve myself, I watched some Youtube videos of Dan Lok. But I'm not here to endorse him or HTC.
Let me begin by making it clear that I'm not affiliated with Dan Lok. That means I'm not paid by Dan Lok to write this review.
I'm here to share with you my views on Dan and HTC so that you can make a more informed decision.
At the end of this article, I'll also share with you a better alternative that has enabled me to earn 4 figures of passive income right after graduating from college.
Below is what I'll be covering in the review of Dan Lok and the High Ticket Closer (HTC) Program.
Who is Dan Lok?
If you have ever thought about selling expensive products or services and searched online for advice on how to do it, you may have come across Dan Lok. He is an extremely successful businessman, as you can see from his expensive cars, mansions, and consultants and partners.
Dan Lok is a multi-million dollar entrepreneur, consultant, speaker, author of several books, and one of the experts on marketing and high ticket sales. He is dubbed the "King of High Ticket Sales".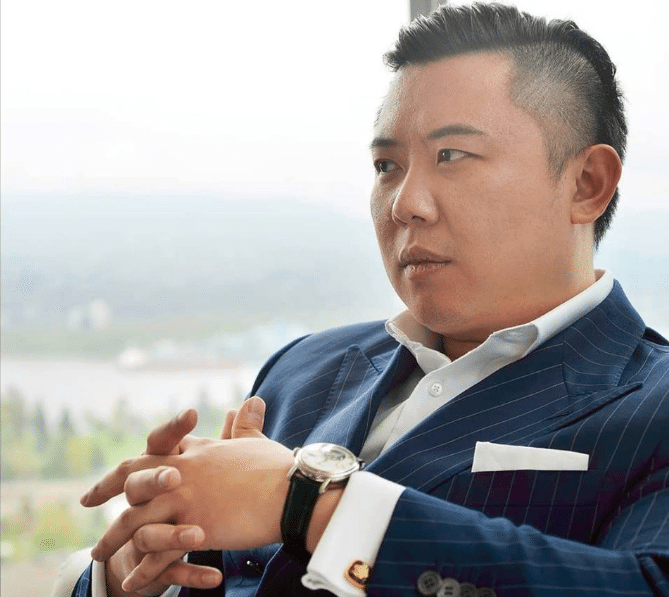 Dan comes from a humble background. As an immigrant from Hong Kong, he couldn't speak much English when he just arrived in Canada.
After failing 13 business ventures, he finally achieved success in copywriting. By age 27, he claims to become a self-made millionaire. This was not verified by any evidence though.
Dan is running multiple companies which include a marketing agency called Dan Lok Marketing Inc, Closers.com, and a SaaS platform that connects companies with closers.
Most famous of all is Dan's personal brand, which he uses to sell his courses.
Recommendation: Here's The Best Alternative
What Does Dan Lok Do? Take A Look At His Programs!
Dan Lok's Vancouver Business Entrepreneurial Conference was founded in 2014, and High-Ticket Closer was published a year later. He is the author of 12 books, including FU Money and Influence.
Dan has over 2.4 million subscribers and is also a viral hit. He gives courses in:
Email Marketing
Public Speaking
PPC Advertising
Sales
Social Media Influencer
Freelancing
Dan's digital programs are available in the Dan Lok Shop.
Below are some highlights of his most popular digital programs:
Dan Lok Sales Courses
More Sales Blackbox ($297)

Talk Less Close More ($49)
The 7 Habbits of Highly Effective Sales People ($49)
Dan Lok has called himself the king of high ticket sales. But since 2021, he has been selling low ticket sales programs at really low prices. He still has solid sales training, but his expensive elite mastermind upsells have created a lot of unhappy customers.
Dan Lok Copywriting Courses
It was while he was working as a copywriter that Dan Lok began to make his mark on the business world. In addition to his thorough education, he has years of experience in this field.
It is essential for any online entrepreneur to be able to write persuasive copy. Paid ads, landing pages, email marketing, and blogging all use them. Content that sells itself is powerful.
You can go here to read my Dan Lok High Income Copywriting course review.
Dan Lok University
This service provides companies with a platform for sales training. I have not found any comments or reactions to it online yet. In some respects, it may be similar to Cardone University.
The most pressing question is whether Dan Lok can be reached through it.
What is High Ticket Closer Program?
High Ticket Closer Program, also known as the Dan Lok HTC course, is an online marketing training program that teaches you how to close high ticket sales. High-ticket sales include expensive items or services.
Dan Lok shows you how to improve your sales skills to close high-ticket sales for your own business. Over the course of seven weeks, he teaches you sales psychology, closing methods, and sales scripts.
High-ticket closing is different from traditional sales. It requires the expertise of a highly trained sales professional who thoroughly understands the mindset of affluent and sophisticated clients.
The training course focuses more on human psychology than the technical aspects of the sales process.
If you want to sell a high-priced product, a yacht, or a villa, you need to speak and act in a certain way.
And HTC could be one of those training programs that teaches you to talk and walk like a professional marketer.
How Does High Ticket Closer Program Work?
High Ticket Closer Program is a series of live calls with Dan Lok, instead of videos, which is not effective at keeping you accountable.
After you join the course, you will be placed in a class with other students who begin the first lesson with you at the same time.
Dan will split up each class into accountability groups of 4-6 students, under the supervision of a successful High Tick Closer graduate to keep you on track and help you when Dan is not close by.
The High Ticket Closer Program is intensive training. It goes on for seven weeks straight without respite. You are forced to work hard by learning from Dan Lok the art of selling.
Recommendation: Here's The Best Alternative
3 Pros of High Ticket Closer Program (HTC)
1. Dan Lok Seems to be a Good Coach
Dank Lok is a great speaker who is able to engage his audience. He tries to help you improve the mindset and tone when selling.
And the way he shows students how to do a roleplay with each other is quite impressive.
Dan Lok is also very motivational that you will learn the positive mindset of selling.
The problem is whether you can really learn how to make money and achieve financial freedom after you enrol in Dan Lok's coaching program. There is no guarantee on this.
2. The HTC Program is Unique
The content of the High Ticket Closer Program is a mixture of Eastern and Western ideas and this is what differentiates the program from other similar ones.
He explains customer psychology and how to use the skill of "selling without selling" to make the prospect accept your sales pitch in a way that is often overlooked in most sales courses. The sales tactics he taught seem to make sense.
3. You Can Interact With Other Closers
There is a High Ticket Closer "inner circle" where you can interact with over 1,000 of the successful closers. You can seek advice on issues you face and get inspiration from the group members to hone your closing skills.
However, you cannot expect to get serious help because other members are your competitors. All of you are competing for the limited vacancies of closers for companies.
Yes, your success will ultimately depend on whether there are good employers hiring you as their closer. Dan Lok will not refer to the job opportunities for you. You have to find them by yourself.
Though the High Ticket Closer Program is quite outstanding when it comes to teaching closing skills, I will go through some of the cons or complaints to get a more objective view of this program.
Recommendation: Here's The Best Alternative
7 Cons and Complaints of High Ticket Closer Program (HTC)
1. Too Expensive
The High Ticket Closer Program is very expensive. You have to pay $2495 for the program and Dan Lok never gives a discount because he's the "King of High Ticket Sales". Giving people discounts will sound weird.
But if you really want to join but do not have $2495 right now, they do offer a payment plan. You can pay 3 monthly payments of $995 but in total, you will be paying much more, i.e. $2,985.
Although the course is expensive, there is no guarantee that you will make it back. It seems that you are making Dan Lok rich instead of the other way round.
After all, it's just a sales course that teaches you a skill. At the end of the day, it relies on yourself to find clients and close them.
2. Free YouTube Content Available
If you want to learn sales skills and a positive mindset, you can actually find a lot of free content on YouTube, including Dan Lok's YouTube channel.
Dan Lok has already demonstrated the closing of high ticket services in a few of his YouTube videos, including helping the customer to envision a future in which their problem is solved and letting them close themselves.
It's all about taking control back from your prospect. For example, you might ask the prospect why he came to you initially, when he said he was thinking about another option. The prospect will then intuitively justify his decision to come to your company instead of another one.
It is unlikely that you will gain much new knowledge from the expensive programme.
3. Dan Received Some Serious Complaints on TrustPilot
I've read a few comments on TrustPilot and watched a few videos where Dan's been depicted as a charlatan and scammer.
I don't think this is true. The guy and his ideas appeal to me. There are always going to be haters, I understand that.
I find it odd, however, to only see negative reviews about Dan Lok on Trustpilot. For a course that claims to have helped thousands of salespeople succeed, this is unusual. There should be a lot of good ratings there if it's true.
Despite that, these accusations do not seem to be made out of thin air, so they should be taken seriously.
Therefore, you might also want to watch this video below:
4. Difficulty Finding Customers or Prospects to Sell To
To be a high ticket closer, even if you think you are able to close clients, there are numerous salesmen to compete with you.
Since you don't have products or services to sell, you have to find a company or an influencer to give you a job as their salesman.
If you just finished Dan Lok's program and do not have any prior experience in sales, it's hard for you to win the trust of influencers or business owners.
They won't give you prospects to close if you don't show them testimonials.
Since leads are very valuable, most business owners or influencers do not give them to newbies to close for them. Otherwise, it will burn their list of prospects.
5. You Must be Knowledgeable About the Fields In Which You Act As the Closer
To become a successful high ticket closer, one important thing is to find suitable high ticket products that you can sell.
I have some examples for you. For example, dating coaching, SEO, financial consultations, financial advice, marketing consultations are usually expensive services.
If you can sell these services, you will be able to make more commissions.
However, to be a high ticket closer to these professional services, you have to be familiar with them yourself. For example, if you don't know what SEO is, you won't be able to communicate with prospects and close them.
And when you apply for the sales job of these companies, they will also require you to have specialised knowledge in these services. Therefore, simply having a closing skill is not enough.
6. You Can't Make Passive Income With High Ticket Closing
Since High Ticket Closing is just a specialised skill, you cannot make passive income with it.
If you can't find a sales job and make sales, you won't have any income.
Warren Buffet said, "If you don't find a way to make money while you sleep, you will work until you die."
Therefore, to become rich, it's important to learn how to make passive income instead of just learning a sales skill.
Building a digital asset is the best way to make passive income. A digital asset can generate a stable stream of passive income for you.
7. High Ticket Closers Do Not Get Paid on Commission
During a conference, Dan Lok once said that the earning potential of a high ticket closer is determined by the commission, product price, and closing skill.
That sounds wonderful, but it isn't true. As you can see, Fiverr and Upwork have a large number of top high-ticket closers. They all charge hourly rates. In contrast to what Dan Lok claims, there is no shortage of closers in the world.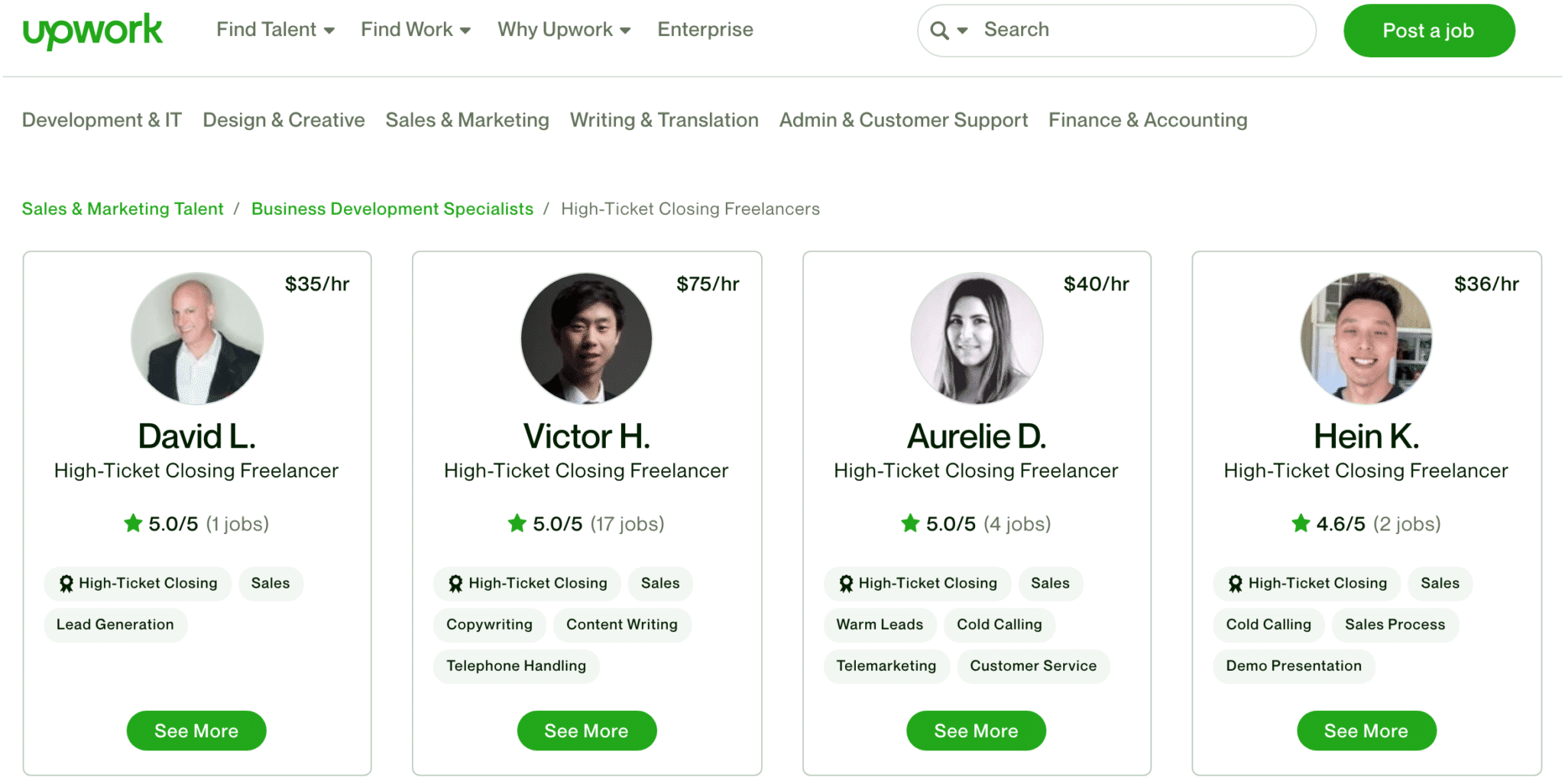 Companies won't be willing to pay high ticket closers commissions because the salespeople didn't bring them any prospects. The only thing they have to do is answer a few questions and listen to concerns from customers. Therefore, they can be easily replaced.
You can't make 10k a month just by talking on the phone unless you have a strong personal brand like Dan Lok.
The only way to make 10k a month while travelling around the world is to create a digital asset that generates earnings while you sleep.
In the last section, I will talk about how you can start building a digital asset today.
Recommendation: Here's The Best Alternative
High Ticket Closer Price and Upsells
When purchasing the program, you have two options.
One-time payment of $2495

Paying $995 each month for three months
As soon as you enter, you'll find even more offers from Dan Lok.
Upsells
A membership in Dan's inner circle is $1995 one time, then $200 a month – you have exclusive access to his students who are the most successful.
$30,000 one-time fee for high ticket millionaires. Advanced training for those who want more.
Refund Policy
You can get your money back if you purchase the High Ticket Closer program and then change your mind.
Its refund policy, however, is not standard and there are no questions asked.
You cannot get a refund unless you've taken action with the course.
During the 30-day period, you can test the program and file your request if you aren't satisfied.
Refunds can also be obtained after 30 days, but they are less guaranteed and more complicated.
Recommendation: Here's The Best Alternative
Is Dan Lok A Scam or Legit?
Dan Lok is not a scam. He is a legit guru who is experienced with online marketing. I have watched many of his YouTube videos and am impressed with his knowledge of copywriting and high ticket closing.
However, Dan has used aggressive marketing strategies, which has angered many of his students. For example, he has all the upsells associated with an opportunity to sell and work for Dan Lok, disguised as a $ 2500-per-month elite mastermind.
People have called Dan Lok a scam for the following reasons:
1. The Cult of "Sifu"
Dan is also known as sifu. The Chinese term for "lifelong teacher" is "Sifu." Using the title "Sifu" for him should be taken seriously, he said. He's basically manipulating his students' minds. One of the other tasks is to watch ten videos from Dan Lok's YouTube channel almost every day.
2. Expensive Upsells
Dan is notorious for his annoying upsells. For example, after you joined his HTC program, he would pitch you "The Inner Circle" in the seventh week. The Inner Circle, according to Dan, would provide you with more advanced training on sales and closing skills. How much does it cost? $2000 down payment with $200 per month.
Dan said you can work with other marketing experts after joining Inner Circle. However, many members said Dan just made them free laborers to work for his marketing projects.
3. Dan's Program Can't Make You A Penny
Most HTC students can't make a penny with Dan's program. The only way they can make a few dollars is by working as affiliates of Dan Lok's programs. In other words, if they manage to convince someone on the phone to sign up for one of Dan's courses, they will get a commission.
This, by the way, is the same strategy used by another famous con artist, John Crestani, who charges his students $999 for motivation.
4. Fake Penthouse
Using the information he presents about his wonderful penthouse, you may find the property at "Three Harbor Green Tower" at 277 Thurlow Street, Vancouver, Canada. You can see pictures and videos of the mansion on the Internet, and it looks much bigger and has walls at least twice as high as the home in his clips.
Also, it is a weekend rental penthouse for wealthy and famous people. He doesn't live in the mansion; he just uses it to fool people and shoot movies.
Recommendation: Here's The Best Alternative
High Ticket Closer Review: Is It A Scam?
High Ticket Closer is not a scam. It is a legit program. But when it comes to making money, high ticket closing is far more difficult than you think.
Certainly, Dan Lok is a successful entrepreneur with many followers on social media. And he does provide a lot of value to the audience in his videos.
But Dan Lok focuses so much on the colorful aspect of High Ticket Closing that he rarely tells you the truth.
If you just want to become your own boss, actually learning a sales skill might not be necessary. It's more suitable for someone who has a job as a salesperson.
Dan Lok's program can be useful if you're seeking a job where you can focus on closing. It is best if the leads have already been set up for you and are qualified for you.
However, don't expect to earn much if you're not working for investment banks where salespeople carry prestigious titles such as MBA.
In summary, Dan overestimated the earning potential of high ticket closing. This explains why some of his customers called him a con artist on Trustpilot: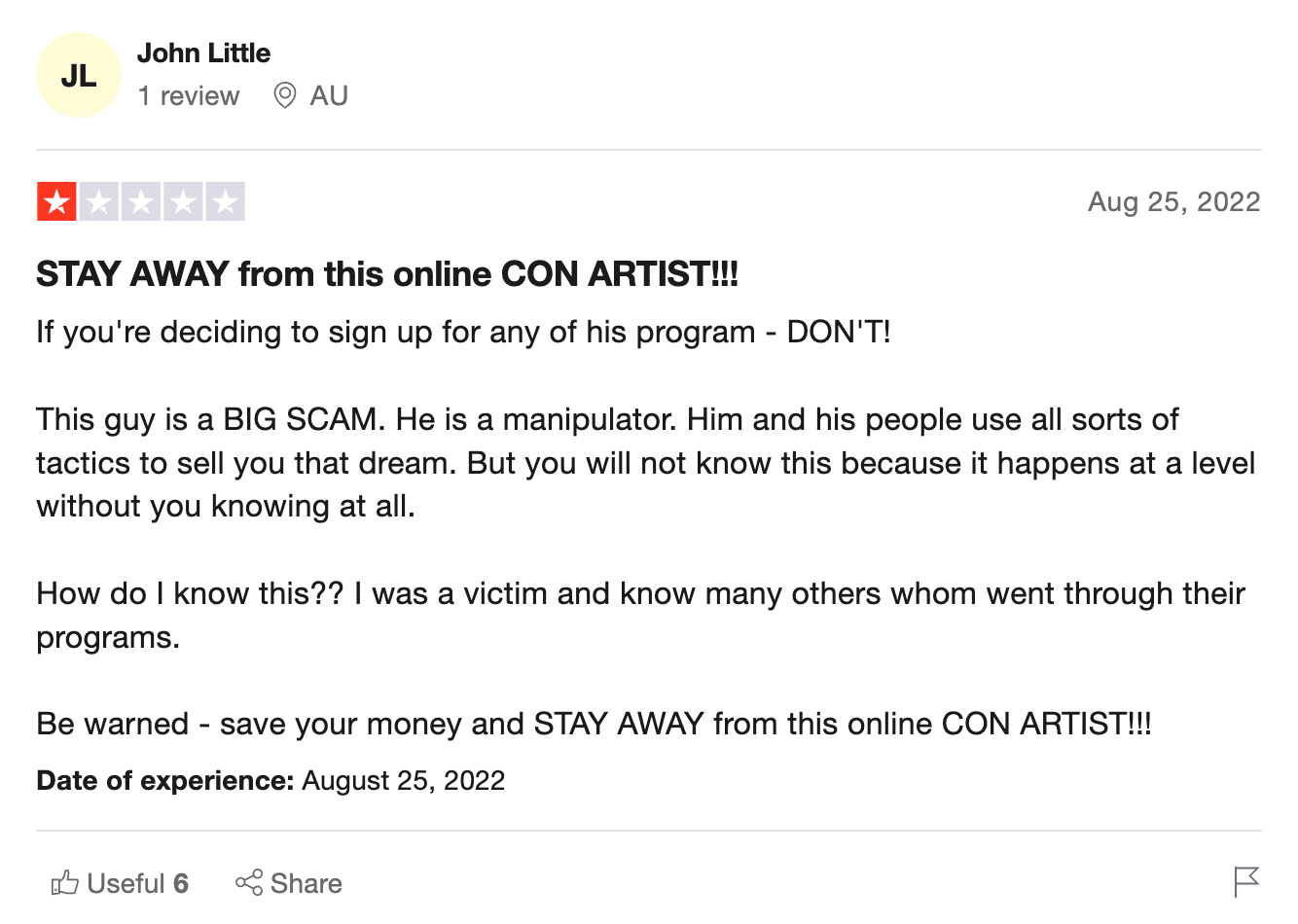 To build your own business and become an entrepreneur, you are recommended to do affiliate marketing with zero cost and risk.
When you do affiliate marketing, you generate leads for companies, so they are more willing to share 50% commissions with you.

I will talk about this in the last section of this article.
Recommendation: Here's The Best Alternative
Best Alternative To High Ticket Closer Program
As an experienced Internet entrepreneur who has successfully created multiple 6 figure businesses, I'd say affiliate marketing is the best alternative to High Ticket Closing.
Why? Because it doesn't need initial capital and can do it as a side hustle.
In affiliate marketing, you can run your business almost at zero cost without any trouble from sourcing products or managing inventory.
Also, since you don't need to spend hours after hours selling things over the phone, it can save you a lot of time. More importantly, it allows you to enjoy a steady stream of passive income while going on vacation or working a full-time job.
Warren Buffet once said, "If you don't find a way to make money while you sleep, you will work until you die."
The easiest way to make money while you sleep is by getting started with affiliate marketing.
And since the world is full of uncertainty, I'd always choose a business model that has the lowest risk.
But How Much Can You Earn in Affiliate Marketing?

A 21-year old student from my #1 recommended training platform of affiliate marketing was able to earn $7,395 in just 1 week, which means he made more than $1k a day…all while using free traffic methods and affiliate marketing.
Wealthy Affiliate has existed for more than 10 years and there are many success stories over the years.
To give you more examples, here are some of the other inspiring success stories of Wealthy Affiliate members.
Where to Join Wealthy Affiliate?
Wealthy Affiliate has a very simple pricing scheme. It has free and premium membership.
If you are interested in Wealthy Affiliate, you can sign up for the starter membership here (no credit card required). You can select to be a free member with no time limit.
And as a starter member, you can get instant access to the community, live chat, over 500 training modules, 2 classrooms, networking, build 1 free website, access to the keyword tool.
You can enjoy all these values without paying a penny.
So I strongly recommend you to register a free account and see it yourself.
If you'd like to make passive income and build a 6-figure affiliate marketing business, you can upgrade to the Premium Membership later.
After that, you can get access to everything without any limitations.