Forbes has named Grant Cardone, best known as the author of The 10X Rule and Sell or Be Sold, the world's most influential marketer.
But you may wonder if Grant Cardone University is a scam.
To help you get the most out of this Grant Cardone University review and decide for yourself whether or not you should invest in the course, I'll talk about Grant Cardone, the course, and the training and upsells associated with the course.
As a disclaimer, I'm not affiliated with Grant Cardone. It means I'm not paid to write this review. So you can rest assured that you will get an honest and unbiased review from me.
At the end of this review, I'll also tell you the best alternative to the Cardone University course that has enabled me to make a full-time passive income online.
Who is Grant Cardone?
Grant Cardone is a successful speaker and businessman who specializes in sales, leadership, real estate investing, entrepreneurship, and finance. His five companies have a combined annual revenue of over $300 million.
Grant, the son of Italian immigrants, describes himself as a "middle-class man who came from nothing"
First, he worked at McDonald's, then at a country club, a clothing store, a furniture store, and finally on offshore boats, each of which he was laid off from until he finally ended up in drug treatment.
He did not know where he was or what to do.
But at 23, he made the decision to take his destiny into his own hands and accept nothing less than success.
Cardone attributes his success to his unique perspective on life and understanding of human nature.
In the video below, he shares his thoughts on success and how to achieve it.

Recommendation: Here's The Best Alternative
How did Grant Cardone get rich?
When Grant was 23, he was like "I'm not gonna fail, I'm taking control of my life." And you won't believe what happened next – he became a car salesperson and worked his butt off for the next two years.
He ended up selling more cars than the dealership owner and became one of the top 1% of car salespeople in the country. But then he left the dealership because he saw some shady stuff going on and got fired for calling it out.
After saving up some money, Grant bought his first house at 29 – a single-family home in Houston. But things didn't go as planned and the tenants moved out, and the house started losing money.
But Grant learned a valuable lesson – when it comes to real estate, go big or go home.
By 34, he had saved most of his sales salary and bought a 38-unit apartment complex in San Diego. And he's been investing in real estate ever since, building a nine-figure portfolio.
How much is Grant Cardone worth today?
According to our research, Grant Cardone might be an undercover billionaire who has an estimated net worth of $2.6 billion.
Cardone's seriously loaded – he's got tons of real estate and successful businesses under his belt. Lots of Fortune 500 companies have already reaped the benefits of his expertise, and it looks like this trend isn't slowing down anytime soon.
Cardone's definitely had to overcome some challenges to get to where he is today in the real estate world. But his tenacity paid off and now he's got a huge fortune and a solid group of loyal clients. He's the perfect example of breaking free from limitations and making it big.
Recommendation: Here's The Best Alternative
Grant Cardone 10X Planner
If you're looking for an affordable way to tap into Grant Cardone's wealth-building wisdom, the 10X Daily Planner is a great option. All you need to do is use it to manage your day-to-day schedule and stay organized. You could also check out some of his books, like The 10x Rule.
Some tips for using the planner:
Schedule your day:

This will help you make the most of your time and set yourself up for success. Make sure to set reminders for yourself and try to complete tasks as efficiently as possible.

Write down your goals:

Having goals is important – it gives you something to work towards and keeps you motivated. Make a list of your goals and keep them at the forefront of your mind.

Motivate yourself:

You are the only one who can truly motivate yourself to achieve big things in life. Take inspiration from successful people and use quotes as mantras to push yourself towards your goals.

Set high targets:

Don't be afraid to aim high and raise the bar for yourself. You are capable of much more than you think. Once you have your goals set, be dedicated to achieving them and don't lower the bar for yourself.

Note your accomplishments:

Every time you solve a problem or complete a task, write it down as a positive accomplishment. This will help motivate you to do more of the same and learn from your failures.

Keep your goals in mind:

Don't let go of your goals like a lion with its prey. Review your goals at the end of the day and add new ones. Make them big and exciting, and push yourself to greatness by achieving them.
What is Cardone University?
Cardone University is Grant Cardone's baby. It's a high-priced online education platform that aims to be the best in the world. The course covers a wide range of topics, including sales, intake management, motivation, goal setting, and webinars. Plus, new material is constantly being added.
I've found that the structured format of the course really helps you absorb the lessons and make them a part of your own knowledge. Grant is great at providing practical, actionable tips that you can apply right away, like sales scripts and techniques for following up with potential customers. Plus, he has a way of inspiring you to achieve more and get better results.
One thing I really like about Cardone University is that it's hosted on the Lightspeed platform VT by Brad Lea, which makes it easy to understand and navigate. There are over 1100 videos on the platform to help you in every aspect of your business.
Overall, I think Cardone University is a great resource for anyone looking to improve their sales skills and achieve more in their career.
Recommendation: Here's The Best Alternative
What can you get at Cardone University?
Grant Cardone has a ton of lessons available on his university course – like, over 1,700 of them. He's always adding more too, to make sure his students are getting everything they need.
The course covers both the technical stuff and the mindset stuff, which is super important. I mean, the way you think about things can seriously impact your success in business.
And when it comes to sales, it's all about being happy, focused, and motivated.
These are some of the course topics:
Personal Finances

Handling Objections

Basics of Selling

100 ways to stay motivated

Cold Calling

and many more!
Grant Cardone University Modules
Grant Cardone University offers the following cornerstone modules:
Selling Basics (28 Courses)

Understanding the Buyer (29 Courses)

The Sales Process (73 Courses)

Theory of Closing (42 Courses)

Closing Strategies (106 Courses)

Incoming Calls (22 Courses)

Prospecting (30 Courses)

Follow-Up (132 Courses)

100 Ways to Stay Motivated (101 Courses)

Top Traits of Great Sales People (65 Courses)

Internet Lead Response (23 Courses)

Personal Finance (21 Courses)

Handling Objections (322 Courses)

And More Content Being Added Every Week!
Who is Grant Cardone University for?
Grant Cardone University is basically a training program for salespeople. But, really, I'm not just talking about people who have "sales" written on their job title. If you run a business, you're in sales. If you work on commission, or if you're trying to convince your partner to buy a new car, you're in sales too. If you're not selling, you're being sold. Got it?
Anyway, if you work in sales and want to improve your skills by tenfold, this course is for you. Grant provides you with the foundational skills you need to succeed, no matter where you're starting from.
Sure, you might be able to have some success without the program, but it's unlikely to last. Investing in your education with Grant Cardone University will pay off for a lifetime.
Recommendation: Here's The Best Alternative
Pros
This course is not just theoretical – Grant actually shows you how he makes real sales calls. You won't find this level of detail and transparency in other courses.

Grant goes into a lot of detail and explains not just HOW to sell, but also WHY certain techniques work.

The objections and closing techniques are very valuable for success in sales. Once you understand the dynamics between buyers and sellers, you can utilize these techniques to improve your company's success.
Cons
Grant's sales techniques can be quite aggressive. So if you're not comfortable being pushy, this course might not be for you.

Be prepared for a lot of material – you'll need to take your time to understand everything and you might need to watch certain videos more than once and take notes.

Some courses offer brief, 5-7 minute videos that can be helpful for taking notes and preparing to create your own content. However, other courses may not provide enough information, as some of the videos may be as short as 15 seconds.

It's important to consider that the strategies that worked for Grant during his 40-year career as a salesman might not be as effective for someone who is younger. This is something to keep in mind before deciding to enroll in a course.
How much does Cardone University cost?
Grant Cardone University costs $1497 a year. Now, this price might change based on demand – if lots of people are interested, it might go up a bit.
But if you see some bloggers saying it usually costs $19,815, don't worry – that's just the regular price and it's currently being discounted. Hope that clears things up!
Is Grant Cardone's sales training better than other gurus?
Grant's sales training might not be as specific as some other business gurus, but it's still really helpful for anyone in sales or customer service.
He's all about practical techniques that really work, no matter if you're selling houses or pots and pans. Plus, his methods work for sales in person or over the phone.
But, like Gary Vaynerchuk says, in the internet age, it's important for entrepreneurs to be their own publicists and online marketers. When people visit your website, it's often the first point of contact in the sales process.
So, it's crucial to know how to make a name for yourself, build a following, increase your online visibility, and target your audience to make the most of your online presence.
Dan Lok is also great at combining traditional sales strategies with modern online marketing tactics. From him, I learned how to position myself so that clients are already sold on me and what I have to offer before they even get in touch.
Overall, all of these experts draw on their own experiences to create their teachings and techniques.
Recommendation: Here's The Best Alternative
Should you buy the Cardone University course?
Cardone University is Grant Cardone's most expensive offering, and it's the focus of his company's marketing efforts. It's a course that's available to both individuals and companies, and it's marketed as the best online sales training in the world.
While some of the concepts covered in the course might be familiar if you've consumed Grant's free content on YouTube and social media, the organized style of the course and the ability to review and study the material make it easier to learn.
That being said, Cardone University isn't like other courses I've reviewed. It's not a "done-for-you" course that promises to make you rich overnight.
If you're looking to become a sales leader, this course could be a good fit for you.
However, if you're looking to start a business, you might want to consider some different training.
Personally, I'm not a fan of cold calling or trying to sell to people who may not be interested, as Grant suggests.
Instead, I've found an opportunity that doesn't require much in the way of sales skills, as long as you're willing to put in some time each week to create content.
I'll tell you more about it at the end of this review.
Grant Cardone University Alternatives
1. Udemy
Udemy has a ton of great options for sales training courses. They cover just about every topic you can think of and offer courses in multiple languages. Plus, Udemy lets instructors create their own courses, so it's a fantastic platform for anyone who wants to share their skills with the world.
One of the best things about Udemy is how affordable it is. Most courses cost less than $200, making it a budget-friendly way to learn new things or expand your knowledge.
And if you're not happy with a course you've signed up for, Udemy offers a 30-day money-back guarantee, so you can get your money back if the course isn't right for you.
You can read our full review of Udemy here.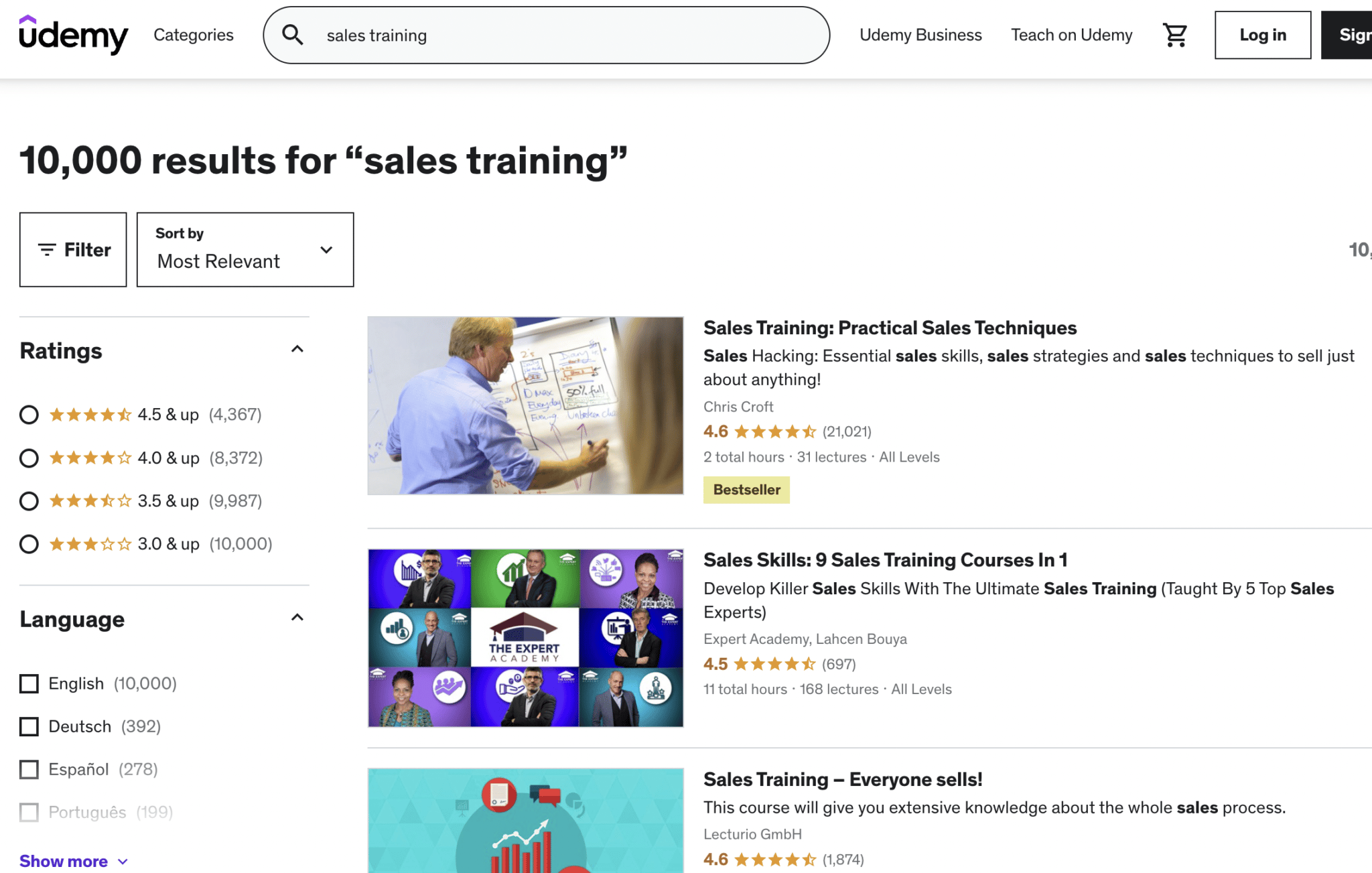 2. Coursera
So, you're looking to boost your skills and knowledge in sales, marketing, or management? Coursera has got you covered with online courses and specializations from top-ranked schools like Northwestern, University of Michigan, and University of Illinois at Urbana-Champaign.
And the best part is, you can study at your own pace without sacrificing the quality of your education. Plus, upon completing a course, you'll receive a free statement of achievement from Coursera.
If you want a more official certification, there are options available for a fee, and financial assistance is available for those who need it.
And for the standout students, there's even the chance to earn a certificate with a distinction.
And with Coursera's certified certifications, you can trust that your course will be seen as high-quality and legitimate by companies and future employers.
You can read our full review of Coursera here.
Is there a better way to make money online?
If you want to make a stable and secure stream of passive income, I would suggest you start an affiliate marketing business online.
Affiliate Marketing is perfect for anyone who is new to online business.
In fact, of all the online business models I've tried, affiliate marketing is the easiest and most rewarding so far.
In affiliate marketing, you can actually run your business almost with zero cost and achieve a steady and sustainable passive income to pay for your bills. You don't need any initial capital and can even do it as a side hustle.
And if you really want to learn affiliate marketing and build a business from scratch, I'd recommend you to get started with the most reputable platform for affiliate marketing: Wealthy Affiliate.

Wealthy Affiliate is an all-in-one platform for building your affiliate marketing business from scratch. It offers you a free account (including a free website) with comprehensive training on SEO (free traffic methods), which enables you to get started with affiliate marketing right away without paying a penny.
But How Much Can You Earn with Wealthy Affiliate?
A 21-year-old student from Wealthy Affiliate was able to earn $7,395 in just 1 week, which means he made more than $1k a day…all while using free traffic methods.
Wealthy Affiliate has existed for 15 years and there are many success stories in the past decade.

To give you more examples, here are some of the other inspiring success stories of Wealthy Affiliate members.

Where to Join Wealthy Affiliate?

Wealthy Affiliate has a very simple pricing scheme. It has a free and premium membership.
If you want to feel about Wealthy Affiliate, you can sign up for the free starter membership here (no credit card required). You can select to be a free member with no time limit.
And as a starter member, you can get instant access to the community, live chat, over 500 training modules, 2 classrooms, networking, commenting, 1 free website, and access to the keyword tool.

You can enjoy all these values without paying a penny.
So I strongly recommend you register a free account and see it yourself.