Amazing Selling Machine (ASM) is a popular Amazon FBA course that claims to be a step-by-step blueprint to scaling your Amazon FBA business to 7-figures including coaching calls and a private community.
However, you might wonder if Amazing Selling Machine is actually a scam. After all, the course is very expensive, and to run the Amazon FBA business model, you need an initial investment of $2500-$4000, including inventory fees and other software costs
Amazing Selling Machine 13 is the latest version of the course and was released in 2022. It is also known as ASM 13 or Amazing Selling Machine Evolution. This Amazing Selling Machine course is the latest in a long line of updates since 2012 and contains 60% more content than the previous version, ASM X.
You may have already read some other reviews about Amazing Selling Machine. However, did you find them sales-oriented? Most of them are affiliates of Amazon Selling Machine, which means that if you buy through their affiliate link, they get a commission. So their testimonials are not trustworthy.
To be transparent, I'm not affiliated with Amazing Selling Machine, which means I'm not paid to write this review. So you can be sure that my words are unbiased.
At the end of this review, I'll also tell you a much better alternative that has enabled me to make a 5 figure monthly passive income over the years.
Amazing Selling Machine Review – Key Takeaways
Course Name: Amazing Selling Machine (aka ASM 13 or the Amazing Selling Machine Evolution)
Price: $5000 or payment plan of 6* $997 monthly
Course Creators: Rich Henderson and Mike McClary
Pros: A Private Community of 30,000+ ASM members
Cons:

The course is super expensive; Amazon FBA is a difficult business model in 2022

Overall Rating: 2/5
The Best Alternative: An All-in-One Platform to Make Passive Income Online
Here's what I'll cover In this Amazing Selling Machine review.
What is Amazing Selling Machine?
Amazing Selling Machine (ASM) is a training program that claims to teach people with no experience how to start and grow a successful Amazon FBA business. It consists of an 8-week online training course, private mentorship program (including coaching calls), global community of sellers, and private resource vault.
FBA stands for Fulfillment by Amazon, a service that enables you to store and ship your products via Amazon's huge warehouse network.
Simply put, the ASM training is all about guiding you through the process of creating your own private label and selling your branded products on Amazon.
Here is what you can expect to learn from this course:
How to select a product for selling on Amazon

Find suppliers and order samples

Drive traffic to your product page using social media and Amazon paid advertising

How to scale your Amazon business
Recommendation: Here's The Best Alternative
Founders of Amazing Selling Machine
ASM was founded in 2012 by Jason Katzenback and Matt Clark. Rich Henderson joined in 2013, and Mike McClary followed soon after.
Below are some background information about the founders of Amazing Selling Machine.
Jason Katzenback
After quitting his job in 2004, Jason Katzenback founded a few successful businesses, each worth millions of dollars. Amazing.com, which he co-founded with buddy Matt Clark in 2012, was a late success. In 2022, he ceased to be the owner of Amazing.
Matt Clark
Matt Clark is the co-founder of Amazing.com and the co-inventor of the Amazing Selling Machine (ASM). Before joining Amazing, Matt Clark worked as an investment banker. He was a top seller on Amazon, taking it from 10 products to over 11,000. By the age of 26, Matt's Amazon business was worth millions of dollars.
He met Jason Katzenback at a Tony Robbins event and decided to work together on ASM, which started as a monthly subscription course and has become one of the most popular Amazon FBA courses today.
Rich Henderson
Rich Henderson is the co-founder of Amazing Selling Machine and director of ASM training materials. He is an online marketer who has over a decade of experience in SEO and affiliate marketing. On the side, he is also in the dropshipping business.
Mike McClary
Mike McClary is a co-creator of the Amazing Selling Machine on Amazing.com (ASM). He was a successful student of the old Amazing Selling Machine course back in 2014. Shortly thereafter, he quit his job and joined ASM as a coach.
According to Mike, he has made millions of dollars on Amazon selling his own products through several successful businesses.
What Is Amazon FBA?
There's no need to introduce Amazon. A technological pioneer and e-commerce giant with roots in seven different countries, Amazon is the "one and only" online shopping destination for 310 million people around the world. Much of Amazon's $241.545 billion in 2018 revenue (as of March 30, 2019) comes from its merchants and marketers.
Since its launch on July 5, 1994, Amazon's retail website has attracted millions of businesses, entrepreneurs, advertisers, and even bloggers from around the world, providing them with a proven platform to generate significant revenue for their businesses.
Due to Amazon's cut-throat competition and strict limitations, the vast majority of those who join the seller platform never make a profit. Another possible cause of their failure is the lack of proper professional training.
You can't deny that the $797 billion value Amazon has amassed thanks to its marketing campaign is staggering. With a market share of 47% in 2018, Amazon holds the monopoly in online retail in the United States; in the European Union, its market share is 13.9% (as of 2017).
If you're serious about succeeding and staying afloat as a seller on Amazon, you'll need to invest time and energy into learning everything you can about the platform and the latest marketing and advertising strategies, just as you'd in any other successful, competitive industry.
Recommendation: Here's The Best Alternative
How Does Amazing Selling Machine Work?
Amazing Selling Machine claims to be a step-by-step guide for people with no experience with Amazon FBA to build a successful eCom business.
The topics ASM covers include product selection, product research, finding reliable suppliers, brand building, private label, inventory management, and paid advertising strategies, etc.
In addition to the 8-week online course, there is a private mentorship program (including coaching calls), a private community of ASM students, and the Private Label Resource Vault.
Listed below is a breakdown of Amazing Selling Machine's core components:
1. The 8-Week Course
There are more than a hundred bite-sized video lectures covering everything from product selection to working with influencers to increasing sales. Even though you have 8 weeks to complete the task, with hard work you can do it in less time.
2. The ASM Mentorship Program
The ASM Mentor Program allows you to meet other Amazon sellers. According to the ASM, the average mentor has generated nearly $2 million in sales through Amazon. However, you can never prove whether the screenshots of their income reports are real or fake.
In fact, you can find pretty much any answer to your Amazon FBA question on Google. In my opinion, ASM has bundled the mentorship program with its course to increase the perceived value of its training program.
3. The Amazing Selling Machine Private Community
The company calls this "the ultimate collection of intelligence" regarding Amazon FBA. However, it's more or less a private Facebook group like you'll find with most online business courses.
Some reviewers of ASM said that the private community around ASM is one of the best in the industry and that 99% of the time you can get help from members who have already overcome an obstacle, which seems like an exaggerated claim to me.
4. The Private Resource Vault
The Private Resource Vault is a collection of tools and resources that the founders have personally used to build their own Amazon stores. Tucked away in this vault are supplier templates, product evaluation templates, contact deals of services like transportation companies and photographers, and discounts to services that help you grow.
Recommendation: Here's The Best Alternative
An Overview of Amazon Selling Machine Course
ASM 13 is the latest version of the Amazing Selling Machine.
This new version is a significant improvement over ASM 12 (60% new content).
Jason and Matt analyzed customer traffic and conducted surveys to identify the most pressing issues and barriers to sales. The team then developed and implemented additional features, tools, and services to address these issues.
A private sourcing agent:

ASM helps you find 3 suppliers and negotiates the prices and terms on your behalf.

Lead-gen Google Chrome extension: A tool that helps you find

low-competition products with earning potential.

Free lifetime upgrades: Lifetime access to every new version of the tool.
Coaching calls: You can contact Mike McClary and Rich Henderson personally and ask them questions.
Dan Ashburn's launch strategies: Launch strategies Dan has used to generate 12 million in sales.
Amazon branding tool suite: A collection of tools to help you build a private label.
Below are the modules of this latest version of the ASM 13 course:
Module 0: Welcome and Overview
This module will teach you how to set up your Amazon seller account. Particularly, it will talk about how to navigate the course dashboard and avoid your Amazon seller account being suspended.
Although it is an introduction module, it is very long that Rich Henderson keeps repeating how good Amazon's business is. It seems that he wants to convince you it works so that you won't request a refund right away.
But that raises a question in my mind: why would you spend so much on teaching people Amazon business if it can make you millions of dollars already?
I reckon it is because selling the course makes them more money than selling products on Amazon.
Module 1: Finding The Perfect Product
In this module, Rich Henderson talks about the advantages of branding. He also tells you the characteristics of a hot product.
After talking about what products are good to choose from, Henderson tells you what products to avoid selling.
The information shared in this module is very basic. It's only valuable if you are a beginner in the Amazon business.
Module 2: Evaluating Suppliers and Samples
This was the most difficult obstacle Amazon sellers had to overcome in opening their shops.
Where to source products? What are the characteristics of a reliable supplier? What characteristics distinguish a high-quality item from an inferior one?
This module includes sample order forms, margin calculators, and proven evaluation techniques.
Module 3: Ordering Your Inventory and Creating Your Brand
This module is about selecting suppliers and how to create Amazon listings.
Rich Henderson will tell you what to bear in mind when getting product samples. Some suppliers might send you high-quality samples, but then when you order for your customers, they send the cheap knock-off. So you have to be careful in finding a reliable supplier.
Also, you will learn how to set up your listing on Amazon and get approved.
Module 4: Building Your Brand Assets
This module is all about branding tips, including how to create your website, a Facebook page, a subscriber list, and generate product reviews.
However, the content in this model is rather basic. Rich Henderson didn't go into depth about social media strategy tailored to the Amazon FBA business. YouTube, for example, can be an effective way to increase brand awareness and drive sales on Amazon. You can post engaging and relevant videos that show how to do things, demo products, how to fix something, and so on.
The fact that Rich Henderson only teaches you some basic technical stuff is rather disappointing for such an expensive course.
Module 5: The Perfect Product Page
In this module, Rich Henderson walks you through the process of creating a product listing.
Here's the process:
Research initial keywords

Write an enticing title for traffic

Create a compelling product listing

Calculate product pricing
Module 6: The Perfect Product Launch
In this module, Mike McClary will teach you how to propel a product into the marketplace: launch, Blitz, and Rank.
The pre-launch checklist that Mike McClary provides is quite helpful. You will have a better idea of how to execute it step-by-step.
Module 7: Advanced Marketing & Traffic Tools
This module is about the daily maintenance work that you need to do to run a successful Amazon FBA business.
You will learn how to write a list of daily business tasks, use Amazon lightning deals and improve your Amazon ads.
Module 8: Taking Your Business to the Next Level
This module is a bit short. Mike and Rich will teach you how to scale your business to the next level. They talk about how to add additional products and set a goal for your business.
Recommendation: Here's The Best Alternative
Cons and Complaints of Amazing Selling Machine
1.The Good Reviews are Written by Amazing Selling Machine's Affiliates
I'm sure you've seen a few other reviews of Amazing Selling Machine and they all speak highly of it.
All of them are paid to write, so if you purchase Amazing Selling Machine through their links, they will receive a commission. Therefore, their words are often biased and unreliable.
Here's an example:
You can see that this blog post gives Amazing Selling Machine 4.8 out of 5, which is a nearly perfect score. But should you trust them? When you visit the blog post, you can see them embedding many affiliate links directing you to the sales page of Amazing Selling Machine.
If you make a purchase, they will receive a huge commission. So there is obviously a conflict of interest there. I would say it is not a "review", but a sale pitch. So you should not trust their words.
When looking for a course review, you should always go for someone who is a non-affiliate.
2. Amazon FBA Requires Too Much Time and Efforts To Earn A Penny
Amazon has millions of sellers, and many of them sell the same product. You can imagine the competition. After working for a year, you may not be able to earn a penny from your Amazon store.
What's the chance to win when there are so many other sellers competing with you on the same platform?
Additionally, if you have a full-time job, you may find it difficult to build a successful Amazon business. At least ten hours a week are required to see a bit of progress.
This is a "get rich SLOW" scheme. In the coming years, you won't be able to make enough money to quit your job.
Let's face it, speed is the key to business. In this era, everything changes so rapidly. You will not be able to beat your competitor if your speed is too slow.
As an individual with little resources, you cannot compete with the big brands when you build an Amazon business. The stores of big companies are managed by a team.
There is a claim on the sales page that it only takes "a few hours a day" to build a business, a statement that seems excessively optimistic.
Everyone only has 24 hours in a day, so no matter how hard you work, it's unlikely to win the big competition
3. Amazing Selling Machine Misses The Important Details For Beginners
The course may be difficult to follow if you're a beginner in Amazon FBA. There is a lot of content in the course. You are taught many strategies, but you have no idea which one to follow.
There are also many small details not covered by the course, which are nevertheless important for beginners. Even after paying so much for the course, you still have to Google many things to solve the problems yourself. If that is the case, why should you pay thousands of dollars for them in the first place?
4. The Amazing Selling Machine is Too Expensive
Amazing Selling Machine is very expensive, so not everyone can afford it. Just the course fee alone costs $5K, not to mention the additional capital to buy inventory.
Amazing Selling Machine is simply a course. It's not an all-in-one platform that allows you to start an online business from scratch.
In contrast, a better alternative that I will discuss later is much cheaper. With a low subscription fee, you will receive comprehensive training, domain registration, web hosting, writing tools, etc. Compared to Amazing Selling Machine, it is much easier to get started.
Actually, the price you pay for Amazing Selling Machine is enough for you to build multiple affiliate sites on my #1 recommended platform for 12 years or more!
5. Lack of Successful Stories of Students
Amazing Selling Machine claims to have helped many students to become rich, but there is no evidence supporting this claim.
There may be screenshots posted as proof of success in some reviews. The results cannot be verified to be accurate. Most of the time, it's just a sales tactic.
Furthermore, while Amazing Selling Machine teaches people how to make money with Amazon FBA, most of their revenue comes from their courses instead of Amazon FBA. That makes the whole thing a bit unconvincing.
6. You Don't Get Technical Support in Amazing Selling Machine
Beginners in online business need technical support quite often. Amazing Selling Machine offers only courses, not technical support. In such a situation, you are without a support network if you face technical difficulties.
Yes, you will feel helpless when you thought you can get all kinds of support after paying so much for the course.
My #1 recommended platform is different. You will get 24/7 technical support with your website. They have a technical team standing by at any time to help you when you encounter technical problems.
It's really like having hired a technical team. Also, there is a community of a million members there to help you out when you have questions.
7. There is No Free Trial
Amazing Selling Machine does not offer a free trial. To get started, you have to pay thousands of dollars. If you do not like the course or do not feel comfortable with it, the risk is much higher.
They offer a money-back guarantee, but there are some procedures or criteria to get your money back. At the end of the day, the final decision resides on them, not you. You can do nothing if they refuse to fulfil their promise.
However, my #1 recommended platform has a free membership plan, where you can get access to the first level training and even build a free website. If you like it and feel good to go further, you can then upgrade to the premium plan at a 50% discount for the first month. So you don't need to worry about making a bad investment.
8. FBA business needs a large upfront cost
At least $15-20k is needed to start a business on Amazon.
You will need to spend money on product samples and inventory, labelling and shipping costs, product launch services/pay-per-click advertising, as well as Amazon Marketing Services.
As soon as you start selling Amazon, your first 10k will quickly be gone.
The process is time-consuming and expensive. In other words, if you are considering gambling with your hard-earned money, you must think carefully.
9. FBA Business model is complex and not suitable for beginners
Getting a product listing up and optimized on Amazon is a lot of work, even though Amazon does most of the work for you.
Apart from that, you have to deal with many dry tasks every day.
Among other things, you have to negotiate with suppliers and make comparisons between shipping companies and freight forwarders, as well as comply with local and Amazon regulations.
Beginners who are looking for a side hustle or a source of passive income, which requires little time and investment, may find this process too advanced.
10. There is no quick cash flow
A business's cash flow is its lifeblood. Amazon FBA business model, however, requires sellers to invest a substantial amount of money in purchasing inventory from suppliers in China.
The costs will be even higher if you intend to create a unique private label product. The cost of creating a prototype in China is usually a couple hundred dollars. You can ask for a price on Alibaba.com if you don't trust me.
Typically, production may take 1-2 months, depending on the nature of the products and the quantity. It takes 2 weeks for the package to arrive at Amazon's warehouse after it has been shipped and cleared by customs.
It can take up to months for you to get paid for the inventory you bought.
11. Price war on Amazon reduces profitability
Amazon is rife with price wars. Any time a seller lowers their prices to attract more customers, other sellers will be forced to lower their prices as well.
In order to avoid a net loss, you might have to cut production costs. This results in lower product quality, negative feedback from customers, and a drop in sales.
Aside from intense competition, you have to deal with changing sales tax laws, category restrictions, and Amazon policies.
Amazon might even ban your account permanently if you violate some rules by mistake.
The margin of profit of most Amazon vendors is at best slightly higher than 10%, due to intense competition.
Starting an Amazon FBA business requires persistence and relentless focus.
12. Traffic Strategies Are Poorly Covered in Amazing Selling Machine
It is very disappointing that Amazing Selling Machine doesn't put a lot of focus into teaching students how to drive traffic to their Amazon stores.
But for any business, traffic is the key. A business without traffic, meaning no visitors, is not a business. You will not get sales at all.
In Amazing Selling Machine, the instructors do not cover enough about running Facebook ads to do promotion. Facebook ads is one of the most effective ways to drive traffic for any online business.

According to Facebook, there are over 6 million businesses running Facebook ads. So you can see the importance of it nowadays. The fact that Amazing Selling Machine does not teach you much is very disappointed, especially when you consider the expensive course price.
For those who don't want to run paid ads, you may want to content marketing to drive traffic. But again Amazing Selling Machine doesn't teach you how to do this. I can't imagine how the students make money without knowing this important traffic strategy.
My #1 recommended platform is different. It has very comprehensive coverage on content marketing and hence people there know how to drive traffic to their online business.
13. The Brand Strategies Taught in Amazing Selling Machine are Poor
Amazing Selling Machine doesn't teach you enough about building your eCommerce brand. This is very disappointing because having a brand is how you can differentiate yourself from others and stand out.
As I said, Amazon has intense competition. So if you don't know how to do brand building, it's hard for you to stand out from the crowd.
If you don't have a brand, why do you think customers would buy from you instead of others? Your products will look exactly the same as other sellers when you don't have a brand. So the fact that Amazing Selling Machine doesn't teach you much about the brand building is unacceptable.
14. Amazing Selling Machine Has a Poor Trustpilot Rating
I tried to search for the real user reviews of Amazing Selling Machine on Trustpilot, which is the most credible review site:
Please note, Amazing Selling Machine's website is Amazing.com.
To my surprise, there are only two customer reviews about Amazing Selling Machine. The overall rating for them is just 3.2 out of 5 stars. Since many of its affiliates boast it as the best Amazon course on the market, this rating is incredibly poor.
For most legit and popular products or services online, you should see many positive reviews on Trustpilot. My #1 recommended platform has a rating of 4.8 out of 5 stars. This makes a big contrast to Amazing Selling Machine.
Think about it, if Amazing Selling Machine really helps thousands of students to become successful and rich, it's not possible to just have 2 reviews on Trustpilot and ratings below average.
15. Your Amazon Store May Be Banned Suddenly
When you are selling on Amazon, you have to comply with a lot of complicated rules and regulations set by Amazon.
If you violate any one of them, your whole store will be taken down completely by Amazon. Some are permanent bans, meaning you won't be able to sell on Amazon again. There are many reasons that Amazon can ban your store.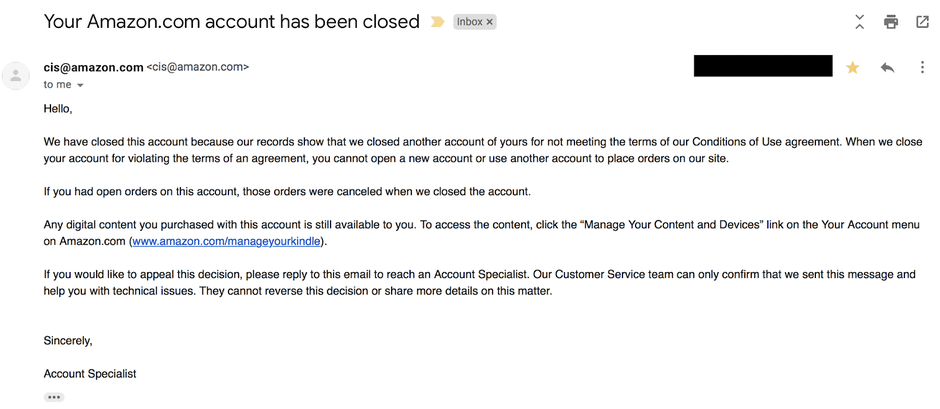 Amazon changes its policies from time to time, so even if you are careful, you may get banned suddenly. After all, Amazon has the final decision-maker.
That's why when it comes to online business, I don't recommend people to build your asset on other people's platforms. You should build your own website instead.
You lack the controlling power when you build your whole asset on Amazon. You don't actually own the store, but Amazon does. You may lose everything overnight.
My #1 recommended platform is different. It will teach you how to build an asset that nobody can take away from you, which makes your business much more sustainable. After all, you don't want your asset to be destroyed overnight after spending a lot of time and money.
16. The Creators of Amazing Selling Machine Make Most of The Money From The Course
Think about it, if Amazon FBA is very profitable, why would the creators teach you how to do it? Why do they tell you the "secrets" and attract more people to compete with them on Amazon? Isn't there a conflict of interest?
There is only one reason to justify this. They cannot make much money from selling on Amazon because the profit margin on Amazon is very small.
They can make much more money in teaching people how to do Amazon FBA. They make much more money by selling you the dream to become a millionaire with Amazon FBA. Yes, it's a dream because only a very small percentage of people can make a positive net profit on Amazon.
Therefore, I don't recommend investing in the Amazon FBA business, not to mention paying for the high course price of the Amazing Selling Machine.
Recommendation: Here's The Best Alternative
Pros of Amazing Selling Machine
1. Practical advice you can start using right away
In addition to a wealth of useful information, ASM is also very applicable.
After completing the first two modules, you can start gaining new insights with the release of almost every video. This course contains only a fraction of "theory" Only Amazon awareness bombs that are 100% pure and undiluted.
2. Access to Experts
Each of their mentors has made millions selling in their own Amazon stores, proving they are the best of the best. You will have direct access to a group of Amazon FBA experts. If you need advice and motivation to start your own shop, it can be helpful to find someone who has done it before.
Amazing Selling Machine Pricing and Refunds
Amazing Selling Machine is one of the most expensive courses I have ever seen online. It costs $4,997 for buyers who pay it up front. For installment buyers, it is available in 6 installments of $997 each. There is no discount on this course.
If you don't like the course, you have a 30-day money-back guarantee. However, I'm not sure if there are any conditions to meet in order to get a refund. Most programs require you to prove that the course program doesn't help, which is not possible.
I would recommend you not to make a payment unless you are very sure. Otherwise, you may not get the money back.
Actually, I think this course is overpriced. You don't have to pay so much to learn how to do Amazon business. There are many cheaper alternatives on the market, not to mention that a lot of information can be learnt for free on YouTube or blogs.
Positive and Negative Feedback From the Students of Amazing Selling Machine
Positive Feedback
The course content covers all the basics

The course is updated annually

The forum of the course is quite active, but not very helpful because they are all your competitors and hence you cannot expect them to help you a lot
Negative Feedback
The product selection method might not work all the time

There is no content marketing strategy so you may find it hard to drive traffic

It doesn't teach you Facebook ads

Brand strategies are only briefly covered

The course is super expensive, probably because they have to pay a huge commission to their affiliates.
Recommendation: Here's The Best Alternative
Amazing Selling Machine Alternatives
Amazing Selling Machine vs. Proven Amazon Course
A popular alternative to Amazing Selling Machine is the Proven Amazon Course.
When you log in, you will find that there is a lot of information in the member's area. The combination of video tutorials and written material takes you from the ground up on product sourcing, private labeling, and logistics.
One of the most attractive aspects of the course is that it includes a section dedicated to international FBA.
Many courses do not consider students who live outside of the United States or Canada, but this course does, and there are a large number of successful international students.
Amazon Selling Machine (ASM) costs $5,000, while Jim Cockrum's Proven Amazon Course (PAC) costs $500 or $30 per month.
ASM has much more professional videos, while PAC 's training seems more homemade. So if you are looking to get into Amazon FBA on a tight budget, PAC is a viable option.
Below is a comparison of both programs in different aspects:
| | | |
| --- | --- | --- |
| | Amazing Selling Machine | Proven Amazon Course |
| Price: | $5000 | $500 one time or $30 per month |
| Started: | 2012 | 2009 |
| Highlights: | Good work has been done in updating the look and feel of Amazing Selling Machine's training platform. | The Proven Amazon Course training feels a little dated. Much more work could be done on the presentation of the information. |
Is Amazing Selling Machine a Scam or Legit?
I cannot say Amazing Selling Machine is a scam. At least I don't have sufficient evidence to prove this. However, it doesn't mean I recommend Amazing Selling Machine.
You can learn how to launch an Amazon business from this course, but it doesn't mean you can make money at the end of the day. You cannot expect to make money very quickly. In fact, it may take a year or more to break even.
I have read some customer reviews on Reddit and other trustworthy sources. I find that there are many negative reviews about the course.
Some people said the marketing tactics of the course are very pushy. Many people also said they make no money after following the teaching in the course.
Moreover, Amazing Selling Machine has a very shady affiliate marketing program which makes the whole thing like a hoax. It has many affiliates who are NOT students at all.
The reason why there are so many affiliates promoting it is that it offers a 50% commission, which is nearly $2,500 commission for each sale. So it's normal that many people are tempted to promote the course regardless of the actual quality.
It's hard to find an honest review of the Amazing Selling Machine because of its generous affiliate program.
Personally, I don't recommend buying Amazing Selling Machine because I cannot see many verified success stories of students. Very likely, you will lose a lot of money at the end of the day.
Instead, I have a better recommendation for you, which has enabled me to make 4-5 figure monthly passive income in less than a year.
This alternative is much easier and doesn't require huge initial capital to get started. You can build a digital asset that can generate passive income for you while you are sleeping.
It is totally legit and sustainable.
If you want to know more about it, let me tell you in detail in the last section.
Recommendation: Here's The Best Alternative
Amazing Selling Machine Review: Final Verdict
I don't recommend Amazing Selling Machine. It's too expensive and not worth the price. Most importantly, it's hard to make money with Amazon FBA even if you learn from Amazing Selling Machine.
Many people end up burning a lot of money after diving into this business model. So you won't see a lot of successful stories from Amazing Selling Machine.
Amazing Selling Machine is an overhyped course that aims to make money from the students, instead of helping people to make money online.
So if you are a newbie and want to make passive income online, I have a better recommendation for you, which I will tell you in detail in the next section. Read on.
Recommendation: Here's The Best Alternative
Best Alternative to Amazing Selling Machine to Make Passive Income Online
If you're new to online business, you might wonder if there's a better business model that doesn't need initial capital and can do it as a side hustle.
Of all the business models I've tried, affiliate marketing is the easiest and most rewarding so far.
In affiliate marketing, you can run your business at almost zero cost. Most importantly, you don't need to invest in creating and developing any products.

Also, it is less time-consuming since you don't have to manage inventory or handle customer service.

You can enjoy a steady stream of passive income while going on vacation or working a full-time job.

Since the world is full of uncertainty, I'd always choose a business model that has the lowest risk.

But How Much Can You Earn in Affiliate Marketing?

A 21-year old student from my #1 recommended training platform of affiliate marketing was able to earn $7,395 in just 1 week, which means he made more than $1k a day…all while using free traffic methods and affiliate marketing.
Wealthy Affiliate has existed for more than 10 years and there are many success stories over the years.
To give you more examples, here are some of the other inspiring success stories of Wealthy Affiliate members.

If you don't trust my words, you can go to Trustpilot to see what the members have to say:
At the time of writing, Wealthy Affiliate is rated 4.8 out of 5, which is excellent. It's incredible to get such a high rating with more than 400 reviews.
If there are only two or three good reviews, you may say they are fake reviews. But you cannot fake it when there are more than 400 reviews there. Remember, Trustpilot has a very intelligent system to detect fake reviews.
Where to Join Wealthy Affiliate?
Wealthy Affiliate has a very simple pricing scheme. It has a free and premium membership.
If you want to feel about Wealthy Affiliate, you can sign up for the starter membership here (no credit card required). You can select to be a free member with no time limit.
And as a starter member, you can get instant access to the community, live chat, over 500 training modules, 2 classrooms, networking, commenting, 1 free website, access to the keyword tool.

You can enjoy all these values without paying a penny.
So I strongly recommend you to register a free account and see it yourself.
If you'd like to be the next success story and get the most out of Wealthy Affiliate, you can upgrade to the Premium Membership later.
After that, you can get access to everything without the bother from any upsells.
Recommendation: Here's The Best Alternative
Amazing Selling Machine FAQs
Is the Amazing Selling Machine free?
This can never work. What person would volunteer so much information and methods? You can think of it as a plan for starting a business on Amazon. The new Product Hunter Google Chrome plugin is just one of many free resources available to anyone who wants to sell on Amazon.
Are there Amazing selling machine events?
For the record: Yes, Matt Clark does a fantastic job of hosting events for Amazon's customers and other interested parties. SellerCon, hosted by ASM, is the largest gathering of Amazon sellers. At this three-day event, you'll hear from renowned speakers and network with influential people from around the world. The value of this once-in-a-lifetime event is in the thousands!
Does Amazing Selling Machine Have Refunds Guarantee?
With ASM's 30-day money back guarantee, you do not have to worry about losing your money. If you are not satisfied with the course, you can easily contact customer service and get your money back.
Does ASM Offers Free Trial?
Amazing Selling Machine does not offer a free trial, but it does offer an installment plan that can be paid off over a six-month period.