If you're looking to build a business on Amazon, you might have heard of Tim Sanders. You may wonder if Private Label Masters is a blueprint to help you succeed in Amazon FBA.
Certainly, Amazon FBA is one of the few businesses that is still fast growing amid the economic recession. This drives so many aspiring entrepreneurs to look into this global marketplace when trying their hands at eCommerce.
But due to the intense competition, you might ask if it's still possible to make a buck out of it.
Since I'm not affiliated with Private Label Masters (PLM) or Tim Sanders, you can rest assured that my review is unbiased.
Key Takeaways: Private Label Masters Review
Name

: Private Label Masters

Website

:

https://privatelabelmasters.com

Instructor

: Tim Sanders

Overall Rating

: 2/5

Pros:

Lots of student testimonials; step-by-step instruction; helpful private community; weekly live Q&A sessions

Cons:

Little information about the course price and refund policy; very expensive; you have to pay $49 per month to gain access to the private community; $5000+ investment is required to start an Amazon FBA business

Private Label Masters Scam or Legit

: It's not a scam. Private Label Masters is a legit training program that teaches you how to start an Amazon FBA business from scratch.

Who it's for

: Beginners in Amazon FBA
Below is what I'm going to cover in this Private Label Masters review:
What is Private Label Masters?
Private Label Masters (PLM) is a training program that shows you how to build an Amazon FBA business. You will learn how to find the right products, negotiate with suppliers, and place ads to attract more visitors to your Amazon store.
FBA stands for Fulfillment by Amazon, a service that enables you to store and ship your products via Amazon's huge warehouse network.
The Amazon FBA process is a simple but powerful way to grow your online business without having to invest thousands of pounds in warehouse facilities or staff.
All you need to do is provide Amazon with the inventory. The Amazon team handles all orders, handles all customer emails, including notifying the customer that their item has shipped, and handles shipping and payments; the Amazon team handles logistics for you.
FBA is indeed a very convenient service, but it costs money. Amazon charges a per-unit product handling fee based on the weight and dimensions of the package, as well as a monthly storage fee based on cubic feet.
At the end of the day, building an Amazon FBA business is not as easy as you think, because it requires a lot of time, hard work, and money.
Learn more: best Amazon FBA courses
Recommendation: Here's The Best Alternative
Who is Tim Sanders?
Tim is a successful FBA seller who reportedly has an estimated net worth of $7 million after taxes.
According to some reports, Tim runs an Amazon business that generates 8-figures in annual revenue with only a handful of virtual assistants. Believe it or not, Tim said he started by asking a supplier for suggestions on trendy products and reviewing the product on Jungle Scout to confirm it.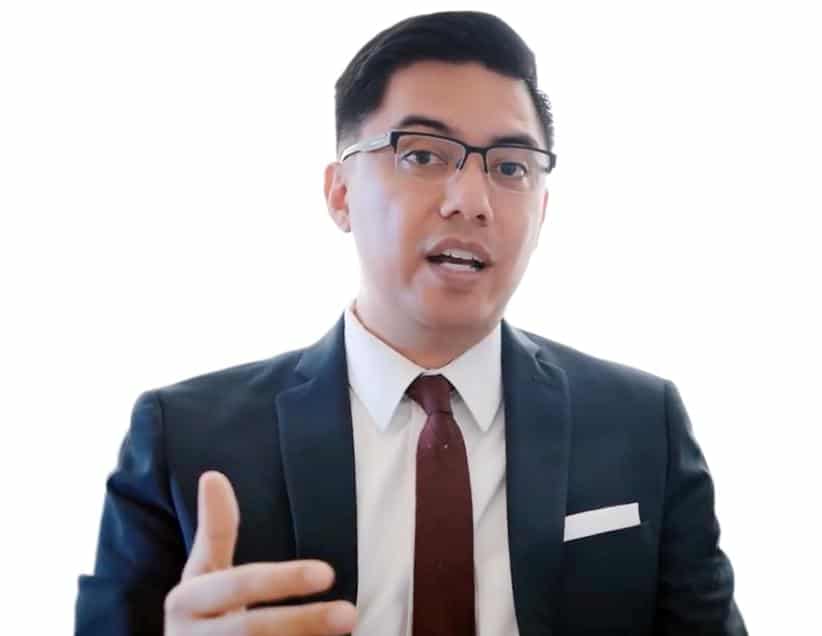 Then he bought 5000 pieces and found that after 2 years, sales of this product increased to 150 pieces per day.
After working on his own FBA business for a year, he began developing the Private Label Masters course.
One of the unique aspects of Private Label Masters is that Tim teaches you only the techniques he has used in his own FBA business.
If you are interested in Tim's course, you can join his simple Facebook group to learn more.
However, if you want to join the group VIP, you will need to purchase the course beforehand.
Tim also has a Youtube channel where he posted 2 videos every two weeks for the past two years.
Recommendation: Here's The Best Alternative
How does Private Label Masters help you make money?
Private Label Masters is an Amazon FBA (Fulfillment by Amazon) training course that can help you start selling on Amazon and finding great deals from suppliers on Alibaba.
The idea behind private labeling is pretty cool: you find a product that's already selling well on Amazon but doesn't have a ton of reviews. Then, you put your own brand name on it and make it look even better.
It's like giving a plain shirt a new, stylish design. By doing this, you're improving the product's presentation and making it your own.
How is the reputation of Private Label Masters?
Tim Sanders is known for building a profitable Amazon business and sharing his income with others. Many of his students have praised his course, Private Label Masters, saying it's one of the best Amazon FBA courses out there.
However, there seems to be a lack of information available about the course, such as its cost and what exactly is included in the purchase.
Additionally, some potential students have raised concerns about the enrollment process, which requires a call before being able to join the program, and the high price of the program.
Who is Private Label Masters for?
Based on my research, I believe that the Private Label Masters training program can be beneficial for both new and experienced sellers on Amazon. However, the training seems to be mainly geared toward those who have never sold anything on Amazon before.
From my personal experience with Amazon FBA, I have found it to be challenging to create a profitable business using this method, even with the guidance provided by Tim Sanders' lessons.
If you're just starting out in the world of working from home, I would suggest considering other online money-making options before diving into Amazon FBA.
Recommendation: Here's The Best Alternative
An Overview of Private Label Masters
The Private Label Masters course provides you with a blueprint to start your Amazon FBA business. After this course, you will:
Acquire the skills and tools to select "evergreen" products that might sell for a long time
Know how to find out the best suppliers
Understand the structure of pay-per-click campaigns and advanced PPC tactics to generate more sales and increase organic rankings
Keep your ad spend in check
Now let's take a closer look at each module below:
Module 1 – Introduction
Duration: 25 minutes and 21 seconds

This module begins with Tim clarifying that Private Label Masters is not a get-rich-quick system.
But it is possible to become profitable after 6 months of disciplined work and a certain mindset, which includes strong ethics and self-awareness.
According to Tim, there are 5 key components of business:
Mindset (Tim encourages you to push through all the difficulties)
Licenses (he discusses different licensing structures and why he chose an LLC)
Taxes(he explains why you a business CPA and how to get an EIN)
Liability Insurance (he discourages novices from selling "high liability products")
Amazon's Fees (he tells you the costs of selling products on Amazon)
One of the things I don't like about this module is that Tim spends a lot of time talking about mindset instead of the amount of money it takes to build a successful Amazon business.
While I agree that you need to be persistent and patient, it is even more important to have your finances under control. After all, you only buy cheap from suppliers and sell high to customers.
In fact, it is not cheap to start a private label business on Amazon. If I were Tim, I would spend more time discussing the best ways to get a business loan.
But if he did talk more about money, his students might soon realize that it actually takes the average sellers a few years to generate a stable income.
In one word, you need funding to start an Amazon business.
Module 2: Product Research
Duration: 2 hours, 54 minutes, & 14 seconds
Tim uses a baseball analogy to illustrate his business structure. He points out that the prerequisite for increasing profitability is that your business is stable. This is the case when many products make a few sales each day, not when one product makes a hundred sales in 24 hours. Below are the other topics Tim covers:
Products to avoid (he gives specific genres)
Trademarks and Patents
Research Tools
Easy product changes to increase the perceived values
Ways to find niches of low competition
After showing you the product search process, Tim gives a 40,000-foot view of the FBA business. He emphasizes that the goal is to build a brand (a group of related products) that consistently brings in sales.
Finally, he urges patience in the product search process and shows you how to use Trademarkia.com to determine if the products you want to sell have patents.
Module 3: Product Sourcing
Duration: 51 minutes and 49 seconds
This module covers three (3) product sourcing related topics:
Interacting with Suppliers
Negotiation Tips
Part 1: Overview of Alibaba.com
Tim gives a quick run-through of Alibaba, showing its different filters and which ones he prefers.
Part 2: Initiating Great Relationships with Suppliers
Engage multiple suppliers at the same time
Being aware of cultural differences
How to build long-term relationship with the best supplier you found
Part 3: Professionally Negotiating MOQ with Manufacturers
Information you need before negotiating with the manufacturer
What questions to ask the supplier
Make good use of minimum order quantity
A few skills Tim teaches in these 8 videos are:
How to multitask when dealing with suppliers
Self-introduction in a right way
Bargaining for price using Chinese leverage
Setting up multiple inspections of your samples to know they are the best
Tim's training shows that you need many techniques to win over Chinese suppliers, such as informal discussions, to build a long-term business relationship. In fact, most manufacturers are desperate to serve you because they sell the same trendy products. You can always click away and choose another vendor.
Do not get me wrong. I do not mean that you can skip the homework. You still need to compare the prices of different vendors. That way, you can make sure you are not being overcharged.
Most importantly, you need to reassure your vendor that your company is well established if you want to lay the groundwork for a strong business relationship in the future. That way, the manufacturer will be more careful about quality control so that you do not place any more new orders.
Module 4: Shipping
In this module, Tim explains why amazon private label FBA sellers need a shipping agent, how to get shipping quotes from different vendors, obtain shipping labels, and place your first order with your vendor.
Below you will see what is included in Tim's training techniques:
Knowing your options (sea and air, when to use which shipping method, etc.)
Using the suppliers that he has vetted, including Freightos and Flexport
Avoid shipping your products directly to Amazon
How to easily send your shipping labels to the supplier
Tim encourages you to hire a shipping/inspection service (performed by the same company). This will save you money on Amazon's long-term storage fees and ensure that the items are in good condition.
In the end, Tim shows you how to avoid buying substandard products at your own peril.
Module 5: Branding and Listing Optimization
Duration: 2 hours and 33 seconds
In this module, Tim covers branding design strategies and the optimization of your product listings.
In this lesson, you will learn:
What to consider when creating a brand name.
How to simplify the labeling process of your product.
Three tips to get the most out of your keywords
A walkthrough of Tim's favorite data-driven tool
How to Create Lists of Seed Words using Amazon's Auto-populate Feature
Apart from that, Stacey, Tim's copywriter, will teach you six copywriting concepts to incorporate into your listing optimization process, including
How to know your product
How to know your market
How to write a title that appeals to customers
Doing your bullets by mapping them out in the right way
Engaging your customers with a compelling product description
Editing more than just grammar and spelling
Module 6: Product Launch Time!
Duration: 48 minutes and 39 seconds
In this module, Tim teaches two distinct ways to launch your products.
Part 1: Using the Amazon Launch Service "ZonJump" (explained by ZJ's CEO)
Leo, ZonJump's CEO, introduces the platform and the entire go-to-market process, from pre-launch priorities to calling on Zonjump's experienced FBA experts.
Part 2: Tim's detailed training on launching additional products with Zuckerberg's platform (FB)
In the first half of the video, Tim shows you two methods for getting an Amazon reserved storefront URL. He calls them the storefront URL method and the two-step URL method.
This is followed by Tim showing you how to create Facebook ads using Microsoft Paint.
Extra hacks that Tim unveils in the sixth segment:
Changing the image format to increase FB ad's reach
Adjusting the ad copy to 3x your ad's results
Tracking the Results of Targeted Keywords Using a Tool inside Helium 10
Module 7: Sponsored Products (Amazon's PPC)
This module is taught by Tim's assistant, Aaron Eaton, who specializes in PPC campaign creation and optimization.
Aaron made a sequence of 8 videos (and a bonus 9th):
Keyword Selection
ACoS & Bidding Prices
The Automatic Campaign
Manual Campaigns (Pyramid of PPC, from broad to exact match)
The Search Term Report
PPC Pyramid (keyword filtering cycle explained)
Moving Up Keywords
Weekly Tasks
The Ultimate Campaign
Aaron provides a literal framework to follow. He goes through each stage in the order in which it is set up when running an actual PPC campaign.
Module 8: Maintain, then Scale Your Business
Duration: 1 hour, 1 minute, and 25 seconds
In this module, Tim gives a lot of advice on brand building, including:
How to take advantage of product reviews
How to generate more revenue using Amazon promotions
Keeping an eye on 3 aspects of your business to maintain sales
How to handle running out of the stock situation
Using split testing to optimize listing
Getting the most out of your lightning deals
Ejecting hijackers
The rewards of brand registry
Where to find the best virtual assistants
Some tips to expedite reimbursements
This module builds on topics that are mentioned in modules 1-7. One of the most useful tips is the right way to deal with a running out-of-stock situation. He suggests you stay in stock as long as possible to keep your keyword rankings.
Recommendation: Here's The Best Alternative
Private Label Masters Pricing & Discounts
The price is not mentioned anywhere on the Private Label Masters website. The cost is hidden until you book an "enrollment call".
According to various online sources, the typical course fee is $5,000.
In addition to the course fee, do not forget that you will also need a budget for inventory and marketing. The amount of money needed can vary greatly from product to product.
Private Label Masters requires its students to have at least $6,000 in working capital before enrolling.
There is no mention of whether the Private Label Masters course is included in the $6,000 price.
However, one PLM student told me that "you need $5000-$8000 in addition to the cost of the course."
According to the same student, Private Label Masters charges a $49 monthly fee if you want to keep your membership after the first six months.
During the enrollment interview at Private Label Masters, I heard rumors that a "fast action" discount was being offered.
It seems that a $1500 discount can be offered, bringing the price of PLM access down to $35,000.
Private Label Masters Refund Policy
No reliable sources have yet been found on Private Label Masters' refund policy.
No additional information is available beyond that listed in the PLM Terms of Use.
Your purchase of a product or service or ticket to an event may or may not provide for any refund. Each specific product, service, event or course will specify its own refund policy
If you attend a PLM enrollment meeting, be sure to inquire about the company's reimbursement policy before making any commitments.
It is very likely that PLM will not offer you an unconditional refund. You might have to meet some criteria, such as completing the program, setting up a store, making the first sales, blah, blah, blah.
Recommendation: Here's The Best Alternative
Green Lights
1. Lots of student testimonials
I've stumbled upon a bunch of success stories about Tim's course and it seems like some of his students are seeing some pretty solid results. But, it can be tough to know for sure if the testimonials are legit or not.
2. Helpful private community
After signing up for Tim's course, you might feel excited to join the private community. But there's a catch – it's not free. You gotta fork over an extra $49 a month to join in.
Now, I know the course itself might be pricey, but to me, it seems like Tim could be a bit more generous with his students.
3. Tim Sanders seems to be a successful Amazon seller
It is true that Tim may have made a significant amount of money through Amazon, but it is important to note that the level of competition on the platform has increased significantly over time.
While the competition may not have been as intense during Tim's time, it is currently much more challenging to stand out among the many big names on the platform.
Red Flags
1. Price is not mentioned
They force you to make an appointment with the sales team without ever telling you the cost of the course. The enrollment fee is $5000.
The reason they refuse to disclose the price is that they know you will not buy the course if you see the price tag, so they want to use pushy salespeople to convince you on the phone.
2. The course is too expensive
Compared to other Amazon courses, Private Label Masters is very expensive and not everyone can afford it. After all, PLM is only a course. It is not an all-in-one platform that gives you everything you need to build an Amazon FBA business.
I do not recommend investing $5000 in a course when you have not made a single penny yet. It is risky to invest thousands of dollars when you are not sure if it will work or not.
3. Poor Refund Policy
There is no free trial for Private Label Masters. You will not get your hard-earned money back even if the course does not deliver what it promises.
PLM is not clear about its refund policy. But even if there is a money-back guarantee, it is certainly not unconditional.
4. An air of fakery in the positive reviews
Private Label Masters has a rating of 4.9 on Trustpilot with 155 reviews. It is strange that over 90% of the reviews are 5 stars and no one gives 3 or 4 stars.
With the 5-star reviews, you can see many bold claims about the return on investment they get from participating in Private Label Masters.
For example, this student claims that you can get your investment back 1,000-fold. PLM is sold at $5000 and you need another $5000-$8000 on top of the cost of the course.
If the ROI is 1000%, that means you can make at least $10 million. Considering that Tim only has a net worth of $7 million, I do not think that is realistic.
In fact, most positive reviews are rather vague about how PLM helped them succeed.
I read another 1-star review and found it to be much more detailed.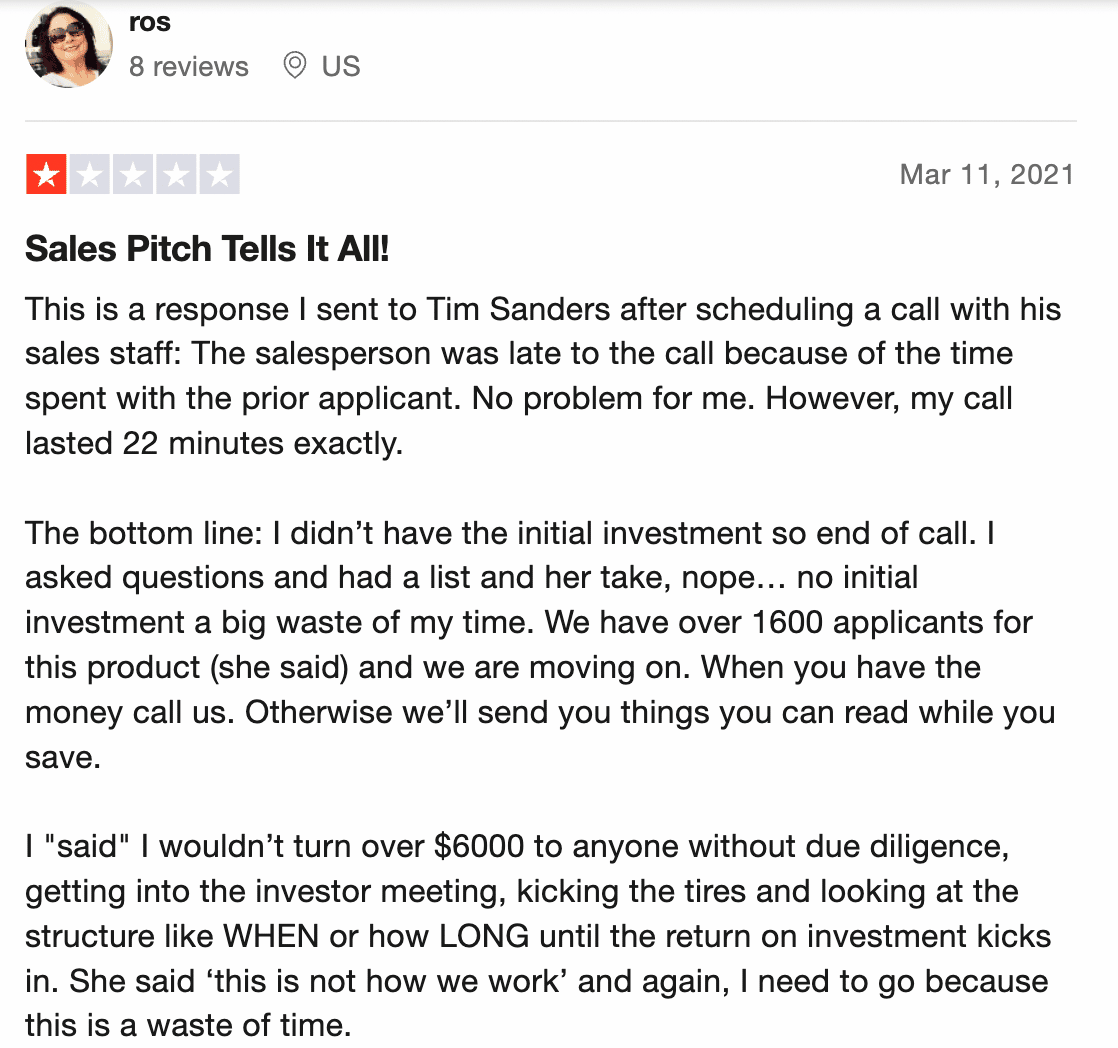 Recommendation: Here's The Best Alternative
Are Private Label Masters students getting results?
I've been digging into Tim's sales funnel and chatting with some students who've gone through it. And from what I can tell, some of them are making a pretty penny from their Amazon businesses.
Based on the testimonials and research, it looks like Tim Sanders' Private Label Masters program has a success rate of around 10-20%. This is pretty similar to the overall success rate for Amazon FBA sellers, which is around 15% for those making a net profit of $6,000 to $25,000 per month. But, it's tough to say for sure since not everyone shares their results.
In the first module of the program, Tim says that with a little discipline and elbow grease, you can start earning money on Amazon within six months. Of course, that's assuming everything goes smoothly. Unfortunately, things like delays with freight companies can hold you back, and it may take longer than expected for your product to climb the rankings. And let's be real, rankings are key to making any kind of money on Amazon.
Just keep in mind, there's no guarantee that your product will stay profitable long-term. That's why many Amazon experts recommend bowing out of the game after two years at most. By then, you should have at least six profitable products and have held off on taking profits too early.
All that said, making money on Amazon isn't a walk in the park. It takes a ton of work and dedication. But, if you're prepared for the challenges, you'll have a better shot at success.
Below are some problems with the Amazon FBA business.
Problems With Amazon FBA Business
Tim Sanders makes it clear that starting an Amazon FBA business requires persistence and relentless focus, which is not suitable for the faint of heart.
Below are the reasons why I would not recommend the business model of Amazon FBA:
FBA business needs a large upfront cost
To launch a business on Amazon, you will need $15-20k, at least.
Besides, since you can't get started without any knowledge, you have to pay for an FBA course. Private Label Masters, for instance, cost $5000 or a $1,500 discount if bought on the call (which gives them an opportunity to persuade you).
Moreover, you have to spend money on product samples and inventory, labeling and shipping costs, product launch services/pay-per-click advertising, and Amazon Marketing Services. The first 10k will be quickly exhausted once you start selling on Bezo's platform.
In one word, it is time-consuming and costs a lot of money. So, you must think carefully if you really want to risk your hard-earned money.
FBA Business is complex
Though Amazon does a lot of the work for you, it still requires a lot of work to get a product listing up and optimized.
Apart from that, you have to deal with numerous dry tasks on a daily basis. For instance, you have to negotiate with suppliers, make comparisons on shipping companies, freight forwarders and comply with the regulations of Amazon and local governments, etc.
This process is too sophisticated for beginners who might be just looking for a side hustle or a source of passive income that requires little time and investment.
There is no quick cash flow
Cash flow is the lifeblood of a business. However, in the Amazon FBA business model, mostly sellers have to invest a considerable amount of money to purchase inventories from suppliers in China.
If you want to create a unique private label product, the costs will be even higher. For example, most manufacturers in China charge you a few hundred dollars just for creating a prototype. If you don't trust me, you can ask for a price on Alibaba.com.
In most cases, production may take 1-2 months depending on the nature of the products and quantity. Afterward, it takes 2 weeks in shipment and custom clearance before arriving at the Amazon warehouse.
This process indicates that it can take up to months before you're paid for the inventory you bought.
Price war reduces profitability
Price war is ubiquitous on Amazon. Whenever a seller tries to attract more customers by lowering the prices, other sellers will be forced to cut their prices as well.
To avoid a net loss, you might have to cut the product costs. This results in lower product quality, negative feedback from customers and hence a drop in sales.
Apart from the intense competition, you have to deal with changing sales tax laws, category restrictions, and Amazon policies.
In the worst case, Amazon might even ban your account permanently if you mistakenly violate some rules.
Recommendation: Here's The Best Alternative
Is Tim Sanders a Scam?
Tim Sanders is not a scam. Tim seems to be a successful FBA seller on Amazon and he tries to keep his course up-to-date through regular revisions.
Tim works hard to give you a practical course on the majority of creating a private label business. But Amazon is too complex and no course can teach you everything.
As for the price of Private Label Masters, it really depends on your budget.
However, the PLM website is missing some important details about the training, so when you schedule that enrollment call, don't be afraid to ask some questions.
Make sure you find out what additional costs you might have to pay for, like software tools, inventory, PPC, and so on.
Also, ask about how their refund policy works. Some complain they couldn't get a refund after finding out that the course wasn't for them.
It would have been nice if Tim had published all the details about his course on his website.
Is Private Label Masters a scam?
Private Label Masters is not a scam. It is a legit course.
However, it's too expensive and not worth the price. Most importantly, it's hard to make money with Amazon FBA even if you learn from PLM.
Many people end up burning a lot of money after diving into this business model. So you won't see a lot of real success stories from Private Label Masters.
Although Tim Sanders appears to be a reputable Amazon seller, it is hard to prove whether he has actually helped many others succeed through his private label Masters training.
Like most gurus, it's possible that Tim Sanders has made most of his money selling PLM courses instead of his Amazon business.
Overall, it looks like Private Label Masters is just an overhyped course that aims to make money from the students.
I don't recommend Private Label Masters.
So if you are a newbie and want to make passive income online, I have a better recommendation for you, which I will tell you in detail in the next section. Read on.
Best Alternative to Private Label Masters
If you're new to online business, you might wonder if there's a better business model that doesn't need initial capital and can do it as a side hustle.
Of all the business models I've tried, affiliate marketing is the easiest and most rewarding so far.
In affiliate marketing, you can run your business almost with zero cost. Most importantly, you don't need to invest in creating and developing any products.
Also, it is less time-consuming since you don't have to manage inventory or handle customer service.
You can enjoy a steady stream of passive income while going on vacation or working a full-time job.
Since the world is full of uncertainty, I'd always choose a business model that has the lowest risk.
But How Much Can You Earn in Affiliate Marketing?
A 21-year-old student from my #1 recommended training platform of affiliate marketing was able to earn $7,395 in just 1 week, which means he made more than $1k a day…all while using free traffic methods and affiliate marketing.
Wealthy Affiliate has existed for more than 10 years and there are many success stories over the years.
To give you more examples, here are some of the other inspiring success stories of Wealthy Affiliate members.
Where to Join Wealthy Affiliate?
Wealthy Affiliate has a very simple pricing scheme. It has a free and premium membership.
If you want to feel about Wealthy Affiliate, you can sign up for the starter membership here (no credit card required). You can select to be a free member with no time limit.
And as a starter member, you can get instant access to the community, live chat, over 500 training modules, 2 classrooms, networking, commenting, 1 free website, and access to the keyword tool.
You can enjoy all these values without paying a penny.
So I strongly recommend you register a free account and see it yourself.
If you'd like to be the next success story and get the most out of Wealthy Affiliate, you can upgrade to the Premium Membership later.
After that, you can get access to everything without the bother of any upsells.