Are you looking for a SaleHoo review? Is SaleHoo a scam? Should you use it for your eCommerce business?
This SaleHoo review will give you detailed information about their service so you can determine if it is something you should use for sourcing products.
You may agree that starting an online business is a crucial way of ensuring your retirement and the retirement of your loved ones in uncertain economic times.
Many people think it will be difficult, and that it will cost a lot of money to start. SaleHoo promises to provide all the information about dropshipping you need.
In this SaleHoo review, I present the pros and cons of starting a dropshipping business with SaleHoo while providing my own perspective.
SaleHoo Review – Takeaways
Product Name

: SaleHoo

Website: https://www.salehoo.com/
Special Offer: Get a Special Offer Here
Type: Dropshipping Training and Supplier Directory
Foundr:

Simon Slade

Overall Rank

: 4.6/5

SaleHoo Scam or Legit

: SaleHoo is not a scam. It's a legit platform for finding trustworthy suppliers for eCommerce stores.

Who is it For

: Anyone who wants to source the best products for eCommerce store
What is SaleHoo?
SaleHoo is a company based in New Zealand, founded in 2005 by Simon Slade. There are 8,000+ valid suppliers and 2.5 million products listed on this "wholesale directory".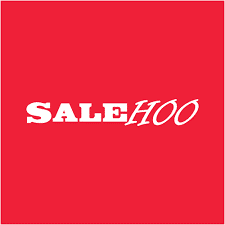 SaleHoo does not sell actual products, as it is a service and not a supplier. Wholesalers, dropshippers, and online retailers can find suppliers through SaleHoo. In addition, they offer product research tools and training.
Online product searches and product comparisons can be carried out using the tool. Product names, brands, and categories are used to find products to sell.
Although the company is based in New Zealand, a lot of the suppliers are from the United States, United Kingdom, Canada, Australia, and China.
Here's the YouTube video that introduces SaleHoo:
Get A Special Offer and Instant Access Here
What is Dropshipping?
Before I talk about how SaleHoo actually works, let me give you a brief idea about dropshipping.
Dropshipping is a business where you sell products from cheaper suppliers (such as China) to people who pay retail (such as the United States) without ever handling the products yourself is called drop shipping.
22-33% of internet retailers use Dropshipping as their primary method of order fulfilment. 84% of online sellers say establishing a relationship with a dropship supplier or wholesaler is the number one roadblock to starting an online business.
SaleHoo can be used in the following four areas for your dropshipping business:
Wholesale Supplier & Product Directory

Salehoo Labs for Product Research

SaleHoo Training Guides

The SaleHoo Community
How Does SaleHoo Work?
Once you sign up and create an account, you can immediately begin searching for products that you are interested in selling.
To place an order, contact the supplier directly when you find a product you want to sell or a supplier you want to work with. Information about shipping times, minimum orders, etc. is included on every supplier page.
You can decide if you want to dropship products directly to customers or purchase in bulk or wholesale and ship the product yourself.
Here are how the two methods work:
Dropshipping

: You sell the item first, then place the order with your supplier. Item is shipped directly to the customer by the supplier. This method does not allow you to see or handle the product.

Bulk/wholesale: You buy the products upfront from a supplier. After that, the supplier ships the item to your home or warehouse. Your customer receives the item directly from you. Although this method is more complex, it tends to yield much higher profit margins.
Get A Special Offer and Instant Access Here
What's Inside SaleHoo?
Now let me introduce what you can get inside SaleHoo.
1. SaleHoo Product and Supplier Directory
SaleHoo can be used in two ways:
Find a product supplier to purchase from

Product sourcing
There is no point in using SaleHoo if you do not want to buy wholesale products or sell any products
As of September 2019, SaleHoo offers 1.6 million products.
You can search for suppliers based on their type:
Dropshippers

Wholesalers

Liquidators

Manufacturers
Or by:
Location

Min order

Worldwide shipping

Tax ID requirement

Categories
You can contact the supplier through the inbuilt messaging system by clicking on their profile.
There are even email templates to choose from.
2. SaleHoo Labs – Product Research
You can find products that fit your "niche" through product research.
There are four ways to filter this on SaleHoo:
Product type

Sell rate

Average price

Competition
The choice is up to you whether to sell the product through eBay, your own online store, or Amazon etc.
3. SaleHoo Training Guides
There are 9 full training guides with a bonus guide section.
SaleHoo offers almost everything that you need to start and run a dropshipping business.
The course discusses how to register a business, tax laws, importing in different countries (the UK, USA, Canada, Australia), and much more.
There are eBooks and guides to sell various goods, including games, DVDs, fashion, electronics, and so on.
4. SaleHoo Community
Almost anything and everything you need to know about your eCommerce business can be found in SaleHoo's own forum.
This is a really active community with thousands of topics and posts. The community is one of the key benefits of using SaleHoo for your online business.
5. SaleHoo Dropship
SalesHoo Dropship is a new dropshipping automation tool for Shopify store owners.
SaleHoo Dropship allows store owners to:
Having direct access to low-cost, high-quality dropship suppliers

One-click import of high-profit dropshipping products,

All products are priced and shipped at your discretion

More…
You no longer need to manually reach out to suppliers and weed through each product catalogue, simply select the products with a high profit potential and your stores will be automatically filled.
Is SaleHoo Safe?
SaleHoo's suppliers go through a rigorous verification process, which weeds out fraudulent activity and Chinese counterfeiters. The supplier is then verified as an authentic company, selling genuine goods.
Furthermore, SaleHoo's directory of US suppliers includes Better Business Bureau (BBB) ratings. BBB's mission is to keep businesses from engaging in illegal and unethical business practices and to take legal action against them.
Get A Special Offer and Instant Access Here
Can You Really Make Money With SaleHoo?
Yes or No can be the answer.
Your effort will determine the outcome. Research, research, and more research.
Consumers are shopping online more frequently, which benefits online sellers.
The market is oversaturated with thousands of sellers selling the same products, and there is a high level of competition. Nevertheless, you still have a chance to win a chunk of the market share.
An online service like SaleHoo helps those with a hard time finding products to sell to fill that need. You can sell millions of products on SaleHoo. Using their tools, you can check competitors' insights and conduct market analysis.
Profit margins vary according to factors like the product and niche selection, and level of competition, therefore nobody can accurately predict how much money you can make.
SaleHoo Pricing
SaleHoo is quite affordable. It currently offers two plans:
$67 per year (access to SaleHoo for one full year, requires renewal every year).

One-time fee of $127 for lifetime access (a most popular choice).
With both plans, you have access to 2.5 million products listed in the directory, as well as 8,000 suppliers. There are no differences except for the price.
With the membership, you can access their supplier directory, market research labs, members forum, and receive email support.
PayPal and major credit cards are accepted for payment. In the event that SaleHoo doesn't live up to your expectations, you'll be able to get a full refund within the first 60 days.
Get A Special Offer and Instant Access Here
Is SaleHoo a Scam?
SaleHoo is certainly not a scam. It's a legit website that has existed for more than a decade. As well as being featured on MSN, Forbes, CNBC, and Inc., SaleHoo has been featured on Reuters.
Throughout this SaleHoo review, I will talk more about some of the good and bad aspects of SaleHoo to give you a more balanced view of SaleHoo.
Actually, my research on the website, testimonials, and Internet information has led me to the conclusion that SaleHoo really does what it claims to do.
It is extremely important to understand that SaleHoo is an online product-sourcing tool and does not actually sell anything.
With the help of SaleHoo, you can set your own hours and become your own boss, which many of us are looking for these days.
You can still build a profitable dropshipping business, despite the fact that it has evolved over the years. Whatever your intention, you can build an extra income stream to support your family, whether you wish to be your own boss or are just looking to supplement your income.
SaleHoo Pros
Here are a few things I like about SaleHoo
1. Well-known brands available
Compared to AliExpress, it offers a more extensive selection of products. You can find products that sell easier this way!
2. The suppliers have been vetted
There won't be any suppliers on SaleHoo who take your money and run. Each supplier is vetted for legitimacy.
3. Providing good training and support
Over 137,000 members attest to SaleHoo's great service. SaleHoo can also be contacted directly, which I will tell you how in a later section.
4. No Hidden Fees
You pay what you see. A lifetime membership means a lifetime, and there are no additional fees to pay later on.
5. Trending Products & Thorough Market Research
Trends and top-selling products are easy to find. You can use SaleHoo to see if there is a demand for a product. It helps you find the winning product more easily.
6. Low minimum order requirements
The products on SaleHoo has a low minimum order requirement, meaning you don't have to buy in bulk so that you won't incur huge inventory cost.
If you have sold one item on eBay, you can order one item so you do not have to store stock and still get the best available prices.
7. 60-Day Money Back Guarantee
SaleHoo is confident in what it offers. There is a 60-day money-back guarantee.
If you do have any issues getting your money back from SaleHoo, you can contact ClickBank and they will be able to assist you.
8. 24/7 Customer Support is Available
Previously, customer support was not available on weekends. But now SaleHoo offers 24/7 customer support.
That means even if you work a 9-5 job and only have time to work on your business on weekends, you can be sure to get support anytime you want.
Get A Special Offer and Instant Access Here
SaleHoo Cons & Complaints
SaleHoo is not perfect. You should know a few things before diving into SaleHoo.
1. It's hard to build an eCommerce brand
Building an eCommerce brand is not easy. So even if you can source some special and good quality products from SaleHoo, it doesn't mean you can sell well.
You have to build a brand and get people to trust you in order to make more money.
2. SaleHoo Does Not Have The Most Products
SaleHoo offers 1.6 million products, which is quite impressive. But when you compare it to other networks such as Worldwide Brands, which has 16 million, it's not much.
Of course, some products are only available on SaleHoo, but not Worldwide Brands.
3. There are some upsells
Even though there are no additional fees, you may find some upsells inside SaleHoo.
The "Online Selling Tactics" training costs $247 as a one-time payment or $97 a month.
Although the training is not necessary, it feels frustrating to be required to pay extra to get access to it.
4. You can search for some suppliers by yourself on Google
Actually, some suppliers can be found for free, for example, inventorysource.com has many product suppliers.
You can also search for wholesale suppliers on Google.
However, many of the best suppliers will not run ads, so it might be hard to find them out on your own.
Other SaleHoo Reviews
On the internet, I read other SaleHoo reviews and complaints. Following the reading of these reviews, SaleHoo has mixed views – positive and negative.
On Trustpilot, SaleHoo has a very high rating of 4.8 out 5. Trustpilot is a trustworthy review site, where all the reviews are verified.


Here are some of the positive SaleHoo reviews: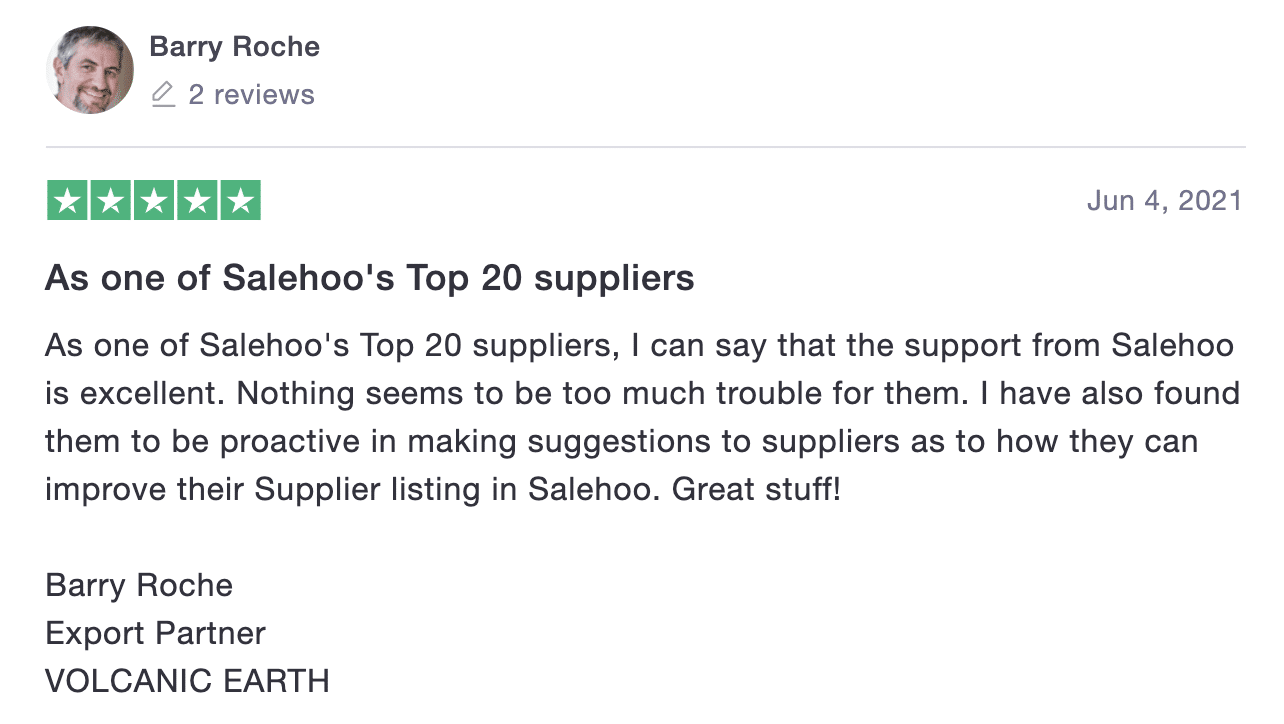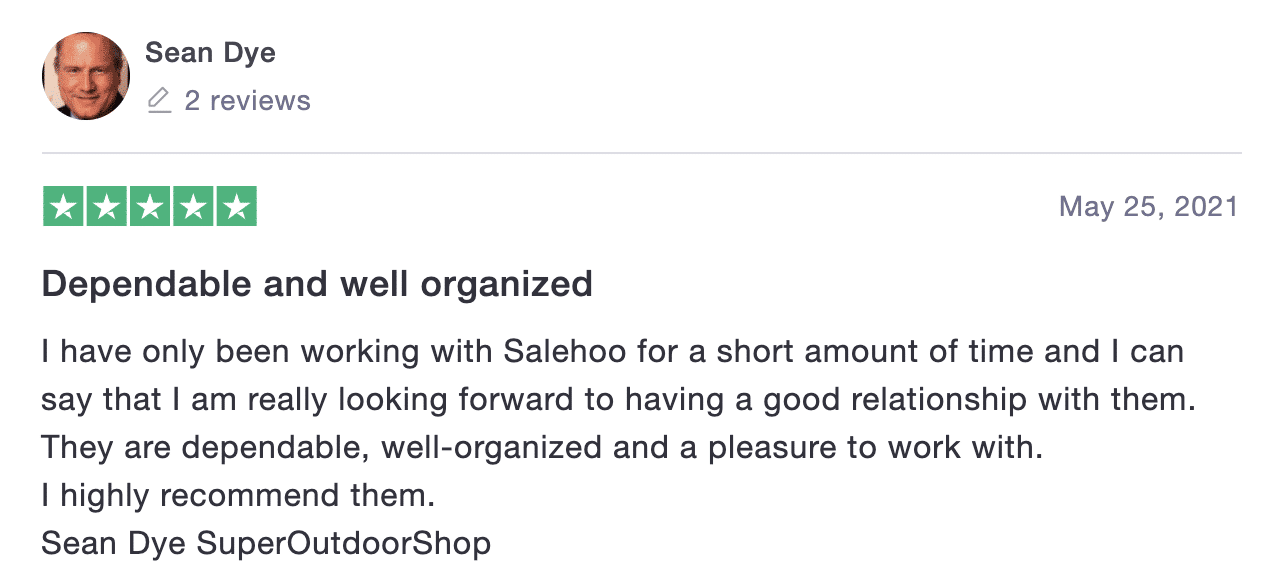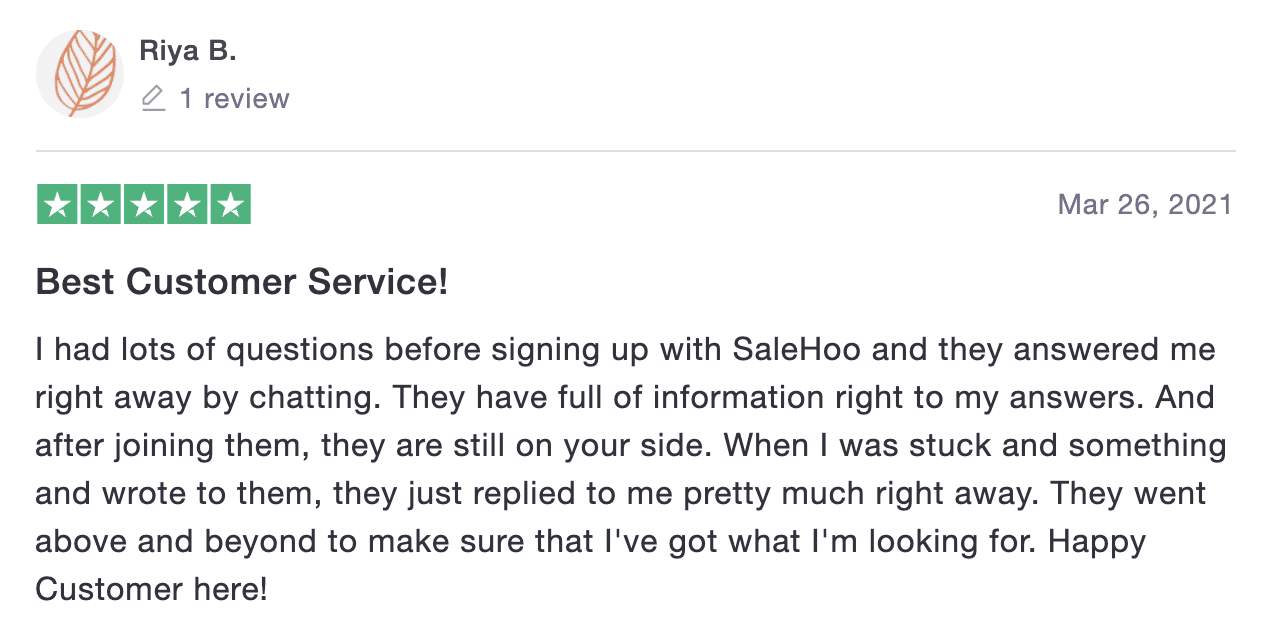 Here are the bad SaleHoo reviews:
"They try to help but couldn't find me any drop shipper that deals with name brand unlocked cell phones can be depressing after a while." ~ Carolyn Gaza
"I have used and do not think much of it. It's very difficult to find products that you can make much of a profit with." ~ Selfless Marketer on Warrior Forum
"I can say that i tried out Salehoo for a while and was not impressed. I was attempting to find products to resell on eBay. I looked for weeks without finding much at all. I would not recommend it if your plan is to sell on eBay." ~ Carol Smith
Get A Special Offer and Instant Access Here
Who is SaleHoo For?
You should use SaleHoo if:
In your dropshipping business, you need to be able to buy bulk products.

There is not enough time for you to search for suppliers on your own.

The products you want to sell are not available.

It is your plan to sell products on your own website rather than through third-party marketplaces (e.g. eBay, Amazon, etc.).

You know how to conduct market research.
Who is SaleHoo Not For?
You should not use SaleHoo if:
You don't want to subscribe to a membership.

Most of what you sell is on eBay and Amazon.

The idea of running a drop-shipping business does not appeal to you.

You want to sell products that a lot of other sellers are also selling right now.

Your scepticism persists regarding SaleHoo and how it works.
Positive & Negative Feedback From SaleHoo Users
Positive Feedback
Well-known and vetted suppliers provided

Good training to help your dropshipping business

Low minimum orders (don't need to buy in bulk like usual for wholesale prices)

No hidden fees

Good for finding trending products
Negative Feedback
SaleHoo has 1 upsell i.e. their premium "Online Seller Training"

Live support is not great on weekends

Only 1.6 million products compared to 16 million by Worldwide Brands
Get A Special Offer and Instant Access Here
Final Verdict: SaleHoo Review
Shortly put, SaleHoo lives up to its reputation. For beginners who are just starting out and don't want to risk losing a lot of money, this is an excellent choice. Besides the training, it also includes a community where you can get answers to all of your questions.
One of the benefits of using their service is that you can avoid doing business with Chinese suppliers that you don't know.
SaleHoo allows your company to focus more on other business aspects and less time on finding products to sell. An investment in SaleHoo usually pays for itself pretty quickly.
I recommend giving SaleHoo a try.
If all else fails, at least you'll be able to get your feet wet and build relationships with suppliers.
Get A Special Offer and Instant Access Here
SaleHoo FAQ
1. Can I Cancel My SaleHoo Account?
Cancellations can be made within 60 days of the date of purchase and a full refund can be obtained.
If 60 days have passed, you cannot request a refund. Please email [email protected] with the receipt number if you wish to cancel your account. The number to call is 1-888-881-8703.
2. Where can I find SaleHoo coupons?
Currently, there are no SaleHoo coupons available. It is likely that anyone promoting a SaleHoo coupon is getting you to click on their affiliate link.
3. Is SaleHoo worth it?
Yes, SaleHoo does provide a lot of value to help you succeed in eCommerce. The membership fee is not very expensive.
Get A Special Offer and Instant Access Here
SaleHoo Alternative: Make Passive Income Online
If you don't want to do eCommerce or dropshipping with SaleHoo, you might wonder if there is a better business model that can do it as a side-hustle.

Yes, I would suggest you get started with affiliate marketing. It is far easier and less time consuming as you don't even need to handle customer service or physical products.

In affiliate marketing, you can run your business almost with zero cost. Most importantly, you don't need to invest in creating and developing any products.
But How Much Can You Earn in Affiliate Marketing?

A 21-year old student from my #1 recommended training platform of affiliate marketing was able to earn $7,395 in just 1 week, which means he made more than $1k a day…all while using free traffic methods and affiliate marketing.
Wealthy Affiliate has existed for more than 10 years and there are many success stories over the years.
To give you more examples, here are some of the other inspiring success stories of Wealthy Affiliate members.

Where to Join Wealthy Affiliate?
Wealthy Affiliate has a very simple pricing scheme. It has a free and premium membership.

If you want to feel about Wealthy Affiliate, you can sign up for the starter membership here (no credit card required). You can select to be a free member with no time limit.

And as a starter member, you can get instant access to the community, live chat, over 500 training modules, 2 classrooms, networking, commenting, 1 free website, access to the keyword tool.

You can enjoy all these values without paying a penny.
So I strongly recommend you to register a free account and see it yourself.