Are you looking for a Worldwide Brands review? Is Worldwide Brands a scam? Should you use Worldwide Brands for finding product suppliers?
Over the course of 20 years, Worldwide Brands has established itself as the leading wholesale supplier directory.
Most likely, if you are searching for Worldwide Brands review, you already sell online or are interested in doing so. It's possible that you are looking for wholesale sourcing, dropshipping, or both.
There may be no more important reason than finding good deals and avoiding scams.
To help you decide if Worldwide Brands is suitable for you, I have done thorough research about Worldwide Brands in the past few weeks.
Worldwide Brands Review – Takeaways
In this Worldwide Brands review, I'm going to cover the following topics:
What is Worldwide Brands?
The Worldwide Brands wholesale directory is a resource for sellers and buyers looking for suppliers in the upper market.
When selling products on the likes of eBay and other online stores, it goes without saying that you will need inventory to sell. A lot of the suppliers that offer this are scams or charge overpriced prices.
Worldwide Brands is a wholesale directory that helps you avoid suppliers scams. Suppliers are constantly added to WorldWide Brands' extensive directory, allowing sellers to find products without the risk of finding them elsewhere.
It sounds like a great idea, right? How does it work? Is Worldwide Brands worth it? I'll explain this more in detail later in the review.
Get A Special Offer And Instant Access Here
What is a wholesale/dropship directory service?
Wholesale/dropship directories are exactly what they sound like. It is a list of verified and pre-vetted suppliers.
This does not mean you are purchasing goods from Worldwide brands. They are the middlemen who connect you with high-quality vendors.
There are a few reasons why online retailers choose to pay for a directory service.
You probably know how time-consuming it can be to find reliable suppliers. Having access to so many suppliers at the touch of a button is definitely convincing.
You may have come across a lot of scammers if you've been in the business a while. Those who charge a membership fee or an admin fee to access their stock file only for the stock to never arrive.
Since I have been there, businesses such as Worldwide brands exist to connect reputable businesses with reputable suppliers.
A directory service gives you the benefit of searching for the product you need and getting the contact information for another supplier in just a few clicks.
How does Worldwide Brands work?
With Worldwide Brands, you can search a comprehensive supplier directory for viable choices.
As soon as you're logged in, you can search the directory by specifying a brand, a type of product, or even a state or city to find local companies.
After you've entered your search, a list of wholesale providers will appear.
These results come from a stable database of top-tier suppliers that is regularly updated and monitored.
The companies' names, full addresses, sites, contact information, and any details about doing business with them are shown when you click on them. Likewise, it will list the types of products the supplier offers.
For market research on product types, Worldwide Brands provides a "quick analysis" tool, but the tool is rather basic. It doesn't seem to be as useful as eBay's own completed listings.
Among the most important metrics are the final sale price and the percentage of items actually sold.
Therefore, I suggest that for this kind of market information, you might consider the SaleHoo Market Research Lab.
Worldwide Brands might not be the best directory, but as far as quality is concerned, it's quite a good service.
Worldwide Brands Pros
1. Vast Supplier database
With Worldwide Brands, you get access to a vast supplier database that they have verified themselves. There are more than 8000 suppliers, and it offers 16 million different products.
Those living in the U.S. can also search exclusively for suppliers in the country.
2. Easy Search functionality
The search function is also worth mentioning. Using the search bar was very easy because you have various options such as products, brands, and locations (such as Florida).
The directory is easy to navigate for wholesalers seeking to buy bulk or drop shippers seeking a supplier nearby.
Also, there are many categories, so you may be wondering what's available.
3. Options For Buying in Light bulk
I think WWB has something unique to offer you if you're going to be a wholesale ecommerce business instead of dropshipping.
Additionally, they have found legitimate suppliers who will ship in 'light bulk', which means you do not need to place a large order to receive goods from these suppliers.
It is a great feature if you're just getting started, as you may lack the capital to purchase large quantities. Light bulk orders means you can purchase your product for less than $500.
4. Allow Making product request
There are 16million products in the Worldwide Brands catalog, but if you cannot find what you need, there is a second service available.
A dedicated product request team will locate suppliers for you once you become a member, it's simple to do once you become a member. Log in and submit a product request. There is even an option to set up an alert so that you are notified when they find a supplier.
5. Online Video training series from the Founder
There are some great guides that Worldwide Brands provide to ensure you stay on the right side of the law with both your suppliers and your business.
Especially if you live in the USA, some of these videos can be really valuable if you are brand new to e-commence as they go over such topics as getting your tax ID and what to look at when planning to sell online.
It appears that Chris Malta, the founder of the company, is still very much involved in this business after the basic videos. If this is your first online business or new to e-commerce, you might find the training really useful.
6. Product analysis Tool
This feature is great if you aren't sure what your store should sell. The Worldwide Brands website is providing a free tool to help you determine whether your product is likely to sell so you can get your business off on the right track.
There are three scales in this tool; maybe a good keyword and a very good tool. It's of course ideal to have a very good tool.
Additionally, Ebay and Amazon prices are generated, so if you're selling on these platforms, you will certainly find this tool helpful.
This tool will help you figure out which prices you should be purchasing your products at if you add them to your research list.
7. Forum for networking with peers
A forum is also included as part of membership. It contains useful information about what is most commonly discussed. Also, you will have the chance to network with your peers from other businesses.
8. The Worldwide Brands app
The Worldwide Brands app is a recent addition to the membership. With this, you can manage your business remotely while on the move. You might like this feature if you would rather use your phone than your computer.
9. The Worldwide Brands Newsletter
If you would like to know what's going on, they provide a free weekly newsletter. The Worldwide Brands Weekly Tips & Ideas are shared every week.
Their experiences at trade shows and what they're offering are also shared. Considering that not everyone has the time or money to attend trade shows, Worldwide Brands offers this opportunity to stay informed without spending time and money at trade shows.
Get A Special Offer And Instant Access Here
Worldwide Brands Complaints and Cons
Worldwide Brands is not perfect. You should know a few things before diving into Worldwide Brands.
1. It's hard to build an eCommerce brand
Building an eCommerce brand is not easy. So even if you can source some special and good quality product from Worldwide Brands, it doesn't mean you can sell well.
You have to build a brand and get people to trust you in order to make more money.
2. Worldwide Brands Does Offer A Free Trial
Unlike other software or service, Worldwide Brands doesn't offer a free trial. So it seems that Worldwide Brands is not so confident in what it offers.
3. Live Chat & Customer Support Not Available on Weekends
People who work a 9-5 may want to do it as a side gig. In that case, they may reach out to the Worldwide Brands support on weekends. But Worldwide Brands support is not available on Weekends. Thus, you may find it difficult to get help when you need it.
4. You can search for some suppliers by yourself on Google
Actually, some suppliers can be found for free, for example, inventorysource.com has many of the product suppliers.
You can also search for wholesale suppliers on Google.
However, many of the best suppliers will not run ads, so it might be hard to find them out on your own.
Who is Worldwide Brands For?
Worldwide Brands is like being a member of a gym. Does it pay off? This is possible, but you need to be sure you're going to continue using it. Otherwise, it will just collect dust after you spent so much money on it.
If you want to avoid scams and find suppliers at low prices, then Worldwide Brands is for you.
Having some experience under your belt and doing very little market research probably helps as well.
If you're relatively new to online selling and don't know if you're ready for the expense, Worldwide Brands may not be for you.
Buying a lifetime membership for $299 makes sense for long-term use. You might decide to try this after finding your feet and connecting with a few suppliers through more affordable options.
Nonetheless, if you have the time, effort, experience, and money to spare then it may be worth considering.
Who is Worldwide Brands Not For?
Worldwide Brands is not for everyone. You shouldn't use Worldwide Brands if you fit the following criteria:
The cost of a lifetime membership to Worldwide Brands is too high for you.

You don't have a website and intend to sell primarily on eBay, Amazon, and other marketplaces.

You don't know how to run a drop shipping firm.

You wish to sell popular items that other merchants are currently selling.

You believe Worldwide Brands are a scam.
Is Worldwide Brands a Scam?
Worldwide Brands is not a scam. It's a legit company.
The Worldwide Brands Directory was featured in Entrepreneur, Brides and National Geographic Channel, among others, as well as in television shows. Several years in a row, Worldwide Brands has also been named one of Home Business Magazine's Top Home Business Opportunities.
This is not one of those cheap eBay wholesaler lists that are full of shoddy, unauthorized suppliers.
However, please note that you won't get rich fast with Worldwide Brands. The day you become a millionaire is not going to come tomorrow or next week or next year. There's no chance of becoming a millionaire after using Worldwide Brands.
Also, Worldwide Brands is not suitable for everyone. You have to try it and see if it suits your needs.
Get A Special Offer And Instant Access Here
What do Others Say About Worldwide Brands?
On the Internet, there a few websites that mention Worldwide Brands. A lot of mixed feedback had been received on the service, both positive and negative.
It is human nature to complain when you fail at something. Here are some reviews on Trustpilot: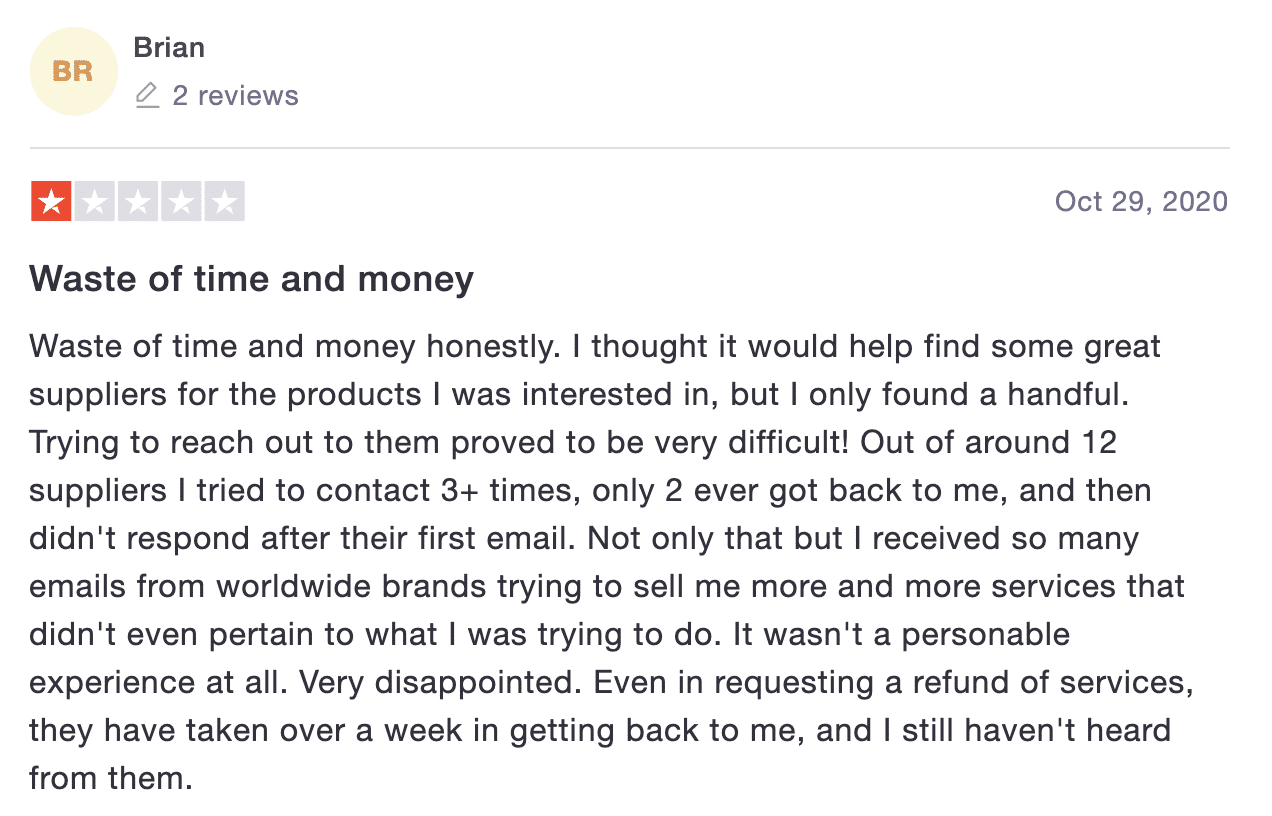 Is It Safe to Do Business With Worldwide Brands Suppliers?
It is risky to import from China since you never know who you are dealing with. No matter where you buy, whether in the United States or elsewhere, it is the same. It may appear legitimate, but you are at risk of being defrauded of money by receiving counterfeit goods that are identical to the originals.
The problem does not exist with Worldwide Brands' suppliers. Worldwide Brands verifies every supplier listed in the directory for counterfeiting and fraud prevention.
Wholesale trade events held across the country offer vendors from Worldwide Brands an excellent opportunity to market their products.
Can I Make Money With Worldwide Brands?
Worldwide Brands is seen by some as a useless service, while others claim you can profit millions. You won't be making millions anytime soon, but with Worldwide Brands, you can start off on the right foot.
Over-saturated markets and fierce competition are everywhere, and every product you could think of is over-saturated.
Additionally, many people are selling something online as a way to supplement their income. Despite all this, the number of online shoppers keeps increasing year after year.
The benefits of selling online are that it allows you to reach millions of people worldwide. Increasing competition has resulted in an increase in the number of clients buying online.
Worldwide Brands offers products with high, low, zero, and negative profit margins. In other words, there is no end to what Worldwide Brands can offer.
There are many factors that contribute to overall profit margins, including the products and where they are sold.
Providing products that are being offered by everyone else will most likely not bring you profit since your business will not stand out.
If you delve into your research and select the right items, you will more likely make money.
Worldwide Brands Pricing
Worldwide Brands is not cheap. A lifetime membership with Worldwide Brands is $299. There are no additional fees.
Your subscription to Worldwide Brands will never expire once you purchase it. In addition, you gain access to tools on how to sell online, support, community forums, and wholesale directory when you subscribe.
If you cannot pay in full, you can pay for your membership in three monthly payments. The first month costs $99, the second month costs $110, and the third month costs $110 if you choose this option.
PayPal or a credit card can be used to pay for your membership.
Get A Special Offer And Instant Access Here
Worldwide Brands Positive and Negative Feedbacks by Real Users
Worldwide Brands Positive Feedbacks
The membership fee is a one-time fee and does not expire.

There is no order minimum, so you can order as little or as much as you want without incurring additional charges.

The wholesale directory offers a wide range of products.

Each supplier must undergo a rigorous verification process before being listed in the directory (removing Chinese counterfeiters and other fraudulent companies).

Worldwide Brands is the only eBay-certified source for wholesale goods sourcing information.

Each week, new items and providers are added to the listing.

You can do business with a variety of vendors on one website.
Worldwide Brands Negative Feedbacks
There are many items available that are overpriced.

It is challenging to sell these items on eBay and Amazon for a profit.

A resale certificate is usually required when placing a larger order (this is a normal requirement for legitimate businesses, and you should already have the relevant business documents).
Worldwide Brands Review: Final Verdict
If you value your time and would like to focus on other parts of your web business, Worldwide Brands may be a good investment.
If you are willing to take risks and don't mind cold-calling suppliers and you have a significant budget, Worldwide Brands is probably not for you.
Worldwide Brands Review FAQs
Is it possible to cancel my Worldwide Brands account?
It is possible to cancel your account at any time, but you will only be entitled to a refund if you do so within a certain timeframe. In such a case, you can cancel your membership and receive a full refund within 60 days of buying it.
If you paid in instalments, you would have 30 days to cancel the service and receive a full refund. In this case, cancelling your account is pointless if you missed the reimbursement window.
2. How to Get Results on Worldwide Brands?
To focus on a small niche or a single product with little competition that consumers need or want is the goal.
Since the market is overflowing with iPhones, PlayStation 4s, Legos, and cell phone cases, you should avoid famous brands.
3. What's the Worldwide Brands Support?
Monday through Friday, 9 a.m. to 5 p.m., the customer service staff is available via phone and email.
As a member of Worldwide Brands, you gain access to the Market Research Tool and a members-only forum where you can communicate with other members.
You will also have access to educational videos, workbooks, and real-world tasks that will help you learn how to sell online and build supplier relationships.
4. Is there an alternative to Worldwide Brands?
A similar service is provided by SaleHoo (see this SaleHoo review).
5. What are the methods that Worldwide brands use to verify suppliers?
You want to make sure Worldwide brands are doing everything they can to protect your business from non-legitimate suppliers.
Most global brands boast that they don't actually include all the suppliers they find in their directories. You will only find suppliers that are genuine factory direct wholesalers or manufacturers of the products they carry.
To network and meet new suppliers, they attend major wholesale trade shows around the world. Worldwide Brands then vets each supplier before adding them to the directory after receiving their details.
Worldwide Brands Alternative: Make Passive Income Online
If you don't want to do eCommerce or dropshipping with Worldwide Brands, you might wonder if there is a better business model that can do it as a side-hustle.

Yes, I would suggest you get started with affiliate marketing. It is far easier and less time consuming as you don't even need to handle customer service or physical products.

In affiliate marketing, you can run your business almost with zero cost. Most importantly, you don't need to invest in creating and developing any products.
But How Much Can You Earn in Affiliate Marketing?

A 21-year old student from my #1 recommended training platform of affiliate marketing was able to earn $7,395 in just 1 week, which means he made more than $1k a day…all while using free traffic methods and affiliate marketing.
Wealthy Affiliate has existed for more than 10 years and there are many success stories over the years.
To give you more examples, here are some of the other inspiring success stories of Wealthy Affiliate members.

Where to Join Wealthy Affiliate?
Wealthy Affiliate has a very simple pricing scheme. It has a free and premium membership.

If you want to feel about Wealthy Affiliate, you can sign up for the starter membership here (no credit card required). You can select to be a free member with no time limit.

And as a starter member, you can get instant access to the community, live chat, over 500 training modules, 2 classrooms, networking, commenting, 1 free website, access to the keyword tool.

You can enjoy all these values without paying a penny.
So I strongly recommend you to register a free account and see it yourself.