Dropshipping is one of the most lucrative and hottest online businesses to start in 2022. Dropshipping is one of the easiest and cheapest online businesses to start. Just create an ecommerce store, upload products from a quality ecommerce store to your website, and begin promoting them on social media and search engines. Simple. However, finding the right products to dropship is the most challenging part of dropshipping.
Your dropshipping store will be successful if you can choose the winning products in dropshipping niches. For maximum revenue, you need to carefully choose the most profitable items to dropship once you have chosen the niche.
Whenever you sit down to brainstorm dropshipping business ideas, make sure to choose a niche that has a low level of competition. Niche products and dropshipping products with high search volumes are also options. You can also ride the trend wave and engage in products that sell like hotcakes for a certain period of time.
Dropshipping Niche Trends in 2022
Are you unsure of what type of e-commerce store to choose? Consider these top dropshipping niches:
Home decor & Home improvement

Jewelry

Health & Beauty

Fitness

Pet products

Boho clothing & Accessories

Phone accessories
Recommendation: Here's The Best Alternative
20 Best Dropshipping Products to Sell
1. Foldable picnic table
The summer unfolds and foldable picnic tables become one of the hottest products on the market. The lockdown is no exception. People are looking for ways to escape their quarantine reality and relax, and picnics are a fun way to do so.
Till the end of October, you can make good money by selling foldable picnic tables!
2. Boho clothes
Clothing in the boho style typically features flowing dresses, flowing skirts, embroidery, and beading.
Boho chic has been in style for some time now, and it doesn't seem like it's going anywhere anytime soon. During the Pandemic, we have all been yearning for natural beauty, self-love, comfort, and freedom.
Your dropshipping clothing business can run all year round with boho fashion, which is fitting for all seasons.
3. Lip masks
Those of you who aren't into skincare may be surprised that such a thing exists! This is definitely a thing!
Influencers like Kim Kardashian introduced the lip mask trend to the US after starting in Asia, especially in Korea. The modern woman is obsessed with plucking her lips, and lip masks provide the necessary hydration.
4. Dumbbells
Dumbbells and other fitness equipment became very popular with online shoppers as people started exercising at home during the lockdown.
Maintaining your exercise routine is difficult. We rarely stick around for more than a week or two on social media, so you have to create an encouraging community.
Utilize photos of your customers using your dumbbells to build social proof and inspire others to work for a better version of themselves.
5. Dog beds
Since the last 5 or 6 years, online shopping for pet products has boomed. Statista estimates that most pet owners in the US spend as much as $500 on their pets annually. The average household in more affluent neighborhoods spends $1,523 per year. There is a market! Pet beds are a popular pet product. Every dog needs a bed!
In addition, dog beds wear out over time. Educate consumers about why dog beds need to be replaced every year or so to ensure that every dog sleeps on a cushion that doesn't become too flat and protects it from the hard floor.
Utilize holidays, such as Valentine's Day, and create advertising campaigns to encourage pet owners to get their beloved dogs the beds they deserve.
6. Phone cases
Dropshipping phone cases can be profitable since they are easy to source and always in demand. Keeping phones safe and expressing one's individuality is possible with these accessories. Many fashionistas own multiple phone cases that match a variety of outfits!
When it comes to marketing phone cases, anything works, from drop and water resistance tests to matching outfits. Microinfluencers can be used to boost sales immediately. Consider influencers who promote sustainable living, for example, if your phone cases are eco-friendly.
7. Jade rollers
Youth is the idol of our pop culture, and we're all afraid of aging. It's no wonder the beauty industry thrives. The market is constantly flooded with creams, procedures, and 'best diets.'
A few years ago, jade rollers (face rollers) were huge, and the trend hasn't died down yet, as shown by this graph from Google Trends.
Promote lymphatic drainage and massage with jade rollers to help your target audience fight wrinkles. The importance of having a self-care routine and enhanced penetration of facial serums are discussed.
8. Temporary tattoos
As Instagram influencers, musicians, and artists become more and more free-spirited, tattoos have become a fashionable asset.
Due to the quarantine, many tattoo shops have closed, so people are buying temporary tattoos online in an effort to 'get inked'.
Make temporary tattoos popular on Instagram and TikTok. Collaborate with micro-influencers who fit your target audience to show how you can get inked at home! You can choose from a variety of different designs and not be disappointed!
9. Massage guns
COVID-19 has seen an unprecedented increase in demand for massage guns. During the lockdown, as people are more concerned with their health, health and fitness becomes one of the most profitable dropshipping niches of 2022.
Promote vibration therapy at home using massage guns. Show the device in action and collaborate with micro-influencers. You could, for instance, explain how the massage gun helps fight muscle soreness after a workout to people in the fitness niche.
10. Sleep gummies
About one third of Americans don't get enough sleep. Sleep gummies are relatively new to the industry, even though melatonin-containing supplements have been around for a very long time.
According to Google Trends, sleep gummies have been steadily increasing for the last few years, and this trend does not appear to be slowing down. They're easy to consume and look cute. Dropshipping products are among the top dropshipping products to sell in 2022, no wonder!
Provide educational content on the importance of sleep on social media channels, such as Instagram. The benefits of better sleep habits and the dangers of sleep deprivation will be discussed.
11. Yoga mats
As a result of the lockdown, people began exercising at home, and without a yoga mat, exercising is impossible. Yoga mats should be one of your top priority items if you plan on selling fitness dropshipping products in 2022!
Create a supportive community on your social media channels. Encourage your satisfied customers to post photos of themselves doing yoga on your mats. By doing this, you'll also build social proof, motivate others to start working out and buy your equipment.
12. Ring lights
People started working from home during the quarantine. A ZOOM era ensued, and looking good in a camera became more important than ever. Lighting the subject with ring lights minimizes shadows and creates a beautiful portrait.
Run ads that show the same person with and without a ring light. You'll learn how to look great in your home office and how to make amazing videos and selfies for your social media.
13. Air purifiers
A popular hobby for many of us in 2020 and 2021 was home improvement. The demand for air purifiers is high because they can make staying at home more enjoyable and healthier.
Make sure your audience knows how important it is to eliminate air dust, pollen, germs, mold, and smoke odors from their homes. Share infographics and customer testimonials.
To give your dropshipping business more muscle, conduct an interview with a health specialist.
14. Air fryer
Air fryers are one of the most popular dropshipping products among foodies. US households are raving about them!
We all started cooking more during the quarantine, and who doesn't like fried chicken? Aside from that, air-fried food is healthier because it uses much less oil.
Promote the health benefits of air-fried food versus deep-fried food to your potential customers. Collaborate with micro-influencers and share easy-to-cook recipes.
Incorporate user-generated content (UGC) into your social media strategy as well. You can build social proof and trust by enabling your happy customers to share their photos or videos with your brand.
15. Fitness trackers
Fitness trackers have been popular for a while now, but they became even more popular during the lockdown. There is a limit to how much banana bread one can consume without feeling guilty. Since fitness trackers encourage healthy habits during these challenging times, they are popular.
Inform your potential customers about the importance of staying healthy and fit. Describe how fitness trackers can keep people motivated to reach their fitness goals.
Provide examples of how fitness trackers have helped people to increase their activity level and get more steps in. Promote a healthy lifestyle (and your fitness trackers) by posting before and after weight loss photos and creating a Facebook group.
16. Blue light glasses
Our eyes are protected from the effects of blue light by blue light glasses, which reduce eyestrain. We spent even more time staring at our laptops during the lockdown, so blue light glasses became a popular dropshipping product.
The global market for blue light eyewear is expected to reach $28 million by 2024, up from $19 million in 2020, according to 360ResearchReports.
The effectiveness of blue light glasses may be questioned by some. Additionally, it's a niche related to health, so your customers will be looking for quality products. Make sure your content clarifies any doubts about your product, and use social proof like customer reviews to encourage sales.
17. Posture corrector
The demand for posture correctors hasn't subsided for the last five years, and there's no indication that it will do so any time soon. See below for Google Trends data!
There is also evidence that the pandemic has contributed to the surge in popularity. A lot of us had to shift to working at home because of the pandemic. It has become more difficult than ever to maintain good posture.
Discuss how bad posture can impact your energy levels and cause you pain or even injuries over time. Describe how posture correctors can help you maintain a straight back and reduce low back pain.
18. Podcast microphones
It's one of the top lockdown trends. Podcasts have been around for quite some time. During the quarantine, they became even more popular as we sought entertainment and connections with others.
In order to record a podcast, you must choose a specific type of microphone, for example, a USB microphone. After that, you can create targeted content for your website based on search terms such as "USB microphones for podcasting".
19. Pendants
Those of you who use Instagram and have an interest in jewelry have probably noticed pendants have been taking over feeds for the last couple years.
The look of a pendant is timeless and gives off a nice summer feel. You can, however, wear them all year long. For instance, disc pendants are all the rage right now! The profit margins on pendants can be very high, so pendants are a great product to sell!
Jewelry is usually a spontaneous purchase, so if you want to start selling it, appeal to your potential customers' emotions.
Create highly targeted Facebook ads by analyzing the personality traits and interests of your ideal buyers. Learn how to market your jewelry store with our jewelry dropshipping marketing guide.
20. Rugs
Work from home, cry from home, stay at home. Our lockdown situation is not changed much by a rug, but it still makes our homes more beautiful and more comfortable. There is no doubt about that.
Until 2025, this niche is projected to grow by 6.6% annually. By that time, it will generate $300 million in revenue annually!
Color and design are the key elements of rugs, as they are with many other home decor items. They also need to add comfort to a room.
You have to show your potential customers what their home will look and feel like with your rug. Professional photography can achieve this by making sure the lighting accentuates the texture of the rug.
Recommendation: Here's The Best Alternative
How to Find Dropshipping Suppliers
Find a reputable supplier once you've decided what to dropship. Most beginners struggle with this step. Some dropshipping suppliers are small companies that are difficult to find on Google.
A lot of dishonest companies charge astronomical fees as well.
Have you ever been the head of Oberlo? With this software, you can manage your dropshipping business in general as well as find and import products to your store.
Considerations When Choosing Products For Dropshipping
A perfect price
Be sure to take into account the level of pre-sale service you'll need to offer when determining the price point. Without talking to anyone on the phone, most people feel comfortable placing a $200 order online.
But what about $1,500 items? Before making such a large purchase, most buyers will want to talk directly to a sales representative, both to ensure the item is a good fit and to ensure the store is legitimate.
Make sure you can offer personalized phone support if you plan to sell high-priced items. In addition, ensure that the margins are high enough to justify the pre-sale support you'll need to provide.
A price range between $50 and $200 is often the sweet spot for maximizing revenue without having to provide extensive pre-sale support.
MAP pricing
Manufacturers may set what's called a minimum advertised price for their products, requiring that all resellers price their products at or above certain levels.
With a pricing floor, merchants can make a reasonable profit by carrying a manufacturer's products, preventing price wars that commonly break out around dropshipping products.
A niche where manufacturers enforce MAP pricing is a huge advantage, particularly if you plan on building a high-value and information-rich website.
When prices are the same for all competitors, you won't have to worry about losing business to less-reputable but cheaper competitors.
Marketing potential
It's better to think about marketing your business before you launch it than three months after launch, when you realize that acquiring customers is a nightmare.
You could write articles, give away products or reach out to online communities that use the products you're selling to promote your store. Otherwise, you might want to reconsider your plans.
Additional accessories to sell
Dropshipping is generally best suited for lower-priced items. Accessories with lower prices have significantly higher margins than those with higher prices. Even if a cellphone store only makes 5% on the latest smartphone, it will almost certainly make 100% or 200% on the case that goes with it.
When it comes to big-ticket items, we're more aware of price than we are about smaller accessories. If you bought an expensive Apple iPhone, you'd probably shop around for the best price. Will you shop around for the best price on a $20 to $30 case? Unlikely. You're likely to buy it at the same store where you bought your phone.
Low turnover
Hopefully, you're now convinced that investing in a high-quality, educational site will pay big dividends.
However, if the items you sell through dropshipping change every year, maintaining that site will quickly become overwhelming.
Consider dropshipping tools or personal care products that aren't updated with new models every year. Your time and money invested in a wonderful website will be worth it for years to come.
Smaller is usually better
It can be challenging to sell large, heavy equipment that's expensive to ship in a world where free shipping is often expected. Smaller items can be shipped cheaply to your customers.
You need to consider a number of factors when choosing the best products to dropship. The following guidelines should help you identify the best products to dropship.
It's hard to find locally
Find a product that's scarce in a particular region is one of the best products for dropshipping. If you don't get too specific about the product, you'll increase your chances of success if it's hard to find locally. The majority of people who need a garden rake or a sprinkler simply run down to the nearest hardware store. Where would you purchase a medieval knight's costume or falconry equipment? I'm guessing you'd go to Google and start searching.
Recommendation: Here's The Best Alternative
What to Look for When Finding Dropshipping Products
Are you looking for winning products to dropship? Consider the following criteria:
Find products that you can't easily find selling anywhere else.

Identify a product that solves a problem (e.g., a smart water bottle that tracks water intake).

Ensure that your products do not have advertising restrictions.

You want to make a big impression. Imagine the last shoe ad you saw on Instagram and immediately clicked – that's a wow factor.
If you want to do dropshipping product research, use some or all of the tools from our list below.
How Does Dropshipping Work?
In layman's terms, dropshipping is an eCommerce business model that enables entrepreneurs to run their businesses without having to handle inventory or logistics. Dropshipping stores require that an entrepreneur alerts the supplier as soon as a sale is made so that the supplier can ship directly to the customer.
As a dropshipper, you don't have to worry about things like packaging and/or shipping. Your focus should be on growing your business and making more sales. With this method, dropshipping becomes a more streamlined and straightforward process.
Additionally, dropshippers can easily test out brand new products, such as the ones listed in this article, with very little or no risk.
You can do a lot more with your dropshipping store when you're a dropshipper. You can add and remove products, try new marketing campaigns, and do a lot more.
By not having to do many of the tasks involved in a traditional ecommerce business environment – like purchasing your product in advance, waiting for it to be delivered, and storing it until it sells – you have more free time to devote to improving your marketing and product offerings.
Dropshipping gives you the freedom to add products or remove them, try new marketing campaigns, and do a lot more with your store.
The benefits of dropshipping are numerous, and it can be said without a doubt that it is a great business model for entrepreneurs who want to start their business with minimal risk or investment.
The Best Tools for Product and Market Research
Check out these six tools for finding the best products to dropship on Shopify.
1. Amazon Best-Sellers
If you haven't selected your niche for dropshipping yet, Amazon Best Sellers is the best place to start your product research.
Select a product category that interests you and find out what items are popular within it right now. There is a wide selection – everything from baby products and clothing to software and pet supplies.
For each category, Amazon returns the top 100 selling items. Find a reliable dropshipping supplier and select a product you like.
2. eBay Watch Count
The eBay marketplace also has a tool that lets users find trending products, just like Amazon. The tool is called Watch Count.
As users add products to their watch lists, eBay creates a list of the most-watched items in different regions based on this data. Browse by category or search by keyword.
When you do not know what you're looking for, browse what's hot on eBay using the "What's Hot on eBay?" tab.
3. SaleHoo Market Research Lab
It is a tool that can save you a lot of time for your product research. It uses Amazon and eBay data to find the most profitable dropshipping products.
Sales trends, competition statistics and dropshipping niche ideas are available. Additionally, you can use seasonal trends to jump in with your products at the peak of their popularity.
It is possible to compare your lists of the best products to sell side-by-side using their product comparison tool if you can't decide between several product ideas.
You will also find trusted, low-cost suppliers so you can start dropshipping right away.
4. AliExpress Dropshipping Center
AliExpress Dropshipping Center was created to help dropshipping merchants run their stores more efficiently. The main purpose of the site is to help dropshippers find the best products to sell.
As an example, you can sort suppliers by their time on the platform, their sales, or their reliability using the Trusted Supplier Rank feature.
AliExpress also has a section of Hot Products. Browse it to find out which products are in high demand.
5. Google Trends
Finally, who knows our needs better than Google? Google is the first place people turn when they need to find something 89% of the time. Check Google Trends to see what people are searching for.
It is a tool that shows the popularity of a certain search on Google. As you can see from the example above, its popularity has grown with summer approaching.
6. Pinterest
Though technically Pinterest is a social media site – you can create a profile, leave comments, follow others, and send messages – it operates much like Google. Shoppers use it for inspiration and create boards for projects.
You can use Pinterest to gather valuable data about what online shoppers are looking for, which is very useful for market research. When you've identified a product niche, go to Pinterest to see what people are interested in. Within its ad creation tool, you can check the search volume of keywords.
Recommendation: Here's The Best Alternative
3 Steps to Building an Online Dropshipping Business
There is a lot of hard labor to do with a drop shipping business, even though it does not require much start-up money. Follow these steps if you are ready to build an organization that can compete with global retailers on a modest budget.
1. Selecting Niche
If you are unfamiliar with your product selection, it will be difficult to advertise it. You will be more likely to be disheartened if you don't love the niche you choose, since you will have a lot of work to do.
2. Analyze Competition
Most potential shippers fail because they are searching for a product that has little or no competition. In other words, this product is not in demand.
A product may not have a lot of competition due to high transportation costs, problems with the supplier and production, or weak profitability.
The presence of competitive products is a sign that a company's plan is sustainable and there is a high demand for its products.
3. Identify the right suppliers
Dropshipping suppliers are typically located all over the world, making communication essential both in terms of reaction time and understanding. You can ruin your business with the wrong provider, so it's extremely important that you don't make this decision too soon.
You should continue your search if you are unsure about a possible supplier's communication abilities.
You should then create a customer acquisition plan and work on your website.
Best Dropshipping Products: Conclusion
The dropshipping business model is by far the most sustainable business model in the modern eCommerce era.
The key to a successful dropshipping business in 2022 is to find the right products to sell, and then back them up with a solid customer engagement marketing strategy, strong SEO, and enticing email marketing. Listed above are definitely good places to start.
Let us know your thoughts and if you think any other products would be suitable for dropshipping.
The Best Dropshipping Alternative: Make Passive Income Online
If you don't want to do dropshipping, you might wonder if there is a better business model that doesn't need Facebook ads and can do it as a side-hustle.
Yes, I would suggest you get started with affiliate marketing. It is far easier and less time consuming as you don't even need to handle customer service.
In affiliate marketing, you can run your business almost with zero cost. Most importantly, you don't need to invest in creating and developing any products.
But How Much Can You Earn in Affiliate Marketing?
A 21-year old student from my #1 recommended training platform of affiliate marketing was able to earn $7,395 in just 1 week, which means he made more than $1k a day…all while using free traffic methods and affiliate marketing.
Wealthy Affiliate has existed for more than 10 years and there are many success stories over the years.
To give you more examples, here are some of the other inspiring success stories of Wealthy Affiliate members.
You can also visit Trustpilot where Wealthy Affiliate has 4.8/5 rating.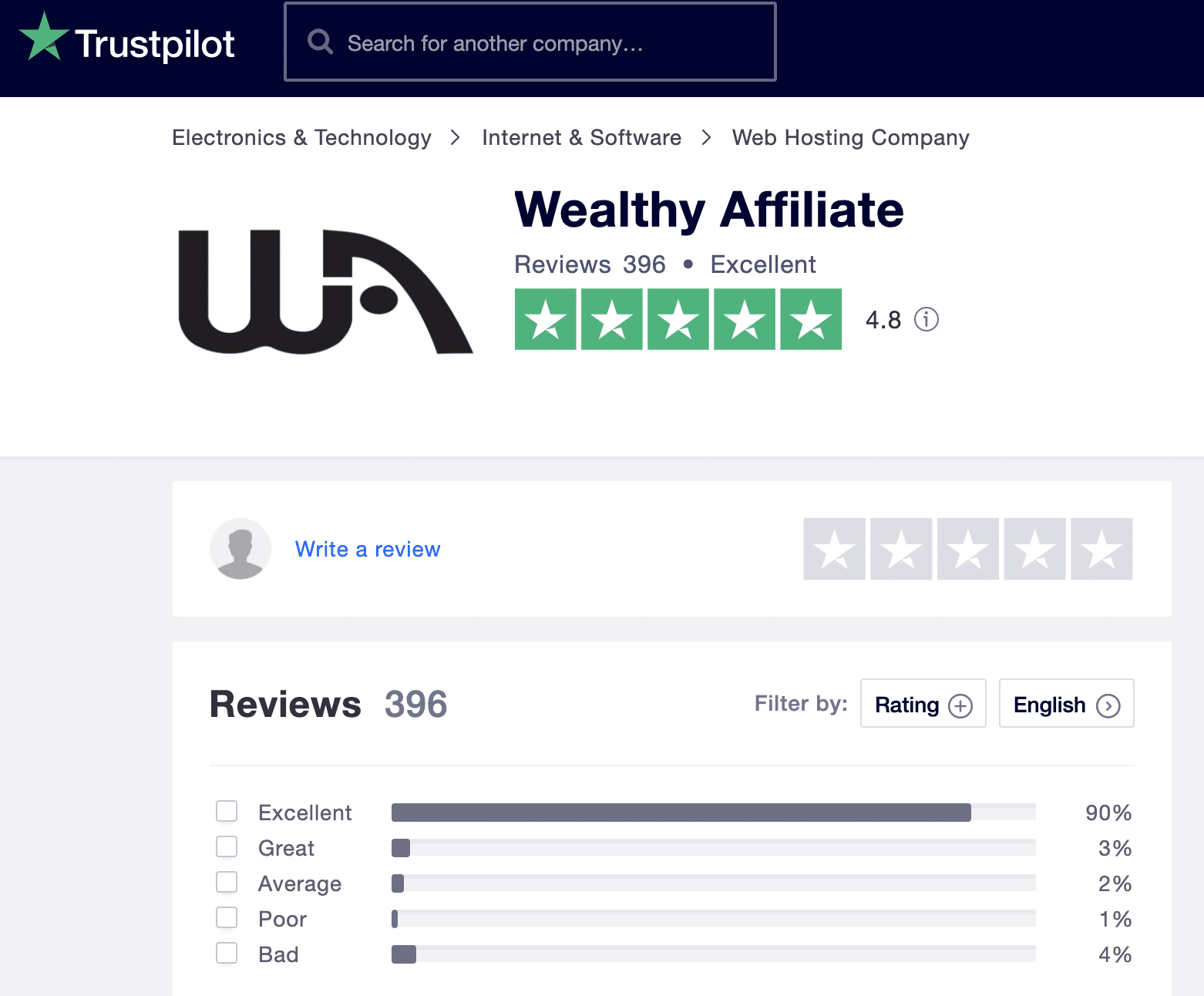 Where to Join Wealthy Affiliate?
Wealthy Affiliate has a very simple pricing scheme. It has free and premium membership.
If you want to feel about Wealthy Affiliate, you can sign up for the starter membership here (no credit card required). You can select to be a free member with no time limit.
And as a starter member, you can get instant access to the community, live chat, over 500 training modules, 2 classrooms, networking, commenting, 1 free website, access to the keyword tool.
You can enjoy all these values without paying a penny.
So I strongly recommend you to register a free account and see it yourself.

Recommendation: Here's The Best Alternative
Best Dropshipping Products FAQs
1. Where can you find the top-selling dropshipping items in 2022?
The best selling dropshipping products in 2022 can't be found in one place. You must test many products before choosing one.
You won't even be able to find products that will sell well on the best dropshipping groups and forums such as product mafia & product research lab.
2. What makes dropshipping products different for everyone?
Everyone markets to a different market with varying tastes.

Dropshipping trends tend to fade quickly. Thus, a trend in one week may change in the next.

On social media, people tend to buy on impulse. But that changes after seeing a better product. The reason is that people's interests can easily diverge.

Finding the best items to dropship is a process of testing and split-testing in different markets with a low budget.
3. What is the cost of testing a new dropshipping product?
Each dropshipping has a different budget. This usually depends on:
Geography

Product type

Audience interest
There are some dropshipping products that sell better because a lot of people want them (in-demand). These products include fashion accessories, household goods, and similar products.
There are some products that don't sell well on social media because the general public isn't interested in them (lack of demand). Hosts, mobile apps, industrial machinery, generators, and more are examples of these products.
To find the best dropshipping products, test your ideas.
4. Are there other YouTube videos talking about the best dropshipping products to sell?
Yes, here are some videos for you: