Are you looking for an eCom Elites review? Can you really make money in eCommerce by learning from Franklin Hatchett?
You may see a lot of good reviews about eCom Elites, but to me, that looks suspicious.
As someone who has launched an eCom business, I'm in a good position to share with you everything I know about the program.
Since I'm not an affiliate of eCom Elites, you can rest assured that my reviews on Franklin Hatchett's eCom Elites are unbiased. I'm not paid to write this review for eCom Elites.
At the end of this article, I'll also share with you a better alternative that has enabled me to make a full-time passive income at a much lower risk.
eCom Elites Review – Key Takeaways
Course Name

: eCom Elites

Website: www.ecomelites.com
Price

: $197/$297

Course Creator

: Franklin Hatchett

Pros

: Not expensive; 30-day refund policy; private community; email marketing training included

Cons

: Outdated SEO training; questionable testimonials; tricky business model

Overall Rating

: 2.5/5

Verdict:

One of the most popular dropshipping courses that teaches you how to make money from eCommerce.
In this eCom Elites review, I'm going to cover the following topics.
What is eCom Elites?
Franklin Hatchett's eCom Elites is a dropshipping course. This comprehensive and affordable program teaches you everything you need to know to start and grow your own online store using Shopify.
The course includes 10 training modules that cover a variety of topics, like sourcing products that convert, finding reliable suppliers, creating effective Facebook and Google ads, email marketing, social media marketing, and search engine optimization.
With over 200 videos and 9 modules, plus a bonus module, Franklin promises to help you become an eCommerce pro in no time.
Franklin Hatchett updated the course in 2019, so the information should still be current and relevant. And the best part? The training is all in video format, so you can watch and learn at your own pace.
Learn more: best dropshipping courses
Recommendation: Here's The Best Alternative
Who is Franklin Hatchett?
Franklin Hatchett is a successful web entrepreneur from New Zealand. He's a millionaire who made his fortune through dropshipping on Shopify. But it wasn't always easy for him.
Franklin started off by creating and ranking websites and making money from ads. But it wasn't enough to live the laptop lifestyle he wanted. So, he tried affiliate marketing, where he made commission by selling other people's stuff. That worked for a bit until the affiliate company went under and he was back to square one.
But he didn't give up. In 2009, he discovered the world of dropshipping and made over $700,000 in sales using Facebook ads. He also started a software company and even created the Online Dimes free resource blog.
And if that wasn't enough, he even developed the eCom Elites dropshipping course to help others launch and scale their own Shopify stores.
And if you're into making money online, you should definitely check out his YouTube channel. He's got over 560K subscribers and posts weekly videos on all kinds of ways to make money online, with a lot of focus on dropshipping.
Franklin's estimated net worth is between $1 million and $5 million. Not too shabby, right?
eCom Elites Standard vs. eCom Elites Ultimate: Any Difference?
So, you're wondering what the difference is between the Ecom Elites Standard and Ultimate courses? No problem, I've got you covered.
eCom Elites Standard
The Standard course is packed with all the essentials for getting started with ecommerce. You'll learn how to do some serious product research, master Facebook and Instagram ads, and get the hang of email marketing.
Plus, you'll get some training on Google SEO, Chatbots, and have the opportunity to ask questions during weekly Q&A sessions. And, you'll have access to a private Facebook group and lifetime updates to the course.
eCom Elites Ultimate
But, if you're looking to take things to the next level, the Ultimate package is the way to go. It includes everything in the Standard course, plus some extra goodies.
You'll get access to the all-new Sales Funnel Academy and Google Shopping Ads Academy.
Plus, you'll get some "done-for-you" 7-figure sales funnels to help you achieve success even faster.
And, as a bonus, you'll get two of Franklin's top-selling books on 6-figure products and niches of all time. All of this extra content is only $100 more at $297.
Recommendation: Here's The Best Alternative
eCom Elites Course Breakdown
Let's get into the course content and a breakdown of the modules.
Welcome Video
So the eCom Elites course starts off with a video from the man himself, Franklin Hatchett.
He gives a little intro on who he is and where he's from, and also talks about how eCom Elites is different from other dropshipping courses out there. It's like getting to know the teacher before class starts, y'know?
Module 00 – eCom Introduction
In the opening statement, Franklin declares: "Welcome to the best dang money-making course online."
Just a heads up, this one's for beginners on their e-commerce journey. If you're a pro at dropshipping, you might find some of the info a bit basic. And don't go getting any wild ideas about becoming a millionaire overnight.
Module 01 – Setting Up Your Shopify Store
In this module, Frainklin's going to go over the basics of setting up your very own Shopify store. It's pretty straightforward stuff, but it's always helpful to have a step-by-step guide to follow.
Here's what you can expect to learn:
Setting up your new Shopify store from scratch

Setting up payment and shipping options for your customers

Some cool apps to use on your site to make it look and function even better

How to automate some of the product-related tasks on your site

How to send abandoned cart emails to bring potential customers back to your store

Setting up store funnels to make the shopping experience even better for your customers
Module 02 – Sourcing Products
In module 2, Franklin gives some awesome advice on how to find hot products to sell on your eCommerce store. He really breaks it down by showing real-life examples of how he finds profitable products using different apps and websites.
And he also stresses the importance of finding the right supplier. It's totally worth your time to check out this module and see how a pro like Franklin does his product research.
Module 03 – Facebook Traffic
Are you looking to boost your sales using Facebook? Well, Franklin's got you covered in eCom Elites. He goes in-depth on all the tricks and techniques that have worked for him in his dropshipping biz.
You'll learn everything from setting up your Facebook ad accounts to different advertising methods like ads and organic reach.
He'll also show you how to target specific audiences based on things like age, location, and job. Plus, you'll learn all about the Facebook Pixel and how to set it up.
Franklin covers creating different types of ads and split-testing them to see what works best. He'll also teach you how to read campaign data and re-target if necessary. And if you're ready to take things to the next level, he'll show you how to scale your campaigns and bid effectively.
Just keep in mind, this module takes some time to work through and even longer to implement, but it's totally worth it.
And for those who are already Facebook marketing pros, you might not learn anything new but Franklin's approach is a bit more conservative which can be helpful.
Module 04 – Instagram Traffic
So you're looking to learn more about using Instagram to boost your Shopify store? Cool, let me break it down for you.
First off, Franklin will talk about finding the perfect influencers to work with. These are people with a sizable following who can help promote your products to their audience.
And, of course, he'll make sure you're getting them at the right price.
Next up, he'll cover running Instagram ads like a pro.
No more guessing, he'll show you the right way to do it.
And last but not least, he'll show you how to schedule posts so you can keep your audience engaged even when you're not actively posting.
Module 05 – Email Marketing
In this module, he's going to show you the ropes of how to boost your sales using email marketing.
He's going to cover some awesome tips and tricks, including how to design a killer landing page, create a killer Shopify store list and lead generation list, automate your email marketing, and generate a lead magnet to get leads with Facebook ads and coupons.
Plus, he's going to let you in on his secret "Product Launch Formula" that's helped him out in the past.
He'll also be letting you know about some common pitfalls to avoid.
Module 06 – ChatBot Marketing
Are you ready to take your dropshipping game to the next level? Well, buckle up because this course is unlike any other. Franklin's got some exclusive tips and tricks to show you how to set up and use a ChatBot system to boost engagement and ultimately drive more sales.
He'll walk you through which chatbot platforms are the best and how to create those fancy automated chat sequences.
Module 07 – Funnel Traffic Foundation
Franklin shows you the ropes on creating killer sales funnels in module 7. And the best part? You get your hands on a proven template that he's used to make big bucks – six figures, to be exact. Just upload it and make it your own.
Module 08 – Google Ads Traffic Explosion!
In module 8, you'll learn the ins and outs of using Google to boost your conversions without breaking the bank on ad costs. Franklin will show you how to quickly set up and launch your campaigns, so you can start raking in sales ASAP.
Module 09 – Organic Google Traffic
In this module, Franklin's gonna show you how to bring some free, organic traffic to your store. It's a solid starting point for understanding how to get traffic from Google, but it doesn't go into all the nitty-gritty details.
Just keep in mind, there are a ton of other factors that go into how Google ranks your site, but at least Franklin'll give you a basic idea of how to get started with this type of traffic.
Module 10 – Top Secret Videos
In the last module, Franklin dropped some awesome bonus videos that cover all sorts of ways to boost your sales.
In the videos, you'll learn about:
Using warranties to up your sales and trust factor

Coupons, because who doesn't love a good deal?

Review websites and how to use them to outdo your competition

How to create killer fan pages and email lists

Sneaky ways to check out your competitors' Facebook ads
All in all, these videos are designed to give you the upper hand over other Shopify dropshippers and help you crush it in the e-commerce game!
Updated Module Ongoing Videos
This module from Franklin is top-notch. Even though most of the course videos were made in 2017, he had the foresight to know that the internet is always changing, so he created this module to adapt to those changes. And he even updated it in 2019.
With Facebook always updating and improving, it makes sense that your Facebook campaigns should do the same. This module has all the latest videos with new approaches to help you stay current.
As a member, you'll always have access to the newest updates, trends, and methods as they come out. So you'll never fall behind!
Recommendation: Here's The Best Alternative
How does eCom Elites help you make money?
eCom Elites is a digital program that teaches you how to start a dropshipping business.
Dropshipping is a pretty cool way to run an online store. Instead of having to stock up on a bunch of products yourself, you just wait for customers to order and then buy the products from a supplier. They'll ship the product straight to the customer, so you don't even have to handle it yourself.
It's can a good option for entrepreneurs because it doesn't require as much money or resources as a traditional retail store. You don't have to worry about opening a physical store, hiring employees, paying for overhead, or stocking products.
All you have to do is open an online store and buy products wholesale from suppliers who already have everything taken care of.
The course shows you how to set up a Shopify store, find winning products, and drive traffic to your offers using social media ads.
However, there's no guarantee that you can make money from dropshipping. I'll discuss the problems with this business model in the following section.
Problems with Dropshipping Business
1. Difficult to maintain quality
Dropshipping can be a bit tricky when it comes to making sure the products you're selling match up with their descriptions. Because you don't get to physically check the items yourself, it can be a challenge to make sure they're up to snuff.
Plus, if something goes wrong – like late delivery, broken product, or missing item – your customers will come to you, not the supplier.
So, if the supplier messes up, it could mean unhappy customers and lost sales for you. Just keep in mind that quality control is important when it comes to dropshipping.
2. Paid ads are very expensive
Advertising on platforms like Facebook, Google, and TikTok is getting pricey. According to Business Insider, the cost of ads on these platforms is going up every year. And get this, it's partly because of some recent changes Apple made to ad targeting.
Apparently, Facebook's CPM has gone up by 61%, Google's CPM has increased by 75%, and TikTok's CPM has skyrocketed by 185%.
Even though TikTok is a newer and cheaper platform, it's not looking like the ad cost is slowing down anytime soon.
The reason for this is that more and more marketers and businesses are running ads on these platforms, so the competition is getting fierce.
This means that as a beginner dropshipper, it might be harder for you to get started, and even if you've been dropshipping for a while, you might have to rethink your strategy.
3. Customer support is very time-consuming
In dropshipping, you have to spend a lot of time communicating with suppliers and dealing with customer service.
If your customer has any issues with the product, you have to wait for your supplier to help you. If your supplier is not helpful, you have to bear the loss yourself. Therefore, many dropshipping stores have poor customer reviews and no returning customers.
In the worst case, you would expect a lot of credit card chargebacks, which risk getting your payment gateway shut down.
4. A lot of work on product research
For your store to keep making money, you always have to find a product that has the momentum to go viral in order that the ad costs can be covered.
In dropshipping, most products reach their peak in 1-2 months or even weeks. This is because many competitors will steal your product and create a better ad. Or increase their budgets on Facebook ads to outbid you.
Therefore, you need to keep finding new replacements to keep generating cash flow.
You might see people post revenues online but they don't tell you the net revenue.
Some of them might be making money but it's not sustainable.
The dropshipping business model is not as passive as you think. Most people who succeed in dropshipping are doing it full-time because it requires you to keep finding new products, creating new stores, testing new ads, and looking for new suppliers to make your income stable.
5. Low profit margin
Starting a dropshipping biz can be tough, especially if you're starting from scratch. The key to success is all about getting lots of traffic to your website. But, when you're first starting out, it can feel like you're hitting a wall trying to build up your customer base.
One thing to keep in mind is that with dropshipping, you'll likely be buying products one at a time instead of in bulk. This means that your profit margins might not be as good as they could be.
And, you might have to pay extra fees to your wholesaler for things like selecting, packing, and shipping each customer order.
So, don't expect to make a ton of cash right away. You'll probably need to scale up your biz and build a bigger customer base before you can start raising your prices.
Recommendation: Here's The Best Alternative
How much does eCom Elites cost?
eCom Elites is not very expensive. It has two plans: the standard package and the ultimate package.
The Standard package costs $197 while the Ulitmate package costs $297.
The difference is that if you buy the Ultimate package, you will some extra resources:
Complete Step By Step Sales Funnel Academy

Complete Google Shopping Ads Academy

Done For You Complete 7 Figure Funnel

Book: My Top Selling 6 Figure Products

Book: My Top Selling Niches Of All Time
Although eCom Elites is not very expensive, it doesn't mean it's worth the price. If it cannot help you make a penny, even $100 is too expensive, right?
eCom Elites Discount?
I've tried to search for promotion codes. But I've found none.
It seems that eCom Elites really doesn't offer any discount.
Refund Policy
There is a 30-day money-back guarantee.
If you're not satisfied within 30 days, just send an email to the support team and you'll get your money back.
Green Lights
1. Inexpensive price
At just under $300 for the Ultimate package, eCom Elites is a steal compared to other dropshipping courses that can cost up to $1000 for similar content.
2. Quality content
The course is packed with over 200 high-quality videos. The training is top-notch and includes references to outside information, real-life examples, case studies, and Franklin Hatchett's clear teaching style.
3. Free updates
With your subscription, you'll get updates for life at no extra cost. Unlike other courses, you'll never have to pay for updates.
4. Experienced trainer
Franklin Hatchett is the real deal – he runs his own dropshipping stores, so he's passing on his own personal experience to you.
Red Flags
1. Suspicious testimonials
There may be screenshots posted as proof of success in some reviews. The results cannot be verified to be accurate. Most of the time, it's just a sales tactic.
Why I don't trust the success stories on their sales page? Because you can create as many orders as you want at the backend of a Shopify Store.
As an example, let's take a look at this testimonial. As you can see, this student posted a whopping sales of $106,683 from August 11 to September 11.
Can you find anything suspicious? The return is only $817.07! This figure will translate into a return rate of less than 1%.
According to statistics, at least 30% of all products ordered online are returned! That means his sales figure is very likely to be fake!
2. Lots of biased reviews from eCom Elites affiliates
I'm sure you've seen a few other reviews of eCom Elites and they all speak highly of it.
All of them are paid to write, so if you purchase eCom Elites through their links, they will receive a commission. Therefore, their words are often biased and unreliable.
If you make a purchase, they will receive a huge commission. So there is obviously a conflict of interest there. I would say it is not a "review", but a sale pitch. So you should not trust their words.
When looking for a course review, you should always go for someone who is a non-affiliate.
Trustpilot is a trustworthy site to look for customer reviews. But when I tried to search for eCom Elites on Trustpilot, there is no result at all:
This is unusual as eCom Elites claims to have thousands of students and many success stories. But no one is giving it a positive review on Trustpilot.
3. SEO training is outdated
There are 8 videos on SEO out there, but the training is pretty basic and old-school. But, let's not overlook the importance of SEO – it's a great way to get some free traffic flowing to your site.
For instance, if you're in the toy dropshipping biz, targeting keywords like "best toys for kids" can help bring some attention to your offers.
4. Only focus on AliExpress
eCom Elites primarily teaches you how to source products from AliExpress. It would've been cool to have more options though, like dropshipping providers in your own country for faster shipping times.
But no worries, you can use a handy tool like Salehoo to find more suppliers in any country, so you can get your hands on a wider variety of products.
Recommendation: Here's The Best Alternative
Is Franklin Hatchett a scam or legit?
Franklin Hatchett is not a scam. He is an Internet entrepreneur who claims to have made his fortune from dropshipping.
But before that, he had tried his hands at other businesses. In the very beginning, he started out making websites, ranking them, and charging advertising fees on the sites. But the profit was not enough to sustain the laptop lifestyle he dreamt of.
Then he tried affiliate marketing, where he made a commission by selling products for an affiliate company. He said it worked great until the affiliate company was shut down.
The whole affair is very perplexing because there are numerous online affiliate programs to promote. If he was so successful with affiliate marketing, why did he give up the whole business for an affiliate company?
That being said, he went on to try dropshipping which he ran with Facebook ads and seemed to have achieved great success.
Franklin warns that it comes with time, dedication, and hard work. So does he mean that you can't expect immediate success after buying his course?
Is eCom Elites a scam or legit?
I cannot say eCom Elites is a scam. There is no sufficient evidence to prove so.
Franklin Hatchett does introduce you to the basics of dropshipping and some marketing techniques. It is stuffed with content and actual examples. Beginners who are interested in dropshipping might learn something new.
At a price of $197, it is relatively cheaper than other Shopify dropshipping courses. But does it guarantee that you can make a living after going through the eCom Elites course?
From my personal experience, you'll blow off a few thousand dollars easily in testing Facebook ads. It's hard for you to earn back the money you invested in the course.
Franklin Hatchett admits this issue and claims to teach you to take a conservative approach and play safe with ad spending. The thing is, with Facebook manual bidding, it takes a much longer time for your ads to show up at the right audience.
The strategy of doing adjustments every few days can be laborious and result in lower returns.
One of the untold truths is that the potential return on Facebook ads goes hand in hand with the risk.
That's why if you want to generate 6 figures in a month, you might have to take an approach of aggressive ad spend.
Should you join eCom Elites?
eCom Elites is a comprehensive training program that provides a solid foundation for anyone looking to start a dropshipping business.
People who want to do dropshipping can definitely learn something from taking Hatchett's course.
However, though the price is low compared to similar programs, you need additional capital for running a dropshipping store.
As mentioned earlier, dropshipping has many problems to deal with.
If you are a newbie in online business, I have a better recommendation for you in the following section.
Recommendation: Here's The Best Alternative
Other Dropshipping Courses
Looking for an alternative? Check out eCom Success Academy by Adrian Morrison. He'll teach you the ins and outs of online marketing, like using Facebook ads, email campaigns, and sales funnels.
Not only will he help you set up your Shopify store, but he'll also show you how to write Facebook ads that'll really connect with people.
Plus, with 7 lessons and weekly coaching calls, you'll have all the support you need. Bonus – Adrian's got major connections in the biz, so his Facebook marketing strategies are top-notch.
If you're looking to make some serious cash with your Shopify website, this is the way to do it.
If you're looking for another option, you might wanna check out Dropship Lifestyle by Anton Kray. Anton's all about showing you how to make some serious dough by dropshipping expensive items.
Just like eCom Success Academy, this course has 7 modules that teach you how to set up your dropshipping biz for success, including how to automate things so you can expand to more Shopify sites and product lines quickly.
Plus, Anton's got your back when it comes to finding suppliers and researching products. You can choose from three different packages and even get some one-on-one lessons.
Is there a better alternative to dropshipping?
If you don't want to waste your time or risk your hard-earned money on eCom Elites, you might wonder if there is a better business model that doesn't need Facebook ads and can do it as a side hustle.
Yes, I would suggest you get started with affiliate marketing. It is far easier and less time-consuming as you don't even need to handle customer service.
In affiliate marketing, you can run your business almost with zero cost. Most importantly, you don't need to invest in creating and developing any products.
But How Much Can You Earn in Affiliate Marketing?
A 21-year-old student from Wealthy Affiliate was able to earn $7,395 in just 1 week, which means he made more than $1k a day…all while using free traffic methods and affiliate marketing.
Wealthy Affiliate has existed for more than 10 years and there are many success stories over the years.
To give you more examples, here are some of the other inspiring success stories of Wealthy Affiliate members.
If you don't trust my words, you can go to Trustpilot to see what the members have to say: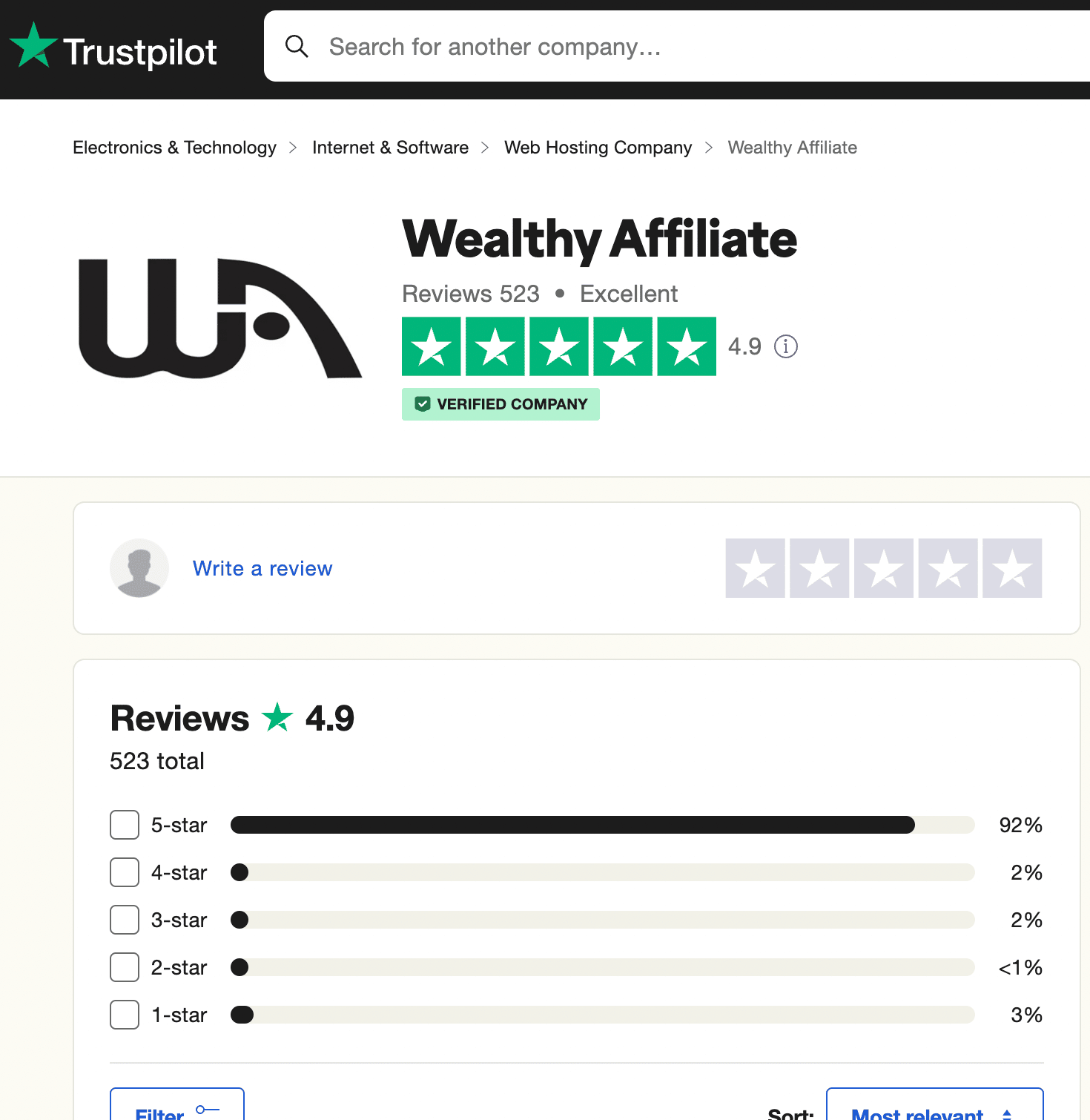 At the time of writing, Wealthy Affiliate is rated 4.9 out of 5, which is excellent. It's incredible to get such a high rating with more than 400 reviews.
If there are only two or three good reviews, you may say they are fake reviews. But you cannot fake it when there are more than 400 reviews there. Remember, Trustpilot has a very intelligent system to detect fake reviews.
Where to Join Wealthy Affiliate?
Wealthy Affiliate has a very simple pricing scheme. It has a free and premium membership.
If you want to feel about Wealthy Affiliate, you can sign up for the starter membership here (no credit card required). You can select to be a free member with no time limit.
And as a starter member, you can get instant access to the community, live chat, over 500 training modules, 2 classrooms, networking, commenting, 1 free website, and access to the keyword tool.
You can enjoy all these values without paying a penny.
So I strongly recommend you register a free account and see it yourself.