If you'd like to start an online business, you might have watched Anton Kraly's ads on social media platforms like Facebook or Youtube. You may ask, "Is Anton Kraly a scam?"
Anton Kraly, the course creator said Drop Ship Lifestyle (DSL) is the best Shopify approved dropshipping course. But does it live up to the hype? Or is Anton Kraly a scam?
To give you an answer, I've reached out to some of Anton Kraly's students and talked to them in private.
Since I am not affiliated to DSL or Anton Kraly, you can rest assured that my review is unbiased.
Below is what I'll be covering in the review of Anton Kraly and his course eCommerce Millionaire Mastery.
Who is Anton Kraly?
Anton is a serial entrepreneur featured in an article of Forbes back in May of 2017.
He made $3.68 million from dropshipping in three years before he sold it. But you never know how much is the net profit. Since then, he began to focus on creating the course Dropship Lifestyle, which brought in $3.5 million in 2016.
On his personal blog, Anton states that he is living the laptop lifestyle while making money online by running eCommerce stores, Amazon Affiliate stores, promoting Affiliate Networks and creating digital products e.g. Dropship Lifestyle.
Recommendation: Here's The Best Alternative
What to expect in Drop Ship Lifestyle?
If you want to know the background of DSL dropshipping business model, you can go to the course homepage and watch Anton's introduction video. It is under the heading "Why Drop Ship Lifestyle®? What is the Difference Between Traditional Dropshipping and The Drop Ship Lifestyle® System?"
Anton wants to show you that Drop Ship Lifestyle is very unique, compared to other dropshipping courses. It appears from most of Anton's images that he is pitching a business model which allows you to lounge on the beach while lounging on the beach.
As an experienced dropshipper, what I can tell you is that you can never expect to make easy money in dropshipping. It requires a lot of hard work.
Anton is able to enjoy his dropship life on the beach because he's no longer making money from dropshipping. He makes money by selling courses.
An Overview of Drop Ship Lifestyle
Anton Kraly's course contains four different sections, including Drop Ship Blueprint, Adwords PPC Course, Paid Social Traffic Course and Events. Each section comes with its own modules and sub-sections. There are a total of 151 videos with a total length of 33 hours and 30 minutes.
Section 01 – Drop Ship Blueprint
Section 1 includes 13 separate modules with a total of 77 videos with a total length of 15 hours and 31 minutes.
Anton begins this section with an introduction to his dropshipping model. What makes the difference is that he recommends you to find a single niche and sell "evergreen" products instead of looking for any hot products that are trending.
He believes there are dropship products that will never go out of style. In fact, he goes further by asking you to ignore suppliers in China and focus on "local" suppliers that can ship on your behalf.
I actually laughed when I heard this kind of advice  from his students. Because everyone knows that even the so-called "local" suppliers import their products from China. In fact, most of them are just AliExpress suppliers who store their made-in-China products in the warehouses of the US, UK, Canada, Australia and other European major countries.
So, you can actually ship a Chinese product from the US. Then, why do you want to exclude Chinese suppliers who can offer you the cheapest prices?
After that, Anton gives you a walkthrough in the following modules:
Select a niche and products,
How to do market research
Create a website from scratch
Find out the best suppliers
Optimise your store for conversion
How to drive traffic
Automate the operation of your store
In short, I found that Anton seldom mentions product research which is important to keep your business afloat. I wonder if he just wants you to buy his premium ultimate package, which provides you with the service of sourcing products, priced at $8,997.
This looks like a trap for newbies who don't even know that they can google and find out most of the trending dropship products.
Besides, the Creating Your Website Module has some sound issues throughout its 3 hours and 57 minutes.
But since Anton is too busy with his drop ship style on the beach, he might not have time to fix it, though you paid him $2,997 for the course.
Last but not least, why does Anton discourage you from finding Chinese suppliers? This should be a simple process of browsing through the website of AliExpress…
Section 02 – Adwords PPC
Section 2 contains 3 separate modules with a total of 29 videos with a total length of 5 hours and 26 minutes.
This is a complete course on its own and the instructor is Michael Erickson from Search Scientists.
Search Scientists is a legitimate Google Certified Partner. On behalf of their clients, they spend more than a million dollars on Google ads every year.
In this section, Michael explains how Google ads work and how to set up a campaign.
In the end, he also teaches you how to use different types of ads to drive traffic.
Section 03 – Paid Social Traffic
Section 3 contains 6 separate modules with a total of 38 videos with a total length of 6 hours and 15 minutes.
This section is also taught by Michael Erickson and deals with social media marketing.
Module 1: SOCIAL PAID TRAFFIC MARKETING FUNDAMENTALS FOR ECOMMERCE
The first module introduces to you the basics of advertising on social media. Micheal begins with the concepts of PPC, CPC, organic traffic.
Then he compares the difference between paids ads on Google and ads on social media platforms.
In the end, Michael will tell you the typical social media funnel but no example is provided.
Module 2: ​FACEBOOK ADS
In this module, Micheal cautions against the mistakes of setting up and running Facebook ads campaigns.
He also shows you the layout of Facebook accounts, different Facebook ad strategies, ad formats, Facebook audiences and bidding types. Below are some of the details:
Set up Facebook Business Manager and FB Ads Manager Accounts
Install the FB Pixel, a product catalog and a Pixel for Dynamic Product Ads
Set up the Product Catalog Tool and a Product Feed (used to create Dynamic Product Ads.)
Create a campaign mapping spreadsheet
Michael then shows you how to set up a dynamic product ad and set up your targeted audiences.
He goes on to explain the dimensions and segments inside the FB Ads Reporting Tool and how to generate a report.
After that, you will learn how to get Ad/Campaign data from Power Editor and the FB Ads Manager.
Most of the time, he doesn't provide any example. And if you are experienced with dropshipping, you can skip this section.
Module 3: ​​INSTAGRAM
In this very short 5 minute module, Michael teaches you how to set your Instagram Ad Campaigns up on Facebook.
Module 4: PINTEREST
Michael teaches you the different types of Pinterest Ads and how to open a Pinterest Business Account.
He gives advice on what works on Pinterest and then shows you how to create Pinterest Ad Campaigns and how to track them.
Module 5: TWITTER
Michael tells you some Twitter Targeting Methods, Ad Types, and Strategy.
This is followed by a Tour of Twitter's Ads Analytics Dashboard. You will learn about Conversion Tracking, Follower Campaign Set up, Tailored Audience Building, and Website Conversion Campaign Setup.
Lastly, Michael teaches you how to interpret the data on Twitter.
Module ​6: PUTTING IT ALL TOGETHER
In this module, Michael emphasises the importance to follow the golden 3 x R's rule in every single ad you run, across the board:
Target the Right Person, with the Right Offer, at the Right Time.
Michael also teaches you when to use retargeting ads and reminds you to keep an eye on your ad campaigns from time to time. If so, how can you lounge on the beach?
Section 4 – Events

Section 4 contains a total of 7 videos with a total length of 6 hours and 18 minutes.
This bonus section is a collection of videos featuring guest speakers at the DSL 2017 retreat.
The 2017 speakers talked about:
Stalking prospective customers on Facebook
Selling your online store
How to balance work, life and family (seems irrelevant? )
Influencer marketing (is it really useful to dropshipping?)
Building a brand (but dropship products are generic)
Alternative traffic sources
Content marketing (more suitable for affiliate marketing?)
This section doesn't contain anything that is inspiring. If you don't want to sit through 6 hours of content, just skip it.
Is Anton Kraly a Scam? Is Drop Ship Lifestyle a worthwhile course?

This is a very special course because it disregards most of the important stuff you've heard about dropshipping.
For example, this course tells you not to waste time looking for new products. But in reality, the lifespan of any dropship product is so short that you need new replacements to keep the momentum of generating sales.
Besides, Anton Kraly discourages you from savening the new trending products. This goes against the basic sales principles.
Worse still, he tells you not to work with suppliers from China. But almost every dropship product is made in China…And you don't have to stay alert on the shipping time? As far as I know, this is the headache to every dropshipper…why can you ignore it?
It's not a bad idea to focus on a proven niche and save yourself the hassle of constantly looking for new products.
But the popularity of a niche can wax and wane over time, you might not be able to sustain a stable income without new products.
Is dropshipping still a viable option in 2020?

After all the modules, can you really build a 6 figure dropshipping business and lounge on the beach like Anton Kraly?
As an experienced dropshipper, what I can tell you is that dropshipping is far more difficult than you think.
Here are a few points why I would not recommend dropshipping:
1. Financial Risk
Your store won't sell ANYTHING if you don't ADVERTISE. But the marketing costs from social media marketing such as Facebook ads will eat away your PROFITS. There is also the start-up cost of investing $2,997 in Anton's course.
You might need weeks or even months to just break even, before showing any profit.
In another word, it is a huge FINANCIAL RISK to start dropshipping.
2. Facebook Ads are Pricey and Difficult to Manage

After observing most dropshippers' results, at best, the total Facebook ad cost will account for at least 30% of your total sales.
But Facebook ads seldom stay effective for a long time. After your targeted audience is exhausted, you will see a much lower conversion rate. Then you will have to increase the marketing budget to keep your ads campaign afloat.
According to Forbes, Facebook saw an increase in Ad costs of 90% year-on-year.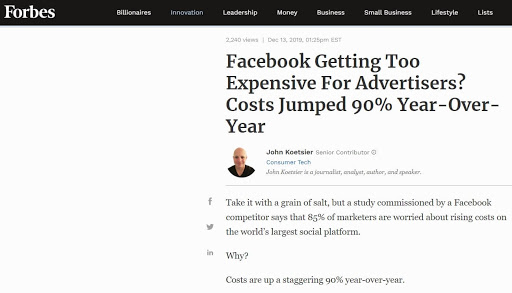 Worse still, the learning curve of Facebook ads is quite steep because Facebook changes its algorithm all the time. You have to invest a lot of time and money in learning and testing Facebook ads.
If you run Facebook ads without any experience, your ad account will be easily banned for violating their strict policies.
Many dropshippers fail to cover their Facebook ad cost and result in net loss.
3. Customer Support
Even though you don't have to manage inventory and logistics, you do have to spend a lot of time communicating with suppliers and dealing with customer service.
If your customer has any issues with the product, you have to wait for your supplier to help you. If your supplier is not helpful, you have to bear the loss yourself. Therefore, many dropshipping stores have poor customer review and have no returning customers. That's why it's never easy to build a sustainable dropshipping brand.
In the worst case, you would expect a lot of credit card chargebacks, which risk getting your payment gateway shut down.
4. A lot of work on product research 
For your store to keep making money, you always have to look for a new winning product by testing products with Facebook ads.
In dropshipping, most products reach their peak in 1-2 months or even weeks. This is because many competitors will start selling the exact same product once it becomes popular.
Therefore, you need to keep finding new replacements to keep generating profits.
Most people who succeed in dropshipping are doing it full-time because it requires dedication, consistency, hard work and a lot of patience.
In fact, managing Facebook ads alone can take up your whole day.
So at the end of the day, I think the return on building a dropshipping business might be easily achieved by investing in precious metals with Regal Assets.
Is there an Easier & Better Alternative To Anton Kraly's Course?

If you are new to online business, you may ask if there is a better business model that doesn't need Facebook ads and can do it as a side-hustle.
Yes, I would suggest you getting started with affiliate marketing. It is far easier and less time consuming as you don't even need to handle customer service.
In affiliate marketing, you can run your business almost with zero cost. Most importantly, you don't need to invest in creating and developing any products.
But How Much Can You Earn in Affiliate Marketing?
A 21-year old student from my #1 recommended training platform of affiliate marketing was able to earn $7,395 in just 1 week, which means he made more than $1k a day…all while using free traffic methods and affiliate marketing.
Wealthy Affiliate has existed for more than 10 years and there are many success stories over the years.
To give you more examples, here are some of the other inspiring success stories of Wealthy Affiliate members.
Where to Join Wealthy Affiliate?
Wealthy Affiliate has a very simple pricing scheme. It has free and premium membership.
If you want to feel about Wealthy Affiliate, you can sign up for the starter membership here (no credit card required). You can select to be a free member with no time limit.
And as a starter member, you can get instant access to the community, live chat, over 500 training modules, 2 classrooms, networking, commenting, 1 free website, access to the keyword tool.
You can enjoy all these values without paying a penny.
So I strongly recommend you to register a free account and see it yourself.