The One Funnel Away (OFA) Challenge is a 30-day course that teaches you how to create successful funnels, step by step.
Throughout the course, you'll get live and video training sessions, plus plenty of support and chances to connect with others. The aim of this challenge is to encourage you to stretch your limits and gain the skills to make powerful funnels.
In this review of the One Funnel Away Challenge, we'll help you decide if it's worth your time and money, or if you should steer clear of it.
One Funnel Away Challenge Review – Key Takeaways
Product Name

: One Funnel Away Challenge

Website: https://onefunnelaway.com/
Special Offer

:

Get A Special Offer Here
Creator

: Russell Brunson

Overall Rank

: 4.7/5

Verdict: OFA Challenge is a comprehensive course that can help you build effective sales funnels.
I'm going to cover the following topics:
What is a Sales funnel?
A sales funnel is like a roadmap showing how customers decide to buy something. It helps us see the steps they take before making a purchase. It's called a "funnel" because it starts wide and gets narrower as people get closer to buying something.
Here's a simple way to understand the stages in a typical sales funnel:
Awareness: This is the widest part at the top. People first learn about your product or service, often through ads, social media, or friends.

Interest: Some of those people get more interested. They might visit your website, read your stuff, or join your email list.

Consideration: Now, they're really thinking about your product. They might compare it to others, read reviews, or ask questions.

Intent: Some of the considerers decide they want to buy. They might add things to a cart, ask for a quote, or talk to you about buying.

Purchase: This is the bottom, where they become customers by buying something.

Post-Purchase: After they buy, you keep the relationship going. You want happy customers to buy again and tell others about you.
The goal of a sales funnel is to help people go through these stages, giving them the info and reasons to go from just knowing about you to actually buying.
Read more: How to Build a Sales Funnel
How Does One Funnel Away Challenge Help You Make Money?
The One Funnel Away Challenge (OFA) is a 30-day crash course designed to help you build successful sales funnels and make money online.
Once the challenge begins, here's what you'll get:
1. Daily Challenge Email
Every day, you'll receive a challenge email around 6 AM Eastern Standard Time. You decide when to do it, but make sure you finish it by the end of the day.
You can also find the daily challenge in the "super-secret" OFA challenge group.
2. Training from Russell and Julie
When you accept the daily challenge, you'll get training from experts Russell and Julie.
Russell explains what you need to do and why it's important, while Julie shows you how to do it through videos or worksheets.
3. Live Coaching with Stephen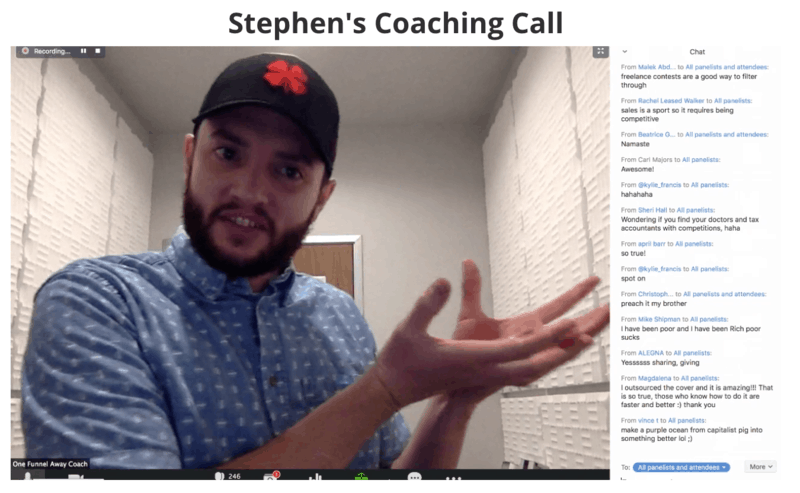 Each day, you'll have access to Stephen Larsen's live coaching session.
You can participate in real-time to ensure you're putting in the effort required.
These sessions help you turn knowledge into actionable plans.
4. Your Part
The last part of your daily OFA Challenge is your own work.
If you've followed the coaching, you should complete your tasks in about two hours. Some tasks might take longer, but that's okay.
The OFA Challenge provides pre-training to prepare you mentally and strategically.
Get A Special Offer And Instant Access Here
What Can You Get With One Funnel Away Challenge?
When you enroll in the One Funnel Away Challenge, you get a treasure trove of resources to help you succeed. Here's a breakdown of what you'll receive:
30 Days of Coaching
You'll receive guidance from experts like Russell Brunson, along with his OFA consulting team Dante, Morag, and Eli. They'll provide daily coaching sessions to keep you on track.
30 Day Digital E-Book
Russell Brunson reached out to his successful Two Comma Club members and compiled their 30-day business revival plans into a 550-page e-book. It's a valuable resource to inspire and guide you during your training.
"One Pager" Digital Workbook
This workbook is your daily companion, containing checklists for your tasks, video training links, and additional resources. It's designed to help you organize your thoughts and progress.
Access to OFA Challenge Facebook Group
Join this private Facebook group to watch daily mission videos, engage in live coaching sessions with OFA consultants, and connect with fellow participants for discussions and support.
Private "Big Breakthrough" Training
These optional 2-hour live sessions offer professional guidance to enhance your sales funnel strategies and achieve significant breakthroughs.
Unlimited Access to 30-Day Interviews
Dive deep into the minds of Two Comma Club members through interviews where they outline their Day 1 to Day 30 action plans if they had to start over.
Behind the Scenes of "Two Comma Club" Funnels
Gain insight from successful entrepreneurs as they walk you through the creation of their winning funnels. You'll also have access to these funnels to learn and implement their strategies.
Get A Special Offer And Instant Access Here
How is The Training Structured?
The One Funnel Away Challenge is structured into five weeks of training. Let's break down each week in the following:
Pre-Training – Week 1: Belief
This week is all about getting your mindset in the right place.
Russell Brunson, the creator, introduces the concept of "One Funnel Away" and outlines the course structure.
You'll learn about "Funnel Hacking" and hear the inspiring success story of Lady Boss.
Stephen Larsen provides motivation to prepare you for the upcoming work.
Week 1: Creating Your Hook, Story, and Offer
This week focuses on crafting a compelling hook to grab people's attention.
You'll discover how to tell captivating stories and create irresistible offers.
It also covers e-cover design and product development if you're starting from scratch.
Week 2: Bringing Hooks and Stories Together
Here, you'll learn how to combine your hooks and stories effectively.
The focus is on writing persuasive copy for your ads and pages.
You'll work on refining your hooks and stories through missions like "Testing Your Material" and "Epiphany Bridge."
Week 3: Building Your Funnel
This week is all about putting the previous training into action by creating your sales funnel.
Practical advice on lead generation and sales strategies is provided.
Russell Brunson guides you through designing and creating key funnel elements like the sequence, sales, and member area pages.
Week 4: Generating Traffic to Your Funnel
With your funnel set up, it's time to bring in traffic.
You'll learn about different types of traffic sources and where to find them.
Russell Brunson covers strategies for targeting your ideal customers and increasing conversions.
Week 5: Post-Training and Planning for the Future
In the final week, you'll focus on the next 30, 60, and 90 days of your business journey.
You'll receive guidance on scaling your business and setting goals.
Live coaching calls continue, and participants can apply for the Two Comma Club X award.
Get A Special Offer And Instant Access Here
Who is Behind the One Funnel Away Challenge?
The One Funnel Away Challenge was created by seasoned experts with plenty of knowledge and hands-on experience. Let's introduce you to the key figures behind it:
Russell Brunson
Russell is not only the co-founder of ClickFunnels but also a renowned public speaker and a master of sales psychology. He plays a crucial role as one of the instructors in The One Funnel Away Challenge, where he provides daily coaching to help people fine-tune their sales funnels.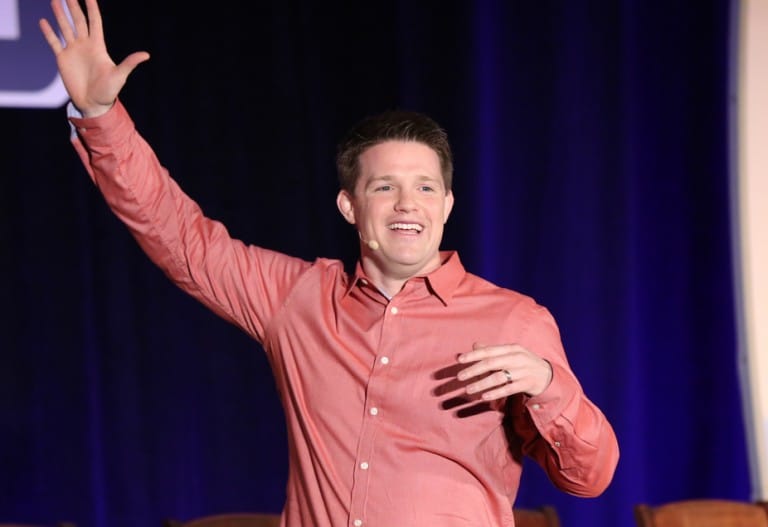 Julie Stoian
Julie holds the position of VP of marketing at ClickFunnels. She is often referred to as "The Transformer" because of her impressive track record as a two-comma club winner and a high-performance coach. In the challenge, Julie guides participants on how to dive into their funnels and implement changes that boost their performance.
Who is One Funnel Away Challenge for?
With One Funnel Away Challenge, you'll gain direct access to experts who can guide you in various aspects, including funnels, strategy, offers, marketing, sales, and any questions you have.
Whether you're unsure about setting up a funnel or want to ensure your next one is successful, this challenge is designed to help you succeed.
The challenge is perfect for:
Aspiring Online Entrepreneurs: If you're eager to kickstart your first or next profitable online venture, this is for you. It's a 30-day journey that can truly transform your life.

Affiliate Marketers: If you're looking to boost your affiliate sales, the insights gained from this challenge can be a game-changer.

Funnel Beginners: Even if you've never built a funnel before, this challenge will teach you the ropes.

Online Business Starters: If you're unsure about how to begin or grow your online business, this is a great starting point.

Sales Strugglers: If you're facing difficulties selling your products or services, the challenge can provide valuable solutions.

Social Impact Seekers: Those who want to make a positive impact on the world or reach a wider audience will find value here.

Long-Term Revenue Builders: If you aim to establish a sustainable revenue stream for your online business, this challenge can set you on the right path.
Those who meet any of the above criteria should be congratulated! The One Funnel Away Challenge is going well for you. Investing in this course will be the best decision you ever made.
Inside OFA Challenge Member's Area
Once you've set up your member's area account, you'll instantly access the exclusive "Secret Mission Area."
After successfully completing the OFA Challenge, you become an esteemed OFA Alumni. This prestigious status grants you the privilege to revisit all the mission details, including recorded coaching sessions with the incredible Stephen Larsen. You can conveniently access all of this from your OFA Challenge member's area.
The OFA Challenge is meticulously designed to seamlessly integrate with your daily routine. The initial seven days of the challenge are termed "pre-training," and they involve the following daily missions:
PT-M1: You Must Believe (Adopting the right mindset for the challenge)
PT-M2: Failure (Preparing for setbacks and creating a strategy for a powerful comeback)
PT-M3: Who Not How (Prioritizing the expertise of those WHO know HOW to gain momentum)
PT-M4: 10X Secrets (Embracing and amplifying proven frameworks)
PT-M5: Belief
PT-M6: Catch Up Day
PT-M7: Mission Review
This structured approach ensures that you make the most out of your OFA Challenge journey.
How Much Does One Funnel Away Challenge Cost?
You can participate in the One Funnel Away Challenge for as little as $100, and I believe it will be the best $100 you have ever invested in your online business.
If you prefer physical materials, you can opt for the book version at an additional $19.95.
The best part? There's no risk involved, thanks to the 30-day money-back guarantee. So, you can give the One Funnel Away Challenge a try with peace of mind.
Get A Special Offer And Instant Access Here
Can I Get OFA Challenge for Free?
Yes, you can access the One Funnel Away Challenge for free, but with a few considerations:
Free access provides access to archived pre-recorded videos, not the live challenge.
This access is part of FunnelFlix, which offers various marketing, sales, self-improvement, and funnel courses from around the world.
To get this free access, you need to subscribe to the ClickFunnels Platinum plan, which costs $297 per month.
So, while you can access the original OFA Challenge for free through FunnelFlix, keep in mind that it's part of a subscription package.
Refund Policy
You have a 30-day window to request a full refund for the One Funnel Away Challenge. Simply email the support team within the first 30 days if you wish to initiate a refund.
Russell Brunson is confident that this challenge will have such a positive impact on your life that you won't feel the need to request a refund.
OFA Challenge Affiliate Program
There is an affiliate program for the One Funnel Away Challenge. Affiliates can earn a rare and generous 100% commission. The affiliate network for ClickFunnels operates on a tiered pricing structure.
When you refer a customer to the OFA Challenge, you earn commissions not only for the initial purchase but also for any future ClickFunnels purchases made by that referred customer.
This system is similar to Legendary Marketer's high-priced affiliate program and is beginner-friendly.
Are Students Getting Results With OFA Challenge?
In a word, yes, absolutely!
Now, let me share the inspiring story of Mario Pajaj, a dedicated OFA Challenge member who took the challenge not once, not twice, but three times. And I wouldn't be surprised if he goes for a fourth round and beyond!
What's remarkable is that Mario had zero knowledge in digital marketing when he started the OFA Challenge back in March 2019. He didn't even have a product to sell at the beginning of his mission training.
But here's the incredible part: Mario fully committed himself to the challenge. He crafted his brand story, developed his funnel, and transformed his beliefs from scratch.
In just 30 days, he achieved something truly remarkable — he generated approximately $7,000 in profits.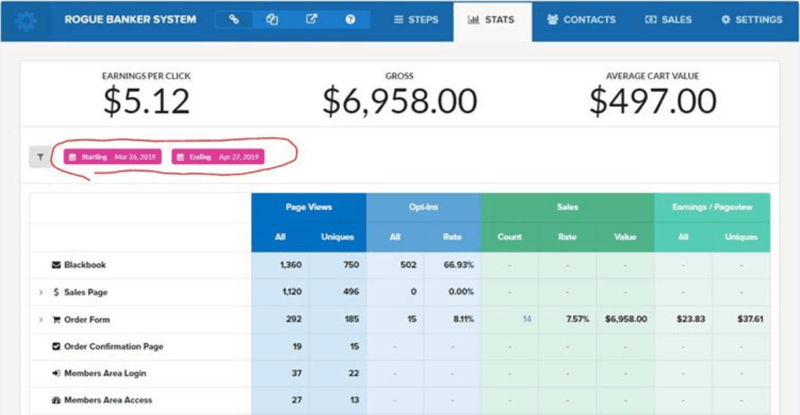 Now, the OFA Challenge is undoubtedly a significant commitment. However, if you wholeheartedly embrace your daily missions and give it your all, the rewards can be tenfold, if not more.
Just think about it: If Mario, who started with zero marketing knowledge, could achieve this level of success, what more can bloggers and marketing-savvy individuals like you accomplish?
Mario's success story is just one example among many out there. So, yes, the One Funnel Away Challenge can indeed help you make money.
Praise for One Funnel Away Challenge
1. Learn Complete Funnel Building
If you're new to sales funnels, this challenge teaches you everything from start to finish. By the end of the 30-day training, you'll be able to build your own sales funnels.
2. Top Digital Marketing Experts
You'll learn from renowned online marketing experts like Russell Brunson and Julie Stoian. These experts are highly respected in the online marketing world, ensuring you get valuable and proven knowledge.
3. Affordable Pricing
The One Funnel Away Challenge offers a comprehensive funnel-building course at an affordable cost. It's only a hundred dollars, making it accessible for many without the need for a substantial investment.
4. Generous Money-Back Guarantee
Russell Brunson is confident in the value of the challenge, offering a 30-day money-back guarantee. If you're not satisfied with the course, you can request a refund, so there's no risk involved.
5. Flexible Learning Formats
The challenge provides course materials in various formats, including books, audio, and video. This flexibility allows you to learn on-the-go, whether you're at home, at the gym, or on your way to work.
Criticism of One Funnel Away Challenge
1. Intensive Pace
This course is fast-paced and designed for action. You can't take it at your own leisurely pace. Skipping days can lead to falling behind, so be prepared to invest a significant amount of time within the 30-day timeframe. While it may seem demanding, the results are worth it.
2. Cost Consideration
While many find the One Funnel Away Challenge affordable, some may consider a hundred dollars expensive. It's a matter of individual priorities and how much value you place on learning.
3. Information Overload
The course is intensive, and keeping up is crucial. The wealth of information can be overwhelming, especially for newcomers. However, taking notes and digesting the content as you progress can help manage this challenge.
4. Additional Costs
Participating in the challenge may require additional investment beyond the initial fee. You'll need a funnel-building software, with ClickFunnels being a recommended option. While it's a popular choice, it does come with its own costs.
5. Quality Product Required
Completing the One Funnel Away Challenge is just the beginning. To make money, you need not only to build a sales funnel but also to deliver a high-quality product or service. Failing to meet customer expectations could result in refund requests, so success goes beyond just increasing sales.
Get A Special Offer And Instant Access Here
Is the One Funnel Away Challenge a Scam?
No, it's not a scam, but it's important to understand that it may not be suitable for everyone. The One Funnel Away Challenge is a legitimate and valuable program created by Russell Brunson, who has achieved tremendous success with sales funnels.
Russell designed this coaching program to help individuals struggling to generate significant profits from their online businesses. It's based on the very concepts that have enabled him to make millions of dollars online.
Russell Brunson is a passionate teacher who genuinely cares about his students' success and wants to assist others in achieving their goals.
So, when you invest $100 in the One Funnel Away Challenge, you're getting exceptional value that far surpasses the cost. It's a genuine opportunity to learn and grow in the world of online marketing.
Do I Recommend the One Funnel Away Challenge?
Absolutely, yes! The One Funnel Away Challenge has completely changed the way I look at online marketing. I've tried many courses before, but this one stands out because it doesn't just give you knowledge; it shows you how to apply it effectively in your business.
When I first encountered it, I thought it might be just another run-of-the-mill online course. But it's so much more. It covers everything from building a profitable funnel to generating leads and making those all-important first sales. Whether you're facing challenges or starting from scratch, this course equips you with the knowledge to build a successful online business from the ground up.
Russell Brunson and his team leave no stone unturned, explaining every aspect of the funnel-building process with clarity. But here's the key: active participation is vital. To build a business in just 30 days, I dedicated two hours a day, though you can invest more if you prefer.
One of the standout lessons for me was the Epiphany Bridge in Week 2. Learning to create copy that speaks directly to a specific customer and practically sells the product itself was a game-changer.
Throughout the 30 days, I had to think on my feet and take initiative, but the stories of the Two Comma Club millionaires kept me inspired and motivated. This program isn't just informative; it's incredibly practical and valuable.