Can Zen Arbitrage really live up to its claims, or is it just another scam? Can selling books on Amazon truly be a profitable venture? If you're seeking an honest Zen Arbitrage review, you've come to the right place.
Before we proceed, let me make one thing clear: I have no affiliation with Zen Arbitrage. I'm not being paid to write this review, so you can trust that my words are unbiased and come straight from my personal experience.
At the end of this review, I won't leave you hanging. I'll share with you a better alternative that has allowed me to achieve a full-time passive income online.
What is Zen Arbitrage?
Some people make a profit by buying books from Amazon and reselling them through Amazon's Fulfillment by Amazon (FBA) program. This strategy, known as Zen Arbitrage, is a clever way to turn a profit in the world of book arbitrage.
But wait, you might be thinking, "Why would anyone buy a book from Amazon just to resell it on Amazon?" That's a valid question. After all, if the same book can be purchased cheaper on Amazon, what's the point?
Here's the secret: Amazon's FBA program comes with certain advantages that make it worthwhile. When a book is labeled as "fulfilled by Amazon," it gives consumers a sense of trust that the order was placed through an official Amazon channel. This is important because not all orders on Amazon are fulfilled by Amazon itself. There are many shady resellers on the internet, but with FBA, customers feel more confident about the authenticity and reliability of their purchase.
Another benefit is that Amazon prioritizes customer protection during shipping, which is not always the case with other retailers. Additionally, Prime members often prefer items fulfilled by Amazon because they can enjoy the speedy delivery, sometimes receiving their orders in as little as two days. These factors contribute to why people choose to use Amazon as their go-to store.
Now, let's talk about Zen Arbitrage itself. It stands out from other book arbitrage services available today. The core idea behind Zen Arbitrage comes from the mind of Peter Valley, who developed custom software to make this strategy possible.
The program is designed to identify low-cost books that you can buy and then resell on Amazon FBA for a profit. It does this by comparing the cost of new and used books on Amazon with the current FBA price for books in similar condition. This way, you can find books that have a significant price difference and capitalize on that opportunity.
For example, let's say you find a book being sold by a vendor for $5. You use the Zen Arbitrage app to check the FBA price and discover it's listed for $70. By purchasing the book for $5 and reselling it for $70, you can make a profit of $65. That's quite a return on investment!
The app also provides a handy calculator feature. It allows you to input the amount you could spend on a book and the current FBA price, and it will calculate the potential profit for you, subtracting Amazon fees. However, keep in mind that the profit calculator doesn't factor in sales tax. So, if you live in a state where online purchases are taxed, you'll need to manually calculate the total cost, including tax, and then enter it into the profit calculator.
With Zen Arbitrage, you can tap into the world of book arbitrage on Amazon. The software helps you find lucrative opportunities, determine profit margins, and make informed decisions about which books to buy and resell. It's a unique and innovative approach to generating income, and it's definitely worth exploring if you're interested in leveraging the power of Amazon's FBA program.
Recommendation: Make Passive Income Online
Who is the Creator of Zen Arbitrage?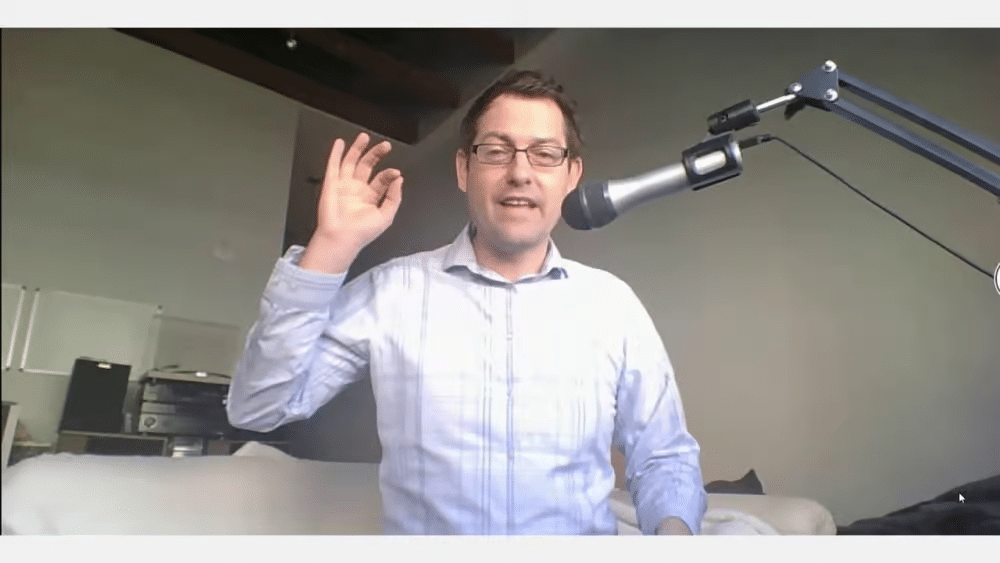 Peter Valley is the mastermind behind Zen Arbitrage. Back when "online shopping" wasn't even a term, Peter was already dominating the Amazon platform. With a remarkable collection of 14 books on the 'Art of Selling on Amazon' to his name, he's an unparalleled expert in this field.
But Peter's expertise doesn't stop at being an author. He is also a dedicated trainer and teacher, sharing his knowledge with aspiring Amazon sellers. Countless students and trainees have experienced life-changing improvements by following his guidance.
To make his insights even more accessible, Peter maintains an informative YouTube channel. Here, he generously offers valuable advice on how to maximize profits through buying and selling books on Amazon.
Now, Peter is taking his expertise to the next level with the introduction of Zen Arbitrage Software. This innovative app aims to revolutionize the way we discover and vet potential book sales.
With Zen Arbitrage Software, Peter hopes to streamline the entire process, making it easier and more efficient for sellers to find profitable opportunities. By leveraging the power of technology, this app promises to empower users to make informed decisions and optimize their book-selling businesses.
Recommendation: Make Passive Income Online
How Does Online Book Arbitrage Work?
Finding profitable books and selling them online can be a great way to make some extra cash. Online book arbitrage is a method that many Amazon sellers use to find books at low prices and then resell them at a higher price. Here's a explanation of how it works:
Searching for profitable books

: To start, you can use a book arbitrage tool to search for books on Amazon that have the potential to bring in a profit. These tools help you identify books that are in high demand and have a significant price difference between their current listing and the Fulfillment by Amazon (FBA) price.

Calculating the FBA price

: Once you find a book that looks promising, you need to calculate the FBA price. This includes considering taxes, fees, and other expenses associated with selling the book on Amazon. By understanding the total cost involved, you can determine if the potential profit is worth pursuing.

Assessing competitiveness

: It's essential to evaluate if the book's current asking price is competitive enough to attract buyers. You can compare the book's price with similar listings on Amazon to ensure you're offering a reasonable deal to potential customers.

Purchasing and delivery:

If everything looks good, it's time to make the purchase. You can buy the books online and have them delivered to your office, home, or even a prep and packaging company that specializes in preparing items for Amazon fulfillment. Alternatively, you can have the books shipped directly to an Amazon fulfillment center for storage and shipping.

Listing and sellin

g: Once you have the books in your possession, you can list them for sale on Amazon. You'll create a listing, add attractive product descriptions, and set a competitive price. As orders come in, you fulfill them either by shipping the books yourself or letting Amazon handle the fulfillment through their FBA service.
Learn more: Legit Ways To Make Money Online
Recommendation: Make Passive Income Online
Experience the Powerful Features of Zen Arbitrage
Discover a Vast Book Database
Unleash the book lover in you with Zen Arbitrage's enormous book database. With a staggering 21 million books to choose from, you'll be spoiled for choice. Unlike other platforms that offer only about 3 million books, Zen Arbitrage stands out as the ultimate book source.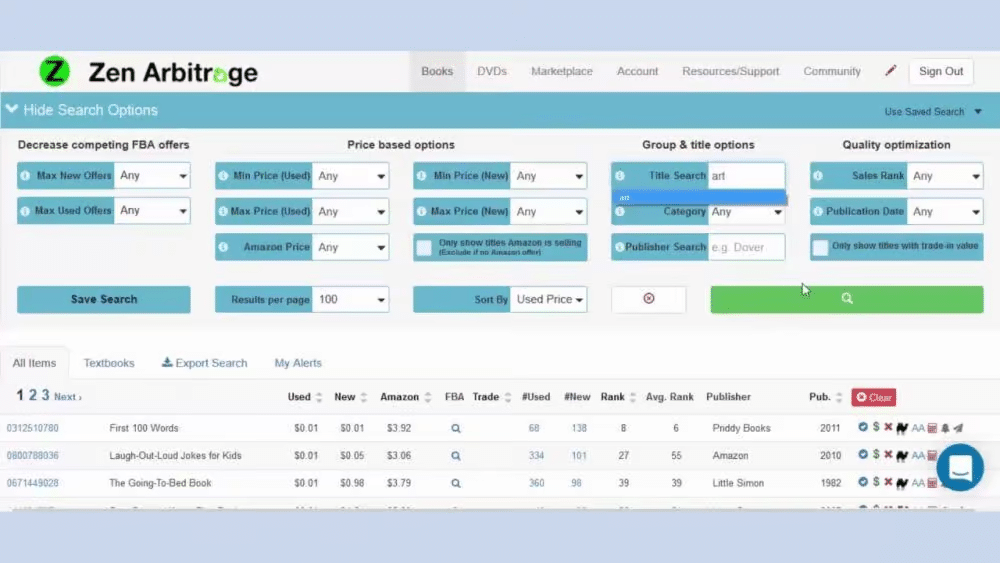 Effortless and Precise Book Search
Finding the right books has never been easier. Zen Arbitrage offers laser-precise search options that allow you to search by sales rank, multiple listings, book category, new or used prices, titles, and even Amazon's own prices. Say goodbye to wasting time navigating through countless pages or trying to memorize everything. Just use the powerful search features to quickly reach your destination.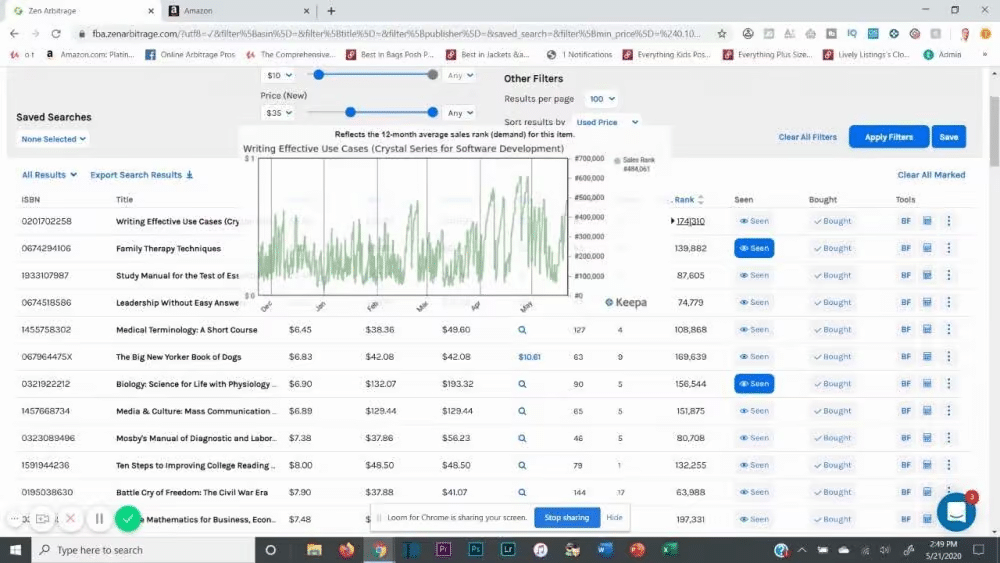 Streamlined FBA Automation
Zen Arbitrage automates numerous tasks to simplify your arbitrage journey:
It searches over 40 different websites to find profitable books.

You get real-time FBA prices.

Get up-to-date 3PL price information.

Instantly inquire about shipping costs.

Keep track of your sales and income.

Verify if a book can be sold before purchasing it.

Forecast potential losses and avoid unsellable books.

Visualize real-time sales price graphs using the Keepa API.

Stay informed about book profitability and current trends.
Extensive Video Library for Book Arbitrage
Unlock the secrets to success with the largest arbitrage video library available. Zen Arbitrage's website houses a wealth of videos that cater to different skill levels, making it an invaluable resource for anyone looking to make money online. With over fifty videos in the arbitrage room, you can make informed choices for long-term sales, profits, and investments.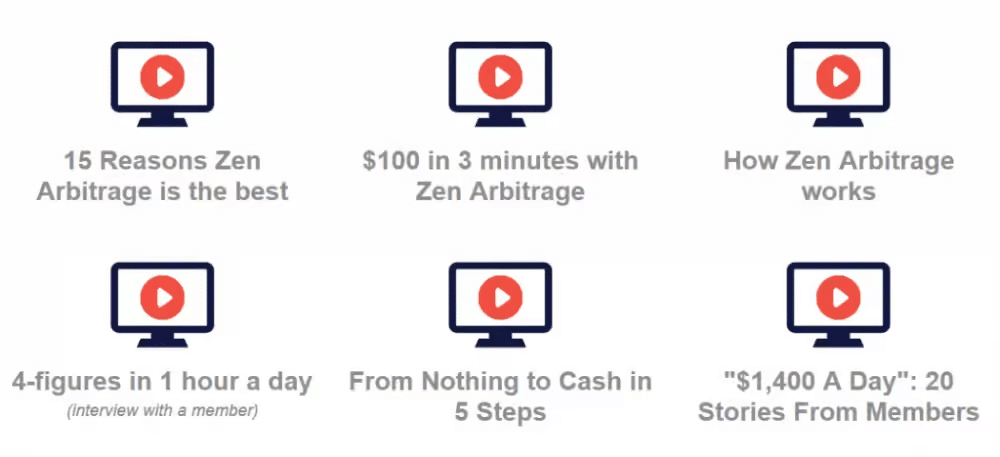 Unrivaled Textbook Database
A one-stop shop for buying and selling textbooks online! Zen Arbitrage's unofficial database boasts over 20 million web-based items and a collection of more than 300,000 textbooks. Explore the virtually infinite alternatives available and enjoy the pleasure of discovering new opportunities on this platform.
Historical Rank and Sales Data
Gain access to a treasure trove of past sales and rankings information. By analyzing this data, you can select the best books and make more accurate market return estimates. This ensures that your profits outweigh any potential losses. Learn from your past experiences, identify the books that yield the least profit, and avoid poor investments. Real-time sales trend charts and projected losses empower you with up-to-date insights.
Your Personal Arbitrage Marketplace
Zen Arbitrage is not just a book recommendation and purchasing tool—it also acts as your personal marketplace. Supplement your income from selling books on Amazon FBA by buying and selling leads on the arbitrage marketplace. This unique facet of Zen Arbitrage sets it apart from the rest.
All-in-One Business Solution
No need to search for additional paid add-ons. Zen Arbitrage offers everything you need to start your business within the monthly subscription price. Consider it your complete business in a box.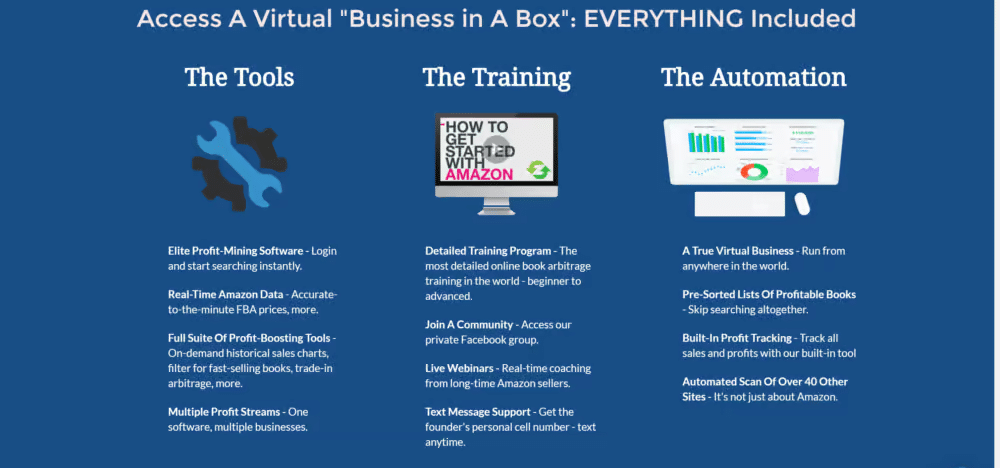 Ten Profitable Arbitrage Methods
Zen Arbitrage provides ten different methods to make money through arbitrage, including searching for books and selling leads. The program's unique lead liquidation service can be extremely useful when you need to move books. Take advantage of Zen Arbitrage's unparalleled platform to engage in arbitrage and explore various profitable avenues.
Stay Alert with Price Drop Notifications
Don't miss out on great deals! The Price Drop Alert feature keeps you informed when the price of an item drops. Receive automatic notifications when a book you're interested in becomes more affordable.
Additional Benefits
Benefit from a comprehensive training program consisting of fifty videos.

Participate in monthly live webinars for ongoing learning.

Gain access to direct support through phone, email, and live chat.

Enjoy the flexibility of no agreements or contracts.

Access the platform anytime, anywhere—it's completely web-based.

Utilize preparation services offered by Zen Arbitrage.

Join the exclusive Zen Arbitrage community on Facebook and connect with fellow members.
Learn more: How to Sell eBooks on Amazon: 8 Best Tips For Beginners
Recommendation: Make Passive Income Online
How Much Does Zen Arbitrage Cost?
When it comes to Zen Arbitrage, you'll be glad to know that the subscription cost is quite reasonable. For just $97 per year, you get access to all the features and services offered. The best part? No contracts are involved, and you have the freedom to cancel at any time. No hidden fees or surprises!
Trial Period
The beauty of Zen Arbitrage lies in its risk-free trial period. For a generous 14 days, you can experience the full benefits of this platform without any obligations or the need to provide your credit card details. This trial period ensures that you have ample time to explore Zen Arbitrage's features and gauge its effectiveness for your Amazon business.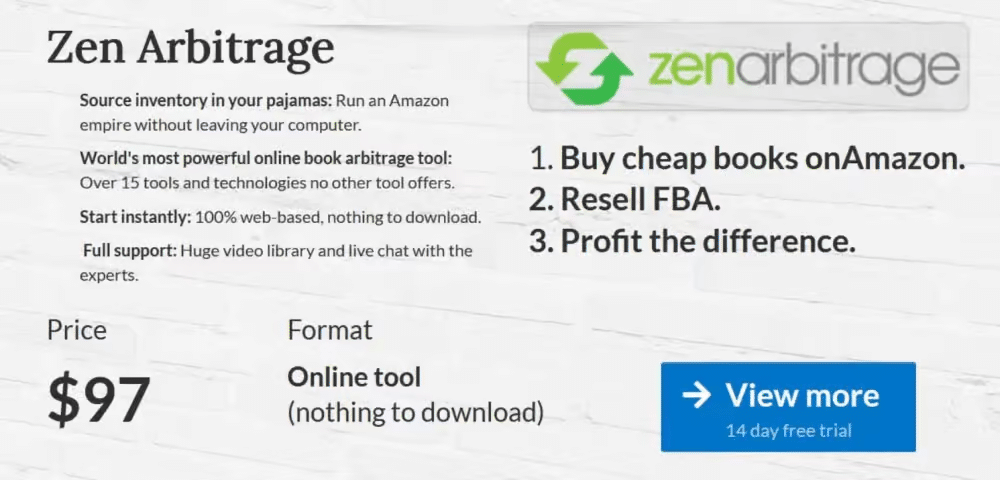 Recommendation: Make Passive Income Online
Praises For Zen Arbitrage
1. Profit Potential: Unleash Your Earning Power with Zen Arbitrage
Believe it or not, you can actually make money through arbitrage buying of books on the Internet. With Zen Arbitrage, astute business owners have a golden opportunity to capitalize on the massive price differences between Fulfilled by Merchant (FBM) and Fulfilled by Amazon (FBA) offerings.
2. Abundance of Profitable Flip Opportunities
When you use Zen Arbitrage to sift through Amazon's vast collection of books, you'll quickly discover that there are more profitable flip opportunities than there are people to seize them.
3. Reliability of the Software
One advantage of Zen Arbitrage is the reliable software provided to its users. However, it's worth noting that while the software is dependable, it may still take some time and practice to fully understand how to use it effectively for profitable results. It's essential to dedicate time to familiarize yourself with the software's features and functionalities.
4. Location Independence
Thanks to the widespread availability of FBA book preparation services, online book arbitrage can be done from anywhere in the world. If you choose to hire someone to handle the book storage for you, you no longer have to worry about it yourself. All you need to get started is a computer, an internet connection, an Amazon seller account, and Zen Arbitrage.
Recommendation: Make Passive Income Online
Criticism For Zen Arbitrage
1. Navigating Amazon Policies
When using Zen Arbitrage, it's crucial to thoroughly review Amazon's policies before making any significant purchases, such as books. This process can be time-consuming, as you'll need to ensure compliance with Amazon's guidelines and regulations. Taking the time to understand these policies can help you avoid potential issues and make informed decisions that can positively impact your business.
2. Investment of Time, Energy, and Capital
Like any other business venture, Zen Arbitrage requires an investment of your time, energy, and capital before it starts generating substantial profits. It's important to understand that success won't happen overnight. You'll need to put in the effort to learn and master the system to make it profitable.
3. Amazon Can Restrict Your Selling Abilities
Amazon has the authority to restrict sellers from selling certain titles. The level of restriction can vary depending on the specific book. In some cases, you may only be permitted to sell used copies or cater to collectors, while in other instances, selling might not be allowed at all.
To check the restrictions for a particular book, you can visit the Zen Arbitrage program's Amazon page, which provides further information. It's crucial to remain vigilant, even as you earn revenue and make sales, as some of the restrictions can be lifted over time.
Recommendation: Make Passive Income Online
Zen Arbitrage vs Competitors
Zen Arbitrage vs. eFLIP
Looking at two online book arbitrage systems, eFLIP and Zen Arbitrage, we can find some important similarities and differences.
Zen Arbitrage boasts a massive database of 21 million books, with 32.8 million available on Amazon. On the other hand, eFLIP's database contains 23 million individual ISBNs.
Both platforms offer trusted apps that display sales history and allow users to filter search results. However, Zen Arbitrage provides simple filters like category, price, condition, trade-in value, title, FBA listings, publisher, Amazon price, and sales rank. In contrast, eFLIP has more sophisticated price filters, enabling users to set thresholds for new and used book prices, Amazon prices, and more.
Both services come with restrictions on ranking and publishing window, and they offer risk-free demo versions for users to try out.
When it comes to pricing, eFLIP charges $79 monthly, while Zen Arbitrage has a fee of $97.
Zen Arbitrage vs. Book Profits
Zen Arbitrage and Book Profits are two highly functional applications with user-friendly interfaces. Book Profits caters to anyone interested in building an online business with used books. Its goal is to help users find books and sell them at higher prices to make a profit. Zen Arbitrage, on the other hand, guarantees a high profit rate for Amazon sellers. It's a win-win scenario for everyone involved.
Both apps provide instant notifications if the price of a tracked item drops, and they can be used worldwide.
Zen Arbitrage vs. Tactical Arbitrage
Tactical Arbitrage and Zen Arbitrage are both programs designed to assist Amazon sellers in finding profitable products to sell.
Tactical Arbitrage stands out by checking over a thousand alternative retail websites. It then compares the prices of similar products on Amazon to identify opportunities for buying low and reselling at a profit. It excels in researching wholesale products and performing digital arbitrage.
On the other hand, Zen Arbitrage allows users to search more than 40 different online bookstores. While Tactical Arbitrage offers a 7-day free trial, Zen Arbitrage provides a 14-day free trial. Additionally, Tactical Arbitrage has a lower cost compared to Zen Arbitrage.
If you don't have an unrestricted Amazon account, it's important to note that you shouldn't purchase leads from Zen Arbitrage's marketplace. Also, consider selecting the bulk shipping option from Amazon.
Recommendation: Here's The Best Alternative
Is Zen Arbitrage A Scam?
Zen Arbitrage is not a scam where you're left empty-handed after handing over your money. However, it's important to note that making money with this software is not as easy as it may initially seem, despite the claims made by its creator, Peter Valley.
Like many FBA (Fulfillment by Amazon) businesses, Zen Arbitrage requires a significant upfront investment with limited chances of success. To truly thrive in this venture, you need to stumble upon lucrative products that few people are aware of.
Learn more: Make Money Online Scams: How to Avoid Them?
Recommendation: Make Passive Income Online
Better Alternative to Zen Arbitrage for Making Money Online
Are you looking for a stable and secure way to generate passive income? Well, I've got a suggestion for you: why not start your own online affiliate marketing business? It's the perfect choice, especially if you're new to the online business world.
Out of all the online business models I've explored, I can confidently say that affiliate marketing is the easiest and most rewarding one I've come across. The best part is, you can run your affiliate marketing business with minimal costs and still achieve a steady and sustainable passive income to cover your bills. You don't even need any initial capital, and you can do it as a side hustle.
Now, if you're serious about learning affiliate marketing and building a business from scratch, let me introduce you to the most reputable platform out there: Wealthy Affiliate.
Wealthy Affiliate is an all-in-one platform that helps you build your affiliate marketing business from the ground up. They offer a free account, including a website, and provide comprehensive training on SEO (free traffic methods). With Wealthy Affiliate, you can start your affiliate marketing journey right away without spending a dime.
But you might be wondering, how much can you actually earn with Wealthy Affiliate? Well, let me share an inspiring story. A 21-year-old student from Wealthy Affiliate managed to earn an incredible $7,395 in just one week, which means he made over $1,000 every day using free traffic methods.
You can check out my full review of Wealthy Affiliate here.
Wealthy Affiliate has been around for 15 years, and there are countless success stories from its members over the past decade. Here are a few more examples to give you an idea of what's possible.
So, where can you join Wealthy Affiliate? It's actually quite straightforward. They have a simple pricing scheme that includes a free starter membership and a premium membership.
If you want to get a feel for what Wealthy Affiliate offers, you can sign up for the free starter membership without even providing your credit card information. As a free member, you'll have access to the community, live chat, over 500 training modules, 2 classrooms, networking opportunities, commenting features, a free website, and even the keyword tool. All of this comes at no cost to you.
I strongly recommend registering a free account with Wealthy Affiliate and experiencing it for yourself. Don't hesitate to take advantage of all the incredible value they offer without spending a penny.