Have you heard about the new Low Hanging System by Don Wilson? You may ask, "Is Low Hanging System a scam?"
Now, in Low Hanging System, Don Wilson shows you how to build a print-on-demand business and walks you through the entire process of selling physical small text sets on marketplaces like Amazon, all without any upfront costs.
Don Wilson also provides you with software, a series of case studies, and access to UseGearBubble.com, which integrates with Amazon and eBay.
But you might not be so sure whether Low Hanging System can help you achieve financial freedom.
Therefore, at the end of this article, I will tell you another business model that has enabled me to make a full-time passive income.
Low Hanging System Review – Key Takeaways
Course Name

: Low Hanging System

Course Instructors

: Don Wilson & Rachel Rofe

Price

: $1,491 or 3 payments of $497

Pros

: Step-by-step instructions; private community; complete system

Cons

: No refund; lack of success stories; tricky business model; poor customer service

Overall Rating

: 2/5

Verdict

: Not likely that you can build a successful POD business with Low Hanging System.
In this Low Hanging System review, I'm going to cover the following.
What is Low Hanging System (LHS)?
Low Hanging System is a program that teaches you how to sell Print On Demand (POD) products on Amazon, Etsy, eBay, etc.

He tells you the exact steps to run a POD business. Don Wilson shows you how to come up with attractive sayings to print on your clothing.
After that, you will be provided with a beautiful font, and get it listed on the GearBubble system to market it on the eCommerce platforms.
Simply put, it's nothing more than a print-on-demand business model. In other words, it is the same as other POD courses. The only difference is that you have to use the platform developed by one of the course creators to make the whole system work for you.
Aside from that, it could help you create designs for your equipment so you do not have to hire a designer or anything from Fiverr. However, you still need to come up with some great phrases that can appeal to your audience.
The problem with the POD business model is that it's oversaturated.
With seemingly everyone having an online business these days, it can be difficult to attract customers to your new business.
Competition is fierce, and unless you have a genuine interest in the success of your business, you will not be willing to commit the resources necessary to succeed.
POD is an acceptable way to do business, but you would have to deal with many customer inquiries, complaints, or refunds.
Recommendation: Here's The Best Alternative
What is GearBubble?
GearBubble offers two different options. The first of these, GearBubble Pro, is an e-commerce platform similar to Shopify that is easy to set up and manage.
Don Wilson, an entrepreneur who got his start on the Internet, founded GearBubble with the intention of building a website focused on increasing revenue.
Either click "Get Started" on the home page or navigate to the GearBubble Pro menu and select "Start Your Brand" to start using the program. After that, you will need to do the following:
Choose and buy a domain name.
Include your company's branding, such as a logo and a support URL.
Add items to your new storefront (GearBubble lets you import stores from Shopify).
Set up your payment processor with a single click and link the store to your Paypal and/or Stripe accounts.
Increase traffic to your store and boost sales.
GearBubble Pro provides a 14-day trial period after which you can choose one of the following packages: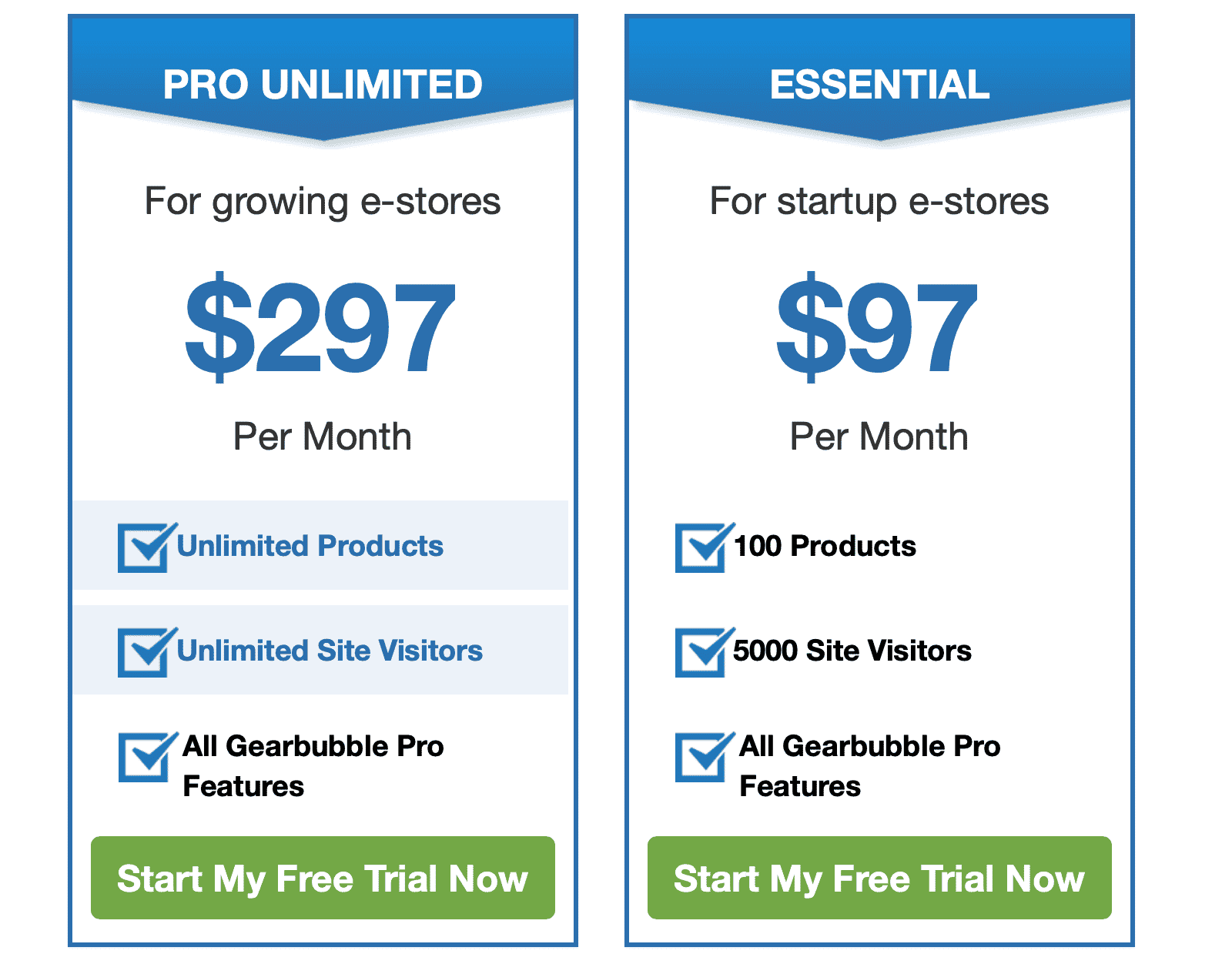 GearBubble Pro makes opening a store fast and easy. In less than a day, you can complete the task. Dropified integration is also available in GearBubble Pro, so you can quickly and easily add products you find during your product research (for example, on Aliexpress) to your store.
Recommendation: Here's The Best Alternative
The Founders of the Low Hanging System (LHS)
Low Hanging System was founded by Don Wilson and his partner Rachel Rofe. A few years ago, Don founded GearBubble, an eCommerce platform that works with eBay, Etsy, and Amazon to automatically download and fulfill your print-on-demand orders (POD). That's why you get a free one-year subscription to GearBubble at Low Hanging System.
Don Wilson
Don Wilson is the founder of GearBubble, which you may have heard of. He is responsible for the company's online sales of over $100 million.
This entrepreneur has been in business for a long time. He has developed a wide range of applications, including training programs.
It's safe to say that Rachel Rofe brings more to the table than just a business relationship. She's also the woman Don Wilson is in love with. At GearBubble, they were work colleagues.
To be honest, I find it a little… strange to vouch for the effectiveness of a product based solely on the success of a company you own. The truth in any business is that "results" can be easily manipulated.
Rachel Rofe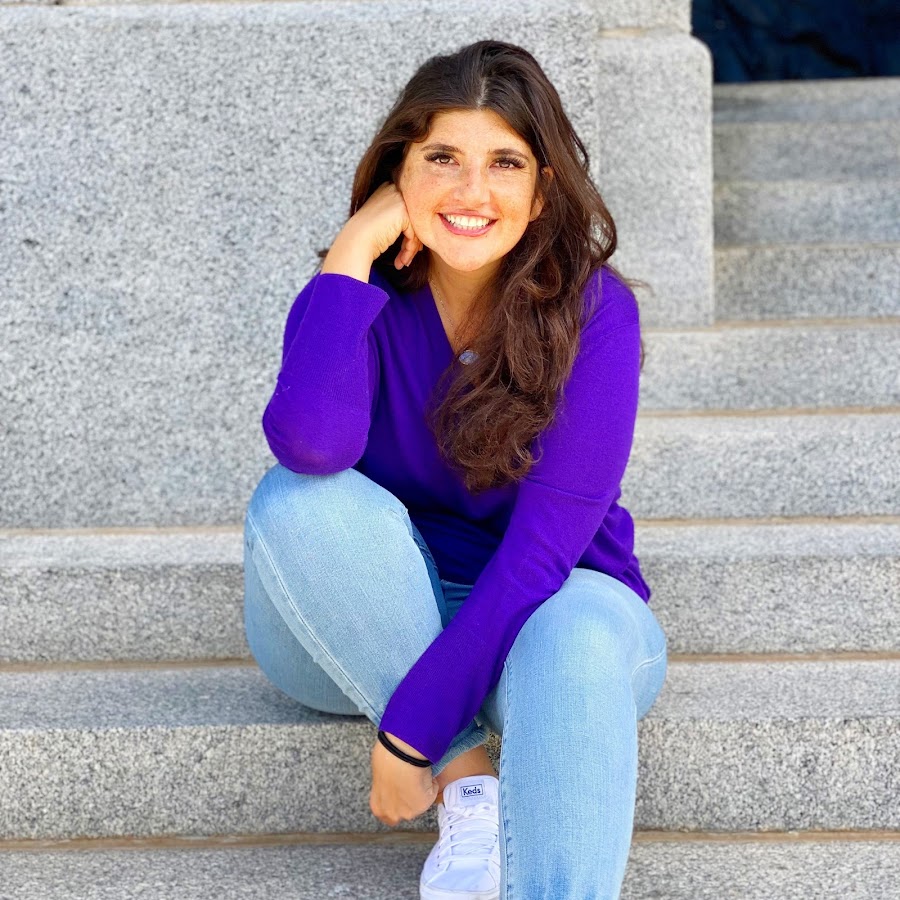 By the same token, his partner Rachel Rofe is also experienced with online marketing and engaged in the production of training courses and digital products with Don Wilson.
She began her career in Internet marketing in 2006 and has since published 40 Kindle books and 30 products and sold companies that employ an estimated 120 people.
A successful author, speaker, and entrepreneur, Rachel Rofe is always looking for new sources of motivation and creativity. In doing so, she takes a liking to the "online lifestyle" industry.
However, one may wonder if she is actually a dropshipping expert. Despite her fame, I can say that her main interest is lifestyle motifs that can influence her pod projects.
Recommendation: Here's The Best Alternative
Rachel Rofe Net Worth
How much money does Rachel "Renaissance Woman" Rofe have now? No one but her and her accountant knows.
But it's worth a fortune because thousands of people have bought her low-hanging system for $2,000. Five million dollars is a reasonable estimate. But maybe it's not just that. Still, she's a fascinating figure.
How does The Low Hanging System work?
Low Hanging System teaches you the basics of building a profitable print-on-demand business. You will learn how to design your own products and sell them on marketplaces like Etsy, Amazon, eBay, and others.
You'll print designs on tote bags, and add motivational quotes on mugs, among other things.
Below are seven steps that Rachel Rofe explains in detail.
Step 1 – Select a Profitable Niche

According to the creators of Low Hanging System, they had been successful in making sales by focusing on a profitable niche.
You will learn how to find high-earning niches with minimal competition.
Step 2 – Search For Inspirational Quotes
In this part of the course, they're gonna teach you how to pick the perfect sayings for your t-shirts, coffee mugs, and other items.
You'll get to sift through a ton of potential selling points for your product's text. Want a pro tip? Think about some of the Facebook memes that made you LOL.
Why not incorporate them into your product's design? It's a great way to make your products stand out.
But that's not all – this program also includes a "Holiday Guide" to help you plan ahead and design for the holidays.
If you've ever had a drop in income, you know that holiday products are a surefire way to make up for it. So, it's super important to be prepared for the season.
And if you need some extra help, the company offers "over the shoulder" training with its Watch Me Get Sales case study.
So you'll be able to see how it's done and mimic the same success
Step 3 – Create A GearBubble Account
The videos in this section are, of course, about creating a GearBubble account. The website also provides tools for printing and shipping your products.
Besides, all the requirements for selling the items are met, so you have one less thing to worry about.
Step 4 – Use The Right Keywords To Get Sales
If you know how to use keywords on different e-commerce websites, your customers will be able to find and buy your products much faster.
From my point of view, this is the most important guide that the Low Hanging System offers. If you want to make a name for yourself with the Pod business model or any other online project, you need to master this skill.
Step 5 – Launch Your Products on Amazon
Here you will find information that will help you start a successful business on Amazon.
You can bypass months of waiting for a seller account to be approved by using the Low Hanging System and Gearbubble.
The Low Hanging System also includes easy-to-use mug description templates to help you sell on Amazon.
Step 6 – Promote Your Products on Other Platforms.
In this part, you will find checklists that you can use when preparing your products for sale on online marketplaces such as eBay, Amazon, and others.
Relying only on the most popular platform, Amazon is a waste of resources.
Step 7 – Use GearBubble to Fulfill Your Orders
Free access to GearBubble for a full year is included in the Low Hanging System program.
GearBubble can help you take care of order fulfillment, printing, and shipping to your customers.
It can be one way to earn some passive income, but remember, it only works if you've got quality customers.
And that's it, folks – you're all caught up on the seven stages of the Low Hanging System.
Recommendation: Here's The Best Alternative
Other Features and Bonuses
Here are some optional bonuses that can be purchased along with the Low Hanging System:
Effortless integration
With the Low Hanging System, you can easily promote your goods on any online marketplace, be it
Thanks to simple connectivity, you to reach a large number of potential customers in a short time.
SpotNiches and SpotWins Software
Depending on which low-hanging system package you purchase, you'll have access to software such as SpotWins and SpotNiches (there are several packages that differ in price).
You should know that this program, despite its usefulness, is optional. You can learn the manual methods that this software uses to find. This method only drags out the process.
That doesn't mean you've to have SpotNiches and SpotWins, but that's not what I'm getting at. Low Hanging System is doable even if you don't have any of these programs.
Make use of Prediction Programs
Use this sales forecasting tool to determine how many new designs you need to introduce each day to meet your daily sales goals.
Again, this software isn't essential.
Free Mugs (5 boxes)
To get you started, the Low Hanging System includes five boxes of mugs. Each order contains 180 mugs, so feel free to give some away without spending a dime.
However, the average profit margin is almost $14 per cup sold, which is about $2,500.
Free Done For You Designs
Creating your own pattern can be a challenge, so the Low Hanging System offers templates to help you get started.
You can use the one hundred free patterns for anything from coffee mugs to necklaces to throw pillows. Granted, these designs have probably been used too many times. That's why it's beneficial to be the first to market with something new.
Holiday Success Blueprint
Make the most of the holiday season by using the Holiday Success Blueprint. I've already mentioned that this is the best time of the year to make a lot of money.
Inventory Management
The Low Hanging System includes an inventory management option as part of its menu. It can be used for inventory management in addition to tracking sales and purchases.
How much does Low Hanging System cost?
This basic program can be purchased for $1,491 (one-time payment).
However, you can't buy the course on their website. Instead, you have to sign up for a webinar and get pitched on the phone call.
If you choose the payment plan, the cost can be broken down into 3 monthly payments of $497.
Overall, the course is really expensive!
Recommendation: Here's The Best Alternative
Low Hanging System Discount?
Some people said they got a "discount" over the call. Some said they didn't. I guess that depends on how you deal with the sales closer.
For example, you can try to reject their pitch, and they might offer you a discount to lure you back.
Any Upsells?
Yes, there are upsells.
The Low Hanging System Jumpstart will cost you $1997.
But you'll get some sweet extra goodies like extra training courses, bonuses, ready-to-use templates, and weekly live webinars where you can ask questions and get answers.
Just keep in mind that there's no one-on-one coaching available!
Refund Policy
There is no refund policy.
According to their terms and conditions, Low Hanging System does not accept any requests for refunds. This is a clear statement on their sales page.
Rachel Rofe used to guarantee happiness, but not anymore. If you buy Low Hanging System and end up unhappy, you will not get your money back.
Can you make money with Low Hanging System?
It is unlikely that you will be able to earn an income comparable to your current salary using the Low Haning System.
Most print-on-demand companies fail in the first year because of the problems mentioned above.
Compared to buying wholesale, the cost of goods for an on-demand printing service is higher. This means that your profit margin is lower.
Since print-on-demand companies take care of all aspects of shipping, packaging, and selling, they take a bigger cut of the profit and pay you a commission on the product sold.
Artists may receive a percentage of each sale, called a royalty, or a markup on the final cost of the product, and the artist can set the selling price. Therefore, profit margins can be quite low, depending on the product.
Worse still, you must rely on the printer to do its job correctly. It is possible that you or your customer will receive a defective product.
It could be the result of a manufacturing defect, a fulfillment defect, or damage during shipping. There is no denying that these things happen in every company that manufactures products.
As you know, manufactured products are subject to quality control.
However, as with anything, we can accidentally let a defective item go through. If your customer receives a damaged or defective item due to an error on our part, you will have to pay for the error.
Recommendation: Here's The Best Alternative
The Problems with Print-On-Demand (POD) Business Model
I won't say Low Hanging System teaches you a print-on-demand model that has existed for many years.
The thing is can you really make money from cool designs without any other hard work?
It's possible. But it's very likely that you won't make a penny.
Since the designs are custom printed and not produced in bulk, print-on-demand products are costly and hard to survive the price competition on eBay, Etsy, or Amazon.
Below are the reasons why I don't recommend you start with the POD business model.
1. POD business model requires strong design skills.
Since what you are selling is not a famous brand, your POD products must be so cool in design and connect with people's daily routines. After all, if you want to stand out, you can't just rely on the samples provided by Low Hanging System which can be used by every student.
2. You can't find winning products easily
Even if you found a POD product that is hot-selling, you still can't sell it for a long time. This is because the popularity will die out in a few weeks. Therefore, you have to keep testing new products. This will require you to invest more time and money.
3. The competition in the POD business is so intense
Due to the low entry barrier, everyone can start a POD business at a low cost. That's why many people will become your competitors and keep copying your hot-selling products.
Therefore, in order to survive, you have to consistently test new designs which are unique but attractive to your audience. After all, creativity won't guarantee sales!
In conclusion, it's hardly possible to make 5 figures a month with this POD business model. To do so, it would cost you a lot of money in advertising, such as running Facebook ads. But in most cases, you won't sell anything without advertising.
If you are looking for a passive income method, I won't suggest you start with POD.
Recommendation: Here's The Best Alternative
Praise for Low Hanging System
1. Free access to Gear Bubble
If you're thinking about buying the Low Hanging System, here's something cool – you'll get a full year of free access to GearBubble. This means they'll handle all the printing and shipping for you.
2. Private community
If you sign up for LHS, you can join their private Facebook group and ask other members any questions you have about your POD business. Some of them are helpful and friendly.
Criticism of Low Hanging System
1. Hard to make money with the POD business model
Rachel makes it sound like you can easily design your own products and make a sale on marketplaces.
She doesn't tell you the expensive ad costs you have to pay to attract the attention of customers.
As mentioned earlier, you won't sell anything without advertising.
2. No refund
As you can see from the complaints below, LHS won't give you a refund even if you aren't satisfied with the program. You have to contact your credit card company to get back your money.
This makes the whole thing scammy because most legit programs offer a 30-day money-back guarantee.
3. Lack of success stories and testimonials
While LHS claims that a lot of their students see results from the training, there is no verified evidence to show this.
You may see some reviews posting screenshots from their Facebook group as proof of the success stories. But there is no way to verify if those are true results or not.
Moreover, while LHS teaches people how to make money with POD, most of their revenue comes from their courses instead of selling products. That makes the whole thing not convincing at all.
Recommendation: Here's The Best Alternative
Negative Customer Reviews
I did some research to find real LHS customer reviews. On Quora, there are a lot of complaints. Below are a few examples:
I also tried to search for positive feedback but found none.
Of course, people are more likely to leave feedback when they are not satisfied.
So, it's hard to tell if LHS has no success stories.
There are some good reviews on their sales. But I doubt if you would trust them.
Is Rachel Rofe a scam or legit?
Rachel Rofe is a legit entrepreneur. Also, I don't think the Low Hanging System training program is a scam.
Rachel will explain the benefits and costs of the program in detail once you sign up.
She's reportedly helped numerous online businesses manage their print-on-demand operations, as stated in the majority of Low Hanging System reviews.
However, there are numerous ways to start a business with minimal time and energy.
The concept of print-on-demand is brilliant, and Rachel has presented it brilliantly. On the other hand, you could lose a lot of money in the process.
For this reason, I wouldn't recommend making her your mentor if you're just starting out.
Recommendation: Here's The Best Alternative
Is Low Hanging System a scam or legit?
Low Hanging System isn't a scam or anything. But, it's not really anything special compared to other print-on-demand courses out there. Even if everything the creator, Rachel, promises comes true, it's not going to solve all the problems with the company's approach to business.
Just wanted to let you know, print-on-demand isn't going to give you a ton of passive income like some course creators might make it seem. If that's what you're looking for, you might want to look into other options.
One thing to keep in mind with e-commerce is that it takes a lot of research to find the right products. It can be a real time-suck to spend hours online looking for the perfect thing to sell.
And even if you do find a great product, it's not always easy to get people to buy it. Lead generation, or getting new customers, can be a real challenge.
And, just a heads up, running Facebook ads for e-commerce can be a real gamble. You could spend a ton of money on ads and not see a good return on investment. Plus, Facebook isn't really a fan of e-commerce dropshippers, so your ad account could get suspended.
Basically, it's a lot of time and money invested without any guarantee of success. Maybe it's worth considering if there's something else you could be doing with that time and energy.
It's also important to note that LHS only has a 3.2 rating out of 1 negative review on Trustpilot.
Read on to learn about another business model that might be worth your time and effort.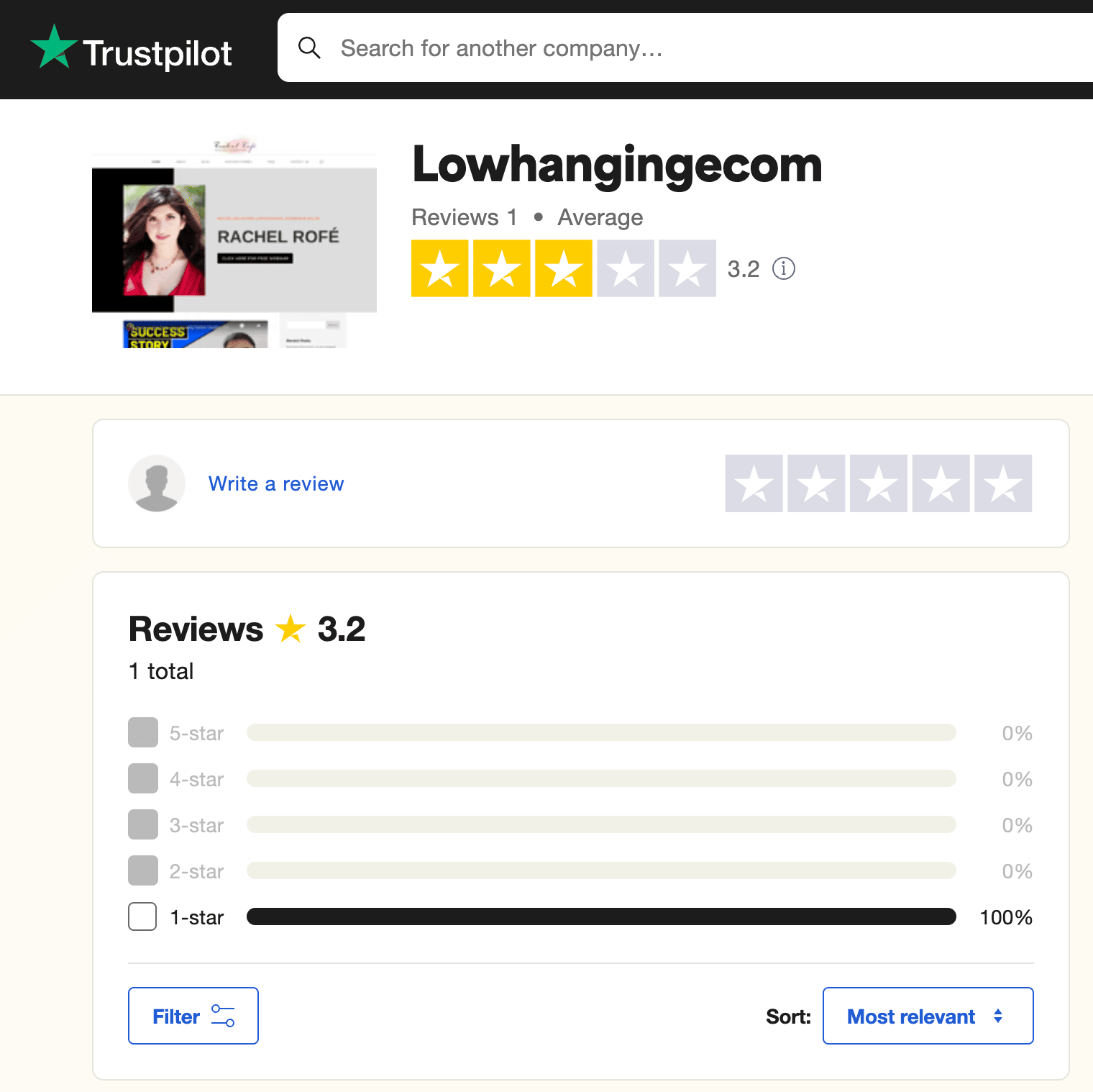 Is there a better alternative to Low Hanging System?
Now, you may ask if there is a better business model that doesn't need design skills, or Facebook ads, and can do it as a side hustle.
Yes, I would suggest you get started with affiliate marketing. It is much easier and less time-consuming because you don't even have to manage inventory or customer service.
It is the best business model for novices who want to create a steady passive income at almost zero cost.
But How Much Can You Earn in Affiliate Marketing?
A 21-year-old student from my #1 recommended training platform of affiliate marketing was able to earn $7,395 in just 1 week, which means he made more than $1k a day…all while using free traffic methods and affiliate marketing.

It's hardly possible that you can earn $1k a day by using any other business model without a large upfront cost. But you can make it happen in affiliate marketing!
Wealthy Affiliate is the best training platform for affiliate marketing. It has existed for more than 10 years and many of the students are now enjoying a steady passive income. Some of them have even quit their corporate jobs and started traveling around the world.
To give you more examples, here are some of the other inspiring success stories of Wealthy Affiliate members.
Where to Join Wealthy Affiliate?
Wealthy Affiliate is offering both free and premium membership.
If you want to feel about Wealthy Affiliate, you can sign up for the starter membership here (no credit card required). You can select to be a free member with no time limit.
And as a starter member, you can get instant access to the community, live chat, over 500 training modules, 2 classrooms, networking, commenting, 1 free website, and access to the keyword tool.
You can enjoy all these values without paying a penny.
So I strongly recommend you register a free account and see it yourself.