If you are interested in starting a business on Amazon, you have heard of the Amazon FBA course Nine University.
The creators of this course Kale Abrahanson and Taylor Hiott aim to teach you how to launch a successful Amazon FBA business from scratch.
However, is the course worth your hard earned money? Is Kale and Taylor a scam? To help you make a more informed decision, I've spent some time diving into the creators and their Amazon FBA course.
Since I'm not affiliated to Kale and Taylor, you can rest assured that my review is genuine and unbiased.
At the end of this article, I'll also tell you an easier and better alternative that is much more suitable for beginners in online business.
Below is what I will cover in the review of Kale and Taylor and the course Nine University.
Who are Kale and Taylor?
Kale Abrahamson and Taylor Hiott are self-made entrepreneurs. They started their business venture on Amazon and seemed to have made some good money with the FBA business model.


But I couldn't find out the amount of their total sales and whether Amazon FBA made them millionaires.
What intrigues me is that Kale Abrahamson was once a famous basketball player in college. The fact that he attended Northwestern and Drake University also tells me that he is quite smart.
In short, I don't think Kale and Taylor are scammers.
What is Nine University About?
Nine University is a FBA training course that teaches you how to sell products on Amazon. It is priced at $1997. If you find it cheap, you can upgrade to Nine University VIP which comes in at a cost of $6000 or so.
Below are the topics included in the course.
How to create listings
Different shipping box options
Using PPC (pay per click for traffic)
Facebook ads
Autoresponder
How to use 3rd party services to launch and promote your products
An Overview of Nine University
Nine University teaches you the business model of Amazon FBA which entails sourcing products to sell in bulk and storing the inventory at Amazon Fulfilment Centers. Once a sale is made, Amazon will pack and deliver the product on your behalf.
Below is what you can expect to learn in Nine University.
14 Day Bootcamp – basic training for future Amazon sellers
Introductory Welcome Module – this is the beginning of the course, KT gives a welcome speech
Week1: The Foundational Bedrock of FBA – a talk on business license
Week 2: Scoping in a 7 Figure Product – KT shares with you tips on sourcing hot-selling products
Week 3: Partnering up with an Elite Supplier – KT shows you how to work with the best suppliers
Week 4: Shipping to Amazon FC w/o Hassle (plus how to pay for product orders)
Week 5: Creating an Auto-Sales Listing
Week 6: Making Your Product The Product – how to dominate with photography and create product images that grab the attention of your audiences
Week 7: Elite Level PPC Product Launching + Bots – how to launch your private label product using Amazon PPC
What are the comments of other people on Nine University?
Quora: A buyer of Nine University suggested people not to follow his step.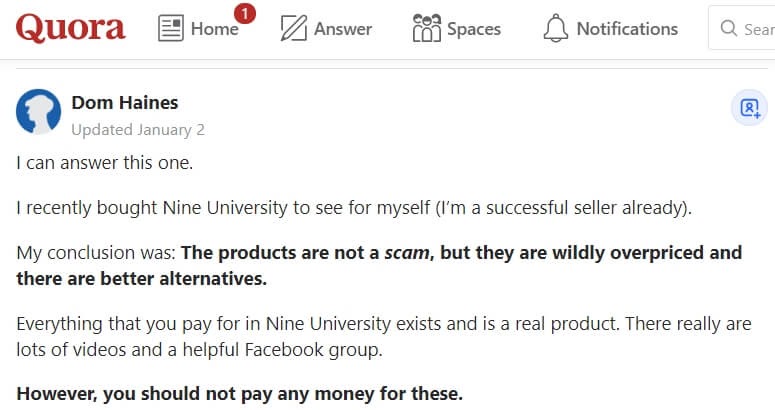 Reddit: some people really don't like Kale and Taylor.
Is Kale and Taylor a Scam? Why I don't recommend Nine University
Overall, this is a legitimate course since Kale and Taylor have some experience with Amazon FBA.
But Amazon FBA is too complex and no course can teach you everything.
As for the price itself, it really depends on your budget since there is no guarantee on returns.
Below are the reasons why I would not recommend the business model of Amazon FBA:
FBA business needs a large upfront cost
To launch a business on Amazon, you will need $15-20k, at least.
Besides, since you can't get started without any knowledge, you have to pay for an FBA course. Nine University, for instance, cost $1,997.
Moreover, you have to spend money on product samples and inventory, labeling and shipping costs, product launch services/pay-per-click advertising and Amazon Marketing Services. The first 10k will be quickly exhausted once you start selling on Bezo's platform.
In one word, it is time-consuming and costs a lot of money. So, you must think carefully if you really want to risk your hard earned money.
FBA Business is complex
Though Amazon does a lot of the work for you, it still requires a lot of work to get a product listing up and optimized.
Apart from that, you have to deal with numerous dry tasks on a daily basis. For instance, you have to negotiate with suppliers, make comparisons on shipping companies, freight forwarders and comply with the regulations of Amazon and local governments, etc.
This process is too sophisticated for beginners who might be just looking for a side hustle or a source of passive income that requires little time and investment.
There is no quick cash flow
Cash flow is the lifeblood of a business. However, in the Amazon FBA business model, mostly sellers have to invest a considerable amount of money to purchase inventories from suppliers in China.
If you want to create a unique private label product, the costs will be even higher. For example, most manufacturers in China charge you a few hundred dollars just for creating a prototype. If you don't trust me, you can ask for a price on Alibaba.com.
In most cases, production may take 1-2 months depending on the nature of the products and quantity. Afterwards, it takes 2 weeks in shipment and custom clearance before arriving at Amazon warehouse.
This process indicates that it can take up to months before you're paid for the inventory you bought.
Price war reduces profitability
Price war is ubiquitous on Amazon. Whenever a seller tries to attract more customers by lowering the prices, other sellers will be forced to cut their prices as well.
To avoid a net loss, you might have to cut the product costs. This results in lower product quality, negative feedback from customers and hence a drop in sales.
Apart from the intense competition, you have to deal with changing sales tax laws, category restrictions and Amazon policies.
In the worst case, Amazon might even ban your account permanently if you mistakenly violate some rules.
Is There an Easier & Better Alternative to Nine University?
If you're new to online business, you might wonder if there's a better business model that doesn't need initial capital and can do it as a side-hustle.
Of all the business models I've tried, affiliate marketing is the easiest and most rewarding so far.
In affiliate marketing, you can run your business almost with zero cost. Most importantly, you don't need to invest in creating and developing any products.
Also, it is less time consuming since you don't have to manage inventory or handle customer service.
You can enjoy a steady stream of passive income while going on vacation or working a full-time job.
Since the world is full of uncertainty, I'd always choose a business model that has the lowest risk.
But How Much Can You Earn in Affiliate Marketing?
A 21-year old student from my #1 recommended training platform of affiliate marketing was able to earn $7,395 in just 1 week, which means he made more than $1k a day…all while using free traffic methods.
Wealthy Affiliate has existed for more than 10 years and there are many success stories over the years.
To give you more examples, here are some of the other inspiring success stories of Wealthy Affiliate members.
Where to Join Wealthy Affiliate?
Wealthy Affiliate has a very simple pricing scheme. It has free and premium membership.
If you want to feel about Wealthy Affiliate, you can sign up for the starter membership here (no credit card required). You can select to be a free member with no time limit.
And as a starter member, you can get instant access to the community, live chat, over 500 training modules, 2 classrooms, networking, commenting, 1 free website, access to the keyword tool.
You can enjoy all these values without paying a penny.
So I strongly recommend you to register a free account and see it yourself.
If you'd like to be the next success story and get the most out of Wealthy Affiliate, you can upgrade to the Premium Membership later.
After that, you can get access to everything without the bother from any upsells.