Grant Cardone Net Worth
Grant Cardone is a billionaire who has an estimated net worth of $2.6 billion. Grant Cardone is a New York Times best-selling author and an internationally recognized speaker on leadership, real estate investing, entrepreneurship and finance. He earns most of his income from his career as a sales trainer, motivational speaker, real estate investor, and author.
As CEO of the world's leading sales training platform, Cardone advises Fortune 500 companies and clients such as Google, Northwestern Mutual, Morgan Stanley, and others. He is one of the top 5 social media experts and one of the 10 most influential CEOs today.
His companies include Cardone Capital, Cardone Training Technologies, Grant Cardone TV, and Grant Cardone Sales University, all of which make millions annually.
Cardone is also an experienced private investor in multifamily properties and owns a portfolio of over 3,800 apartment units in the U.S. with transactions valued in excess of $500 million.
In addition to real estate investments, e-commerce is another important source of income for Grant Cardone. He has built a $40 million-a-year e-commerce business.
Here's the breakdown of his net worth:
| | |
| --- | --- |
| Name: | Grant Cardone |
| Net Worth: | $2.6 Billion |
| Monthly Salary: | $5 Million |
| Annual Income: | $182 Million per year |
| Source of Wealth: | Entrepreneur, Investor, Motivational Speaker, Writer, Radio Personality, Sales Trainer |
Best Way To Increase Your Net Worth
Early Life & Family
A native of Lake Charles, Louisiana, Grant Cardone was born on March 21, 1958. Concetta Neil Cardone (deceased in 2009) was his mother, while Curtis Louis Cardone (deceased in 1968) was his father. The fourth child of five children, Grant has a twin brother named Gary.
Cardone's mother, who had no education or work experience, had to care for her five children alone after her husband died when he was ten years old.
It was this environment combined with the trauma of losing his father at a young age and his oldest brother a few years later that set him on a downward spiral of self-destruction. From the ages of 15 to 25, Cardone was surrounded by negative influences and became addicted to drugs.
Cardone made the decision to change his life when he was 25 years old. Following his release from rehab, he gave up substance abuse in order to make the most of his life.
Education
Cardone attended LaGrange High School in Lake Charles and graduated from McNeese State University in 1981 with a degree in accounting. In 2010, McNeese State University presented him with the Distinguished Alumnus Award.
However, Cardone doesn't think he learns much in school about the basics of learning financial literacy, building strong relationships, increasing income, or starting a business that has made him successful.
Sales Training
In 1987, Grant Cardone moved to Chicago, Illinois to work for a sales training company after deciding not to pursue his original field of accounting. However, he set out to learn the inner workings of the automotive industry and improve his skills in sales and interpersonal persuasion. After his monthly income doubled from $3,000 to $6,000, he realized he had discovered one of the most powerful tools for success.
In the United States, Grant Cardone spent five years in Houston, Texas, 12 years in La Jolla, California, and finally 20 years in Los Angeles.
When he worked as an automobile salesman, he was able to earn his fortune and became the CEO of Freedom Motorsports Group Inc. For National Geographic, he helped develop the reality series Turnaround King, which aired in 2011.
Grant owns Cardone Enterprises, Cardone Acquisitions, Cardone Training Technologies, The Cardone Group, and helps train car dealership salespeople.
Best Way To Increase Your Net Worth
Real Estate Investments
Grant Cardone has been investing in multifamily housing since the mid-1990s. In 2015, he founded Cardone Capital, a real estate crowdfunding platform with over $2 billion in assets.
He is reported to own and control $800 million worth of investments in the United States through his companies. His multi-million dollar real estate empire spans Alabama, Arizona, California, Florida, Georgia, North Carolina, Tennessee, and Texas.
When he was 29, he bought a Houston single-family home that he rented out, and his interest in real estate grew. The property was sold after the tenants left, and five years later he bought a 38-unit complex in San Diego for $1.9 million, with a down payment of just $350,000.
Cardone built an empire through his investment vehicle, Cardone Capital. According to his biography, the company has been involved in billions of dollars worth of real estate transactions and currently owns $2.7 billion worth of apartment buildings in the United States. No independent source has verified this amount.
Cardone Capital continued to purchase complexes and by 2012, it owned 1,016 apartments for a total of $58 million.
Grant Cardone is popular on social media sites. With 2.08M subscribers, he makes a good amount of money from his Youtube channel. YouTubers with 100k subscribers and two new videos each week can make $600 to $1,000. The ad revenue is somewhere between $2,400 and $4,000 per month.
Based on the estimated number of views for the pending video, YouTubers charge brands anywhere from $10 to $50 per 1,000 views. When the video reaches one million views, the YouTuber makes anywhere between $10,000 and $50,000. According to the YouTube money calculator, ​​Grant Cardone has easily earned at least $39,060 – $624,960 from his YouTube channel a year.
Grant Cardone is also an influencer on Instagram and Facebook. As of 2022, Grant Cardone also has 3.7 million followers on Instagram. That means he is a mega-influencer who can charge $10K+ per post. Instagram pricing calculator shows that his account @grantcardone can charge $24.3K – $29.1K for 1 post and 1 story.
Moreover, his Facebook page has 6.7 million followers.
With his social media following, he can earn a good income through sponsorship and advertising.
Bitcoin
Cardone said he bought Bitcoin when the digital currency was worth only about $500. That amount is worth nearly $2 million in 2018. If he hasn't sold it, the value would be $4 million in May 2022.
Best Way To Increase Your Net Worth
Books
Grant Cardone made more than $100 million from his books. He is the author of several books, including If You're Not First, You're Last, which hit #1 on Amazon and Barnes and Noble and made the Wall Street Journal's and The New York Times bestseller lists.
As a result, he has made a lot of money from book royalties. Most publishers pay royalties based on the retail price of the book. This means that if the retail price is $20 and the royalty rate is 5%, you will earn $1 per book sold.
Below is the list of Grant Cardone's books:
1. The 10X Rule: The Only Difference Between Success And Failure
The 10 X Rule unveils the principle of "Massive Action," allowing you to blast through business clichŽs and risk-aversion while taking concrete steps to reach your dreams. It also demonstrates why people get stuck in the first three actions and how to move into making the 10X Rule a discipline.
2. Sell Or Be Sold: How To Get Your Way In Business And Life
In Sell or Be Sold, Cardone breaks down the techniques and approaches necessary to master the art of selling in any avenue. You will learn how to handle rejection, turn around negative situations, shorten sales cycles, and guarantee yourself greatness. Cardone will also teach you the success essentials of
3. Be Obsessed Or Be Average
This book gives you the inspiration and tools to break out of your cocoon of mediocrity and achieve your craziest dreams.
4. If You're Not First, You're Last
If You're Not First, You're Last is about how to sell your products and services—despite the economy—and provides the reader with ways to capitalize regardless of their product, service, or idea. Grant shares his proven strategies that will allow you to not just continue to sell, but create new products, increase margins, gain market share, and much more.
Will Grant Cardone Go Bankrupt?
Although Cardone's path to wealth was not an easy one, he managed to build an empire until he was struck with Coronavirus.
Many of Cardone's products and services would suffer in a post-Coronavirus economy.
Due to the government's massive shutdown of 10X conferences, it may need to move to an online forum in order to generate revenue.
Grant's real estate empire could suffer from heavy debt, according to his online opponent MeetKevin, who attacked him online.
However, Grant may have reached the point where he's "too big to fail". It looks like Grant's real estate is set.
Many real estate investors are losing everything and going under. They own five to ten properties with some decent rental income.
However, the entire industry collapsed!
As with any business that has been affected by the pandemic in the world, Grant's tenants have been struggling to make payments, putting him in a difficult position financially.
His revenue keeps declining despite the huge debt service payments he must make. Do Grant's financial reserves cover all of his obligations?
His sales training program is also problematic. In the past, there has always been a need for businesses to hire excellent salespeople, but that has dramatically declined since the Coronavirus outbreak.
When companies are focused on staying afloat, the likelihood is that fewer are willing to pay for business training programs.
With no assets currently under Cardone's control, few would bet against this industry giant on the road to success.
Best Way To Increase Your Net Worth
Houses
Malibu Mansion
Grant purchased a home in Malibu, California, for $40 million in January 2022. It has a floor area of 9,500 square feet on Carbon Beach. It was once listed for $50 million. Nearby are billionaire Oracle founder Larry Ellison and movie mogul Jeffrey Katzenberg.
According to The Real Deal, Cardone's new $40 million Malibu home is not a permanent residence, but a vacation getaway where he is expected to spend six months a year with his wife Elena.
A grassy lawn with a lap-lane swimming pool and stunning ocean views are some of the features of this six-bedroom, 10-bathroom mansion on the beachfront in Malibu.
Furthermore, the hotel is located along the famed Carbon Beach, also referred to as 'Billionaire's Beach'.
Miami Mansion
Grant Cardone once lived in a lavish mansion on Sunset Strip that was once owned by Lionel Richie. After selling the home in 2012 to the Walmart heiress Sybil Robson Orr, he left the City of Angels.
For tax reasons, Cardone moved to Florida that same year and expanded his business there.
Therefore, Grant Cardone's primary residence is the $28 million mansion in Miami, previously owned by fashion designer Tommy Hilfiger.
Private Jets
Grant began his private jet journey in 2015 when he purchased a pre-owned Gulfstream G200 for USD$8m. The jet flew 250 hours in its first year of operation.
How does anyone make sense of moving from charter to buying a $50m private jet, then paying an additional $3m for maintenance and flying their new acquisition?
Owners of private jets might justify their decision to purchase, however, by claiming 100% bonus depreciation in the first year of ownership.
Grant decided to upgrade from his pre-owned Gulfstream G200 to a brand-new Gulfstream G550 because of this. In the past, depreciation was spread out over five years (20% per year).
In 2020, Grant received a few calls from people who wanted to buy the G550. Eventually, he sold and moved into a Gulfstream G650ER.
Best Way To Increase Your Net Worth
Cars
Grant Cardone is so rich that he owns a collection of luxurious cars. He once bought two exotic cars, which can cost over $100,000, for Christmas in 2018. He also owns a $3.6 million LaFerrari.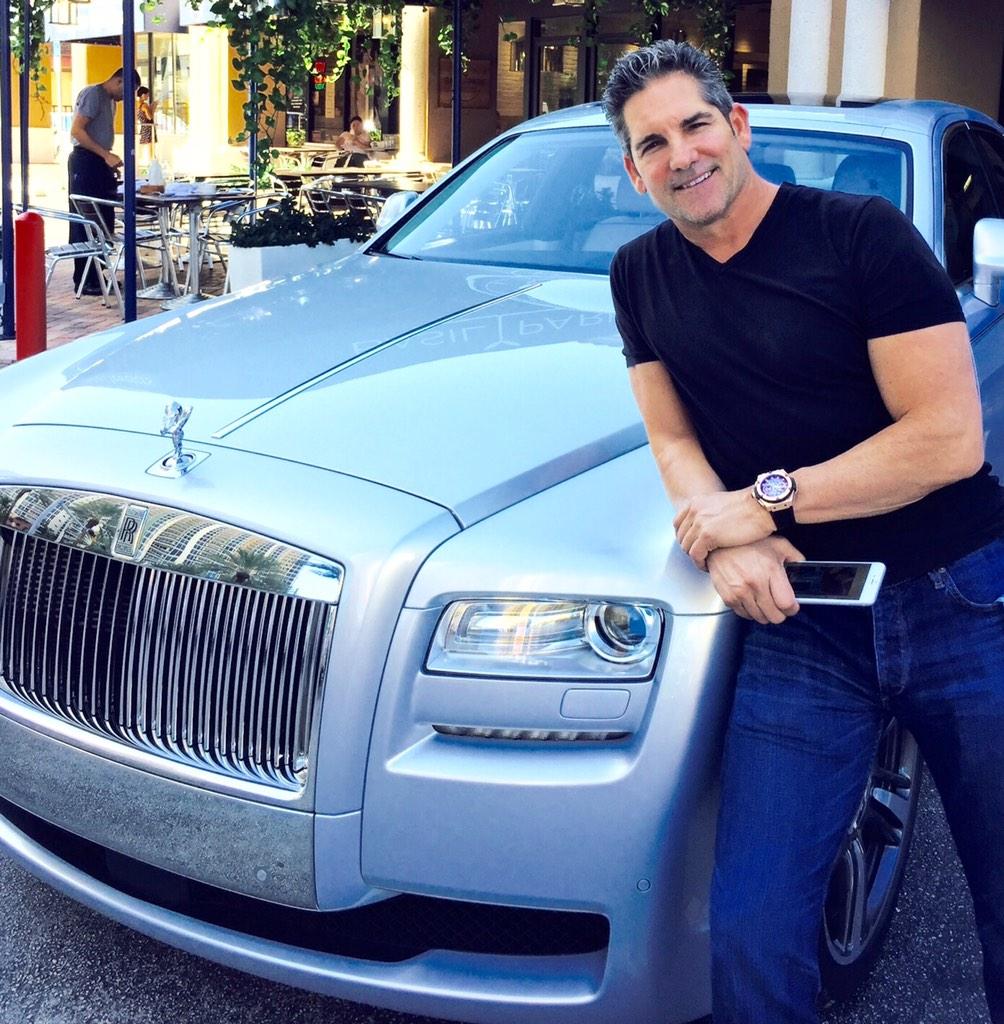 Personal Life & Wife
Grant Cardone is married to actress Elena Lyons. Their daughters are Scarlett and Sabrina. They belong to the Church of Scientology.
FAQs About Grant Cardone
When Did Grant Cardone Become A Millionaire?
By the age of 30, Grant Cardone was a millionaire. However, Grant said he was drowning in huge debts when he made his first million, and that his drug habit lasted as long as he can remember.
Is Grant Cardone Self-made?
Grant Cardone is a self-made billionaire. He began his career as a sales trainer and gradually built up his net worth over the years.
How tall is Grant Cardone?
Grant Cardone is 1.83m tall.
Best Way To Increase Your Net Worth
Favorite Quotes from Grant Cardone
"Never fear the haters. You can't reach your potential without them." – Grant Cardone
"You'll never be admired without being criticized first." – Grant Cardone
​​"Approach every situation with a whatever-it-takes-mindset." – Grant Cardone
"Your greatness is limited only by the investments you make in yourself." – Grant Cardone
"Focus on creating and producing a future, not what happened yesterday." – Grant Cardone
"Show up early. Treat people with respect. Perform at the highest levels." – Grant Cardone
"I don't go to work to work. I hate that saying! I want you to go to work to prosper. Go to work for freedom. This is what wealthy people do different than anybody else. Wealthy people work for freedom. They're not working for comfort items, not for a weekend, they're working for freedom." – Grant Cardone
"Commitment isn't measured by doing the things you want to do but doing the things you don't want to do when you don't want to do them. This is how you get FREEDOM – sacrifice a few years for a life!" – Grant Cardone
Best Way To Increase Your Net Worth
Increasing your net worth has many benefits; it is more than just bragging rights. For example, increasing your net worth can allow you to retire years earlier. It also leads to financial security, which allows you to worry less about money and more about the important things in life.
And while increasing your net worth may seem difficult, it does not have to be. With a side hustle, you can increase your income in your spare time, fast-track your financial goals, and chase your passion.
Thanks to the Internet, the world has changed massively in recent years. Nowadays it has become much easier to make money online.
You can learn how to build a digital asset that generates cash flow for you while you sleep to grow your wealth quickly.