If you've been looking for ways to earn money online, you might have stumbled upon Modern Millionaires. Perhaps you've received an invite to join from a distant relative you haven't seen in years or seen it promoted on social media.
So, what is Modern Millionaires, exactly? It's a paid ads agency program created by Adul Farooqi and Chance Anthony Welton. The program teaches you how to run Google AdWords for high-paying clients like lawyers and dentists. However, the catch is, it's not easy to get these clients on board and close deals with them. And even after you manage to land some clients, retaining them for the long haul can be tricky since AdWords can be unpredictable and expensive.
Now, I'll be honest with you – I'm not the biggest fan of running a paid ad agency. As an internet entrepreneur, I've had my fair share of experience with various programs, software, and even MLMs over the years. That said, I'm here to share everything I know about Modern Millionaires with you. I want to help you decide if this program is worth your time and money.
Before we dive in, let me clarify one thing: I'm not affiliated with Modern Millionaires. In other words, I'm not getting paid to write this review. You can trust that my words are entirely unbiased. In this review, we'll cover everything you need to know about Modern Millionaires.
Modern Millionaires Review – Key Takeaways
Course Name:

Modern Millionaires

Founder:

Chance and Abdul

Price:

Tiered from $2,500 to $25,000

Pros:

Decent training; weekly live coaching for high tiers; customer support

Cons:

Pricey; no money-back guarantee; misleading sales tactics

Overall Rating:

2/5

Verdict:

Suitable for Chance and Abdul fans with deep pockets and an interest in lead generation.
In this Modern Millionaires review, I'm going to cover the following.
What is Modern Millionaires?
Modern Millionaires is a comprehensive program that teaches you how to use Google Ads to generate leads for your business. Their "lead flipping" system provides a scalable framework for creating ads that work for small businesses and organizations.
The program includes more than 20 hours of video lessons, making it perfect for both beginners and experienced marketers. You'll learn how to acquire new customers online, monetize your services with Google Ads, outsource your work, automate your lead generation agency, and increase your income.
Recommendation: Here's The Best Alternative
Who are the creators of Modern Millionaires?
Abdul and Chance are two friends who took a chance on lead generation coaching and ended up making over $50K in passive income each month.
Abdul used to work as an investment banker, but he soon realized that the 9-5 grind wasn't for him. So, he started his own marketing company called Samad Consulting in 2013. He also worked under the DBA of Lion Digital Solutions. Chance, on the other hand, didn't want to be stuck in a rat race, so he decided to live out of his van with his girlfriend.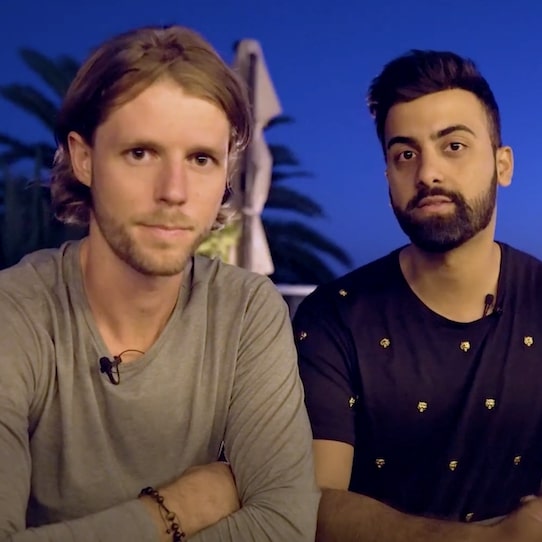 In 2014, they both joined a local lead generation coaching program called Job Killing and learned how to generate leads for local businesses. With only $1,300 left in his pocket, Chance landed his first client just two weeks after joining the program, and Abdul landed his first client only six days after joining.
Fast forward to 2019, and Abdul and Chance started their own coaching program called Modern Millionaires. However, there were disputes about who was responsible for what, and they ended up renegotiating the deal with their mentor, Dan Klein, which didn't end well.
Abdul and Chance have their own side of the story, and Dan has his. But what's clear is that they owe much of their success to Dan. He's the main mentor in the Job Killing program, and he helped Abdul and Chance get their start in online entrepreneurship. Dan is a gifted serial entrepreneur who doesn't just copy other people's ideas – he innovates.
It's easy to dismiss internet entrepreneurs as just lucky, but Dan's insights and business IQ are truly impressive. In fact, he even invited Abdul and Chance to speak at the annual live Job Killing event in Las Vegas in 2017.
In conclusion, Abdul and Chance's success is a testament to the power of learning and taking risks. They may have had disputes with their mentor, but they wouldn't be where they are today without him.
Are Abdul and Chance scammers?
Some people are calling Chance and Abdul scammers. However, from what I've seen, there's little evidence to support this claim. Some have speculated that they simply renamed their course from Millionaire Middlemen to Modern Millionaires, but the program itself is comprehensive and well-organized.
With over 7,000 paying students, it's not surprising that some may be dissatisfied. It's natural for any well-attended course. Some critics have even called Chance and Abdul scammers, but their reputation is generally good.
That being said, I do find their advertising a bit annoying at times, and there are a few issues with the program itself. For one, the entry price of $2,500 is not stated on the sales page, which I find misleading.
Besides, the program implies that it can help you quit your job and generate passive income within 90 days, which is highly unlikely, especially for those new to the lead generation business model. It may take closer to six months, or even longer, to see significant results.
In fact, some people are calling their program a scam on Trustpilot.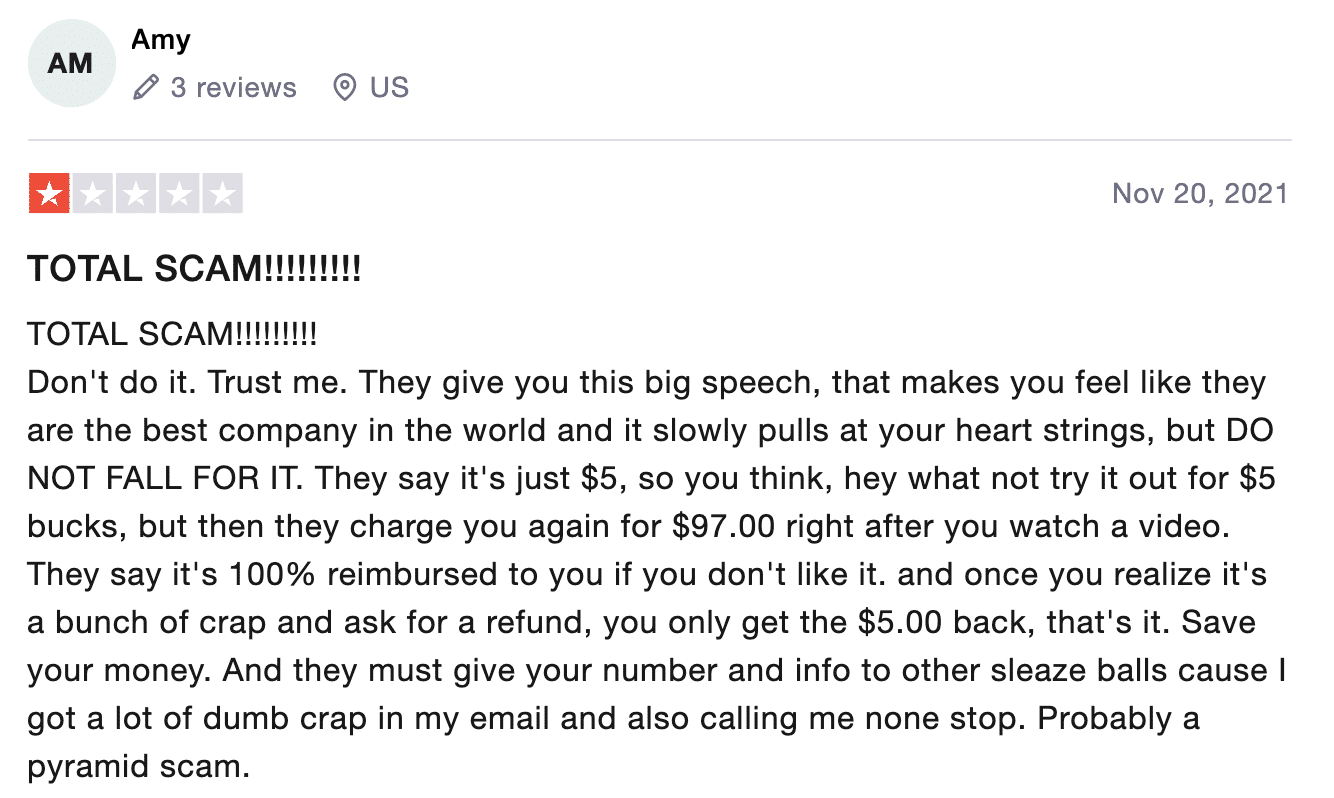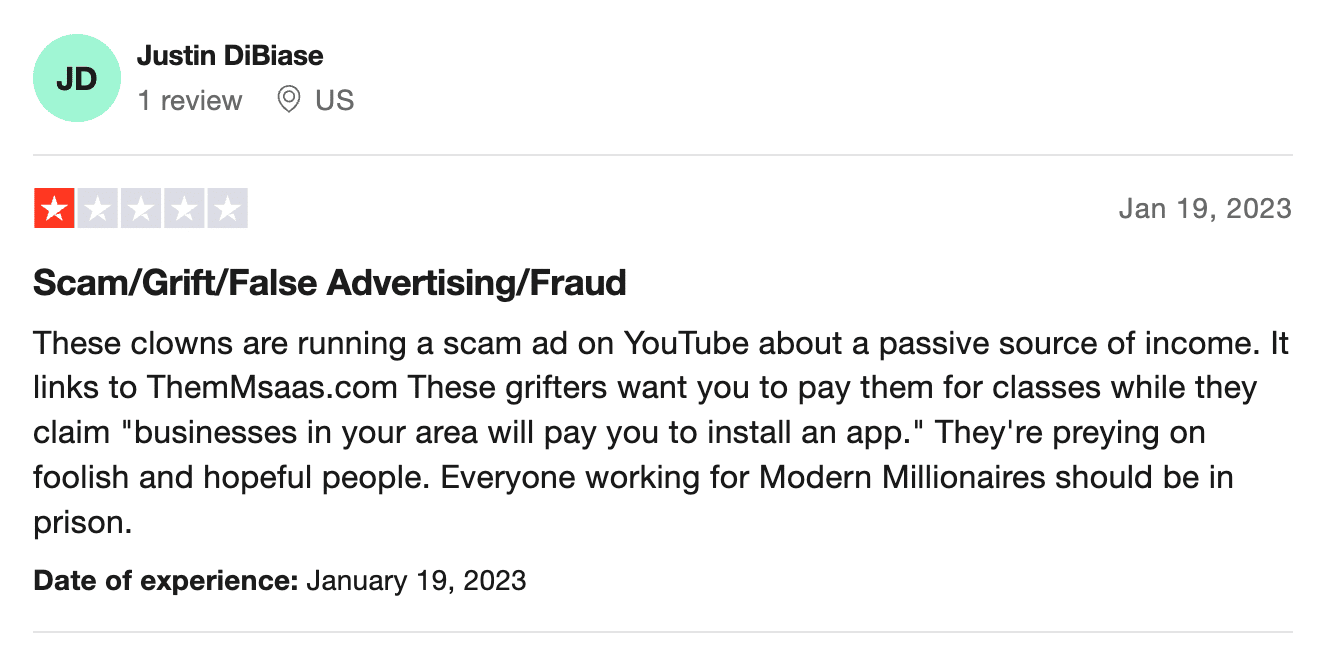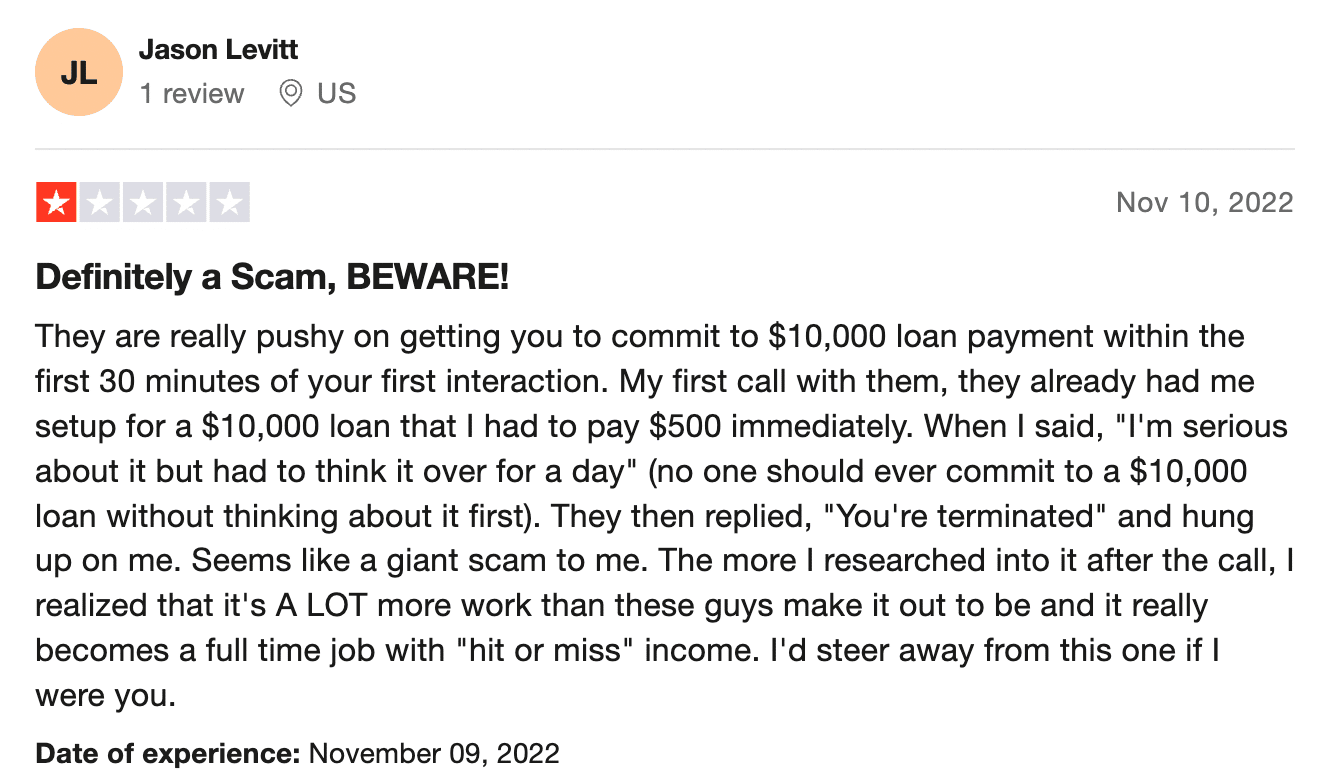 All in all, the Modern Millionaires program is well-organized, and Chance and Abdul are not scammers. However, there are a few issues with the program that you should be aware of before investing.
Recommendation: Here's The Best Alternative
Why I don't think Modern Millionaires can help you make money?
The Modern Millionaires course claims to teach you how to generate leads and sell them to related businesses. It involves finding potential customers online and connecting them with businesses that offer the services they need. To learn more, you can check out our guide "Lead Generation: A Beginner's Guide to Get More Customers".
Abdul and Chance, the creators of the course, promise to teach you how to get businesses more business, so they will pay you a fee for your services.
After taking the course, I can say that the Modern Millionaires method is similar to other courses that teach you how to run an agency that helps customers run Facebook and Google ads.
However, it's easier to lose money using Modern Millionaires's lead generation model than running an agency, for these reasons:
Reason 1: Expensive to Get Leads
One of the biggest downsides to using Facebook ads and Google ads for lead generation is the cost. Every click costs money, and if you're not experienced in advertising, you could end up losing a lot of money. The competition is also incredibly high, which means that the cost of acquiring leads will continue to increase. According to a recent report, Facebook ad costs have increased by 89%!
Reason 2: You Have to Use Your Own Money
Another downside of lead generation is that you have to bear the financial risk yourself. Unlike digital marketing agencies where clients pay for ads, in lead generation, you have to cover the cost of the ads yourself.
As you are doing lead generation, if no leads are sent to your clients, you will not be paid. And don't forget that you only make a small margin on each sale, which means you might not make much profit if you don't generate enough leads.
Reason 3: Highly Competitive Field
Lead generation can be a highly competitive field, with many businesses offering similar services. Building a brand and standing out from the competition takes time and money, and it might not be easy to get clients and make sales. Many digital agencies fail in their first year, and lead generation is no exception.
In conclusion, while the Millionaire Middleman course might have some valuable training, lead generation can be a risky and costly business, and success is not guaranteed.
Recommendation: Here's The Best Alternative
Who is Modern Millionaires for?
Modern Millionaires is a platform that claims to cater to both novice and advanced marketers. The founders, Chance and Abdul, say that they can guide anyone through their step-by-step system and help them build a 5-6 figure business. It sounds promising, but is it too good to be true?
While the idea of earning a significant income from this program is attractive, it's essential to be realistic about the potential costs. Paid ads for lead generation can be expensive, so the program may not help you earn the promised figures every month.
It's also worth noting that Modern Millionaires requires its participants to engage in cold calling and working directly with customers. This means that if you're not comfortable with sales or working with people, you might not want to get involved with a business that deals with critical business owners.
Are students getting any results?
You're probably wondering whether Modern Millionaires is a good way to make money online. Well, Chance and Abdul seem to know what they're talking about, and they've had some successful students.
Their sales page includes the following examples: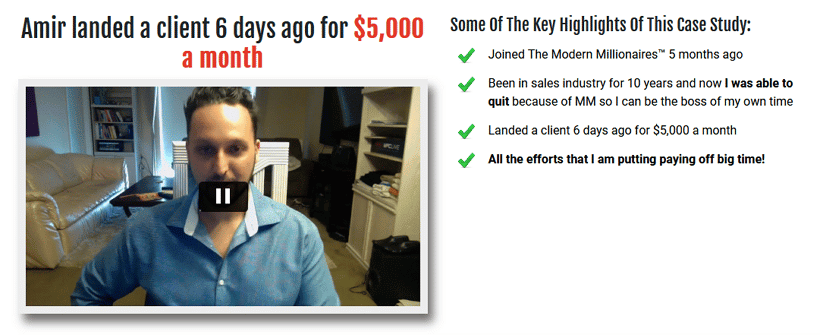 But let's get real: it's not as easy as they make it seem in their sales funnel.
I mean, sure, they've got some success stories to show off, but don't believe everything you see. For example, that guy making $18K/month? He's probably spending a big chunk of that just to generate the leads he needs to get clients.
And those income claims they make in their ads and testimonials? They're definitely exaggerated. Plus, we don't even know when those videos were made – they could be several years old!
Another thing to keep in mind is that all the revenue they're reporting is not actually profit. They heavily recommend paid advertising, which can be a huge expense.
All that being said, the testimonials for Modern Millionaires are still pretty impressive, especially compared to other similar courses out there. So, is it a legit way to make money online? It's possible, but just know that it takes a lot of effort and you might not make as much as they claim.
Recommendation: Here's The Best Alternative
How much does Modern Millionaires cost?
For now, it is still unclear how much Modern Millionaires cost.
But here's what we know about the three tiers of MM and what each plan entails:
1. Do-It-Yourself (DIY)
The DIY plan is perfect for those who are interested in the training itself and don't need help setting up their own limited liability company (LLC). This plan costs between $2,500 and $5,000, and includes:
4-week training modules

Active Facebook group with over 7,000 members

24/7 online support

Daily mentoring calls

MM Ad System

MM Funnels

MM automated lead nurturing
2. Done-With-You (DWY)
The DWY plan is for students who need help building their business, but don't mind getting their hands dirty. The listed price for DWY is $10,000, and includes everything in the DIY plan plus:
Enrollment in a 90-day agency boot camp

A personal coach who will build your agency with you

2 three-hour calls each week with your coach

Constant accountability and mentorship customized to you and your industry
3. Done-For-You (DFY)
The DFY plan is for those who have the resources to create another source of income, but not the time to do it themselves. The price is $25,000, and includes everything in the previous two tiers plus:
Creating your brand

Setting up your agency site

Choosing your niche / industry

Building out your marketing platform

Running your client acquisition system

Landing your first client

Setting up your first fulfillment system
Additional Costs
It's important to note that there are additional costs to consider when joining MM. You should save up an extra $35-$100 for LLC filing fees, as well as $199 per month for Leadific. Chance and Abdul also advise that you'll need at least $500 for Facebook ads per month.
Overall, it's recommended to have a budget of at least $1000/month to make a proper go of it the first few months.
Any Discount?
Unfortunately, we couldn't find any discounts on Abdul and Chance's course.
But don't lose hope just yet! Since you gotta hop on a call with a sales rep to sign up for the training, why not try and haggle the price down a bit? It never hurts to ask, and you might just end up snagging a sweet discount.
Refund Policy
Sorry, no refunds! Modern Millionaires policy is pretty straightforward – once you buy the digital assets, you're stuck with them. They don't have a magic button to take back the training once you've got it.
It's a bummer for those who thought they were getting a sweet deal but didn't end up liking it. And, honestly, it doesn't make sense to me. I've seen a ton of courses just like this one that offer refunds if you're not satisfied.
So, if you're thinking about signing up, just be aware that you won't be able to get your money back if it doesn't meet your expectations.
Recommendation: Here's The Best Alternative
Praise for Modern Millionaires
1. Instructors with Proven Expertise
It's always reassuring to learn from instructors who know what they are talking about. The Modern Millionaires course is taught by people who have proven that they know how to run a successful agency. This means that you can be confident that the knowledge they share is tried and tested.
2. Comprehensive and Practical
The Modern Millionaires course is one of the most comprehensive I've seen on ad placement and lead generation. It covers all the key aspects of generating leads for a local business, and also expands on the knowledge you already have. The program is well-structured and presented in an easy-to-follow manner. It includes a number of practical suggestions that are hard to find elsewhere.
3. Up-to-Date Strategies
Another big advantage of the Modern Millionaires course is that new strategies are added every month. This is crucial because the online marketing landscape is constantly evolving, and you need to keep up with the latest trends to stay ahead of the competition.
Criticism of Modern Millionaires
1. The Course Offers Limited Value for its High Price
The Modern Millionaires course claims to be worth almost $8,000, but it doesn't offer much value beyond the basic instruction. While there are some extra features, they're not worth the high price tag. Additionally, the course doesn't offer a money-back guarantee, and getting a refund may be challenging since it's difficult to reach the course creators after purchase.
2. Testimonials May Be Misleading
The course creators showcase students who have made impressive sums of money, but the truth is that these claims may be misleading. When running paid ads, the advertiser's profit margins are typically only around 10-20%.
The course creators don't explain this in detail, so it's easy to misunderstand the results students achieve. Free traffic generates higher profit margins, but the course doesn't explain this to students.
3. Success Stories Don't Tell the Whole Truth
The course creators only showcase students who have gained clients and achieved financial success, but they don't discuss the difficulties of maintaining those clients long-term. Paid ad clients pay a premium for leads, and ad costs can fluctuate, making it challenging to keep clients happy. Many paid ad clients only stay with a company for a few months on average, making long-term success difficult.
4. Over-Saturation Can Make It Difficult to Stand Out
The course teaches a method of using LinkedIn bots to reach out to potential clients, but this can lead to over-saturation. Many Modern Millionaires students use the same technique, making it harder to stand out and get a response from potential clients. As time goes on, the technique becomes less and less effective, making it harder for new students to succeed.
5. Lack of Control Over the Business
The biggest flaw of the paid ads agency business model, which is what Modern Millionaires teaches, is that you don't own or control anything. If your client decides to go with another agency, your income could disappear overnight. This means that you're more of a service provider than a business owner, which limits your options for growth and diversification.
Modern Millionaires Alternatives
1. Paid Traffic Mastery by Kasim Aslam
This is a revamped course that is perfect for those who want to learn how to run paid traffic campaigns. Kasim is the CEO of Solutions 8, which is one of the top-ranked Google agencies in the world. This course comes with 72 training videos that are divided into 7 modules and covers advertising on Google, YouTube, and Facebook. You will also receive tools, templates, and worksheets to stay on track. The only downside of this course is that there isn't a private Facebook group for support.
2. Lead Generation Blueprint by Ryan Wegner
This is a great course that teaches you how to generate leads and run Facebook ads. Ryan not only shows you how to run ads on Facebook, but he also teaches you how to prospect and price your services to potential clients. You will also receive support from Ryan directly in the form of Facebook Messenger.
Is Modern Millionaires a scam or legit?
I know some folks out there might think Modern Millionaires is a scam, but in my experience, they're legit. The only thing is that their last names have a bad rap, so they've switched things up a bit. Instead of using their real names, they've gone with titles like "Officeless Agency" and "Millionaire Middleman."
Now, here's the thing. If you're into digital marketing, you've probably heard that PPC ads are the way to go. And yeah, they can definitely get you results. But you don't want to put all your eggs in one basket, you know? At some point, you gotta start building digital assets that you actually own and control. Otherwise, you're always gonna be at the mercy of someone else. And trust me, that's not a good place to be.
The problem with relying solely on paid ad clients is that they tend to come and go. And once they're gone, you're stuck scrambling to find new clients to fill the gap. It makes it tough to scale past a certain point. That's why I've made the decision to steer clear of paid ad clients altogether. Instead, I focus on building blogs that generate passive income.
For example, I've got this blog, and I've also got a few other affiliate websites that bring in money each month on autopilot. It's a much better business model, in my opinion.
Now, just to be clear, I'm not getting paid to promote any of this stuff. This is just my personal take on the matter. But advertising agencies can be lackluster, and they're definitely not the best way to make money online. If you focus on building digital assets, you can create a passive income stream that will set you up for life.
Recommendation: Here's The Best Alternative
Should you join Modern Millionaires?
Is Modern Millionaires worth the money for people interested in lead generation? Well, I gotta say, it's not my top pick for beginners. The price to get in is steep, and you can't get a refund if you change your mind. That's a bummer.
But, if you're already experienced with lead generation, loaded with cash, and eager to learn from the best, then Modern Millionaires might be right up your alley. The top two levels of support you get are pretty sweet. If you're serious about starting a lead generation agency, MM is definitely worth considering.
However, if you're just starting out, I'd recommend taking a few cheaper courses first. It's better to test the waters and see if this business is right for you before spending a ton of cash on a course that may not suit you.
Is there a better way to make money online?
If you don't want to waste your time or risk your hard-earned money on Modern Millionaires, you might wonder if there is a better business model that doesn't need Facebook ads and can do it as a side hustle.
Yes, I would suggest you get started with affiliate marketing. It is far easier and less time-consuming as you don't even need to handle customer service.
In affiliate marketing, you can run your business almost with zero cost. Most importantly, you don't need to invest in creating and developing any products.
But How Much Can You Earn in Affiliate Marketing?
A 21-year-old student from my #1 recommended training platform of affiliate marketing was able to earn $7,395 in just 1 week, which means he made more than $1k a day…all while using free traffic methods and affiliate marketing.
Wealthy Affiliate has existed for more than 10 years and there are many success stories over the years.
To give you more examples, here are some of the other inspiring success stories of Wealthy Affiliate members.
Where to Join Wealthy Affiliate?
Wealthy Affiliate has a very simple pricing scheme. It has a free and premium membership.
If you want to feel about Wealthy Affiliate, you can sign up for the starter membership here (no credit card required). You can select to be a free member with no time limit.
And as a starter member, you can get instant access to the community, live chat, over 500 training modules, 2 classrooms, networking, commenting, 1 free website, and access to the keyword tool.
You can enjoy all these values without paying a penny.
So I strongly recommend you register a free account and see it yourself.