So you're curious about the Lead Generation Blueprint course, eh? Wondering if it's a total scam or if it's actually worth the price tag? Well, fear not, my friend, because I've got the inside scoop for you.
As someone who's been in the online business world for a while, I've reviewed my fair share of programs, software, and MLMs. So, I'm in a pretty good position to give you the lowdown on this course.
In this article, I'll cover all the important stuff about the Lead Generation Blueprint – the background info, how much it costs to join, what kind of training you can expect, and more. And, to sweeten the deal, I'll even share with you a better alternative that's helped me generate a steady passive income every month.
So, sit back, relax, and let's dive into the Lead Generation Blueprint!
What is Lead Generation Blueprint?
Ryan Wegner's Lead Generation Blueprint promises to help you start a marketing agency in under 90 days. You'll learn how to generate leads for local businesses on Facebook. The course is perfect for beginners who want to learn the basics of Facebook advertising, and even email marketing.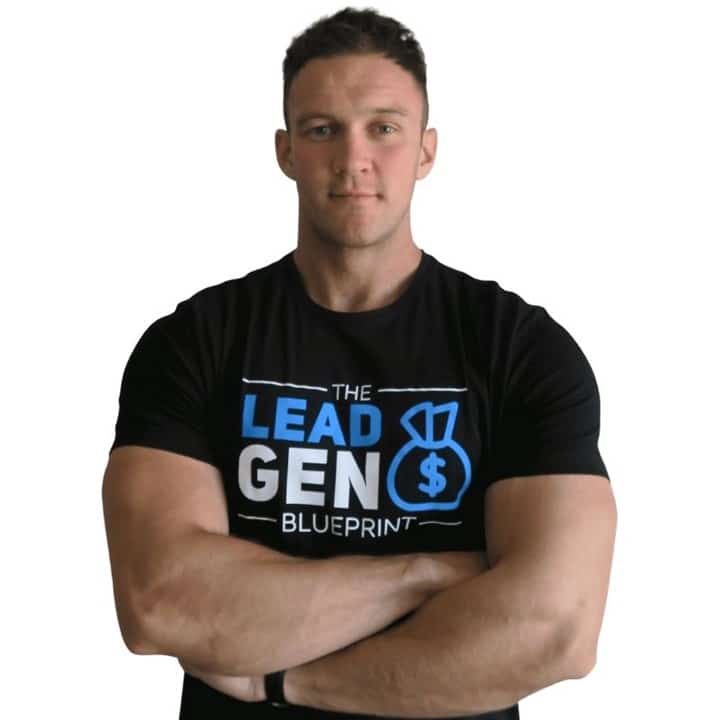 The program covers topics like creating Facebook ads client acquisition, setting up meetings, closing deals, and even using automation to streamline your business. It's a comprehensive course that provides valuable insights and techniques to help you succeed in lead generation.
However, if you're looking to make money solely from Facebook ads, it might not be the most effective way to do business online.
While Facebook ads were a successful strategy for building a 6-figure dropshipping business, they may not be the most viable option anymore. There are various reasons why this is the case, which we can discuss at another time.
Recommendation: Here's The Best Alternative
Who is Ryan Wegner?
Ryan is a born-and-raised Londoner who dropped out of school at 16 and joined the army two years later. After returning, he spent long, tiring days as a truck driver, living the "rat race" lifestyle that he and his girlfriend both loathed. Desperate for a way out, Ryan began searching for business opportunities that could provide financial freedom and allow him to travel the world.
He dabbled in social media marketing, Amazon FBA, and even tried his hand at a health and wellness blog, but he didn't fully commit to any of them. Eventually, he found his calling in social media marketing for other businesses. After dedicating himself to the craft, he became a master at generating leads and has since earned six-figures.
Ryan now runs a YouTube channel with over 9.6K subscribers, where he shares his expertise on lead generation and digital marketing. He's currently focused on helping coaches, consultants, and marketers looking to work with them. His top tip for generating leads is creating paid ads on Facebook.
Despite dropping out of school and having a less-than-ideal start to his career, Ryan's determination to find a better path paid off in the end.
Lead Generation Blueprint Course Modules
Module 1: Introduction
Ryan starts the course by introducing you to the Facebook ads business module and emphasizes the importance of taking action and not being a slacker.
Module 2: Things You Need to Know
This module covers important aspects of lead generation like how to follow up with prospects, the use of retainers, creating packages, pricing your services, and putting together proposals.
Module 3: Prospecting
In this module, you'll learn about the best niches to run Facebook ads for, where to find potential clients, how to qualify leads, and a way to speed up your prospecting.
Module 4: Contacting the Prospects
This module is all about different ways to contact your prospects, including cold calling, email marketing, and direct messaging through Facebook and Instagram.
Module 5: The Meeting
Ryan teaches you how to close deals during your meeting with potential clients.
Module 6: Building Your Funnel
In this module, you'll learn how to build out your funnel, including what your funnel should have, why your landing page might not convert, and how to send leads to your clients automatically.
Module 7: Facebook Ads
In module 7, you'll learn how to get started with Facebook ads, including setting up targeting, creating custom audiences, optimizing your ads, scaling campaigns, and getting access to your client's ad accounts.
Module 8: Wrapping Things Up
In the final module, Ryan shows you how to scale your business and provides five Done-For-You funnels. He also shares how you can earn 40% commissions by becoming an affiliate for this course.
Bonus – The Ultimate Cold Email Strategy
In this bonus module, you'll learn how to implement email marketing in your business and receive proven cold email templates that you can use immediately.
Recommendation: Here's The Best Alternative
How much does Lead Generation Blueprint cost?
Lead Generation Blueprint costs $497 which is relatively inexpensive compared to other Facebook ad courses.
Hence, you might give it a try if you still believe that Facebook ads can help you build a marketing agency.
Refund Policy
The refund policy lasts 30 days. However, it is not unconditional.
If you have completed more than 20% of the course, you won't be eligible for a refund.
Lead Generation Through Facebook Ads: 5 Problems to Keep in Mind
Facebook advertising has become increasingly popular over the past few years, and as a result, it has become more expensive and challenging to generate leads through Facebook ads. Here are five issues to consider when using Facebook ads for lead generation.
1. Increased Costs
One significant issue with Facebook advertising is the increasing cost of running ads on the platform. The cost per thousand (CPM) has risen by 61% each year over the past few years, making it more expensive to promote or advertise on the platform. Split testing ads also means spending more money to find the ad that works. As a result, it takes more time and money to find a profitable ad.
2. Competition for Leads
With the increase in marketers and business owners advertising on Facebook, it has become more difficult to compete for leads. The competition is high, and you need to be creative to stand out from the rest. You must create eye-catching and compelling ads that appeal to your target audience.
3. Meta's Terms of Service
Playing in Meta's playground means you have to follow their rules. Marketers and business owners may find it frustrating to start running ads on Facebook because they don't read Meta's terms of service. When TOS are not followed, ads may not get approved, and ad accounts may get suspended. Checking your ad account regularly is crucial to avoid any issues that may hold you back from achieving your goals.
4. Ad Exhaustion
Ad exhaustion is a real issue for many advertisements. People get tired of seeing the same ad over and over again, regardless of whether or not it converts. To avoid ad exhaustion, it is important to pay attention to trends and your custom audience's wants and needs. Creating new ads regularly and split testing is also essential to keep your ads fresh and engaging.
5. The Need for Active Management
Facebook advertising is far from passive. There is always work to be done, from dealing with increased competition and rising costs to monitoring Meta's TOS and creating new ads regularly. Earning a passive income through Facebook ads is not a guarantee, and it requires active management and continuous effort.
Recommendation: Here's The Best Alternative
Does Facebook ads work in 2023?
If you're considering Facebook ads as a way to earn a passive income, you might want to reconsider. Although Facebook is still in business in 2023, the cost of advertising on the platform is going up every year due to increased competition. Moreover, Facebook has a tendency to suspend accounts if they believe you're violating their terms of service. So, if you're not paying attention to your ad account and campaigns, you could end up spending a ton of money in just a few days with no return on investment.
In addition, there are many moving parts to keep track of when running Facebook ads, and the effort required may not always be worth it. Selling Facebook ads as a service is also tougher than other services.
While Facebook ads do work, they don't provide the benefits and control that the local lead generation business model offers. So, if you're looking for a more stable and sustainable passive income source, it's worth exploring other options.
Praise for Lead Generation Blueprint
1. Basic Facebook Ads Skills
One of the pros of this course is that Ryan teaches the basic skills needed to run successful ads on Facebook. You'll be well on your way to creating engaging and effective ads in no time.
2. Email Marketing Training
Effective email marketing can be a game-changer when it comes to generating leads. Luckily, Ryan covers this in his course too! With his client outreach training, you'll learn the ins and outs of email marketing and how to use it to your advantage.
3. Upwork Client Acquisition Tips
Ryan also offers some excellent tips on how to optimize your Upwork profile and how to effectively reach out to potential clients. He even provides scripts to help you get started! This is a great way to learn how to generate leads on one of the most popular freelance platforms out there.
4. Ready-to-Use Scripts for Cold Calling
One great advantage of the Lead Generation Blueprint course is that you'll have access to proven scripts that have been successful in Ryan's own business. These scripts are ready for you to download and use when cold calling potential clients. With these scripts, you can confidently approach potential clients knowing that you have a proven approach that has worked before.
In addition, you'll also get cold email templates that are easy to customize and send out quickly. However, it's important to personalize the email to avoid sounding like a generic message.
5. Personalized 1-2-1 Support on Facebook
Another amazing benefit of this course is that Ryan offers personalized support through Facebook. Once you're enrolled in the program, you can easily message him for assistance anytime you need help. This means that you don't have to feel like you're in this alone or get stuck while trying to implement what you learned.
Criticism of Lead Generation Blueprint
1. Not enough sales training
If you're looking for a course that will teach you everything there is to know about sales, this may not be the one for you. While the Lead Generation Blueprint course does cover the basics of lead generation, it doesn't delve deeply into sales techniques like dealing with objections or negotiating.
2. No training on how to advertise on other platforms
While this course does provide training on how to advertise on Facebook, it doesn't cover other platforms like Google or YouTube. If you're looking to expand your advertising reach beyond Facebook, you may need to seek out other resources or courses.
3. Facebook training is only under an hour of video content
If you're expecting the Lead Generation Blueprint course to provide you with in-depth Facebook training, you may be disappointed. The Facebook training module is only about an hour long, and you have to complete six modules before you even get to it.
Recommendation: Here's The Best Alternative
Is Lead Generation Blueprint a scam?
Definitely not. If you're serious about learning how to start a Facebook ad agency and willing to put in the effort, then the Lead Generation Blueprint course is definitely worth considering. Social media marketing for local businesses is growing, and Facebook ads are a key component of any successful campaign.
The reality is that Facebook ads can be expensive, with an average cost of $0.97 per click and $7.19 per thousand impressions. For campaigns aiming to increase likes and downloads, the costs rise to around $1.07 per like and $5.47 per download.
The cost of running ads on Facebook is also increasing over time. Despite this, if you're committed to learning and developing your skills, the Lead Generation Blueprint course can provide you with the knowledge and strategies to succeed in this field.
Is there a better way to make money online?
If you don't want to waste your time or risk your hard-earned money on Lead Generation Blueprint, you might wonder if there is a better business model that doesn't need Facebook ads and can do it as a side hustle.
Yes, I would suggest you get started with affiliate marketing. It is far easier and less time-consuming as you don't even need to handle customer service.
In affiliate marketing, you can run your business almost with zero cost. Most importantly, you don't need to invest in creating and developing any products.
But How Much Can You Earn in Affiliate Marketing?
A 21-year-old student from my #1 recommended training platform of affiliate marketing was able to earn $7,395 in just 1 week, which means he made more than $1k a day…all while using free traffic methods and affiliate marketing.
Wealthy Affiliate has existed for more than 10 years and there are many success stories over the years.
To give you more examples, here are some of the other inspiring success stories of Wealthy Affiliate members.
Where to Join Wealthy Affiliate?
Wealthy Affiliate has a very simple pricing scheme. It has a free and premium membership.
If you want to feel about Wealthy Affiliate, you can sign up for the starter membership here (no credit card required). You can select to be a free member with no time limit.
And as a starter member, you can get instant access to the community, live chat, over 500 training modules, 2 classrooms, networking, commenting, 1 free website, and access to the keyword tool.
You can enjoy all these values without paying a penny.
So I strongly recommend you register a free account and see it yourself.