When it comes to Amazon automation services, Lunar Automation doesn't stand out too much from the crowd. Sure, their ads might make big promises that other e-commerce experts don't, but there's no magic solution that can fix all the flaws of this approach.
You may have heard about the Amazon automation scam that tricks people into investing their money with promises of effortless passive income and six-figure profits – all without ever handling a single product.
These online agencies claim to do everything for you, for a cut of your profits (and they'll also require a significant upfront investment). But in reality, what does that really mean?
Just to be clear, I'm not affiliated with Lunar Ecom, so you can trust that my review is honest and unbiased.
And at the end of this review, I'll also tell you a better way to make money online.
What is Lunar Automation?
Lunar Automation is an automation service provided by Ryan's agency, Lunar eCom. With the service, it is said that you won't have to worry about the nitty-gritty details of running your business. Instead, you can sit back and relax while they handle it for you.
However, one thing to note is that it's not clear which platform they use for running your ecom business. From what I've heard, they might suggest that you sell through Amazon or Walmart, even if you already have a Shopify store. This might be because the virtual assistants they hire are only familiar with setting up stores on those platforms.
To be honest, Lunar Automation seems pretty similar to other Amazon automation scams out there, like Kevin David's AMZ Done For You service. So, it's important to do your research before making a decision.
That being said, Ryan and Tony, the founders of Lunar eCom, have a lot of experience in the eCommerce world. Tony has been involved in online retail for over seven years, starting with dropshipping on platforms like eBay before moving on to Amazon and Walmart. He's created his own successful stores and has even helped over 100 clients do the same, generating millions of dollars in sales along the way.
Together, Ryan and Tony are committed to providing excellent customer service and helping their clients build successful eCommerce businesses that generate passive income.
But do they actually deliver on their promises? You'll have to read on to find out.
Recommendation: Here's The Best Alternative
Who is Ryan Pineda?
Ryan Pineda is not your ordinary entrepreneur. He used to play baseball professionally, and now he's a thriving businessman and real estate broker. According to our sources, he's worth around $4.3 million – not too shabby, right?
You may have heard of Ryan on social media, where he shares his business expertise with his enormous following. He's also passionate about cryptocurrency and retirement savings accounts, which he actually invests in.
Unlike some other salespeople out there, Ryan doesn't like to beat around the bush. He prefers to get straight to the point and not waste anyone's time.
Ryan's journey to success began in 2010 when he started his real estate business with only $10,000 in his pocket. He flipped houses and found immense success, which led him to teach others how to do the same. He has closed over 300 property deals and created a brokerage called Forever Home Realty. Now, his company has around 90 agents working under its brand. He also founded TrueBooks, a CPA service provider.
Ryan didn't stop there. He launched a real estate coaching program, Future Flipper, and later started the e-commerce assistance business, Lunar Ecom. He went on to establish three other companies: Pineda Capital, Homerun Offer, and Wealthy Agent.
Ryan released his book, Flip Your Future, in 2018 and started promoting himself on social media. His content on TikTok has really taken off, with almost a million followers. He also has a YouTube channel, featuring his podcast, The Ryan Pineda Show, with over 200,000 subscribers.
Currently, Ryan owns Homerun Offer, a real estate investment company that flips and wholesales houses, as well as buys rentals. He also runs a real estate brokerage called Forever Home Realty, which focuses on investments in Nevada.
What's unique about Ryan is that he's not just a coach – he's actually making decent money through his businesses. Coaching is just a side gig for him, to be honest. Ryan is a great example of what hard work, dedication, and a little bit of baseball can do for you!
How does Lunar Automation work?
Basically, Lunar Automation involves hiring Ryan's agency Lunar eCom to set up your online store for you. However, as the owner, you'll need to cover all the costs associated with the store's setup.
Once your store is up and running, you'll also need to pay a percentage of your profits or turnover to Ryan's agency. While this can be a convenient way to get your store off the ground, it can also be quite expensive in the long run.
Additionally, it's important to note that with Lunar Automation, you won't fully own your store. Instead, you'll be relying on a third-party agency's terms of trade, which can leave you vulnerable to unexpected losses if the store doesn't perform as well as expected.
While the Ryan's automation service may lead you to expect high profits, there's no guarantee that your store will perform as expected. If you don't see the promised profits, you may end up losing a lot of money.
Recommendation: Here's The Best Alternative
Who is Lunar Automation for?
The Lunar Automation service is designed for those who have an interest in building an ecommerce business but lack the necessary skills or time to handle it themselves.
However, most people won't benefit from an automated business. In the worst case scenario, you may lose thousands of dollars since this is not a guaranteed method of making money.
How much does Lunar Automation cost?
To join Lunar Automation, you'll have to shell out as much as $40,000.
If you want to find out more about the pricing details, you'll have to book a free consultation call.
However, you should watch out for their sales pitch that forces you to sign up.
Refund Policy
Lunar Ecom claims that you can get back your initial investment in 18 months if you're not satisfied with their Lunar Automation service.
Many customers, however, complained that their guarantee was bogus. Until now, no refunds have been issued.
Praise for Lunar Automation
1. Reduce Workload and Expenses
With Lunar Automation, you can streamline your business processes and reduce your workload significantly. You won't have to worry about managing every single aspect of your business since the automation agency will take care of everything for you. This means you'll have more time to focus on other projects, like expanding your business.
2. You Don't Have To Handle Customer Service
Customer service is one of the most challenging aspects of starting a business. Using an automation company like Lunar Ecom, you don't have to worry about customer service. However, I'm not sure if they can communicate effectively with your customers and increase repeat business.
Criticism of Lunar Automation
1. High Up-Front Costs
To use Lunar Automation, you'll need to put down a $40,000 deposit. That's a pretty big sum to invest up front, and on top of that, you'll likely need to spend more to buy the stock that Lunar Ecom will sell for you. Starting a business does require some financial investment, but it's worth considering whether the initial costs of Lunar Automation are feasible for you.
2. Fake Profit and Loss Statements
One drawback of Lunar Automation is that it only hires some virtual assistants to help you build and run your e-commerce store. So, if you're losing money, Lunar Ecom will still send you a fake profit and loss statement that shows your store is making money. At the end of the day, you'll have to do your accounting, so don't solely rely on Lunar Ecom's statements.
3. Fees, Fees, Fees
Another downside of Lunar Automation is that you'll have to pay fees to Lunar Ecom, even if you aren't turning a profit. Lunar Ecom will likely tell you that you'll soon make money, but in reality, you'll see charges hit your credit limit. So, make sure you're prepared to pay for Lunar Ecom's services, even if your store isn't making any money.
4. Risk of Account Suspension
One major concern with Lunar Automation is the risk of account suspension. If Amazon or Walmart discovers that you've breached their terms and conditions, they could take action against your store.
Since Lunar Ecom is managing your store for you, you might not even know what's going on behind the scenes. If your account gets suspended, your products won't be sold, and getting your store reinstated can take a long time. It's important to stay informed about what's happening with your business, even if you're using a service like Lunar Automation.
5. Limited Ecommerce Knowledge
Another downside to Lunar Automation is that Lunar Ecom doesn't have a lot of ecommerce knowledge. They may be able to help you set up a store on Walmart or Amazon, but that's about it. Their management style is mediocre, relying on virtual assistants to do most of the work.
As a result, some Lunar Automation users have reported losing money every month, even after paying Lunar Ecom's service fees. Additionally, if you do make a profit, you'll need to share a portion of it with Lunar Ecom.
Recommendation: Here's The Best Alternative
Lunar Ecom Customer Complaints
Lunar Ecom has received lots of complaints on Reddit. Many users regret investing in their service, but they can't get their money back.
For example, this customer JarethLopes said her client's business dropped from $400k a month to below $100k after hiring Lunar Ecom to manage their ecom store.
This customer Financial-Pangolin-4 said Lunar Ecom hired VAs to buy and sell items using your credit card without your consent.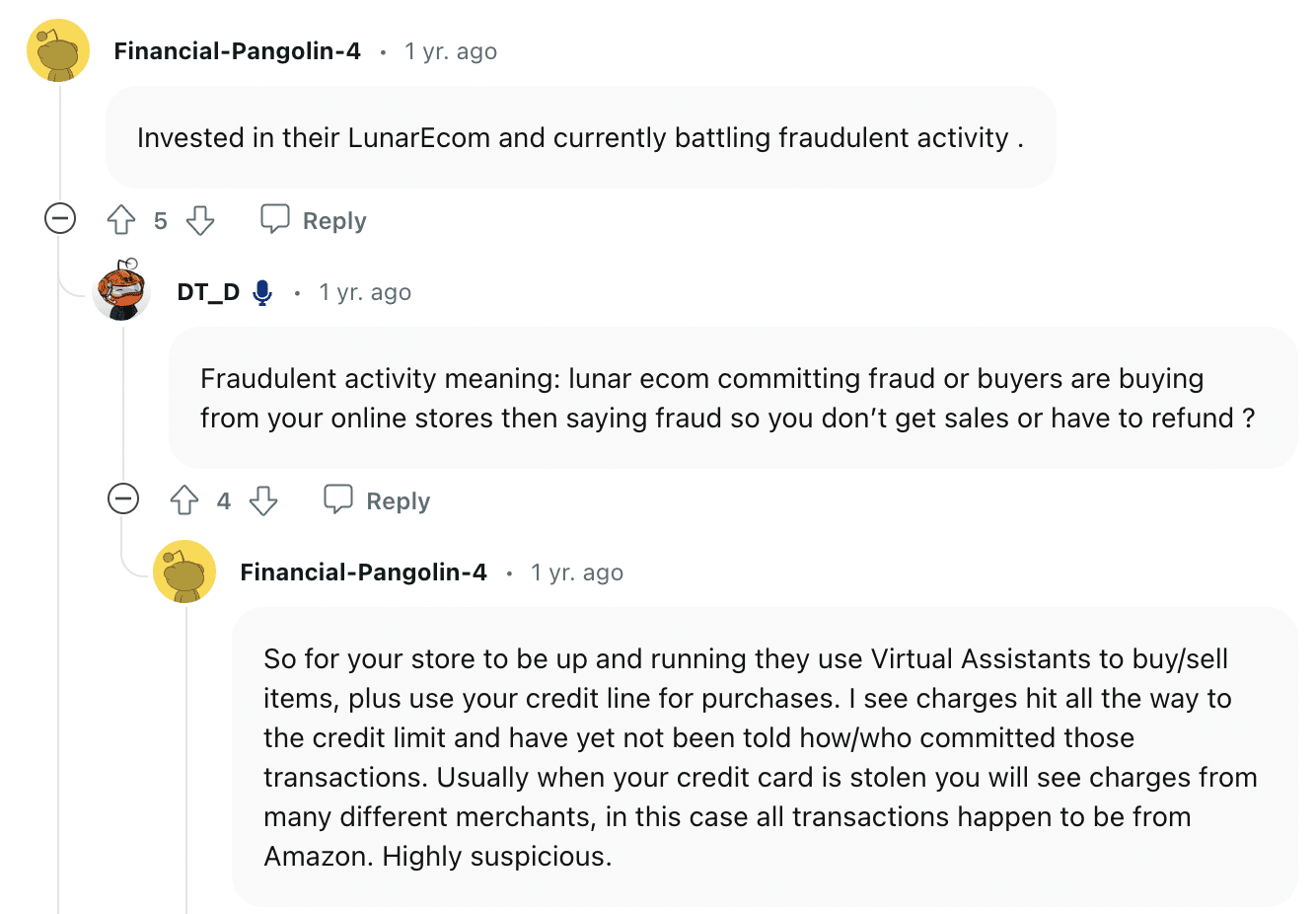 This customer VegasGirl1738 said their customer service is horrible and the management of her store is mediocre.
And it seems that their 18 months guarantee is fake……
This customer SVInfinty33 said his stores were all suspended after hiring Lunar Ecom to manage his ecom business.
Is Lunar Automation a scam or legit?
If you're looking to delegate some of the routine tasks involved in running an e-commerce store, Lunar Automation might seem like an attractive option. After all, who wouldn't want to have someone else handle operations, manage virtual assistants, drive traffic, and deal with sales?
But before you sign up, it's important to understand that not all "done-for-you" e-commerce automation services are created equal. In fact, many people have lost significant amounts of money by investing in such services, only to find that their stores aren't as profitable as promised.
One issue with services like Lunar Automation is that the agency operating your store will need to be paid each month, regardless of whether the store is making a profit. This means that they're the only party guaranteed to make money from the arrangement. And if your account gets shut down due to shady practices, you'll be out of luck.
Another problem with this business model is that it can prevent you from truly understanding your business and how your e-commerce store works. This can make it difficult to make informed decisions and pivot your strategy if things aren't going as planned.
Of course, there's nothing wrong with hiring extra help to get your business off the ground. But starting your own business is a big investment, and it's important to have a solid understanding of it before you start delegating everything to someone else.
So, is Lunar Automation a scam? No, it's not. But like any service, it's important to do your due diligence and make sure it's the right fit for your business before you invest your hard-earned money. And keep in mind that if things don't work out, you won't be able to get a refund from Lunar Ecom.
At the end of the day, I agree with this Youtuber (see his video below) that if Lunar Ecom can generate $50k passive income for you every month, they would have focused on their own ecom business instead of working for you as an agency.
Is there a better way to make money online?
If you're new to online business, you might wonder if there's a better business model that doesn't need initial capital and can do it as a side hustle.
Of all the business models I've tried, affiliate marketing is the easiest and most rewarding so far. It is less time-consuming since you don't have to manage inventory or handle customer service.
It can help you to generate a steady stream of passive income while going on vacation or working a full-time job.
Since the world is full of uncertainty, I'd always choose a business model that has the lowest risk.

But How Much Can You Earn in Affiliate Marketing?
A 21-year-old student from my #1 recommended training platform of affiliate marketing was able to earn $7,395 in just 1 week, which means he made more than $1k a day…all while using free traffic methods and affiliate marketing.
Wealthy Affiliate has existed for more than 10 years and there are many success stories over the years.
To give you more examples, here are some of the other inspiring success stories of Wealthy Affiliate members.
Where to Join Wealthy Affiliate?
Wealthy Affiliate has a very simple pricing scheme. It has a free and premium membership.
If you want to feel about Wealthy Affiliate, you can sign up for the starter membership here (no credit card required). You can select to be a free member with no time limit.
And as a starter member, you can get instant access to the community, live chat, over 500 training modules, 2 classrooms, networking, commenting, 1 free website, and access to the keyword tool.
You can enjoy all these values without paying a penny.
So I strongly recommend you register a free account and see it yourself.
If you'd like to be the next success story and get the most out of Wealthy Affiliate, you can upgrade to the Premium Membership later.
After that, you can get access to everything without the bother of any upsells.