Have you heard of Rocktomic? It's a platform that claims to help you create your very own online supplement brand with little to no risk. I know what you're thinking – is it too good to be true? Well, as an experienced dropshipper, I'm here to give you the lowdown on everything you need to know about Rocktomic.
First things first, Rocktomic basically takes care of everything for you. They create the products, brand them, and even help fulfill your orders to your customers. But the question remains – is it a scam? Rest assured, as I am not affiliated with Rocktomic, so you can trust that my words are unbiased.
In this Rocktomic review, I'll dive deep into the company and share my thoughts on whether it's worth your time and money. But wait, there's more! At the end of this article, I'll also share with you a better business model that has enabled me to make a full-time passive income.
So, sit back and grab a protein shake as I cover everything from the products to the pricing and more in this comprehensive Rocktomic review.
What is Rocktomic?
Rocktomic is a company that specializes in providing private label nutritional supplements and apparel that you can sell under your own brand.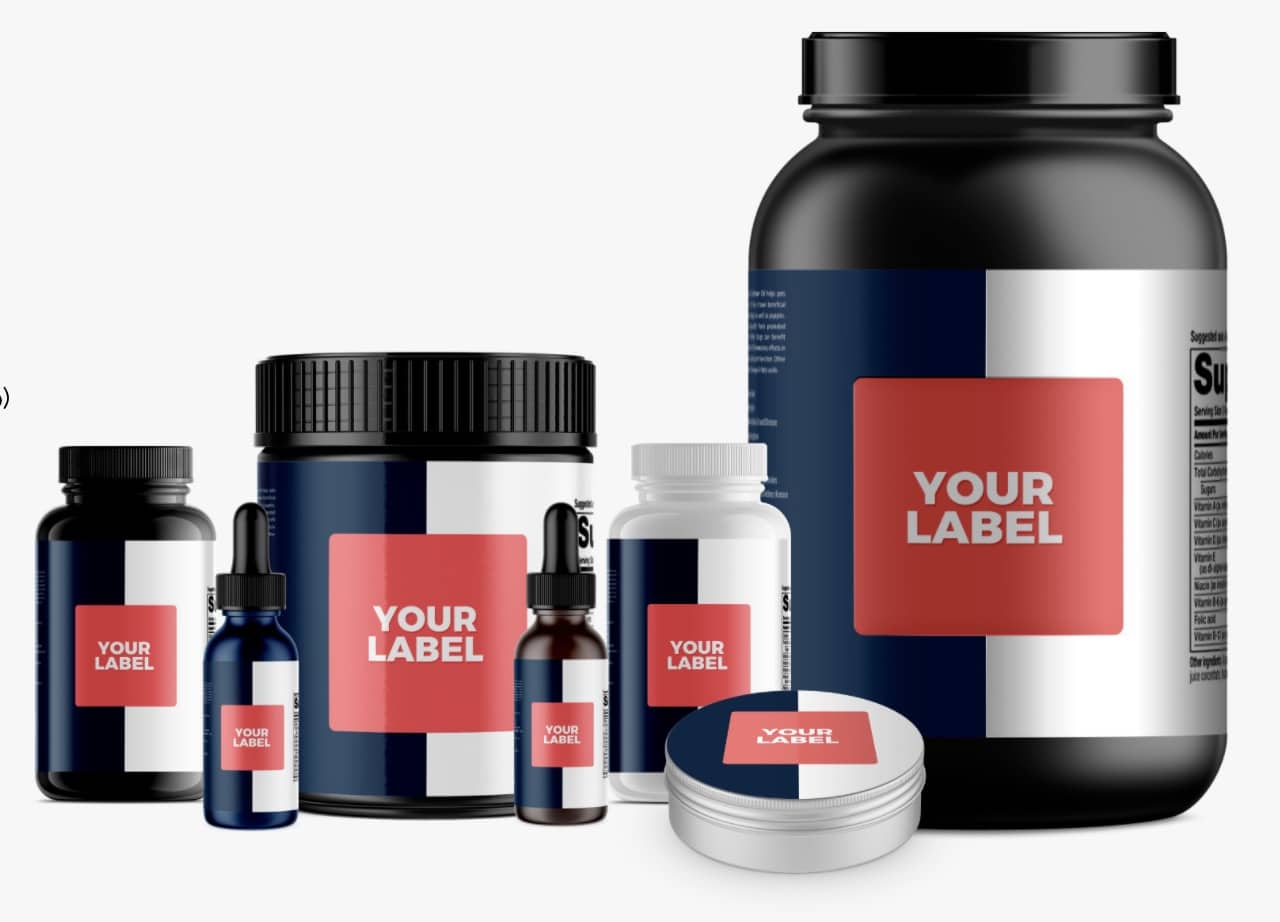 Here's how it works: Rocktomic sources the supplement or apparel for you, labels it with your brand logo, and fulfills the orders on your behalf. This allows you to focus on marketing and selling your product without worrying about the logistics.
And the best part? You can get the product at wholesale prices and sell it at retail prices to earn a profit. No need to buy stock in bulk, store it, or ship it yourself. With Rocktomic, you get a branded product without the inventory costs.
The process is simple. When a customer orders your product on your online store, Rocktomic will ship it directly to them. There's no minimum order quantity requirement from the manufacturer, so you can start small and grow your business at your own pace.
Recommendation: Here's The Best Alternative
How does Rocktomic help you make money?
With Rocktomic, you are actually making money from private label dropshipping.
Basically, private label dropshipping means you can sell products from third-party suppliers, but relabeled as your own. You don't need to keep stock or handle shipping logistics because Rocktomic takes care of that for you.
What's cool about private label dropshipping is that you can sell a wide variety of products and tailor them to your specific target audience. And because it's a direct-to-consumer business model, you can skip the middlemen and get more profits.
Another great thing about Rocktomic is that they offer fast shipping and handling services. So, you won't need to worry about third-party logistics and can focus on growing your business.
What products does Rocktomic offer?
If you're looking to start a business selling nutritional supplements and apparel, Rocktomic has got your back. They have an impressive collection of 150 private label products that you can sell under your own brand name.
Here's a rundown of the categories of private label products available at Rocktomic:
Weight Loss & Detox

Men's Beard Care

Women's Health & Beauty

Men's Health

Sports Nutrition

Pet Supplements

General Health

Nootropics

Premium Supplement Line

Apparel
When it comes to weight loss, Rocktomic has a range of 17 different products available in both drops and pill form. You'll find products like African Mango Ultra Capsules, Keto drops, CLA, White Kidney Bean Extract, and more.
For general health, they've got around 22 different products, mostly in pill form. You can choose from products like Pure Saffron, Liver Support, Moringa Leaf, Ultra Blood Sugar Support, Fish Oil, and more.
If you're looking for products specifically for men's health, they offer five different products for prostate support, male sexual support (nope, not penis growth pills), and Horny Goat Weed. Interesting, right?
Women's health gets three products for hormone support, prenatal multivitamins, and ultra-multivitamins.
For sports nutrition, you'll find about 14 different products. Some are vitamins, while others are powders for shakes. You'll find Creatine, Glutamine Powder, PCT, and others in this offering.
You can see the whole product catalogs here.
How much does Rocktomic's service cost?
Using Rocktomic's dropshipping service is not free. Customers are required to pay a monthly fee of at least $59 for the service. Below is the current price plan for their service:
Please note that the monthly fee does not include the fulfillment fee and the product cost. If you choose the $99/month plan, they will also provide a logo design for you. However, it may not be necessary since you can find a more affordable designer on freelancer platforms such as Fiverr or Upwork.
Aside from providing product and fulfillment, Rocktomic's most expensive plan ($257/month) also includes access to online marketing training.
Rocktomic has partnered with DigitalMarketer, one of the largest online marketing platforms, to offer 11 marketing training and certifications to help customers scale their businesses. This feature may be particularly helpful if you lack online marketing knowledge.
Recommendation: Here's The Best Alternative
Praise for Rocktomic
1. Private Label Dropshipping Made Easy
Private label is a great business model for those who are just starting out in the world of e-commerce. It allows you to sell products that are already in demand, without having to create them from scratch.
With Rocktomic's private label drop shipping service, you can easily get started with your own online store and begin selling top-quality supplements right away.
2. A Wide Range of Private Label Supplements
Supplements are some of the most popular products sold online, and for good reason! They provide people with the nutrients they need to stay healthy and happy. With Rocktomic, you have access to a wide variety of private label supplements to choose from.
Whether you're looking for weight loss supplements, beauty products, or pet supplements, they've got you covered. With such a wide range of products, you're sure to find something that fits your niche and appeals to your target audience.
Criticism of Rocktomic
1. Hard to Build Trust for Selling Supplements
Supplements can be a tricky product to sell. Customers are cautious about the ingredients and potential health risks. Building trust with your customers is crucial for success, but it can be a costly and time-consuming process. You may need to invest in influencers and run many Facebook ads to convince people that your product is safe and effective.
Keep in mind that you will be competing against many well-established brands in the niche, so you'll need to stand out and provide a compelling reason for customers to choose your brand.
2. Limitation of Product Catalogue
Flexibility is key to success in dropshipping, as products can have a short life cycle. Unfortunately, if you decide to use Rocktomic as your private label dropshipping service, you'll be limited to nutritional supplements. This means you'll have less flexibility in choosing what to sell, which could be a dealbreaker if you're not interested in selling supplements.
3. The monthly fee of Rocktomic is not cheap
Rocktomic's pricing plan starts at $59 per month, which can be a significant cost when your business doesn't have any cash flow yet. It's important to keep in mind that you'll also have other costs such as software for building your store, website hosting fees, and advertising costs.
When you add up all these expenses, it can be difficult to break even. Be sure to consider these costs carefully before committing to Rocktomic.
Is Rocktomic a scam or legit?
Rocktomic isn't a scam. You can rest assured that it is a legitimate private label dropshipping service. But we get it, the idea of it can sound too good to be true at first glance.
With Rocktomic, you don't need to go through the hassle of developing your own product, finding a manufacturer, and dealing with logistics and warehousing issues. Instead, you can take advantage of their dropshipping services and still have your own branding.
However, before jumping on board with Rocktomic, it's important to keep in mind that private label dropshipping does come with its own set of challenges.
While it may seem like an easy way to do business, there are things you should consider before making any commitments. So do your research and weigh your options carefully.
Recommendation: Here's The Best Alternative
5 Challenges of Private Label Dropshipping
1. Rising Facebook Ad Costs
To drive traffic to your online store, you'll likely need to run ads on social media platforms like Facebook. However, Facebook ad costs have been increasing significantly in recent years. Based on data from dropshippers, we've found that Facebook ads typically account for no more than 30% of total sales.
As more businesses run Facebook ads, the cost per sale gradually rises, meaning you'll need to increase your ad budget to maintain your ad placement. On average, Facebook ad costs have increased by 90% year-on-year, which can quickly eat into your profit margins.
2. Passive Customer Support
One significant drawback of dropshipping is that you have limited control over customer support. Because you don't handle the product directly, you're unable to provide meaningful assistance to customers when issues arise.
Instead, you'll need to rely on your supplier to help you resolve any product or shipping-related issues. Unfortunately, if your supplier is unresponsive or unhelpful, you may end up refunding customers or facing chargebacks and negative reviews. This is one reason why many dropshipping stores struggle with poor customer reviews and ultimately fail.
3. Private Label Products Can Be More Expensive
Private label products tend to be more expensive than non-customized options. This is because creating custom packaging, logos, and other design elements takes time and effort, which drives up the production cost. As a result, you may need to charge higher prices for your private label products, which could make it harder to attract customers.
4. You Might Need to Buy in Bulk
Another potential challenge of private label dropshipping is that you'll often need to purchase products in bulk. This is because it's not cost-effective for your supplier to produce one-of-a-kind items. However, buying in bulk can be risky, as you may end up with unsold inventory that ties up your cash flow.
5. Competition Can Be Tough
Finally, building a loyal customer base and competing with established brands can be tough when you're selling private label products. With so many options available to consumers, it can be hard to stand out from the crowd. Plus, shoppers may be hesitant to try a new brand or product they haven't heard of before, which could limit your sales potential. To succeed in private label dropshipping, you'll need to be creative and persistent in your marketing efforts.
Is there a better way to make money online?
If you are new to online business, I'd recommend you to get started with affiliate marketing.
Affiliate marketing is perfect for anyone who is new to online business.
In fact, of all the online business models I've tried, affiliate marketing is the easiest and most rewarding so far.
In affiliate marketing, you can actually run your business almost with zero cost and achieve a steady and sustainable passive income to pay for your bills. You don't need any initial capital and can even do it as a side hustle.
And if you really want to learn affiliate marketing and build a business from scratch, I'd recommend you to get started with the most reputable platform for affiliate marketing: Wealthy Affiliate.

Wealthy Affiliate is an all-in-one platform for building your affiliate marketing business from scratch. It offers you a free account (including a free website) with comprehensive training on SEO (free traffic methods), which enables you to get started with affiliate marketing right away without paying a penny.
But How Much Can You Earn with Wealthy Affiliate?
A 21-year old student from Wealthy Affiliate was able to earn $7,395 in just 1 week, which means he made more than $1k a day…all while using free traffic methods.
For more information, you can check out my full review of Wealthy Affiliate.
Where to Join Wealthy Affiliate?
Wealthy Affiliate has a very simple pricing scheme. It has free and premium membership.
If you want to feel about Wealthy Affiliate, you can sign up for the free starter membership here (no credit card required). You can select to be a free member with no time limit.
And as a starter member, you can get instant access to the community, live chat, over 500 training modules, 2 classrooms, networking, commenting, 1 free website, access to the keyword tool.
You can enjoy all these values without paying a penny.
So I strongly recommend you to register a free account and see it yourself.