If you are interested in dropshipping, you might have heard of Matthew Lepre who claims to help you build a profitable 6-figure eCommerce store with extremely low risk and start marking sales within 30 days even if you know nothing about online business.
Does the promise sound too good to be true? Is Matthew Lepre a scam? In order to help you delve into his course Ecom Warrior Academy, I've spent some time conducting research in depth.
After reading this review, hopefully you can make a more informed decision on whether you should spend your hard earned money on this dropshipping course.
At the end of this article, I'll also tell you whether dropshipping is still profitable in 2020. If not, you might wonder if there's an alternative.
Yes, I'll share with you a much better business model that is flourishing and can really help you create a decent passive income at zero risk.
Below is what I'll cover in the review of Matthew Lepre and his course Ecom Warrior Academy.
Who is Matthew Lepre?
Matthew Lepre is a self-made entrepreneur based in Sydney. According to Matthew, he went from broke to building multiple profitable eCommerce businesses making 6 figures each month.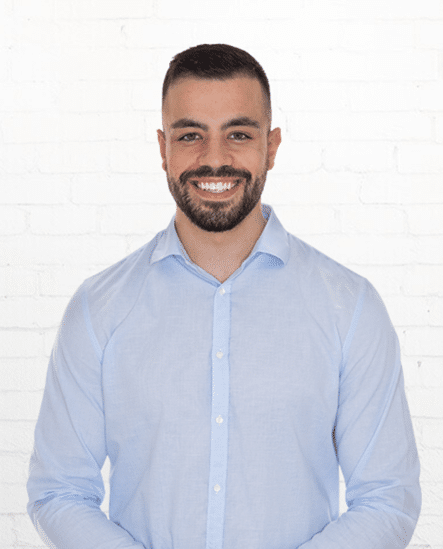 Similar to the stories that I've heard so many times from other gurus, Matthew also said he achieved the results in a few short years.
What intrigues me is that Matt warns you about the difficulties of eCommerce and told you he had spent hundreds of thousands of dollars testing the best strategies to build a profitable eCommerce store. But where did he get the money from the beginning?
That said, Matthew enjoys a following of 67.6k Youtube subscribers, 17.8k Facebook followers and 296k Instagram followers.
But most of Matthew's Youtube videos are centered around his travel and lifestyle so the content doesn't deliver much educational value.
Recommendation: Here's The Best Alternative
What can you expect to learn in the Ecom Warrior Academy?
This course is designed for beginners in dropshipping. If you are experienced with dropshipping, you can't expect to benefit too much from Ecom Warrior Academy.
As a beginner, you can learn from Matthew how to set up a Shopify dropshipping store from scratch and use social media marketing to drive traffic to your website. Other common topics include branding, shipping and logistics, and customer service.
As in the case of most online training programmes, you can get lifetime access to the course videos, and any updates after that.
An Overview of Ecom Warrior Academy
This course is not a scam. But the question is whether it's worth $4k. After all, what you learn is pretty much the same as other dropshipping courses. In fact, since it's a basic introduction to the beginners, you can actually download a completely free guide from Oberlo or somewhere else, just spend a few minutes on Google and you will find it.
Worse still, when I found that there's no information about the course on the landing page of Ecom Warrior Academy.
There's no course outline, or what will be covered. What you get are all the Call To Action banners, urging you to click for more information.
Once you click on the banner, you will be taken to a free training video which is a 42 minute sales presentation by Matthew.
To my disappointment, Matthew really doesn't give you any valuable information about dropshipping. What he does is try to inculcate the amazing ideas of eCommerce into you such as how it can immensely change your life.
According to Matthew, there are three groups of people who will benefit from his training, including employees in a 9-5, college students and start-up entrepreneurs.
After that, Matthew tells you his background story and shows off his luxurious lifestyle. This is followed by success stories from some of his students.
Matthew promises to reveal to you his 3 step system for generating millions of dollars each year. But it turns out that he only babbled a few technical terms without any details on how to put the three pillars into practice. Then he returns to his sales pitch to get you sign up for Ecom Warrior Academy.
So, you still have no idea what Ecom Warrior Academy is about?
Yes, at that moment, I didn't have either.
It is not until the sales call that I finally get some ideas about Ecom Warrior Academy and the $4000 price tag.
Is Matthew Lepre a Scam?
I don't think Matthew Lepre is a scam.
But at the end of the day, can he really deliver his promises?
After all, what you learn is nothing more than a basic introduction to dropshipping and even Matthew stresses that the course is designed for beginners.
If it's only suitable for beginners, that means it's a beginner level course. Then how can it help you make a 6 figures income and live your dream life?
This is made worse by the $4k price tag which is a substantial investment for newbies.
Though apart from the course, there's also a mentorship program included, you still don't have direct access to Matthew. The mentorship is offered via a consultant and feedback calls with Stallon Zayya (unknown identity), as well as email and community support from a private Facebook group.
Recommendation: Here's The Best Alternative
Is Dropshipping Still a Viable Option in 2020?
As an experienced dropshipper, what I can tell you is that dropshipping has become increasingly difficult. If you want to build a 6 figure dropshipping business, you need to shed some blood, sweat and tears to figure out how it works.
Here are a few points why I would not recommend dropshipping:
1. Financial Risk
Your dropshipping store won't sell ANYTHING if you don't ADVERTISE. But Facebook ads costs are skyrocketing and will eat away your PROFITS. You might need weeks or even months to just break even, before seeing any profit.
In another word, you have to take a huge FINANCIAL RISK in dropshipping.
2. Facebook ads are Pricey and Difficult
After observing most dropshippers' results, at best, the total Facebook ad cost will account for at least 30% of your total sales.
But Facebook ads seldom stay effective for too long. Once your ad has exhausted the audience, it becomes ineffective. Your total revenue will be much lower and even result in net loss.
According to Forbes, Facebook saw an increase in Ad costs of 90% year-on-year.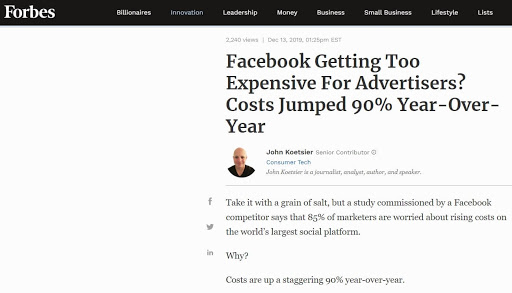 Worse still, the learning curve of Facebook ads is quite steep because Facebook changes its algorithm all the time. You have to invest a lot of time and money in learning and testing Facebook Ads.
If you run Facebook ads without any experience, your ad account will be banned for violating their strict policies.
3. Customer Support
In dropshipping, you have to spend a lot of time communicating with suppliers and dealing with customer service.
If your customer has any issues with the product, you have to wait for your supplier to help you. If your supplier is not helpful, you have to bear the loss yourself. Therefore, many dropshipping stores have poor customer review and have no returning customers.
In the worst case, you would expect a lot of credit card chargebacks, which risk getting your payment gateway shut down.
4. A lot of work on product research
For your store to keep making money, you always have to find a product that has the momentum to go viral in order that the ads costs can be covered.
In dropshipping, most products reach their peak in 1-2 months or even weeks. This is because many competitors will steal your product and create a better ad. Or increase their budgets on Facebook ads to outbid you.
Therefore, you need to keep finding new replacements to keep generating cash flow.
You might see people post revenues online but they don't tell you the net revenue.
Some of them might be making money but it's not sustainable.
The dropshipping business model is not as passive as you think. Most people who succeed in dropshipping are doing it full time because it requires you to keep finding new products, creating new stores, testing new ads and looking for new suppliers to make your income stable.
Is There an Easier & Better Alternative to Dropshipping?
If you don't want to waste your time or risk your hard earned money, you might wonder if there is a better business model that doesn't need Facebook ads and can do it as a side-hustle.
Yes, I would suggest you getting started with affiliate marketing. It is far easier and less time consuming as you don't even need to handle customer service.
In affiliate marketing, you can run your business almost with zero cost. Most importantly, you don't need to invest in creating and developing any products.
But How Much Can You Earn in Affiliate Marketing?
A 21-year old student from my #1 recommended training platform of affiliate marketing was able to earn $7,395 in just 1 week, which means he made more than $1k a day…all while using free traffic methods and affiliate marketing.
Wealthy Affiliate has existed for more than 10 years and there are many success stories over the years.
To give you more examples, here are some of the other inspiring success stories of Wealthy Affiliate members.
Where to Join Wealthy Affiliate?
Wealthy Affiliate has a very simple pricing scheme. It has free and premium membership.
If you want to feel about Wealthy Affiliate, you can sign up for the starter membership here (no credit card required). You can select to be a free member with no time limit.
And as a starter member, you can get instant access to the community, live chat, over 500 training modules, 2 classrooms, networking, commenting, 1 free website, access to the keyword tool.
You can enjoy all these values without paying a penny.
So I strongly recommend you to register a free account and see it yourself.