If you're into dropshipping, you may have come across Matthew Lepre and his Ecom Warrior Academy. He promises to help you create a successful 6-figure eCommerce store with minimal risk and start raking in sales within just 30 days, even if you're a complete newbie to the online business world. But can he really deliver on these lofty claims, or is it all just a scam?
With so many dropshipping courses out there, it can be tough to know who to trust. As someone who's been through the ups and downs of entrepreneurship and dropshipping, I'm here to give you the lowdown on whether Ecom Warrior Academy is worth your hard-earned cash. I'll also give you the inside scoop on the risks of dropshipping and whether it's still a viable option in 2023.
To give you the most comprehensive review possible, I've done some serious digging into Matthew Lepre's course.
And at the end of this article, I'll share with you an even better business model that's currently thriving and carries zero risk.
Sounds good? Here's what you can expect me to cover in this review of Matthew Lepre and Ecom Warrior Academy.
What is Ecom Warrior Academy?
eCom Warrior Academy is a dropshipping course that claims to show you how to build a profitable Shopify store. According to the founder Matthew Lepre, the course is guaranteed to help you create a 6-figure dropshipping business with incredibly low risk. He even says you can begin to make sales in less than 30 days, even if you have no experience with online business.
Here are the topics that Matthew will cover in the course:
Building a Shopify dropshipping store from scratch

Finding trending products for your business

Getting leads from Facebook and Instagram

Providing customer service

Building a dropship brand

Handling logistics
Matthew promised to add new training materials every month and grant his students lifetime access to video tutorials.
In case you're new to dropshipping, it's a method where the seller doesn't hold inventory of the products they sell. Instead, they purchase the goods from a third party (usually a wholesaler or manufacturer) as needed to fulfill orders.
And there are some sweet bonuses you can get, too! You'll get access to:
A private Facebook group

Two monthly group Q&A mentorship calls

Personal growth and feedback calls

Direct email coaching
As with most online courses, you can get lifetime access to the video tutorials and any future updates.
Sounds like a pretty good deal? Let's see how dropshipping actually works.
Recommendation: Here's The Best Alternative
How does Ecom Warrior Academy help you make money?
This course aims to teach you how to set up a profitable Shopify store using dropshipping, a method of retail fulfillment that doesn't require you to stock any products.
With dropshipping, you act as a storefront for your business. You buy goods directly from manufacturers, wholesalers, or other retailers, and then have them shipped directly to your customers. This means that you don't have to worry about storing or managing any inventory.
The way you make money with dropshipping is pretty simple. Consumers pay you as soon as they place an order, and then you use that money to pay your dropshipper to fulfill the order. You keep the difference between what the customer paid you and what you paid the dropshipper, which is your profit.
Who is Matthew Lepre?
Matthew Lepre is a self-made entrepreneur from Sydney who's been making waves lately. Born on July 22, 1992, Matthew has come a long way since his bankruptcy days. According to him, he's now the proud owner of multiple e-commerce businesses that rake in 6-figure profits every single month. Not too shabby, eh?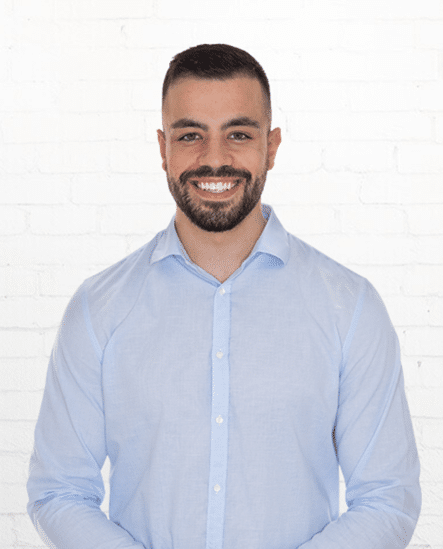 I've seen a lot of gurus out there claiming to have achieved success in a short amount of time, but Matthew's story definitely caught my attention. He warns others about the challenges of e-commerce and admits to spending a boatload of cash to figure out what works and what doesn't. But here's the million-dollar question: where did he get the money to start?
Moving on to Matthew's social media presence, he's got quite the following. His YouTube channel boasts 72.5k subscribers, while his Facebook page has 39k followers. As for Instagram, he's got a whopping 565k followers!
However, according to SPEAKRJ Stats (a social media auditor), Matthew's Instagram account only has a 1.45% engagement rate. That might be why he still relies heavily on paid ads to promote his course.
While Matthew's YouTube videos mostly revolve around his travel and lifestyle, they don't offer much educational value. So, if you're looking to learn about e-commerce strategies, you might want to look elsewhere.
What can you learn from the course?
Here's a closer look at what the academy has to offer:
1. Setting Up Your Shopify Store
In this module, you'll learn how to set up a Shopify store and add products that sell well online. This is a great place to start if you're new to dropshipping and want to learn the basics.
Promoting Your Store on Social Media
In this module, you'll learn how to use social media platforms like Facebook and Instagram to promote your store and increase sales. However, just promoting your store is not enough. You also need to learn how to attract potential customers who are likely to buy from your store.
2. Creating Your Brand
In this module, you'll learn how to create a brand that stands out from the competition. While creating a brand for dropshipping products can be challenging, having a unique brand can help you differentiate yourself from other dropshippers.
3. Shipping Made Simple
This module teaches you how to handle shipping. While there are various shipping methods available on Aliexpress, shipping can be complicated, especially when you're dealing with bulky products. However, the module offers some helpful tips to avoid shipping damage.
4. Customer Service Support
In this module, you'll learn how to handle customer complaints. Since dropshipping is a customer-focused business, dealing with dissatisfied customers is common. But if you respond quickly and professionally, you can avoid chargebacks and negative reviews.
Recommendation: Here's The Best Alternative
Ecom Warrior Academy Bonuses
Ecom Warrior Academy offers various bonuses that will help you with your dropshipping business. Check out these perks that come with the training program!
Monthly Training Videos
Stay updated with the latest trends and techniques in the dropshipping business through the monthly training videos that Ecom Warrior Academy releases. With these videos, you'll always be ahead of the competition.
Private Facebook Group
Get access to a supportive community of like-minded individuals by joining the private Facebook group. You can share ideas and ask for help from other members who are also participating in the program.
Group Coaching Calls
Join in on the bi-monthly group coaching calls, where you'll have the chance to talk to Matthew Lepre himself! Although your classmates will also be competing for his attention, these coaching sessions are still a great opportunity to learn and get insights from a successful dropshipper.
Email Support
For urgent matters, you can always reach out to the Ecom Warrior Academy team via email. They'll be happy to assist you with any concerns you may have.
1-on-1 Strategy Call
Talk to a real person about your dropshipping business, niche finding, and product development through the 1-on-1 strategy call. This is a great opportunity to get personalized advice that caters to your specific needs.
Regular Feedback
Get regular evaluations of your overall performance through the Ecom Warrior Academy mentoring program. Stallon Zayya, one of the leading coaches, will guide you along the way and provide feedback tailored to your business style.
Who is Ecom Warrior Academy for?
If you're already an experienced dropshipper, you may not benefit much from Ecom Warrior Academy. The course is tailored to beginners who are just starting out in the world of dropshipping.
With the course, you'll learn the basics of dropshipping, including how to set up a Shopify store from scratch, how to use social media marketing to drive traffic to your website, and general topics such as branding, shipping and logistics, and customer service.
How much does Ecom Warrior Academy cost?
We've heard rumors that the course can be around $4,000, but we can't verify it. To get the exact price, you'll need to fill out an application form and expect a sales call.
It's essential to keep in mind that aside from the course fee, you may also need to spend additional money on a Shopify store and paid ads to maximize the course's benefits. So, before signing up, make sure you have a budget for these additional expenses.
Refund Policy
The program offers a 60-day money-back guarantee. However, before you can get a refund, there are a few requirements to meet:
You must prove that you have completed the entire training program. This means you need to have gone through all the steps and modules as outlined in the program.

You must show that you have not made any sales within the 60-day period.
Once you meet these conditions, you can request a refund, and the Ecom Warrior Academy team said they will process it for you. However, I've seen some customer complaints that their refund requests were rejected.
Are Ecom Warrior Academy students getting results?
There are definitely plenty of success stories and testimonials on the sales page, but you might be skeptical about how recent these stories are.
While it's true that not all of the success stories have dates, there is a Facebook group for Ecom Warrior Academy students where many of them have shared screenshots of their results. However, it's important to keep in mind that it's possible to create fake orders in the backend of Shopify, so it's hard to verify if these figures are legitimate.
In fact, according to research, the success rate of dropshipping businesses is quite low, with only about 10% of them succeeding in their first year. So, it's understandable to have some doubts about the success stories you see.
To get a better idea of whether their students are truly getting results, we'll have to look at some real customer reviews.
Recommendation: Here's The Best Alternative
Does Matthew Lepre have a good reputation?
I don't think Matthew Lepre is a scam. He seems to have a lot of knowledge about dropshipping, and he's passionate about helping others become successful entrepreneurs.
However, the question remains: can he really deliver on his promises? The course is designed for beginners, and it's nothing more than a basic introduction to dropshipping. Even Matthew himself stresses this point. So, if it's only suitable for beginners, how can it help you make a six-figure income and live your dream life?
To make matters worse, the price tag for the course is a whopping $4k, which is a substantial investment for newbies. While there is a mentorship program included, you don't have direct access to Matthew himself. Instead, the mentorship is offered through a consultant and feedback calls with Stallon Zayya (who's not exactly a household name), as well as email and community support from a private Facebook group.
To be fair, some customers are happy with the course and mentorship program. But it's worth noting that others have labeled them as scammers on Trustpilot.
Ecom Warrior Academy Customer Complaints
I have seen some customer complaints about Ecom Warrior Academy on Reddit.
For example, one customer claimed that joining Matt Lepre's course was a waste of money.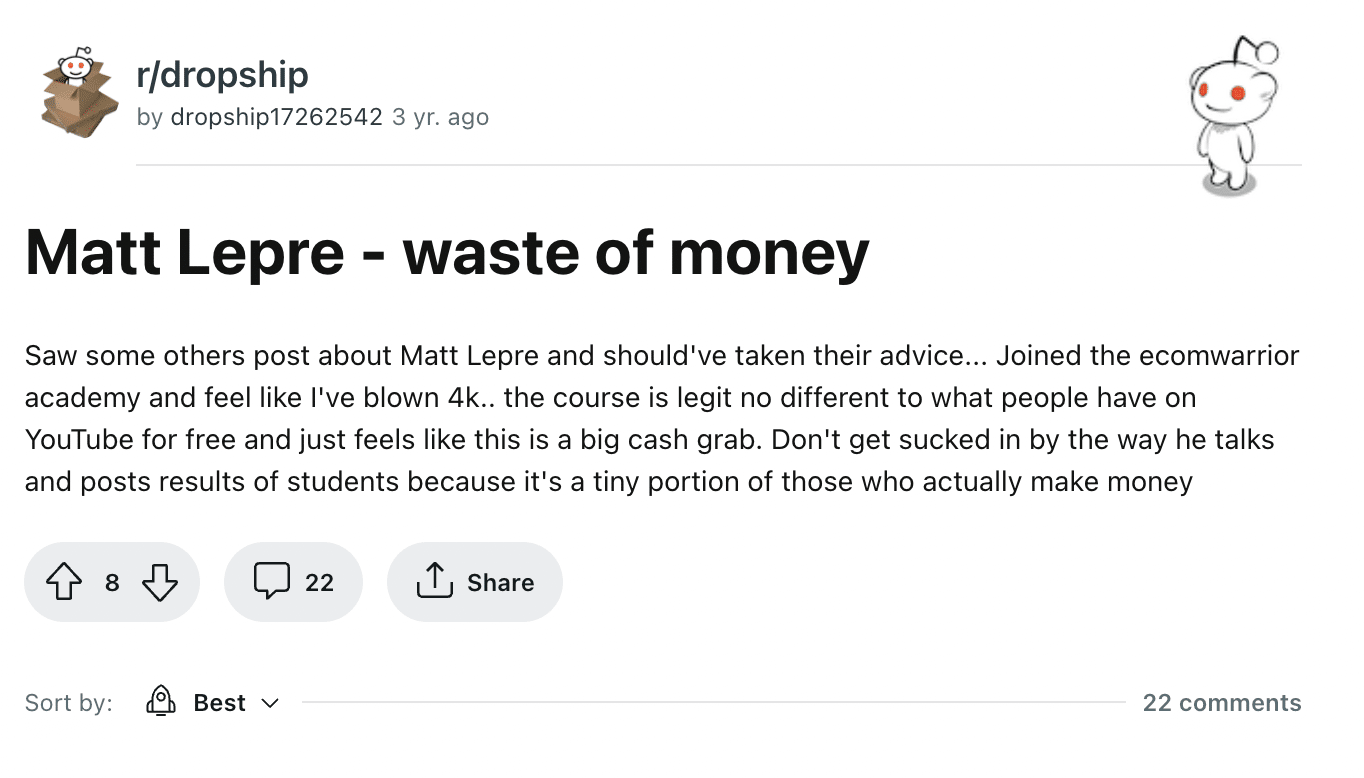 This customer said Lepre had overestimated the success rate and that he found it difficult to find the right product to sell.

There are also lots of negative reviews on Trustpilot.
For example, this customer said there is no direct phone number to contact the team if you have any issues…
This customer Andrew said Josh, a student of Matthew, scammed him for $4500. It sounds like Josh is an affiliate?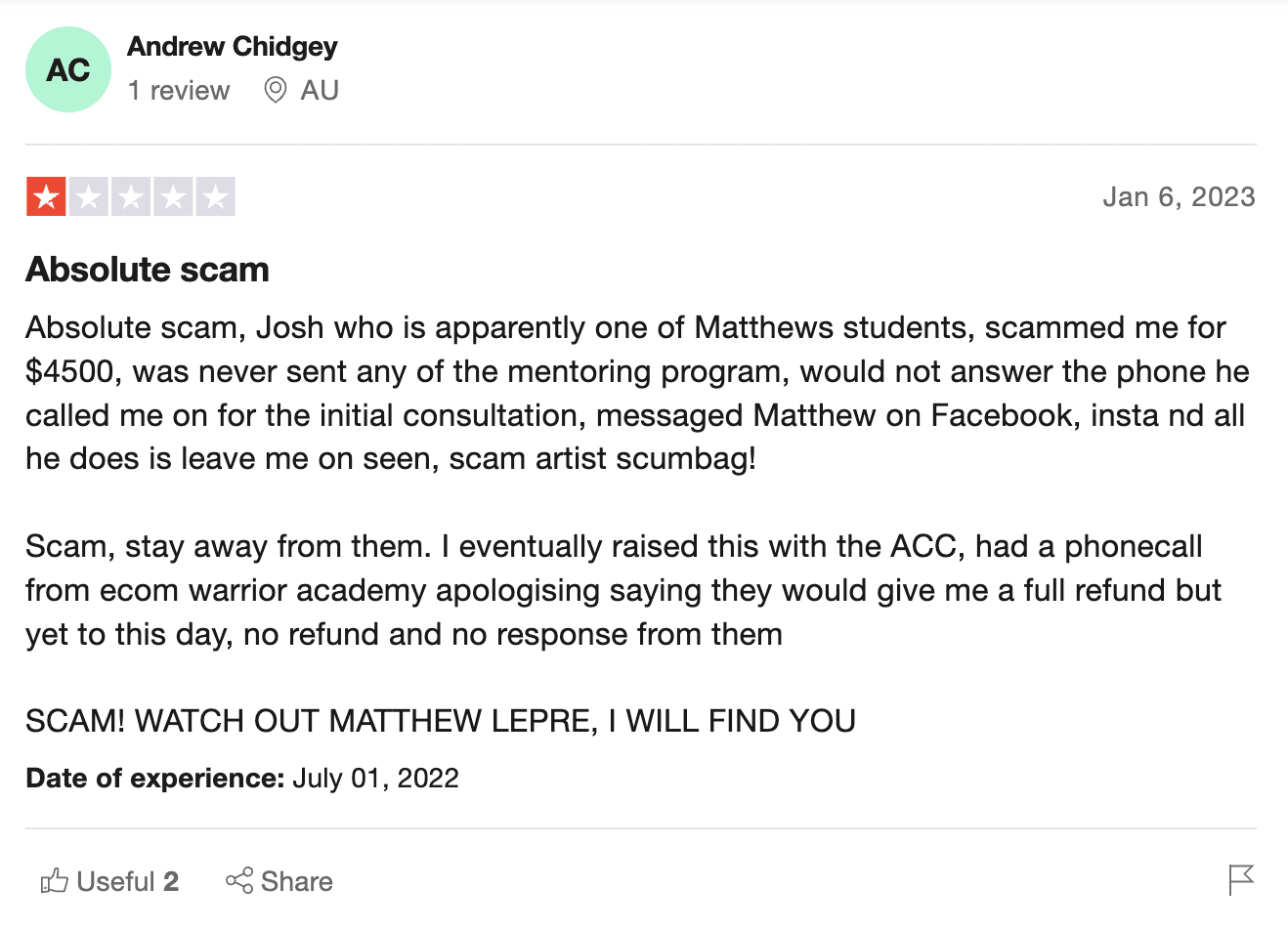 This customer RK said he has followed through the course and done everything Matthew taught him. However, he still couldn't get any results…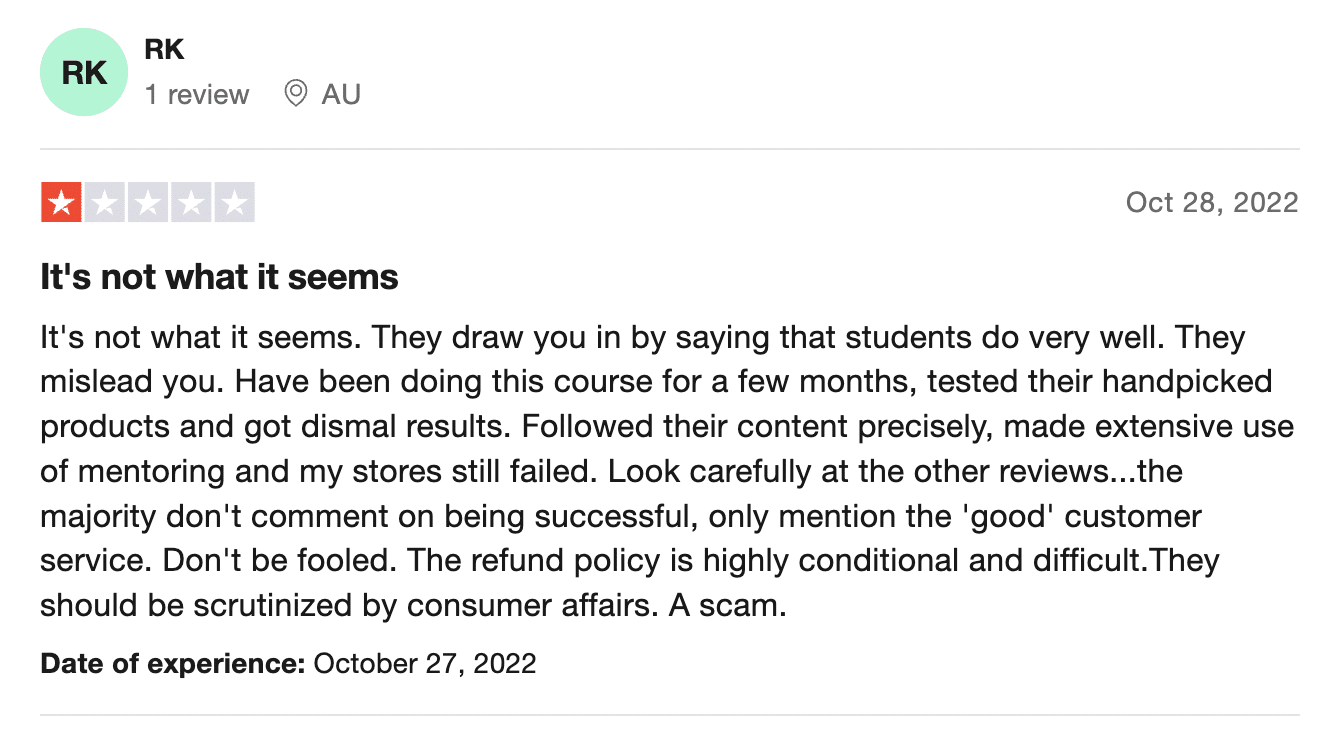 This customer said she couldn't cancel her membership…does that mean the 60-day money back guarantee is fake?
Praise for Ecom Warrior Academy
1. Legitimate business model
Dropshipping can bring significant profits to business owners if done right. Nowadays, many people prefer to buy products online instead of going to a physical store. This is where dropshipping comes in. Ecom Warrior Academy can teach you how to properly run a dropshipping business and make a decent profit out of it.
2. Regular updates
New trainings are added every month. This means that you can always stay up to date with the latest developments in your field and learn how to make the most out of them.
Criticism of Ecom Warrior Academy
1. Poor refund policy
Unfortunately, the money-back guarantee they offer isn't exactly unconditional. Customers have been complaining on Trustpilot about how hard it is to get a refund from Ecom Warrior Academy. So, you might end up losing your hard-earned money, even if you don't find the course useful.
2. Poor customer support
When you're just starting, you need all the help you can get. But according to customer reviews on Trustpilot, the coaches at Ecom Warrior Academy are not much help. They tend to ignore your questions, leaving them unresolved. So, you may feel helpless and frustrated. This is definitely not what you want when you've invested your time and money into a course that promises to teach you everything about e-commerce.
3. Pricing not transparent
The pricing for Ecom Warrior Academy isn't clear-cut. From what I've gathered from some reviews on Trustpilot, it seems like the course costs around $4000, which is pretty steep compared to other dropshipping courses out there. It would be nice if the pricing was more transparent so potential students could make an informed decision.
4. Exaggerated earning potential
Matthew Lepre may have oversold the earning potential of dropshipping. He promised a high return on investment (ROI), but it seems like some students didn't see the promised results. While dropshipping can be a lucrative business, it's not easy and requires a lot of work and strategy.
5. Unreliable success stories
While it's always inspiring to see others succeed, it's hard to fully trust the stories presented in Ecom Warrior Academy. Matthew doesn't show the dates of these success stories, and it would be helpful to see more data like Facebook ad spend and refund rates. Without this information, it's hard to say whether or not these success stories are reliable.
Recommendation: Here's The Best Alternative
Is Ecom Warrior Academy a scam?
While the course is not a scam, some people question whether the information you learn is any different from other dropshipping courses.
The truth is, you can find a lot of basic information about dropshipping for free on websites like Oberlo. However, if you're looking for a more comprehensive course, Ecom Warrior Academy might be a good option.
One downside is that the Ecom Warrior Academy landing page doesn't provide much information about the course itself. Instead, it's filled with Call To Action banners urging you to click for more information. If you do click, you'll be taken to a 42-minute sales presentation by Matthew, the course creator.
Unfortunately, the presentation doesn't offer much in the way of valuable information about dropshipping. Instead, Matthew talks about the benefits of eCommerce and shares his personal success story. He also promises to reveal his 3 step system for generating millions of dollars each year, but doesn't provide much detail on how to put it into practice.
Overall, if you're looking for a detailed, step-by-step course on dropshipping, you might want to look elsewhere. However, if you're interested in Matthew's approach and are willing to pay the $4k price tag, Ecom Warrior Academy might be worth considering.
Ecom Warrior Academy Alternatives
Here are some of the most popular alternatives to Matthew's course. You can also check out my list of the best dropshipping courses.
Dropship Lifestyle (DSL) by Anton Kraly
Dropship Lifestyle is an excellent course for those who are looking for a thorough yet straightforward step-by-step process to learn dropshipping. Anton Kraly, the course instructor, provides a 7-step blueprint that covers everything from market research to automating your business. Along with the blueprint, the course offers one-on-one coaching, online communities, and annual retreats to help you become a successful entrepreneur.
The price of the course is a bit high, with the Premium package costing $2,997 and the Ultimate package costing $4,997.
eCom Elites by Franklin Hatchett
If you're looking for a budget-friendly option to learn dropshipping, eCom Elites is an excellent course to consider. Franklin Hatchett teaches a step-by-step entrepreneurial masterclass with ten modules that cover everything from building your store to driving traffic from different social media platforms and search engines. The course also includes tutorial videos and lifetime access to the videos, so you can watch them whenever and wherever you want.
The price of the course is between $197 to $297, depending on the package you choose.
Supreme Ecom Blueprint Course 2.0 by AC Hampton
This course teaches you how to build and scale your Shopify dropshipping eCommerce store from scratch. AC covers everything from basic setup to gaining traffic through Facebook ads. The course also provides access to tools such as Abandonment Protector and SMSBump, which can help you automate your customer interaction.
The course's price is $597, which may be a bit expensive for some learners.
5 Challenges of Dropshipping
1. Facebook Ad Costs
Social media advertising can be an effective way to attract customers to your store, but it's not a guaranteed solution. In fact, many dropshippers find that their Facebook ads account for at least 30% of their total sales.
However, Facebook ads tend to lose their effectiveness over time as the targeted audience becomes exhausted. To maintain a steady stream of traffic, dropshippers often have to increase their marketing budgets. Facebook has also seen a significant increase in ad costs, which can eat into profits or even result in a net loss for some dropshippers.
2. Steep Learning Curve
To effectively use Facebook ads, dropshippers must have a solid understanding of the platform and its constantly changing algorithm. Learning the ins and outs of advertising on Facebook can be time-consuming and expensive. Inexperienced dropshippers may even run afoul of Facebook's strict policies and find themselves banned from the platform.
3. Competition is fierce
With so many businesses getting in on the dropshipping game, it's become a very crowded field. You'll likely encounter plenty of other companies selling the exact same products as you. That means customers can easily compare prices and potentially find a cheaper option elsewhere. It's also harder for smaller businesses to reduce costs and attract customers, which can make it difficult to find and keep a customer base.
4. Customer service can be a headache
While you don't have to worry about managing inventory or logistics, you'll still need to communicate regularly with your suppliers and handle any customer service issues that arise. If a customer has a problem with a product, you'll need to work with your supplier to resolve it. If the supplier isn't helpful, you may end up taking a loss on the sale.
Poor customer service can lead to negative reviews and no repeat business, which is never good for your bottom line. Additionally, you may be at risk of credit card chargebacks, which can put your payment gateway in jeopardy.
5. It's not a set-it-and-forget-it business
While some dropshipping gurus might promise you an automated business that generates money while you sip margaritas on the beach, the reality is much different. To keep your business running and profitable, you'll need to constantly search for new winning products to sell.
Most products will peak in popularity within a few weeks or months, which means you'll need to be on the lookout for the next big thing. Managing Facebook ads can also be a full-time job in and of itself, so be prepared to put in some hard work and long hours if you want to succeed.
Is there a better way to make money online?
If you don't want to waste your time or risk your hard-earned money, you might wonder if there is a better business model that doesn't need Facebook ads and can do it as a side hustle.
Yes, I would suggest you get started with affiliate marketing. It is far easier and less time-consuming as you don't even need to handle customer service.
In affiliate marketing, you can run your business almost with zero cost. Most importantly, you don't need to invest in creating and developing any products.
But How Much Can You Earn in Affiliate Marketing?
A 21-year-old student from Wealthy Affiliate was able to earn $7,395 in just 1 week, which means he made more than $1k a day…all while using free traffic methods and affiliate marketing.
For more information, you can also check out my full review of Wealthy Affiliate.
Where to Join Wealthy Affiliate?
Wealthy Affiliate has a very simple pricing scheme. It has a free and premium membership.
If you want to feel about Wealthy Affiliate, you can sign up for the starter membership here (no credit card required). You can select to be a free member with no time limit.
And as a starter member, you can get instant access to the community, live chat, over 500 training modules, 2 classrooms, networking, commenting, 1 free website, and access to the keyword tool.
You can enjoy all these values without paying a penny.
So I strongly recommend you register a free account and see it yourself.