Are you looking for a review of Ac Hampton's Supreme Ecom Blueprint? Should you join his to learn how to make money with eCommerce?
I have a passion to help people explore money-making opportunities online. Over the years, I have reviewed many programs like Ac Hampton's Supreme Ecom Blueprint.
In the past week, I have done thorough research about Ac Hampton and his course so I can tell you more about it.
As a disclaimer, I'm not affiliated with Ac Hampton. It means I'm not paid to write this review. So you can be sure that my words are unbiased.
At the end of this review, I'll also tell you a better alternative that has enabled me to make a full-time passive income online.
In this Supreme Ecom Blueprint review, I'm going to cover the following.
What Is Supreme Ecom Blueprint?
Supreme Ecom Blueprint is a dropshipping course, a "proven strategy" to get from zero to six figures fast. Supreme Ecom Blueprints teaches you everything you need to know to start and grow a successful dropshipping online store. You'll see examples of retargeting, video testing, product validation, Facebook ads, and Shopify.
The entire Supreme Ecom Blueprint can be accessed in 8 modules, which together contain about 4 hours of material.
Who Is Ac Hampton?
Ac Hampton is a young man who teaches people how to do eCommerce online. He creates a number of courses. Supreme Ecom Blueprint is one of his new eCommerce courses.
To get people's attention and join his eCommerce course, Ac Hampton likes showing off his luxuries to attract people to learn from him.
Ac Hampton is quite active on YouTube and he posts videos quite often. At the time of writing, his YouTube channel has around 35.4K subscribers. I watched some of the videos, which include both promotional and informational content.
Ac Hampton also another marketing channel, which is Instagram. He has around 24.9K subscribers. He posts a lot of his photos showing his lifestyle. It's where he builds his personal brand instead of delivering information.
So should you learn eCommerce from Ac Hampton and make a lot of money? Let's take a look at his course content first.
Recommendation: Here's The Best Alternative
How Does Supreme Ecom Blueprint Work?
The first thing you should know is that the course is hosted on Teachable, a reliable and trustworthy online education system. The fact that Supreme Ecom Blueprint is also available as a video is a big plus.
As for the course material, you'll be taught how to build a successful online business and sell products to customers using the Shopify platform.
Compared to my favourite form of affiliate marketing, the setup and ongoing maintenance costs of an eCommerce shop are quite high.
However, if you use Shopify properly, you can start making money quickly.
AC Hampton will show you how to run an online shop with Shopify. The next step is to start an advertising campaign on the Internet.
I'm assuming a monthly advertising cost of at least $500, as I'm sure you already know.
How Does Dropshipping Work?
You, the retailer, partner with a dropship supplier to manufacture, shop, package and deliver to your customers.
In a nutshell, it works like this:
In your online store, a customer places an order and pays for a product.

You send the order and customer information to the dropship supplier, either automatically or manually, and pay him.

On your behalf, the supplier packs and ships the order directly to the customer.
Supreme Ecom Blueprint Overview
There are 8 modules in Supreme Ecom Blueprint. Let me talk about each module one by one so that you have a brief idea of what you will learn in the course.
Module 1: Back End Shopify Setup
Ac Hampton is going to teach you to build your online store using Shopify, which is one of the most popular eCommerce platforms and is very easy to use.
You can learn the basics like navigating the backend of Shopify and creating your store.
Here are the topics covered in this module:
Example products you can sell

How to install a Shopify theme

How to set up abandoned cart recovery

What Shopify Apps to install for optimising conversion

A brief overview of how to build a store for selling products
Module 2: Steps To Running Your First Ad
Ac Hampton jumps into Facebook ads directly in the second module. He will go over the process to create Facebook ads.
Examples include setting up a Facebook page, configuring your ads manager, finding good products to sell, determining your break-even point, and more.
Module 3: Video Testing
This module will teach you how to create and test video ads to promote your product.
Here are the topics covered:
Picking a winning video

Testing your videos

Structuring high converting video ads

How to buy video ads

How to create videos yourself
Module 4: Icebreaking Interesting/Lookalike Audience Testing
This module continues to talk about creating video ads.
You'll learn how to launch your first video advertisement, how to gain your potential customer's trust, how to create custom audiences and lookalike audience segments and how to read your data.
Module 5: Retargeting funnel
You'll only see two videos in this module. They are about running retargeting ads.
Module 6: Scaling
You will only learn how to grow your winning ads by watching three videos in the scaling section.
Module 7: Automate your store
This section will teach you how to delegate some of the tasks to others once you start making money.
Module 8: Important bank criteria
There are only two videos in the last section, and they are about setting up bank accounts for your business.
Pros of Supreme Ecom Blueprint
1. Easy to follow
His video and text lessons are both easy to understand. If you aren't familiar with the business concept, don't worry because he explains everything in a clear and concise manner.
2. Marketing Campaigns
Compared to similar courses, this course goes much more in-depth when it comes to running effective online marketing campaigns.
I really like that it also covers advertising topics (like retargeting funnels) that are overlooked in many other courses. When implemented properly, some of these concepts can yield significant financial benefits.
Cons and Complaints of Supreme Ecom Blueprint
1. Limited Traffic Training
To drive traffic to your store, there are a variety of ways.
It's not just about Facebook ads, but also Instagram ads, Google ads, Google Shopping ads, Bing ads, Pinterest ads, search engine optimization or email marketing. It's risky to ignore the others to focus on just one.
In my opinion, Supreme Ecom can't possibly be a solid eCommerce course if it only covers Facebook ads.
If you want to be successful, you need to be familiar with all available traffic sources.
2. Poor Refund Policy
Supreme Ecom Blueprint offers a money-back guarantee within the first 24 hours, no questions asked.
Only 24 hours and not several days? That's absurd.
Who has the time to assess your suitability for a course, be it an Ecom course or any other, in a single day?
If you are just getting into dropshipping, it's impossible to know if training is worth your time and money after just 24 hours.
3. Not worth the price tag
Broken down, this is a relatively short course.
A new business strategy can be learned in as little as three hours and forty-five minutes. Even learning new skills like Facebook Ads isn't enough for me.
I've heard of courses that were three times as long but cost half as much. It seems to me that $397 for this course is a bit too much.
Recommendation: Here's The Best Alternative
Does AC Hampton Deliver?
In Supreme Ecom Blueprint, AC Hampton guarantees to show you a "proven system" that will get you "…from zero to six figures quickly." He does provide instructions on how to set up a business, but he does not offer anything that will catapult your income into six figures overnight. Or, to put it another way, quickly. Therefore, A/C cannot meet that expectation.
Compared to other "proven systems," Supreme Ecom Blueprint is very poorly equipped. What it does teach you covers so little. There are sections of this training that can be completed in less than 30 minutes.
Your knowledge of Facebook Ads will have improved by the end of this course, but that's about it. There is absolutely no training for anything else that you can get from AC.
Supreme Ecom Blueprint Pricing
Supreme Ecom Blueprint is not cheap although the training is short. It costs $397 to enrol in the course.
If you don't like the course after payment, you have to request a refund within 24 hours, otherwise, Ac Hampton will not refund you.
This strict refund policy is a red flag because no one can decide if a course is good or not within 24 hours. The most legit course has at least a 30-day refund policy, so it seems that Ac Hampton is not confident in his course value.
Recommendation: Here's The Best Alternative
Who Is Supreme Ecom Blueprint Course For?
If you've already built a dropshipping online business but are having trouble scaling your Facebook ads, Supreme Ecom Blueprint is for you. The material on Facebook ads that Supreme Ecom Blueprint provides is undoubtedly top-notch. You can learn a lot from the examples that AC Hampton provides.
However, this training isn't at all suitable for anyone who's not already built a dropshipping internet business.
To illustrate, instead of giving you practical help on how to set up a Shopify store, he gives you a PDF with sparse instructions. His text is incomprehensible and uninformative for anyone who's not familiar with Shopify.
Positive and Negative Feedback From Students of Supreme Ecom Blueprint
Positive Feedback
You will learn the basics of doing eCommerce using Shopify
Negative Feedback
The training quality is mediocre. It doesn't have comprehensive training on how to get people to visit your store

Ac Hampton only coves running Facebook ads and ignores other marketing channels like Google and other social media platforms.

The course is overpriced given that the course is quite short. There are courses that are more detailed and cost less.

The refund policy is unacceptable. 24 hours is not too short for one to judge if a course is good or not.
Is Ac Hampton a Scam or Legit?
I cannot say Ac Hampton is a scam. At least, I don't have evidence to say that. You can learn the basics of eCocommerce from Ac Hampton, but I don't think you can succeed with his training.
Ac Hampton only teaches you the basics to start a Shopify store and run Facebook ads. It's not enough because the market has become more competitive and hence you need some special strategies to stand out.
Moreover, eCommerce is not as easy as you thought. Since the advertising cost has increased over the years and many people are doing it now, you will face a lot of competition.
Ac Hampton only tells you the bright side in order to sell you his course. He doesn't tell you a lot of problems about eCommerce that you should know before starting.
Let me tell you more in the next section.
Is Dropshipping Legit or a Scam?
Unscrupulous scammers run rampant with the expansion of every thriving industry.
This is also true if you start a dropshipping service. Dropshipping has a bad reputation because there are many shady individuals out there who are after your money.
Recommendation: Here's The Best Alternative
Is eCommerce Still a Viable Option?

As an experienced eCommerce entrepreneur, what I can tell you is that eCommerce has become increasingly difficult. If you want to build a 6 figure eCommerce business, you need to shed some blood, sweat and tears to figure out how it works.

Here are a few points why I would not recommend eCommerce:
1. Financial Risk
Your eCommerce store won't sell ANYTHING if you don't ADVERTISE. But Facebook ads costs are skyrocketing and will eat away your PROFITS. You might need weeks or even months to just break even, before seeing any profit.

In another word, you have to take a huge FINANCIAL RISK in eCommerce.
2. Facebook ads are Pricey and Difficult
After observing most eCommerce stores results, at best, the total Facebook ad cost will account for at least 30% of your total sales.

But Facebook ads seldom stay effective for too long. Once your ad has exhausted the audience, it becomes ineffective. Your total revenue will be much lower and even result in net loss.

According to Forbes, Facebook saw an increase in Ad costs of 90% year-on-year.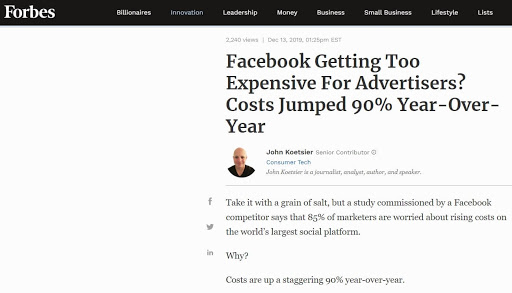 Worse still, the learning curve of Facebook ads is quite steep because Facebook changes its algorithm all the time. You have to invest a lot of time and money in learning and testing Facebook Ads.

If you run Facebook ads without any experience, your ad account will be banned for violating their strict policies.
3. Customer Support
In eCommerce, you have to spend a lot of time communicating with suppliers and dealing with customer service.

If your customer has any issues with the product, you have to wait for your supplier to help you. If your supplier is not helpful, you have to bear the loss yourself. Therefore, many eCommerce stores have poor customer review and have no returning customers.

In the worst case, you would expect a lot of credit card chargebacks, which risk getting your payment gateway shut down.
4. A lot of work on product research
For your store to keep making money, you always have to find a product that has the momentum to go viral in order that the ads costs can be covered.
In eCommerce, most products reach their peak in 1-2 months or even weeks. This is because many competitors will steal your product and create a better ad. Or increase their budgets on Facebook ads to outbid you.
Therefore, you need to keep finding new replacements to keep generating cash flow.
You might see people post revenues online but they don't tell you the net revenue.

Some of them might be making money but it's not sustainable.

The eCommerce business model is not as passive as you think. Most people who succeed in eCommerce are doing it full time because it requires you to keep finding new products, creating new stores, testing new ads and looking for new suppliers to make your income stable.
Recommendation: Here's The Best Alternative
Supreme Ecom Blueprint Review: Final Verdict
It's possible that Supreme Ecom Blueprint is the right course for you if online trading and dropshipping are your thing.
Keep in mind that there's no guarantee of success, and it may take a beginner some time to process all the material.
You probably don't want to spend a few hundred dollars on a course that will only add to your confusion.
However, I would like to tell you a better way to make money online. It's easier than starting an eCommerce store. Let me you more in the next section.
Are There Any Better Alternatives To Make Money Online?
If you don't want to waste your time or risk your hard-earned money, you might wonder if there is a better business model that doesn't need Facebook ads and can do it as a side-hustle.

Yes, I would suggest you get started with affiliate marketing. It is far easier and less time consuming as you don't even need to handle customer service.

In affiliate marketing, you can run your business almost with zero cost. Most importantly, you don't need to invest in creating and developing any products.
But How Much Can You Earn in Affiliate Marketing?

A 21-year old student from my #1 recommended training platform of affiliate marketing was able to earn $7,395 in just 1 week, which means he made more than $1k a day…all while using free traffic methods and affiliate marketing.
Wealthy Affiliate has existed for more than 10 years and there are many success stories over the years.

To give you more examples, here are some of the other inspiring success stories of Wealthy Affiliate members.

Where to Join Wealthy Affiliate?
Wealthy Affiliate has a very simple pricing scheme. It has free and premium membership.

If you want to feel about Wealthy Affiliate, you can sign up for the starter membership here (no credit card required). You can select to be a free member with no time limit.

And as a starter member, you can get instant access to the community, live chat, over 500 training modules, 2 classrooms, networking, commenting, 1 free website, access to the keyword tool.

You can enjoy all these values without paying a penny.
So I strongly recommend you to register a free account and see it yourself.
Recommendation: Here's The Best Alternative
Supreme Ecom Blueprint Alternatives
If you recall, I mentioned that there is a course that costs only 2% of the price, but provides twice as much information.
Sharp offers comprehensive training on how to build and run a successful dropshipping business at a low price
Sharp's course is the most popular on Udemy for good reason, as you can see from its average rating of 4.7 stars out of more than 17,000 reviews.
Ecom Elites by Hatchett is a top-notch option if you're looking for a dropshipping course. It's one of the most highly acclaimed eCommerce programs on the market. Supreme Ecom costs twice as much but offers half as much information.