Inbound Closer program by the Welch brothers is part of The Sales Mentor, which is under the B2B digital marketing company Traffic and Funnels.
Inbound Closer is essentially an opportunity for high-ticket affiliate marketing within the Traffic and Funnels system, offering various upsell options.
The main Inbound Closer training program claims to teach you the skills to become a proficient remote sales closer in just 21 days. But does it really help you find clients, even if you have no previous closing experience? Can this part-time job replace your 9-5 job and provide financial independence?
As a disclaimer, I want to make it clear that I have no affiliation with Inbound Closer, so I'm not getting paid to write this review. You can trust that my evaluation is unbiased.
Towards the end of this review, I'll also introduce a better alternative that has personally helped me generate a significant passive income every month.
Here's an overview of what you can expect from this Inbound Closer review:
How Does Inbound Closer Help You Make Money?
Inbound Closer, created by Payton Welch and Taylor Welch, is a program that teaches you how to confidently handle calls with potential customers and persuade them to buy. Once you're in the training program, you'll learn how to make money online with remote closing.
While there's a lesson on finding high-ticket clients, it's important to note that if you're new to closing deals, it can be tough to secure these clients on your own. This is where the program's upsells come in handy – they connect you with clients who are actively looking for graduates of the Inbound Closer program.
To start making money with Inbound Closer, your main task is to find clients who want you to close high-ticket sales for them. These clients are typically online businesses that invest in advertising to generate leads.
On average, inbound closers with 1-3 years of experience make between $47,000 and $65,000 annually, while those with 4-6 years of experience can make roughly $77,000 to $150,000. Keep in mind that remote closers usually earn their income through commissions.
Here's a simple breakdown of the three steps that online businesses follow to sell their high-ticket products:
Step 1: Online businesses promote their products and services on their websites or social media. They often offer freebies like samples, e-books, or digital products in exchange for contact information.
Step 2: After customers join the business's email list and platform, they get offers for lower or mid-priced items. This is a basic marketing tactic used by online businesses.
Step 3: The final step involves offering customers a premium, high-end package. Many online businesses make their biggest profits by selling these high-ticket programs, products, or services.
Learn more: How to Make Money Remote Closing
What Do Inbound Closers Do?
Inbound closers, also known as remote closers, have a job that allows them to work online, whether from home or anywhere else in the world. Their main job is to answer calls from potential customers who are interested in their client's product or service and help these potential customers make a purchase.
Inbound marketing is about attracting people to your offer without traditional ads. Inbound leads usually come from folks actively looking for answers. Here are various ways to get inbound leads:
Blogs: Regularly publishing blog posts can boost website traffic and lead generation. Research from HubSpot shows that brands posting at least 16 blog posts a month generate 3.5 times more website traffic and 4.5 times more leads.
Infographics: Infographics are like visual blogs, making them effective for those who prefer images over text.
eBooks: Offering a valuable eBook in exchange for contact info helps build a list of interested leads.
Webinars: Hosting webinars, especially on platforms like YouTube, can reach a wider audience and generate more leads interested in your topic.
Podcasts: Podcasts allow you to create a personal connection with your audience, fostering trust between your brand and potential customers.
As an inbound closer, your role is to engage with these inbound leads and guide them through the sales process, helping them make informed decisions about their purchase.
Recommendation: Here's The Best Alternative
Who Are Payton Welch and Taylor Welch?
Let's delve into some background information about the minds behind Inbound Closer – Payton Welch and Taylor Welch. Yes, they're brothers!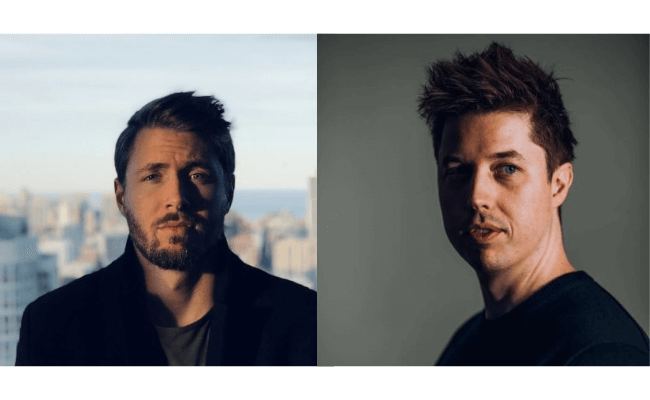 Taylor Welch: The High-Ticket Closer Mentor
Taylor Welch is not only a digital marketing consultant but also a mentor for high-ticket closers based in Franklin, Tennessee.
Alongside Chris Evan, he's one of the co-founders of the highly successful B2B digital marketing company known as Traffic and Funnels.
Taylor's educational background includes studying marketing at Missouri State University, and he has prior experience as a copywriter.
Payton Welch: The Face of Inbound Closer
Payton Welch, the younger brother of Taylor, takes the lead as the advisor of Inbound Closer. You've likely seen him in the program's ads.
Before his Inbound Closer journey, Payton worked at a local department store in a shop called Von Maren. It was after this stint that he reached out to his brother for work.
Taylor, being the mentor he is, guided Payton, and that's how Payton transitioned into becoming an inbound closer for The Sales Mentor.
These two brothers, with their unique expertise and experiences, have come together to create and lead the Inbound Closer program, providing opportunities for individuals to learn the art of closing high-ticket sales.
Recommendation: Here's The Best Alternative
What's Inside Inbound Closer?
Inbound Closer equips you with essential skills to excel in the world of remote sales. You'll master the art of confidently taking calls from potential leads and learn how to effectively convince these leads to make a purchase.
Here's a quick overview of what you can expect to get:
Inbound Closer Accelerator
The Inbound Closer Accelerator is a 21-day course that's split into three weeks, each with its own focus. This program combines videos and PDF resources, all aimed at teaching Taylor's inbound closing techniques. It costs $97, and there may be additional offers during and after the program.
Let's go through what each week of the accelerator course covers:
Week 0 – Introduction: Setting the Stage
In the first week, the goal is to get you in the right mindset and provide a clear roadmap. You'll receive two motivating PDFs and access to seven instructive videos. Topics include understanding the math of an inbound closer, essential success factors, FAQs answered by Payton, and inspiring success stories, including Taylor's journey.
Week 1 – Reflex Selling System: Mastering the Basics
Week 1 is packed with valuable content, including eight informative videos, five PDFs, and three word documents. You'll start by diving into the details of the 7-figure sales script and receive homework to practice it. You'll also learn about the reflex selling system, a crucial tool for effective communication with potential buyers.
Week 2 – Mindset and Tactics: Strengthening Your Skills
In the second week, you'll find seven instructional videos, three PDFs, and two word documents. You'll explore common objections faced by closers and strategies to handle them. The second part of the reflex selling system is introduced, with a post-call recording provided for observation and learning. The week ends with valuable lessons on philosophies and tactics, along with another assignment.
Week 3 – Advanced Reflex Selling System: Elevating Your Game
The third and final week starts with recorded coaching calls led by Taylor Welch and Eli Wilde, a mentor in the course. These calls dive deeper into the reflex selling approach. You'll also get access to the Daily Commission Check Blueprint, a powerful resource for client acquisition. Week 3 includes a wealth of materials: nine videos, seven PDFs, one audio recording, and a self-assessment spreadsheet.
After completing your training, you'll have the option to explore the Inbound Closer Certification Program as an upsell. You'll also gain access to a supportive Facebook group where you can engage in roleplay, practice your skills, and collaborate with fellow participants.
Inbound Closer Certification Program
The Inbound Closer Certification Program is an optional add-on that provides access to a group of over 757 pre-screened business owners you could potentially work with. It also grants entry to the private Closers and Owners network. The price for this program ranges from $500 to $997.
Module 0: Becoming The Person Who Deserves Success
In this initial module, you'll discover 4 enlightening videos and 7 PDF resources designed to boost your confidence, conquer fear and insecurity, and help you maintain mental clarity and focus on your goals. This module sets the stage for what's to come.
Module 1: Closer's Mindset
Module 1 consists of 11 videos that delve deeply into enhancing your mindset. It covers 5 key theories and lessons, along with 4 valuable bonuses, including:
The 3 Beliefs That Lead to Sales Gold

Laws Of Wealth and How To Increase Earnings

Strategies to Break Your Earning Potential Limit

Mastering Energy: 10 Points Of Personal Optimization

Habits of Control

Finding Great Partners with Eli & Taylor

The Significance of Constructive Criticism

Cultivating a Healthy Money Mindset

Advancing Beyond Your Comfort Zone
Module 2: Self Empowerment
This module offers 6 videos and 1 PDF, all focused on mastering your mindset. You'll gain insights on self-awareness, enabling you to understand your strengths and weaknesses and thereby develop your skills. Eli Wilde takes the lead in teaching these lessons. The 3 bonus lessons cover topics such as risk assessment, changing perceptions about ROI, and reigniting your drive.
Module 3: Introduction To Closing
Eli Wilde guides you through this module, explaining what distinguishes you when closing high-ticket sales. You'll gain insights into the buyer's thought process and decision-making. Eli will teach you effective questions to ask potential buyers to persuade them. You'll also delve into human behavior and how to use empathy to build trust with clients. The module concludes with a recorded roleplay session featuring Taylor Welch.
Module 4: Closing With Confidence
Module 4 equips you with 5 videos, 2 PDFs, and 2 audio recordings. You'll learn the art of approaching sales with confidence instead of aggression, which is crucial in closing deals. Eli emphasizes the importance of engaging with clients effectively without overwhelming them.
Module 5: Mastering Objections
In this module, presented by Eli, you'll find 3 videos and 1 PDF dedicated to handling objections. Eli emphasizes that this is a pivotal aspect that can determine your success in closing high-ticket deals. You'll learn strategies employed by top closers, including addressing objections during conversations, quickly identifying objections, and the power of asking questions over providing answers.
Module 6: Becoming A Professional
This final module, featuring Eli's last lessons on closing deals, consists of 5 videos and 4 PDFs. Completing these materials unlocks the "certification" and access to the Closers and Owners network. Payton provides an exclusive interview, offering insights into the challenges and hard work required for outstanding success in this field. You'll also receive a template to craft an effective inbound closer bio.
Client Connection Mastermind
The Client Connection Mastermind is an enticing Inbound Closer upsell that offers you the chance to supercharge your career for an additional investment of $997. By becoming a part of this program, you'll be welcomed into an exclusive community of dedicated closers who have achieved six-figure earnings.
But that's not all—here's what makes this opportunity truly special:
You'll gain direct access to a network of pre-vetted business owners who meet specific criteria:
They charge a minimum of $5,800 for their high-ticket offers, ensuring your earnings potential remains high.

These businesses consistently draw in an impressive 7-10 inbound leads each day, providing you with a steady stream of potential clients.

They are actively seeking closers to join their teams, meaning you'll have the chance to work with forward-thinking businesses.
To underscore the value of this connection, these businesses are willing to invest a minimum of $18,000 to access this service. This is how Inbound Closer facilitates meaningful partnerships between its students and thriving businesses.
Recommendation: Here's The Best Alternative
Who is Inbound Closer For?
Not everyone may have the knack for telemarketing, and success in such programs isn't guaranteed for everyone. However, the Inbound Closer program can be a great fit for a diverse range of individuals, including:
Students: Looking to earn while studying.

Stay-at-home moms and dads: Seeking a flexible way to contribute to their family's income.

Entrepreneurs: Exploring new avenues to enhance their business skills and revenue.

Telemarketers: Eager to sharpen their existing skills and boost their earnings potential.
While there's no specific ideal candidate profile, having strong communication skills is a must for anyone aiming to thrive in this field.
Besides, it's essential to be aware that there are further investments required after the initial $97 fee.
Are Students of Inbound Closer Getting Results?
Inbound Closer reviews vary widely, with some expressing skepticism and even labeling it a scam. One common concern revolves around the perceived lack of successful students emerging from the program.
It's important to approach these reviews with a discerning eye and consider multiple perspectives.
Reviews on Official Site
A Mix of Media On the official website, you'll find reviews presented in various formats, including screenshots, video testimonials, and student interviews. These reviews aim to provide a balanced view of the program's impact.
External Reviews
A Closer Examination External reviews of Inbound Closer raise significant concerns, with many critics questioning its legitimacy. To save you time, here's a summary of key points from these external reviews:
Quality Training Package: Students generally appreciate the training in the initial programs.
Lack of Transparency: Some reviewers feel the program wasn't transparent about the time and effort required, possibly leading to unrealistic expectations.
Access to Partnered Businesses: The course doesn't automatically grant access to a list of partnered businesses; this privilege often requires purchasing upsells. Even then, applicants, especially those lacking experience, may face rejection.
High Priced Private Coaching: The high-ticket Private Coaching program is criticized for underdelivering on its promises.
Money-Back Guarantee: One notable upside is the legitimacy of the lifetime money-back guarantee for the primary courses. This means you can try the program and request a refund if it doesn't meet your expectations.
In the end, Inbound Closer's success appears to depend on various factors, including your dedication, resources, and the realistic expectations you set.
It's essential to carefully consider your options and be prepared to invest both time and money, keeping in mind that results can vary.
Recommendation: Here's The Best Alternative
How Much Does Inbound Closer Cost?
Wondering how much it costs to dive into the world of Inbound Closer? Let's break it down:
Initial Access: Inbound Closer Accelerator Course
For a single one-time payment of $97, you gain entry to the Inbound Closer Accelerator course.
Additional Upsells
It's crucial to be aware that the advertised $97 doesn't cover all aspects of the program. Inside, you'll encounter additional high-ticket upsells.

To access advanced coaching and move beyond the Accelerator course, upgrading to the Inbound Closer Certification Course is necessary, with a price tag of $997.
Hidden Upsells
Their sales funnel doesn't end with certification. As you progress, your coach may encourage you to explore more upsells.

Users have reported additional upsells beyond certification, some with significantly higher costs of $7,000 and $10,000.
Overall, you should approach this program with full awareness of these potential expenses and to carefully consider your investment.
Refund Policy
Inbound Closer provides a lifetime money-back guarantee, which is quite generous compared to many other programs.
However, it's unclear whether the upsells within the program are covered by this guarantee. It's possible that they are not included.
Praise for Inbound Closer
1. Beginner-Friendly Entry
Inbound Closer welcomes beginners with open arms. You don't need any specific skills or prior experience to dive into the program. With just a phone and the provided training manual, you're equipped to begin your career as an inbound closer.
2. Lifetime Money-back Guarantee
Inbound Closer offers an unbeatable guarantee—a 100% lifetime money-back guarantee. This demonstrates their confidence in the program's value and gives you peace of mind.
3. Expertly Crafted Training
The training content is the product of experienced professionals in the digital marketing field. Their years of expertise ensure that you receive valuable insights and strategies to succeed in the high-ticket closing business.
Criticism of Inbound Closer
1. Tough Prospect Hunt
As a high-ticket closer, you'll be in a competitive race to earn the trust of influential figures or business owners who can offer valuable leads.
If you've recently completed the Inbound Closer program, establishing credibility can be a tough task.
Without a solid business or lead generation strategy, your skills might remain hidden and undiscovered.
2. Expertise Matters
To thrive in this endeavor, you should focus on services or products that come with substantial price tags, such as dating coaching, SEO, legal consultations, and more.
However, in order to gain trust, you must have a profound understanding of your chosen field.
Businesses might be reluctant to entrust their precious contact lists to someone who lacks the necessary credentials.
3. Delayed Payments
Even though you can start earning commissions quickly, receiving your payment is a different tale. Usually, commissions are held for a period ranging from 30 to 90 days.
This delay serves as protection against refund requests, which you would be accountable for.
Your initial commission might roll in rapidly, but be prepared to wait a while for your payment.
4. Skill Building Takes Time
The Inbound Closer program may suggest that you can swiftly replace your income, but it's essential to understand that acquiring these skills doesn't happen overnight.
Becoming proficient in inbound closing takes time, considering the comprehensive training materials involved. Success in sales usually doesn't happen in the blink of an eye; it's a gradual journey.
Building a client list also demands your dedication over time.
5. No Passive Income Education
Inbound Closer seems to cater to young adults who aspire to a luxurious lifestyle. However, it's important to be aware that it may resemble a speedy solution, much like other "get-rich-quick" schemes.
What you should understand is that it doesn't offer passive income – you won't be earning money while you sleep. Instead, you'll be trading your time for money through ongoing phone calls to acquire clients.
If you're in pursuit of passive income while maintaining a full-time job, Inbound Closer might not align with your objectives.
6. Lack of Transparency
Inbound Closer frequently receives criticism for not being upfront about its costs, a common issue in many programs.
Paying $97 to then encounter an additional $997 phase can come across as misleading to some.
Even though the $97 offers value, it might create the misconception that all you need is a phone and a 6-page PDF to make a living.
In reality, succeeding in this field requires extensive sales training, not merely relying on a PDF script.
7. Mixed Reviews Abound
When it comes to Inbound Closer, you'll find a wide spectrum of reviews spanning from extremely positive to deeply critical across various forums and blogs.
Some reviews may come off as overly positive, possibly raising suspicions of being fake. On the flip side, some critics label it as a scam without providing substantial evidence.
Transparency problems seem to be a common issue, and many users have expressed frustration. However, the lack of concrete proof can make it difficult to address these concerns conclusively.
8. Not Ideal for Introverts
Inbound Closer may suggest that it's suitable for anyone to succeed, but the truth is, it might not be the best fit, especially for introverts.
Engaging in daily phone conversations with strangers can be uncomfortable and unenjoyable for introverted people.
It's crucial to acknowledge that this career path may not align with everyone's preferences, and personal comfort plays a significant role in determining suitability.
Is Inbound Closer a Scam?
No, Inbound Closer is not a scam. It's a legitimate opportunity, though it may not be the ultimate path to online wealth or the top-notch course available. It does provide valuable content for your investment and is backed by Payton's impressive lifetime money-back guarantee.
However, it's important to note that the program's promotional methods may not align with everyone's preferences, making it a course that I don't recommend.
Moreover, it's crucial to be realistic about the results you can achieve. Even the program's creators acknowledge that significant success may not be attainable for the average person through Inbound Closer.
In essence, if you decide to pursue this program, be prepared to put in substantial effort. Success in life requires hard work, and there are no shortcuts.
While Payton may present a dream of earning six figures in 21 days while working 1-2 hours daily, finding clients as an inexperienced inbound closer can be challenging. Clients invest in generating leads, so hiring a closer with a limited track record carries risks.
Is There A Better Way To Make Money Online?

If you want to make a full-time passive income, I'd suggest you to start an affiliate marketing business online.
In affiliate marketing, you can run your business almost at zero cost without any trouble from sourcing products or managing inventory.
Also, since you don't need to spend hours after hours selling things over the phone, it can save you a lot of time.
If you want to learn affiliate marketing, I'd recommend you to get started with the most reputable platform for affiliate marketing: Wealthy Affiliate.
Wealthy Affiliate is an all-in-one platform for building your affiliate marketing business from scratch. It offers you a free account (including a free website) with comprehensive training on SEO (free traffic methods), which enables you to get started with affiliate marketing right away without paying a penny.
But How Much Can You Earn with Wealthy Affiliate?
A 21-year old student from Wealthy Affiliate was able to earn $7,395 in just 1 week, which means he made more than $1k a day…all while using free traffic methods.
For more information, you can check out our full review of Wealthy Affiliate.