If you're reading this review, chances are you have watched the advertisement of Client Kit 2.0 by Chris Evans and Taylor Welch.
However, it's hard to know whether they are gurus for the cash or experts at building a sales funnel that is tuned for your prospects.
As an entrepreneur, I have been running multiple online businesses since my twenties.
Therefore you can rest assured that I'm already familiar with sales funnels and financially okay that I don't have to be an affiliate of Chris Evans & Taylor.
At the end of this article, I will also let you know a much better alternative that helps me quickly build a four-figure passive income when I just graduated from college.
Below is what I'll cover in the review of Client Kit 2.0.
Who is the Founder of Client Kit 2.0?
Client Kit 2.0 is created by Chris and Taylor, who are experienced in online marketing.
Chris Evans was a VP of Marketing for GoDaddy, the web service provider, before he started his Traffic and Funnels in 2015 with Taylor.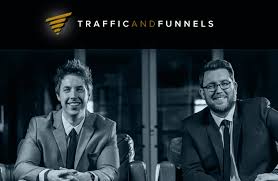 Taylor Welch studied marketing at the University of Memphis and now lives in Nashville with his wife Lindsey.
Unlike Chris, Taylor ventured into business immediately after graduation from college.
He is responsible for most of the high-ticket sales side of their business.
In addition to online training programmes, they also have live events every year and a weekly podcast "The Traffic and Funnels Show".
Recommendation: Here's The Best Alternative
What to Expect in Client Kit 2.0?

This course covers how to build a sales funnel that generates leads and helps your prospects pull the trigger of purchase. Below is a summary of the content:
Start with a goal in mind by deciding which service to funnel prospects towards

The process to develop your marketing persona

Customised coaching

Build converting webinar-serviced funnels

Locating prospects using Facebook ads

Automating your business to live the 4 hour work week
Review of Traffic & Funnels course: Client Kit 2.0
Module 1: Zero in on 1 Result
Module 1 covers 2 major points which centre around having a singular, specific high-ticket product or service.
Some entrepreneurs want to market their products or services via one single funnel which is too small to accommodate that many items.
Hence Chris and Taylor suggest you focus on one service by knowing what you want to provide to the prospects who walk through your funnel.
They offer a lot of tips for scoping in the copy.
First, write to a specific individual instead of a group.
Second, focus on pain points to which people react and find ways to address them.
Third, make evolving a goal because it takes time to optimise your content so your funnel operates at its best.
Module 2: Zero in on 1 Target Audience
In this section, Taylor covers a wide variety of topics, but mostly about the five key points below:
Your customers' demographics (age, gender, educational background, location, etc.)

Your customers' wants e.g. dreams, ambitions, etc.

Your customers' challenges (what is hindering them from reaching their goals? Is it money? Mindset? Education?)

Your customers' objections (why would they reject your offer? Is it because of the price? Is there a better alternative?)
Taylor shows you how to make use of Google and Facebook to gather intelligence on your targeted customers.
For example, you can use the classic audience insights feature of FB Business to possibly find out what they are interested in, activities they have participated in and TV shows that they have been watching.
The more you zoom in on your targeted sectors of the population, the higher will be the conversion rate.
So remember to narrow your audience and put ads in that population.
Module 3: Build Your Feeder System
In this module, you will learn about how to set up your funnel and record your HQ webinar.
Sales funnels are usually made up of three pages, namely, a sales page, an order page and a thank you page.
The sales page is what people land on when they click on your Facebook ad

The order page collects their payment information when they're ready to check out

The thank-you page is displayed after the order has been processed
After laying out the basic structure, Taylor discusses 3 common mistakes of newbies:
Over-complication: Too many steps. The more step it takes your prospects to go through, the more likely they will opt out of your funnel. At the stage of search or paid ad level, they are moving from awareness into interest, and on the sales page they move from interest to decision. Finally, they make the payment on the order page.

Not Enough Traffic – Only one source of potential customers. You can use different platforms such as Google, FB and Instagram to invite traffic into your funnel.

Absence of Thank You Page: Set up a thank you page to leave a good impression of your product and in a broader sense of your own company on your newly acquired customers
Module 4: Turn on the Faucet
Every funnel is composed of two parts, namely, the funnel itself and the traffic that is following through it.
The way that Taylor and Chris teach to fill up your funnel is using Facebook Ads because it allows you to target a specific segment of the population via Audience Insights.
At the end of this module, they include some information on different types of feeds that your ads need to attract your customers.
Module 5: Automate & Leverage Your Time
In this module, Taylor and Chris show you several ways that they would have done differently if given the chance.
The first mistake that Chris points out was not keeping their sales funnel optimised. They ran the same webinar from 2016 to 2018, which reduced what they could charge their clients.
The second mistake they made was they put in more hours and tried to scale without designing an automated on-boarding system where prospects fill in a google form, added to an email list, and granted access to the course content.
Bonus: 5 Steps to The Mindset You Need Growing from 0 to a Million in Months not years
There are 5 fundamental steps to build a successful online business.
But without the underlying mindset, Chris says that "strategies and tactics are garbage."
Step 1: Correct Your Belief System
Chris always felt guilty when he wanted to make more money early on this career.
But later he learned how to change his mindset from negative to positive, and then achieve his dream lifestyle.
It is said that the key to succeeding in business and in life is self-awareness and the ongoing development of your potential.
Step 2: Know Your Numbers (Classic, but an often missed point)
Discover the number you want to make by calculating the ratio of your marketing funnel.
If you have multiple funnels, you might calculate the average.
By repeatedly going over your numbers, you will ingrain them in your time and your actions will gradually take over to move towards the target.
Step 3: Offer Less, Not More
According to Chris, his business didn't blow up until they niched down and focused on their consulting service, eliminating most of the done-for-you services.
Apart from that, you have to learn how to delegate and outsource the time-wasting activities so that you can focus on the main task best suited for you.
Step 4: Knowing Your Value
Chris suggests you revalue your self-image and raise your price to the level of what your service is worth to clients.
Step 5: 10X Your Business Through Comparison
Chris' primary encouragement in this step is to keep moving forward when you encounter problems.
You don't have to blame yourself for what you're doing wrong so harshly. Just fix the problem. It isn't the end of the world.
Is Client Kit 2.0 a Scam?
Client Kit 2.0 is not a scam. But in order to get the most out of the course, it's important that you already have a profitable business.
Because Chris and Taylor only act as advisors to show you how to build a better sales funnel.
However, I can't find sufficient evidence to prove that the programme actually works.
In another word, I don't know if you can make some good money just by following what Chris & Taylor teaches you in Client Kit 2.0.
You have to be aware of the ad costs if you use the paid ad strategy. Overtime, Facebook ads have become more expensive and hence the margin you can get is much thinner than you think.
Now it can cost up to $50 just to acquire a new lead and much more so if you're selling high-ticket services.
The learning curve of Facebook ads is very steep. So if you're a beginner at this, it's very risky to invest so much money in running paid ads.
That's why I always recommend people to use free traffic strategies, which Client Kit 2.0 doesn't cover much.
In fact, sales funnels are not so important in online business these days.
Instead of putting a lot of efforts into building fancy sales funnels, you should focus on traffic.
You can learn everything about free traffic strategies from a platform that I joined.
I have been making a 4-figure passive income after joining the platform, and I will tell you more in detail in the next section.
Recommendation: Here's The Best Alternative
Better Alternative to Client Kit 2.0
If you are new to online business, I'd recommend you to start with affiliate marketing, which is one of the best online business models.
This is because in affiliate marketing, you can run your business almost with zero cost and achieve a steady passive income without any trouble with paid ads.

I'd recommend you to get started with the most reputable platform for affiliate marketing: Wealthy Affiliate which teaches you the real secrets of free traffic.

Wealthy Affiliate is an all-in-one platform for building your affiliate marketing business from scratch.
It offers you a free account (including a free website) with comprehensive training on SEO (free traffic methods), which enables you to get started with affiliate marketing right away without paying a penny.
But How Much Can You Earn with Wealthy Affiliate?

A 21-year old student from Wealthy Affiliate was able to earn $7,395 in just 1 week, which means he made more than $1k a day…all while using free traffic methods.
Wealthy Affiliate has existed for 15 years and there are many success stories in the past decade.

To give you more examples, here are some of the other inspiring success stories of Wealthy Affiliate members.

Where to Join Wealthy Affiliate?
Wealthy Affiliate has a very simple pricing scheme. It has free and premium membership.
If you want to feel about Wealthy Affiliate, you can sign up for the free starter membership here (no credit card required). You can select to be a free member with no time limit.
And as a starter member, you can get instant access to the community, live chat, over 500 training modules, 2 classrooms, networking, commenting, 1 free website, access to the keyword tool.

You can enjoy all these values without paying a penny.
So I strongly recommend you to register a free account and see it yourself.