If you're considering delving into the world of selling affordable, high-demand books on Amazon, you may have come across Higher Path Ventures. They claim to provide a training course and software solution to assist you on this journey.
However, before diving in headfirst, there's a noteworthy aspect that caught my attention—Luke Sample, the founder, has repeatedly changed the name of his flagship program. Now, in my humble opinion, this raises a red flag as legitimate businesses usually don't exhibit such behavior. It appears that Higher Path Ventures may be engaging in some questionable activities.
To shed some light on the matter and help you make an informed decision, I've dedicated my time to thoroughly researching Higher Path Ventures. It's essential to note that I have no affiliation with the company, which means I haven't been paid to write this review. Consequently, you can trust that I'll provide you with an honest and unbiased assessment.
But wait, there's more! At the conclusion of this review, I'll also share with you an excellent alternative to Higher Path Ventures—one that has personally enabled me to generate a steady, passive income online. So, let's jump right into it and explore what Higher Path Ventures has to offer.
What is Higher Path Ventures?
Higher Path Ventures is a system that offers an interesting way to earn money, and it's called book arbitrage. Now, before you get intimidated by the term, let me break it down for you in simple words.
The idea behind book arbitrage is pretty straightforward. You start by purchasing inexpensive books from existing vendors, and then you resell them at a higher price, pocketing the profit. Higher Path Ventures provides you with a training program and software to support you throughout the process.
In the training program, you'll learn all the tips and tricks for finding the best deals on books. You'll also get guidance on setting up your sales account on Amazon, which is where you'll be selling your books. It's a comprehensive program that covers everything you need to know.
The software that comes with Higher Path Ventures is a valuable tool. It helps you identify the cheapest books available online, so you can quickly snatch them up and resell them at a higher price. It streamlines the entire process, making it easier for you to make money.
Now, I must admit that while the concept of Higher Path Ventures is simple, the program itself can be a bit complicated. Starting your own business on Amazon can be challenging because the platform is currently saturated with sellers. Despite what the presentation video might claim, the competition is fierce.
As more and more people join this money-making program, it becomes evident that the market is getting crowded. With more sellers offering the same material, it becomes harder to make a sale and stand out from the crowd. That's something you should keep in mind if you're considering this business model.
However, if you're a bookworm and have a passion for finding great deals on books, Higher Path Ventures could be a good fit for you. It taps into your interests and allows you to turn them into a profitable venture. Just be prepared to put in some effort and stay competitive in the ever-growing Amazon marketplace.
Recommendation: Here's The Best Alternative
Who Are Luke Sample & Jon Shugart?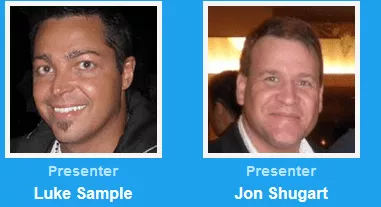 Luke Sample: A Trailblazer in Online Profits
At the helm of Book Profits stands Luke Sample, one of the brilliant minds behind this venture. Even at the age of 23, Luke caught the attention of the Wall Street Journal, who profiled him for his purported online earnings amounting to millions of dollars. Luke's drive and dedication are evident in his actions as he genuinely cares about people and their success. With his guidance, Book Profits aims to empower individuals and help them achieve their goals.
Jon Shugart: The Mastermind with a Passion for Education
Another key figure in the success story of High Path Ventures and Book Profits is Jon Shugart. Armed with a master's degree in education and leadership, Jon brings a unique perspective to the table. Before immersing himself in the world of digital entrepreneurship, he spent four years teaching high school math. In 2000, Jon decided to venture into the realm of computer science, and over the past 19 years, he has established multiple million-dollar companies.
Digital Marketing Pioneers
Both Luke and Jon share a common thread: a remarkable track record of generating online profits through their expertise in digital marketing. Their combined experience and entrepreneurial prowess have paved the way for their continued success. With their extensive knowledge and passion for helping others, Luke Sample and Jon Shugart have become an unstoppable force in the world of online business.
Recommendation: Here's The Best Alternative
What's Inside Higher Path Ventures?
Online Training Course: Unleash Your Book Arbitrage Potential
Higher Path Ventures offers a top-notch online training course that equips you with all the knowledge and skills you need to kick-start your book arbitrage journey. Within this course, you'll master the art of sourcing cheap books and reselling them for a handsome profit. But that's not all! Here's a sneak peek at what you'll learn:
Boost Your Sales: Discover how offering free shipping on your products can skyrocket your sales, making your books more enticing to potential buyers.

Amazon Prime Advantage: Harness the power of "Amazon Prime" to elevate your book sales and maximize your profits. This option is a game-changer, so don't miss out on the opportunity!

Master Product and Keyword Research: Learn the secrets of effective product and keyword research, ensuring that your books are strategically positioned to attract the right audience.

Crack the Amazon Sales Rank Code: Delve into the intricacies of Amazon Sales Rank and leverage this valuable metric to optimize your book listings for increased visibility and sales.

Cash in on Amazon Gift Cards: Find out how to make the most of your Amazon gift cards by utilizing the Amazon Trade-in Program. Trade them in for more books or even cold, hard cash!

Beyond Amazon: Unearth hidden gems! Discover alternative platforms and websites where you can find a treasure trove of cheap books, expanding your sourcing options and profit potential.
Remember, the course advises caution when converting Amazon gift cards into cash. It's advisable to explore other platforms for selling your books online whenever possible.
Software: Streamline Your Book Arbitrage Journey
Higher Path Ventures provides software that simplifies various tasks, making your book arbitrage journey a breeze. While the software may not be groundbreaking, it significantly speeds up your product research process. No more painstaking manual searches for inexpensive books! With this tool at your disposal, you'll quickly uncover hidden gems and seize profitable opportunities.
Other Benefits: Smooth Sailing with Higher Path Ventures
Logistical challenges can be overwhelming, but fear not! Higher Path Ventures has your back. By paying a modest fee, you can delegate back-end activities of your virtual bookstore to their platform. From receiving, opening, checking, repacking, to shipping your ordered books to Amazon, let someone else handle the nitty-gritty while you focus on what matters most—building your book arbitrage empire. Plus, if you opt for this feature, you can even earn some money alongside using the software.
Learn more: Where To Sell Used Books: 10 Best Places Online
Recommendation: Here's The Best Alternative
How Much Does Higher Path Ventures Cost?
Before diving into book arbitrage and Higher Path Ventures, it's crucial to recognize that this business venture requires a significant financial investment. It's not a low-cost endeavor, so you should carefully assess your financial situation and determine if it aligns with your goals and capabilities.
To get the full scoop on pricing, you'll need to hop on a conference call with the Higher Path Ventures team. They'll share all the details about the one-time fee of $3,500 and the monthly fee of $297. So, make sure to connect with them to get the complete pricing breakdown.
Upsells and Additional Features
During the pitch for joining Higher Path Ventures, you might come across some enticing upsells and additional features. These can include options like split payments and access to extra resources. The team will fill you in on these additional offerings, so you can decide if they align with your needs and preferences.
Recommendation: Here's The Best Alternative
Refund Policy
Higher Path Ventures does have a refund policy in place. However, it's important to note that it's not an unconditional guarantee. The specifics of their refund policy will be discussed during the conference call or provided to you by their team. Be sure to clarify any questions or concerns you may have about the refund process.
Is Higher Path Ventures Right for You?
While Higher Path Ventures may offer valuable insights and opportunities, it's worth mentioning that the high cost associated with this business course may not be suitable for beginners. If you're just starting out, it's advisable to explore alternative options that are more beginner-friendly and affordable.
Remember, the decision to join Higher Path Ventures is entirely up to you. Take the time to thoroughly evaluate the pricing, refund policy, and suitability of the program to make an informed choice that aligns with your personal circumstances and goals.
Learn more: Legit Ways To Make Money Online
Recommendation: Here's The Best Alternative
Praises For Higher Path Ventures
Simplified Book Searching
The accompanying software provided by Higher Path Ventures streamlines the process of finding the best and most affordable books to sell. This feature saves you time and effort, enhancing your overall experience.
Clear Introduction
Luke Sample, the creator of this course, has developed an introductory video that is both comprehensive and easy to understand. He addresses most of the questions you may have, ensuring a smooth transition when you decide to enroll in the course.
Hands-off Business Management
Higher Path Ventures takes care of all aspects related to running an online business. This means that even if you're not actively working on the business, you can still generate income. It offers a convenient opportunity for those seeking a passive income stream.
Potential for Growth
When implemented correctly, the business concept presented by Higher Path Ventures has significant growth potential. This makes it an attractive venture for individuals looking to expand their earnings.
Beneficial for Book Enthusiasts
Book lovers and collectors of all types can greatly benefit from Higher Path Ventures. It provides them with an avenue to leverage their passion while generating income.
Recommendation: Here's The Best Alternative
Criticisms For Higher Path Ventures
Cost and Saturation
Like other online courses, the high cost and potential saturation of students can pose challenges. These issues may arise due to the popularity of the course and the number of individuals enrolling. It's crucial to assess whether the investment aligns with your budget and expectations.
Reputation Concerns
Higher Path Ventures faces its biggest challenge in terms of reputation. Previously known under various names like Textbook Money, Book Arbitrage, and Book Profits, the company has had a history of raising concerns among customers. Reports of software functionality issues have been a common complaint among users. However, it's worth noting that the situation has improved.
Name Change Mystery
The company changed its name to Higher Path Ventures, but the reasons behind this decision remain unclear. Speculatively, it could be an attempt to distance themselves from the negative experiences associated with the previous names. However, the exact cause is unknown.
Limitations in Contract Terms
It's important to carefully read and understand the terms of the contract before signing up. Higher Path Ventures explicitly prohibits users from making guarantees regarding program functionality, filing class action lawsuits, and complaining about the user interface after signing up. These limitations may restrict your rights as a user.
Recommendation: Here's The Best Alternative
Is Luke Sample's Higher Path Ventures A Scam?
Luke Sample's Higher Path Ventures has garnered both praise and criticism. While some individuals have found success and made money through his training package, others have experienced significant financial losses. This has led to a mixed reputation for Higher Path Ventures, leaving many potential investors skeptical.
One of the main concerns surrounding Higher Path Ventures is its price. Many people consider it to be overpriced, making it less accessible for those looking to start an online business without spending a fortune. This can be a deterrent for beginners seeking a less risky option.
Another issue that has raised eyebrows is the constant rebranding of the program. Luke Sample has faced criticism for frequently renaming his business, seemingly to distance himself from negative associations. This has fueled distrust among some individuals who have invested heavily in his courses, only to see their returns vanish.
Furthermore, there is a dedicated Facebook page where dissatisfied customers openly express their grievances about Higher Path Ventures. Luke and his business partner Jon have chosen to silence these voices rather than address their concerns, contributing to the mounting complaints.
While these factors may raise doubts about the program's integrity, it is important to note that calling Higher Path Ventures a scam would be inaccurate. Previously known as Textbook Money, the company's former members have reported minimal profits, as low as $2 or $3, from the textbooks they purchased. This is significantly less than the $130.85 net profit promised by Luke in his webinar training.
Despite the criticisms and uncertainties surrounding Higher Path Ventures, it is worth acknowledging that Luke Sample is a legitimate guru in the field of book arbitrage. The concept itself has the potential to be profitable if executed properly, and having access to the right information and guidance is crucial for success.
However, it is essential to approach this opportunity with caution. The abundance of complaints and the high initial investment required make it a risky option, particularly for beginners. Selling books on Amazon can be challenging and expensive, even though it remains a popular avenue for book sales.
In summary, while Higher Path Ventures has its flaws and has received its fair share of negative feedback, it would be inaccurate to label it as a scam. Luke Sample's business model may have benefitted some individuals, but the high price tag, constant rebranding, and numerous complaints should be taken into consideration before making any investment decisions. Exploring alternative options with lower risks and costs may be a more prudent choice for those starting out in the online business world.
Learn more: Make Money Online Scams: How to Avoid Them?
Recommendation: Here's The Best Alternative
Final Verdict
If you're considering Higher Path Ventures, let me share my honest opinion with you. After careful consideration, I cannot, in good conscience, recommend this program, especially when there are superior options available out there.
While Higher Path Ventures does offer some decent teachings and ideas, they lack depth and comprehensive training necessary for building a successful book arbitrage business. In fact, you can easily find better and more detailed training online for free on most of the topics covered.
It's no wonder there are only a few genuine success stories or positive reviews about Higher Path Ventures. The program simply falls short in providing the necessary tools for true success.
However, fear not! There is a much better business model out there that is not only more sustainable but also has a higher earning potential. Let me share my personal experience with this alternative, which has allowed me to generate a full-time passive income. Yes, you heard it right – I'm making money while I'm sleeping!
In the next section, I'll delve into the details of this superior alternative, explaining how it works and how it can transform your financial situation. Buckle up and get ready for an exciting journey towards financial freedom!
Recommendation: Here's The Best Alternative
Best Alternative To Higher Path Ventures For Making Money Online
Are you searching for a stable and secure stream of passive income? Look no further! I have the perfect suggestion for you: start an affiliate marketing business online. Trust me, it's the ideal option, especially if you're new to the online business world.
Out of all the online business models I've explored, affiliate marketing has proven to be the easiest and most rewarding so far. The best part is, you can run your business with minimal costs and still achieve a steady and sustainable passive income to cover your bills. You don't need any initial capital, and you can even do it as a side hustle alongside your current commitments.
Now, if you're serious about learning affiliate marketing and building a business from scratch, I highly recommend getting started with the most reputable platform out there: Wealthy Affiliate.
Wealthy Affiliate is an all-in-one platform designed to help you build your affiliate marketing business from the ground up. The best part is that you can begin your journey with a free account, including a free website, and gain access to comprehensive training on SEO (free traffic methods). This means you can dive right into affiliate marketing without spending a single penny.
But you must be wondering, how much can you actually earn with Wealthy Affiliate? Well, let me share an inspiring success story. A 21-year-old student from Wealthy Affiliate managed to earn a whopping $7,395 in just one week, making over $1,000 a day—all while utilizing free traffic methods. And this is just one of the many success stories that have emerged from the Wealthy Affiliate community over the past decade.
You can check out my full review of Wealthy Affiliate here.
If you're ready to embark on this exciting journey, you might be wondering where to join Wealthy Affiliate. Luckily, the pricing scheme is straightforward. You have the option of a free starter membership or a premium membership.
To get a feel for Wealthy Affiliate, I recommend signing up for the free starter membership here (no credit card required). You can be a free member with no time limit and instantly gain access to the vibrant community, live chat, over 500 training modules, 2 classrooms, networking opportunities, commenting privileges, 1 free website, and access to the keyword tool. All of this, and you won't spend a dime.
Don't just take my word for it; I strongly encourage you to register a free account and experience it for yourself. The possibilities are endless with affiliate marketing, and Wealthy Affiliate is the perfect platform to help you kick-start your journey. Don't wait any longer—start building your affiliate marketing business today!