In today's fast-paced digital world, more and more people are exploring ways to earn passive income. One avenue that has gained significant traction is selling products on Amazon.
However, managing an Amazon store and ensuring its success can be overwhelming and time-consuming. That's where Ecom Authority comes in.
In this review, we will delve into the details of Ecom Authority, exploring its services, pricing, success stories, and potential drawbacks. So, let's get started and find out if Ecom Authority is the right fit for you.
Ecom Authority is an ecommerce management and service provider that specializes in assisting Amazon store owners. Their unique approach aims to handle every aspect of creating and running an Amazon store to help clients earn passive income.
With their comprehensive suite of services, Ecom Authority takes care of everything, from business formation to day-to-day management, allowing store owners to focus on other important aspects of their lives.

Learn more: legit ways to make money online.
Recommendation: Here's The Best Alternative
At the helm of Ecom Authority is Dan Cohen, a successful 7-figure real estate investor and ecommerce entrepreneur. After achieving substantial success in the real estate industry, Dan ventured into retail arbitrage and Amazon FBA. Recognizing the limitations imposed by Amazon's one-store-per-household policy, he conceived a business model that would enable him to manage and scale multiple Amazon businesses.
Today, Ecom Authority boasts an impressive track record, managing over 400 client stores and employing a dedicated team of 400 professionals across offices in the United States and India.
Ecom Authority's primary objective is to help you earn passive income through your Amazon store. They offer a complete done-for-you service, taking care of all the intricate details involved in running a successful store. Here's how Ecom Authority can assist you:
Product Sourcing

: The team at Ecom Authority tirelessly searches for the best prices for products to maximize your profits. By finding the most cost-effective sources, they ensure you can offer competitive prices to attract customers and increase sales.

Inventory Holding

: Ecom Authority takes care of sourcing and holding inventory on your behalf. This relieves you of the risks and complexities associated with managing inventory, allowing you to focus on other important aspects of your business.

Customer Service

: Providing excellent customer service is crucial for success on Amazon. Ecom Authority's team manages all customer support tasks, handling complaints and issues promptly to maintain high product reviews and customer satisfaction.

Store Reviews

: Positive reviews play a pivotal role in boosting sales and increasing your store's visibility. Ecom Authority takes charge of managing customer reviews, employing strategies to efficiently work the algorithm and enhance your store's reputation.

Inbound and Outbound Emails

: Dealing with a high volume of emails can be time-consuming. Ecom Authority's team takes care of managing all incoming and outgoing emails, ensuring timely and professional communication with customers and suppliers.

Account Suspension Appeal

: In the unfortunate event of an account suspension, Ecom Authority's team will handle the appeal process on your behalf, covering all associated expenses. Their experience and expertise in navigating account suspensions can be a valuable asset in minimizing downtime and protecting your income flow.
Recommendation: Here's The Best Alternative
Ecom Authority caters to a diverse range of individuals who are interested in earning passive income through Amazon. Here's a breakdown of who can benefit from their services:
Newbies with Capital

: If you're new to the world of ecommerce but have access to capital, Ecom Authority provides a turnkey solution for you. They handle everything from store setup to ongoing management, allowing you to jumpstart your business without prior experience.

Entrepreneurs Seeking Improvement

: If you're already running an Amazon store but struggling to achieve the desired results, Ecom Authority can step in and optimize your store's performance. Their expertise and strategic guidance can help you scale your business and increase profitability.

Existing Store Owners

: If you're an Amazon store owner looking for efficient management of your business, Ecom Authority offers a comprehensive solution. By delegating the day-to-day tasks to their experienced team, you can focus on other areas of your life while still reaping the benefits of passive income.
Recommendation: Here's The Best Alternative
Ecom Authority operates on a unique pricing model based on your store's monthly revenue. They retain 40% of your store's earnings, while you keep the remaining 60%. This fee structure ensures that Ecom Authority has a vested interest in your store's success and motivates them to run and scale your business effectively.
To partner with Ecom Authority, you will need at least $20,000 in credit, one or two high-limit credit cards, and some upfront capital for store setup and initial orders. This investment allows you to leverage their comprehensive services and expertise to kickstart your Amazon store.
Ecom Authority claims to have over 400 successful clients, but their website only features three video testimonials. This apparent discrepancy might raise some skepticism, especially considering that the company's social media presence is relatively new. It is advisable to exercise due diligence, conduct thorough research, and reach out to current or past clients to gain a better understanding of their experiences with Ecom Authority.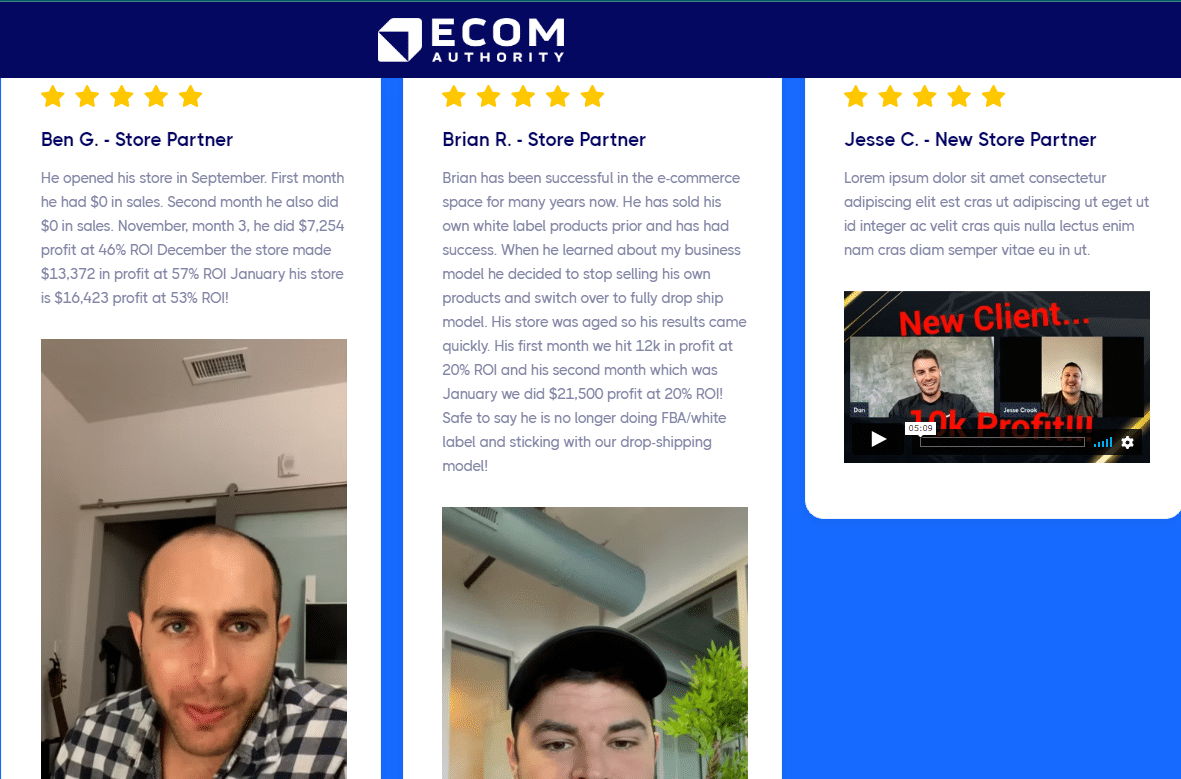 Recommendation: Here's The Best Alternative
Clients who have had positive experiences with Ecom Authority commend the company for its comprehensive services and dedication to their success. The team's expertise in navigating the complexities of Amazon's ecosystem and their commitment to outstanding customer service are frequently praised. The unique fee structure, where Ecom Authority only earns if your store earns, also resonates positively with clients, as it aligns their interests with yours.
While Ecom Authority has garnered positive feedback, there are also some criticisms worth considering. One potential concern is the relatively limited number of client testimonials available on their website, especially given their claim of managing over 400 stores.
Additionally, the company's short presence in the market may raise questions about their long-term track record and ability to sustain success.
Recommendation: Here's The Best Alternative
With the rise of online scams, it's natural to be cautious when exploring new opportunities. While we cannot definitively label Ecom Authority as a scam, it's important to approach their services with a critical mindset.
Conduct thorough research, seek out additional testimonials and reviews, and weigh the pros and cons before making a decision. Remember, investing in any business venture carries risks, and it's essential to make an informed choice.
Deciding whether to partner with Ecom Authority ultimately depends on your individual circumstances, goals, and risk tolerance. If you're a newcomer to ecommerce with capital at your disposal, Ecom Authority offers a convenient and comprehensive solution to jumpstart your Amazon store. Likewise, if you're an existing store owner seeking efficient management or an entrepreneur looking to improve your store's performance, their services can be beneficial.
However, it is crucial to conduct thorough research, seek out additional testimonials, and evaluate the risks involved. Consider the company's relatively short presence in the market and the limited number of client testimonials available. By gathering as much information as possible, you can make an informed decision that aligns with your goals and aspirations.
In conclusion, Ecom Authority offers a comprehensive suite of services to help Amazon store owners earn passive income. With their expertise and dedication to client success, they aim to optimize your store's performance and navigate the complexities of Amazon's ecosystem. While there are both praises and criticisms surrounding Ecom Authority, it's up to you to evaluate their services, assess the risks, and determine if partnering with them is the right choice for your ecommerce journey.
Recommendation: Here's The Best Alternative
Is There a Better Alternative?
If you're looking to make money online, consider affiliate marketing as a viable option. Wealthy Affiliate (WA) is a highly recommended platform that provides excellent training and support for individuals interested in affiliate marketing.
Affiliate marketing presents a legitimate and cost-efficient method of generating passive income, without the need for paid advertising or inventory management. With WA, you gain access to a comprehensive platform that guides you through the process of building an affiliate marketing business from the ground up.
One notable feature of Wealthy Affiliate is its free membership, which includes a website and extensive training on search engine optimization (SEO). This enables you to attract organic traffic and establish a strong online presence for the affiliate offers you promote.
You can check out my full review of Wealthy Affiliate here.