Is Online Team Builders a scam? Should you join the program to make money online?
You probably heard about Online Team Builders from a friend or family member. Or, you may have participated in a seminar virtually or in person.
Chances are, your head is all jumbled up. Perhaps you have never heard of another way to earn income besides working.
As an experienced Internet entrepreneur, I'm in a good position to share with you everything I know about Online Team Builders. Over the years, I've reviewed more than 100 MLM companies.
To be transparent, I'm not affiliated with Online Team Builders, so you can be sure that my opinions are unbiased.
At the end of this review, I'll also tell you a better way to make passive income online.
Key Takeaways: Online Team Builders Review
Name

: Online Team Builders

Owner

: Nancy Rote

Overall Rating

: 1/5

Pros:

It has some value for Essante Organics members; email marketing can be a good way to sell products online;

Cons:

Lack of transparency; tools won't work if you try to promote products other than Essante Organics; a pyramid scheme in disguise

Verdict

: An MLM program that pretends to be a legit email marketing tool. Only Essante Organics members might find it useful. It can't be called a scam. But you should avoid it.
Here's what I will cover in this Online Team Builders review:
What is Online Team Builders?
Online Team Builders is a digital marketing tool that recruits members for Essante Organics and commissions referrals. Similar to MLM, it allows people to create learning platforms and recruit members for a commission. It acts as a middleman for Essante Organics.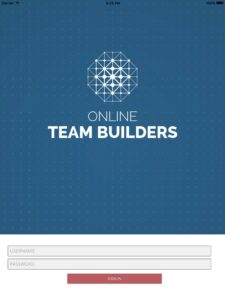 In other words, joining Online Team Builders is the same as joining Essante Organics, which would allow you to promote the health products of Essante Organics and make money.
In multi-level marketing, products and services are sold through a network of independent distributors who earn commissions on their sales and on the sales of other distributors they recruit.
MLM distributors earn money not only from the products or services they sell but also from the sales of other distributors they recruit.
Recommendation: Here's The Best Alternative
Who created Online Team Builders?
According to the LinkedIn profile of Nancy Rote, she is the owner of Online Team Builders. However, it is strange to find no information on their website regarding Nancy Rote, not even her name.
Nancy Rote has little online presence, so the information lacks integrity. The website should tell the story of the owner, so people could determine whether she is legitimate and who she is.
How does Online Team Builders work?
If you want to join Online Team Builders, this is how it works.
To get an interview call, you must provide your personal information. After going through the interview, the representative will ask you to pay $30 as your membership fee.
However, it is actually a membership fee to join Essante Organics. Since you'll work as an independent distributor, it is not a job opportunity but a business opportunity.
After joining the MLM program, you can start selling health and wellness products by Essante Organics.
Here is the breakdown of the steps you'll need to take before joining:
Get an email or voice message from someone called Robert Osborn or Jordan Barlow. The guy will invite you to apply for a home-based job.

Fill up the application form and get ready for an interview call. During the interview, you won't be told anything about the company or other information such as basic salary or working hours.

Pay the $30 membership fee.

Get the tools such as a mobile app, business cards, and prospecting tools for selling your MLM products on behalf of Essante Organics.
Essentially, you're tricked into believing you'll land a great job and make money online.
Recommendation: Here's The Best Alternative
What are the tools offered by Online Team Builders?
You get the following tools as an OnlineTeamBuilders member:
Prospecting tools – keep track of your audience's actions. This includes tracking the opens, click-throughs, bounces, and unsubscribes of leads.
Email marketing tools – include an autoresponder for automatic follow-up emails to new prospects/leads.
Landing page builder – contains pre-built landing pages you can use to collect visitors' information and build your mailing list.
Business Cards – When they have your information, you'll be top of mind if they're interested in what you're offering. It helps convert a prospect into a paying customer.
Mobile application – This allows you to track everything from the convenience of your mobile phone. The app is available on Android and iOS platforms.
Based on their website, their automation tools can help you convert leads/prospects into paying members. You can get started on the platform for free, but once you're subscribed, you must pay $29 per month.
How much does Online Team Builders cost?
Online Team Builders is not cheap. It costs about $30 a month to join the platform.
One thing that looks weird to me is that the price is the same as joining Essante Organics. The idea is that by paying the membership fee, you can become their partner and start selling the health products of Essante Organics.
So I reckon Online Team Builders is just the middleman of Essante Organics. You can actually join Essante Organics directly if you want. Online Team Builders will earn a commission if you join through them.
Green Lights
1. Potential for income
Essante Organics offers their distributors the opportunity to earn commissions on their own sales and on the sales of other distributors they recruit.
With Online Team Builders, you can use their email marketing tools to promote Essante Organics products. This might provide you with an income source.
2. Flexible working hours
As an MLM company, Essante Organics allows its distributors to create their own schedules and work at their own pace, which can be especially interesting for those looking for a flexible work arrangement.
Red Flags
1. Lack of transparency
You don't get a lot of information when they recruit you. There isn't much information on their website, and if you want to join, you must go through a referral link posted somewhere on their domain. On their website, you cannot register an account. Members' earnings are not disclosed, either.
2. Misleading sales tactics
Online Team Builders claims to be a legitimate email marketing tool. However, it is just a middleman of the multi-level marketing (MLM) program Essante Organics.
What you have paid is actually a membership fee to join Essante Organics. It is not a comprehensive email marketing tool that can be used to sell any products or services online. It is tailor-made for Essante Organics.
This sales tactic can be misleading and appear fraudulent to most people.
3. A pyramid scheme in disguise
After signing up for Online Team Builders, you'll automatically become a member of Essante Organics.
Though you can possibly earn some extra cash from selling Essante Organics products, it's not the main goal of most members.
Making money with Essante Organics depends a lot on recruiting new members and encouraging them to recruit others to join the program as well.
Members earn a commission based on the sales made by the individuals they recruit, as well as a percentage of the sales made by their recruits' recruits and so on.
This creates a pyramid-shaped structure where the members at the top of the pyramid earn money from the sales made by those at the bottom.
4. Worthless tools
You have to pay $29 a month to get the tools. However, they're not worth it. Their interface is outdated and not user-friendly. There are much better email marketing tools out there that have more advanced features. AWeber is one of them.
Besides, since the tools are tailor-made for selling Essante Organics products, you probably can't use them somewhere else.
On the Online Team Builders website, there are no testimonials to be found. Is it really worth $29 per month if there are no testimonials or social proof? This makes no sense at all.
4. Little information about the owner
Nancy Rote is the owner of the business, however, her name is not listed on the company's website. This lack of transparency raises concerns about the legitimacy of the company as it is common practice for businesses to publicly list their ownership information.
Recommendation: Here's The Best Alternative
Is Online Team Builders a scam?
I cannot say Online Team Builders is a scam. There is no sufficient evidence to prove that.
However, the company seems suspicious because the official website is just a login page for members, and there isn't a public homepage that describes the program.
Besides, it's not clear who actually created the program. There is very little information about the "owner" Nancy Rote.
It's possible to make some money from Essante Organics which they refer you to, but it's hard if you don't have any sales experience on the internet.
Moreover, without knowledge about health products, it may be difficult to earn people's trust and provide helpful advice.
For the lack of transparency, I wouldn't recommend people take the risk to enroll in Online Team Builders.
While joining Online Team Builders may not be a scam in itself, the way in which the program operates and the potential for members to make significant profits is often exaggerated.
Many people who join Online Team Builders find that they are unable to make a significant income and may even lose money.
Under the pressure to recruit others, members might use dishonest or manipulative tactics to get others to join.
Is there a better way to make money online?
If you are new to online business, I would suggest you get started with affiliate marketing. It is easy but profitable that you can do it as a side hustle.

In affiliate marketing, you can run your business almost with zero cost. Most importantly, you don't need to invest in creating and developing any products.
But How Much Can You Earn in Affiliate Marketing?

A 21-year-old student from my #1 recommended training platform of affiliate marketing was able to earn $7,395 in just 1 week, which means he made more than $1k a day…all while using free traffic methods and affiliate marketing.
Wealthy Affiliate has existed for 15 years and there are many success stories over the years.
To give you more examples, here are some of the other inspiring success stories of Wealthy Affiliate members.

Where to Join Wealthy Affiliate?
Wealthy Affiliate has a very simple pricing scheme. It has a free and premium membership.
If you want to feel about Wealthy Affiliate, you can sign up for the starter membership here (no credit card required). You can select to be a free member with no time limit.
And as a starter member, you can get instant access to the community, live chat, over 500 training modules, 2 classrooms, networking, commenting, 1 free website, and access to the keyword tool.

You can enjoy all these values without paying a penny.
So I strongly recommend you register a free account and see it yourself.