Starting a new website can be tough, especially when it comes to ranking. But did you know there's a way to skip over some of those obstacles? That's where aged domains come in, and we've got just the marketplace for you – Odys Global.
Finding high-quality aged domains can be a real challenge, especially when many marketplaces have domains that are full of spammy links or have been used for PBNs. However, Odys Global specializes in offering only the best aged domains, making it easy for you to find the perfect one for your website.
In this review, we'll walk you through how to use Odys Global and share our experiences with the platform.
What is Odys Global?
Odys Global offers high-quality aged domain names that are effective in boosting search engine optimization. If you're in the market for such domains, look no further than Odys Global.
Their selection of premium domain names is second to none, having undergone rigorous evaluation to ensure their quality. While the prices may be a tad higher than other expired domain marketplaces, trust us, they're worth the investment.
The Benefits of Using an Aged Domain for Your Website
Existing Backlink Profile
One of the most significant benefits of an aged domain is that it often comes with a pre-existing backlink profile. This can save you a lot of time and money on link building efforts. When you use an aged domain, you can leverage the backlinks that have been built over time to help your site rank higher in search results. Instead of worrying about building links from scratch, you can focus on other aspects of your site and see faster results.
Potential Brand Recognition
Another advantage of an aged domain is that it may have some brand recognition. Some aged domains were once associated with popular websites or brands that people still remember. This can attract a built-in audience to your site, which can help you build a following faster. Good branding can significantly increase the value of your site, too.
Adds Value To Your Website
If you plan to sell your website at some point, an aged domain can help increase its value. People are willing to pay more for websites built on solid aged domains with a robust and clean link profile. If you have an aged domain, you'll be able to command a higher price when you decide to sell your site.
Potential For Some Traffic
Finally, if you purchase an aged domain that was previously associated with a popular website, you might still get residual traffic. While you shouldn't count on this traffic to make your site successful, it can help you get a head start. You can optimize this traffic by building a website on the domain similar to the one that was there before.
How Does Odys Global Work?
Their user-friendly platform makes it easy for you to find and purchase your ideal domain, and their transparent pricing policy ensures that you get a fair deal.
To begin your search, simply input your desired niche and specific characteristics, and Odys Global will present you with a list of domains that match your criteria. From there, you can choose the one that best suits your needs.
When it comes to purchasing your domain, Odys Global offers a hassle-free experience. They provide domain transfers with every purchase and accept all major credit and debit cards, PayPal, Wise.com, and bank transfers for payment, ensuring that you have a variety of options to choose from.
How To Use Odys?
Navigating the platform is a breeze with these simple steps.
Step 1: Request Access to the Marketplace
If you're interested in joining Odys, you'll need to apply and request access first. Don't worry, it's a pretty straightforward process that won't take much of your time. All you have to do is provide some basic info like your name, email, and password, and explain why you want to be a part of Odys.
Once you've submitted your request, you'll receive an email to verify your account. It usually takes a few hours to approve your application, so be patient.
Step 2: Filter Through Domains
Let's narrow down your search by selecting the industries that are relevant to your business. This will help you weed out any domains that are completely irrelevant to what you do.
Once you have a shortlist of potential domain names, you'll want to filter out any that are way over your budget or just don't meet your criteria.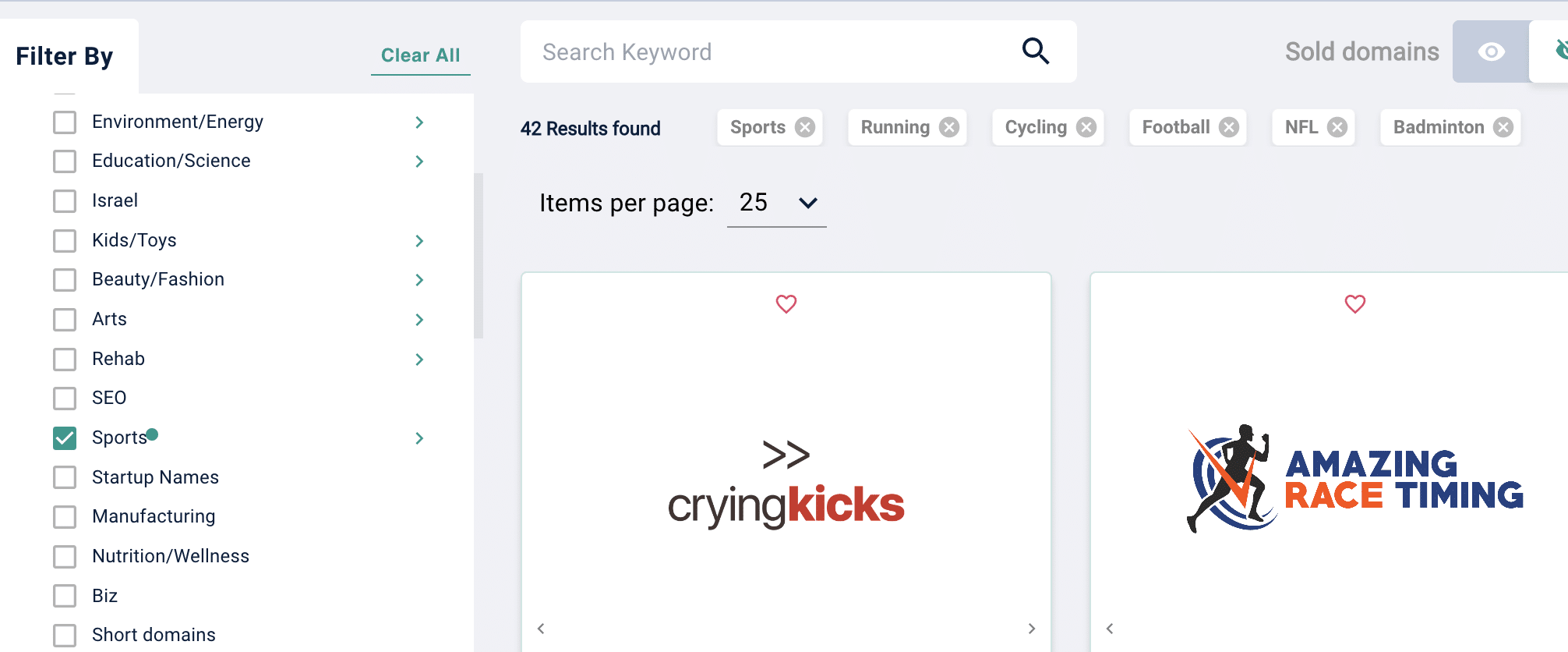 Step 3: Conduct Due Diligence on Domains of Interest
If you're planning to buy a domain, it's important to do your homework first, even if the platform you're using, like Odys, has a strict vetting process. Here's what you can do:
Take advantage of tools like Ahrefs or SEMRush to check out the domain's backlink profile and site history. Look for anything fishy, like links from foreign websites or PBN links. You don't want to end up with a domain that's been involved in link spam.
Step 4: Purchase Your Domain
After settling on a domain, add it to your cart and complete your purchase. Purchases are usually immediate, and you'll receive access to your new domain typically on the same business day.
Tips for Finding the Perfect Domain on Odys
If you're in the market for an aged domain, Odys is a great place to start your search. But with so many potential options, how can you be sure you're choosing the right one? H
Here are three steps to follow:
Step 1: Start with Expert Picks
If you're new to buying aged domains, the expert picks section on the Odys blog is a great place to start. Experts regularly review different domains on the platform and pick their top choices based on strategies that have already proven successful.
Step 2: Do Your Own Due Diligence
Whether you found a domain through the expert picks or by searching the marketplace, it's essential to conduct your due diligence to ensure the domain is right for your website. Odys makes this easy by providing metrics like SEO value, domain rank, referring domains, sites the domain was featured on, and price.
Additionally, make sure the domain was never used for spam, PBNs, adult sites, foreign gambling sites, marketplaces for illicit substances, or similar sites that could harm your brand's reputation.
Step 3: Plan Out Your Future Strategy
Once you've found the perfect aged domain that meets your criteria and budget, it's time to plan out your future strategy.
Map out the pages on the previous website, especially those with rankings and backlinks, and create a 301 redirect for those pages to avoid losing any SEO value.
Redirect pages to the most contextually relevant page on your new website and prioritize content creation for pages ranking on the previous website or with backlinks going to them. By doing so, you'll preserve the SEO value of your aged domain and maximize your investment.
What People Are Saying About Odys Global
If you're thinking about buying from ODYS Global, you might be wondering if they're a legit company. Well, let me tell you, their Trustpilot score is seriously impressive – 4.8 out of 5! And that's not an easy feat with 103 reviews.
So, if you're like me and like to be sure you're dealing with a reliable company before handing over your hard-earned cash, take a look at ODYS Global's Trustpilot profile. It's always smart to do your research, right?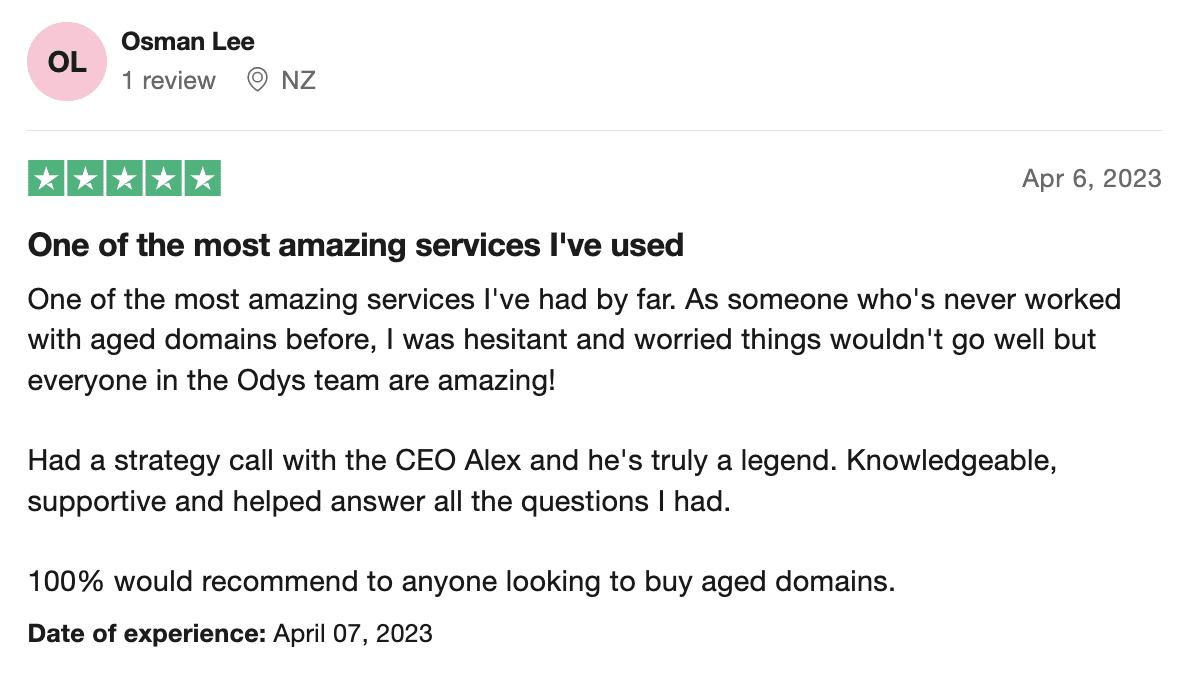 Green Lights For Odys Global
Excellent Customer Service
Their friendly and helpful team is always available to answer questions and provide support.
Easy Sign-Up Process
Signing up is straightforward, and you'll have immediate access to their inventory of premium domains.
High-Quality Domains
Each domain is thoroughly researched to ensure it meets certain criteria, such as niche relevance, content quality, and a strong backlink profile. With over 1000 domains to choose from, you're sure to find the perfect one for your website.
Red Flags For Odys Global
Limited Educational Resources
Odys Global doesn't provide much information on how to make the most of their premium domains. However, if you're already familiar with SEO and website building, this may not be a significant issue.
Premium Price
Premium domains come at a higher cost, but the investment might be worthwhile if you're looking for a high-quality domain that can boost your website's search engine rankings and credibility.
Other Things to Know About Odys Global
Can Aged Domains Infringe Trademark Registrations?
Yes, aged domains can infringe on trademark registrations if you purchase them through a marketplace that doesn't vet listings or if you don't conduct proper due diligence. That's why it's highly recommended to use a reputable aged domain marketplace like Odys. Odys has a strict vetting process to ensure their listings don't violate trademarks and have clean link profiles and site histories.
What does Odys stand for?
Odys stands for Our Domains Your Story. The company's focus is on providing clients with aged domains and done-for-you sites that they can use to grow their affiliate marketing portfolio.
How quickly can I expect to see organic traffic with a domain from Odys Global?
The amount of organic traffic you receive will vary depending on the domain, niche, and site. Typically, people begin receiving impressions and clicks within the first 2 to 3 months of the site's development.
Final Verdict
If you're searching for an aged domain with top-notch quality without having to sift through tons of low-quality auctions, I recommend giving Odys a shot!
What makes Odys stand out is that their aged domains have been carefully selected and examined by real people. This means that you won't have to worry about purchasing a domain with a shady link profile or questionable history. Sure, you may need to be prepared to shell out premium prices in the thousands for each domain, but if you view it as an investment and have a solid plan for how you'll use that aged domain, you can see substantial returns quickly.
Overall, I believe that Odys is an excellent marketplace for aged domains, and you should definitely consider it if you're looking to build a profitable website. The domains are top-notch, and the vetting process saves you a lot of time and effort. So, if you're serious about investing in aged domains, Odys is definitely worth it.