If you have heard about Entre Blueprint, you might be wondering if Jeff Lerner's training program can really help you make money online.
Entre Blueprint is created by Jeff Lerner who claims to help you become successful in online business.
As an Internet entrepreneur, I'm in a good position to share with you everything I know about the program. Over the years, I've reviewed hundreds of online courses, software, and MLMs.
Since I'm not affiliated with Jeff Lerner, you can rest assured that my review of Entre Blueprint is not biased.
At the end of this article, I'll also share with you a better training platform that has enabled me to make a full-time passive income online.
In this Entre Blueprint review, I'm going to cover the following topics:
What is Entre Blueprint?
Jeff Lerner's Entre Blueprint is the foundational curriculum of the Entre Institute. It is a collection of videos that can be accessed for a fee of $39. According to Jeff, the key to success is a wholehearted dedication to the task at hand.
The Entre Blueprint focuses on the development of virtual properties as a means of achieving success. Virtual properties are attractive because they can generate income immediately and have the potential to increase in value over time.
However, after signing up for the program, I found that it was just a promotional video of Entre Institute. Jeff only introduces various online business models in the video without going into the nitty gritty of making money online. His goal is to sell you upsells so you can learn more.
Who is Jeff Lerner?
Jeff is a successful entrepreneur from New York City. He graduated from George Washington University with a degree in Business Administration, and it was during this time that he became interested in the power of branding.
After a series of setbacks, including the failure of a restaurant chain that left him with significant debt, Jeff joined an online marketing agency at age 29. This experience sparked his interest in entrepreneurship, and he eventually turned to online marketing full-time.
Over the next decade, Jeff built multiple successful businesses in the digital marketing and consulting space, including Xurli, ENTRE Institute, and 7 Mile Institute.
He is also a shareholder in Jump, a marketing software company for small and medium businesses, where he serves as a consultant and strategic partnership leader.
Through his work in affiliate marketing, Jeff has made millions of dollars and has helped train over 150,000 students.
Despite facing significant debt early in his career, Jeff was able to build a multi-million dollar empire and encourages others to follow in his footsteps.
According to our research, Jeff has an estimated net worth of $5 million. On his personal website, he claims to have gone from "broke jazz musician" to "$50 million in online revenue."
What is Entre Institute?
Jeff Lerner's online real estate school is called the ENTRE Institute. It offers a range of online courses, including:
Foundations videos that cover topics such as Jeff's secrets of success, lifestyle, making money, succeeding in business, growing wealth, and developing automated sales systems.

8-week Business Accelerators: The Millionaire Accelerator for Agencies, the Millionaire Accelerator for Affiliates, and the Millionaire Accelerator for Online Courses. Another author charges an additional $1997 per course or $4000 total to delve into affiliate marketing, digital agencies, and online courses. These courses, which are taught by experts in the field, are the first of three modules in the ENTRE Institute that will teach you how to launch an internet company.

ENTRE Mastery: ENTRE's top program for scaling online businesses.

ENTRE coaching: $15,000/year for 1-on-1 coaching.
The ENTRE Institute has a community called the ENTRE Nation for students to connect with others who share their values. The community offers opportunities to participate in smaller groups and attend live events such as the Insight, Impact, and Influence conferences.
However, unless you pay for the ENTRE Blueprint, many of the ENTRE Institute's products, such as ENTRE Digital and the Awesome Life Challenge, will remain mostly hidden. It is worth noting that Entre Results Coaching has no affiliation with Jeff.
To learn more, you can read our full review of ENTRE Institute.
Recommendation: Here's The Best Alternative
Who is Entre Blueprint For?
The ENTRE Institute does not appear to specifically target any particular group or individuals with a background in affiliate marketing or business.
This suggests that the creators of ENTRE Blueprint believe that their program is suitable for anyone interested in building a business.
However, the lessons in ENTRE Blueprint may be too basic for experienced entrepreneurs and may be more suitable for those who are new to online business.
How Does Entre Blueprint Work?
Entre Blueprint is a video training program created by Jeff Lerner.
The first three modules of the Entre Blueprint are designed to help individuals make personal changes. The final three modules focus on implementing one of Jeff's business models (affiliate marketing, digital agency, or online course creation).
Jeff emphasizes the importance of taking quick and decisive action, suggesting that delays can negatively impact the chances of success.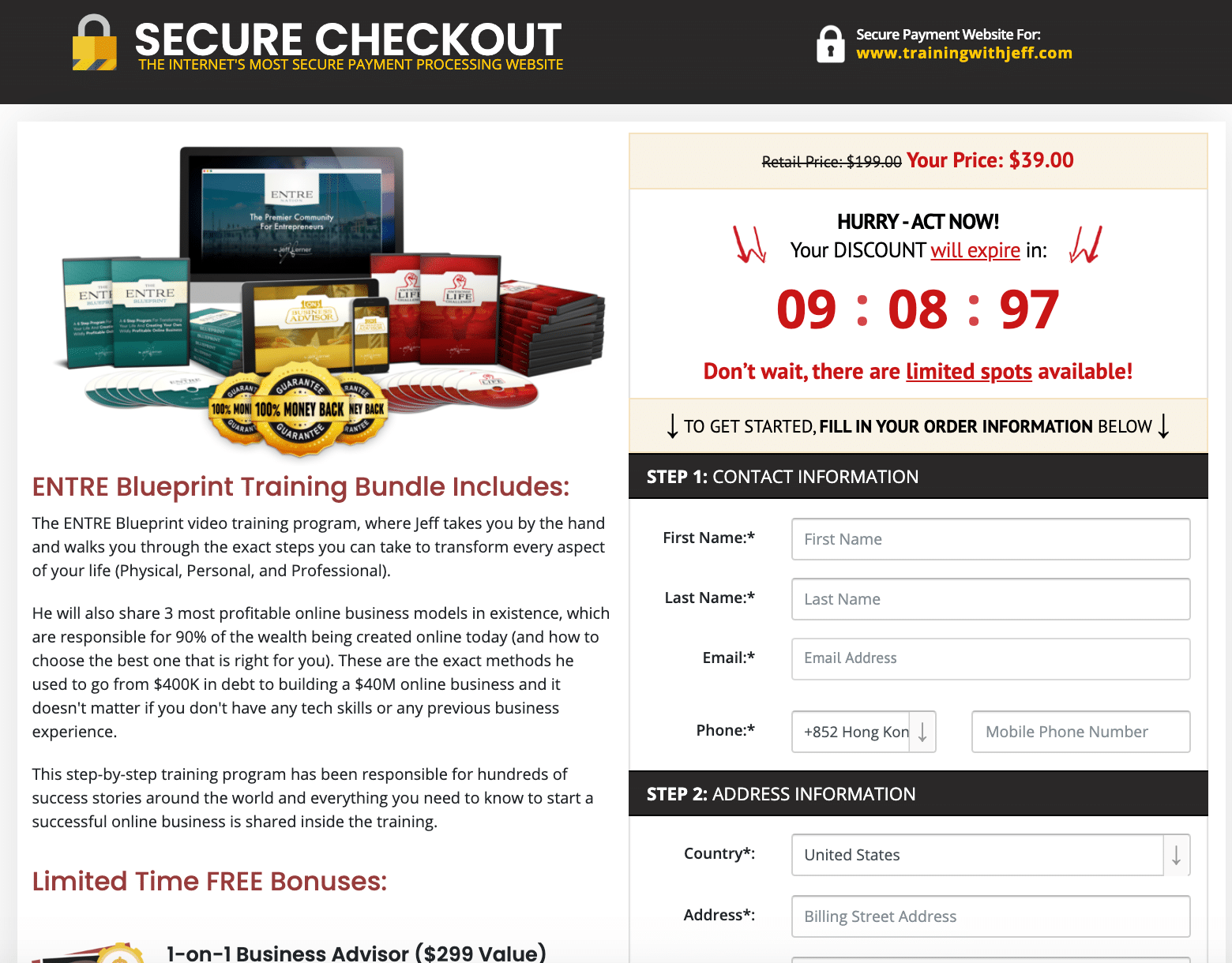 Here's how it works:
Step 1: The "3 P's" Of An Awesome Life
According to Jeff Lerner, the three most important aspects of a fulfilling life are health, relationships, and career success. He believes that if any one of these areas is not in balance, it can negatively impact overall well-being.
He emphasizes the importance of taking care of one's physical health, as it serves as the foundation for everything else. Maintaining healthy relationships with friends and family is also crucial.
Finally, success in one's career can contribute to a sense of fulfillment, but it is not the only factor and must be balanced with the other areas of life.
Physical:

Jeff suggests focusing on biochemistry, neurochemistry, spirituality, diet, and exercise in order to maintain physical and mental health.

Personal:

To improve relationships and connections with others, Jeff recommends focusing on oneself, loved ones, community, workplace, and fellow humans. He also emphasizes the importance of maintaining a harmonious home environment.

Professional:

Jeff believes that the first two areas (physical and personal) can have an indirect effect on professional success. He suggests that the following are important in one's career: money, reputation, power, resources, potential resources, output capacity, creativity, and innovation.
To help his students track their progress across the three areas, Jeff provides a set of Key Performance Indicators (KPIs). He also offers tips and tricks to help others achieve their goals, such as waking up before 5 AM, using supplements, practicing meditation, dedicating time to family and friends, using time chunking techniques, and saying "no" to 80% of requests.
Step 2: 3 Legs of Successful Action
Next, it's time to learn the three components of successful action. Jeff believes successful actions are like a stool with three legs. The legs are context/community, knowledge, and strategy.
Community represents the social aspect of success and can bring many benefits, including a sense of acceptance, community support, and a new perspective. It is helpful to find a group of people with similar goals to join in your endeavors. It is common to encounter skeptics and naysayers who may try to hinder your efforts to make money online, but it is important to focus on building a strong network of friends and allies.
Knowledge provides instruction, information, a sense of progress, renewal, mental inertia, and maturity. As an adult, the enjoyment you get from learning can be a valuable resource.
The strategy involves combining a solid plan with a strong belief system. It is important to have faith in your own abilities, even if your mentor provides a well-laid-out strategy. In addition to planning, a sense of familiarity, belonging, purpose, and self-assurance can also contribute to success. Jeff believes that if you have faith in what you are doing, you will be able to overcome any obstacles and achieve success.
Step 3: The 3 Phases of Building Your Legacy
Jeff advises maintaining a healthy cash flow in order to leave a financial legacy for future generations. To do this, he suggests:
Building up your resources to the point where you can support yourself financially.

Ensuring that your income is consistent.

Making an impact that increases your wealth and success.
To achieve these goals, Jeff recommends using resources from other companies to build up your core operation through affiliate marketing.
Once you have established your core operation, you can then expand your company's operations. Jeff's second suggestion for an online enterprise is to become a sales expert and then launch an internet marketing firm.
Finally, Jeff suggests starting an online course business as a way to make money and share your knowledge.
Step 4: Affiliate Marketing
Jeff used affiliate marketing (and real estate) to get out of $495,000 of debt in under 18 months. Affiliate marketing involves selecting a product to sell, obtaining promotional materials, developing an email marketing plan and client email list, establishing credibility in your chosen market, and attracting interested buyers.
Long-term assets such as a website, blog, or YouTube channel can help you achieve these goals and can increase in value as the number of visitors to your offer page grows.
Through the ENTRE affiliate marketing network, you can advertise their course using pre-made materials like emails and videos. Jeff suggests targeting leads for chiropractors, dentists, attorneys, high-priced contractors, and tow truck services.
You can read our guide to learn more about how to make money with affiliate marketing.
Step 5: Digital Agency
According to the ENTRE Blueprint, expanding into digital agencies is a way to create multiple streams of revenue. Jeff did this after earning $10,000,000 through affiliate marketing. The ENTRE Blueprint does not provide all the information needed to start a digital agency, but it can help stimulate ideas. The ENTRE Institute offers paid courses on how to launch your own digital agency.
However, starting a digital agency involves overcoming a wide range of challenges, similar to those faced by traditional storefronts. These challenges can include:
Generating high-quality prospect leads

Identifying and retaining clients, and keeping existing clients happy

Managing client relationships and interactions

Adapting to changes in the internet landscape and Google's search algorithms

Producing new material

Designing a website for public viewing (including accessibility and mobile optimization)

Providing excellent customer service and meeting client expectations
Failing to effectively address these challenges can lead to the failure of your agency.
Step 6: Digital Courses
Jeff's third stage for establishing a wealthy legacy is creating digital courses. To create a successful course using Jeff's formula, you will need to:
Validate: Make sure there is demand for your skills and course content before you start creating it.
Create: Offer a high level of value in a well-designed course.
Automate: Avoid one-on-one interaction with students in your course.
Through online courses and digital consulting, you can create an asset that generates recurring passive income with minimal effort.
However, establishing an online course involves many of the same challenges as selling other digital products. For example, you need to conduct market research to ensure that your course material will be well received.
Popular areas for course design include wellness/fitness, art, and finance, but these markets can be saturated. If you don't target the right audience, your course may struggle to attract students. It is also possible that market conditions, such as the emergence of new trends, could temporarily decrease profitability. Other challenges include:
Promoting your training program

Maintaining a strong online presence to establish yourself as an expert

Deciding where to host your online course (e.g. your own domain or a third-party platform like Teachable or SkillShare).
What else is included?
In addition, the ENTRE Blueprint includes access to two PDFs, the ENTRE Nation community, the ENTRE Life App, and Jumpstart training to help you start generating income quickly.
The PDFs include a business plan and an image that represents ENTRE's core values.
Recommendation: Here's The Best Alternative
How Much Does Entre Blueprint Cost?
The Entre Blueprint can be purchased for $39. While the course looks inexpensive, it only offers a small number of mindset-oriented courses.
Any Upsells?
You'll have to shell out some cash if you want to get the most out of Entre Institute.
The prices for each upgrade are as follows:
Millionaire Productivity Secrets: $197

Knowledge Business Accelerator: $1,997

Agency Business Accelerator: $1,997

Affiliate Business Accelerator: $1,997

Entre Foundations: $297

Entre Coaching: Unknown (you need to contact a so-called Entre Specialist first)

Implementation Bootcamp: Locked

Adskills Traffic Training: Locked
Any Discount?
Despite my thorough search, I was unable to find any discounts or coupons available on Entre Institute Blueprint's website.
No discounts are offered here; you either pay or you don't.
Refund Policy
Entre Institute offers a 30-day money-back guarantee on most of its items, as stated on its refund policy website.
Within 30 days of payment processing, you may cancel your purchase of Entre Blueprint.
The course comes with a "Keep it All" money-back guarantee, which means that you will receive a full refund and be able to keep all of the materials you received as part of the course.
Recommendation: Here's The Best Alternative
Is Jeff Lerner a Scam or Legit?
Jeff Lerner is not a scam. He has a pretty big following on YouTube with over 85k followers. He mostly plays the role of a life coach and business coach in his videos.
But some people have accused Jeff of being a fraud online. A lot of people think his training is too expensive and not very good, or that you have to buy more stuff from him to get any benefit.
But I can see why people might be skeptical of Jeff. After I signed up for the Entre Blueprint course, I realized that it was just the start of a long sales process.
Still, there are probably more positive reviews of Jeff and Entre Institute than negative ones. But it feels like a lot of the praise isn't all that sincere.
They haven't mentioned in detail how Jeff has helped them build a business. So one could guess if they're genuine or fake.
For example, this customer said that Jeff is sincere about helping others succeed. If so, why did he sell his students so many expensive upsells that cost thousands of dollars?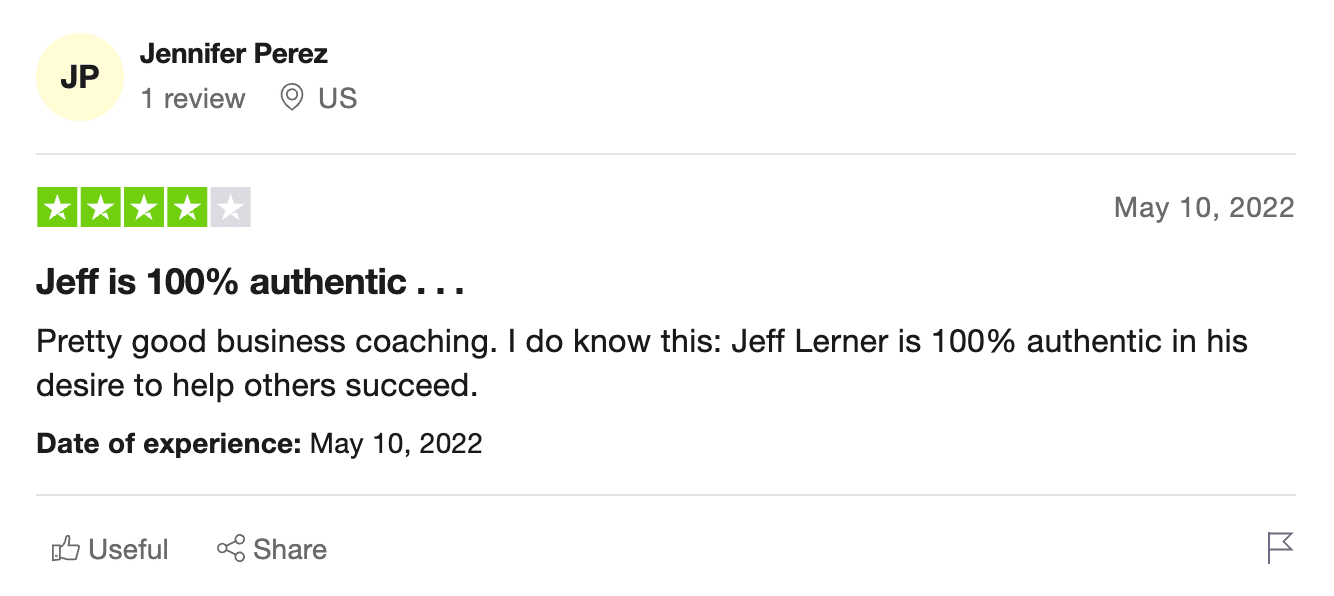 Again, Rachel promised Entre is the real deal without any valid reasons.
To be fair, let's take a look at some of the negative comments I found on Reddit.
As you can see, the user Dannymack11 said the content of his ebook and ads on Youtube are vague and misleading.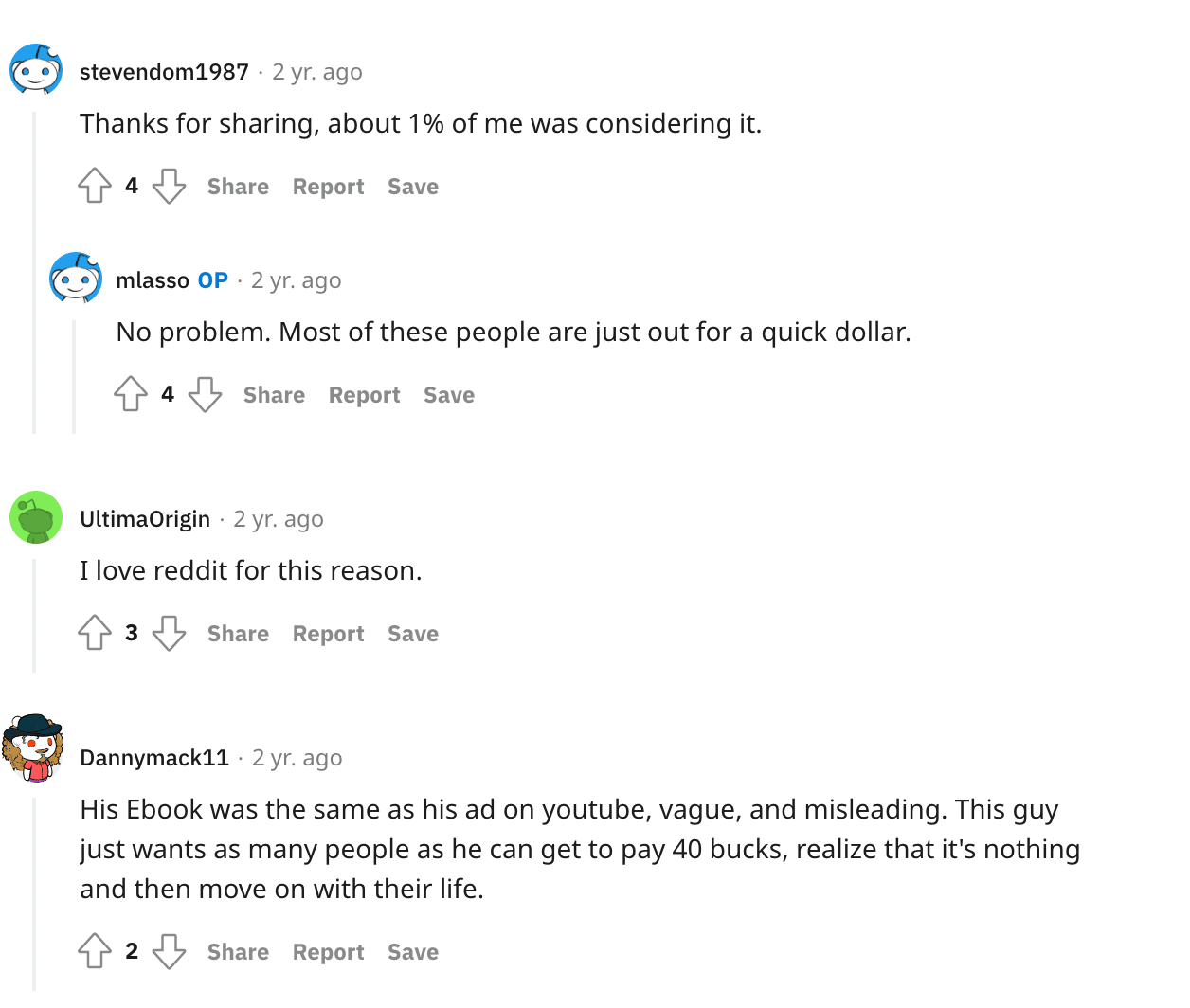 Another user, LeonardoCfilms, doesn't believe he's worth $80 million.
According to our research, Jeff is only worth a few million dollars.
If someone lies about his net worth, will you still have confidence in his credibility?
Now, I know some people think his marketing tactics are a little aggressive and that he's always trying to upsell his courses, which can feel kind of scammy. But from what I've heard, if you do pay for one of his courses, you'll actually get something in return, so he's not a complete fraud or anything.
More Red Flags……
1. An additional fee is charged for one-on-one coaching
After completing the core courses at the ENTRE Institute, students have the option to sign up for ongoing coaching with Jeff's team for $30,000 for three months. This means that before your online business makes any real money, you have already invested $15,639.
2. Jeff was involved in multilevel marketing and pyramid schemes
Jeff Lerner has been associated with several companies that have closed down, including Wealth Masters International (which was found to be a pyramid scheme in Norway) and Carbon Copy Pro.
He is currently active with businesses such as Six Figure Mentors, My Online Business Education (MOBE), and Digital Altitude, the founder of which had to pay $17 million to the FTC.
The FTC has accused MOBE, a company reportedly geared towards businesses like these, of pressuring clients to spend up to $30,000 on additional packages in its 21-step program by showing them pre-recorded videos featuring MOBE sales personnel, customer testimonials, and McPhee.
Customers were promised they would learn how to make a lot of money with the product, but instead many lost significant amounts of money. The FTC alleges that MOBE made $125 million from this campaign.
3. ENTRE is structured as an MLM business

Once you finish the Entre Blueprint, Jeff Lerner will show you how to make money as an affiliate marketer by selling Entre's digital programs, which gives a strong impression of multilevel marketing.

Thus, new affiliates may be biased in their reviews of ENTRE Blueprint since they receive financial compensation for promoting ENTRE products, which leads to many uninformed opinions.
4. Jeff puts so much emphasis on mindset
The ENTRE Institute focuses on teaching people how to think like entrepreneurs. If you're just starting out and trying to make money online, it might help if you develop a millionaire mindset.
But, you might be better off learning from a platform that gives you super specific instructions on how to build and run one particular business model. That way, you don't have to worry about sorting through a bunch of extra stuff that doesn't really apply to you.
Recommendation: Here's The Best Alternative
Praise for Entre Blueprint
1. The course is up-to-date
The ENTRE Blueprint is a course developed by Jeff Lerner and Adam Whiting that was released in 2019.
It is based on the 3×3 Success Matrix, a tool for entrepreneurs, and covers the fundamental mindset that Jeff believes is necessary for success as a business owner.
The course is designed to teach the most recent and relevant theories for making money online.
2. Not expensive
Entre Blueprint only costs $39. You just have to be careful about the many expensive upsells.
Criticism of Entre Blueprint
1. The training is not comprehensive
The ENTRE Blueprint course is primarily focused on providing motivation and inspiration for building an online business, rather than offering in-depth training on the practical steps involved. As a result, the course may not provide a lot of actionable guidance.
The section on introduction to business models is also relatively brief.
2. Many upsells
There are a ton of upsells in this course. The final offer is to upgrade to the "Elite" version of their community for a monthly fee of $48 or an annual fee of $348. And, if you're looking to get even more out of the course, you can also purchase three accelerator courses for $1997 each, or $4000 for the whole package.
Now, if you really want to go all in, Jeff Lerner also offers 1-on-1 coaching for a hefty $15,000 and the ENTRE Inner Circle, which includes 12 monthly virtual workshops, for $29,997.
Here's the thing, though. The ENTRE Blueprint is primarily a mindset course, so it may not give you all the nitty-gritty details on how to actually start and run an online business. If that's what you're after, you might need to invest in some extra courses or resources beyond the ENTRE Blueprint.
3. Jack of all trades, master of none
Jeff Leaner is an experienced online marketer, but he doesn't specialize in any specific area. This means that he creates a variety of courses on different topics.
While this might be great news for those looking to get a general understanding of different subjects, others might prefer to learn from someone who's a specialist in a particular area. This way, they get more specific and actionable advice that's tailored to their business needs.
4. Misleading marketing tactics
While the course may appear to be successful based on some testimonials, it is important to note that the numbers shown are only for revenue, not profit. This means that expenses, such as Facebook advertising budgets, have not been accounted for.
Additionally, it appears that Jeff has a team of affiliates promoting the course, and some reviewers may be reading scripted content off-camera.
These scripts may be somewhat general in nature. It is important to consider these factors when evaluating the potential success of the course.
5. Jeff Lerner focuses on paid traffic only
The Entre Blueprint training program focuses on paid traffic methods – which can be effective, but it's also important to remember that there are also free traffic methods. As the cost of social media ads has skyrocketed in recent years, relying solely on paid methods can be expensive.
As a digital marketer, it's wise to know about both paid and free traffic generation methods to maximize your profits. That way, you can choose the best option for your business and budget.
6. There's no mention of how hard the business models are

Jeff might have achieved some great success with his strategies, which is cool. But, he doesn't really talk about the challenges that come with affiliate marketing (like trying to stand out from all the other ENTRE Blueprint partners), building a digital agency (convincing companies to let you handle their marketing), or even creating an online course (it's not as passive as you might think, what with all the updates, coaching, and such).
He also doesn't really say how much money you need to start a successful business with one of the ENTRE models.
7. Entre Blueprint is a commercial
The ENTRE Blueprint is a promotional video for the ENTRE Institute.
It presents information on various online business models, but this information can easily be found for free on Google and YouTube.
Recommendation: Here's The Best Alternative
Is Entre Blueprint a Scam or Legit?
I won't say Jeff Lerner or Entre Blueprint is a scam.
But to my disappointment, the program doesn't live up to its promise. The checkout page of the official website clearly states that Entre Blueprint will teach you everything you need to know to start a successful online business.
However, it's nothing more than a basic introduction to online business models, including eCommerce, affiliate marketing, and digital agency. You can find the same content on Youtube or blogs without paying a dime.
In fact, it's hardly possible that you can work from home and achieve financial freedom simply by following what Jeff teaches you in this program.
After all, the program doesn't include any lessons on technical skills such as SEO, content creation, ads campaign strategy, or running a website. Without specific knowledge or skills, it's impossible to become a successful online entrepreneur.
Isn't it misleading to state on the checkout page that people can build an online business without any tech skills or previous business experience?
Worse still, the upsells from Entre Blueprint can make you feel tired.
In one word, Entre Blueprint is a legit program that I'll never recommend to you.
Is There A Better Alternative To Entre Blueprint?
In this training program, Jeff Lerner said that affiliate marketing is the best way to launch an online business. That's true because you can get started at zero cost.
In affiliate marketing, you don't have to develop any products, manage inventory, customer service or spend money on ad campaigns.
It is the best business model for novices who want to create a steady passive income.
The thing is ENTRE Blueprint doesn't teach you the specific skills or technical knowledge which are the prerequisites to success in affiliate marketing; nor is there any website builder provided.
That's why instead of ENTRE Blueprint, I'd recommend you to join my #1 recommended training platform Wealthy Affiliate which allows you to begin your online career at zero cost.
Now, the question is…can Wealthy Affiliate really help you generate a high income?
See the testimonial below…
A 21-year-old student from Wealthy Affiliate was able to earn $7,395 in just 1 week, which means he made more than $1k a day…all the while using free traffic methods.
It's hardly possible that you can earn $1k a day by using any other business model without a significant upfront cost. But you can make it happen in affiliate marketing.
If you have never heard of Wealthy Affiliate, let me tell you that it is the best training platform for affiliate marketing. It has existed for more than 10 years and many of the students are now enjoying a steady passive income. Some of them have even quit their 9-5 jobs and started traveling around the world.
To give you more examples, here are some of the other inspiring success stories of Wealthy Affiliate members.
Where to Join Wealthy Affiliate?
Wealthy Affiliate is offering both free and premium membership.
If you want to experience Wealthy Affiliate, you can sign up for the starter membership here (no credit card required). You can select to be a free member with no time limit.
And as a free member, you can get instant access to the community, live chat, over 500 training modules, 2 classrooms, networking, commenting, 1 free website, and access to the keyword tool.
You can enjoy all these values without paying a penny.
So I strongly recommend you register a free account and see it yourself.