It's rare to see a dropshipping course that focuses primarily on selling high ticket products due to the potential risk of chargebacks.
So when I first came across AJ Jomah's 7 Figure Skills, I'm suspicious of the values that this course actually delivers.
After all, it might be simply a dropshipping course rebranded as a unique one that claims to help you build a 7 figures business.
Since I'm not affiliated to 7 Figure Skills, you can rest assured that review is genuine and unbiased.
Also, at the end of this article, I'll tell you why dropshipping is dead and you deserve a much better alternative that can really generate a decent passive income at zero risk.
Below is what I'll cover in the review of AJ Jomah.
Who is AJ Jomah?
AJ Jomah is the founder of 7 Figure Skills and many other online business courses. He has churned out heaps of programmes over the years including Amazon FBA and Print on Demand.

This course mainly teaches you to sell high ticket items using Google Shopping Ads. According to AJ Jomah, he made a fortune from this method and turned himself from a broken entrepreneur into a millionaire.
This sounds too cinematic in the sense that people are especially suspicious of the high ticket items displayed on Google Shopping Ads which cost $2000 to $20,000.
These days, it's not easy to find a dummy who's that generous and doesn't know the existence of Amazon.
The pricing structure of 7 Figure Skills
7 Figure Skills consists of three packages, a standard package is priced at $1297, a hold my hand premium academy costs $2497 and a done for you solution for $5997. I'll be done if I buy the most expensive package.
The price tags of these packages show you that AJ Jomah is a big fan of high ticket items and he believes it works in selling training programmes as well.
What is 7 Figure Skills about?
7 Figure Skills is a dropshipping course that is centered around high ticket dropshipping, different methods to boost conversion rate, finding unique but hot-selling products that aren't sold on Google ads (looks like AJ has some insider information).
But how can you find out unique but hot-selling products? If the product is on a rising demand, then most dropshippers should have seen it before. If not, it's simply a unique product. But uniqueness doesn't guarantee sales in marketing.
AK Jomah's major selling point is teaching you to make at least $300 every time you sell a product. That's not bad if you can get one order every month.
An Overview of 7 Figure Skills
Feeling so curious about AJ Jomah, I actually reached out to some of his students and talked to them in private.
Now, let's take a look at what's included in the training programme 7 Figure Skills.
Module 1: What Makes A Good Product To Sell Online
In this module, you will learn how to choose the right product or niche to start your high ticket dropshipping business. In short, it is a basic introduction that isn't worth the price.
Module 2: Brainstorming Product Ideas
This module includes a case study on how a single product can generate over 100k per month. You can use AJ Jomah's research tool to get product ideas but I'm afraid most of the high ticket items are saturated now.
Module 3: Validating Your Niche & Finding Suppliers
This module teaches you how to find winning niches and some pricing strategies. There's a 4000 supplier directory that you get access too.
Module 4: Creating Your Store
In this module, AJ Jomah gives you a complete guide to set up your Shopify store including the logo, Shopify plugins, email automation and abandoned carts.
Module 5: Supplier Approval & Research
This module is mainly about how to find the best suppliers and work with them to build long term business relationships. You will be provided with scripts and email templates for contacting the suppliers.
Module 6: Store Optimization
In this module, AJ Jomah will walk you through the process of optimizing your store. You will also get some templates for the pages of about, contact, shipping and returns.
Module 7: Email & Automation
This module contains some training videos on marketing and automation.
Module 8: Traffic Overview
This section teaches you the basics of Google ads and Google Shopping. In addition, AJ Jomah will tell you some strategies to get cheap traffic.
Module 9: Facebook Advertising
This module is actually a waste of time because people seldom buy high ticket items on Facebook when they are just browsing news and the private life of someone else.
Refund Policy
7 Figure Skills offers a 30 day money back guarantee through Stripe. There's no terms and conditions which specifies any action steps required for a refund.
The Problems with High Ticket Dropshipping
It's extremely risky to do high ticket dropshipping in the sense that when there's any defect with the product, you are responsible for sending the customer a replacement or refund. If your supplier refuses to deliver a replacement, you have to bear the loss yourself.
You can't escape the responsibility because your customers can always open a dispute with their credit card companies or PayPal or Stripe to get their money back.
Apart from losing a customer, you're also losing an entire purchase price. There's no way to recover the product costs, shipping fee and ads costs.
It can be the fastest way to turn yourself into a broken entrepreneur.
Why Is dropshipping Not a Viable Option in 2020?
As an experienced dropshipper, what I can tell you is that dropshipping has become increasingly difficult. If you want to build a 6 figure dropshipping business, you need to shed some blood, sweat and tears to figure out how it works.
Here are a few points why I would not recommend dropshipping:
Financial Risk
Your dropshipping store won't sell ANYTHING if you don't ADVERTISE. But Facebook ads costs are skyrocketing and will eat away your PROFITS. You might need weeks or even months to just break even, before seeing any profit.
In another word, you have to take a huge FINANCIAL RISK in dropshipping.
Facebook ads are Pricey and Difficult
After observing most dropshippers' results, at best, the total Facebook ad cost will account for at least 30% of your total sales.
But Facebook ads seldom stay effective for too long. Once your ad has exhausted the audience, it becomes ineffective. Your total revenue will be much lower and even result in net loss.
According to Forbes, Facebook saw an increase in Ad costs of 90% year-on-year.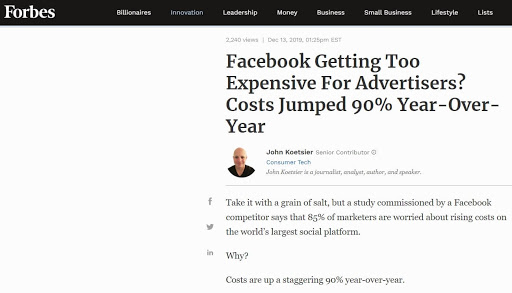 Worse still, the learning curve of Facebook ads is quite steep because Facebook changes its algorithm all the time. You have to invest a lot of time and money in learning and testing Facebook Ads.
If you run Facebook ads without any experience, your ad account will be banned for violating their strict policies.
Customer Support
In dropshipping, you have to spend a lot of time communicating with suppliers and dealing with customer service.
If your customer has any issues with the product, you have to wait for your supplier to help you. If your supplier is not helpful, you have to bear the loss yourself. Therefore, many dropshipping stores have poor customer review and have no returning customers.
In the worst case, you would expect a lot of credit card chargebacks, which risk getting your payment gateway shut down.
A lot of work on product research
For your store to keep making money, you always have to find a product that has the momentum to go viral in order that the ads costs can be covered.
In dropshipping, most products reach their peak in 1-2 months or even weeks. This is because many competitors will steal your product and create a better ad. Or increase their budgets on Facebook ads to outbid you.
Therefore, you need to keep finding new replacements to keep generating cash flow.
You might see people post revenues online but they don't tell you the net revenue.
Some of them might be making money but it's not sustainable.
The dropshipping business model is not as passive as you think. Most people who succeed in dropshipping are doing it full time because it requires you to keep finding new products, creating new stores, testing new ads and looking for new suppliers to make your income stable.
Is There an Easier & Better Alternative to Dropshipping?
If you don't want to waste your time or risk your hard earned money, you might wonder if there is a better business model that doesn't need Facebook ads and can do it as a side-hustle.
Yes, I would suggest you getting started with affiliate marketing. It is far easier and less time consuming as you don't even need to handle customer service.
In affiliate marketing, you can run your business almost with zero cost. Most importantly, you don't need to invest in creating and developing any products.
But How Much Can You Earn in Affiliate Marketing?
A 21-year old student from my #1 recommended training platform of affiliate marketing was able to earn $7,395 in just 1 week, which means he made more than $1k a day…all while using free traffic methods.
Wealthy Affiliate has existed for more than 10 years and there are many success stories over the years.
To give you more examples, here are some of the other inspiring success stories of Wealthy Affiliate members.
Where to Join Wealthy Affiliate?
Wealthy Affiliate has a very simple pricing scheme. It has free and premium membership.
If you want to feel about Wealthy Affiliate, you can sign up for the starter membership here (no credit card required). You can select to be a free member with no time limit.
And as a starter member, you can get instant access to the community, live chat, over 500 training modules, 2 classrooms, networking, commenting, 1 free website, access to the keyword tool.
You can enjoy all these values without paying a penny.
So I strongly recommend you to register a free account and see it yourself.