Have you ever heard about Tom Bilyeu's Impact Theory University and wonder what it is like inside the programme?
To give you an answer, I've reached out to some of Tom Bilyeu's students who have the first hand experiences with the course and can let us know the truths about Tom and what he has done so far.
Though I'm not a big fan of Tom, I've spent hours watching his Youtube videos and browsing through his posts on social media networks so that I can have a clear picture of what Tom is about and can he really give you a leg up.
In fact, 99% of the programme's content is available for free on Youtube and even Tom himself says so.
But you might only have some impressions with Tom and these days, there are so many fake gurus out there that it's hard to discern the good from the bad.
Is Tom a real deal? Or is Impact University a scam?
Today I'll unpack everything about that guy to you and let you know if it's a good decision to become his student.
But before I proceed to the review, let me make it clear that I'm not paid to endorse him.
I'm an Internet entrepreneur who's enjoying my laptop lifestyle after creating multiple six-figures businesses.
At the end of this article, I'll tell you how I did it with a training platform that teaches you how to make passive income from home at zero cost.
Below is what I'll cover in the review of Impact Theory University.
Who is Tom Bilyeu?
Tom Bilyeu is the founder and CEO of Impact Theory University. He is a self made entrepreneur who has also created a media studio that influenced pop culture through non-fiction & fiction content.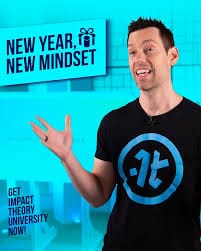 According to the official website, Tom has scaled Impact Theory to a seven-figure business, amassing an audience of 4 million people in less than 3 years.
Before that, Tom was the president of Quest Nutrition, a corporation which is said to be the 2nd fastest growing Inc. 500 company.
What's inside Impact Theory University?
Impact Theory University consists of two parts, the Mindset and Business tracks. Let's begin with the Mindset track where most people start first despite the fact that a large number of the members are business owners.
Mindset Track
Below is a summary of what you'll get:
Access to 20+ hours of mindset education taught by Tom and other guest speakers

Two hours long live mindset lesson once a month

Chances to ask Tom questions in real time

Access to the recordings of the previous lessons or sessions

PDF worksheets
The private Facebook group is an additional bonus to members. You can interact with students from both tracks and sometimes get the chance to talk to Tom.
Business Track
The business track mostly includes the live sessions. The difference is that you can get access to the Entrepreneurship 101 course.
You can have both the PDFs of Mindset and Entrepreneurship tracks. It would be convenient for you to go through them in depth for your business and personal development over the years. After all, if you just listen to interviews on the subway, or watching while lying on the bed late at night, it's hard to yield results.
Below is a summary of what you'll get:
20+ hours of business education taught by Tom and other guest speakers

Hour-long monthly live business coaching with Q&A session

PDF worksheets

Access to the Facebook group of business community

Strategies to help you get started with your business
How Much Does Impact Theory University Cost?
The Mindset course is offered at $47 per month or $297 per year. The Business course is more expensive with a monthly price of $97 or $597 for a yearly plan.
The option of Bundle allows you to access both courses at a price of $120 per month or $797 per year.
What I Like About Impact Theory University
The programme is comprehensive and Tom's teaching style is impressive

Impact Theory University provides an instructional manual for success where you can follow the steps to facilitate personal growth.

The live coaching calls can cater to the needs of different students

You can receive support from the community group
What I Don't Like About Impact Theory University
The subscription fees of both Mindset and Business programmes are expensive to most aspiring entrepreneurs who might not have the financial means, not to mention that most of the course materials are available on Youtube or blogs for free.

Some of the video lessons are not well-structured and students might lose track

The contents of entrepreneurship and business tracks are strikingly similar and can be integrated as one track
Who is Impact Theory University For?
In general, Impact Theory University is most suitable for someone who meets the following criteria:
A big fan of Tom who is committed to success

Believes in the education of self-help and willing to work hard persistently

Has the financial means to pay the subscription fees for both programmes
If that's not you, Impact Theory University might not be suitable for you as it is not a get rick quick scheme.
Is Impact Theory University a Scam?
Impact Theory University is not a scam.
But most of the information is actually available for free online and can be found on Tom's YouTube channel.
Besides, though Impact Theory University claims to take care of your personal growth, the course on mindset is actually a mash-up of other lifestyle gurus' philosophies or rich mindset stuff.
And if you end up doing all the training programmes, it will be expensive. You have to think carefully whether you should instead look for the same information on Google or YouTube.
Lastly, Since Tom pitches you a lot of content without specialising in a specific business model, it's hard for you to decide which path you should take to achieve financial freedom.
Is There an Easier and Better Alternative to Make Passive Income?
As an experienced entrepreneur, I'm not the fan of abstract ideas. Instead of imagining a brighter future and spending hours on self-reflection, I always focus on learning the principles and technical stuff about online marketing.
And that's how I have successfully created multiple 6 figure businesses.
If you're new to online business, I'd say affiliate marketing is your best choice.

Why? Because it's been proven to work for many people and you can do it as a side hustle.

In affiliate marketing, you can run your business almost at zero cost without any trouble from sourcing products or managing inventory.

More importantly, it allows you to enjoy a steady stream of passive income while going on vacation or working a full-time job.

Warren Buffet once said, "If you don't find a way to make money while you sleep, you will work until you die."

The easiest way to make money while you sleep is getting started with affiliate marketing.

And since the world is full of uncertainty, I'd always choose a business model that has the lowest risk.
But How Much Can You Earn in Affiliate Marketing?
A 21-year old student from my #1 recommended training platform of affiliate marketing was able to earn $7,395 in just 1 week, which means he made more than $1k a day…all while using free traffic methods.
Wealthy Affiliate has existed for more than 10 years and there are many success stories over the years.
To give you more examples, here are some of the other inspiring success stories of Wealthy Affiliate members.
Where to Join Wealthy Affiliate?
Wealthy Affiliate has a very simple pricing scheme. It has free and premium membership.

If you are interested in Wealthy Affiliate, you can sign up for the starter membership here (no credit card required). You can select to be a free member with no time limit.

And as a starter member, you can get instant access to the community, live chat, over 500 training modules, 2 classrooms, networking, build 1 free website, access to the keyword tool.

You can enjoy all these values without paying a penny.

So I strongly recommend you to register a free account and see it yourself.