Looking to make money online? You might consider joining Commission Machine, an affiliate marketing company that offers a chance to earn up to $2,462.60 daily for just $47. But here's the big question: Can you really achieve this, or is it a potential scam? We'll dive into the details in this Commission Machine review.
First things first, I want to clarify that I have no affiliation with Commission Machine, and I'm not being paid to write this review. You can count on an honest and unbiased assessment from me.
By the end of this review, I'll also introduce you to a top alternative to Commission Machine, which has allowed me to create a full-time passive income online. Let's get started and see if Commission Machine lives up to its promises.
How Does Commission Machine Help You Make Money?
Commission Machine, created by Michael Cheney, is a video training program consisting of seven modules. It claims to teach you how to make a staggering $2,642.60 per day through various strategies. That adds up to an impressive $964,549 annually!
The main concept revolves around using email campaigns to promote affiliate marketing products to those seeking online income opportunities. This approach is similar to what you'd find in other training programs like Evergreen Wealth Formula and 1k A Day Fast Track.
Once you make your payment, you'll gain access to what they call a "copy and paste" method for making money through email marketing, even if you're a total beginner. They assert that you don't need an email list or a website to get started.
However, if this all sounds too good to be true, you're right to be cautious. You can watch a video about it on The Commission Machine website, where Michael Cheney demonstrates a real-time transfer of $85,000 from his PayPal account to his bank account.
It's worth noting that it's unclear how much of this money came from sales of The Commission Machine. Many online "make money" courses tend to present themselves as comprehensive "systems" or "machines," creating the impression that making money online is as easy as a few clicks and watching your bank account grow instantly.
Recommendation: Here's The Best Alternative
Who is Michael Cheney?
Michael Cheney is a UK-based affiliate marketer and course creator with a strong background in email marketing.
Michael's internet marketing career began in 2006 with a Google AdSense training course. Though his start was a bit rocky, it marked his first taste of success, bringing in a whopping $250,000 in just seven days.
Michael takes inspiration from Ben Settle, who champions daily email communication and the art of selling through storytelling. In Michael's program, you'll learn how to do this effectively.
Michael is known for his persuasive sales pitches, and his sales videos may come across as overly enthusiastic. However, don't be too quick to judge – he brings a wealth of experience and in-depth knowledge to the table. With a lengthy track record in the internet business, he's a seasoned pro.
Michael has 10k+ followers on his self-titled YouTube Channel. If you want to get a taste of his teaching style, you can watch the video below:
What's Included in The Commission Machine?
The Commission Machine consists of eight modules, each with a single video. Additionally, most modules offer links to additional tools or software. Here's a simple breakdown of what each module includes:
Module 1: Getting Started
A brief introduction to the program, highlighting the benefits.
Video Duration: 3:11
Module 2: Research
How to find "commission gold mines" the right way, focusing on products in the online money-making niche.
Video Duration: 28:28
Module 3: Angle
Discover effective angles to persuade customers to buy through your affiliate link.
Four angles explained: The Product Angle, The Personal Angle, The Attribute Angle, The Money Angle.
Examples of emails and insights into content.
Video Duration: 24:10
Module 4: Providing Incentives
Learn how to offer extra incentives to encourage purchases through your affiliate link.
Bonus creation and urgency setup.
How to use JVZoo for bonus delivery (for JVZoo products).
Video Duration: 23:24
Module 5: Messages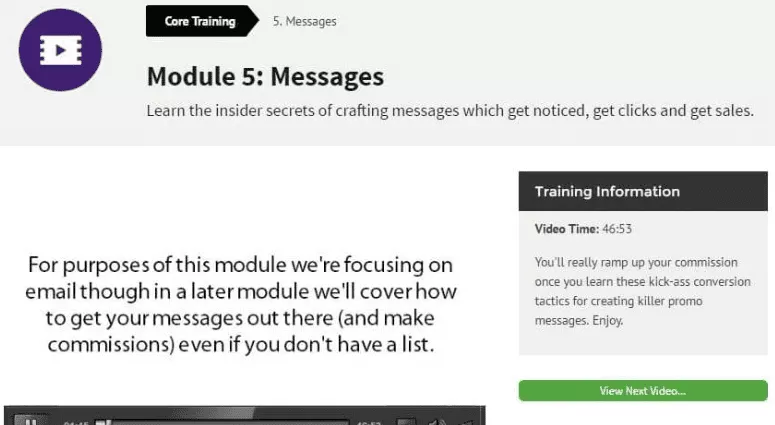 Crafting email messages, including numerous examples to follow.
Valuable insights on creating effective email communications.
Emphasis on storytelling as a key technique.
Video Duration: 46:53
Module 6: Deploy
Setting up your commission machine, including email frequency and structure.
A walkthrough of a live campaign you can replicate.
Video Duration: 28:43
Module 7: The No List Method
Using Facebook for affiliate marketing, a strategy that requires time to master.
Engaging with Facebook groups, along with some options.
Recommendations for starting a blog for storytelling.
Video Duration: 13:38
Module 8: Advanced Ninja Tactics
Creating bonus pages to provide incentives for purchases through your link.
Details on product sales pages and bonus delivery timing.
Guidance on adding incentives and follow-up emails.
Video Duration: 11:08
Recommendation: Here's The Best Alternative
Are Students Getting Results With Commission Machine?
When you visit the Commission Machine sales page, you'll come across about 10 success stories. These testimonials mainly revolve around students who've pulled in a few hundred dollars in a single day without spending a dime. Here are a few examples: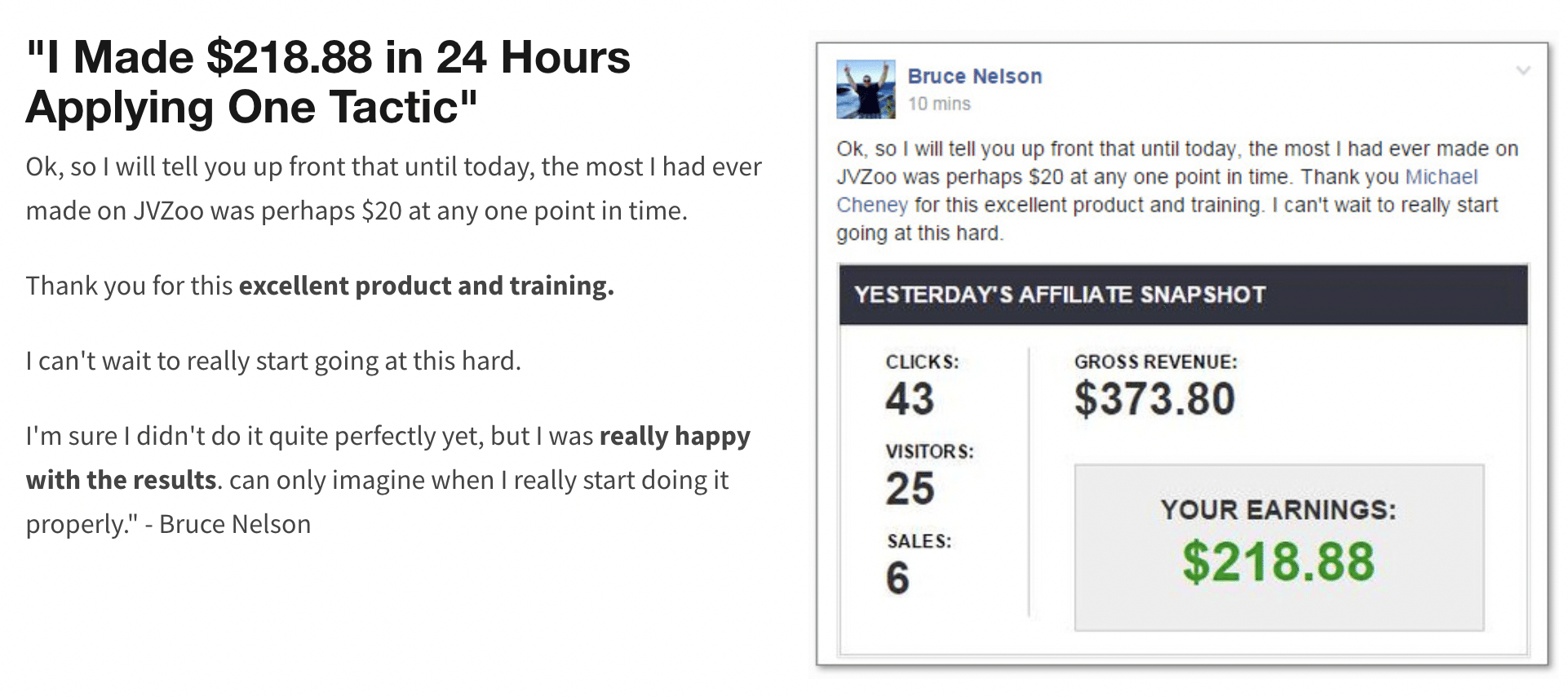 Yet, there's no concrete way to verify whether these testimonials are genuine or potentially manufactured.
Does Commission Machine Really Work?
Let's address the critical question: Do the marketing methods promoted by Commission Machine genuinely yield results?
Commission Machine is built upon affiliate marketing and email marketing, which are recognized as legitimate methods. Michael delves into the intricacies of product discovery, market research, crafting advertising strategies, and their execution.
However, the guidance provided falls short of substantiating the lofty claims made on the website, which, to be honest, seem rather far-fetched.
Michael emphasizes the importance of conducting thorough market research before initiating a marketing campaign, a step often overlooked by many in the affiliate and email marketing arenas.
The program comprises a total of eight modules:
Lesson 1: Getting Started
Lesson 2: Research
Lesson 3: Angle
Lesson 4: Providing Incentives
Lesson 5: Messages
Lesson 6: Deploy
Lesson 7: The No List Method
Lesson 8: Advanced Ninja Tactics
Michael aims to teach you how to create compelling presentations, a skill that proficient marketers should possess. This is all about capturing the interest of potential customers.
The bulk of Commission Machine's lessons are focused on boosting sales through bonuses and earning affiliate commissions without the need for an email list. Later on, you're encouraged to start a blog and drive traffic to it from Facebook, a sound strategy for attracting readers.
However, it's worth noting that Commission Machine's course falls short of delivering on its promises regarding user engagement, which is a significant drawback in my view.
Even the most competent company will struggle if it can't generate a substantial daily flow of clicks to its products and services. To address this, Michael has introduced a series of upsells, but that might not be the best approach for growing your business.
In essence, this is where some skepticism arises. The initial $19 entry fee might seem enticing, but the effectiveness of the entire system remains in question.
Recommendation: Here's The Best Alternative
How Much Does It Cost to Join Commission Machine?
Let's break down the costs of Commission Machine. To get started with the training videos, it's a one-time payment of $47, but keep in mind that you can often snag it at a discounted rate of about $19.95. Not too bad for a seven-module email marketing course.
Now, about those upsells – there are a few. The Commissionology Upsell costs an additional $27 per month and lets you use the founder's strategies and plug in your affiliate links. However, it's optional, and you might want to think twice before grabbing it.
If you're looking for a shortcut, there's the Done For You service at $97. It's designed to make things quicker and easier for you. And then, there's a big one – a $1,997 upsell that opens the door to the founder's seven-figure business.
Here's the deal: You don't need these upsells to access Commission Machine's training. But, be ready for your expenses to climb if you decide to go for them.
And here's the cherry on top – there's a 30-day money-back guarantee, just in case.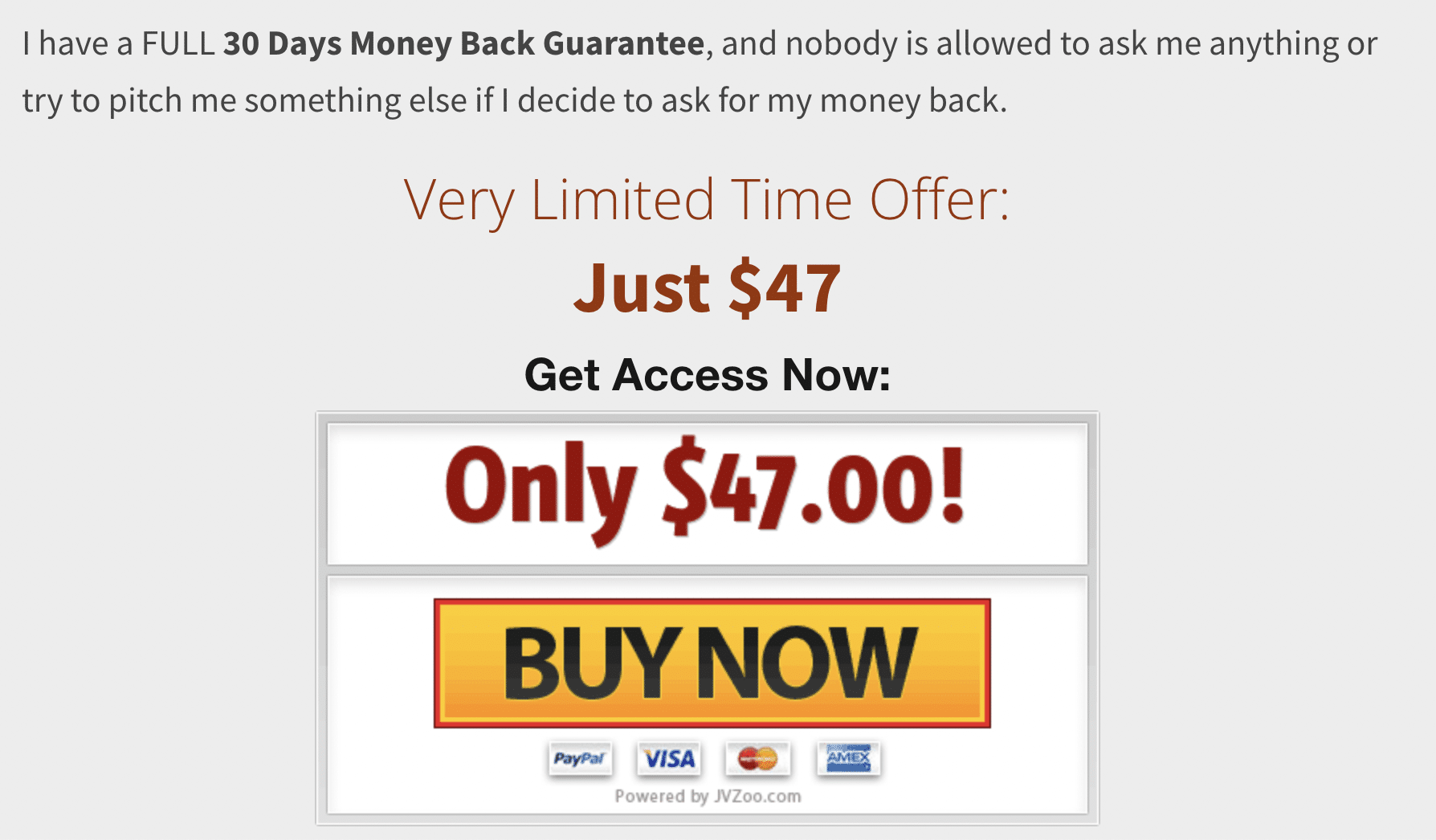 Praise for Commission Machine
1. One-time Payment
Commission Machine operates on a simple one-time payment model. You pay once, and you gain lifetime access to the training program. This eliminates the need for ongoing monthly fees, making it cost-effective in the long run.
2. 30-Day Money-Back Guarantee
Commission Machine offers a 30-day money-back guarantee. If you're dissatisfied with the program or it doesn't meet your expectations, you can request a full refund within the first month. This policy provides peace of mind to users who want to test the program's suitability for their needs.
Criticism of Commission Machine
1. Exaggerated Income Claims
Commission Machine makes bold claims of earning over $2,500 per day through its platform. Such claims can mislead users into having unrealistic expectations and can create skepticism about the program's credibility.
2. Upsells
While the core program offers a one-time payment, there are optional upsells, some of which can be quite costly. These upsells might pressure users to spend more money, potentially leading to higher overall costs.
3. Refund Rate
Insights from JVZoo indicate a relatively high refund rate of 13.72 percent for Commission Machine, which is considerably above the industry's desirable rate of under 5 percent. This suggests that a significant number of users have sought refunds, which could be indicative of customer dissatisfaction.
4. Overlooked Disclaimer
There's a disclaimer buried in the website's fine print, which clarifies that sellers have no control over the earnings mentioned in their profiles. This lack of transparency might leave some users feeling misled about their potential earnings.
Is Commission Machine a Scam?
Commission Machine isn't a scam. Michael Cheney won't just grab your money and vanish. They do deliver the promised training program.
The major concern with Commission Machine is its bold claim that you can pocket over $2,500 a day through their platform. This, coupled with the program's marketing as suitable for absolute beginners, has raised doubts about its legitimacy.
The truth lies in the middle. Commission Machine is essentially a training program where you make a one-time payment for lifetime access. It's a better deal compared to products with ongoing monthly costs.
However, there's a crucial disclaimer, often tucked away on the website, that clarifies sellers have no control over the earnings mentioned in their profiles.
On the plus side, they offer a 30-day money-back guarantee. If you're not satisfied with the program or it doesn't meet your expectations, they promise a full refund. The presence of this feature is a positive sign.
But here's a twist – based on my insights from JVZoo, there's a notable refund rate of 13.72 percent (ideally, it should be below 5%). This suggests a significant number of customers seeking refunds within the initial 30 days.
Is There A Better Alternative?
If you really want to learn affiliate marketing and build a business from scratch, I'd recommend you to get started with the most reputable platform for affiliate marketing: Wealthy Affiliate.

Wealthy Affiliate is an all-in-one platform for building your affiliate marketing business from scratch. It offers you a free account (including a free website) with comprehensive training on SEO (free traffic methods), which enables you to get started with affiliate marketing right away without paying a penny.
But How Much Can You Earn with Wealthy Affiliate?
A 21-year old student from Wealthy Affiliate was able to earn $7,395 in just 1 week, which means he made more than $1k a day…all while using free traffic methods.
For more information, you can check out our full review of Wealthy Affiliate.