Are you looking to make money online and enhance your website's visibility in search engines? If so, you may have come across ClickMinded, a comprehensive training program designed to teach you the ins and outs of search engine optimization (SEO) and digital marketing.
In this review, we'll take a closer look at ClickMinded, its founder Tommy Griffith, the courses it offers, the pricing, customer reviews, and whether it's a legitimate program or a scam.
By the end of this review, you'll have a better understanding of ClickMinded and be able to make an informed decision about whether it's the right fit for you.
What is ClickMinded?
ClickMinded is an SEO training course developed by Tommy Griffith, an experienced SEO expert who has worked with notable companies such as Airbnb and PayPal.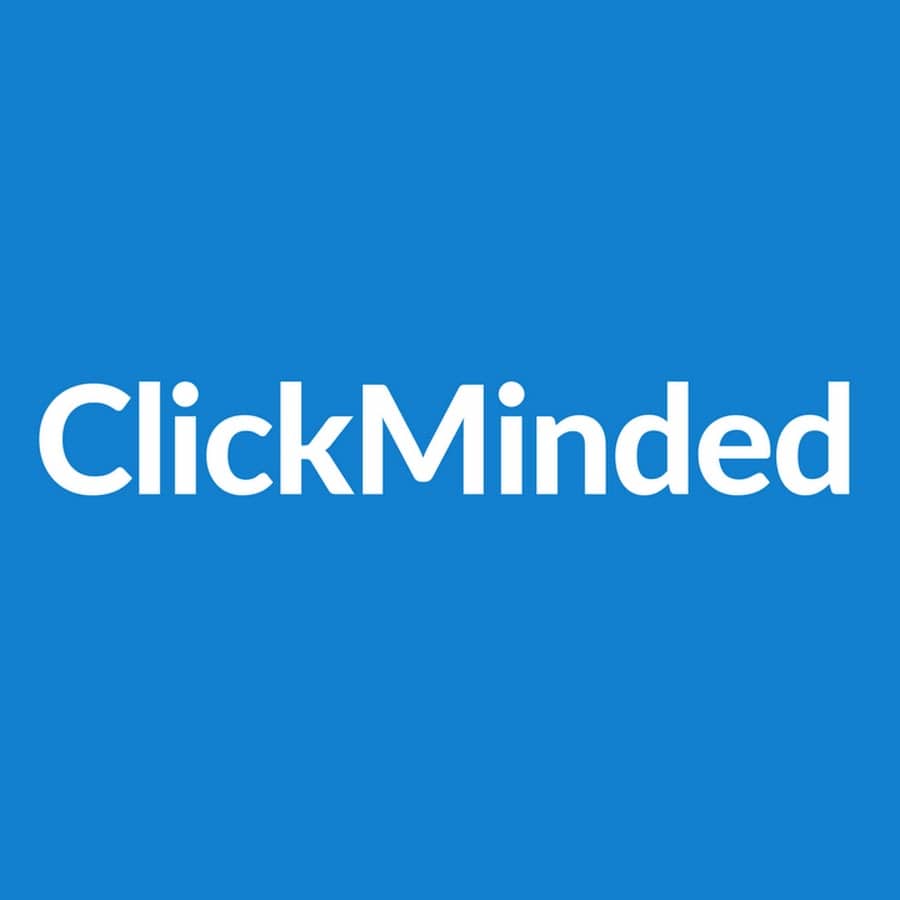 The program aims to provide individuals with the knowledge and skills needed to improve their website's rankings in search engines, thereby increasing organic traffic and potential sales.
ClickMinded offers a range of courses and resources covering various aspects of digital marketing, including SEO, content marketing, social media marketing, web analytics, paid advertising, email marketing, and sales funnels.
Recommendation: Here's The Best Alternative
How Does ClickMinded Work?
ClickMinded operates as a self-paced online training program, allowing participants to learn at their own pace. The courses are structured in a way that guides users from the basics to more advanced topics, providing step-by-step instructions, practical examples, and real-world strategies.
Each course includes video lessons, quizzes, downloadable templates, and resources to aid in the learning process. Upon completion of the program, participants receive a certificate of completion that can be added to their resumes and LinkedIn profiles, demonstrating their proficiency in SEO and digital marketing.
Learn more: Legit Ways To Make Money Online
The Courses Offered by ClickMinded
ClickMinded offers seven unique digital marketing courses, covering a wide range of topics. Let's take a closer look at each course and what it offers:
SEO Course: This course, taught by Tommy Griffith himself, delves into the fundamentals of SEO, including link building, content creation, and optimizing websites for organic traffic. It also includes mini-courses focused on SEO for local businesses, Shopify, YouTube, Amazon, and Pinterest.
Paid Advertising Course

: Led by

Lucas Lee Tyson

, this course covers the basics of online advertising, particularly using platforms like Google AdWords and Facebook Ads. It teaches strategies to generate faster results through paid advertising but also highlights the risks involved in this method.

Social Media Marketing Course

: Taught by Jasmine Atherton, Airbnb's director of social affairs, this course explores the effective use of social media to grow businesses. It emphasizes the importance of understanding the key aspects of social media marketing beyond just measuring likes and shares.

Email Marketing Course

: Lucas Chevillard, an expert in email marketing, instructs this course. It covers various aspects of email marketing, including building high-conversion email campaigns, writing compelling copy, and segmenting audiences to maximize engagement.

Sales Funnels Course

: Jim Huffman, an educator and mentor at Techstars, leads this course, which focuses on creating effective sales funnels. Participants learn about the different stages of a sales funnel and how to optimize each stage for maximum conversions and customer acquisition.

Web Analytics Course

: This comprehensive course, taught by Chris Prahl, delves into the world of web analytics, particularly utilizing Google Analytics. Participants learn how to track and analyze website data, make informed decisions based on the data, and measure the success of marketing campaigns.

Content Marketing Course

: Led by Sophie Tahran, a content marketing specialist, this course provides insights into crafting compelling messages, writing persuasive copy, and distributing content effectively. It covers topics such as identifying target audiences and attracting website visitors through content marketing.
Recommendation: Here's The Best Alternative
How to Join ClickMinded?
Signing up for ClickMinded's training program is a straightforward process. Simply visit the ClickMinded website and click on the "Enroll Now" button in the upper right corner.
From there, you can choose to enroll in an individual course, purchase all of the courses as a bundle, or select a course bundle for ten people. After selecting your preferred option, provide the necessary information, and you'll gain access to the courses.
ClickMinded Pricing and Refund Policy
ClickMinded offers two pricing options for its courses. The individual courses cost $997 each, while the bundle that includes all seven courses is priced at $1,997. Purchasing the bundle saves you a significant amount compared to buying each course separately, providing a cost-effective option for those looking to explore multiple areas of digital marketing.
Furthermore, ClickMinded offers a 14-day money-back guarantee for all purchases. If you're not satisfied with the courses within the first 14 days, you can request a refund, no questions asked.
Recommendation: Here's The Best Alternative
ClickMinded Customer Reviews and Complaints
Customer reviews and feedback are essential when considering any online training program. At the time of writing, ClickMinded has a 4.3 rating out of 26 reviews on Trustpilot, indicating generally positive feedback from users.
However, it's important to approach these reviews with some caution, as some positive reviews may potentially be biased or paid testimonials. It's always recommended to gather feedback from multiple sources and evaluate the overall sentiment.
While many users praise ClickMinded for its detailed content and useful SOPs (Standard Operating Procedures), there are also negative reviews highlighting issues with customer support and a perception that the program lacks comprehensive information.
ClickMinded Pros
ClickMinded offers several notable advantages for those considering enrolling in its training program:
Certification

: Upon completing a course, participants receive a certificate of completion, which can enhance their credibility and open up opportunities for freelance work or job applications.

High-Quality Content

: ClickMinded takes pride in delivering high-quality content taught by industry experts. The courses provide practical and actionable steps for implementing strategies in real-world scenarios.

Money-Back Guarantee

: The 14-day money-back guarantee provides a safety net for those who may have second thoughts about their purchase. It allows you to explore the courses risk-free and request a refund if they don't meet your expectations.
ClickMinded Cons
While ClickMinded has its merits, it's important to consider the potential drawbacks before making a decision:
Expensive

: The cost of each course may be a significant barrier for beginners or individuals on a tight budget. Investing a substantial amount of money upfront for online training can be daunting, particularly if you're uncertain about the program's efficacy.

No Community

: One notable shortcoming of ClickMinded is the absence of a closed student community. While the program offers valuable content, the opportunity to network and engage with like-minded individuals can be a powerful asset for personal growth and support.

No Guarantee of Success

: Although ClickMinded provides proven strategies and techniques, success ultimately depends on how well students implement the lessons and remain consistent in their efforts. There are no guarantees of immediate or guaranteed success, as individual results may vary.
Recommendation: Here's The Best Alternative
Is ClickMinded a Scam or Legitimate?
ClickMinded is a legitimate training program designed to educate individuals on SEO and digital marketing. With its founder's expertise and the positive feedback from a substantial number of customers, ClickMinded offers valuable content and resources to help you improve your online presence. The company has been in operation since 2017 and continues to provide regular updates and support to its users.
However, it's worth noting that while ClickMinded can be a beneficial resource, there are alternative options available that may better suit your needs and budget.
Learn more: Make Money Online Scams: How to Avoid Them?
The Best Alternative to ClickMinded
If you're looking for a more cost-effective and comprehensive alternative to ClickMinded, I recommend considering Wealthy Affiliate. Wealthy Affiliate is an all-in-one platform for building an affiliate marketing business from scratch. It offers free and premium membership options, allowing you to explore the platform without any financial commitment.
Wealthy Affiliate provides comprehensive training on SEO and other essential aspects of affiliate marketing. With a focus on free traffic methods, you can learn how to generate organic traffic to your website and monetize it through affiliate partnerships. The platform offers step-by-step guidance, a supportive community, and practical tools to help you succeed.
Many individuals have achieved significant success with Wealthy Affiliate, earning substantial passive income through affiliate marketing. The platform has a proven track record, having been in operation for over 15 years.
To get started with Wealthy Affiliate, you can sign up for a free starter membership, which provides access to training modules, a supportive community, and a free website. This allows you to experience the platform firsthand and determine if it aligns with your goals and aspirations.
You can check out my full review of Wealthy Affiliate here.
Conclusion
ClickMinded is a legitimate training program that offers valuable insights into SEO and digital marketing. With its comprehensive courses, certification, and money-back guarantee, it can be a viable option for those looking to enhance their online presence and improve their marketing skills. However, it's essential to consider the program's cost, the absence of a closed student community, and the lack of guaranteed success.
As an alternative, Wealthy Affiliate provides a more affordable and comprehensive platform for learning affiliate marketing and building a passive income online. With its proven track record, supportive community, and free starter membership, Wealthy Affiliate offers a compelling alternative to ClickMinded. Consider your goals, budget, and preferences when making a decision and choose the program that aligns best with your needs.