If you're curious about Patric Chan's latest digital product on ClickBank – CB Passive Income Elite, you're not alone. After all, he's made thousands of dollars using this system, and now, he's offering you a chance to clone his method and potentially replicate his income streams. This product promises to simplify affiliate marketing, letting you earn commissions by promoting other people's products.
But hold on a second – it all sounds almost too good to be true, right? Could it be a scam? I had the same thought.
Just to make it crystal clear, I want you to know that I'm not affiliated with CB Passive Income. That means I'm not getting paid to write this review. You can trust that you'll get an honest and unbiased evaluation from me.
By the end of this review, I'll also share the best alternative to CB Passive Income that has personally helped me create a full-time passive income online.
What is CB Passive Income Elite?
CB Passive Income Elite, available on ClickBank, claims to help you earn money online by becoming a ClickBank affiliate and raking in those affiliate commissions. ClickBank's trusted reputation seems to add credibility to this opportunity.
Patric Chan, an experienced online entrepreneur, developed this system. Since its 2013 debut, CB Passive Income has seen consistent upgrades, with version 4.0 even claiming the top spot for Affiliate Marketing on ClickBank. Version 5.0 continued this success in 2018.
In 2019, CB Passive Income Elite arrived, aiming to be the best yet. It still focuses on teaching affiliate marketing but adds a game-changing twist.
In previous versions, you'd buy the product, learn about affiliate marketing, and earn commissions by selling it to others. The referral process kept the earnings flowing.
CB Passive Income Elite takes things up a notch. You're no longer limited to one product. Now, you have the freedom to pick and promote any product you like.
Crucially, this isn't an MLM scheme. Your earnings come solely from the sales you generate; no recruiting others is necessary. It's a straightforward commission-based system that puts you in charge.
Read more: How To Make Money with Affiliate Marketing
Who is Patric Chan?
Patric Chan is a real success story in the world of online entrepreneurship. He started his online business in the early 2000s and quickly rose to prominence. What sets Patric apart is his journey from humble beginnings to becoming a ClickBank super affiliate, an Internet Marketing authority, and a best-selling author.
Born without wealth and not a millionaire from the start, Patric Chan's story resonates with many of us who face challenges. However, what makes him stand out is his ability to overcome these obstacles. In fact, he's even shared stages with major players like Google at business conferences.
Patric is best known for his CB Passive Income program, a digital product he introduced in 2013, which played a pivotal role in his rise to ClickBank super affiliate status. His expertise in Internet Marketing has taken him to over a dozen countries, where he's addressed large audiences on the topic of making money online.
Aside from being a marketer, Patric is also an accomplished writer. In 2012, he co-authored the popular book "Clicking Cash" with New York Times best-selling author Robert Allen. This book showcases his knowledge and insights into the world of online business.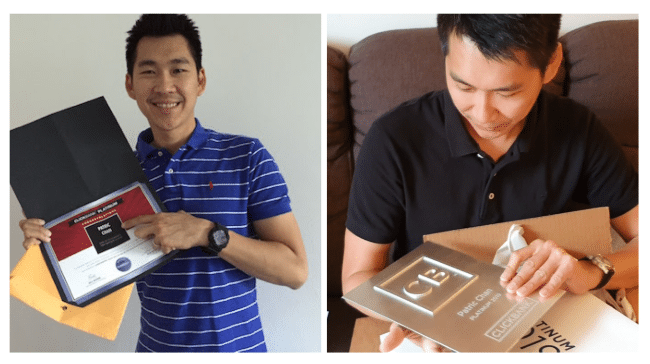 Recommendation: Here's The Best Alternative
How Does CB Passive Income Elite Help You Make Money?
Patric Chan's CB Passive Income Elite claims to offer a simplified approach to make money with affiliate marketing.
Here's a breakdown of the three key steps to building a successful online business, according to Patric:
Step 1: Create a Landing Page
To kickstart your online business, you need a landing page (like a website) where potential customers can find you.
The goal of this landing page is to capture leads, which means collecting people's email addresses for your email marketing list.
Patric emphasizes the importance of providing valuable content or incentives for free to encourage people to willingly share their email addresses.
Step 2: Utilize Squeeze Pages Provided by Patric
Patric provides you with ready-made squeeze pages, which are simplified landing pages designed to capture visitor information, such as emails.
You are responsible for driving traffic to these squeeze pages.
Once people submit their information, Patric takes care of adding them to your email list and promotes affiliate products to them on your behalf.
Step 3: Get Traffic
While this process may sound appealing, the biggest challenge lies in generating traffic to your squeeze pages.
You have two options: either invest in paid advertising to direct traffic to the provided squeeze pages (which can be tough due to duplicate content) or create your own content that ranks well in search engines and drives traffic to the CB Passive Income squeeze pages.
Who Should Consider CB Passive Income Elite?
CB Passive Income Elite may not be the best choice for everyone, so let's break it down:
1. Experienced Internet Marketers
If you're already skilled at driving traffic to websites and landing pages, CB Passive Income Elite might not be your best bet.
Experienced marketers have the know-how to promote various products and run their businesses without relying on this particular system.
2. Inexperienced Internet Marketers
On the flip side, if you're new to internet marketing and haven't mastered the art of generating traffic, CB Passive Income Elite might not be the easiest path for you.
This program lacks comprehensive training in this crucial aspect, which means you'll be left to figure it out on your own.
Be aware that this could lead to substantial expenses in paid advertising or long hours spent creating content, which isn't in line with the promised simplicity of the system.
CB Passive Income Elite vs. Previous Versions: What's Different?
The latest CB Passive Income Elite comes with some exciting upgrades that make it stand out from its earlier versions. Here's a simple breakdown of what's new and why it's the best version yet:
1. Branding Opportunity
In the past, CB Passive Income had Patric Chan's name all over it, and you essentially acted as an affiliate promoting his products. With the Elite version, you can rebrand the products with your name. This not only boosts your own branding but also strengthens your connection with your subscribers.
2. Expanded Product Options
Previous versions restricted you to promoting and selling ClickBank products exclusively. The Elite version breaks these boundaries. Now, you can use the same proven techniques to promote and sell ANY product you like, offering you more flexibility and potential for higher earnings.
3. Customizable Funnels
Earlier versions required you to follow Patric Chan's exact format for your online business, including web pages, emails, and promotional materials. CB Passive Income Elite gives you the power to customize and edit the pre-made content. This means you can make the materials truly your own, aligning them with your unique brand and style.
4. Inclusion of Coaching
In the past, once you got the CB Passive Income program, you were pretty much on your own. While the program was comprehensive, you had to follow the training independently. With the Elite version, you receive an extra bonus – free coaching from Patric Chan and his team.
Recommendation: Here's The Best Alternative
What's Inside the CB Passive Income Elite Package?
When you grab the CB Passive Income Elite package, you'll have access to a treasure trove of tools and resources. Here's a simple breakdown of what's included:
Content Engine Maker
This nifty software enables you to quickly whip up content like reports and mini e-books. You'll have ready-to-use content for publishing and emailing within minutes.
E-mail Swipe Files
You gain access to a library of over 200 ready-made emails crafted by Patric Chan himself. Simply copy and paste these emails for your email campaigns.
Ready-Made Funnels
Activating the ready-made funnels within the system is a breeze. It simplifies the process of setting up your online business.
Video Training Modules
There are four video training modules designed to be tackled over the course of a month. Here's what each video covers:
Video #1: Offers an overview and training on using CB Passive Income Elite to launch your online business within the first week.

Video #2: Delves into monetization strategies, focusing on how to earn affiliate commissions with ClickBank products or any other product.

Video #3: Provides training on driving traffic to your landing page or website while simultaneously building your email list.

Video #4: Bonus training session that offers additional strategies and tips, including how to win in affiliate product contests, building your mailing list through Facebook, and maximizing your affiliate commissions on autopilot.
The goal of the video training is to get your online business up and running within the first seven days of your training.
Group Live Coaching Sessions with Patric Chan
You'll have the opportunity to participate in four group live coaching sessions with Patric Chan himself. During these sessions, Patric will personally review your campaigns and progress, offering guidance for your next steps. It's also your chance to ask him questions and gain valuable insights directly from the expert.
Are CB Passive Income Elite Students Making Money?
Let's talk about the elephant in the room – the lack of results some students of CB Passive Income Elite seem to be experiencing. It's essential to look beyond the shiny testimonials on the official website and understand what might be going wrong.
Take Clifford Thomas, for example. His website, once showcased as a success story, is no longer active. This raises doubts about the effectiveness of the training provided. If students were trained exceptionally well, you'd expect them to thrive. While there could be other reasons for Clifford's site's disappearance, it's a red flag worth noting.
Even among those who seem to be doing well, there's a common thread – they don't rely solely on CB Passive Income as their primary income source in the world of online business. This suggests that the product might not be robust enough to stand alone.
Many testimonials lack references, like website addresses for verification, or the web addresses provided are inactive. This lack of verifiability makes it challenging to validate the authenticity of these success stories.
In this industry, finding genuine, unbiased reviews can be like searching for a needle in a haystack. Many affiliates flood the internet with fake, positive reviews, making it difficult for aspiring internet marketers to make informed decisions.
In essence, some students are struggling, investing their hard-earned money not only in CB Passive Income Elite but also in experimenting with paid traffic to drive sales. It's a risky path that doesn't always lead to the desired outcomes.
Ultimately, the takeaway here is to tread carefully and consider all aspects before diving into a product that might not live up to the hype.
Recommendation: Here's The Best Alternative
How Much Does CB Passive Income Elite Cost?
The CB Passive Income Elite package comes at a price of $497. The best part? This is a one-time fee that secures your membership for life.
Now, I get it – $497 might seem steep, especially if you're watching your budget. But here's some good news: Patric Chan knows this, and he's got your back.
If you prefer a more budget-friendly option, you can opt for a $47 monthly payment plan. It's all about flexibility and making it work for you.
CB Passive Income Elite's Upsells
To access the CB Passive Income Elite program you've just paid for, you'll need to navigate through three upsells:
Upsell Pitch #1:
They'll try to sell you CB Passive Income "Pro" for $97.
Upsell Pitch #2:
There's another pitch for an additional component at $47 per month.
Upsell Pitch #3:
And then, they'll tempt you with a "$1 offer," which might surprise you later on your bank statement.
After you've already invested $47 in the product, the last thing you want is more delays, lengthy videos, and discouraging messages implying that what you've bought is worthless without these add-ons.
To find your way to the actual product, you'll need to hunt for the discreet "No thanks, I don't want to wake up to a ton of my money in my bank account tomorrow" links hiding at the bottom of the page.
Refund Policy
Here's the deal – CB Passive Income Elite is a ClickBank product, and that's good news for you. Why? Because ClickBank offers a 30-day money-back guarantee on all its products.
This means you can dive into CB Passive Income Elite without any obligation. If you find that it doesn't quite meet your expectations or isn't the right fit for you, you have the option to request a refund within 30 days.
Praise For CB Passive Income Elite
1. Credibility with Patric Chan
Patric Chan is a real, credible person in the world of online marketing. You're not dealing with a faceless entity, which adds trust and reliability to the CB Passive Income Elite program.
2. Ready-Made Content for Ease
Say goodbye to the headache of writing content from scratch. CB Passive Income Elite provides you with ready-made content that you can use as is or customize to suit your brand and message.
3. Hassle-Free Hosting Included
Hosting can be a costly and technical hurdle for many aspiring online entrepreneurs. With CB Passive Income Elite, you won't have to worry about hosting expenses or the complexities of setting up hosting – it's all covered for you.
4. Landing Pages Ready to Roll
CB Passive Income Elite hands you four professionally designed web pages to serve as landing pages for your online business. These well-crafted pages are ready to go, helping you kickstart your online venture without the stress and costs of designing landing pages from scratch.
Criticism of CB Passive Income Elite
1. Duplicate Content Dilemma
Duplicate content can pose a significant challenge, especially when multiple users are employing the same materials provided by CB Passive Income Elite. Search engines don't favor duplicate content, making it challenging to rely on it for traffic. This means you'll likely need to put in extra effort to make your content unique.
To steer clear of duplicate content issues, you might be tempted to edit Patric Chan's content. However, this could seem counterproductive, as it goes against the idea of simply copy/pasting his materials, potentially making the process less straightforward.
2. Pricey Investment
CB Passive Income Elite doesn't come cheap. You'll need to invest a substantial amount in the course itself, and there might be additional costs for traffic acquisition and purchasing an auto-responder, making it quite an expensive endeavor.
3. Traffic Troubles
Getting traffic to your web pages is entirely your responsibility. This can be a time-consuming and costly task, especially if you're new to online marketing. Be prepared to invest both time and potentially more money into this aspect.
4. Autoresponder Expenses
To handle your email marketing effectively, you'll need to buy an autoresponder. This adds another expense to your list, increasing the overall cost of running your online business.
5. Web Pages Ownership
While technically your web pages, they still belong to the CB Passive Income company. They are hosting your pages with their resources, which means you don't have full control over them. This dependency on the company's infrastructure might not sit well with everyone.
Recommendation: Here's The Best Alternative
Is CB Passive Income a Scam?
Let's get right to it – CB Passive Income Elite is not a scam. It's a legitimate program developed by Patric Chan, who claims it can help you succeed in the online business world. The idea is to follow in Patric's footsteps, using the same techniques that have made him successful, all while receiving his coaching.
However, let's keep it real – success might not come as easily as it sounds. It's essential not to set your expectations too high from the get-go.
While CB Passive Income Elite offers a comprehensive system and training to assist you, remember that attracting visitors to your site, collecting email addresses, and making sales will require some effort on your part.
That said, it's important to note that CB Passive Income, the predecessor of Elite, has received criticism for various reasons. Some users have found it to make misleading sales claims, fall short of delivering what was promised, push numerous upsells, and potentially end up costing you extra time and money in the quest for traffic.
Is There A Better Alternative?
If you want to learn affiliate marketing, I'd recommend you to get started with the most reputable platform for affiliate marketing: Wealthy Affiliate.
Wealthy Affiliate is an all-in-one platform for building your affiliate marketing business from scratch. It offers you a free account (including a free website) with comprehensive training on SEO (free traffic methods), which enables you to get started with affiliate marketing right away without paying a penny.
But How Much Can You Earn with Wealthy Affiliate?
A 21-year old student from Wealthy Affiliate was able to earn $7,395 in just 1 week, which means he made more than $1k a day…all while using free traffic methods.
For more information, you can check out our full review of Wealthy Affiliate.