In the world of ecommerce, dropshipping has become a popular business model for entrepreneurs looking to start their own online stores without the hassle of inventory management. One name that has gained attention in the dropshipping community is Brook Hiddink, a high ticket dropshipping business owner and mentor.
In this article, we will review Brook Hiddink's approach to high ticket dropshipping, his courses, and the potential benefits and drawbacks of this business model.
Who is Brook Hiddink?
Brook Hiddink, a captivating figure in the ecommerce industry, is a Canadian entrepreneur with an extraordinary journey. Originally from Ontario, Canada, Brook's path to success took him from being a professional hockey player in the Ontario Hockey League to studying law with aspirations of becoming a corporate lawyer.
However, his entrepreneurial spirit led him down a different path. In 2021, Brook started his first ecommerce store and soon discovered the immense potential of high ticket dropshipping. With his impressive earnings of approximately $5 million in just 16 months, Brook has become a respected business owner and mentor.
Beyond his accomplishments, Brook's down-to-earth personality shines through, making him relatable and approachable for aspiring dropshippers seeking guidance and inspiration on their own entrepreneurial journeys.
Recommendation: Here's The Best Alternative
7-Figure High Ticket Dropshipping Strategy
Brook Hiddink is famous for his strategies on selling high ticket products. Unlike low to mid ticket items, high ticket products offer higher profit margins, faster shipping, and better overall quality.
Brook believes that by offering premium products, dropshippers can not only increase their revenue per sale but also enhance customer satisfaction, leading to positive reviews and more sales in the long run.
Here's how Brook's methods work:
Find a High Ticket Dropshipping Product
High ticket products are those with a higher price point, typically valued at $200 or more. These products offer the potential for higher profit margins, faster shipping, and better quality, which can lead to increased customer satisfaction and positive reviews.
To find a high ticket product, there are several approaches you can take:
Popular marketplaces: One option is to search on popular marketplaces like Amazon, Walmart, or Etsy and filter the results based on price. This allows you to identify high ticket products that are already in demand.
Dropshipping tools: Another method is to use tools specifically designed for dropshippers, such as Product Mafia, Pexda, or Thieve, which provide insights and trends on profitable products.
Brook Hiddink's list: Alternatively, you can choose to invest in Brook Hiddink's list of 1,300 profitable dropshipping products. This curated list saves you time and effort by providing a selection of trending high ticket items.
2. Market High Ticket Dropshipping Product:
Once you've identified a high ticket product to dropship, the next step is to effectively market it to your target audience. Marketing plays a crucial role in driving traffic and generating sales for your dropshipping store.
Brook Hiddink incorporates both paid and free marketing techniques to maximize the reach of his high ticket products.
Paid traffic: Paid advertising, such as pay-per-click (PPC) campaigns on platforms like Google or social media advertising on Facebook or Instagram, can provide quick results and targeted exposure to potential customers. However, it's important to carefully plan and execute your ad campaigns to optimize their effectiveness and minimize costs.
Free traffic: Leveraging free marketing methods can also be highly beneficial. Social media marketing allows you to engage with your audience, create brand awareness, and build a loyal customer base. You can create compelling content, run contests or giveaways, collaborate with influencers, and interact with your customers directly. Implementing search engine optimization (SEO) strategies is another effective way to improve your website's visibility and drive organic traffic.
It's worth noting that successful marketing involves continuous testing, analyzing data, and refining your strategies based on the results. As trends and consumer behavior evolve, it's crucial to stay updated and adapt your marketing efforts accordingly.
Recommendation: Here's The Best Alternative
What's Inside Brook Hiddink's Course?
Brook Hiddink's course offers over 9 hours of comprehensive training, covering the essential aspects of setting up a successful Shopify store. You will learn how to find profitable high ticket products, design your store for optimal conversions, and establish strong relationships with suppliers.
Moreover, the course dives into important topics like setting up Google Ads, Facebook, and Instagram business accounts for running effective ad campaigns. You will also gain insights into the art of ad bidding.
Who is Brook Hiddink's Course For?
Brook Hiddink's course is designed with the following audiences in mind:
Beginners in the field of e-commerce, with a specific focus on teaching high-ticket dropshipping on the Shopify platform.
Anyone interested in learning how to effectively dropship high-ticket products.
Praises About Brook Hiddink
Free High Ticket Dropshipping Training Video: One major advantage of Brook Hiddink's course is the availability of a free 9-hour high ticket dropshipping training video on YouTube. This video provides beginners with valuable insights into the fundamentals of setting up a Shopify store, finding high ticket products, designing the store, and building relationships with suppliers. The free course offers a solid foundation for those starting out in the high ticket dropshipping business.

Paid Mentorship Option: For those seeking more in-depth guidance and support, Brook Hiddink offers a paid mentorship option. This allows individuals to access additional content and advanced strategies through a mastermind program. With features like group coaching, 1-on-1 coaching, and a dedicated Slack channel, the paid mentorship offers personalized assistance in selecting a niche, managing ad accounts, and more.
Criticisms About Brook Hiddink
Limited Focus on Shopify: One limitation of Brook Hiddink's course is its exclusive focus on Shopify. While Shopify is a popular and powerful ecommerce platform, it may not be the preferred choice for all dropshippers. Those who prefer alternative platforms like WooCommerce or Magento may find the course less applicable to their specific needs.

Emphasis on Paid Ads for Marketing: Another drawback of Brook Hiddink's course is its emphasis on paid advertising for marketing high ticket dropshipping products. While paid ads can yield quick results, they also come with financial risks and require a substantial amount of research and creativity to run effective campaigns. This may not suit dropshippers who prefer organic marketing methods or have limited budgets for advertising.
Recommendation: Here's The Best Alternative
Are Brook Hiddink's Students Getting Results?
Brook Hiddink's students have achieved notable results in their high ticket dropshipping endeavors. While it is still early to gauge the full extent of their success, there are promising testimonials from individuals who have enrolled in his program.
One student generated $19,623 in total revenue in their first month after joining the mastermind.
Another pair of experienced store owners hit $54.7K in their initial month and reached $200K after four months.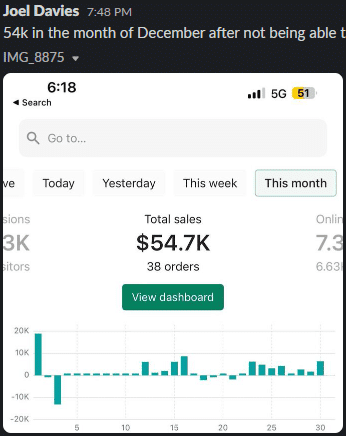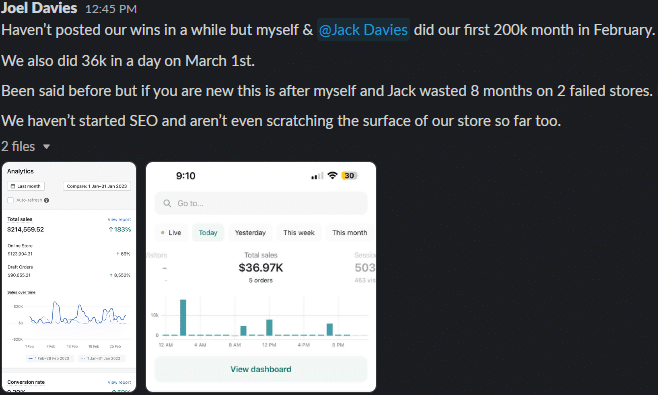 While these testimonials showcase impressive revenue figures, it's important to note that they don't provide specific information about profit margins or the long-term sustainability of these businesses.
Is High Ticket Dropshipping Still Profitable?
High ticket dropshipping can still be a profitable venture in today's ecommerce world. While it's important to have realistic expectations, there are opportunities to make money with this business model. Here are some key points to consider:
Potential for Higher Profit Margins: High ticket products generally offer larger profit margins compared to low-cost items. This means you have the chance to earn more per sale, increasing your overall profitability.

Focus on Quality and Customer Satisfaction: With high ticket dropshipping, there's an emphasis on providing top-notch products and excellent customer service. By delivering high-quality items and ensuring customer satisfaction, you can build a strong reputation and generate positive reviews, which in turn can lead to more sales and repeat customers.

Adapting to Market Trends: As with any business, it's crucial to stay updated on market trends and adjust your product selection accordingly. By identifying profitable niches and finding trending products with unsaturated competition, you can position yourself for success in the high ticket dropshipping space.

Effective Marketing Strategies: Implementing effective marketing strategies is vital for driving traffic and converting it into sales. Utilizing a combination of paid advertising, social media marketing, and search engine optimization (SEO) can help increase visibility and attract targeted customers to your high ticket products.
Any Better Alternative?
For those seeking alternative ways to make money online, I suggest exploring affiliate marketing through a reputable platform like Wealthy Affiliate (WA).
Affiliate marketing offers a legitimate and low-cost approach to generating passive income without relying on paid ads. WA provides a comprehensive platform for building an affiliate marketing business from scratch, offering free access, including a website, and in-depth training on search engine optimization (SEO) for free traffic methods.
You can check out my full review of Wealthy Affiliate here.