Are you looking for a BirdDogBot review? Is BirdDogBot a scam? If you want to make money real estate investment, you may have heard of BirdDogBot. But since there are so many scams online, you may wonder if you can trust it or not.
I have a passion to help people explore the best money-making software, so over the years, I have reviewed hundreds of money-making software like BirdDogBot.
Real estate investors waste a great deal of time finding deals, checking different kinds of things to see if the properties are worthwhile.
Wouldn't it be great if you could devote all your time to deals? Wouldn't it be great if you didn't have to spend so much time and energy searching for the best deals? Wouldn't it be nice if someone else could handle all that tedious work and allow you to focus exclusively on investments?
Can you imagine finding, tracking, and analyzing real estate investments in just a few minutes?
This BirdDogBot claims to help save you time and money in this aspect.
In the past week, I have done thorough research about BirdDogBot, so I can tell you everything you need to know about it.
BirdDogBot Review – Key Takeaways
In this BirdDogBot review, I'm going to cover the following topics:
What is BirdDogBot?
Investing in real estate can be accomplished more quickly with the BirdDogBot software. BirdDogBot assists you by tracking your listings over time, market price, rental income, etc. BirdDogBot allows you to know exactly what has changed and by how much.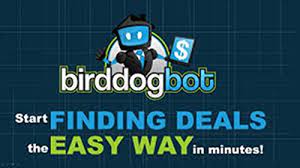 These are some examples of what BirdDogBot can do for you:
Using several property listing sites to find available properties

Select the kinds of websites you will use to find properties and those you will not use

Search by any combination of city, state, zip code, bedrooms, and price ranges

Defining your custom deal criteria allows the system to return only the properties that you want, leaving out those you don't need to waste your time on.
Get A Special Offer and Instant Access Here
Who Is The Creator of BirdDogBot?
BirdDogBot was developed by Kosta Apostolou from Toronto. Real Estate Investment is his main area of interest, and he owns many properties.
Other than his self-storage business and mass-texting company, he also owns several other businesses.
This serial entrepreneur has a Midas touch, and he is a very methodical man who does a lot of research, and that's how BirdDogBot came to be.
In the beginning he constructed a dynamic spreadsheet to work out whether property deals were viable, but this evolved into BirdDogBot.
How does BirdDogBot work?
By monitoring market price, real income and other benefits and risks associated with property, this specially designed software helps you find the best property deals.
It will search for available properties on different property sites (you can even choose which sites you want to include and which ones you would rather leave behind), and you can specify city, zip code, number of bedrooms, price, etc.
By defining these combinations, the system will begin to understand you and will leave behind properties that are not good for you and include the ones you need.
Get A Special Offer and Instant Access Here
BirdDogBot Features Review
1. Multiple Site Search
As soon as you set the right criteria, BirdDogBot will search for the most reliable websites.
The software visits all these websites, compares the best data, and provides useful numerical insights.
2. Custom Searching Features
You can choose exactly where you want to get your information from using this software.
First, you can choose which websites you want the software to visit. You can also select more characteristics:
Region or zip code

Size of the land or building

Number of rooms in the house

Trends
These are just a few examples. In order to get you started, the software comes with several default search options.
3. Find the best properties in your chosen area
By locating the best deals that match your chosen investment criteria in the location you choose, you'll save time.
4. Use city, state, zip or postcode to find the deals you want
By using laser targeting, you'll save time looking for properties in specific areas and will find the deals before other investors do.
5. The BirdDogBot monitors the classified ads and analyzes the properties
You can avoid the time-consuming task of searching classified ads in order to be the first to see the deals when they appear. Take advantage of the best deals first. Get the property off the market. No more missed deals.
6. Finding real estate deals automatically
BirdDogBot searches on autopilot, and emails you the results, so you don't have to be on your computer or mobile 24-7 looking for deals. By doing so, you will have more time to view properties and make offers.
7. BirdDogBot will find a complete history of a property
The system will provide you with complete details about the property, giving you an unfair advantage over the competition when you negotiate.
8. Monitoring of properties
Find out as soon as properties that match your search criteria change. Then you can strike while the iron is hot. Look for vendors at a time when they are in a hurry to sell.
9. Proformas for properties are created instantly
You can be prepared and save time when you visit properties by using the proformas produced by BirdDogBot.
10. Personalize your "custom deal criteria"
By reviewing only the properties that match your investment criteria, you can save a great deal of time. Don't waste time searching for the right properties.
11. Pre-configuring and preselecting settings
With the preset settings, you can get started quickly. These settings can be altered or changed quickly and easily.
12. You can add your own deals
Find out the estimated market value and rental income for your own properties and save time.
13. Import deals
Analyze huge deal lists and save time with the import function.
14. Mobile friendly app
With BirdDogBot's mobile friendly app, you can access it on the go and anywhere
BirdDogBot Pros
1. Software that is specialized
BirdDogBot works well for real estate investors, and it is easy to use. You will save tons of time and avoid dealing with unnecessary, online information if you do this.
2. Simple to use
BirdDogBot does not require any special skills to operate. There is a library of videos that can help you learn faster if you have any challenges.
A super-fast support team is there to answer your questions as soon as possible.
Please contact the BirdDogBot support team for assistance if you experience any problems while using it.
3. There are no ads
BirdDogBot is an ad-free tool, which reduces user inconveniences. It can also be installed easily and safely.
4. BirdDogBot is dependable
There are many online sites with property listings that may not be beneficial to your investment. BirdDogBot, on the other hand, searches, analyses, and monitors ads in order to provide you with reliable investment ideas.
Get A Special Offer and Instant Access Here
BirdDogBot Cons
1. BirdDogBot is a little pricey
It is always expensive to purchase specialized software. If you're looking for a budget option, this is the cheapest you can get without sacrificing accuracy and quality.
2. It takes a while to fully understand BirdDogBot
It will take a lot of use before you fully understand it. The manual will tell you how to use it. Interpreting the numbers is your responsibility.
3. Subscription required
In order to receive property deals, you must subscribe monthly. In any case, you shouldn't be concerned about monthly subscriptions considering the results BirdDogBot can deliver.
4. Internet connection is necessary for using BirdDogBot
BirdDogBot cannot be used without a modern gadget and a stable internet connection.
5. BirdDogBot Cannot Make Your Rich Overnight
BirdDogBot is a great software, but you have to understand that it only retrieves data.
In other words, you'll need to do your homework in interpreting the search results. Generally, people want software that offers complete forecasting capabilities. While it is possible to do that using software, it is also dangerous.
In 2020, for example, no software could not have predicted the virus issue.
However, software like BirdDogBot that provides direct, accurate information will help you a lot.
BirdDogBot Positive and Negative Feedbacks By Real Users
BirdDogBot Positive Feedbacks
Easy to use.

Upon investing in BirdDogBot, the program will start searching for deals automatically.

You can forget about the countless hours you once spent searching online for deals.

Either pre-configured settings are available, and they can be easily customized to meet your property investment criteria.

BirdDogBot is mobile friendly.

You can easily schedule the program to search for deals in your investment location.

When you use street view, you won't need to leave your home since you'll be able to see your properties online.

You will receive results via email.

There is no need to install any software.

There is no long-term contract – you can cancel at any time.
BirdDogBot Negative Feedbacks
While there is a monthly payment, consider BirdDogBot more as an investment than a cost, which can be recouped tenfold by seeking out more deals faster.

If you want to continue investing in property and doing ongoing property research, you'll have to pay for BirdDogBot every month until you decide you don't need it any longer.
Is BirdDogBot a Scam?
BirdDogBot is certainly not a scam. It's a legit software for doing property research.
It's true that there are many internet scams and frauds, so you should be careful before buying anything online.
However, as I have done through research about BirdDogBot in the past few weeks, you can rest assured that it is not a scam.
Moreover, there is a 60-day money back guarantee on BirdDogBot. If you think that the product does not work, you can request a full refund without questions asked.
Get A Special Offer and Instant Access Here
Who is BirdDogBot For?
BirdDogBot is specialized software, and unless you're planning to buy real estate, it's not for you.
However, if you are either an existing property investor looking to save time and find good deals, or if you are interested in investing in property, then BirdDogBot is a great choice.
You may be better off investing in the premium BirdDogBot package if you plan on investing in multiple properties.
However, you can still conduct most of this research by yourself. Then, you will have to spend your entire time looking at computer screens to find the same information that BirdDogBot automatically generates.
You can use BirdDogBot just like your very own property-specific search engine, but it can be tailored to meet your own investment criteria.
BirdDogBot Pricing
BirdDogBot is not free because it takes time and investment to develop. Furthermore, this search engine for real estate investors needs to be constantly updated.
As you are probably aware, the internet is constantly evolving with thousands of new websites popping up every day. Maintaining and researching these sites costs money.
BirdDogBot will help you find the best property deals in your investment area. That's why BirdDogBot is not cheap.
You can cancel your BirdDogBot subscription within 30 days of purchase if you decide it is not for you.
The software is available for just $7 for 7 days. That's just $1 a day.
BirdDogBot Review: Final Verdict
Real estate investors will find BirdDogBot very useful. You'll get the most information out of it if you're quick and value the information.
Just a few clicks will give you the best information in seconds. You can now accomplish whatever you used to do in 20 or 30 minutes in seconds.
Further, because the results are so well presented, you'll be able to focus on what matters. Now, you can make informed, analyzed decisions.
Real estate agents should consider purchasing this great software to help them close deals. With the system, you'll be able to do great work and expand your real estate business.
To see if the product could help you out, you can take advantage of the system creator money back guarantee.
In case you are not satisfied with the product, you are welcome to request a refund if you don't feel it impressed you.
Get A Special Offer and Instant Access Here
BirdDogBot Review FAQs
1. Is BirdDogBot good for UK property investors?
BirdDogBot is only fully supported in the United States. However, BirdDogBot alerts projects also support the United Kingdom, Canada, Australia, and Ireland.
Please note, however, that properties found in the UK, Canada, Australia, and Ireland using alert projects are not analyzed by the system. It is merely a notification that matches the user's property search criteria with craigslist posts.
International investors who invest in US real estate find BirdDogBot extremely useful, especially those from the UK and Canada.
2. What can BirdDogBot offer you?
By using this system, you have the advantage of virtually visiting properties without personally going there, saving you time and money on travel, as well as avoiding the hassles that come with moving around.
BirdDogBot system allows you to see the latest property deals put up by other investors.
You will be able to earn money from the comfort of your home without moving from one location to another.
With BirdDogBot, you can interact with other users and do business with them, thus learning more about the markets and saving time.
Where you can buy Bird Dog Bot?
Bird Dog Bot can be purchased from the official website, https://www.birddogbot.com/.
Is There an Easier and Better Alternative to Make Passive Income?
Although real estate investing is one of the most popular ways to grow your wealth, it is unpredictable that it doesn't guarantee a positive return.
And you may be able to make some money in a few attempts, but lose it all in the other attempts.
If you really want to make a stable and secure stream of passive income, I would suggest you starting an affiliate marketing business online instead.
Affiliate Marketing is perfect for anyone who is new to online business.
In fact, of all the online business models I've tried, affiliate marketing is the easiest and most rewarding so far.
In affiliate marketing, you can actually run your business almost with zero cost and achieve a steady and sustainable passive income to pay for your bills. You don't need any initial capital and can even do it as a side hustle.
And if you really want to learn affiliate marketing and build a business from scratch, I'd recommend you to get started with the most reputable platform for affiliate marketing: Wealthy Affiliate.

Wealthy Affiliate is an all-in-one platform for building your affiliate marketing business from scratch. It offers you a free account (including a free website) with comprehensive training on SEO (free traffic methods), which enables you to get started with affiliate marketing right away without paying a penny.
But How Much Can You Earn with Wealthy Affiliate?
A 21-year old student from Wealthy Affiliate was able to earn $7,395 in just 1 week, which means he made more than $1k a day…all while using free traffic methods.
Wealthy Affiliate has existed for 15 years and there are many success stories in the past decade.
To give you more examples, here are some of the other inspiring success stories of Wealthy Affiliate members.
Where to Join Wealthy Affiliate?
Wealthy Affiliate has a very simple pricing scheme. It has free and premium membership.
If you want to feel about Wealthy Affiliate, you can sign up for the free starter membership here (no credit card required). You can select to be a free member with no time limit.
And as a starter member, you can get instant access to the community, live chat, over 500 training modules, 2 classrooms, networking, commenting, 1 free website, access to the keyword tool.
You can enjoy all these values without paying a penny.
So I strongly recommend you to register a free account and see it yourself.