So, you might have heard of BirdDogBot if you're interested in making money through real estate investment. But with all the online scams out there, you might be wondering if this program is legit or not.
Let's face it, finding good deals in real estate can be a huge time-suck. You have to check out so many different things to see if a property is worth investing in. It would be amazing if you could just focus on the deals themselves and not waste so much time searching for them, right? Well, that's where BirdDogBot comes in.
This program claims to help you save both time and money in your real estate investments. Imagine being able to find, track, and analyze potential investments in just a few minutes – sounds pretty great, doesn't it?
As someone who's been in the online business world for a while now, I've reviewed a ton of different programs, software, and even MLMs. So, I'm in a good position to give you the lowdown on BirdDogBot.
BirdDogBot Review – Key Takeaways
Product Name

: BirdDogBot

Website: https://www.birddogbot.com/
Special Offer: Get A Special Offer Here
Overall Rank

: 4.6/5

Pros:

Easy to use; save time on searching for deals; reliable investment ideas

Cons:

Expensive; limited forecasting capabilities

Verdict: A program suitable for anyone who wants to save time and money in researching property investments.
In this BirdDogBot review, I'm going to cover the following topics:
What is BirdDogBot?
BirdDogBot software helps you realize real estate investments faster. BirdDogBot helps you track your listings over time, market price, rental income, etc. With BirdDogBot you know exactly what has changed and by how much.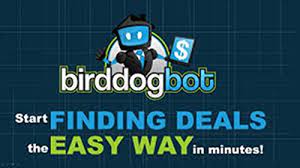 These are some examples of what BirdDogBot can do for you:
Using multiple real estate portals to search for available properties

Selecting which websites you want to use to search for properties and which websites you do not want to use

Search by any combination of city, state, zip code, bedrooms, and price ranges

By specifying your individual search criteria, the system can display only the properties you want and exclude those you do not need to waste your time with.
Get A Special Offer and Instant Access Here
Who is the creator of BirdDogBot?
BirdDogBot was developed by Kosta Apostolou of Toronto. Real estate investment is his main interest and he owns many properties.
Besides his self-storage business and mass texting company, he also owns several other businesses.
This serial entrepreneur has a knack for Midas, and he is a very methodical man who does a lot of research, and that is how BirdDogBot came about.
Initially, he created a dynamic spreadsheet to figure out if real estate deals were worthwhile, but that evolved into BirdDogBot.
How does Birddogbot work?
BirdDogBot is an online platform that lets you search for an unlimited number of properties and then use automated tools to narrow down your search.
With BirdDogBot, you can easily set up alerts to receive notifications for property deals in your area. Whether you're an investor, professional, or ordinary home buyer, BirdDogBot can help you find the best property deals that meet your preferences.
One of the key features of BirdDogBot is its ability to automate the process of finding deals in a city, ZIP code, or county. This means you can customize your searches to fit your exact needs.
Another great feature is the different subscription levels that BirdDogBot offers. There are different options available for beginners looking to close their first deal, small investors, larger investors, professionals, and agencies.
When you sign up with BirdDogBot, you'll gain access to an online platform that searches through all public real estate records databases for information on new property listings. As soon as a new property listing appears that meets your criteria, BirdDogBot will send an alert straight to your inbox.
The higher your subscription level, the more automated filters you can use. For example, with the Standard subscription, you can create one search project, allowing you to search for properties in one city, ZIP code, or county. But with higher membership tiers, you can search for properties in multiple cities, states, ZIP codes, or counties based on your criteria.
Get A Special Offer and Instant Access Here
Key Features of BirdDogBot
If you're a real estate investor or enthusiast, BirdDogBot is a software that can help you automate the process of finding properties that meet your criteria. Here are some of the key features of BirdDogBot that can make your life easier:
Search by Any Combination of Location and Criteria
BirdDogBot allows you to search for properties by any combination of ZIP code, city, state, or county. You can also filter by price range, number of bedrooms, bathrooms, listing status, or property type, among others.
Get Notified of Classified Ads
Rather than manually searching through sites like Craigslist every day, BirdDogBot can notify you of highly targeted classified advertisements as soon as they're posted.
Automated Real Estate Search Process
BirdDogBot automates the real estate search process, saving you time and effort. The software automatically runs searches, analyzes properties, monitors classified ads, and sends you email notifications summarizing the results.
Property Listing History
BirdDogBot provides comprehensive information about the history of a property listing, which can give you an advantage when negotiating deals.
Monitor and Track Listings Over Time
You can track and monitor changes to various parts of a listing, such as the asking price, market value, rental income, and any other relevant information, allowing you to make informed decisions about potential investments.
View All Property Facts on One Page
BirdDogBot presents all the information you need about a property on a single, easy-to-read page, including market value estimates, photos, and listing details. You can also create property proformas with just one click.
Virtual Property Visits
BirdDogBot includes a one-click link to Google, Bing, and Yahoo Maps, so you can use street view to virtually visit properties that interest you.
Filter Properties Based on Criteria
BirdDogBot only returns properties that meet the criteria you select. You can filter out properties that don't meet your specific needs, such as homes above a certain price range, in a particular ZIP code, or with specific amenities.
Default and Customizable Settings
BirdDogBot comes with pre-loaded default settings that allow you to get started quickly. However, you can customize the software to analyze deals according to your preferences, and the software remembers your settings for future searches.
Analyze Deals Automatically
BirdDogBot can fetch market values, estimate rental income, and analyze each deal, saving you the time and effort of doing the calculations manually.
Import Properties from Other Sources
If you have a large list of properties you want to analyze, you can export them from another system (like MLS) and import them into BirdDogBot for analysis. The software also allows you to import data from databases not included in its free sources.
Share deals securely
With BirdDogBot, you can share deals with partners, investors, or anyone without worrying about your property information being stolen. You can share links to the best deals in your account while hiding specific property details from others. This feature allows you to get feedback on a property listing without giving away all the information.
Lead capture form
The Investor and above tiers of BirdDogBot offer an optional lead capture form that helps you build a list of buyers. This way, you can acquire and sell properties quickly by sending the best deals to your network of local subscribers.
Confidentiality
One of the best things about BirdDogBot is that all deals you find are kept confidential and not available to other users. This ensures that you get exclusive access to the best deals in your area.
Access from any device
Access your BirdDogBot account from any internet-connected device. You can easily access your deals using your laptop, tablet, or smartphone.
Mobile-optimized platform
BirdDogBot's creators have optimized the platform for mobile users. As long as you have a device with a web browser, you can use BirdDogBot to find the best real estate deals.
New features added regularly
BirdDogBot's team regularly adds new features to the platform. The first three subscription tiers receive access to most new features, while the highest subscription tier receives access to all new features. This way, you always have access to the latest tools to help you find the best deals.
Video tutorials
If you need help using BirdDogBot, the team has created a library of video tutorials to guide you. Check out these tutorials to get the most out of all platform features.
24/7 customer and technical support
BirdDogBot offers 24/7 customer and technical support. If you encounter any issues or have questions, you can reach out to the support team at any time.
Who is Birddogbot for?
BirdDogBot is a specialized software, and if you do not plan to buy real estate, it is not for you.
However, if you are either an existing real estate investor who wants to save time and find good deals, or if you are interested in investing in real estate, BirdDogBot is a good choice.
If you plan to invest in multiple properties, you'd better invest in BirdDogBot's premium package.
However, you can also do most of these searches yourself. Then you will have to spend all your time looking at computer screens to find the same information that BirdDogBot generates automatically.
You can use BirdDogBot like your own real estate-specific search engine, but it can be tailored to your own investment criteria.
How much does it cost?
BirdDogBot's got four different membership tiers: Starter, Standard, Investor, and Pro. And get this, you can try out all of 'em for a whole week with just $7 dollars.
After that, you'll need to fork over anywhere from $47 to $197 a month, depending on which plan you choose and what features you're after.
Let's take a closer look at what each plan includes.
Starter Plan ($7 for 7 days)
The Starter Plan is the perfect way to get started with BirdDogBot. You can try it out for just $7 for seven days, and if you decide to stick with it, the plan costs just $47 per month.
With this plan, you'll get access to
Unlimited daily search and analysis

One search project

A bulk import quota of 10

One classified alert project

10 classified deal filters

Most new features

24/7 platform access.
Standard Plan ($47 or $77 per month)
The Standard Plan is ideal for those who want to take their real estate search to the next level. You can choose between two pricing options for this plan: $47 per month or $77 per month. Both options include a $7 trial for seven days.
With the Standard Plan, you'll get
Unlimited daily search and analysis

One or two search projects (depending on the plan you choose)

A bulk import quota of 50

Two classified alert projects

15 classifieds deal filters

Most new features

24/7 platform access
Investor Plan ($97 per month)
The Investor Plan is perfect for serious real estate investors who need more power and flexibility.
For $97 per month (with a $7 trial for seven days), you'll get
Unlimited daily search and analysis

10 search projects

A bulk import quota of 150

4 classified alert projects

20 classifieds deal filters

Most new features

Lead capture forms

The option to remove BirdDogBot branding

24/7 platform access
Pro Plan ($197 per month)
The Pro Plan is the ultimate BirdDogBot experience. For $197 per month (with a $7 trial for seven days), you'll get
Unlimited daily search and analysis

30 search projects

A bulk import quota of 300

5 classified alert projects

30 classifieds deal filters

All new features

Lead capture forms

The option to remove BirdDogBot branding

24/7 platform access
BirdDogBot Refund Policy
There is a 60-day money-back guarantee on BirdDogBot. You can request a full refund if you are not satisfied with the product.
Get A Special Offer and Instant Access Here
Customer Reviews
BirdDogBot, a real estate investment software, has been making waves in the industry with its time-saving capabilities and efficient property analysis. We've gathered some reviews from satisfied customers who have found success using the platform.
Ease of Use and Constant Improvements
One user has been using BirdDogBot since its launch and has been happy with the improvements and new features added to the platform over time. He recommends it to anyone who wants to easily find real estate deals.
Time-Saving Capabilities
Another user, a real estate investor based in Houston, Texas, was amazed by how much time she saved using BirdDogBot. Instead of manually analyzing each property on MLS, she was able to use the software to find three deals right away. The calculations and analysis are all done for the investor, making it easier to identify potential buys.
Efficient Deal Analysis
A reviewer described BirdDogBot as "the easiest and most effective way of analyzing a ton of deals at once." The software provides all the necessary information for investors to make informed decisions, saving them from hours of manual analysis.
Increased Confidence in Deals
One Vancouver-based investor was initially skeptical about BirdDogBot, but it helped him close his first ever deal. The software gave him the confidence he needed to make the purchase and he was satisfied with the results.
Task Automation for Business Growth
Many users appreciate how BirdDogBot automates the time-consuming aspects of real estate investing, such as property searches, so that they can focus on growing their business.
Praise for BirdDogBot
1. Easy to Use
One of the best things about BirdDogBot is how easy it is to use. It saves you valuable time by eliminating the need to sift through tons of online information. With just a few clicks, you can easily access a database of potential investment opportunities.
2. No Special Skills Required
You don't need any special skills to use BirdDogBot. In case you run into any challenges, there is a library of instructional videos to help you learn faster.
3. Ad-Free Tool
BirdDogBot is an ad-free tool, which means you won't have to deal with the inconvenience of pop-ups or unwanted ads. Plus, it can be installed easily and safely.
4. Reliable Investment Ideas
BirdDogBot searches, analyzes, and monitors online ads to provide you with reliable investment ideas. Unlike other online property listings that may not be beneficial to your investment, BirdDogBot is designed to provide you with trustworthy investment opportunities.
Criticism of BirdDogBot
1. Expensive
Specialized software can be costly, and BirdDogBot is no exception. While it is relatively cheap compared to other options, it can still be expensive for some users.
2. Learning Curve
Like any other software, BirdDogBot has a learning curve. You need to invest time and effort to understand how it works, and interpreting the numbers is your responsibility.
3. Monthly Subscription
To receive property deals, you need to subscribe monthly. While the results can be worth it, some users may not like the idea of paying a monthly fee.
5. Limited Forecasting Capabilities
While BirdDogBot provides direct and accurate information, it is essential to understand that it only retrieves data. You will still need to do your homework in interpreting the search results. Moreover, the software does not offer complete forecasting capabilities, which may be a dealbreaker for some users.
Is BirdDogBot a scam or legit?
BirdDogBot is a legitimate software. It's not some sketchy software trying to scam you out of your money.
I get it, there are a ton of scams out there on the internet these days, so it's important to be cautious before making any online purchases.
If you're into real estate investing, then you'll definitely want to check out BirdDogBot. Trust me, it's a game-changer. With just a few clicks, you can access a ton of valuable information in seconds. No more wasting 20 or 30 minutes trying to find the right data.
The best part is that the information is presented in a super clear and organized way, so you can easily analyze it and make informed decisions.
If you're a real estate agent, you should definitely consider giving BirdDogBot a try. It can help you close deals faster and even grow your business.
And hey, if you're not sure if it's right for you, the program offers a 60-day money-back guarantee. So if you're not satisfied, you can always ask for a refund.
Get A Special Offer and Instant Access Here
BirdDogBot FAQs
1. Is BirdDogBot good for UK property investors?
BirdDogBot is only fully supported in the United States. However, BirdDogBot alerts projects also support the United Kingdom, Canada, Australia, and Ireland.
Please note, however, that properties found in the UK, Canada, Australia, and Ireland using alert projects are not analyzed by the system. It is merely a notification that matches the user's property search criteria with craigslist posts.
International investors who invest in US real estate find BirdDogBot extremely useful, especially those from the UK and Canada.
2. What can BirdDogBot offer you?
By using this system, you have the advantage of virtually visiting properties without personally going there, saving you time and money on travel, as well as avoiding the hassles that come with moving around.
BirdDogBot system allows you to see the latest property deals put up by other investors.
You will be able to earn money from the comfort of your home without moving from one location to another.
With BirdDogBot, you can interact with other users and do business with them, thus learning more about the markets and saving time.
Where you can buy Bird Dog Bot?
Bird Dog Bot can be purchased from the official website, https://www.birddogbot.com/.
Bonus Recommendation: Another Way To Make Money Online
Although real estate investing is one of the most popular ways to grow your wealth, it is unpredictable that it doesn't guarantee a positive return.
And you may be able to make some money in a few attempts, but lose it all in the other attempts.
If you really want to make a stable and secure stream of passive income, I would suggest you start an affiliate marketing business online instead.
Affiliate marketing is perfect for anyone who is new to online business.
In fact, of all the online business models I've tried, affiliate marketing is the easiest and most rewarding so far.
In affiliate marketing, you can actually run your business almost with zero cost and achieve a steady and sustainable passive income to pay for your bills. You don't need any initial capital and can even do it as a side hustle.
And if you really want to learn affiliate marketing and build a business from scratch, I'd recommend you to get started with the most reputable platform for affiliate marketing: Wealthy Affiliate.

Wealthy Affiliate is an all-in-one platform for building your affiliate marketing business from scratch. It offers you a free account (including a free website) with comprehensive training on SEO (free traffic methods), which enables you to get started with affiliate marketing right away without paying a penny.
But How Much Can You Earn with Wealthy Affiliate?
A 21-year-old student from Wealthy Affiliate was able to earn $7,395 in just 1 week, which means he made more than $1k a day…all while using free traffic methods.
Wealthy Affiliate has existed for 15 years and there are many success stories in the past decade.
To give you more examples, here are some of the other inspiring success stories of Wealthy Affiliate members.
Where to Join Wealthy Affiliate?
Wealthy Affiliate has a very simple pricing scheme. It has a free and premium membership.
If you want to feel about Wealthy Affiliate, you can sign up for the free starter membership here (no credit card required). You can select to be a free member with no time limit.
And as a starter member, you can get instant access to the community, live chat, over 500 training modules, 2 classrooms, networking, commenting, 1 free website, and access to the keyword tool.
You can enjoy all these values without paying a penny.
So I strongly recommend you register a free account and see it yourself.