So, let me tell you about this audiobook and ebook training program called Publishing Life, created by the Mikkelsen Twins (Rasmus and Christian). You might have also heard it referred to as Publishing.com or Audiobook Income Academy.
I joined PublishingLife myself, so I've got the inside scoop to share with you. And just to be clear, I'm not affiliated with PublishingLife.com, so my review is totally unbiased.
But wait, there's more! At the end of this article, I'm going to spill the beans on a better alternative that helped me generate a full-time passive income. So stay tuned!
PublishingLife Review: Key Takeaways
Product Name:

PublishingLife

Owner:

Rasmus and Christian Mikkelsen

Price:

$1995 or 3 installments of $999

Pros: Comprehensive training
Cons: Expensive; dishonest marketing; complicated refund policy; crowded Amazon platform
Verdict:

An overphyed program that won't help you make money from Amazon self-publishing.
In this review, I'm going to cover the following topics
What is PublishingLife.Com?
PublishingLife is an online course that can teach you how to use Amazon as a platform to publish your own books and make a profit.
Formerly known as Audiobook Income Academy (AIA), PublishingLife has expanded to cover all types of books including hardcovers, paperbacks, and audiobooks. The techniques taught in the course can be applied to all of them.
If you're skeptical about using Amazon to make money, the free webinar offered by PublishingLife promises to show you a new and better way to do it. However, keep in mind that the Amazon Kindle platform has been around for a while, so this may be an exaggeration.
While the course can provide you with valuable information, it's ultimately up to you to put it into practice and build a successful business. Plus, with the competition on the Amazon platform, it's important to have a solid plan and strategy.
What's inside Publishing Life?
Publishing Life FREE Training
With this free course, you'll learn how to earn passive income without selling physical products on Amazon.
This free training will teach you many things, including:
How to make money on Amazon in

4 Steps

How to make $10,000 a month without selling anything on Amazon

Free $67 in bonus passive income for signing up early
The course is led by Christian Mikkelsen, one of the Mikkelsen twins, and he'll guide you through this Amazon business model that promises genuine passive income.
Audiobook Income Academy
Audiobook Income Academy, also known as Aia 2.0, claims to have an online business model that can teach you how to become a publisher with Amazon's Publishing Company and make money without a lot of work. But is it really that easy?
Some people say this program is a scam, while others say it has helped them financially. With so many fake positive reviews out there, it's hard to know what to believe. That's why I spent many hours researching Aia 2.0 and the Mikkelsen twins behind it.
One thing I found is that they use the term "ghost audio" to get more people to sign up for their free webinar training on publishinglife.com. They also make unrealistic claims about how easy it is to make money with little or no work on their landing page, which are just marketing tricks to get people to attend their webinars.
During the free training, they do acknowledge that hard work is required for success with this business model. So, it looks like this "easy way to make $5,000 to $20,000 per month" is not so easy after all.
With that said, let's look at how Ghost Audio makes money.
Ghost Audio
In this course, you'll learn how to hire ghostwriters to write content for you, which you can then publish as your own on platforms like Amazon. The best part? You don't have to do any of the writing yourself!
This method can be used for creating ebooks, audiobooks, and even print books. By hiring someone else to do the work, you can focus on promoting and marketing the content. It's a great way to generate income without spending hours writing and editing.
Recommendation: Here's The Best Alternative
Who are the founders of PublishingLife.com?
Rasmus and Christian Mikkelsen are the founders of Publishinglife.com. These twin brothers are known as "The Mikkelsen Twins".
Before they became successful Kindle authors, the Mikkelsen Twins had normal 9-to-5 jobs and made their living selling Chinese fast food. But they knew they were capable of much more and wanted to explore other ways to make money. They took online courses to learn how to make money online, but they also experienced some setbacks along the way, including scams that cost them a lot of money.
However, they never gave up. They persevered, and now their hard work is finally starting to pay off. They've made a lot of money by publishing their own books on Amazon, and they share their success story and strategies in their online course on Publishinglife.com.
Now, there may be some skepticism around their story. While it's true that they make millions of dollars from online marketing, it's possible that their success is partly due to the sales of their online course rather than their Kindle books. But it's worth noting that they've been featured on Forbes.com and have a popular YouTube channel with over 52,000 subscribers.
Regardless of how they achieved their success, the Mikkelsen Twins' story is an inspiring one. It shows that with perseverance and hard work, anyone can achieve their goals and make a living doing what they love.
How does Publishing Life help you make money?
PublishingLife offers a course that teaches you how to make money on Amazon by creating and selling books. The course mainly focuses on creating audiobooks for Audible, which is owned by Amazon. If you're not from the US, UK, Canada, or Ireland, you can sell your audiobooks through Author's Republic. You can sell your audiobooks on these marketplaces for a one-time fee.
However, the website doesn't provide much information about the course itself. Instead, you have to watch the free webinar to learn more about it.
According to the website, the course covers everything from choosing your first topic to multiplying income streams. The course is laid out step-by-step, so you can follow along easily.
Who is Publishing Life for?
If you're considering joining Mikkelsen Twins' PublishingLife, it's important to understand whether or not it's a good fit for you. While the platform advertises itself as suitable for almost everyone, it's important to remember that building a successful business takes hard work and dedication.
Some students have reported finding the process more challenging than expected, despite having previous writing experience and advanced degrees. It's important to go into the program with realistic expectations and a willingness to put in the necessary effort to succeed.
That being said, if you're passionate about writing and willing to learn the skills necessary to build a successful self-publishing business, Mikkelsen Twins' PublishingLife could be a great opportunity for you. The platform offers a range of resources and training to help you grow your business and achieve your goals.
Ultimately, the decision of whether or not to join Mikkelsen Twins' PublishingLife is a personal one. Take the time to research the platform and consider your own goals and experience before making a decision.
Recommendation: Here's The Best Alternative
Are Mikkelsen Twins scammers?
I won't call the Mikkelsen Twins scammers. However, they have been surrounded by controversy due to their allegedly poor quality and stolen content that has led to many of their books being banned from Amazon and Audible. This raises suspicions as to why they would willingly stop selling their books on those platforms if they were making a lot of money from them.
Their sales pages for PublishingLife are also filled with outrageous and unsubstantiated claims, such as anyone being able to make money easily in an unsaturated market.
Additionally, they use fake scarcity tactics by suggesting that the prices for their training will soon rise, despite the pricing remaining the same for months or even years.
Moreover, the Mikkelsen Twins' main source of income now seems to be from teaching others how to publish audiobooks and ebooks rather than selling their own books.
I found only one book of theirs for sale:
The Freedom Shortcut: How Anyone Can Generate True Passive Income Online, Escape the 9-5, and Live Anywhere
In "the top critical review" of that book, it was described as a way to sell you the course.
This raises concerns about whether they are still knowledgeable about the publishing industry and whether they are capable of providing up-to-date information to their students.
Furthermore, the criticism they have received from PublishingLife students also adds to their controversial reputation. Therefore, if you're looking to learn how to publish audiobooks and ebooks, it's best to do your research and find a reputable teacher who is still actively publishing and earning a living from it.
Are Publishing Life students getting results?
Despite numerous success stories on the official PublishingLife website, recent testimonials seem to be less impressive than older ones, suggesting that the course may be less effective than it once was.
One possible reason for this decline could be that the Mikkelsens are no longer creating and selling their own books, which may have led to a lack of knowledge about what works best.
Moreover, students' satisfaction with the course seems to be declining as well. Many students have expressed their discontent on various online platforms, including Reddit, where they criticize the pricing, marketing, and customer support provided by the course.
Here's a negative review from a Reddit user:
Negative reviews for PublishingLife may also be deleted from Trustpilot, which could explain the unusually high score on that platform.
Most positive reviews on Trustpilot are from new students who have yet to see results, while negative reviews are typically from students with more experience.
For example, this student Jackie gave PublishingLife a 5 star rating but he admits that he hasn't even completed the course…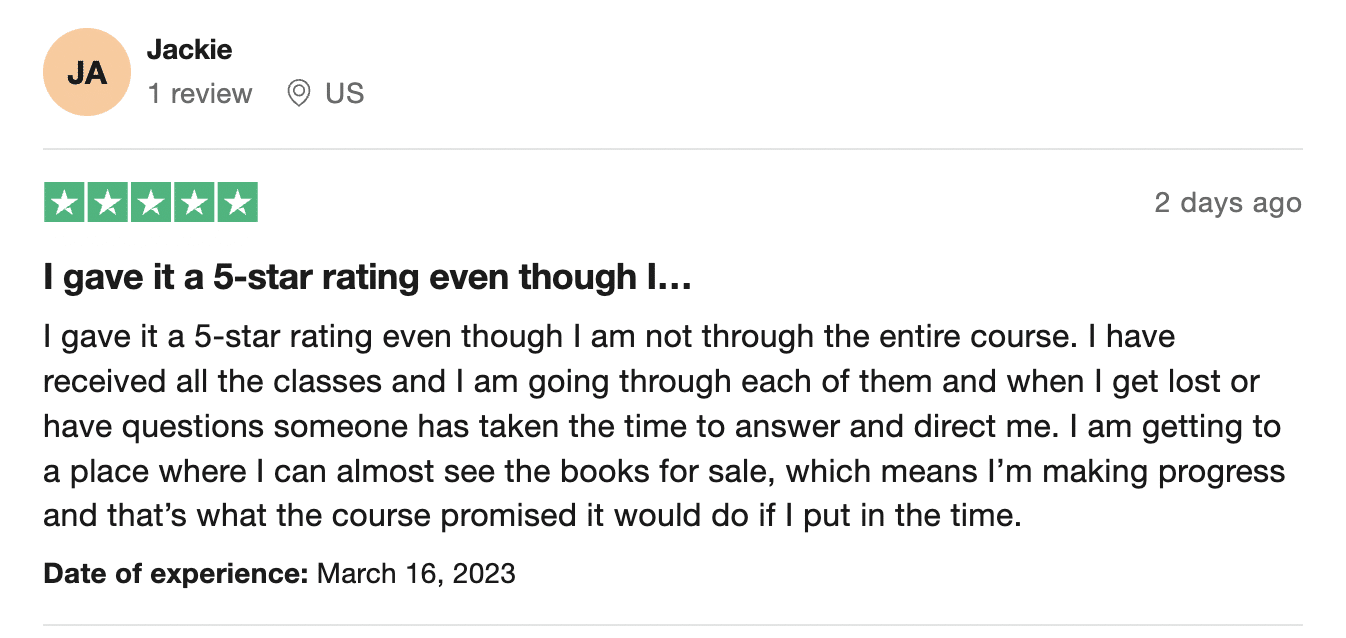 Here's an example of a negative review which seems more genuine…
In conclusion, while there are many success stories on the PublishingLife website, most of them are years old, and recent reviews suggest that the course may not be delivering the same results as it once did.
How much does Publishing Life cost?
For pricing, you have two options:
$1995 one-time

3 installments of $999
The payment plan adds up to a total price of $2997.
No matter which option you choose, you get lifetime access to the course.
In addition to the cost of the course, you may also need to budget for additional expenses like ads and hiring ghostwriters, voice actors, and cover art designers to fully utilize the course.
According to multiple reports, you can expect to spend around $400 to $1000 for each audiobook that you publish.
But don't worry, the training has got you covered! If you end up spending a lot of money to get your audiobook published, you can take advantage of the cashback bonuses that the course offers to make it a little easier on your wallet.
Recommendation: Here's The Best Alternative
PublishingLife Discount
I have searched everywhere for a PublishingLife promo code or discount, but I cannot find one.
You either pay full price or don't get anything at all.
Refund Policy
PublishingLife's refund policy is confusing.
According to PublishingLife's terms and conditions, there are three conditions for the money-back guarantee:
You must post an audiobook on Audible that is at least two hours long.

You must receive at least 50 reviews for your book on both Amazon and Audible.

You must participate in two 1-on-1 coaching calls.
For a refund, you must meet these requirements within 180 days of purchasing the course.
That's why most students couldn't get their money back.
Here's an example:
Also on that page, it states that you cannot get a refund if you change your mind for any other reason.
Here are a few examples:
You have changed your mind

You have lost motivation

You have a family emergency situation

You have unexpected health or financial problems
So I guess it's extremely hard to get a refund for PublishingLife.
Praise for PublishingLife.com
1. Comprehensive training
The course covered everything from recording and editing the audiobook to marketing and promoting it to your target audience. The best part is that you don't need any prior experience or technical skills to get started.
Criticism of PublishingLife.com
1. Only for Writers Who Want to Share Their Work
If you're not interested in being a writer or sharing your work with others, then the business method taught by PublishingLife may not work for you. This program is focused on helping writers gain more exposure for their work.
2. Expensive Membership
Joining PublishingLife can be pretty pricey. Not only do you have to pay for membership, but you also need to consider the cost of paid advertising and outsourcing. This program relies heavily on outsourcing, so you may end up spending a lot of money on that as well.
3. Dishonest Marketing
Unfortunately, the creators of PublishingLife have been known to market their program in a dishonest and unethical way. We'll delve into this issue more later, but it's something to keep in mind before joining.
4. Complicated Refund Policy
The refund policy for PublishingLife is complicated, and it's unclear if anyone has ever successfully received a refund after meeting the conditions. Some students have complained about not receiving their money back on Trustpilot, so it's something to be aware of before signing up.
5. Crowded Amazon Platform
Just like with Amazon FBA, there's no guarantee that the business method taught by PublishingLife will work. The Amazon platform is already crowded, so it may be difficult to stand out from the competition despite the claims of the course creators.
Recommendation: Here's The Best Alternative
Is PublishingLife.Com a scam?
I wouldn't label PublishingLife as a scam. However, I have some concerns about the marketing methods used by the Mikkelsen twins, who created the course. They sell the course as a shortcut to wealth, claiming that even a 15-year-old can do it. But let's face it, building a successful business takes hard work, dedication, and time.
Moreover, it's a bit ironic that they don't provide any contact details on their website, but then ask you for this information in one of their lessons. Also, the twins have been accused of deleting negative comments about their course from social media.
That said, I don't think PublishingLife is entirely bad. But I wouldn't recommend it to everyone, especially those who are just starting out. The course is costly, and outsourcing is necessary to make it work, which could add to your expenses.
It's worth noting that the course used to be called Audiobook Income Academy, but the name was changed to PublishingLife, supposedly because the new version is better. However, due to their questionable reputation, some people may still have doubts about the course.
If you're passionate about writing, then maybe this course could be for you. But if not, I suggest you look for other ways to make money online.
Selling on Amazon can be a lot of work, and it's essential to have a team to help you with the daily tasks. Marketing and outsourcing can also be expensive, and you should only consider this industry if you have the financial resources to do so.
In conclusion, I wouldn't recommend PublishingLife as a way to make money online. There are better options out there that don't require as much investment or hard work.
5 Challenges of Self-Publishing
1. Upfront Expenditures
When you sign a traditional book deal, you don't have to worry about editing or design services. The publisher takes care of all of that for you. However, if you self-publish, you'll be responsible for all of those tasks. This means that you'll need to hire your own editors, designers, and other professionals to help you get your book ready for publication. These services can be expensive, so you'll need to budget accordingly.
2. Reduced Visibility
Most self-published authors sell their books online, rather than in brick-and-mortar bookstores. While this can be convenient for readers, it also means that your book will have reduced visibility. People won't be able to stumble across your book in a physical store, and you'll need to work harder to get your book in front of potential readers.
3. Marketing Burden
While traditional publishing companies have marketing budgets, self-published authors need to handle their own marketing. This can be difficult, as there are millions of books available online. If you want your book to stand out, you'll need to invest time and money into marketing it. This can be a big burden, especially if you're new to marketing.
4. Missing Out On Publisher Prestige
Let's be real, having a publisher's logo on your book cover is pretty cool. It shows that a professional team has read and approved of your writing, which adds an air of prestige to your work. Unfortunately, self-publishing doesn't offer that same level of validation. While it's still a fantastic achievement to publish your own book, there's no denying that you miss out on the prestige that comes with being published by a traditional publisher.
5. Flying Solo
Writing can be a lonely pursuit. It's just you and your thoughts, chipping away at a manuscript day after day. But what happens when you hit a wall? What do you do when you're stuck on a plot point or struggling with dialogue? If you're traditionally published, you can turn to your editor, agent, or publisher for support. But if you're a self-published author, you're on your own. Sure, you can hire an editor, but that can be costly. You don't have the same level of support that traditional publishers offer, which can be a real challenge.
Is there a better way to make money online?
If you're new to online business, you might wonder if there's a better business model that doesn't need initial capital and can do it as a side hustle.
Of all the business models I've tried, affiliate marketing is the easiest and most rewarding so far.
In affiliate marketing, you can run your business almost with zero cost. Most importantly, you don't need to invest in creating and developing any products.
Also, it is less time-consuming since you don't have to manage inventory or handle customer service.
You can enjoy a steady stream of passive income while going on vacation or working a full-time job.
Since the world is full of uncertainty, I'd always choose a business model that has the lowest risk.
But How Much Can You Earn in Affiliate Marketing?
A 21-year-old student from my #1 recommended training platform of affiliate marketing was able to earn $7,395 in just 1 week, which means he made more than $1k a day…all while using free traffic methods.
For more information, you can check out my full review of Wealthy Affiliate.
Where to Join Wealthy Affiliate?
Wealthy Affiliate has a very simple pricing scheme. It has a free and premium membership.
If you want to feel about Wealthy Affiliate, you can sign up for the starter membership here (no credit card required). You can select to be a free member with no time limit.

And as a starter member, you can get instant access to the community, live chat, over 500 training modules, 2 classrooms, networking, commenting, 1 free website, and access to the keyword tool.

You can enjoy all these values without paying a penny.

So I strongly recommend you register a free account and see it yourself.