It's natural to be skeptical when considering investing in a service or course, especially regarding financial advice. It's important to do your own research and make an informed decision before investing your hard-earned money.
In this review, we'll take a closer look at Michael Yardney and whether or not his advice and services can be trusted.
As a disclaimer, I'm NOT affiliated with Michael Yardney, so you can rest assured that my review is genuine and unbiased.
At the end of this article, I'll also tell you about a business opportunity that has enabled me to make a full-time passive income.
Below is what I'll cover in the review of Metropole.
Who is Michael Yardney?
Michael Yardney is a property investor in Australia. He is the director of Metropole Groups of Companies, including Metropole Property Strategists. He is also a best-selling author, one of Australia's most famous investors in real estate, and writes the Property Update blog.
Yardney bought his first investment property in his early 20s. Over the past 40 years, he has built a multi-million dollar property portfolio.
He has written a lot of books to share his investment knowledge. He likes to challenge traditional finance advice on property investment, personal finance, and wealth creation.
Here's his book list which you might be interested in:
Negotiate, Influence, Persuade

How to Grow a Multi-Million Dollar Property Portfolio — in your spare time

Michael Yardney's Guide To Investing Successfully

Michael Yardney & Tom Corley's Rich Habits Poor Habits

Michael Yardney's Guide to Getting Rich

Michael Yardney's Rules of Property

The Australian Guide to Buying and Selling Your Home (co-authored with Pamela Yardney)

Secrets of Property Millionaires exposed (co-author)

What every Property investor needs to know about Finance, Tax, and the Law
You may see him being featured on the media as a property commentator. He writes articles and gets published on Yahoo Finance, Smart Company, Your Investment Property Magazine, New Zealand Property Investor Magazine, etc.
Michael Yardney claims that he has mentored over 2,500 business people, investors, and entrepreneurs over the years.
Recommendation: Make Passive Income Online
Michael Yardney's Net Worth
There is no exact data on Michale Yardney's net worth. But it is estimated that Michael Yardney's net worth is around AU$ 7 million, mainly earned by investing in and developing residential properties.
This might not be current as he probably has grown his wealth bigger over time.
What is Metropole?
Metropole was founded by Michael Yardney in 1979. It aims to help people create wealth through property investment.
Metropole has several affiliates. For example, the group includes Metropole Property Strategists, Metropole Wealth Advisory, and Metropole Business Advisory.
They provide property mentoring and advice and will refer you to properties that have growth potential.
Is Michael Yardney a Scam?
Michael Yardney is a pretty experienced real estate investor, and there's no evidence to suggest he's a scam. He definitely shares a lot of knowledge at his seminars and mentorship program, but they're not exactly cheap.
Now, I should mention that he used to go by "Dr. Michael Yardney," but he lost his doctor's license after allegations of sexual abuse. He's addressed the issue professionally, but it's definitely worth keeping in mind.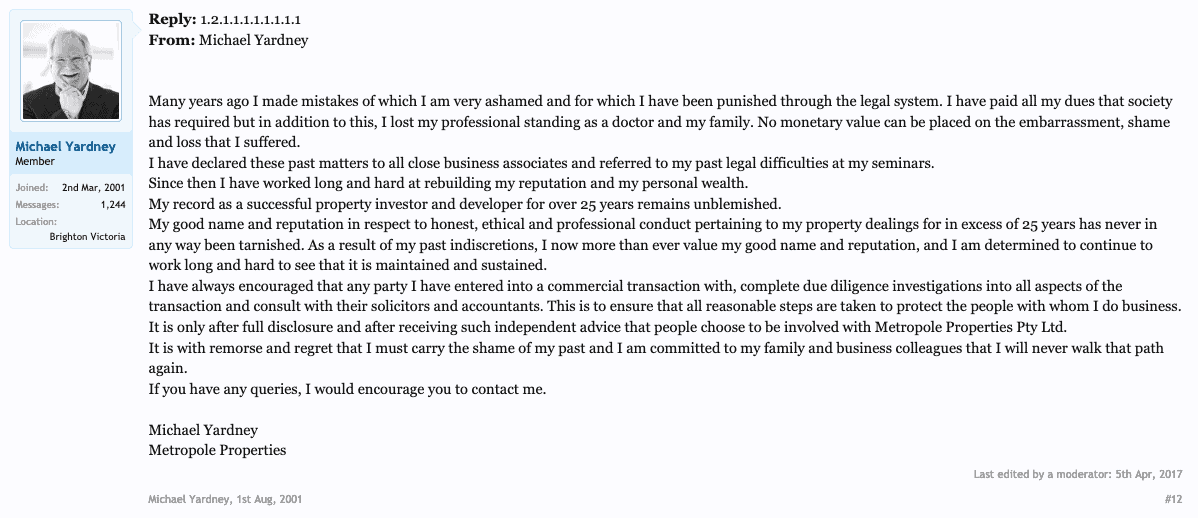 So, the thing is, while you can learn a lot from Michael, his mentorship program will cost you around $3,000 and it doesn't guarantee success. Plus, property investing in general isn't the best way to make passive income. The returns on investment have been decreasing and it takes a lot of initial capital and a long time to pay off the mortgage.
It's also risky because a lot of your money is tied up in the property and it's not very liquid. Plus, it might force you to cut back on other things like travel.
Many people think property investing is a good idea for retirement, but it's not worth the risk.
Instead, you could consider making money online. The internet has created so many opportunities for making a sustainable online business and it only takes 1-2 years to get there. Plus, digital assets can give you stable cash flow unlike real estate market which is volatile.
Recommendation: Make Passive Income Online
Should You Join Michael Yardney's Training?
Michael Yardney is a property investment expert who has been sharing his insights through seminars and workshops in Australia and Southeast Asia since 2001.
He also hosts a high-end, four-day Wealth Retreat workshop for successful business people looking to take their wealth to the next level. Attendees of his seminars and workshops have consistently given positive feedback, praising his knowledge and expertise in the field.
For those looking for more personalized guidance, Michael Yardney also offers a mentorship program. The program includes weekly video sessions where you can learn from him directly, as well as access to his "inner circle" of contacts, knowledge, and research.
However, this program is not for everyone. It is designed for individuals who are serious about property investment and have some capital to start investing.
Is There A Better Way To Make Money Online?
If you really want to make a stable and secure stream of passive income, I suggest starting an affiliate marketing business online instead.
Affiliate marketing is perfect for anyone who is new to online business.
In fact, of all the online business models I've tried, affiliate marketing is the easiest and most rewarding so far.
In affiliate marketing, you can actually run your business almost with zero cost and achieve a steady and sustainable passive income to pay for your bills. You don't need any initial capital and can even do it as a side hustle.
And suppose you really want to learn affiliate marketing and build a business from scratch. In that case, I'd recommend you to get started with the most reputable platform for affiliate marketing: Wealthy Affiliate.

Wealthy Affiliate is an all-in-one platform for building your affiliate marketing business from scratch. It offers you a free account (including a free website) with comprehensive training on SEO (free traffic methods), which enables you to get started with affiliate marketing right away without paying a penny.
But How Much Can You Earn with Wealthy Affiliate?
A 21-year-old student from Wealthy Affiliate was able to earn $7,395 in just 1 week, which means he made more than $1k a day…all while using free traffic methods.
Wealthy Affiliate has existed for 15 years and there are many success stories in the past decade.

To give you more examples, here are some of the other inspiring success stories of Wealthy Affiliate members.

Where to Join Wealthy Affiliate?
Wealthy Affiliate has a very simple pricing scheme. It has a free and premium membership.
If you want to feel about Wealthy Affiliate, you can sign up for the free starter membership here (no credit card required). You can select to be a free member with no time limit.
And as a starter member, you can get instant access to the community, live chat, over 500 training modules, 2 classrooms, networking, commenting, 1 free website, and access to the keyword tool.

You can enjoy all these values without paying a penny.
So I strongly recommend you register a free account and see it yourself.