If you're thinking about making money online, you may have come across the program called Injecto. But you might be hesitant to jump in without knowing if it's the real deal or just another scam.
We've all heard horror stories of people being tricked into spending their hard-earned money on programs that don't deliver on their promises. That's why I decided to do a deep dive into Injecto and see if it's worth your time and money.
Just so you know, I'm not affiliated with Injecto in any way. I'm not getting paid to write this review, so you can trust that I'll give you my honest opinion.
By the end of this review, you'll have all the information you need to decide whether or not Injecto is right for you. And if it's not, don't worry – I'll also share with you the alternative that I've personally used to make a full-time passive income online. So let's dive in!
What is Injecto?
Injecto is a new online system that claims to help you make money on autopilot. According to its sales page, once you purchase Injecto for $19, money will start flowing into your PayPal account automatically. Sounds too good to be true, right? Well, that's because it is.
The truth is, there is no magic button that can make you money without any effort. Once you buy Injecto, you'll quickly discover that there is work to be done. First, you'll need to figure out how to disable the "upgrade offers" that ask you to spend hundreds more dollars.
Then, you'll arrive at the dashboard and realize that you need to personalize a clip and insert your own affiliate link. After that, you'll need to put the video on Twitch and hope that someone watches it. But even if someone does watch the video, only a fraction of them will click the link, and an even smaller fraction will actually buy the product.
So, what's the catch? The reality is that Injecto is just another creative cash cow that benefits its creator, Seun Ogundele. While it's not necessarily a bad thing to put in some effort and try to make money online, it's important to be realistic about what's possible. Don't believe the hype about automatic income – it's just not that simple.
Recommendation: Here's The Best Alternative
Who is the Founder of Injecto?
Injecto was an idea that came from Seun Ogundele, a Nigerian entrepreneur who was born and raised in Lagos. You might not have heard of him before, but he's been making waves in the online marketing world.
If you check out his Facebook profile, you'll see that he goes by the username elitemediaonline on Warriorplus. He's always coming up with new versions of the same product, trying to improve and innovate. However, like many online entrepreneurs, he faces the challenge of scammers flooding the market with similar offers under different names.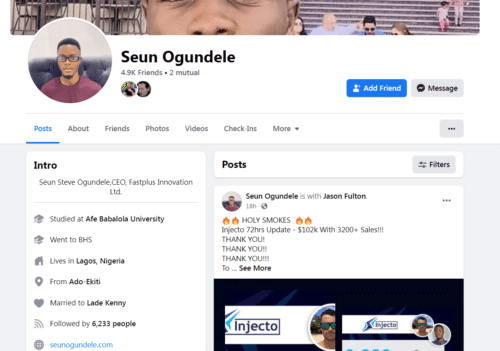 How Does Injecto Help You Make Money?
Injecto promises to help you earn $20, 12 times a day or more. Here's how it works:
Step 1: Get access to Injecto
First, you need to sign up for Injecto and make a purchase. You can bypass the upsell offers and go directly to the dashboard.
Step 2: Turn on Injecto
Once you're in the dashboard, you can turn on Injecto and take advantage of the "loophole worthy of almost $140 billion dollars" across five platforms. However, there's no "Inject" button as the sales page suggests.
Step 3: Post videos on Twitch
To start earning money, you need to post videos on Twitch that include your affiliate link. You can search for pre-existing videos, download them, and edit the description to include your link. Then, you can publish the stream on Twitch at a predetermined time. However, keep in mind that it takes effort to create engaging videos that people will watch.
The Dashboard
The dashboard contains additional features that may or may not be useful to you. For example, there's a video creator that helps you make your own videos, a tool for managing events on Twitch, and a thumbnail creator for designing your own thumbnails. However, you can also use free tools like Canva for designing thumbnails.
Recommendation: Here's The Best Alternative
How Much Does Injecto Cost?
The regular monthly cost is $497, but you can snag it for only $19 with a $2 discount. However, this is only possible if you select the pop-up image that appears on the website.
Once you're in the program, prepare yourself for a slew of upsells. While the initial investment seems reasonable, the total cost will exceed $500 after adding these additional features.
Here are the upsells:
Upsell #1: Unlimited ($47) Downsell To $37

Upsell #2: Done For You ($297) Downsell To $197

Upsell #3: Automation ($47) Downsell To $27

Upsell #4: DFY Buyer Traffic ($147) Downsell To $97

Upsell #5: Commission Maximizer ($47) Downsell To $37

Upsell #6: License ($197) Downsell To $77

Upsell #7: The 'Missing Code' ($97) Downsell To $47

Upsell #8: Automated $1k Profits ($97) Downsell To $47

Upsell #9: MEGA Bundle ($37) Downsell To $27
Although each upsell has a different purpose, we have to be honest with you. We don't believe they're worth it. They're filled with empty promises, and we know there are other better tools and software that are cheaper and of higher quality than Injecto.
Injecto's quality is not any better than others in the market, so it doesn't justify a higher price. So, if you're just starting out, we advise against investing hundreds of dollars in Injecto and its unproven upsells.
Can You Really Make Money with Injecto?
If you're wondering whether you can make money with Injecto on Twitch, the answer is pretty straightforward – it's unlikely.
Let's break it down a bit: most Twitch videos are related to gaming, where people play games, record their gameplay, and upload it for others to watch for fun. It's similar to watching a football match on TV. However, the audience watching gaming videos on Twitch has no interest in products like Loopz or any other low-quality WarriorPlus products. In other words, this is not the right audience for these products.
It's essential to find the right audience for any product you want to sell, and it seems that Twitch's gaming audience may not be the best fit for Injecto or similar products. So, if you're looking to make money online, you may want to explore other avenues instead.
Learn more:
Recommendation: Here's The Best Alternative
Praises For Injecto
30-Day Money Back Guarantee
One of the advantages of Injecto is that it comes with a 30-day money-back guarantee. This means that if you're not satisfied with the product, you can request a refund within 30 days of purchase. However, it's important to note that WarriorPlus, the platform where Injecto is sold, is not responsible for the refund.
Criticisms For Injecto
Hyped up Sales Page
One of the downsides of Injecto is that its sales page can be quite hyped up. The page promises that the software can help you make thousands of dollars with minimal effort. However, it's important to take these claims with a grain of salt, as success in online marketing requires hard work and dedication.
Exaggerated Earning Claims
Another issue with Injecto's sales page is that it exaggerates its earning claims. While it's true that some people have made money using the software, the results are not typical and will depend on several factors, such as your niche, your audience, and your marketing skills.
The Product Itself is Not What is Presented on the Sales Page
Another downside of Injecto is that the product itself is not always what is presented on the sales page. Some customers have reported that the software they received was not what they expected, and that some of the features advertised were missing or didn't work as promised.
Too Many Upsells
Finally, Injecto has too many upsells, which can make the final price more than $500. This can be frustrating for customers who just want to purchase the product without being bombarded with additional offers.
Recommendation: Here's The Best Alternative
Is Injecto a Scam?
Legally speaking, I cannot say that Injecto is a scam. Their program does provide some value and can help you access some useful features in launching an affiliate marketing business. However, I have to admit that I am not a fan of their approach. Using their method is easier said than done.
One major issue with Injecto is that they make most of their money from selling their programs, rather than the miracle functions of their tools. This makes the whole thing unconvincing. In my opinion, one should always learn from someone who has had the most success with what they teach.
To add to that, there are many other better alternatives out there that are much cheaper and offer much more value, helping you succeed faster. It's unlikely that you will see a newbie earning big online just by using Injecto.
Learn more: Make Money Online Scams: How to Avoid Them?
Final Verdict
If you're looking for an automated way to generate income through affiliate marketing, Injecto might not be the best option for you. While the software included in the program is decent, it doesn't really provide the kind of comprehensive training needed to succeed in this field.
After doing some research, I've found that there are few success stories or positive reviews about Injecto on TrustPilot. This leads me to believe that the lack of proper training is holding back its users from achieving real success.
In my opinion, there are better options out there for those looking to get into affiliate marketing. So, while Injecto might seem like a tempting choice at first, I can't recommend it in good conscience.
Recommendation: Here's The Best Alternative
What is the Best Alternative to Injecto for Making Passive Income Online?
Affiliate marketing is a great option for beginners in the online business world. But using expensive tools to drive traffic like Injecto can be a financial burden. Luckily, you can actually run your affiliate marketing business with almost zero cost and still earn a steady passive income without paid ads.
If you're looking to learn affiliate marketing and make money with the lowest risk, I highly recommend Wealthy Affiliate – the best training platform. They offer a free account, including a free website, and comprehensive training on SEO for free traffic methods.
But how much can you really earn with Wealthy Affiliate? Well, a 21-year old student from Wealthy Affiliate was able to earn $7,395 in just one week using only free traffic methods – that's over $1k a day!
You can check out my full review of Wealthy Affiliate here.
Wealthy Affiliate has been around for over 15 years and has many success stories to show for it. Here are some inspiring examples of Wealthy Affiliate members who have found success.
Ready to give it a try? Wealthy Affiliate has a simple pricing scheme with free and premium memberships. You can sign up for the starter membership for free with no credit card required. As a starter member, you'll have access to the community, live chat, over 500 training modules, 2 classrooms, networking, commenting, 1 free website, and access to the keyword tool.
In short, you can enjoy all these benefits without paying a penny. So why not register for a free account and see for yourself? It could be the start of your online passive income journey.